Will Joe Biden pick Karen Bass for VP? She fits the bill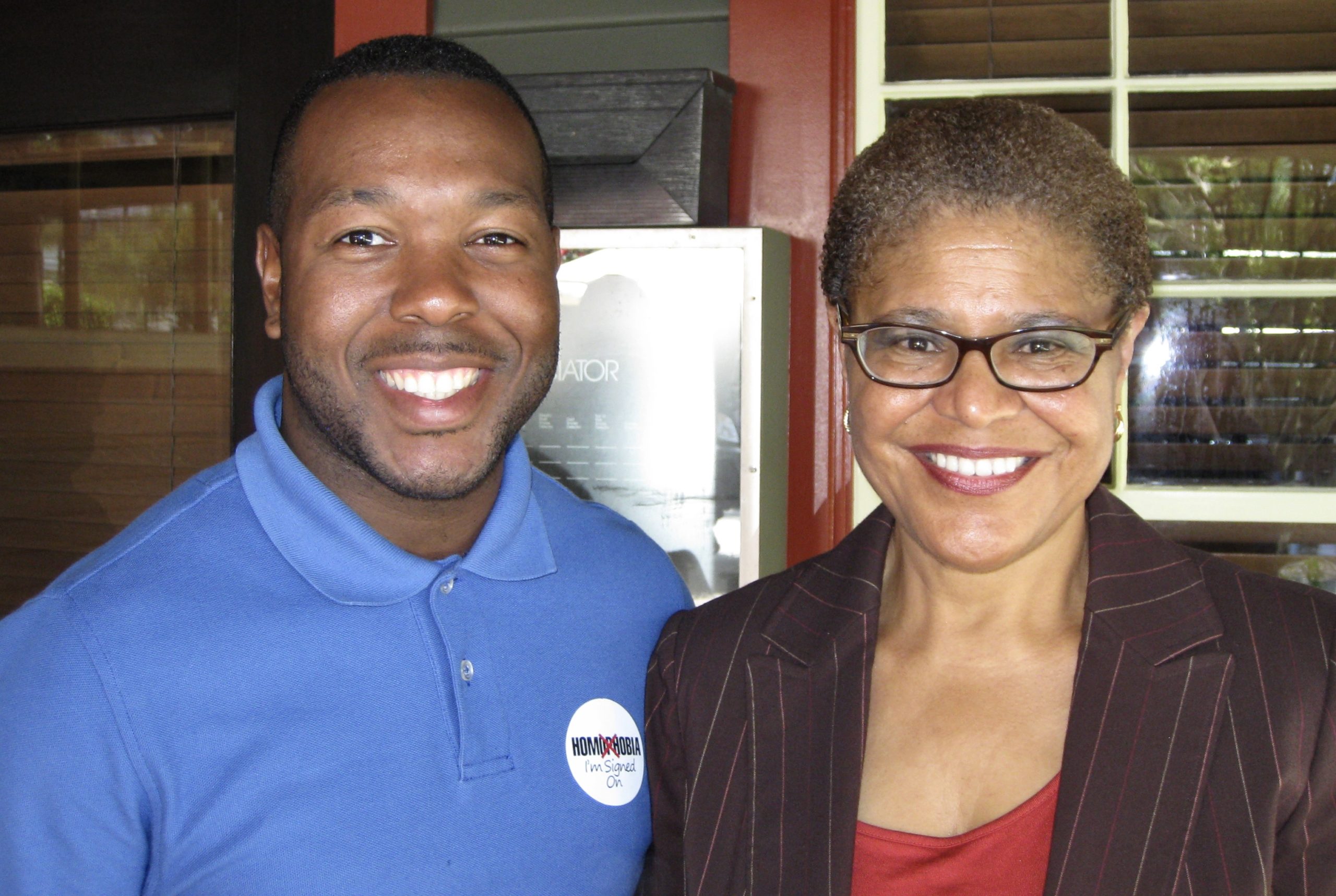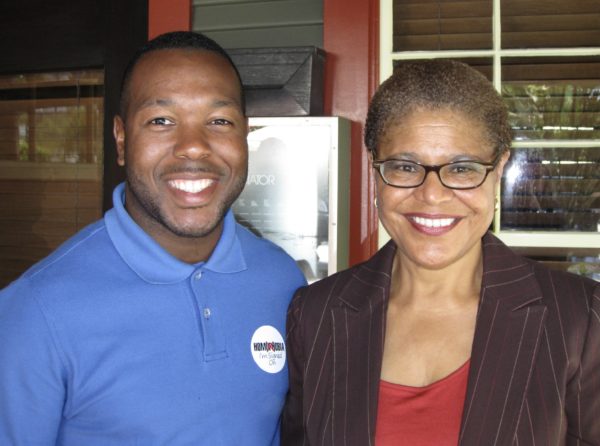 Rep. Karen Bass with her gay LA deputy Darryn Harris during a visit to In The Meantime Men in South LA. (Photo by Karen Ocamb)
Heading into the COVID-crazy Fourth of July holiday, the nation is wrestling with the very meaning of freedom as even red states are mandating mask wearing, stay-at-home orders and small family gatherings. Many are now heeding Infectious disease expert Dr. Anthony Fauci's blaring siren: "I would not be surprised if we go up to 100,000 [cases] a day if this does not turn around, and so I am very concerned," Fauci told lawmakers.
America is in trouble. The Trump administration's failure to keep the country safe from the highly infectious novel coronavirus has exposed an inadequate healthcare system that largely impacts the elderly and marginalized minorities, including LGBTQ people at high risk for contracting the new coronavirus.
Many are turning their frightened eyes to presumptive Democratic presidential nominee Joe Biden to heal the horribly divided nation this November.
"Today we're facing a serious threat, and we must meet it — as one country. But this President gives us no direction. He pits us against one another," Biden said June 30 in televised remarks.
For a running mate, Biden say he wants an experienced woman who could immediately assume presidential leadership, if needed; someone with whom he is "simpatico;" and someone who shares his priorities and values, which includes LGBTQ equality.
The New York Times identified 13 candidates, including out Wisconsin Sen. Tammy Baldwin.
Many politicos assume that California Sen. Kamala Harris has a lock on the spot. She is a highly qualified Black/Asian former presidential candidate who Biden knows through her relationship with his beloved late son Beau when they served as attorneys general. Biden was clearly hurt when Harris attacked him over segregation during a presidential debate but she apologized and they made up. Others are not as forgiving.
Several of the other candidates might fit the moment but no one matches the breadth of bona fides offered by California Rep. Karen Bass.
The Times frames Bass as a long shot since the Biden team "has reached an advanced stage of the vetting process" and Bass' extensive record may require more vetting than is possible before Biden's announcement date around August 1. Bass also lacked national name recognition.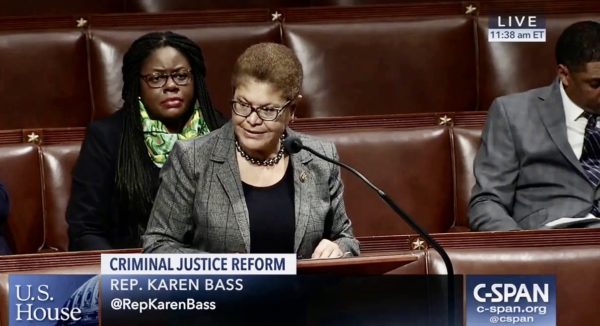 That changed when she became the Congressional leader most identified with pushing for police reform after the world witnessed the 8 minutes and 46 seconds cellphone video showing a white Minneapolis police officer calmly kneeling on the neck of a Black man in his custody, pleading for air and his mother until he expired.
The video of that May 25 murder exposed the scourge of systemic racism and sparked mass marches supporting Black Lives Matter. People of all races, ages and identities demanded police reform and justice for the death of George Floyd, including 25,000 people who marched on June 14 with LGBTQ All Black Lives Matter from Hollywood to West Hollywood, spotlighting the murders of Black trans people.
"That was a slow, torturous murder, and the whole world saw it," Bass told the New York Times. "I think it was just one murder too many."
Karen Bass has been working to dismantle systemic racism, as well as other forms of social, racial and economic injustice, for decades. She is a community activist who was raised on civil rights activism in LA's Jewish Venice-Fairfax district, volunteered for Bobby Kennedy's presidential campaign in middle school, graduated from Hamilton High School in West LA in 1971, studied philosophy at San Diego University but switched her attention to healthcare, graduating from USC's Keck School of Medicine Physician Assistant Program. She subsequently received her BA in health sciences from Cal State/Dominguez Hills and her Masters in Social Work from USC.
Bass focused that training on fighting the crack epidemic in South LA, where she founded the Community Coalition to fight for substance abuse prevention programs and better foster care and relative caregivers, like grandmothers.
She also fought the AIDS epidemic — all experience directly applicable to dealing with the ongoing Opioid crisis, as well as COVID-19.
"I went through the AIDS crisis from its very beginning. I watched all of Santa Monica Boulevard get wiped out near Vermont (Ave.). That whole area there. I watched everybody die within a matter of two years," Bass told the Los Angeles Blade last March. "But I think that this [COVID-19 crisis] is really hard because you don't have to have any physical contact….People are building the plane while it's flying."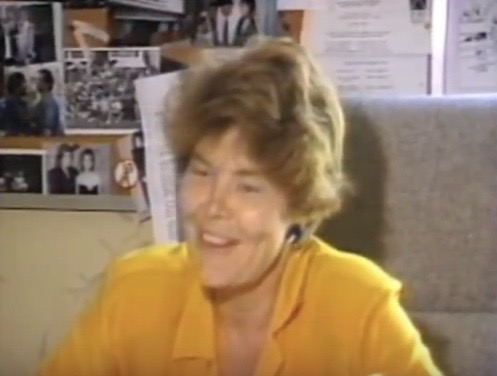 Torie Osborn c 1980/90 (screen grab from National Coming Out Day video produced by Karen Ocamb)
Torie Osborn, the executive director of the Los Angeles Gay and Lesbian Community Services Center in 1989, met Bass at a meeting of progressive grassroots activists in a South LA church basement.
"This woman I didn't know came up, introduced herself as Karen Bass from South LA, an anti-police violence activist and a physician assistant," Osborn says. The two talked all day with Bass noting that the gay community's experience of AIDS deaths was similar to what the Black community was experiencing during the crack epidemic.
"I had never heard anything like this before. She knew gay men. She clearly was an ally," Osborn says.
Bass also talked about the LAPD battering rams used to level suspected crack houses. "They just had like a militarized response to the epidemic and she was really angry about it. And she said, 'Do you understand that the genocidal attacks on my community are similar to the genocidal attacks on yours?'" Osborn says. "I never thought about the similarities between attacks by the state – for gays, it was the genocidal neglect of the Reagan years."
At a June 10 hearing on the bill she crafted with Rep. Jerry Nadler and Sens. Harris and Cory Booker — the George Floyd Justice in Policing Act of 2020 — Bass noted that "she had begun protesting police violence the same year that Mr. Floyd was born, in 1973," the New York Times reported. She also recalled LAPD Chief Daryl Gates "calling a news conference to claim that the reason so many black people were dying of chokeholds in police custody was 'because our neck veins were different.'"
Bass says the 1992 LA riots after the acquittal of four white police officers videotaped beating unarmed Black motorist Rodney King hit her personally.
"I just drove around feeling that all of the years of my involvement and all of the things I had tried to do had been a failure," Bass recalled in 2011. "I failed the young people because they felt no outlet other than to destroy."
Bass was talked into running for elective office by Miguel Contreras, the late chief of the Los Angeles County Federation of Labor. In 2005, she won the Assembly seat being vacated by Diane Watson. She was immediately given leadership positions of majority whip then majority leader by Speaker Fabian Nunez. She risked political support by helping gay Assemblymember Mark Leno push AB 19, the state's first marriage equality bill.
Three years later, Bass was unanimously elected Speaker of the Assembly, making history as California's first Black women Speaker.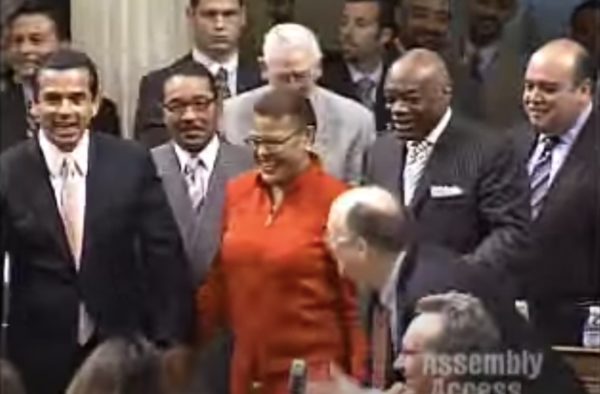 Bass's political skills were tested in 2008/2009 when the Speaker dealt with renown sexist Republican Gov. Arnold Schwarzenegger — with whom Bass felt "fine" working since he was from the LA entertainment industry — as well as difficult Democrats, to get California, the epicenter of the foreclosure crisis, out of the Great Recession.
For that work, Bass, Senate leader Darrell Steinberg and the two Republican leaders — Assemblyman Mike Villines and Sen. Dave Cogdill — all received the annual Profile in Courage Award from the John F. Kennedy Library, the LA Times noted.
"She was great," Villines recalls to LA Times columnist George Skelton. "If she were the VP, she'd be fantastic. She's a normal person. Negotiating with her was easy. She would listen. It was never confrontational. I found her to be truthful and honest, someone just trying to get things done."
There is a reason Bass has been mentioned as the most likely to succeed House Speaker Pelosi, if she steps down.
"Having had the great pleasure to serve with Congresswoman Bass in the State Assembly, before and after she became Speaker, I am not surprised that she is being considered by Joe Biden," Leno tells the Los Angeles Blade. "Her talents and potential are obvious to all. Having authored the legislature's Equal Marriage Rights bills, I know personally of her commitment to LGBTQ
equality. She is a fierce champion of not only our community but
to all those who are disenfranchised and struggling for equal treatment under
the law."
Another plus for Biden in attempting to heal the nation — Bass sincerely reaches across the partisan divide to get things done. She calls Republican House Minority Leader Kevin McCarthy a friend from their days in the Assembly. She successfully passed the Justice in Policing Act by a 236-181 margin with three Republicans — moderate Reps. Will Hurd (R-Texas), Fred Upton (R-Mich.) and Brian Fitzpatrick (R-Pa.) — voting in favor.
"The Justice in Policing Act is a bill for human rights in our country," said Bass, Chair of the 50-plus-member Congressional Black Caucus.
"She comes through it all with the greatest gentility and strength," House Speaker Nancy Pelosi told the New York Times.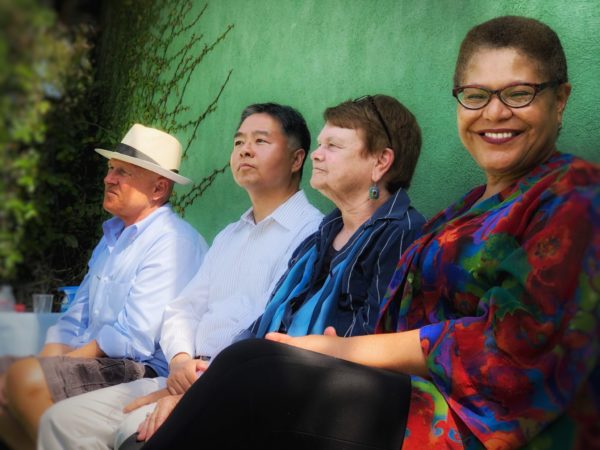 Karen Bass with LA City Councilmember Mike Bonin, Rep. Ted Lieu and LA County Supervisor Sheila Kuehl at an event sponsored by activist Torie Osborn before the coronavirus exploded (Photo courtesy Osborn) 
"The best change takes place with outside pressure on the kind of issues I work on," Bass told The Times. "It's not like the issues I work on have 10 legal firms and lobbyists and all that. If you don't have wealth, you have people. The thousands of people out protesting are moving Congress to act."
Though police reform efforts have stalled in the Senate, Sen. Tim Scott, the Senate's only Black Republican who has his own bill, told CNN's Jake Tapper on June 28 that he has spoken often with Bass.
"I give Karen Bass a lot of credit. She's very serious about getting to a compromise," Scott said.
It's a trait Bass brought with her to the House in 2011, one of nine freshman Democrats in a GOP-run House. Another of the nine was Democrat David Cicilline, the former mayor of Providence, R.I., and the first openly gay mayor of a state capital. The two served on the House Foreign Affairs Committee.
"She's been a really important part of our freshman class," Cicilline told Politico. "Her skills as speaker of the house have enabled her to understand the legislative process but also the importance of relationships in getting work done."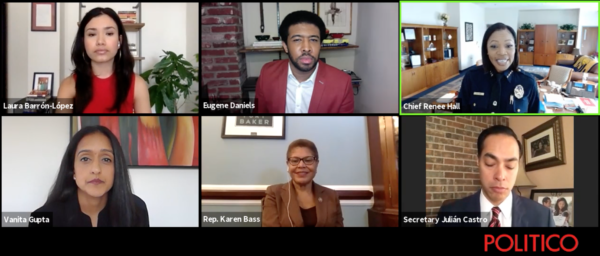 Bass told a Politico town hall on June 30 that she does not negotiate in public but she'll keep pushing to make Justice in Policing Act law, "especially when we have this moment where transformative change is possible. But we have to push, we have to keep pushing, and I'm ready to do that."
Pushing for justice is at her core.
"So the values that I treasure really were a result of watching the Civil Rights Movement on TV, talking to my father about what growing up in the South meant, and then growing up during the '60s and watching young people try to change the world, led me to making a lifetime commitment to working for social and economic justice," Bass told Jewish Journal columnist Raphael Sonenshein in 2009.
And then there's martial arts.
"When I was in my early 20s, I studied tae kwon do and hapkido. I earned brown belts in both of them. What it taught me was how to fight in a manner that is respectful; don't personalize and get to the point. The goal of a martial artist is actually to not fight, [it's] to prevent the fight. If somebody attacks you, you're taught how to take their energy and use it against them," Bass told LA Times columnist Patt Morrison in 2009.
"Remember those old Bruce Lee movies? When somebody who had watched a Bruce Lee movie would think they knew how to fight — with no discipline, no control — they would come in just flailing, swinging," Bass continued. "You should have goals; it should be clear where the beginning, middle and end game is, and that's what I felt I was taught."
Those lessons helped Bass as Assembly Speaker. "The discipline, the control of emotions and picking your fights — not just fighting because it makes you feel good but fighting with a purpose."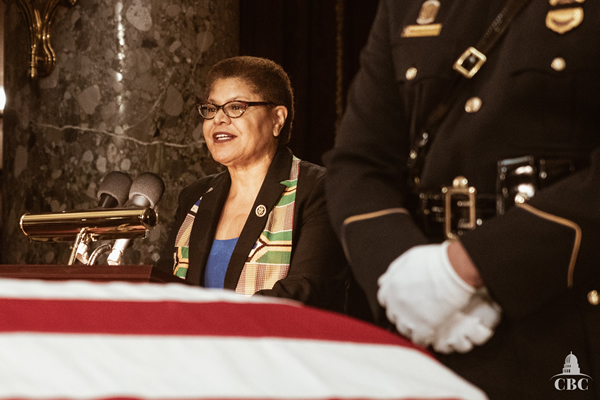 Karen Bass delivering eulogy at Rep. Elijah Cummings' funeral. (Photo courtesy Congressional Black Caucus)
It's a lesson reiterated by her beloved mentor, the late Honorable Elijah E. Cummings, whom she called "a warrior for all" in an op-ed Bass penned for the LA Blade last October.
"As throughout the entirety of his life, Mr. Cummings was not deterred by bigotry, he was not swayed by ignorance, and he was not stopped by indifference.

In fact, it was incidents at this time in his life that only strengthened his commitment to ensuring his community overcame these obstacles….

As the Chairman of the House Committee on Oversight and Government Reform, Mr. Cummings used his gavel to speak truth to power on behalf of the American people. We watched his heartfelt passion as he fought for the rights of children separated from their families, as he fought for everyone to have healthcare, and medications that are affordable, and as he fought for everyone to have the right and access to vote.

In 2016, we watched Mr. Cummings swiftly debunk the logic behind a bill which would prevent the government from acting against businesses or individuals who discriminate against LGBTQ+ people.

As he did almost daily here in Congress and in his community, he spoke as a guided moral light for all of those gathered to listen."
Perhaps that moral light has been passed to a new generation. "She's the real deal with a level of civil rights movement bona fides that few vice presidential nominees have ever had," former L.A. Mayor and Assembly Speaker Antonio Villaraigosa, who has known Bass since the early 1970s, told columnist George Skelton. "She's had a leadership voice wherever she's gone."
Karen Bass, 66, and Joe Biden, 77, have another commonality, a shared grief. Like Biden, Bass suffered the tragic loss of her daughter Emilia, 23, a Loyola Marymount University student, and son-in-law Michael Wright, 23, in a 2006 car crash on the I-405 freeway.
Bass fits Biden's bill for VP: she is a highly regarded coalition-builder; has executive legislative experience during a financial crisis; is passionate about foster care, healthcare and fighting against systemic racism; and her values stem from a long battle for human rights. And she's nice.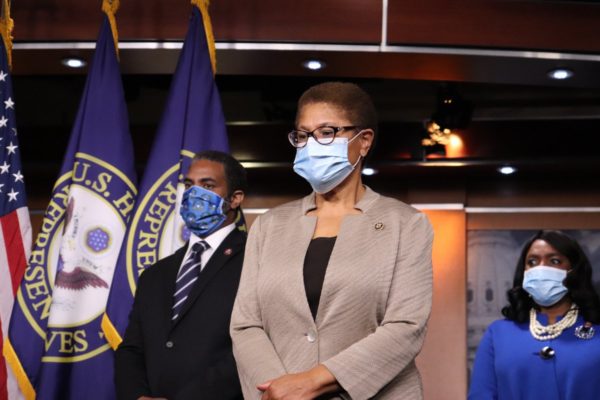 "It's almost like the Scripture says: She's come for such a time as this," Rep. Barbara Lee, who's known Bass since the 1980s, told the New York Times.  "This is a moment that the country needs her leadership, and she certainly has stepped up."
What more could Joe Biden and a desperate country want?
AIDS @40: The White House laughs as gays try to save themselves
Over a third of them have died. It's known as "gay plague." (Laughter.) No, it is. I mean it's a pretty serious thing […]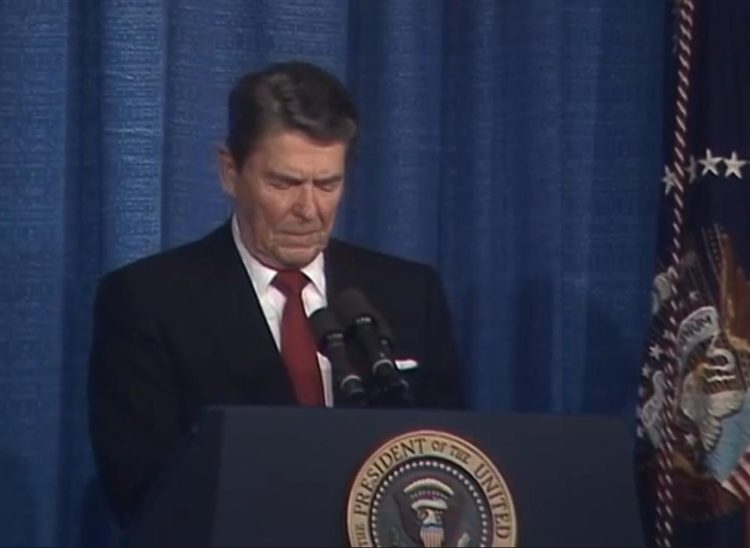 By Karen Ocamb | LOS ANGELES – Like so many others in California, lesbian feminist Ivy Bottini had high expectations for the federal government to finally intervene in the growing AIDS crisis after the first congressional committee hearing on the mysterious new disease, chaired by Rep. Henry Waxman, (D-CA) on April 13, 1982.
There was very little press coverage of the hearing — held at the Los Angeles Gay Community Services Center on Highland Avenue in Hollywood. But years later, Dr. Anthony Fauci of the National Institutes of Health recalled a quote reported by the Washington Blade:
"I want to be especially blunt about the political aspects of Kaposi's sarcoma (KS)," Waxman said. "This horrible disease afflicts members of one of the nation's most stigmatized and discriminated-against minorities….There is no doubt in my mind that if the same disease had appeared among Americans of Norwegian descent, or among tennis players, rather than among gay males, the responses of the government and the medical community would have been different."
The gay San Francisco newspaper The Sentinel published a very short brief on April 16 entitled "House Holds Cancer Hearings" about "the gay cancer." The paper quoted an unnamed subcommittee staffer saying the CDC, "which is coordinating research on the baffling outbreak, 'should not have to nickel and dime' for funds." The brief appeared next to a column written by gay nurse Bobbi Campbell, who wrote about going to The Shanti Project to get emotional support for his KS.
Bottini's take-away from the Waxman hearing was that no one really knew how AIDS was transmitted. She was upset. Her friend Ken Schnorr had died just before the hearing and Bottini had to explain to Ken's distraught mother that he had not been abused at the hospital — the purple bruises on his body were KS lesions.
After weeks of governmental inaction, Bottini called Dr. Joel Weisman, Schnorr's gay doctor, to update the community at a town hall in Fiesta Hall in West Hollywood's Plummer Park. Weisman had sent gay patients to Dr. Michael Gottlieb and was one of the co-authors on the first CDC public report about AIDS on June 5, 1981.
Bottini later recalled how gay men often thanked her for saving their lives at that packed town hall. Bottini subsequently founded AIDS Network LA, to serve as a clearing house for collecting and disseminating information. But not everyone bought the science-based premise that AIDS was transmitted through bodily fluids — including Bottini's friend Morris Kight, prompting a deep three-year rift.
Nonetheless, groups offering gay men advice on how to have safe sex started emerging, as did peer groups forming for emotional, spiritual and healthcare support. The Bay Area Physicians for Human Rights, Houston's Citizens for Human Equality and the new Gay Men's Health Crisis in New York City published pamphlets and newsletters.
Panic and denial were wafting in tandem through gay Los Angeles, too. In Oct. 1982, friends Nancy Cole Sawaya (an ally), Matt Redman, Ervin Munro, and Max Drew convened an emergency informational meeting at the Los Angeles Gay Community Services Center on Gay Related Immunodeficiency Disease (GRID, soon to be called AIDS) delivered by a representative from San Francisco's Kaposi's Sarcoma Foundation.
"My friends and I were in New York in 1981, hearing stories among friends coming down with this mysterious disease. We realized that back home in L.A. there was no hotline, no medical care, and no one to turn to for emotional support," Redman told The Advocate's Chris Bull on July 17, 2001 for a story on the 20th anniversary of AIDS. "For some reason I wasn't really scared. It was so early on that no one could predict what would happen."
That quickly changed when the friends realized there was no level of governmental help forthcoming. They set up a hotline in a closet space at the Center, found 12 volunteers and asked Weisman to train them on how to answer questions, reading off a one-page fact sheet. The idea was to "reduce fear" and eventually give out referrals to doctors and others willing to help.
The four also reached out to friends to raise money, netting $7,000 at a tony Christmas benefit to fund a new organization called AIDS Project Los Angeles. They set up a Board of Directors with Weisman and longtime checkbook activist attorney Diane Abbitt as Board co-chairs. They gaveled their first Board meeting to order on January 14, 1983 with five clients. The following month, APLA produced and distributed a brochure about AIDS in both English and Spanish.
Four months later, in May, APLA and other activists organized the first candlelight march in Los Angeles at the Federal Building in Westwood and in four other cities. The LA event was attended by more than 5,000 people demanding federal action. The KS/AIDS Foundation in San Francisco was led by people with AIDS carrying a banner that read "Fighting For Our Lives." When the banner was unfurled at the National Lesbian and Gay Health Conference that June by activists presenting The Denver Principles, the crowd cried, with a 10-minute ovation.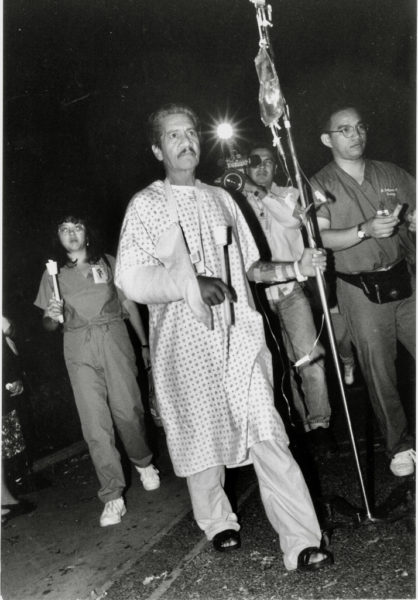 "If the word 'empowerment' hadn't yet been a part of the health care lexicon, it was about to be," HIV/AIDS activist Mark S. King wrote in POZ. The group took turns reading a document to the conference they had just created themselves, during hours sitting in a hospitality suite of the hotel. It was their Bill of Rights and Declaration of Independence rolled into one. It would be known as The Denver Principles, and it began like this:
'We condemn attempts to label us as 'victims,' which implies defeat, and we are only occasionally 'patients,' which implies passivity, helplessness, and dependence upon the care of others. We are 'people with AIDS.'"
While The Denver Principles were injecting self-empowerment into the growing movement of people with AIDS, the Reagan administration was infecting America through mass media association of homosexuality, AIDS and old myths of sexual perversion. Ronald Reagan was keenly aware of his anti-gay evangelical base, appointing Gary Bauer as a domestic policy advisor. Bauer was a close associate of James Dobson, president of the powerful Religious Right group Focus on the Family.
Reagan also picked anti-abortion crusader C. Everett Koop as Surgeon General — which turned into a mini-scandal when Koop agreed that sexually explicit AIDS education and gay-positive materials should be federally funded for schools. "You cannot be an efficient health officer with integrity if you let other things get in the way of health messages," Koop told the Village Voice. Koop was slammed by the Moral Majority's Rev. Jerry Falwell and other anti-gay evangelicals.
But perhaps one most egregious examples of the Reagan administration's homophobic callousness towards people with AIDS came from the persistent laughter emanating from the podium of White House Deputy Press Secretary Larry Speakes.
On Oct. 15, 1982, less than four weeks after Reps. Henry Waxman and Phillip Burton introduced a bill to allocate funds to the CDC for surveillance and the NIH for AIDS research, reporter Lester Kinsolving asked Speakes about the new disease called A.I.D.S..
Kinsolving: Larry, does the President have any reaction to the announcement — the Center for Disease Control in Atlanta, that AIDS is now an epidemic and have over 600 cases?
SPEAKES: What's AIDS?
Kinsolving: Over a third of them have died. It's known as "gay plague." (Laughter.) No, it is. I mean it's a pretty serious thing that one in every three people that get this have died. And I wondered if the President is aware of it?
SPEAKES: I don't have it. Do you? (Laughter.)
Kinsolving: You don't have it. Well, I'm relieved to hear that, Larry. (Laughter.) I'm delighted.
SPEAKES: Do you?
Kinsolving: No, I don't….In other words, the White House looks on this as a great joke?
SPEAKES: No, I don't know anything about it, Lester. What –
Kinsolving: Does the President, does anybody in the White House know about this epidemic, Larry?
SPEAKES: I don't think so. I don't think there's been any –
Kinsolving: Nobody knows?
SPEAKES: There has been no personal experience here, Lester.
The exchange goes on like that. For another two years. On World AIDS Day, Dec. 1, 2015, Vanity Fair debuted a 7:43 documentary directed and produced by Scott Calonico about that 1982 exchange between Kinsolving and Speakes. But Calonico also found audio of similar exchanges in 1983 and 1984 for his film, "When AIDS Was Funny."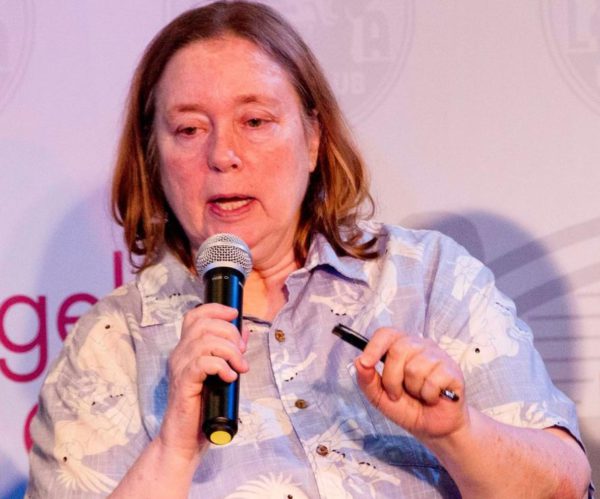 Karen Ocamb is the Director of Media Relations for Public Justice, a national nonprofit legal organization that advocates and litigates in the public interest. The former News Editor of the Los Angeles Blade, Ocamb is a longtime chronicler of the lives of the LGBTQ community in Southern California.
This is Part 4 of a series of 5 articles on AIDS @40.
Oregon House passes over-the-counter HIV prevention drugs bill
HIV-related stigma, homophobia and transphobia, and lack of access create equity gaps in HIV prevention, testing, and treatment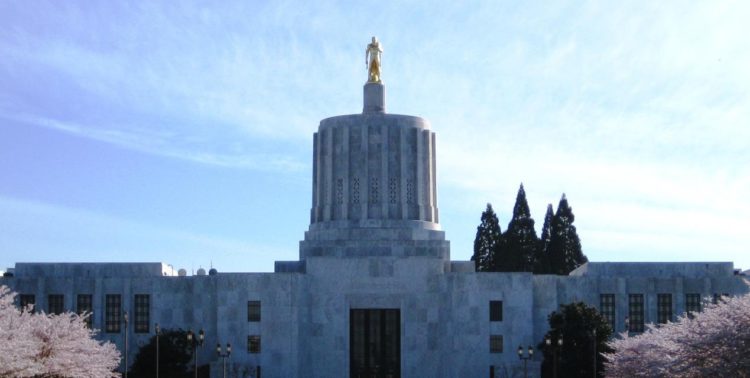 SALEM, OR. – The Oregon House of Representatives re-passed House Bill 2958B, a measure that would allow Oregon's pharmacists to prescribe, dispense, and administer both pre-exposure, (PrEP) and post-exposure prophylaxis, (PEP) the two drugs designed to prevent HIV infection.
The bill also sets the legal authority to conduct HIV tests in the state. The measure had passed in April on a 44-11 vote, was sent to the Senate, and then the measure was sent back after a compromise and conference bill was voted out of the Senate returning it to the House.
The Oregon House on Monday re-passed House Bill 2958 B, which allows pharmacists to prescribe, dispense, and administer both pre-exposure and post-exposure prophylaxis. Known as PrEP and PEP, the two drugs prevent HIV infection. The bill also clarifies that pharmacists have the legal authority to conduct HIV tests. The bill, which previously passed out of the House in April, passed today 44-11.
In an interview with Oregon Public Broadcasting, Rep. Rob Nosse, (D-SE Portland) who is openly gay and a lead sponsor of the bill noted; "Throughout this bill's journey through the legislative process, we heard repeatedly that pharmacists have the training necessary to administer these life-saving drugs."
"By making PrEP and PEP more widely available, we can get these medicines into communities that have been disproportionately impacted by HIV," he added.
Approximately 1.2 million people in the U.S. have HIV. About 13 percent of them don't know it and need testing. HIV continues to have a disproportionate impact on certain populations, particularly racial and ethnic minorities and gay, bisexual, and other men who have sex with men.
CDC estimates of annual HIV infections in the United States show hopeful signs of progress in recent years. CDC estimates show new HIV infections declined 8% from 37,800 in 2015 to 34,800 in 2019, after a period of general stability.
While new HIV diagnoses have declined significantly from their peak, the CDC and other Public Health officials across the U.S. have expressed concern of HIV resurgence due to several factors, including trends in injection and other drug use.
"When this disease first came into national focus, it was often referred to as 'gay related immune deficiency,' or GRID. Today, HIV is recognized as a disease that can be contracted by anyone, and those who are diagnosed as HIV positive can be given resources and medical support to live a long and healthy life," said Nosse. "This bill is potentially a lifesaving solution that will prevent deaths from HIV by making PrEP more accessible to all who need it."
Lawmakers in support of the bill say HIV-related stigma, homophobia and transphobia, and lack of access create equity gaps in HIV prevention, testing, and treatment, OPB reported.
"This is about reducing barriers to access for life-saving medications," said Rep. Dacia Grayber, D-Tigard, who also co-sponsored the bill. "PrEP and PEP are both vital parts of the toolkit for ending the HIV epidemic. By empowering pharmacists to test for HIV and prescribe these medications, we make it easier for Oregonians to get the health care services they need."
"Preventative treatments for HIV have saved countless lives, but not all communities have equal access to these drugs, and we can see the disparities in outcomes for low-income and BIPOC communities," said co-sponsor Rep. Karin Power, D-Milwaukie. "HB 2958 will help to distribute these life-saving drugs more broadly, so that we can begin to close these gaps in our health care system and ensure that more people are protected."
HB 2958 B now heads to Governor Kate Brown for her signature.
AIDS @40: AIDS disaster overwhelms the gays
"This horrible disease afflicts members of one of the nation's most stigmatized and discriminated-against minorities."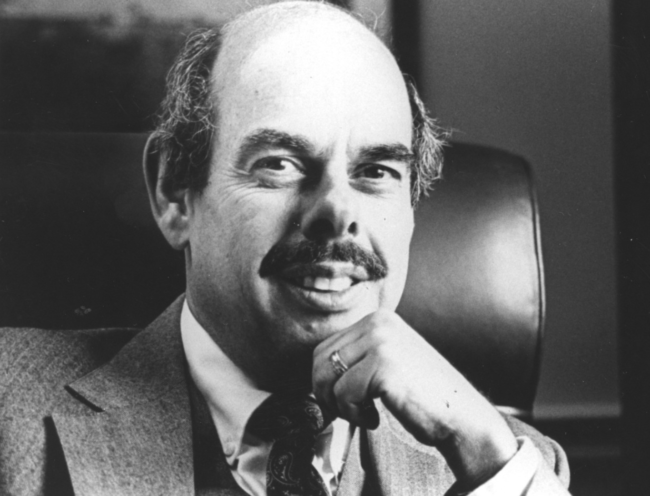 By Karen Ocamb | LOS ANGELES – After the Centers for Disease Control published his June 5, 1981 article on the mysterious new infectious disease sickening and killing gay men, Dr. Michael Gottlieb, an immunologist at UCLA School of Medicine, expected the government to show up and save the day. But it was Ronald Reagan, America's new and the conservative president who decided to dance with the right-wing anti-LGBTQ evangelicals who brought him to the White House.
"Government is not the solution to our problem, government is the problem," Reagan said at his Inauguration, before drastically cutting the federal budget, including the CDC and National Institutes of Health budgets and healthcare programs such as Medicare and Medicaid impacting more than a fifth of the US population, according to a Washington Post story at the time.
"I thought there'd be an aggressive response by the federal government, by the National Institutes of Health and CDC with the funding for research, but that never happened," Gottlieb told the Los Angeles Blade. "We were very frustrated — very frustrated. We piggybacked the research on funding that we already had for other things. But we continued to do the work."
In early 1982, the CDC launched a national case–control study that found that more case-patients were sexually active and more likely to have had sexually transmitted infections than their control gay patients. Meanwhile, in Los Angeles, Dr. David Auerbach, who replaced Dr. Wayne Shandera, the CDC Epidemic Intelligence Service (EIS) officer assigned to the Los Angeles County Department of Health Services, was asked by a gay community member if there was a possible sexual link between "the still rare cases" in Southern California. Auerbach collaborated with Dr. William Darrow of the Task Force on Kaposi's Sarcoma and Opportunistic Infections to investigate 13 of the first 19 cases reported in LA and Orange counties. They found that "nine had reported sexual contact with another person reported with AIDS within 5 years before their onset of symptoms," the CDC reported. They extended their epidemiologic investigation nationwide and, together with the case–control study, found evidence that "strongly suggested that the new syndrome was caused by a sexually transmissible infectious agent. Nonetheless, whether because of competing hypotheses or merely denial, many scientists and the public were skeptical of the infectious agent causation theory."
By the end of 1982, new cases of AIDS were reported in hemophiliacs, needle-sharing drug users, infants, women, people who received blood transfusions and heterosexual Haitian migrants.
The "gay plague" impacted heterosexuals, too. "[I]t was clear that others were at risk for the disease, and what had been complacency turned into serious concern, even panic. Many persons caring for AIDS patients were concerned about their own safety and, in some cases, health-care workers refused to provide needed care. To provide guidance for protection of clinicians and laboratory workers managing patients with AIDS and their biologic specimens, CDC issued guidelines in November 1982 that were based on those previously recommended to protect against hepatitis B virus infection," wrote James W. Curran, MD, and Harold W. Jaffe, MD in AIDS: the Early Years and CDC's Response, a CDC special report in 2011.
Proud and thriving gay liberationists and suave disco and ballroom dancers started wasting away uncontrollably. KS lesions blotched faces and bodies. Muscles atrophied. Beauty was betrayed by shrunken cheeks. Bowels wouldn't behave. Sweat fell like pouring rain onto bed sheets. Spirituality clashed with the most practical questions about quantity versus the quality of life. Gay men turning 20, rejected by their families after being outed by AIDS, died forlornly in the arms of lesbian friends, knowing they would never fall in love. AIDS was a cruel thief. Support groups started popping up: Gay Men's Health Crisis in New York; Shanti and The Kaposi's Sarcoma (KS) Research and Education Foundation and AIDS Project Los Angeles in 1983. Flirtations singer Michael Callen and Richard Berkowitz, two gay patients of Dr. Joseph Sonnabend, published How to Have Sex in an Epidemic, which essentially created the idea of safe sex with use of a condom.
On April 13, 1982, Rep. Henry Waxman, then the Chair of the House Energy and Commerce Subcommittee on Health and the Environment convened the first congressional hearing on AIDS (Acquired Immune Deficiency Syndrome). Waxman's district included the still unincorporated gay haven of West Hollywood and he went to where the gays were — the Los Angeles Gay and Lesbian Community Services Center on Highland Ave. in Hollywood, California. Years later, in presenting Waxman with an award, NIH's Dr. Anthony Fauci recalled that event.
According to an account in the Washington Blade, DC's gay newspaper of record at that time, Rep. Waxman did not mince words. "'I want to be especially blunt about the political aspects of Kaposi's sarcoma,' Rep. Waxman said. 'This horrible disease afflicts members of one of the nation's most stigmatized and discriminated-against minorities.' He continued, 'There is no doubt in my mind that if the same disease had appeared among Americans of Norwegian descent, or among tennis players, rather than among gay males, the responses of the government and the medical community would have been different.' He noted that the outbreak of Legionnaire's disease a few years earlier appeared to have received greater attention and funding for research and treatment than did the latest outbreaks of Kaposi's sarcoma and pneumocystis pneumonia among gay men."
Five months later, on Sept. 24, 1982, Waxman and Rep. Phillip Burton introduced legislation to allocate funds to the CDC for surveillance and to the NIH for AIDS research.
Dr. James Curran, head of the CDC's Task Force on Kaposi's Sarcoma and Opportunistic Infections, estimates that tens of thousands of people may be affected by the disease. Bobbi Campbell, a San Francisco nurse who came out Dec. 10, 1981 in the San Francisco Sentinel as the first KS patient to go public, also testified. The self-proclaimed "KS Poster Boy," was asked to translate "cold data into flesh and blood and tears," and to speak "of the men, my brothers, who have Kaposi's sarcoma and other illnesses."
Gottlieb was there but he doesn't remember much — just that his friend Steve Schulte was there and he met Tim Westmoreland, the gay man who staffed and organized the hearing for Waxman. And he remembers the Center as a broken-down old motel with the meeting held outside. It didn't get much press coverage.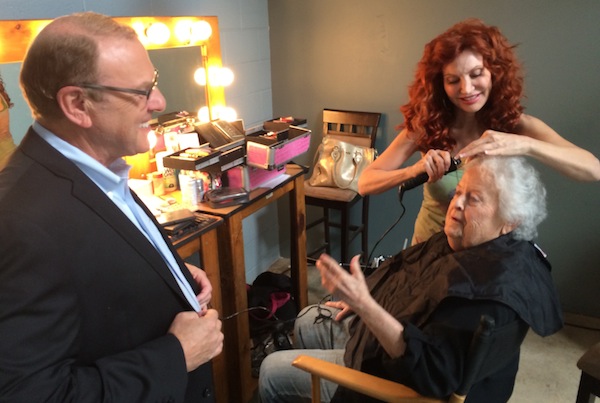 Gottlieb does remember his friendship with Ivy Bottini, an artist turned AIDS activist. Bottini's old friend from Long Island, Ken Schnorr, had collapsed and died in 1982. "After Ken died, something said to me there is more to this than we see," Bottini told the LA Blade. "So, for some reason, I just picked up the phone and called the CDC. I had never done that before. 'Look, this just happened to my friend. Do you have any answers? The hesitancy at the other end of the line, the hemming and the hawing before they would say anything — I just knew it was bad."
The CDC official explained that the bruises on Ken's body were Kaposi sarcoma, usually found in elderly Jewish men. "And that was the explanation," she said. "I got off and thought, 'no, this doesn't make sense because Ken was one of three first guys diagnosed with Kaposi in town, in West Hollywood, in L.A., and that started me on working to find out what the hell was going on. It was just horrible."
Waxman's hearing was held shortly after Schnorr's death. Bottini was there. "We all met in the lobby and under the stairs on the first floor," she said. "Waxman's basic message was spread the word: nobody really knows how it's passed."
"Thousands of deaths and no one cares! No one cares – except us," an emotional Bottini told Andy Sacher of the Lavender Effect about that time. "That was inhuman what was really happening to gay men. It was inhuman how they were demonized."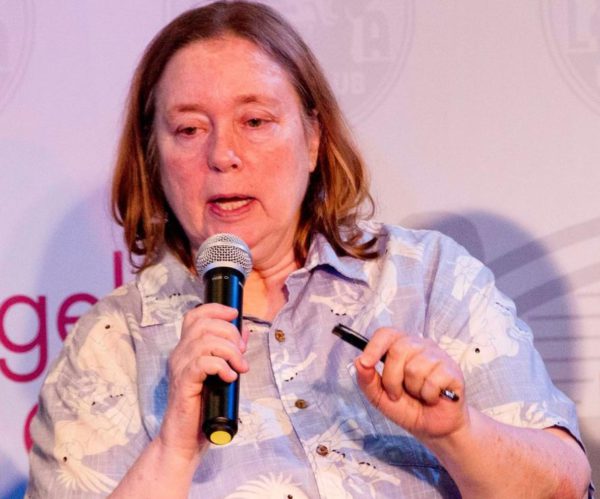 Karen Ocamb is the Director of Media Relations for Public Justice, a national nonprofit legal organization that advocates and litigates in the public interest.
The former News Editor of the Los Angeles Blade, Ocamb is a longtime chronicler of the lives of the LGBTQ community in Southern California.
This is Part 3 of a series of 5 articles on AIDS @40.