JK Rowling is an unwitting tool of the religious right
An emerging trans panic takes center stage even as trans rights advances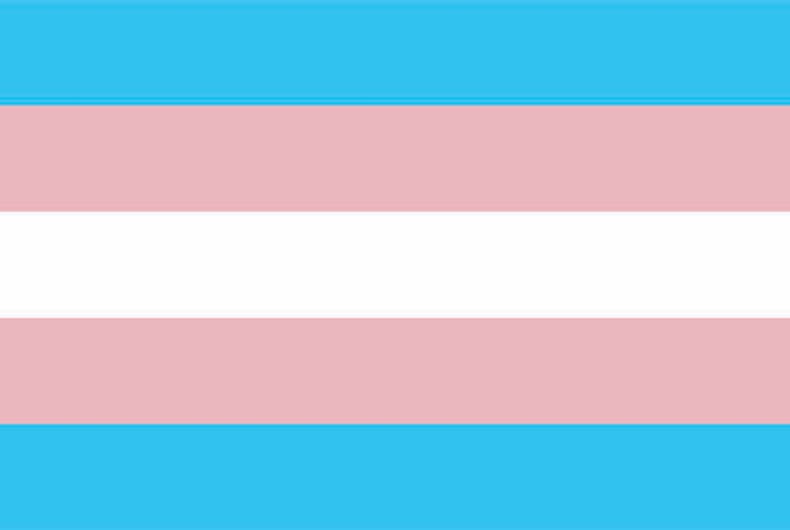 When JK Rowling tweeted that transition-related care for transgender teens is a form of gay conversion therapy, most LGB people who don't follow the fights inspired by Trans Exclusionary Radical Feminists (TERFs) were mystified. It made zero sense to them, because they actually know transgender people.

They know that conversion therapy for gays attempts to change who people are attracted to, while  affirming therapists for trans people never try to alter who they love. Some even know that most transgender people, whether trans men or trans women, don't identify as straight after transition.

However, to TERFs and the religious right, this argument is an old dog-whistle meant to split the trans community from cisgender members of the LGB community.

Both TERFs and the religious right have been hammering away at the ludicrous narrative that the transgender community is stealing away all the baby gays and lesbians by convincing them it would be easier to be transgender and appear to be straight.
This is utterly implausible.

First, most people see being transgender as being far less accepted than being lesbian, bisexual, or gay. It's like the old video asking an audience of white people to stand if they'd prefer to be treated like a Black person: only the most deluded individuals would stand up. Not only would they have to trade down in social status, but they'd have to go through years of therapy to prove they're trans and take hormones that induced actual dysphoria.

TERFs, and Rowling, would also have you believe that there is a vast plot by transgender activists, doctors, and mental health providers to railroad teens through transition. However, the people who actually work with transgender people–the World Professional Association for Transgender Health (WPATH)–has explicitly stated that, "There are no studies to support [the claim that] children are forced to undergo treatments they may regret."

Beyond this, in the UK trans teens are forced to wait at least 12-18 months before they are even evaluated by the National Health Service, much less treated. Many spend so long on the waiting list that they age out of the youth program, and then get moved to the adult waiting list, which is two to three years long. Waiting up to four or five years for treatment shows how little rush there really is in the system.

In other words, to believe TERFs and the religious right about transgender teens, you must reject the experts and embrace a conspiracy theory worthy of QAnon. Most progressives, including Rowling and anti-transgender members of the LGB community, would normally laugh at the bonkers theories of the American religious right.
Instead, they have been deliberately and willingly co-opted by it.

Five years ago, as the Supreme Court prepared to make same-sex marriage legal, the American religious right deliberately shifted to attacking transgender people. They saw transgender people as the weakest link in the LGBTQ community, and determined that the best strategy was to divide and conquer. Peel off transgender people, destroy them, and then use that to propel them to victory over the remaining LGB people.

At the 2018 Values Voters Summit, Meg Kilgannon told the audience at an anti-transgender panel: "For all of its recent success, the LGBT alliance is actually fragile, and the trans activists need the gay rights movement to help legitimize them. Gender identity on its own is just a bridge too far. If you separate the T from the alphabet soup, we'll have more success."

At the same conference, Kilgannon also outlined how the religious right would take over "feminist" narratives and use them against transgender people. She even trotted out the narrative that "transing masculine girls is a form of lesbian eugenics." She described her plan to close the loop between TERFs and the religious right: dummy organizations would use anti-transgender feminists as "useful idiots", and disguise the influence of the Mike Pence wing of the GOP.

Kilgannon mentioned the Hands Across the Aisle Coalition as a starting point. However, even before that organization emerged, the religious right had been funding others for several years. The Alliance Defending Freedom (ADF), no friend to women or LGB people, bankrolled the start up of the Women's Liberation Front in early 2016. WoLF is an Astroturf organization that files lawsuits and briefs supporting the right to discriminate against transgender people. WoLF always seems to have legal help from the ADF.

It's not the first time the religious right has used the plaintive cry of "Won't someone please think of the children!" to persuade gullible progressives into doing foolish things. In the 1980's, during the height of the "Satanic Panic," Tipper Gore (wife of Senator Al Gore) formed the "Parents Music Resource Center" to fight the demonic influences of AC/DC, Mötley Crüe, Madonna, and Def Leppard. Lesbians and gays were frequently accused of preying on children, and often went to prison based on junk science, prejudice, and the flimsiest of evidence.

Perhaps the saddest part in all this is that it doesn't take much to show basic respect for transgender people. Halle Berry turned down a role as a trans man this weekend because she recognized that it causes pain to the transgender community when a cisgender actor takes on a transgender role.
Margaret Atwood (author of The Handmaid's Tale) tweeted that trans people are just another part of humanity, and that the Republic of Gilead would probably have executed trans women, just like they did gay men. Unsurprisingly, given how oblivious TERFs are to the designs of the religious right, they piled onto Atwood for her defense. They told her that she didn't understand her own story, and called her "Aunt Lydia."

Today, the Satanic Panic has been replaced with the trans panic. Panic over trans athletes (even though there are hardly any); trans people in bathrooms (which was never a problem in the past); trans people getting government issued IDs (ditto—it's been happening for years); trans people stealing baby gays; trans people forcing kids to transition (puh-lease, I can't even get my own to clean their rooms!); trans people being a plot by George Soros; and it just gets dumber and nuttier from there.

Which brings me back to JK Rowling. She has more money than God, has an enormous platform, and is in a position to do a lot of good in this world. She thinks this is feminism.

Instead, she's doing the work of the anti-LGBT, anti-woman religious zealots Margaret Atwood warned us about.

Brynn Tannehill is a former naval officer and author of "Everything You Ever Wanted to Know About Trans*"
How twisted and amoral has America become?
We will all die in some version of stone cold obscurity if we let compassion die quietly. Silence Still = Death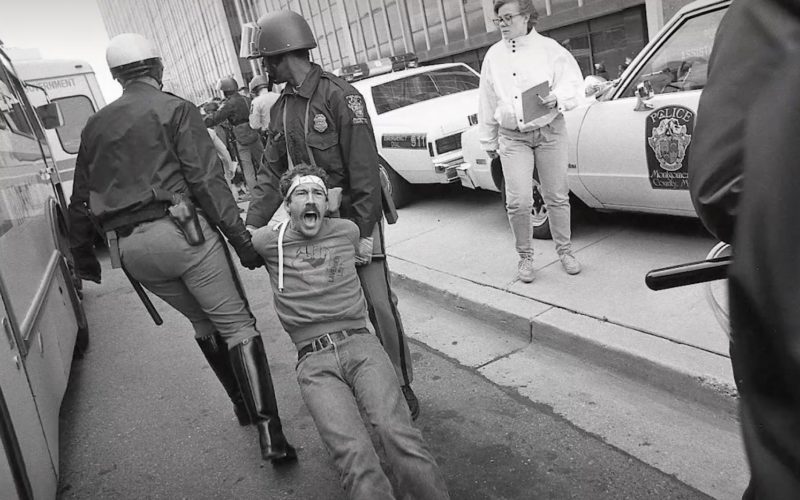 By Karen Ocamb | WEST HOLLYWOOD – Dec. 1, 2021 – a date that will live in infamy for so many reasons, not the least of which is the announcement of the new Omicron variant coronavirus case in the US.
Yesterday, the Los Angeles Times reported it's in LA. The Times also reported: "The Omicron variant, now present in at least 23 countries around the world, was probably incubated in the body of a person with an immune system battered by HIV or another immune-compromising condition that can cause a prolonged coronavirus infection, according to the South African scientist who detected the fast-spreading genetic mutant."
From the beginning of COVID, those of us with some familiarity with the AIDS crisis have been stunned by the odd similarities. COVID is, in fact, the mysterious fatal airborne disease everyone first thought HIV/AIDS was.
Remember how people panicked and were afraid to be in the same space, touch an object owned by a person with AIDS, share a cigarette or a straw or eating utensils with someone infected with HIV lest the user catch AIDS? Eventually, the CDC said that's not how HIV is transmitted – it's not airborne.
Nonetheless, people with HIV/AIDS were stigmatized, shamed and ostracized – which is why we had to take care of our own. Today, the CDC is begging the public to recognize that COVID and its variants ARE airborne and easily transmitted. But instead of panic, too many Americans inconceivably believe wearing a mask to protect themselves and others somehow deprives them of their freedom.
And scientists tethered to the so-far fruitless search for an HIV/AIDS vaccine applied that work to creating COVID vaccines with unprecedented speed – which has been met with loud hostile protests from millions of anti-vaxxers who search Google for remedies that conform to their conspiracy theories.
This is just mind-boggling to those of us who witnessed, protested and survived the AIDS crisis. I vividly remember the shouting match that broke out between Project Inform's Martin Delaney and Being Alive's Dave Johnson in 1989 over who should get experimental HIV drugs first as the foot-dragging FDA started to consider compassionate release of experimental AIDS drugs on a parallel track while continuing their efficacy tests.
Delaney was in West Hollywood to discuss the very controversial drug Compound Q that Jim Corti smuggled out of China. Despite some dire news reports, gay men clinging to life were clamoring to get into Delaney's trials. Desperation was choking the hope out of everyone in that WeHo Park Auditorium as HIV-negative Delaney and HIV-positive Johnson debated whether experimental AIDS drugs should be triaged so only those with the best chance of getting better should get the drugs first or they should go to the people closest to death.
Let that sink in. West Hollywood Park Auditorium was the frontline bunker in a virtual war zone with young gay squad leaders arguing over who gets saved and who's left to die.
This Dec. 1, World AIDS Day, occurred during the 40th anniversary of the first CDC article announcing the arrival HIV/AIDS. Among the many commemorations by AIDS Healthcare Foundation, APLA Health, The Wall Las Memorias, In The Meantime Men, and the AIDS Monument in WeHo — ACT UP/LA announced they are creating a new oral history project (see actupla.org), including leader Mark Kostopolous (h/t Ann Bradley).
In a press release, ACT UP/LA recalled: "Activists took a stand to confront and demand redress of attitudes like those of Los Angeles County Supervisor Pete Schabarum, when he dismissed the recommendations of the County AIDS Commission [demanding an AIDS Ward at County Hospital] stating: "If you were to poll the man on the street, I think you would find the vast majority of the public really has no interest in the subject of AIDS and certainly could care less about the public financing, the needed programs that you've articulated."
But we cared. And in addition to protesting, pushing elected officials and creating institutions and agencies to meet the needs, we loved and took care of our brothers and sisters in a thousand small ways.
Allen is but one gay man whose name has been lost to all but his Latino lover. I knew Allen from our shared 12 Step program. One night he called in a panic, crying because he'd thrown up and soiled himself. His partner and his partner's mother – who didn't like Allen – were out for a dinner break in Silver Lake. I jumped in the car and dashed over. The lover left the door open in case paramedics needed to be called. Allen was so humiliated and afraid, he would have sunk into the bed and disappeared if he could have.
As I cleaned him up and gagged over the vomit on the floor, he kept apologizing for being a burden. And then he started talking about how he knew he was dying but couldn't talk to his partner about it. His partner was having difficulty watching Allen waste away, not knowing how to make it all stop and go back to their glorious time together. I just listened and stroked Allen's arm and wiped his fevered brow.
The partner and the mother were shocked to see me when they walked in, almost as if I was an intruder. As I explained why I was there, I could see Allen go from being happy to see them to looking like he was a hostage with Stockholm Syndrome. I stroked his hair back from his forehead as I said goodbye. He thanked me with his frightened eyes. I never saw or heard from or about him again.
Cut to today. So far, 777,000 people have died from COVID and its variants since the first case in California in Feb. 2020. To repeat: of 48.1 million COVID cases, 777,000 have DIED in 22 months, most in obscurity like Allen. Where's the protest? How twisted and amoral has America become?
We will all die in some version of stone cold obscurity if we let compassion die quietly. Silence Still = Death.
ACT UP Los Angeles Oral History Project
***********************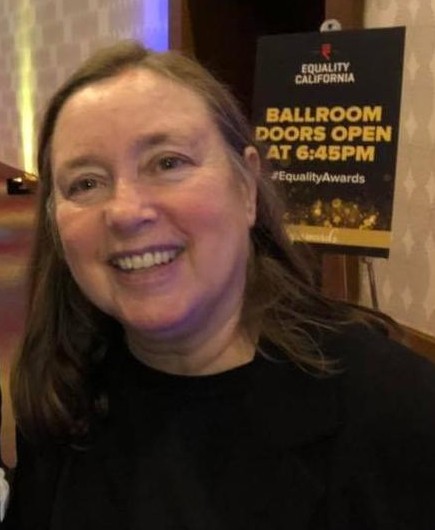 The end of LGBTQ+ rights is maybe here
The court is signaling that we are returning to a time where "community morals" are sufficient basis for law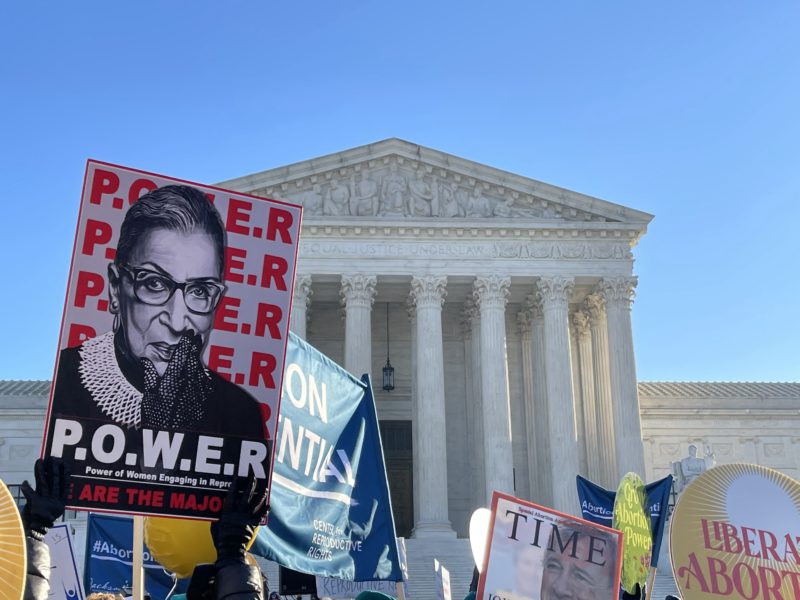 By Brynn Tannehill | FAIRFAX COUNTY, Va. – On Wednesday, December 1, 2021 the U.S. Supreme Court heard oral arguments in the case of Dobbs v. Jackson on whether to uphold Mississippi's ban on abortions after 15 weeks. This would effectively overturn Roe v. Wade, which holds that states cannot limit access to abortion "pre-viability".
The court appears poised to either overturn Roe v. Wade, or render it moot. This would reverse 50 years of precedent in the U.S..
It is also a sign that LGBTQ+ rights in the U.S are about to go backwards as quickly and irrevocably. During arguments, Associate Justice Brett Kavanaugh asked, "Why should this court be the arbiter rather than Congress, the state legislatures, state supreme courts, the people being able to resolve this?" He also suggested that the court should, "return to a position of neutrality on that contentious social issue rather than continuing to pick sides…"
The conservative majority of the court is declaring that anything that remains controversial should be overturned and kicked back to the states (or Congress) to be decided. Associate Justice Sonia Sotomayor noted under this theory cases like Obergefell (marriage equality) and Griswold (access to contraception) would have to be overturned as well.
The Mississippi solicitor general hand-waved away these questions by claiming that Obergefell was no longer controversial, so there would be no push to overturn it.
This is a lie, however. An amicus brief in Dobbs v. Jackson, submitted by the former Texas Solicitor General Jonathan Mitchell (one of the architects of Texas "abortion bounties" law), explicitly calls for the court to overturn Roe v. Wade, and Obergefell, Lawrence v. Texas, and Griswold along with it under the same legal theories.
Twelve states have "trigger laws" banning abortion that will go into effect the moment that Roe v. Wade is overturned. Similarly, 31 states still have laws or constitutional amendments banning same-sex marriage on the books that would go back into effect if Obergefell goes down, including California, Oregon, Colorado, and Virginia.
Fourteen states still have anti-sodomy laws that would make gay sexual relations illegal again if Lawrence is overturned.
Given that the bans on abortion are primarily based on religious beliefs, the court is signaling that we are returning to a time where "community morals" are sufficient basis for law, and that the Supreme Court will be reluctant to intervene.
Given that deceased anti-gay Associate Justice Antonin Scalia decried legalizing consensual sex between adults as a matter of equal rights or fairness, "The law is constantly based on notions of morality," he opined.
We are now at a moment where Scalia's vision of the law is dominant at the Supreme Court. Obergefell rests on Lawrence rests on Roe rests on Griswold. With Roe gone or rendered impotent, the house of cards will almost certainly fall, Pandora's Box will open, and all the horrors in hell will pour out of it.
States like Texas would dearly love to overturn Obergefell and will almost certainly file to do so within weeks of the court releasing its decision in the Summer of 2022. This sets us on a course for Obergefell to be overturned in 2024, and Lawrence a few years later.
Conservative states would also target the 1996 case of Romer v. Evans, which ruled that states cannot pass laws targeting minorities without a rational basis beyond "community morals". With these re-established as a basis for law, Romer is probably doomed as well, allowing red states to pass all sorts of nasty laws that deliberately target LGBTQ+ people.
For example, they could pass laws banning transition related care for all trans people, not just youth. Or, they could pass a law forbidding the state, or state contractors, from hiring "known homosexuals". Or create a special "potential sex offender" list for anyone diagnosed with gender dysphoria and make most health care professionals and teachers mandatory reporters.
The list of potential horrors once Obergefell, Lawrence, and Romer are gone is almost endless. All three of them are almost certainly doomed if the signals we're getting from the court are an accurate indication.
It's reasonable to believe all three will be gone by 2028, if not sooner. When they're gone, the only thing preventing states dominated by the GOP from going for the metaphorical jugular is if they somehow, inexplicably, decide that they're going to tolerate LGBTQ+ people in their midst, when they don't have to.

Our community's continued existence is counting on the GOP to collectively develop empathy for us and forgo the chance to "Make America Great Again" by going back to 1954 when queers had no rights and were all confined to the closet.
That's a sucker's bet if I ever saw one.
*********************
Brynn Tannehill is a senior analyst at a Washington D.C. area think-tank, and is the author of "American Fascism: How the GOP is Subverting Democracy."
Abortion access is an LGBTQ+ issue
The anti-abortion movement is about controlling the bodies of women. It's about controlling the bodies of trans folks and nonbinary people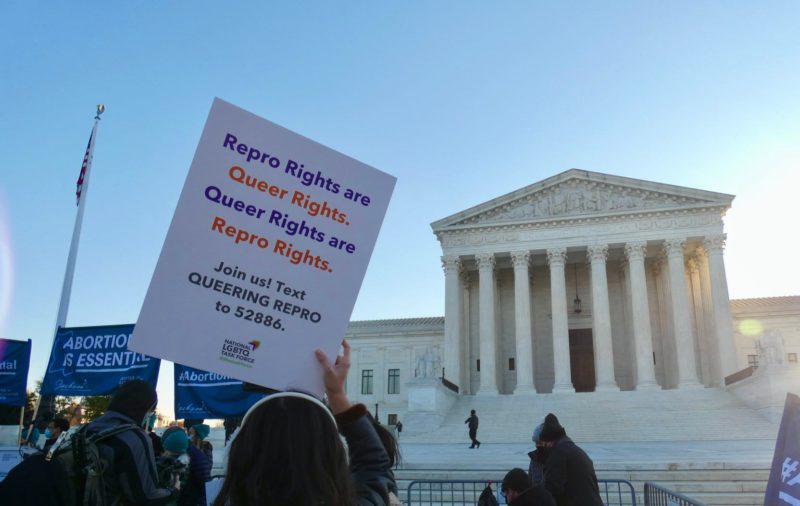 By Tony Hoang | LOS ANGELES – On Wednesday, the State of Mississippi asked the U.S. Supreme Court to overturn Roe v. Wade — the landmark 1973 decision that affirmed a constitutional right to privacy and protected abortion access in America for the last five decades.
This is not the first challenge Roe has faced at the Supreme Court. But given the 6-3 conservative majority on the court, the Mississippi case is the gravest threat Roe has faced in decades.
This window of opportunity to overturn Roe has prompted anti-abortion extremists have worked overtime to pass extreme new laws limiting abortion access all across the country this year — with state legislatures passing a record-breaking 106 new abortion restrictions. And this September, Texas implemented the nation's most extreme abortion law since 1973, effectively banning all abortions after six weeks of pregnancy.
Preventing abortion access and abortion care would have devastating consequences – especially for the LGBTQ+ community.
LGBTQ+ people who can get pregnant — which may include lesbian and bi+ women, transmasculine people and nonbinary people — need access to safe, legal abortion care. They need access to contraception, HIV testing and treatment and pregnancy care. The right to access all of these essential health services is protected by Roe and the fundamental right to privacy.
Indeed, LGBTQ+ community — especially people of color — face disproportionate rates of discrimination and violence. Studies suggest that around half of transgender people and bisexual women will experience sexual violence at some point in their lifetimes. The Mississipi abortion law, which bans most abortions after 15 weeks, significantly before fetal viability, would not allow survivors of sexual assualt enough time to make a critical life-altering decision.
But that's not all — Roe v. Wade also serves as the constitutional foundation for other LGBTQ+ civil rights. The Court relied heavily on precedent set by Roe when it decided Lawrence v. Texas, the ruling that overturned so-called "sodomy laws" — laws that criminalized LGBTQ+ relationships.— in states across America. Roe and Lawrence in turn fueled two decades of Court decisions safeguarding the civil rights of LGBTQ+ Americans.
LGBTQ+ people — especially those who are low-income or live in rural areas — also rely on the same clinics that anti-abortion extremists are trying to shut down, often as the only affordable provider of culturally competent basic medical care, reproductive healthcare, gender-affirming care and more. If these clinics are shuttered because of extreme anti-abortion restrictions, millions of people won't just lose access to abortion — they'll lose access to other affordable and affirming services, including cancer screenings, STI testing and treatment and gender-affirming healthcare.
Just two months ago in October, supporters poured into the streets in cities across the country to protest Texas's extreme abortion ban. In Los Angeles, Equality California and Planned Parenthood Advocacy Program Los Angeles County, along with Planned Parenthood affiliates everywhere turned out thousands in support of reproductive freedom.
Let's be clear, most anti-abortion extremists aren't trying to protect life. If they were, they'd advocate for nutrition assistance and affordable childcare, expanded access to healthcare, gun safety reform and an end to the barbaric death penalty. They certainly wouldn't pass legislation that endangers the lives of women and people who give birth — as experts warn the Texas ban does.
The anti-abortion movement is about controlling the bodies of women. It's about controlling the bodies of trans folks and nonbinary people. And if we allow far-right extremists to control pregnant people's bodies — to deny them basic agency over themselves — then where does that control stop?
As Justice Sonia Sotomayor incredulously asked during yesterday's arguments, "Will this institution survive the stench that [overturning Roe v. Wade] creates in the public perception that the Constitution and its reading are just political acts?"
Abortion access is a women's issue. But it's also an LGBTQ+ issue. It's a gender equity issue, a racial justice issue and an issue of economic empowerment. It's an issue for which no one can afford to sit on the sidelines because our democracy is not a spectator sport.
If the U.S. Supreme Court won't protect reproductive freedom and access to abortion, then Congress must act immediately to pass the Women's Health Protection Act. And voters should hold those who fail to act or stand in the way accountable.
Eighty percent of Americans — and majorities of both major political parties — support legal abortion. One in three women will access abortion care in her life. There's no question that the American people have the power to safeguard abortion in America. The question is: will we use it?
********************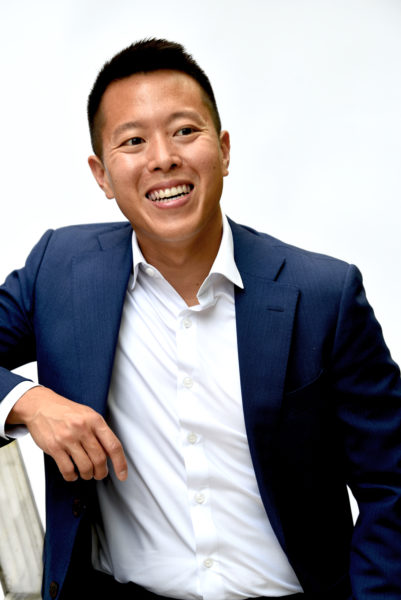 Tony Hoang is the Executive Director of Equality California, the nation's largest statewide LGBTQ+ civil rights organization.