July 11, 2020 at 11:00 am PDT | by Karen Ocamb
California to HHS: LGB&T still covered here (Equality California update)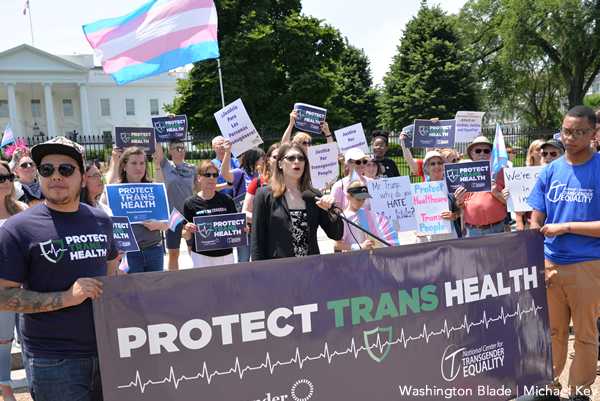 Harper Jean Tobin, center, speaks at a rally for transgender health in front of the White House on May 29, 2019. (Washington Blade photo by Michael Key)
This federal announcement would be laughable if it wasn't official. The U.S. Department of Health and Human Services "respects the dignity of every human being, and as we have shown in our response to the pandemic, we vigorously protect and enforce the civil rights of all to the fullest extent permitted by our laws as passed by Congress. We are unwavering in our commitment to enforcing civil rights in healthcare," said Roger Severino, director of the Office for Civil Rights at HHS on June 12 as he declared that Section 1557 of the Affordable Care Act would no longer prohibit discrimination on the basis of sexual orientation or gender identity.
The new Trump rule is scheduled to go into effect on Aug. 18.
Lambda Legal and the Human Rights Campaign immediately filed lawsuits on behalf of clients specifically impacted by the Trump administration's callous move. The new rule would strip away the Obama administration's May 2016 rule implementing Section 1557 that extended the legal interpretation of sex discrimination to include bias based on sexual orientation or gender identity, as well as discrimination based on race, color, national origin, sex, age or disability.
HHS focuses narrowly on the definition of "sex" in the healthcare program and Severino apparently decided to issue the new rule before the Supreme Court's recent decision in Bostock v. Clayton County, which explicitly links sex discrimination to discrimination based on sexual orientation or gender identity.
"An employer who fires an individual for being homosexual or transgender fires that person for traits or actions it would not have questioned in members of a different sex. Sex plays a necessary and undisguisable role in the decision, exactly what Title VII forbids," the Supreme Court ruled.
In the name of "Protecting Civil Rights in Healthcare, Restoring the Rule of Law, and Relieving Americans of Billions in Excessive Costs," as they announced in their June 16 press release, neither Severino nor HHS Sec. Alex Azar II has backed off implementing the new rule, despite Bostock and the global coronavirus pandemic.
"LGBTQ people, and particularly transgender people, have been under constant attack by this federal administration."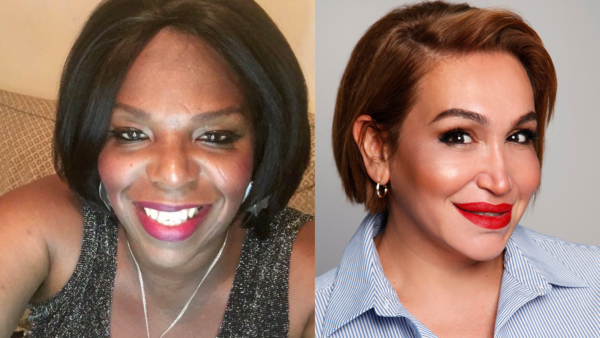 "Our plaintiffs, Tanya Walker and Cecilia Gentili — like many others in this country — should not be treated as second-class citizens by a federal administration hell bent on removing legal protections afforded to transgender people," said Alphonso David, president of the Human Rights Campaign, after filing the 70-page complaint on June 26 in the United States District Court for the Eastern District of New York.
"It is time to end the constant fear and anxiety felt by many in the LGBTQ community that a person's gender identity might determine the kind of medical care they receive."
The Washington Blade reported that the HRC lawsuit on behalf of the two trans women of color, both of whom suffer from serious lung conditions, sought a preliminary injunction against the rule change "on the basis that it violated the law in the aftermath of the Bostock decision, exceeds statutory authority under the Affordable Care Act, is arbitrary and capricious and violates the right to equal protection under the Fifth Amendment."
Lambda Legal and Steptoe & Johnson LLP also filed a lawsuit, Whitman-Walker Clinic v. HHS, in the United States District Court for the District of Columbia challenging the HHS rule on behalf of four doctors and six organizations, including TransLatin@ Coalition and the Los Angeles LGBT Center.
"The health care discrimination rule will hurt marginalized communities who already experience barriers to care, but especially those of us who are transgender, non-English speakers, immigrants, people of color and people living with disabilities and will have an even more serious impact on those of us who hold intersectional identities," said Bamby Salcedo, President and CEO of the TransLatin@ Coalition.
"The TransLatin@ Coalition and its affiliated organizations such as Arianna's Center in Florida and Puerto Rico and the Fundación Latinoamericana de Acción Social (FLAS) in Texas exist because of the already present challenges in our communities and because everyone deserves easy access to care that is respectful of who we are, compassionate and competent. Our lives depend on it and we're going to fight for it," she said.
On July 9, Lambda Legal filed for a preliminary injunction. "We are putting a stop to the Trump administration's immoral and legally indefensible attacks on our communities. Section 1557 of the ACA is clear in its inclusion of LGBTQ people and other vulnerable communities and the law is on our side. This rule cannot be allowed to go into effect, not even for a moment," Omar Gonzalez-Pagan, Senior Attorney and Health Care Strategist for Lambda Legal, said in a press release. "The Trump administration has a dismal record of handling the COVID-19 pandemic and a well-documented score of attacking the rights of LGBTQ people, particularly transgender persons. Now the Trump administration seeks to double-down on both by limiting access to health care for LGBTQ people and other vulnerable individuals in the midst of a global pandemic."
Equality California, which has filed or been part of numerous lawsuits against the Trump Administration, was also angry at HHS and furious about their timing – the anniversary of the mass shooting at Pulse, the gay nightclub in Orlando, Florida.
"We're considering all possible avenues to block this heartless, discriminatory rule from ripping healthcare away from millions of Americans during a global pandemic," Equality California Executive Director Rick Chavez Zbur said when HHS issued the final rule on June 12.
"The Trump-Pence Administration's response to COVID-19 has ranged from incompetent to illogical to reckless. But this is a new low. To roll back healthcare protections for LGBTQ+ patients in the middle of a global pandemic is heartless and cruel. But to do so on the fourth anniversary of the mass shooting at Pulse Nightclub in Orlando is especially despicable."
Zbur added: "Transgender and gender-nonconforming people deserve healthcare. Gay, lesbian, bisexual and queer people deserve healthcare. People with disabilities and people for whom English is not their first language deserve health care. No one should be denied this basic human right because of who they are or who they love. Shame on Donald Trump and his administration for saying otherwise."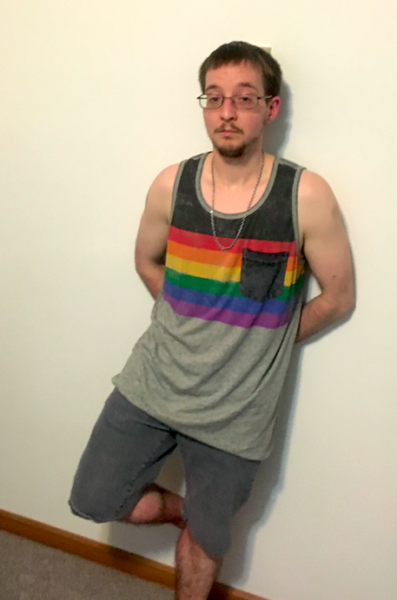 Equality California trans member Darren Stanley Lazor (photo courtesy Equality California)
On July 10, Equality California, representing trans member Darren Stanley Lazor, upped the ante in another federal court joining National Women's Law Center, Transgender Law Center, Transgender Legal Defense & Education Fund, Harvard Law School Center for Health Law and Policy Innovation and the other plaintiffs in BAGLY v. HHS in Boston.
In their press release, Equality California briefly laid out the horror Lazor has had to endure:
"Darren lives in Ohio, where he has experienced extensive healthcare discrimination based on his gender identity. For example, in 2012, Darren sought treatment for symptoms that later turned out to be endometriosis and a large ovarian cyst. Darren was denied treatment by four healthcare providers because of his transgender status before finally receiving treatment for his life-threatening condition.

In December 2017, Darren began experiencing shortness of breath as the symptom of a recurring health problem. He returned to the emergency room closest to his home where he once again experienced a hostile and disrespectful hospital staff who discriminated against him in several ways, from misgendering his hospital bracelet as female, to making audible expressions of disgust when affixing EKG stickers near Darren's mastectomy scars, to ignoring him in the treatment room with no explanation.

When the Trump-Pence Administration issued its decision to undermine LGBTQ+ nondiscrimination protections in the Affordable Care Act, Darren decided to step forward and share his story as a plaintiff in BAGLY v. HHS to ensure that no one else will be denied life-saving healthcare or be discriminated against simply because of who they are."
That may have prompted the California Department of Managed Health Care (DMHC) to 'affirm its commitment to protect consumers' healthcare rights, including the right to be protected from discrimination based on categories like gender identity and sexual orientation that are enshrined in California law," according to a DMHC email distributed to LA County healthcare providers and policy makers.
"The DMHC Nondiscrimination Statement was issued in response to the finalized rule issued by the U.S. Department of Health and Human Services that eliminated regulations that protected individuals from discrimination based on categories like gender identity and sexual orientation," DMHC's Marisa Ramos wrote in a "Dear Colleagues" letter. "The rule also eliminated a federal requirement that health plans include information about the availability of language assistance services for people with limited English proficiency (LEP)."
The DMHC statement reads, in part: "Notwithstanding the new federal rule, all California-licensed health plans must continue to comply with California law, which protects all Californians from discrimination based on, among other things, gender identity and sexual orientation. Likewise, California-licensed health plans must continue to comply with California's requirements to provide enrollees with notice of the availability of free language assistance services in English and the top 15 languages spoken by LEP individuals in California."
Out California Insurance Commissioner Ricardo Lara also re-issued the statement he sent June 15 to "All Health Insurance Companies, All Licensed Insurance Producers, and Other Licensees and Interested Parties" alerting them to comply with California's Health Insurance Anti-Discrimination Protections – specifically noting that the HHS federal rule does not preempt state law.
Health insurance that is regulated by the California Department of Insurance (CDI) "remains subject to California's antidiscrimination law. Consequently, health insurers must continue to comply with the existing antidiscrimination standards in California law, beyond the minimum requirements of federal law," he said. Lara's Notice to insurance carriers notes that state anti-discrimination requirements include the following:
"Anti-discrimination and language and disability assistance services notification requirements, including a that "[a]n insurer does not discriminate on the basis of race, color, national origin, ancestry, religion, sex, marital status, gender, gender identity, sexual orientation, age, or disability."

A  prohibition against discriminating based on an insured or prospective insured person's actual or perceived gender identity, or on the basis that the insured or prospective insured is a transgender person, including discrimination in the following: denying, cancelling, limiting or refusing to issue or renew an insurance policy; premium rating; designating gender identity or transgender identity as a pre-existing condition for the purpose of denying or limiting coverage; denying or limiting coverage or denying a claim for the following services due to gender identity or because the insured is a transgender person; health care services related to gender transition if coverage is available under the policy for such services when not related to gender transition; including but not limited to reconstructive surgery; health care services ordinarily or exclusively available to individuals of one sex when the denial or limitation is due only to the fact that the insured person is enrolled as belonging to the other sex or has undergone, or is in the process of undergoing, gender transition."
Lara says the CDI will continue to "vigorously enforce these and other existing provisions of California law to protect Californians against wrongful discrimination."
Anyone who thinks they have been subject to unlawful discrimination should contact the Department's Consumer Complaint Center at 1-800-927-4357, or submit a complaint through the Department's website at www.insurance.ca.gov.