Fauci: No clear evidence HIV heightens coronavirus risk
Leading U.S. infectious disease expert spoke at AIDS conference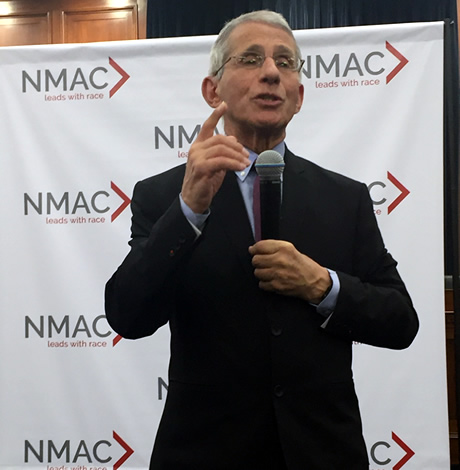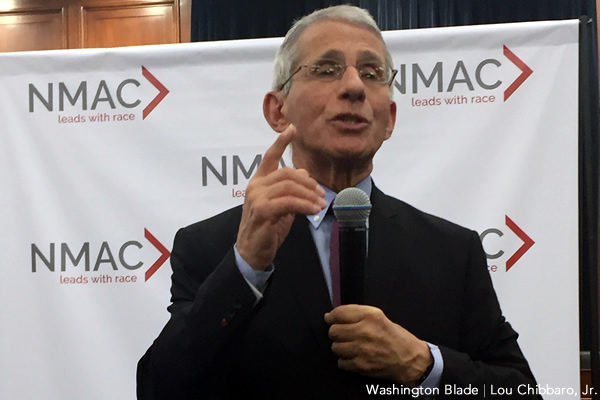 Dr. Anthony Fauci on Friday said it remains unclear whether people with HIV are more vulnerable to the coronavirus.
"The story is not yet completely out in individuals with HIV," he said during a panel that took place on the final day of the 2020 International AIDS Conference. "Those with HIV that's not controlled in the sense of controlled viremia as opposed to those with good control. That knowledge store is still evolving."
Fauci in his presentation also said there is a "significant issue" in the U.S. "with a disproportionate disparity or serious illness among our minority population" with Black people, Latinos and Native Americans most impacted. Dr. Deborah Birx, the coordinator of the White House's coronavirus task force, echoed Fauci in her own remarks during the panel.
"This is like HIV and that there are specific vulnerable groups, either by race, ethnicity or their relationship in poverty," she said.
Both Birx and Fauci said hypertension, diabetes and obesity are among the underlying health issues that make people more vulnerable to coronavirus.
Dr. Sarah Henn, chief medical officer at Whitman-Walker Health in D.C., told the Washington Blade in March that older people with underlying medical conditions and those who have chronic illnesses are most vulnerable to the pandemic. Immigration Equality and other advocacy groups have also said U.S. Immigration and Customs Enforcement detainees with HIV are also at risk.
"When I think of people who are at increased risk or high risk for coronavirus I think of people who are significantly immunosuppressed," Henn told the Blade. "I think of people who are going through cancer chemotherapy, people who are immunosuppressed with medications with a history of organ transplants, and people with a very low CD4 count and uncontrolled HIV and AIDS."
Fauci: U.S. in midst of 'very serious problem'
The International AIDS Conference was to have taken place this week in San Francisco and Oakland, Calif., but it happened virtually because of the coronavirus pandemic.
Johns Hopkins University of Medicine's Coronavirus Resource Center notes there are more than 3.2 million confirmed coronavirus cases in the U.S. Their statistics also indicate the pandemic has killed 134,729 people in this country.
The New York Times reported there were 68,241 new coronavirus cases reported in the U.S. on Friday.
Birx noted four states — Arizona, California, Florida and Texas — account for 50 percent of new coronavirus cases in the country. She also said positive test rates in Houston and Phoenix are higher than 20 percent.
"In the United States we have increased number of cases over the … particularly past three weeks," said Birx. "We have not seen this result in increased mortality but that is expected as the disease continues to spread in some of our large metro areas where co-morbidities exist."
Fauci also said upwards of 45 percent of people with confirmed coronavirus cases are asymptomatic.
"There is transmission by asymptomatic and pre-symptomatic individuals to unaffected individuals, which clearly complicates greatly attempts at contract tracing and isolation," he said.
The Trump administration's response to the pandemic has been widely criticized, but Birx stressed the U.S. has "worked hard to expand testing." Birx also said efforts to combat the virus in this country remain largely focused on the state and local level.
Florida Gov. Ron DeSantis, a Republican who is a close Trump ally, is among the governors who continue to face sharp criticism over their response to the pandemic.
"The United States is a state-by-state, county-by-county and that's the way we've made our response, very much looking at a very granular level and then working with the governors and the mayors to have a very specific and tailored response for each of these areas," said Birx.
Fauci, like Birx, acknowledged the pandemic is far from under control in the U.S.
"My own country, the United States … is in the middle right now, even as we speak, of a very serious problem," said Fauci.
Illinois high school investigates 'anti-queer' bathroom survey
A group of students calling themselves the 'Anti-Queer Association' had circulated the so-called survey
ANNA, Il. – An unofficial student survey that made the rounds at the Anna-Jonesboro Community High School located in the Southern tip of Illinois last week has the local LGBTQ+ community angered and LGBTQ+ students alarmed.
A group of students calling themselves the 'Anti-Queer Association' had circulated the so-called survey that asked: "Yes, I want queers to go in the bathroom," or " No, I don't want queer kids to go to the bathroom with us normal people."
Rob Wright, the superintendent told NBC News affiliate WPSD 6 News that school administrators found out about the survey this past Wednesday.
"We began investigating. We're still investigating. At this point in time, I really can't give any information regarding any individuals or discipline measures," said Wright. "But, I can tell you that this type of harassment is taken very seriously and will not be tolerated. And once the investigation is complete, the appropriate discipline will take place where warranted."
The Rainbow Café LGBTQ Center in neighboring Carbondale, Illinois, responded to the survey, "My understanding is that it was an association that was brought upon the students and a parent that's cosigning for it that made the Anti-Queer Association, basically trying to repeal the Keep Youth/Children Safe Act," Michael Coleman a member of the Cafe's board of directors told WPSD. "Basically stating that we are supposed to have inclusive bathrooms for those who are transgender or non-binary or non-conforming," he added.
Coleman also told the station that bullying, harassment and discrimination of any kind is not tolerated.
Noting that the high school's LGBTQ+ students are feeling alarmed and that there are no safe spaces, He said that the message he wanted to convey to those students is to let them know they have a safe space available with his organization. He also shared a message to those responsible for the survey.
"Come to Rainbow Cafe. We offer a plethora of resources and training," he said. "I'm actually the one that does all of the training for different local agencies, schools. We do training on an individual basis as well, so you know, I like to tell people: If you don't know something, learn it. Don't spew hate about it because you don't understand something."
"They really feel very unsafe in that environment in Anna-Jonesboro and that they felt that nothing was going to get done," Coleman said. "That by us taking that stand, that initiative, they really feel like it's not going to happen anymore."
Superintendent Wright said to WPSD that "he is personally disappointed that this happened at the school." The station asked Wright if the staff at the Anna-Jonesboro Community High School will provide counseling to the LGBTQ+ and other students affected. His response was that the school has always had counseling and other resources available to students.
Akron, Ohio non-profit gears up to assist LGBTQ+ young adults
"Although there's a nondiscrimination ordinance for LGBTQ+ people in Akron, he says that Ohio still has a long way to go for LGBTQ+ rights"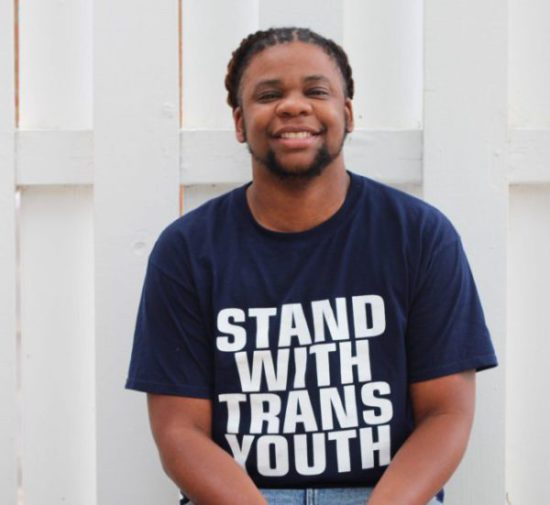 AKRON, Oh. – The Motivate, Educate, Transform and Advocate (META) Center has provided support to Northeast Ohio trans and gender-nonconforming youth from ages 7 to 19 since 2016. Now, Giovonni Santiago, the founder of the Akron, Ohio, based nonprofit, is gearing up to support people in their 20s.
Santiago started the group to "create social change and foster acceptance" by providing housing coordination, legal advocacy, emotional support and community outreach, reports the Akron Beacon Journal.
"Sometimes, it's just allowing people to have a place to go," Santiago told the Beacon Journal. "It's like they don't need to have a conversation. They just need a safe place."
"I do this work because I want other people to live their life authentically," he said.
Santiago says that parents who see their child "expressing differently than society would say they should" seek his help.
"A parent might say, 'Well, my daughter likes to play with trucks'… and it's not just a one-time thing," he told the Beacon Journal. "It might be nothing, and it might be something."
"We want them to know that's not a bad thing," he said. "We want people to feel valid with who they are."
Although META is based in Akron and does much of its work in Northeast Ohio, Santiago says his group has a national impact, helping approximately 200 people a year, according to the Beacon Journal.
"It entails support groups, one-on-one peer support with myself, we send out care packages after individuals have gender-affirming surgery, we offer a clothing closet, so we send clothing to individuals who need clothes," he said.
Santiago, who is also the Northeast Ohio organizer for Equality Ohio, knows first-hand the struggle that trans kids face, as he too is a trans man.
"As trans people, the journey is not just ours," he told the Beacon Journal. "It affects our families, it affects our friends. It affects everyone."
According to the Beacon Journal, he entered the U.S. Air Force during the "don't ask, don't tell" military era. After his Air Force service, Santiago earned a degree in early childhood education and began teaching preschool.
At 27, Santiago began his medical transition at the Louis Stokes Cleveland Veterans Affairs Medical Center in 2013. He tells the Beacon Journal that he was the doctor's first trans patient.
"I was born female, and knew that I belonged in a male body," he said. "So, I tell people that I've been transitioning, and I've been transitioning for eight years."
Santiago is a highly regarded LGBTQ organizer. According to the newspaper, he was named one of Cleveland Magazine's Most Interesting People and honored by NBC Out in 2018.
Although Santiago helped establish a nondiscrimination ordinance for LGBTQ+ people in Akron, he says that Ohio still has a long way to go for LGBTQ+ rights. Santiago added that nearby Cleveland is "No. 4 on the list for where Black trans women are murdered."
"We've always been here, but we've had to live in fear," he said. "Even now in Ohio, there are zero protections for LGBTQ people"
Virginia GOP gubernatorial candidate opposes marriage equality
The Family Research Council, which the Southern Poverty Law Center categorized as an extremist anti-LGBTQ hate group has endorsed Youngkin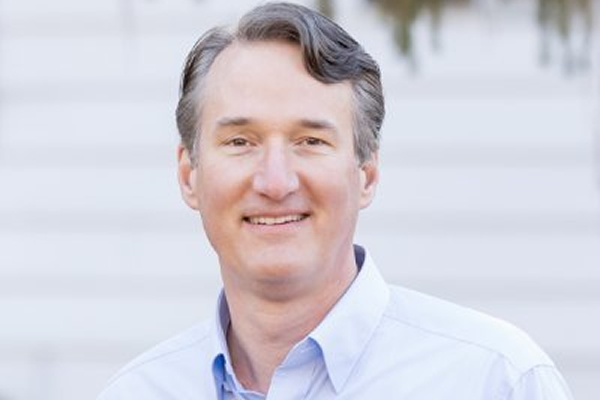 FAIRFAX COUNTY, Va. – Glenn Youngkin in an interview with the Associated Press has reiterated his opposition to marriage rights for same-sex couples.
Youngkin—a Republican who is running against Democrat Terry McAuliffe to succeed Virginia Gov. Ralph Northam—said in an interview published on Friday that he feels "called to love everyone." Youngkin then reiterated his opposition to marriage equality before he added it is "legally acceptable" in the state. "I, as governor, will support that," Youngkin told the AP.
McAuliffe was Virginia's governor from 2014-2018. Same-sex couples began to legally marry in Virginia a few months after McAuliffe took office.
McAuliffe in 2014 became the first governor of a Southern state to officiate a same-sex wedding. The lesbian couple who McAuliffe married recently appeared in one of his campaign ads.
McAuliffe on Friday criticized Youngkin. "As governor, I worked my heart out to keep Virginia open and welcoming to all," said McAuliffe in a tweet. "This type of bigotry and intolerance has no place in our commonwealth."
As governor, I worked my heart out to keep Virginia open and welcoming to all. This type of bigotry and intolerance has NO place in our Commonwealth. https://t.co/T8olFwkszP

— Terry McAuliffe (@TerryMcAuliffe) October 22, 2021
The Family Research Council, which the Southern Poverty Law Center has categorized as an extremist anti-LGBTQ hate group, earlier this month endorsed Youngkin, but Log Cabin Republicans are among the groups that have backed his campaign.
The Human Rights Campaign in 2019 named Youngkin's former company, the Carlyle Group, as a "Best Place to Work for LGBTQ Equality" in its annual Corporate Equality Index.