U.N. Human Rights Council discusses global conversion therapy ban
Activists described discredited practice as a human rights violation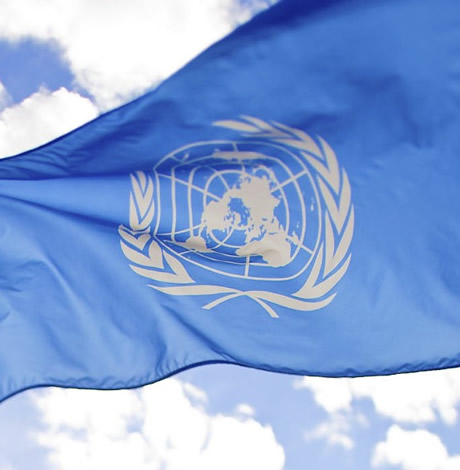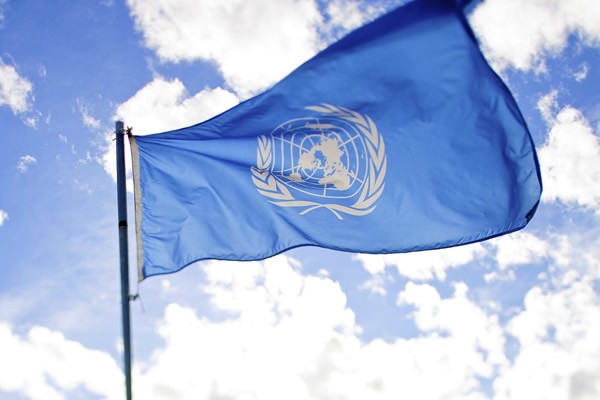 The U.N. Human Rights Council on Wednesday held a virtual panel on the call for a global conversion therapy ban. 
The event was comprised of several advocates and experts on the topic, including Victor Madrigal-Borloz, the independent U.N. expert on LGBTQ issues, and Xeenarh Mohammed, the executive director of the Initiative for Equal Rights in Nigeria. Speakers discussed the reasons why they feel conversion therapy should be deemed a violation of human rights, the damages caused by the practice and common tactics employed by those who carry it out.
OutRight Action International, ILGA World, the Swedish Federation for LGBTQI Rights and the Global Action for Trans Equality were among the organizations present.
German Minister of State for Europe Michael Roth also made a statement condemning conversion therapy.
Germany in May banned conversion therapy for minors, being the fifth country to do so.
"LGBTI people don't need therapy. They deserve respect, solidarity and consideration, and this is our responsibility as governments," Roth said. "Governments have an obligation to respect, protect and promote the human rights of all individuals. LGBTI rights are not nice to have — they are an essential part of human rights."
Brazil, Ecuador, Malta and Taiwan have also banned the widely condemned practice. Maryland and D.C. are among the U.S. jurisdictions that ban conversion therapy for minors.
A new law that prohibits conversion therapy for minors in Virginia took effect on July 1.
Caitlyn Jenner: A one percenter gets one percent (actually 1.1%)
"If he doesn't get recalled, I pity the people of California- It's a shame, honestly you kind of get the government you deserve."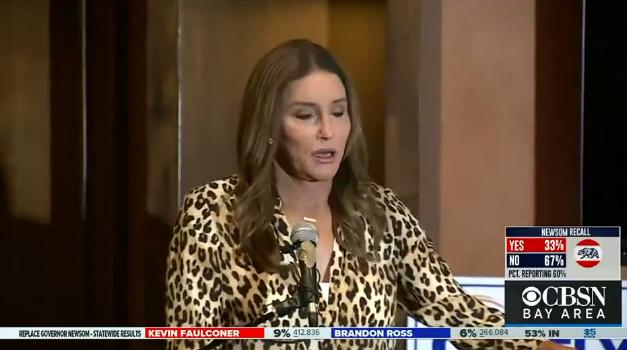 LOS ANGELES – It was not the measured tones of a seasoned politician who had experienced the successes and failures inherent with any campaign for public office. Instead, in a speech given to a small gathering of supporters once it became clear that the recall effort against Democratic California Governor Gavin Newsom had failed, reality television celebrity Caitlyn Jenner took to the microphone and groused.
Sounding bitter Jenner said; "He didn't campaign on not one of his successes, because he doesn't have any," she said. "I can't believe that this many people actually voted to keep him in office. It's a shame, honestly, it's a shame. You kind of get the government you deserve."
Caitlyn Jenner, a GOP candidate in California's recall, speaks after the vote to remove Gov. Newsom failed: "I can't believe that this many people actually voted to keep him in office. It's a shame." https://t.co/cagDpkFQdS pic.twitter.com/2cONQbrtMu

— CBS News (@CBSNews) September 15, 2021
Jenner's 'it's a shame' echoed remarks she had made earlier during the day Tuesday when she told right-wing media outlet Newsmax; "For me, it's just so up in the air [with] what is going to happen," she said. "Number one, we gotta get Gavin Newsom outta there. I think it's going to be difficult doing that, but I'm hoping for the best […] If he doesn't get recalled, I pity the people of California."
In the accumulated vote count tabulations listed Wednesday evening, Jenner had placed 12th in the field of candidates after fellow Republican frontrunner, conservative right-wing radio-talk show host Larry Elder, who had garnered 2,386,710 votes and 46.92% to Jenner's 56,016 votes and 1.1%. (72.65 % Precincts Reporting | 74% expected vote as of Sep. 15, 2021 8:48 pm)
The Newsmax host also asked if she would consider running in 2022 in the regular gubernatorial race or a potential congressional race, Jenner indicated she "would keep her options open."
"One thing I can say is I have thoroughly enjoyed this process," she said. "It has been uplifting, rewarding. I'm a compassionate person. I love the people. The process has been great. Once this is over with, we're gonna evaluate, see where we're at."
Draft of new Cuba family code has marriage equality provision
National Assembly expected to vote on proposal in December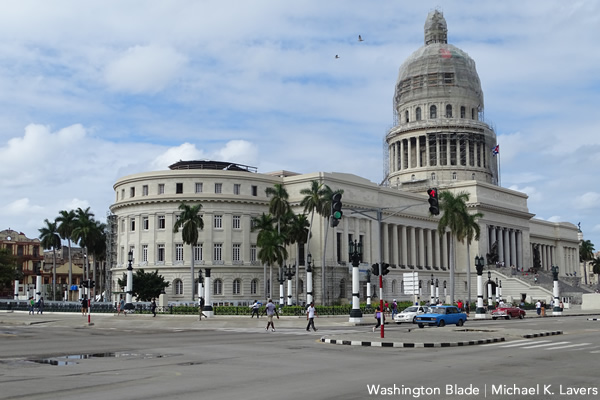 HAVANA — Cuba's Justice Ministry on Wednesday released a draft of a proposed new family code that would extend marriage rights to same-sex couples in the country.
Tremenda Nota, the Los Angeles Blade's media partner in Cuba, reported the proposed Article 61 of the new family code defines "marriage as a union of two people with legal aptitude who voluntarily agreed to enter into it in order to build a life together based on affection and love."
The Justice Ministry, according to Tremenda Nota, released the draft a week after a commission that has been charged with writing the new family code met with President Miguel Díaz-Canel and other officials.
Tremenda Nota reported the National Assembly is expected to vote on the new family code in December. The Associated Press noted a referendum on it would then take place.
"It protects all expressions of family diversity and the right of each person to establish a family in coherence with the constitutional principles of plurality, inclusion and human dignity," National Union of Jurists of Cuba Vice President Yamila González Ferrer told the Associated Press.
The draft's release comes nearly three years after the government removed an amendment from a draft of Cuba's new constitution that would have extended marriage rights for same-sex couples after evangelical groups on the Communist island publicly criticized it. Cuban voters in February 2019 overwhelmingly approved the new constitution without marriage equality.
Cuba would join Costa Rica, Colombia and a handful of other Latin American countries with marriage equality if the new family code draft becomes law.
Former President Fidel Castro in the years after the 1959 revolution that brought him to power sent gay men and others to work camps known by the Spanish acronym UMAP. His niece, Mariela Castro, the daughter of former President Raúl Castro who spearheads LGBTQ-specific issues as director of Cuba's National Center for Sexual Education (CENESEX), and Díaz-Canel both publicly support marriage equality.
Tremenda Nota Director Maykel González Vivero is among the hundreds of people who Cuban police arrested on July 11 during anti-government protests that took place in Havana and across the country. Luis Ángel Adán Roble, a gay man who was once a member of the National Assembly, is among those who have been banned from leaving the country.
AHF Donates SARS COV-2 viral sequencing machine to the Caribbean
"The current need and demand for genomic surveillance in the region has increased significantly, so we are extremely grateful"
LOS ANGELES – The Los Angeles based AIDS Healthcare Foundation (AHF), the largest global AIDS organization, signed an agreement with the University of the West Indies (UWI), St. Augustine Campus, Trinidad and Tobago to provide a gene sequencing analyzer and reagents to expand the capacity of the university to test for new and emerging variants of the coronavirus.
This will improve the region's sequencing capacity and contribute to reducing testing turnaround times. Jamaica and many of the countries in the Region are now experiencing severe upsurges of Covid-19 caused by the Delta variant, with many hospitals exceeding capacity and others running out of oxygen. More recently five cases of the Mu variant were also identified in St. Vincent.
Dr. Kevin Harvey, the Caribbean Regional Director at AHF, in welcoming the agreement, noted that the machine is already on order and should be in place within the next two to three weeks. "The Mu variant has since been isolated in samples from Jamaica as well, making the timeliness of AHF's donation of the gene sequencing analyzer and reagents all the more critical," noted Dr. Harvey.
"Our COVID-19 IMPACT project, a UWI-led collaboration with CARPHA (the Caribbean Public Health Agency) and the Trinidad and Tobago Ministry of Health, established local capacity for virus whole genome sequencing in December 2020, and our laboratory at UWI has been carrying out genomic surveillance for SARS-CoV-2 variants for Trinidad and Tobago and 16 other CARPHA member states," said Dr. Christine Carrington, Professor of Molecular Genetics and Virology at the UWI.
"The current need and demand for genomic surveillance in the region has increased significantly, so we are extremely grateful for the AHF's support. The device they are providing is faster and can also do five times as many samples as the device we started off with, so it will help to increase our throughput."
Dr. Jorge Saavedra the executive Director of the AHF Global Public Health Institute at the University of Miami, highlighted the project as part of a larger initiative by AHF to improve the early detection of new variants to enable proper planning, and in some cases, expansion of existing genomic sequencing initiatives and implementation of mitigation measures in several of the countries served by AHF that can inform public policy. "AHF is also now in final negotiations to provide support to establishing genomic sequencing capacity in Jamaica to reduce the need for all samples to be sent to Trinidad and Tobago."
AHF has also previously provided similar support to Brazil, Uganda, Mexico, India, Argentina, and before the end of the year, will undertake other similar initiatives in Nigeria, Peru, Ukraine and Pakistan.