July 16, 2020 at 11:09 am PDT | by Karen Ocamb
Prop 8 trial tapes expose systemic homophobia (video)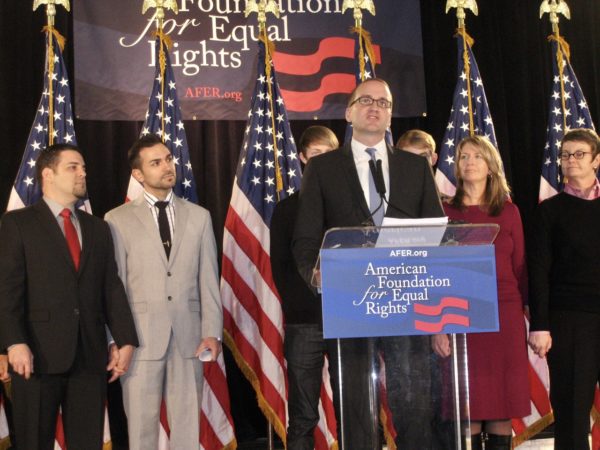 AFER's Jeff Zarrillo and Paul Katami, Chad Griffin, sons Elliott and Spencer, Sandy Stier and Kris Perry, LA Feb. 2012 (Photo by Karen Ocamb) 
After 10 years of arguments, a federal judge has finally ordered the release of videotapes from the historic 2010 Federal District Court trial against Proposition 8  in San Francisco that put marriage equality on the line. At stake: can the State deny the right to marry to some Americans based solely on who those individuals choose to marry?
LGBTQ people privately celebrated their relationships until the AIDS crisis when longtime lovers, considered "legal strangers" were kept from the hospital bedsides of their dying partners and were evicted when estranged families showed up.
But anti-gay Republicans made gay marriage an ugly political issue, brandishing anti-gay marriage initiatives and a Federal Constitutional Amendment through President George W. Bush. The barrage of countering lawsuits illustrated just how many benefits, automatically granted heterosexual couples, were explicitly denied same sex couples. Eventually, the California Supreme Court ruled in May 2008 that marriage was a fundamental right for same sex couples.
Anti-gay religious forces fought back with bias-based Proposition 8, which passed on Nov. 4, 2008, making California the 29th state to pass a constitutional amendment banning marriage equality.
Trying to overturn Prop 8 in federal court was risky since the case would invariably go to the Supreme Court. But Los Angeles-based political strategist Chad Griffin argued that too many lives were being deeply harmed to wait any longer. He and several friends founded the American Foundation for Equal Rights (AFER)and hired famed Republican attorney Ted Olson and his 2000 opponent in Bush v Gore, David Boies, to serve as lead counsel.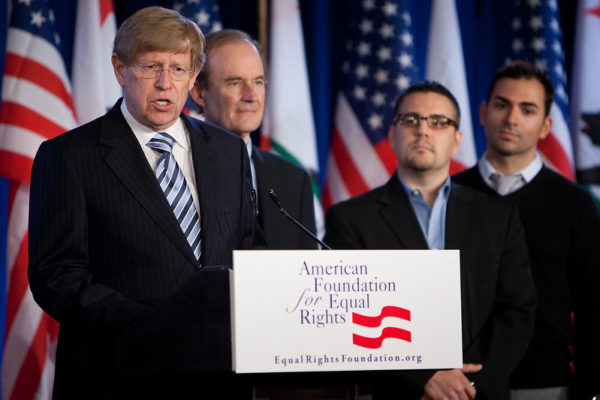 AFER announcement on May 27, 2009 Ted Olson, David Boies, Jeff Zarrillo, Paul Katami (Photo by Diana Walker/American Foundation for Equal Rights)
AFER announced the federal lawsuit on May 27, 2009 in Los Angeles where Olson explained to the LGBTQ press why he could be trusted as a conservative Republican who believed gay and lesbian individuals had the constitutional right to marry.
U.S. District Court Judge Vaughn Walker originally ordered Hollingsworth v. Perry to be broadcast live in five public courthouses and on YouTube. But Prop 8 proponents, claiming fear of gay retribution, secured an emergency injunction from the Supreme Court to temporarily stay live streaming of the proceedings.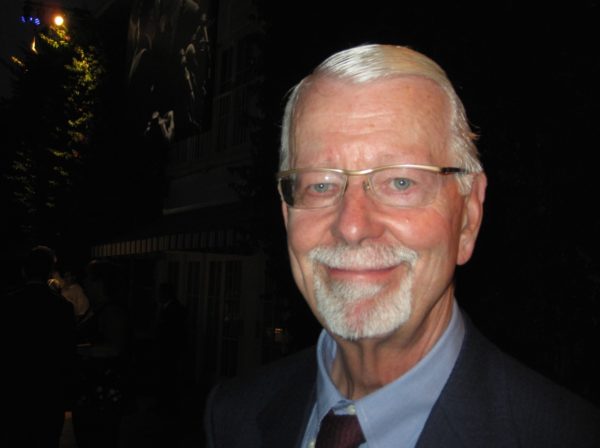 Judge Vaughn Walker (Photo by Karen Ocamb) 
Despite an appeal from a coalition of media groups, the Court eventually ruled 5-4 to disallow live streaming but let Walker record the proceedings for his own use, a nod to the Prop 8 defendant-intervenors who hyped their "victim" claims.
AFER, journalists and bloggers reported the historic events as they unfolded and in important books and films later, but the court didn't budge on the tapes until now, setting Aug. 12, 2020 for their release.
On June 26, 2013, the Supreme Court upheld Walker's ruling, saying the Prop 8 defendant-intervenors didn't have standing to bring the case in the first place.
So why are the District Court tapes so important?
AFER calls the trial "America's truth commission on marriage equality. For the first time, a federal court heard testimony on marriage for gay and lesbian couples.  It's easy to appeal to people's fears and prejudices in campaign literature and 30-second television ads. But when you come into court and swear under oath, the lies melt away and the truth comes out."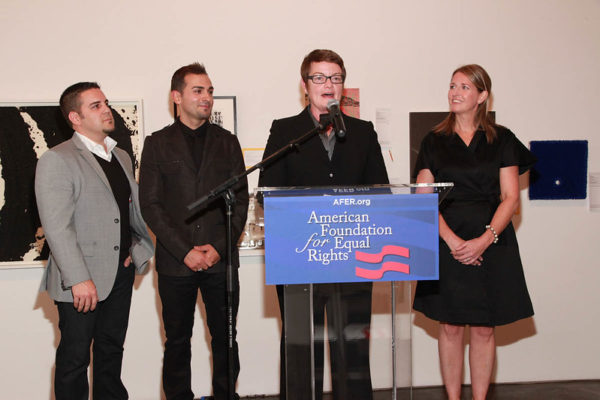 Jeff Zarrillo, Paul Katami, Kris Perry, Sandy Stier at an art auction fundraiser in New York City on Oct. 28, 2010 (Photo courtesy AFER)
It was love versus institutional homophobia: plaintiffs Jeff Zarrillo & Paul Katami and Kris Perry & Sandy Stier — standing in for America's same sex couples — courageously told their love stories, their struggles and withstood badgering from the Prop 8 attorneys.
"I just want to get married," said Katami on the witness stand. "It's as simple as that. I love someone. I want to get married. My state is supposed to protect me. It's not supposed to discriminate against me."
"I'm just trying to get the rights that the Constitution already says I have," said Stier who calmly handled rude questions from a Prop 8 attorney incredulous that she could have once loved, married and had children with a man and now loves a woman.
Some moments were incredibly painful as the trial exposed the systemic belief that LGBTQ people are sub-human. "I remember my mother looking at me and telling me that I was going to burn in hell," testified "conversion therapy" survivor Ryan Kendall. "[M]y mother would tell me that she hated me, or that I was disgusting, or that I was repulsive. Once she told me that she wished she had had an abortion instead of a gay son."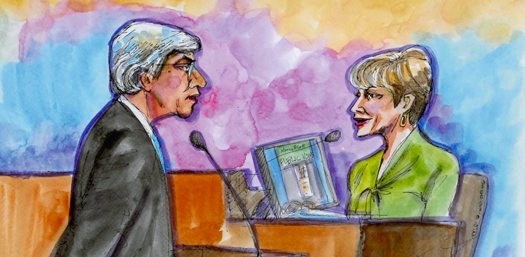 Attorney Ted Boutrous questions expert Nancy Cott (illustration courtesy AFER)
There were also moments of unintended humor, as when AFER attorney Theodore Boutrous asked Harvard University historian Nancy Cott if the State has a "compelling interest" in limiting marriage to heterosexual couples for the purpose of procreation.  President George Washington, "the father of our country," Cott replied, was married and sterile. "Procreative ability has never been a qualification for marriage."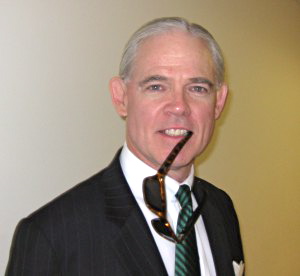 Prop 8 attorney Charles Cooper (Photo by Karen Ocamb)
The courtroom quietly gasped after Walker asked famed Republican Prop 8 attorney Charles Cooper how the State promotion of heterosexual marriage would be harmed if gays were allowed to wed. Cooper took a long beat and then replied: "Your honor, my answer is, I don't know. I don't know."
In her book "Forcing the Spring: Inside the Fight for Marriage Equality," Jo Becker, the New York Times investigative reporter embedded with AFER, later reported that Cooper's daughter had come out to him during the trial. He subsequently helped plan her wedding.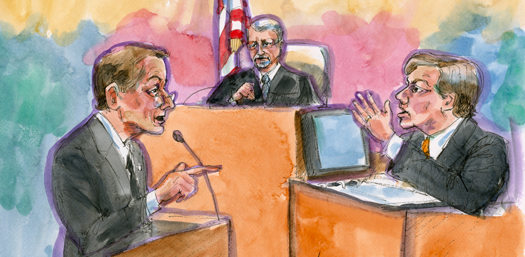 Attorney David Boies questions David Blankenhorn (Illustration courtesy AFER)
One of the most startling moments was courtesy pro-Prop 8 David Blankenhorn, Founder and President, Institute for American Values. AFER attorney David Boies challenged his qualifications as an "expert" witness and Walker agreed, ruling Blankenhorn's opinion testimony to be "unreliable and entitled to essentially no weight."
Nonetheless, Blankenhorn caused a flutter when he switched sides on the witness stand. Under oath, Blankenhorn said: "I believe that today the principle of equal human dignity must apply to gay and lesbian persons.  In that sense, insofar as we are a nation founded on this principle, we would be more American on the day we permitted same-sex marriage than we were on the day before."
One person Prop 8 trial watchers wish had taken the stand was Frank Schubert, the political consultant and ProtrectMarriage.com strategist who worked with Brian Brown at the Catholic-centric National Organization for Marriage (NOM). It was NOM's terrible "Gathering Storm" ad that first prompted Paul Katami and Jeff  Zarrillo to get involved.
As detailed in an extensive investigative piece as Prop 8 proponents exported the anti-gay marriage strategy to Maine and successfully overturned that state's marriage law in 2009, the fear of possible future consequences was a discriminatory made-up political ploy to sway Californians who didn't think gay marriage really impacted them.
In March 2009, Schubert and Jeff Flint, his partner in Schubert/Flint Public Affairs, won several awards for their Prop 8 campaign from the American Association of Political Consultants (AAPC), where Schubert sat on the board. He deconstructed the Prop 8 campaign during a professional panel for other consultants. His reception was perhaps a little cold since Schubert promised the AAPC during a June 2008 panel in Sacramento that he intended to run a "positive, uplifting" campaign.
"There is not going to be any gay-bashing in our campaign. That is not to say that won't occur – but when it does occur, we'll do everything in our power to stop it," Schubert told his consultant peers. "There are many people working to develop messages that are positive and affirming for the institution of marriage. That's our objective."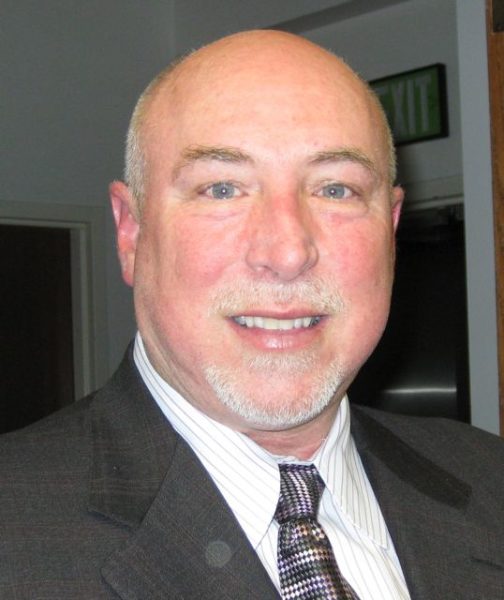 Prop 8 political strategist Frank Schubert (Photo by Karen Ocamb)
During the "Prop 8 Case Study," Schubert explained what happened:
"We knew from the very beginning that a campaign that was simply an affirmation of traditional marriage and did not develop a path that lead voters to consider consequences to legalized same sex marriage in California – that that formula would not be successful. We would not get to 50% of the vote. So we redefined the measure as not being about tolerance of gay relationships but about being about consequences of gay marriage."
Noting that most Californians were very tolerant of same sex relationships, Schubert explained: "They didn't see how gay marriage effected them, per se. It wasn't their issue. It wasn't something they cared to think about. It wasn't something they wanted to talk about. It was an uncomfortable subject generally for them even to get their arms around."
Flint said that applying the art and science of their profession, they needed to raise a doubt about something — "raising a doubt and projecting a doubt forward – that you have to get people to believe may happen but it hasn't happened yet. So in this case, gay marriage had been legal for a few months and we wanted people to understand that that could mean consequences. But largely because it was a new thing, those consequences were something that could happen in the future."
It was "one of the turning points in the campaign" Flint said, when they realized that they could run with that: "something could happen that you may not like so you need to vote Yes to stop that from happening."
But Schubert added: "I want to make this crystal clear: there is nothing that we said in this campaign that we did not believe to be true."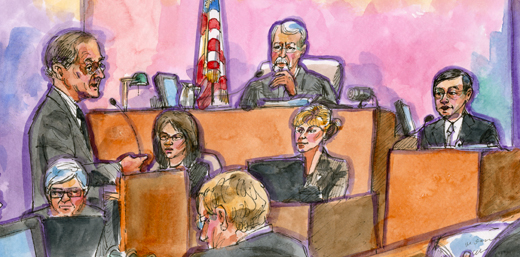 Attorney David Boies question Hak-ShingTam (illustration courtesy AFER)
So, David Boies might have asked Schubert if he had taken the witness stand, does that mean he believed and agreed with Hak-Shing William Tam, an official proponent of  Prop 8 who got his information from the Internet and told Asian voters that gays are child molesters and the spawn of Satan, as Tam told plaintiffs' attorney David Boies:
"[BOIES]: Now, do you believe that homosexuals are 12 times more likely to molest children? Do you believe that?

[TAM]: Yeah, based on the different literature that I've read.

[BOIES]: Okay. Now, [on your website] you go on to say that: 'If Proposition 8 loses, one by one other states would fall into Satan's hand.'  Do you see that?

[TAM]: Yes.

[BOIES]: And by falling into Satan's hand, you meant permitting gays and lesbians to marry, correct?

[TAM]: Yes."
In the Los Angeles staging of Dustin Lance Black's play "8," based on trial transcripts, George Takei portrayed Tam under questioning from Boies, played by George Clooney. Tam's responses are so absurd, they elicit audience laughter and applause. But the impact of Tam's distribution of the hateful, discriminatory, and misleading Prop 8 propaganda was absorbed and believed by Tam's audience.
The Prop 8 trial tapes are a record of how LGBTQ people and allies fought systemic homophobia and won. Not unsurprisingly, on July 14 Cooper filed an appeal to the 9th Circuit to stop the tapes' release.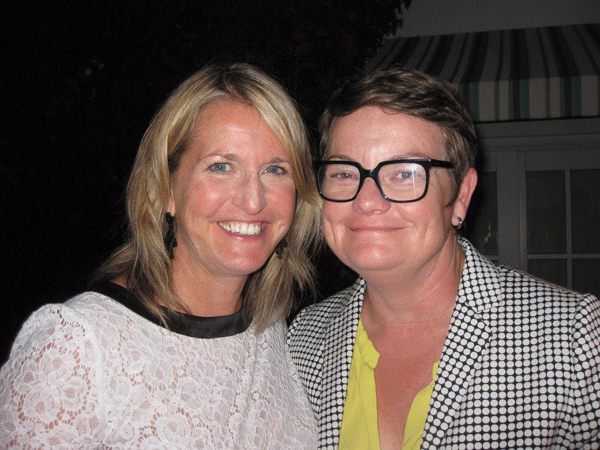 Meanwhile, Kris and Sandy wrote a book, Love on Trial: Our Supreme Court Fight for the Right to Marry  and Jeff and Paul host a podcast – The Husbands – every Sunday 10amPDT on ubngo.com, available wherever podcasts can be downloaded.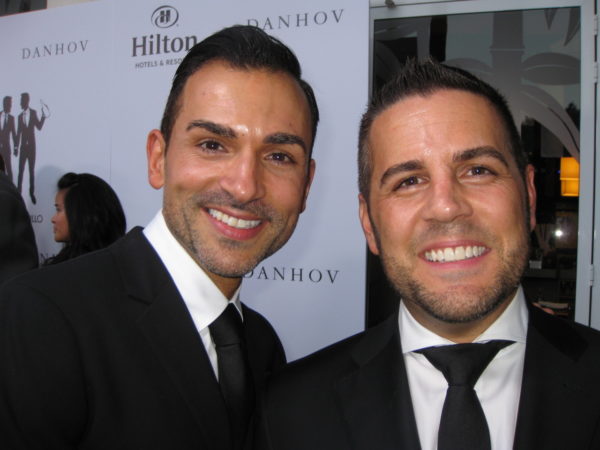 Here are some video clips about that time to help underscore why releasing the real Prop 8 trial testimony and exhibits are so important to understanding institutionalized fear, hatred and disgust of the LGBTQ community.
An overview: trailer from "The Case Against 8:"
Ted Olson practicing his argument:
NOM's obnoxious "The Gathering Storm:"
Paul Katami & Jeff Zarrillo and friends like Wilson Cruz and Alec Mapa respond:
Funny Or Die chimed in:
EXCERPTS from Lance Black's Play "8" –
The overview with a Broadway cast:
Matt Bomer as Jeff Zarrillo:
Matthew Morrison as Paul Katami:
Jamie Lee Curtis stars as Sandy Stier:
Glee's Chris Colfer stars as witness Ryan Kendall:
The LA production of "8," directed by Rob Reiner, with a cast that includes George Clooney, Brad Pitt, Martin Sheen, Jamie Lee Curtis, Jane Lynch, Kevin Bacon and many others: