Jane Lynch hosts star-studded LA LGBT Center telethon on KTLA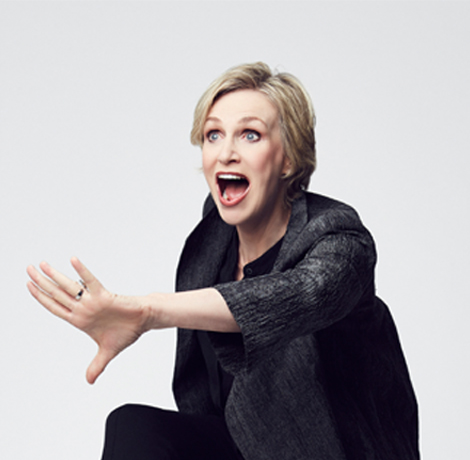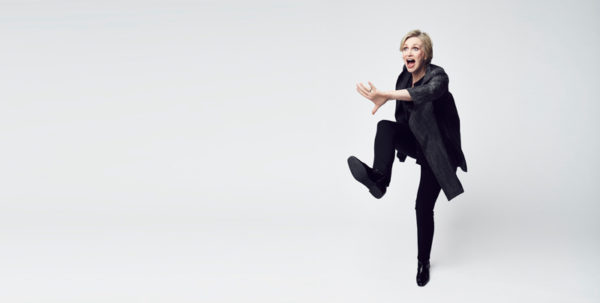 The novel coronavirus has been a devastating force since the airborne virus hit U.S. shores in early 2020. Since March, Los Angeles County has identified 223,131 positive COVID cases and 5273 deaths, the County Department of Public Health reported on August 17.
Though the County has finally started collecting LGBTQ-specific data, there is yet no report on how many cases or deaths might be people from the LGBTQ community, though State Sen. Scott Wiener's LGBT health data collection bill is headed for a vote on the floor of the California Assembly.
LGBTQ people are also not counted among the more than 30 million people who have filed for unemployment benefits, though many are part of the workforce for the shattered hospitality and hotel industries. A new national report shows that the hotel industry alone is undergoing "an historic wave of foreclosures," according to an Aug. 18 press release from the American Hotel & Lodging Association.
Vastly underreported, however, is the COVID impact on nonprofits that are seeing fewer grants and contributions as the need for help grows. The Los Angeles LGBT Center, for instance, has nearly 800 employees providing services for more LGBT people than any other organization in the world.
"When COVID-19 hit, the demand for our existing services actually increased — such as health care, support for LGBTQ seniors and homeless youth, legal services, and policy advocacy. Plus, we saw new needs emerge, including growing numbers of people who had lost their jobs and were struggling to get enough food," says Center CEO Lorri L. Jean. "As the Center has done for 51 years, we've risen to meet these changing needs. And we've done so at the very time that fundraising has declined dramatically."
But, Jean says, "without more help, this is not sustainable."
The Center put out a clarion call for help and friends in the entertainment community responded. On Sept. 12 will hold a virtual "Love In Action" telethon on KTLA.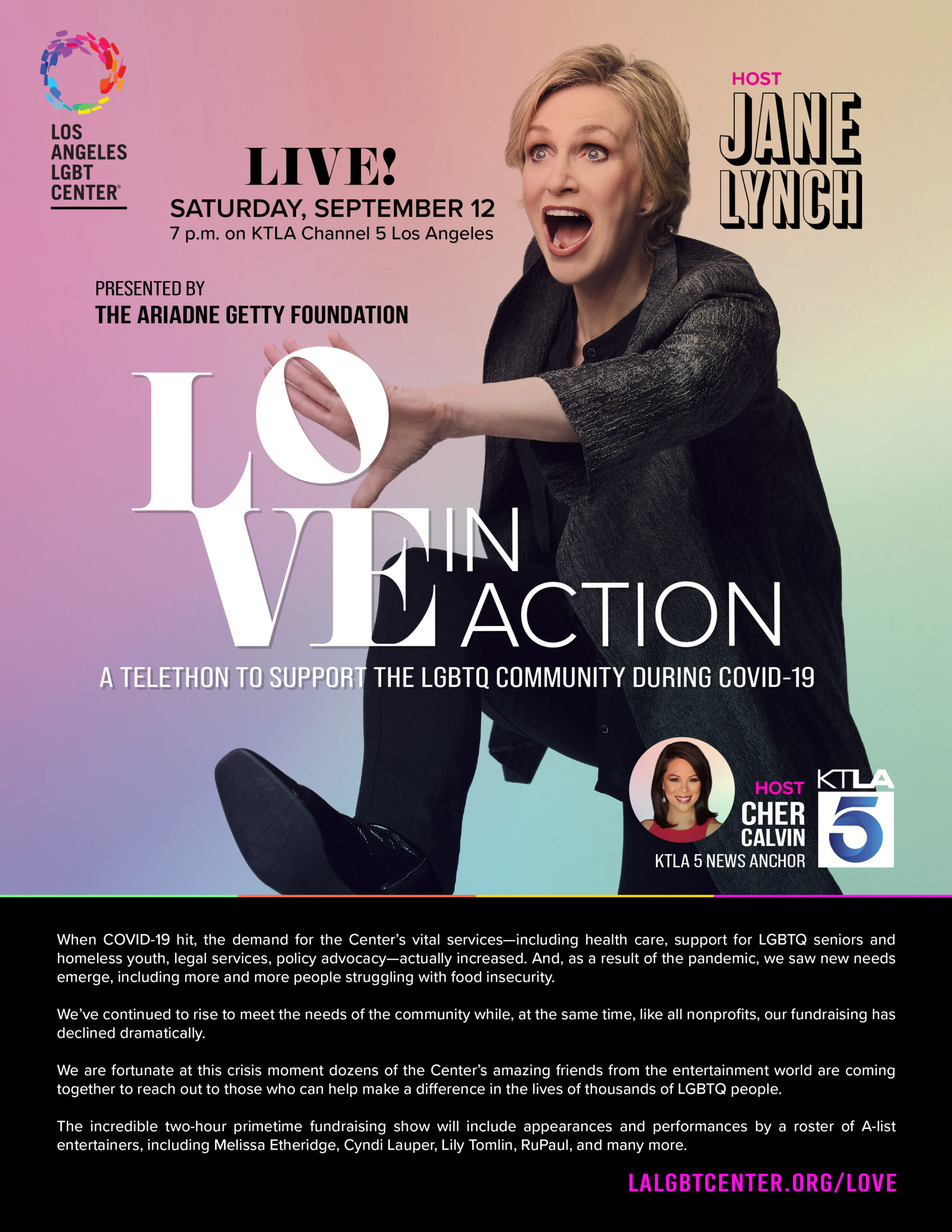 The telethon "is an important opportunity for those who are unfamiliar with the Center to understand how vast its impact is for the LGBTQ community — from homeless youth, medical services, education to seniors and HIV and STI testings… that save lives," says KTLA 5 news anchor Cher Calvin.
Calvin is co-hosting "Love In Action" with Emmy Award winning actor, comedienne and game show host Jane Lynch.
"We raise money every year through a gala for the LGBT Center and, of course, we can't have that gala this year," Lynch tells the Los Angeles Blade in a phone interview. "But the need for the services of the LA LGBT Center is as strong as ever. There are kids still out on the street who need help and people who need medical help. And so, it's not like with the pandemic that the need has gone down. In fact, it's increased."
Celebrities and politicians joining the telethon include Billy Porter, Cyndi Lauper, Sia, Margaret Cho, Lily Tomlin, Melissa Etheridge, RuPaul, Andrew Rannells, Cynthia Erivo, Wilson Cruz, U.S. Sen. Tammy Baldwin and Rep. Adam Schiff.
"The Los Angeles LGBT Center is a hands-on lifeline for so many in need in the LGBTQ community on any given day of the year. From healthy-cooked meals, hot showers, and emergency beds to medical, legal, and educational programs among a myriad of other services, the Center assists youth experiencing homelessness, seniors, and so many in between," said longtime LGBTQ ally Ariadne Getty, President and Executive Director of The Ariadne Getty Foundation, the telethon's presenting sponsor. "With COVID-19, the needs and services have dramatically increased and, naturally, so has the need for more funds. As an ally and advocate of the community, I continually put my resources behind the Center when needed. This is a drastic call for help. The Love in Action live telethon is what the LGBTQ community does best: takes a problem and proactively asks members of the community to join in and support those who are in the greatest need."
Telethon co-host Jane Lynch's long association with the Center began when she first arrived in LA in 1992. "I started hanging out in the community there," she says.
Lynch went to all the galas, did "The Breakup Notebook: The Lesbian Musical" at the Center, then her own play, "Oh Sister, My Sister" in 2004, directed by Jill Soloway. "Jane Lynch is very funny indeed, filled with more characters than Jonathan Winters on LSD," the Backstage critic wrote about the play.
Lynch knows something about needing community support. In her book "Happy Accidents," inspired by the It Gets Better project, she talks about internalized homophobia, her alcoholism and finding sobriety through community 12 Step programs in West Hollywood and Beverly Hills.
"I came out here from Chicago and I was sober about a year," she says. "Finding programs mostly in Beverly Hills and West Hollywood kind of gave me a social life and gave me a support group. I found some friends who I'm still very close with today.
"I went to a lot of women's meetings. I would sometimes go to two a day and not because I thought I would drink, but because I really enjoyed them. And I haven't been to one in a long time. I go to one on Saturdays every once in a while. But I really was lifted by them. I actually was grateful that I was an alcoholic because I wouldn't have stumbled onto this really great program — which is so much more than sobriety, although that's why it exists. But it does go beyond that. It's just a beautiful thing — some really great relationships and practicing those principles to this day."
Lynch felt so connected to the Center, she joined the board for several years and even completed the California AIDS Ride in 1996. "I did San Francisco to LA, baby," she jokes. "I love it [the Center]. I'm a big supporter. I love Lorri Jean."
The "Glee" star has lauded Ellen DeGeneres — who was honored by the Center after coming out in 1997. "You were at the height of your fame and you came out. And that just blazed a trail for me," Lynch told the talk show star during a spot on "The Ellen DeGeneres Show" in 2010. "It made it so much easier for me what you did."
Lynch declined to comment on DeGeneres' current troubles with her show.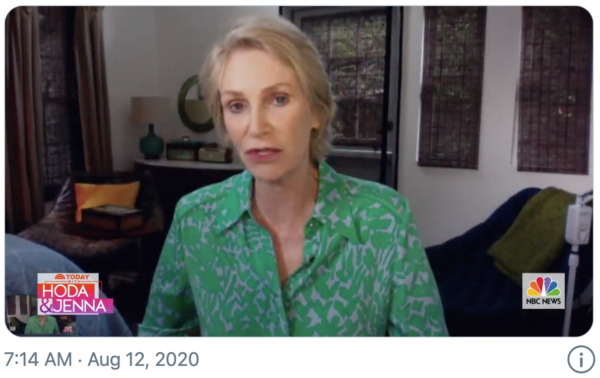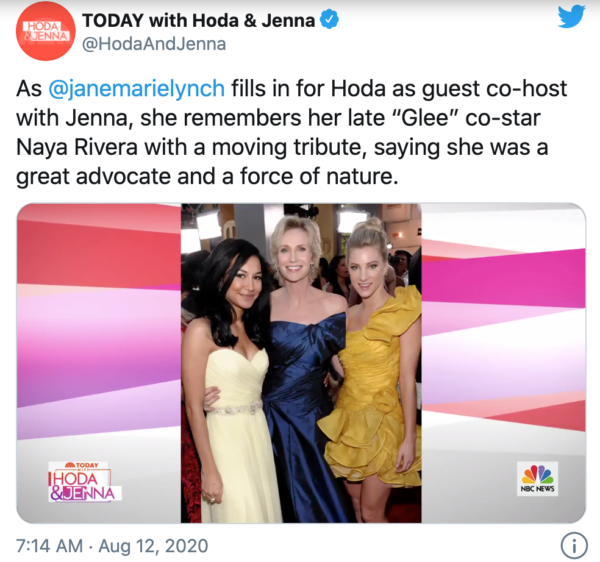 Lynch enthusiastically commented on Democratic presidential nominee Joe Biden picking Sen. Kamala Harris for his vice- presidential running mate, however.
"I love that he picked Kamala. I was so excited. I'm so happy," Lynch says. "She's not only the first Black woman [VP candidate], but the first Asian woman. She's just sharp as a tack and she has a way about her that is no nonsense."
The Trump cult doesn't know how to deal with Harris.
"They don't know how to attack her with their juvenile insults," Lynch says. "They're trying different things. I think they called her 'crazy Kamala.' But isn't it terrible that we've devolved to that level where we're using not even grade school, but nursery school insults at each other. It's really basically coming from one side. But I'm thrilled. I think she is the future of this party. She's the future, not just of the Democratic Party, but I think of America – it's going to be female and it's going to be Brown."
But electing the Biden-Harris ticket will not be easy.
"Barack Obama in 2008 to now is just an extreme reaction to that," Lynch says. "I think it shook a lot of people's psyches and not for the better."
Lynch hopes America finds its "nice moderate, healthy" center after November 3rd. But, she adds, "I'm afraid. I'm scared, really. I think he [Trump] could get elected again. I think it's easy. Or he could come between people getting to the ballot box and having their vote counted — that it could really make the results unclear. And it looks like he's doing a concerted effort to make that happen. That's what scares me."
Jean stresses the need to vote in the November election, especially since the Trump administration is trying to suppress voting by mail.
"No President has done as much to reverse the progress made by LGBTQ people than has Donald Trump. He has been relentless in taking away our rights and protections," Jean tells the LA Blade.
"Moreover, his racism, pathological lying and flouting of the U.S. Constitution threaten our very democracy," Jean says. "I'm talking to every family member, friend and colleague I know who lives in a swing state to make sure they VOTE, regardless of whether Biden or Harris were their first choices.  Now is not a time to be complacent or uninvolved because reelecting Donald Trump would set us back decades."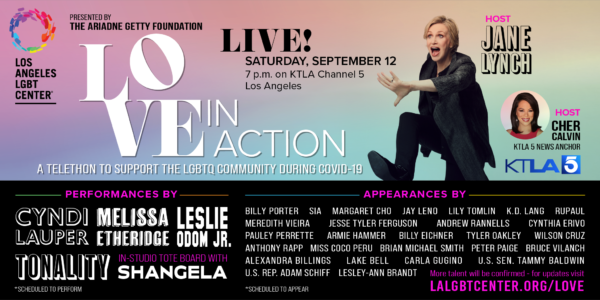 The "Love In Action" telethon will be held on Saturday, Sept. 12 from 7:00pm to 9:00pm Pacific Time. It will be live on KTLA 5 and streamed live online at ktla.com and the lalgbtcenter.org/love.
Project Angel Food Thanksgiving, a remarkable group of volunteers
Project Angel Food provides daily meals to 2,500 critically ill individuals & 1.5 mil medically tailored meals annually across Los Angeles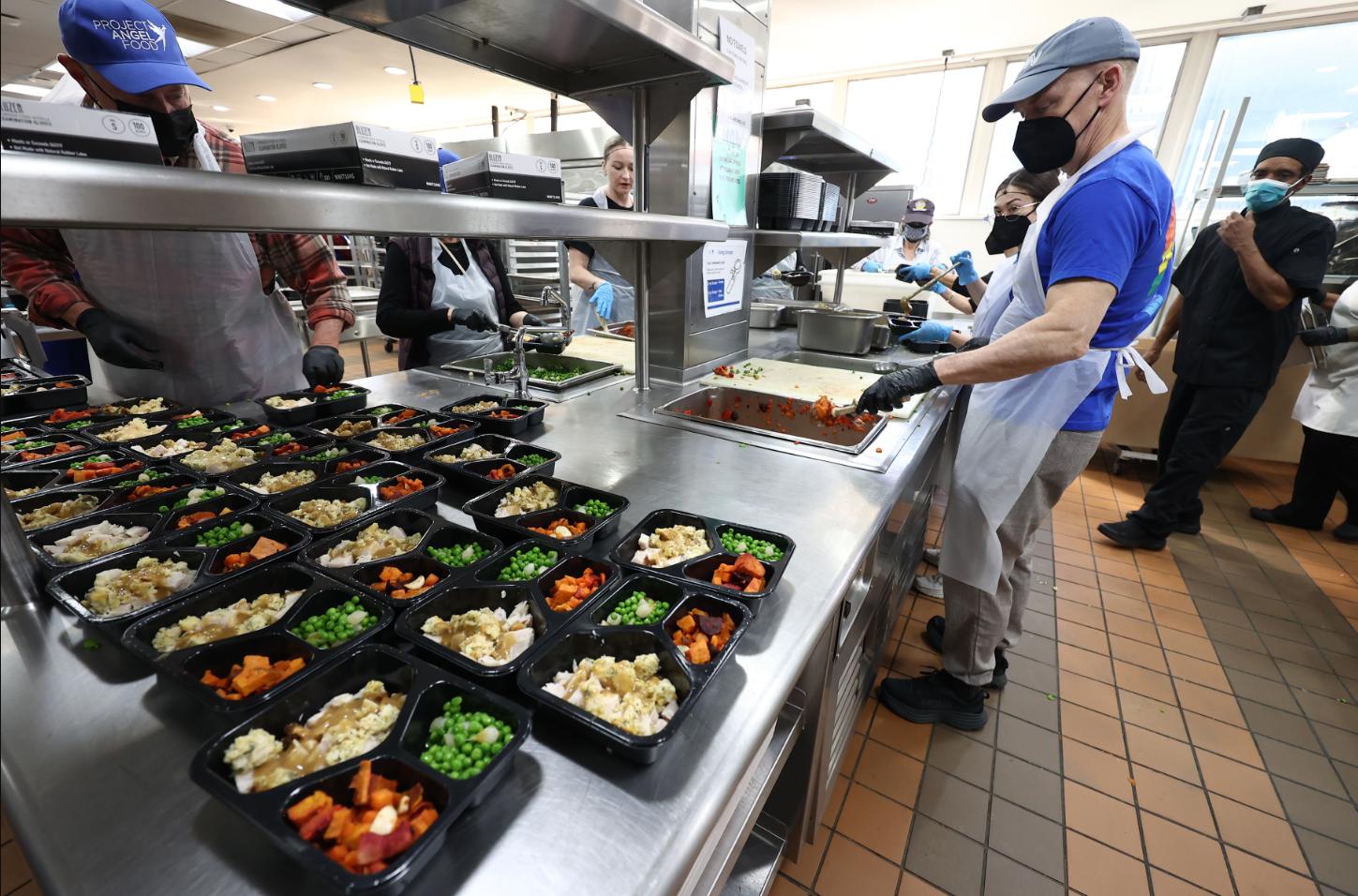 LOS ANGELES — Project Angel Food saw a remarkable gathering of celebrities and 200 dedicated volunteers coming together to prepare and deliver 2,000 traditional turkey meals to critically ill clients on Thanksgiving Day, Thursday, Nov. 23, 2023. The initiative culminated in a total of more than 5,000 meals prepared and delivered throughout Thanksgiving week.
Thanksgiving Day at Project Angel Food was not just about distributing meals but also about the spirit of giving back while cherishing moments with family and friends.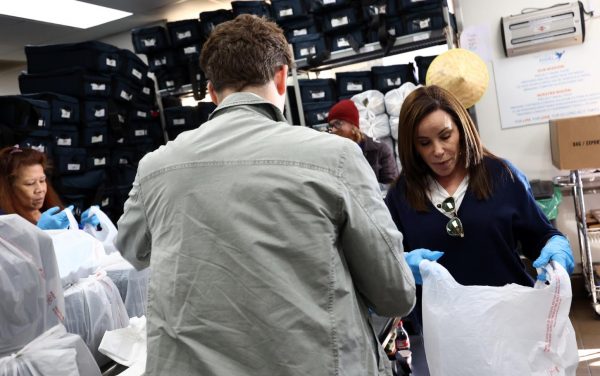 Melissa Rivers, who recently got engaged to lawyer Steve Mitchel on Oct. 13, made a notable appearance — showcasing her stunning 5.6 carat, emerald-cut engagement ring as she volunteered alongside adult son Cooper Endicott. She shared, "Sometime maybe in 2025. It would be my second marriage and his second marriage so if anything, we'll have a party, and a ceremony might break out. But nobody's in any rush."
Amanda Kloots, host of "The Talk", expressed her deep affection for Project Angel Food, stating that she fell in love with the cause while filming a segment for the hit CBS talk show. She returned with Zach Braff and her four-year-old son Elvis, emphasizing, "I think it is so important to show our kids how blessed we are and how we can help one another."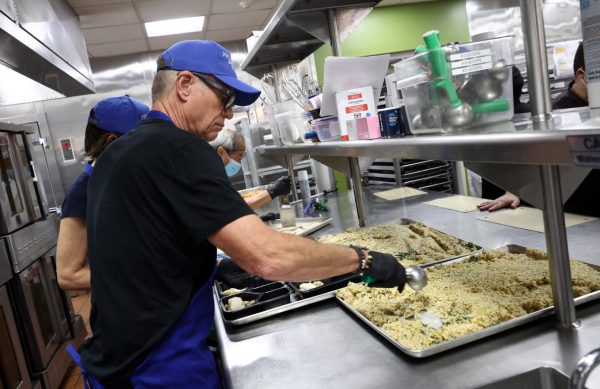 Joining the ranks, Lisa Rinna and her husband Harry Hamlin continued their annual tradition of giving back at Project Angel Food on Thanksgiving. Harry offered, "It goes without saying the people of L.A. need to be fed, and we're here to do it, especially on Thanksgiving." Lisa added, "It makes you feel good to give back, always, and we need to do it more."
Actor and model Sam Asghari, marking his first Thanksgiving after his divorce from Britney Spears, refrained from discussing the split but reflected "I think it is important when you have a platform and a voice, and you have the ability to help others it is important to do."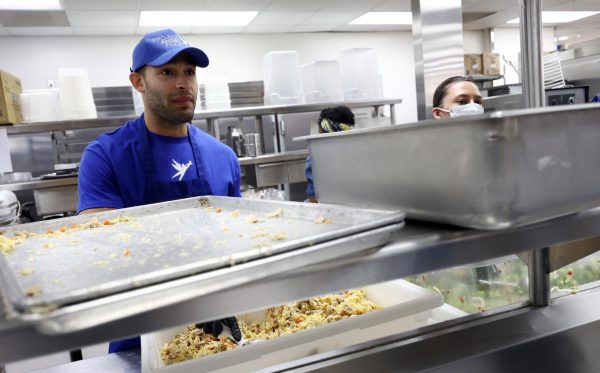 Unlikely friends Charo and Kat Von D were among the initial celebrity arrivals. Von D explained their unique bond, stating, "We're Yin and Yang and complement each other. Since she had heard of Project Angel Food through Charo, she wanted to join." Charo expressed her enthusiasm for volunteering, exclaiming, "I love people. This is my passion!"
The event saw the participation of other notable celebrity volunteers, including Amy Yasbeck, singer Em Beihold, Eve Mauro, Jai Rodriguez, Supervisor Kathryn Barger, Laura Pierson, Lauren Tom, Lawrence Zarian, Lisa Foxx, Loni Love, Mary-Margaret Humes, Michael Hitchcock, Peter Porte, Rachel Lindsay, Sandra Lee, Tamara Brown, and Tim Bagley.
Project Angel Food CEO Richard Ayoub expressed heartfelt gratitude stating, "Every day is like Thanksgiving at Project Angel Food. But on this day, we are especially grateful to our celebrity friends and hundreds of volunteers committed to bringing a little light to the thousands of critically ill men, women and children we serve."
The meals were provided through "drive-by" pick-up for volunteers who then delivered them to Project Angel Food clients. The traditional Thanksgiving dinners included roasted turkey, root vegetables, stuffing, gravy, cranberry sauce, and a slice of pumpkin cheesecake. Additionally, vegetarian meals were also provided. The Thanksgiving Day meals were sponsored by The Stanley & Joyce Black Family Foundation, with additional support from Joybird, which furnished the Joybird VIP Love Lounge, allowing volunteers to take a break during the morning of service.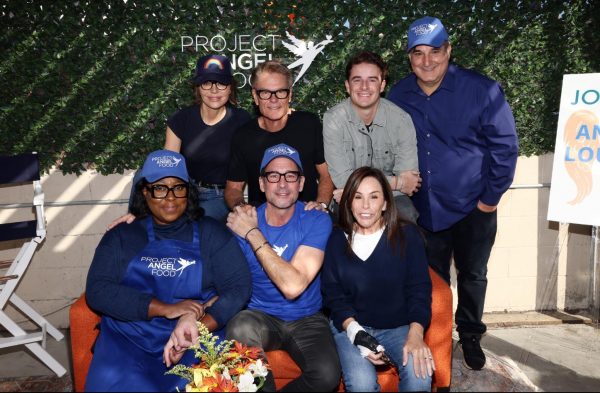 Beyond serving meals to 2,000 critically ill individuals, Project Angel Food extended its support by providing Thanksgiving Day meals for 500 people at PATH. PATH works tirelessly to end homelessness by building affordable housing and offering supportive services. Furthermore, actress and director Joely Fisher sponsored Project Angel Food meals, hosting a SAG/AFTRA "Friendsgiving" at Hollywood United Methodist Church for 200+ union members affected by the 118-day SAG/AFTRA strike on Wednesday, Nov. 22, 2023.
Project Angel Food remains dedicated to providing daily meals to 2,500 critically ill individuals and delivering more than 1.5 million medically tailored meals annually across Los Angeles. Their clients often grapple with serious illnesses compounded by challenges such as poverty, aging, and isolation. Established in 1989 by Marianne Williamson, the organization has prepared and delivered more than 17 million meals in its 34-year history.
Related:
Project Angel Food serves up Thanksgiving meals for Angelenos: