LGBTQ activists participate in March on Washington commemoration
HRC President Alphonso David among speakers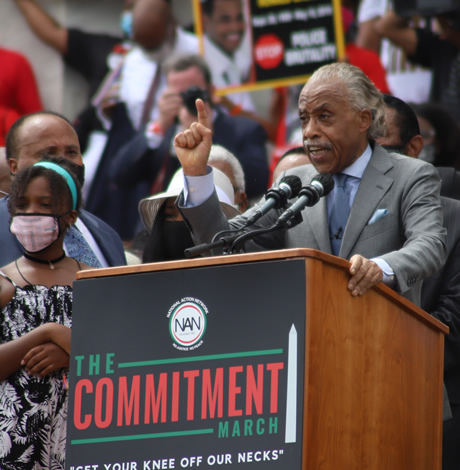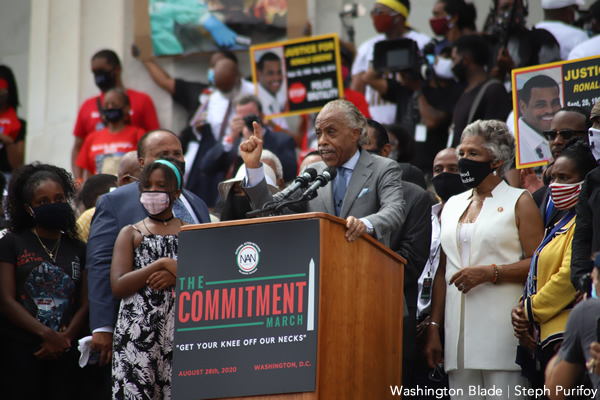 LGBTQ activists joined tens of thousands of protesters at the Lincoln Memorial on Friday to demand the end of systemic racism and police brutality in one of the largest Black Lives Matter marches of the year. 
The National Action Network organized the rally; which featured high-profile speakers like Rev. Al Sharpton, Martin Luther King III, and family members of victims of police brutality.
Titled the Commitment March on Washington, the event also served to honor the 57th anniversary of the first March on Washington where Martin Luther King, Jr., gave his "I Have a Dream" speech on the steps of the Lincoln Memorial.
The march comes at the end of a summer marked by instances of police brutality in multiple cities across the country. The murder of George Floyd at the hands of a then-Minneapolis police officer in May rekindled the very movement which brought Martin Luther King Jr. to D.C. 57 years ago to demand racial justice and equality.
Qween Jean, a costume designer and founder of Black Trans Liberation, a New York-based advocacy organization, said she and her friends woke at the crack of dawn to make sure they could represent the LGBTQ community in the demonstration. She carried a large trans flag up to the steps of the Lincoln Memorial, waving it before the sea of protesters.
"Our purpose is to give trans voices and trans people access to love," said Jean in an interview. "We as a community need to recognize their power and strength so we have to affirm our family. Trans people, trans women, Black trans people can exist in any space. We are divinely made and created so yes, we will be seen. I will make sure that my generation and the next generation do not need to feel small, they do not need to be silent, they do not have to dim their light so others can shine."
Starting at 7 a.m., thousands of protesters gathered in lines which snaked for nearly a mile around the National Mall. They were waiting to have their temperature taken before entering the rally, which was one of the many safety measures the organizers put in place. Plastic gloves were distributed along with hand sanitizer at multiple stations around the National Mall.
The National Action Network originally estimated the crowd would swell to 100,000 but this number was lowered to 50,000 after concerns were raised about protesters coming to D.C. from other states.
Dmitri Stoyanoff, 39, said he came out to the protest with several others from Portland, Ore., to join the demonstrations. He strode through the marchers with Pride flags waving from his backpack. Stoyanoff said he contributed to the day's events by working to register marchers to vote.
He wanted to support the BLM protesters because they inspired him to come out as queer in June, he said.
"After marching for a couple weeks and listening to all these young, beautiful, Black voices talking about how this was the first time in their whole lives that they felt proud of being black, I realized that I needed to love myself too," Stoyanoff said. "Black Lives Matter is for every American. Every gender, sexual orientation, race they're fighting for all of us if people would care to listen."
The protest concluded with a march scheduled to head to the MLK memorial but soon after exiting the Mall, protesters splintered to several different spots in the city. Some went to the memorial while others split to Black Lives Matter Plaza.
For Human Rights Campaign President Alphonso David, the Black Lives Matter and LGBTQ civil rights movements are the same movement. As a Black gay man, David said he is oppressed for both parts of his identity.
"The Black Lives Matter movement, the LGBTQ rights movement, the Latinx movement, we're all fighting for liberation. We're all fighting so that we can live in this country and achieve liberation and equality," he told the Los Angeles Blade. "I cannot be free as a gay man if I am not free as a Black man. The LGBTQ civil rights movement is a part of the BLM movement. As Black people, as POC, we shouldn't be forced to choose between our sexual orientation, our gender identity, and our race."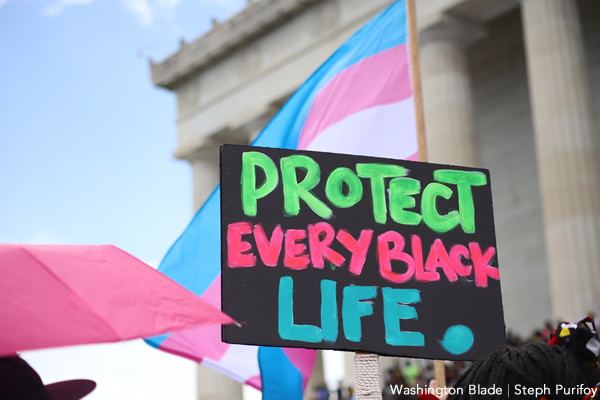 U.S. envoy for LGBTQ+, intersex rights cancels Indonesia trip
Prominent Islamic group criticized Jessica Stern's planned visit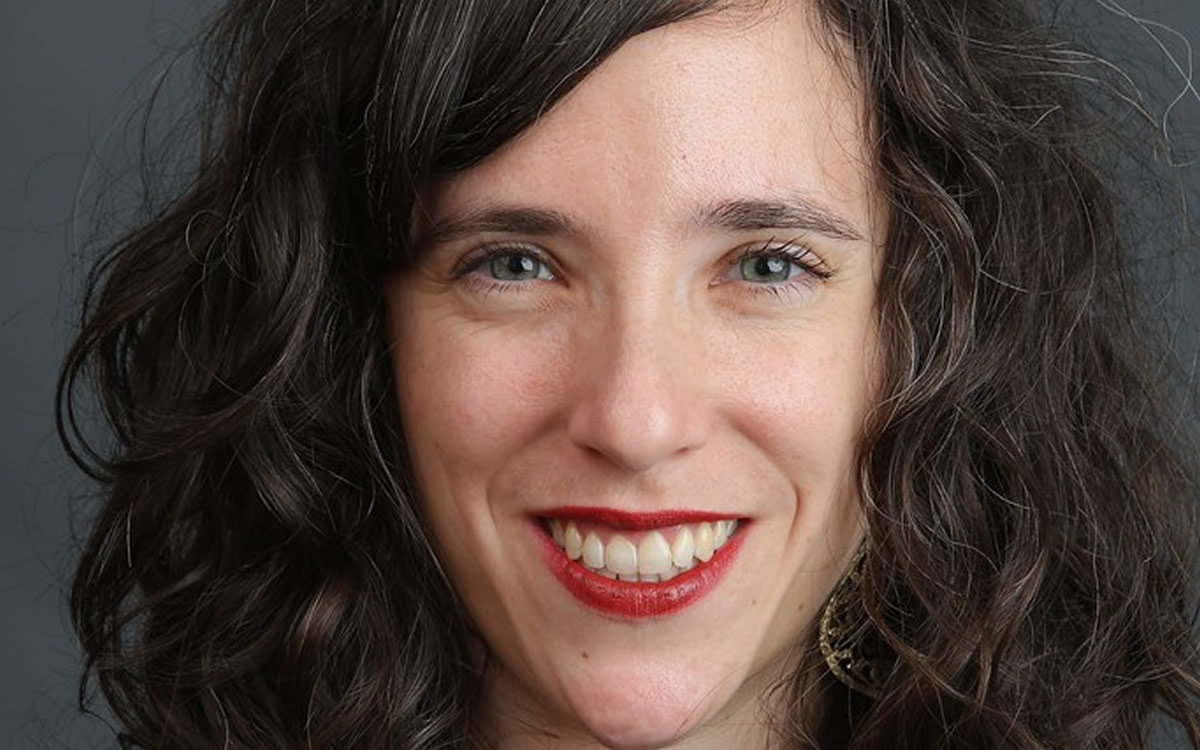 WASHINGTON — The special U.S. envoy for the promotion of LGBTQ+ and intersex rights abroad's trip to Indonesia has been cancelled after the country's most prominent Islamic group criticized.
Jessica Stern had been scheduled to arrive in Indonesia on Dec. 7.
The Washington Post reported Anwar Abbas, the vice chair of the Indonesian Ulema Council, in a statement on Friday said the group "cannot accept guests whose purpose of coming here is to damage and mess up the noble values of our nation's religion and culture."
U.S. Ambassador to Indonesia Sung Kim in a statement announced Stern would no longer travel to the country.
"One of the reasons the United States and Indonesia have such a strong relationship is that we both uphold values such as democracy, human rights, diversity and tolerance. Those values should apply to every member of society, including LGBTQI+ persons," said Kim. "In every country, dialogue about human rights is crucial. Dialogue, after all, is fundamental to democracy. Advanced democracies oppose hatred, intolerance and violence against any group of people, and encourage dialogue that reflects the broad diversity of their societies."
"While we look forward to continuing our dialogue with religious leaders, government officials and members of the public on the important topic of ensuring respect for the human rights of LGBTQI+ persons, after discussions with our counterparts in the Indonesian government, we have decided to cancel Special Envoy Stern's visit to Indonesia," added Kim. "Knowing that around the world LGBTQI+ persons experience disproportionate levels of violence and discrimination, it is important to continue the dialogue and ensure mutual respect for one another, rather than pretending that the issues do not exist. Countries like Indonesia and the United States can learn from one another about how to counter hatred and ensure more prosperous, inclusive societies for all."
A State Department spokesperson on Friday told the Washington Blade that "after discussions with counterparts in the Indonesian government and with Indonesian human rights advocates, Special Envoy Jessica Stern and Ambassador Sung Kim decided to cancel the special envoy's visit to Indonesia planned for Dec. 7-9."
"We will continue to work with our Indonesian partners to promote democracy, human rights, diversity and tolerance," said the spokesperson.
"While we are disappointed that Special Envoy Stern will not travel to Indonesia at this time, it is important to continue the dialogue and ensure mutual respect for every member of society, including LGBTQI+ persons," added the spokesperson. "Indonesia is a valued partner of the United States, and we seek to work together with Indonesia to counter hatred and intolerance and build more prosperous, inclusive societies."
President Joe Biden in February 2021 signed a memo that committed the U.S. to promoting LGBTQ+ and intersex rights abroad as part of his administration's overall foreign policy.
Consensual same-sex sexual relations are decriminalized in most of Indonesia, but officials in Aceh province in 2021 caned two men under Shariah law after their neighbors caught them having sex. The Indonesian government in recent years has faced criticism over its LGBTQ and intersex rights record.
Authorities in Jakarta, the Indonesian capital, in 2017 arrested 51 people who were attending a "gay party" at a sauna. The closure of an Islamic school for Transgender people in the city of Yogyakarta in 2016 also sparked outrage.
Indonesian lawmakers are currently debating a bill that would criminalize sex outside of marriage.