LGBTQ activists participate in March on Washington commemoration
HRC President Alphonso David among speakers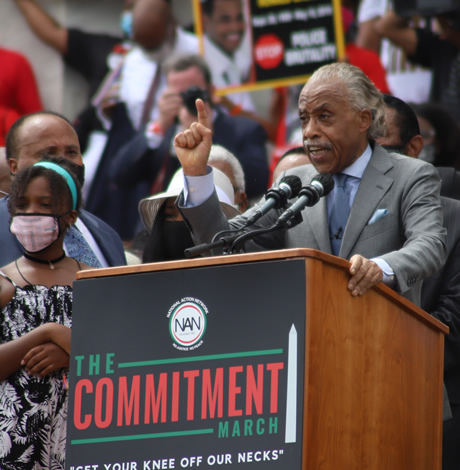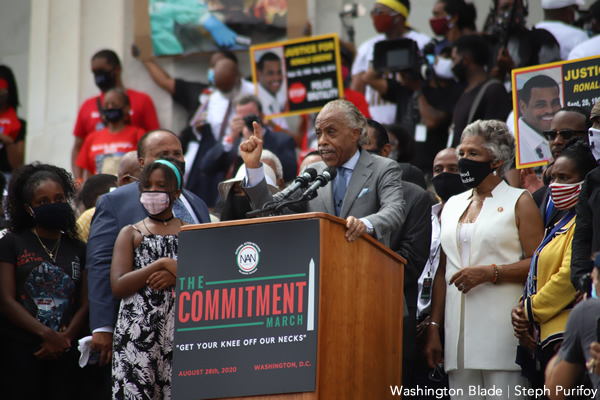 LGBTQ activists joined tens of thousands of protesters at the Lincoln Memorial on Friday to demand the end of systemic racism and police brutality in one of the largest Black Lives Matter marches of the year. 
The National Action Network organized the rally; which featured high-profile speakers like Rev. Al Sharpton, Martin Luther King III, and family members of victims of police brutality.
Titled the Commitment March on Washington, the event also served to honor the 57th anniversary of the first March on Washington where Martin Luther King, Jr., gave his "I Have a Dream" speech on the steps of the Lincoln Memorial.
The march comes at the end of a summer marked by instances of police brutality in multiple cities across the country. The murder of George Floyd at the hands of a then-Minneapolis police officer in May rekindled the very movement which brought Martin Luther King Jr. to D.C. 57 years ago to demand racial justice and equality.
Qween Jean, a costume designer and founder of Black Trans Liberation, a New York-based advocacy organization, said she and her friends woke at the crack of dawn to make sure they could represent the LGBTQ community in the demonstration. She carried a large trans flag up to the steps of the Lincoln Memorial, waving it before the sea of protesters.
"Our purpose is to give trans voices and trans people access to love," said Jean in an interview. "We as a community need to recognize their power and strength so we have to affirm our family. Trans people, trans women, Black trans people can exist in any space. We are divinely made and created so yes, we will be seen. I will make sure that my generation and the next generation do not need to feel small, they do not need to be silent, they do not have to dim their light so others can shine."
Starting at 7 a.m., thousands of protesters gathered in lines which snaked for nearly a mile around the National Mall. They were waiting to have their temperature taken before entering the rally, which was one of the many safety measures the organizers put in place. Plastic gloves were distributed along with hand sanitizer at multiple stations around the National Mall.
The National Action Network originally estimated the crowd would swell to 100,000 but this number was lowered to 50,000 after concerns were raised about protesters coming to D.C. from other states.
Dmitri Stoyanoff, 39, said he came out to the protest with several others from Portland, Ore., to join the demonstrations. He strode through the marchers with Pride flags waving from his backpack. Stoyanoff said he contributed to the day's events by working to register marchers to vote.
He wanted to support the BLM protesters because they inspired him to come out as queer in June, he said.
"After marching for a couple weeks and listening to all these young, beautiful, Black voices talking about how this was the first time in their whole lives that they felt proud of being black, I realized that I needed to love myself too," Stoyanoff said. "Black Lives Matter is for every American. Every gender, sexual orientation, race they're fighting for all of us if people would care to listen."
The protest concluded with a march scheduled to head to the MLK memorial but soon after exiting the Mall, protesters splintered to several different spots in the city. Some went to the memorial while others split to Black Lives Matter Plaza.
For Human Rights Campaign President Alphonso David, the Black Lives Matter and LGBTQ civil rights movements are the same movement. As a Black gay man, David said he is oppressed for both parts of his identity.
"The Black Lives Matter movement, the LGBTQ rights movement, the Latinx movement, we're all fighting for liberation. We're all fighting so that we can live in this country and achieve liberation and equality," he told the Los Angeles Blade. "I cannot be free as a gay man if I am not free as a Black man. The LGBTQ civil rights movement is a part of the BLM movement. As Black people, as POC, we shouldn't be forced to choose between our sexual orientation, our gender identity, and our race."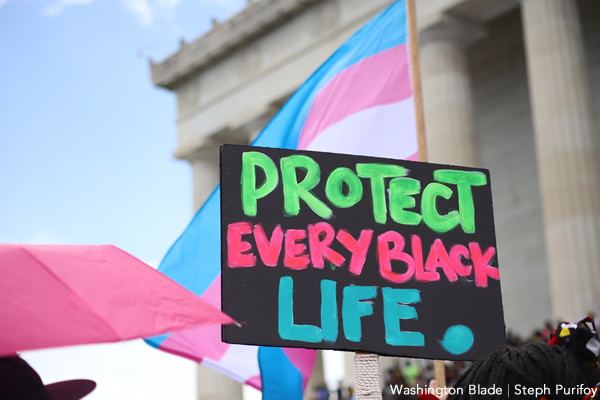 South Bend Indiana Rainbow Story Hour disrupted by Proud Boys
Seven men — all Proud Boys — entered the library and began arguing with staff and patrons. Several displayed white supremacist symbols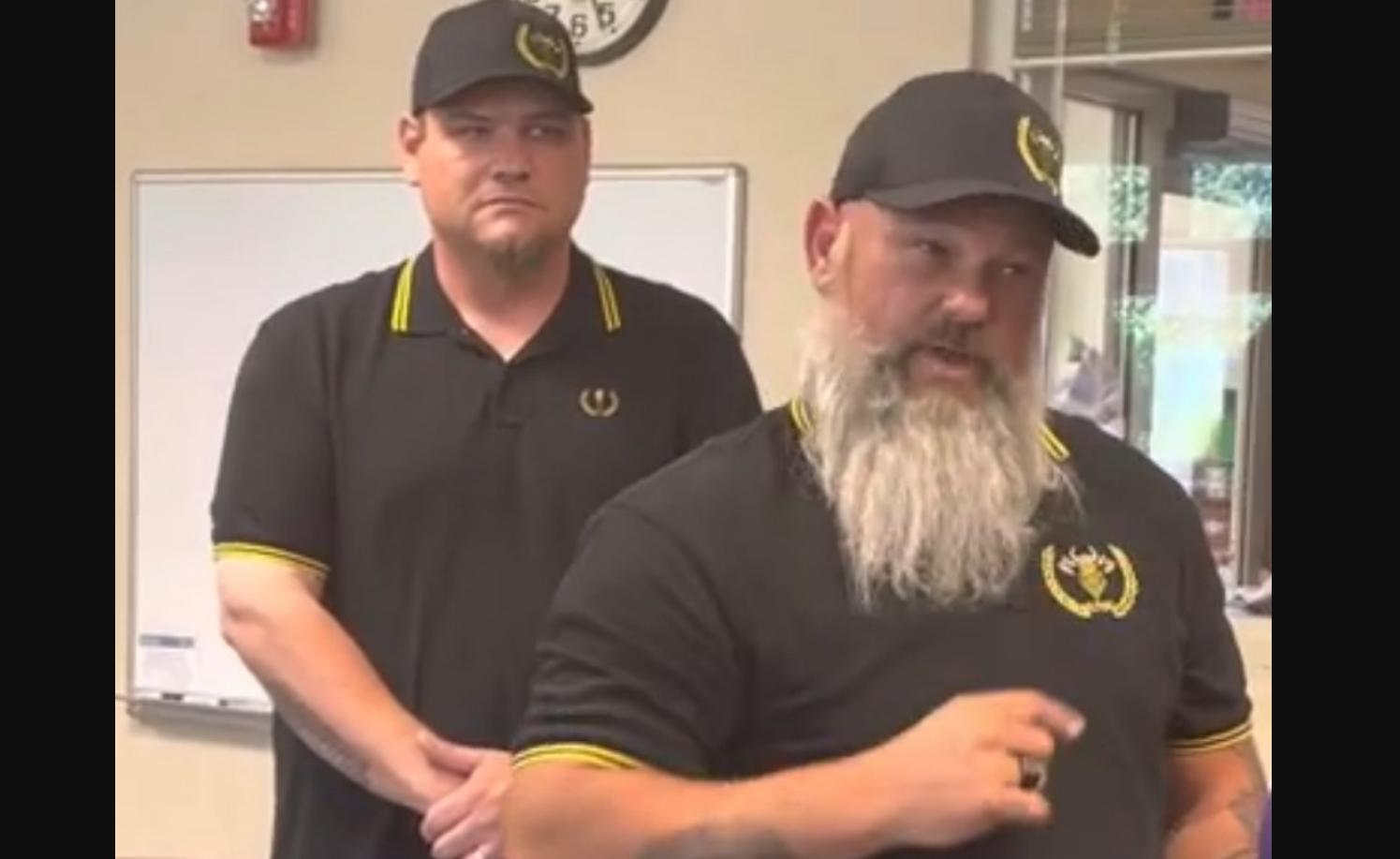 SOUTH BEND, In. – A Pride Month children's Rainbow Story Hour event at the St. Joseph County Public Library's Virginia M. Tutt Branch on Monday was disrupted after the far-right anti-LGBTQ+ group, the Proud Boys, walked in and began loudly arguing with staff and library patrons.
At one point during the confrontation, one of the group unfurled a flag reading "Michiana Proud Boys," appearing to identify the men as a local chapter of the white nationalist hate group.
This latest incident follows Proud Boys targeting LGBTQ+ Pride month events- especially Drag Queen Story Hour events- in Sparks Nevada, Wilmington North Carolina, Alameda California, Boise Idaho, many promulgated by highly influential far-right social media stars like Chaya Raichik, the Brooklyn real estate agent behind @LibsOfTikTok who has highlighted these events she calls out as inappropriate and sexualizing children to her more than 1.3 million followers on Twitter.
South Bend's NPR outlet WVPE reported that the event was a partnership between the library and TREES, a Michiana organization that provides resources for the local transgender community and operates the Tree House Gender Resource center in downtown South Bend.
But before the event was set to start, seven men — all Proud Boys — entered the library and began arguing with staff and patrons. Several displayed white supremacist symbols, according to photos posted on social media.
Police were called — and the group left after about 40 minutes — but they caused so much disruption that the event had to be canceled.
"This definitely came as a shock," library system communications manager Marissa Gebhard told WVPE. "We were not anticipating any problems."
The library plans to reschedule the event in a few months, and Gebhard said the system wants everyone to feel safe and welcome at its branches.
The Proud Boys recognized one person because Purple for Parents (a local hate group focused on schools) had doxxed her before.

This disruption is extremely concerning because it seems to be a part of coordinated disruptions of similar events across the country. 2/4 pic.twitter.com/QumqYn4Bxd

— Indiana Mutual Aid Coalition (@INMutualAid) June 28, 2022
Ketanji Brown Jackson sworn in as 116th justice of the U.S. Supreme Court
"It has taken 232 years and 115 prior appointments for a black woman to be selected to serve on the Supreme Court of the United States"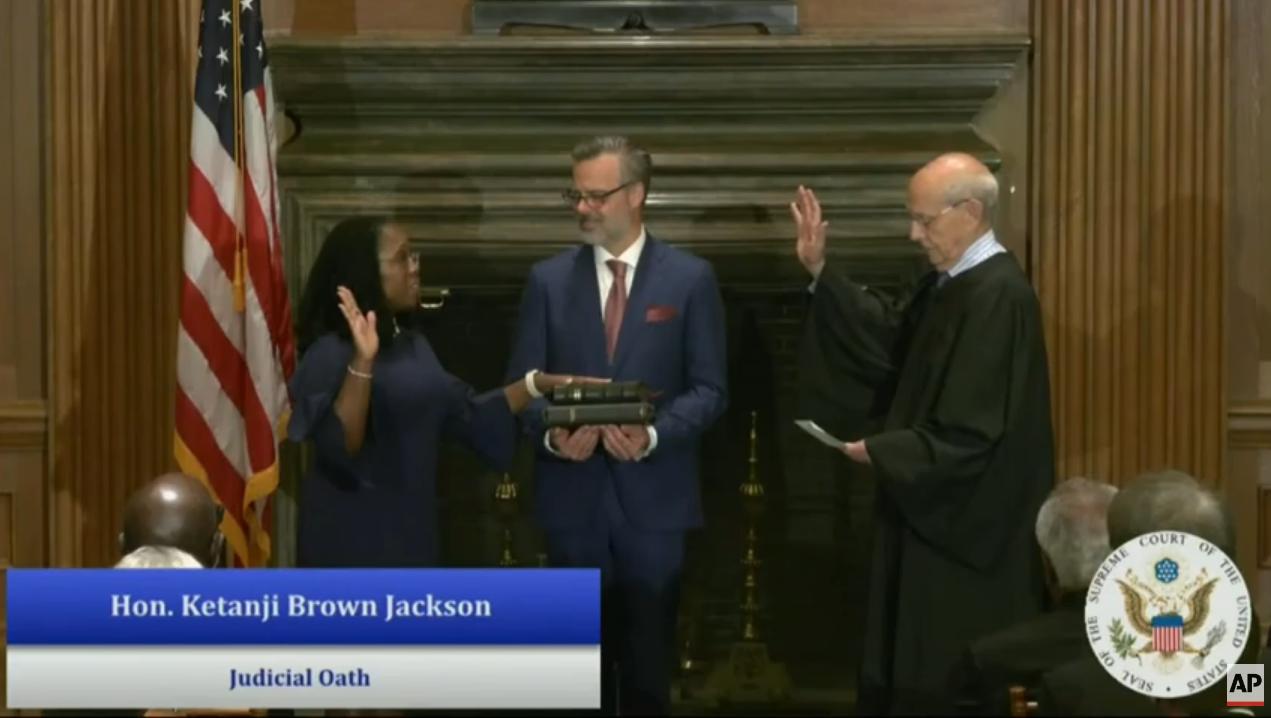 WASHINGTON – In oaths administered by the Chief Justice John Roberts and outgoing Associate U.S. Supreme Court Justice Stephen Breyer, Judge Ketanji Brown Jackson was sworn in as the 116th justice of the U.S. Supreme Court.
The 51 year-old Justice Jackson made history as the first-ever black woman sworn in as a justice on the U.S. Supreme Court. She replaces Justice Breyer, whose resignation from the Supreme Court becomes effective at noon Thursday (Eastern) after his nearly 28 years of service on the nation's high court.
In the simple ceremony held at the Court, Jackson in the constitutional oath, given by Chief Justice Roberts, solemnly swore to defend the Constitution "against all enemies, foreign and domestic," and "bear true faith and allegiance to the same."
Justice Breyer gave her the statutory oath, in which Jackson swore to "administer justice without respect to persons, and do equal right to the poor and to the rich."
The newly sworn-in Associate Justice was joined by her husband, Dr. Patrick Jackson, and their two daughters, Talia and Leila.
The court will hold another formal inaugurating ceremony, called an investiture, in the fall, Roberts said. But Thursday's ceremony allows her to immediately begin work as the newest member of the nine-seat Supreme Court.
Nominated by President Biden and confirmed by the Senate, in April at a ceremony on the South Lawn of the White House, addressing the audience of members of Congress, the Biden Cabinet, and White House staff along with family and invited guests, Justice Jackson noted;
"As I take on this new role, I strongly believe that this is a moment in which all Americans can take great pride. We have come a long way towards perfecting our union. In my family, it took just one generation to go from segregation to the Supreme Court of the United States."
As the first Black woman to be nominated to serve on the nation's highest court which she noted in her remarks:
"It has taken 232 years and 115 prior appointments for a black woman to be selected to serve on the Supreme Court of the United States. But we've made it," she said, to applause from the crowd. "We've made it, all of us, all of us. And our children are telling me that they see now, more than ever, that here in America anything is possible."
Quoting Maya Angelou, an American author, poet and civil rights activist, "I am the hope and the dream of the slave," Jackson said.
In statement issued by the White House, President Biden traveling back from the NATO conference in Madrid aboard Air Force One said:
"I am honored that the very first judicial nominee I selected as President – the brilliant lawyer who became "Judge Jackson" – has now become "Justice Jackson." 
Her historic swearing in today represents a profound step forward for our nation, for all the young, Black girls who now see themselves reflected on our highest court, and for all of us as Americans. 

The Supreme Court just gained a colleague with a world-class intellect, the dignified temperament the American people expect of a justice, and the strongest credentials imaginable.  

Justice Jackson is a former public defender who served for almost a decade as a district and circuit judge.  Her nomination was endorsed by top legal experts across the political spectrum, as well as our country's leading law enforcement organizations.  In her career, she has been confirmed four times by the U.S. Senate with bipartisan support.

She is the daughter of educators and the niece of a police chief—and she too has devoted her life to public service. 

She is also the embodiment of hard work, grace, and perseverance.

Justice Jackson's wisdom and experience, will make all of us proud for so many years to come.

Like I said after her confirmation, Justice Jackson's ascension to the highest court in the land makes the sun shine on so many of us in a new way.

Justice Jackson succeeds another extraordinarily brilliant jurist who has also devoted their life to their country, including in the U.S. Army as a teenager and on the Watergate Committee  – Justice Steven Breyer. Justice Breyer's integrity and his commitment to ensuring our nation's laws worked for the people have made him beloved by his colleagues and deeply respected across our country. I thank him again for his many years of exemplary service."    
U.S. Supreme Court upholds Biden's ability to enforce immigration laws
In its 5-4 ruling the high court said that the president may repeal the Trump-era 'remain in Mexico' policy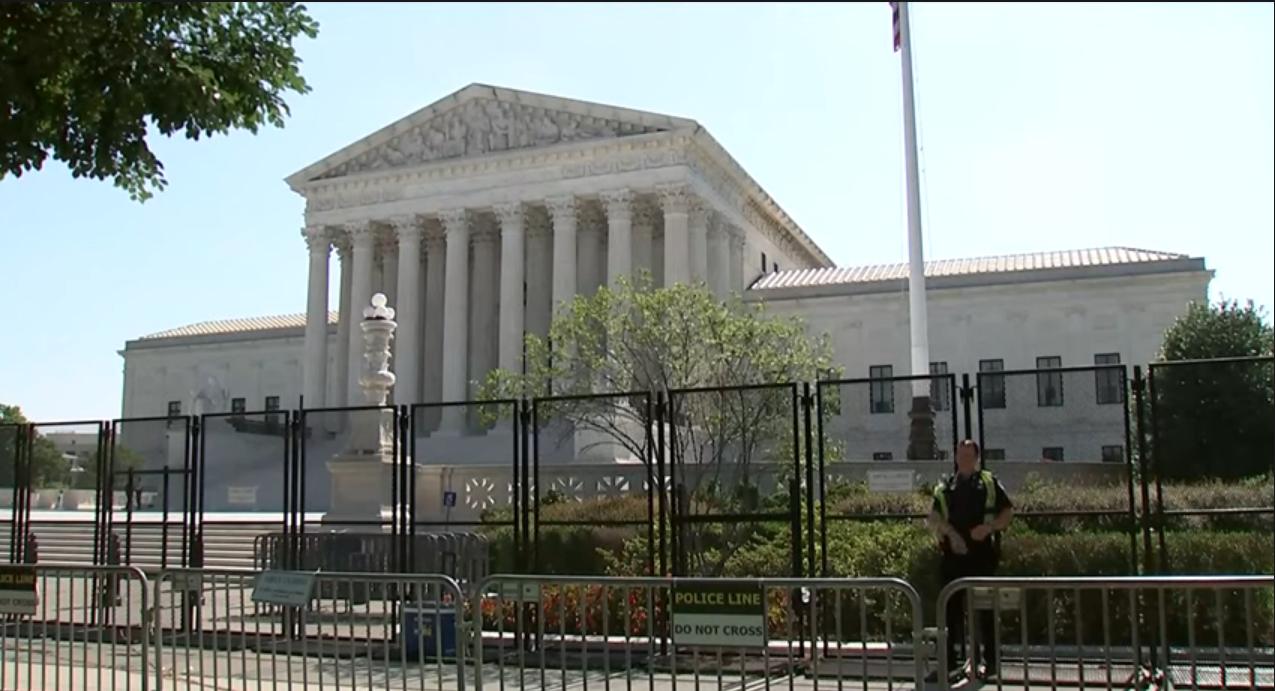 WASHINGTON – The U.S. Supreme Court Thursday upheld President Biden's broad presidential powers to enforce the nation's immigration laws and policies. In a 5-4 ruling the high court said that the president may repeal the Trump-era 'remain in Mexico' policy, which barred most Central American migrants from entering the United States to seek asylum.
Chief Justice John Roberts, joined by Justices Sonia Sotomayor, Elena Kagan, Stephen Breyer and Brett Kavanaugh rejected arguments by Republican-led states in the case known as Biden v. Texas that were seeking to force the administration to keep the policy enacted under former President Trump.
The Chief Justice writing for the majority held that the decision to end it did not violate a 1996 migrant detention law and that a second memo terminating the program should have been considered by lower federal courts.
In his opinion, Roberts overturned the ruling by the 5th U.S. Circuit Court of Appeals that forced border officials to revive the Remain in Mexico rules, formally known as the Migrant Protection Protocols this past December. The Chief Justice noted that the 1996 law which authorizes the program does not mandate U.S. Immigration and Customs Enforcement (ICE) officials to return migrants to Mexico, but allows them the option to do so. Roberts referenced use of the word "may" in the statute.
If Congress meant for the law to require asylum-seekers to be returned to Mexico, Roberts wrote, "it would not have conveyed that intention through an unspoken inference in conflict with the unambiguous, express term 'may.'"
Justices Samuel Alito and Amy Coney Barrett filed separate dissenting opinions, parts of which were joined by Justices Neil Gorsuch and Clarence Thomas.
U.S. Senator Alex Padilla (D-Calif.), Chair of the Senate Judiciary Subcommittee on Immigration, Citizenship, and Border Safety, released the following statement on the Supreme Court's decision today in Biden v. Texas:
"Today's Supreme Court decision correctly acknowledges the Biden administration's authority to end the unlawful and cruel 'Remain in Mexico' program. For more than three years, this horrifying policy has denied asylum seekers their right to due process and subjected them to crimes like rape, kidnapping, and torture in northern Mexican border cities while they await their court hearings.
"I urge the Biden administration to do everything in its power to swiftly end 'Remain in Mexico' once and for all. Misguided and inhumane Trump-era policies like 'Remain in Mexico' and Title 42 have only decimated an already broken immigration system. We must keep working to restore the lawful processing of asylum seekers at the border, in keeping with America's most deeply held values as a nation of immigrants."
This is a developing story.