Update: As Timothy Ray Brown faced death, a great love endures
Editor's note: In an update issued Tuesday, September 29, "Timothy died after a battle with leukemia, the cancer that was the catalyst for a stem cell transplant in 2008 that cleared his body of HIV through the use of a blood donor type that was genetically immune to HIV infection. Since the transplant, HIV was never found in his body again." https://marksking.com/…/timothy-ray-brown-has-died-of…/
PALM SPRINGS – Tim Hoeffgen did a quick google search of his Scruff date as he headed over to meet him. Tim was living in Nevada in early 2013, and the guy he had been chatting with on the dating app looked a lot like the man who was on the cover of the LGBTQ newspaper in Las Vegas that week.
When the door opened, Tim realized his hunch was correct. Greeting him was Timothy Ray Brown, the first man in history cured of HIV and the intense focus of scientific and public fascination around the world.
"I was charmed immediately by his personality," Tim tells me in a call from their Palm Springs apartment. "He is just the sweetest man." The two men, Tim and Timothy, have been together ever since.
Timothy Ray Brown is terribly shy. He also exudes warmth and humility, and is clearly grateful for his viral reversal of fortune. He is quite literally an HIV historical milestone, embraced by the community since he identified himself as "the Berlin Patient" in 2010.
The harrowing details of Timothy's medical journey, as a cancer patient and a man living with HIV, are complicated. Suffice it to say that, while Timothy was living in Berlin in 2008, an ingenious oncologist treated Timothy's leukemia with a stem cell transplant using a rare blood type that is genetically resistant to HIV infection. When all was said and done, HIV was no longer found in Timothy's blood and the scientific breakthrough, first reported at the 2008 International AIDS Conference, was celebrated around the world.
The treatment, it should be noted, nearly killed Timothy and has been successfully replicated exactly once – but has nevertheless provided vital insight into potential avenues of HIV cure research.
But that was years ago, and Timothy's traumatized body has never been the same. Sadly, his health has been in freefall for the last six months, with a recurrence of leukemia that has invaded his spine and brain. His partner, Tim, the Scruff date from Nevada, has never left his side.
That is no overstatement. When Timothy was admitted to a cancer hospital in April, Tim camped in Timothy's hospital room for seven weeks. Because of COVID-19 restrictions, neither of them could leave the medical campus. "It was a blessing to be there with him," Tim tells me, "but it was rough. It's so much better to be home."
There is a hospital bed in the one-bedroom apartment Tim and Timothy share. Timothy is bedridden, and is receiving home hospice care. Tim divides his time between caring for Timothy and fielding calls from concerned friends as well as from various researchers to whom Timothy has generously provided endless blood and tissue samples over the years.
"Timothy is not dying from HIV, just to be clear," Tim says. "HIV has not been found in his blood stream since he was cured. That's gone. This is from the leukemia. God, I hate cancer."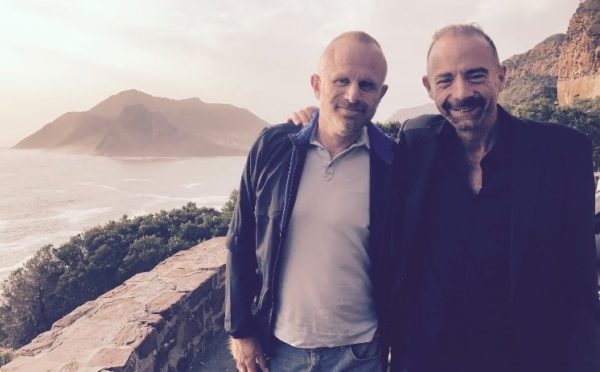 Tim is speaking on the phone with me only a few feet from where Timothy is resting in his hospital bed. Tim sounds exhausted, and resigned to what lies directly ahead.
"The hardest part has been seeing Timothy go downhill," Tim says, bursting into mournful tears, the kind that strike without warning, even before the death we are awaiting has occurred. "He's a person you can't help loving. He's so sweet. The cancer treatments have been rough. Sometimes I wonder if it's worse than the disease."
Indeed. Many of my friends lost to AIDS would agree with him. "Believe it or not," Tim adds, "this is the first time in my life that I will lose someone…" His composure breaks again.
Tim and I both know that his partner, confined to his bed and surrounded by medical devices, bears an unsettling resemblance to a man dying of AIDS. It's as if the Fates vengefully swept in to claim the AIDS patient who had escaped them.
Timothy has dutifully fulfilled countless media requests and invitations over the years, becoming an active public figure in the HIV/AIDS arena in spite of his social reluctance. He embodies a shared hope for a practical HIV/AIDS cure. At conferences and community events, people living with HIV gravitate to Timothy, reaching out for hugs and thanking him for the physical gauntlet he has been through. He is a projection of our longing for scientific discoveries and a marker for just how far we have come.
Tim, meanwhile, has been Timothy's loving guardian, intervening as necessary to be sure Timothy wasn't overwhelmed by requests. He has played the role of media agent and even bad cop in order to safely buffer Timothy.
I ask Tim if his partner knows he is dying. "Yes, he knows," Tim answers. "Well, sometimes he doesn't. It depends. But I have asked him what he wants me to tell people when we make his situation public. He said, 'Tell people to keep fighting. Fight for a cure for HIV that works for everyone. I never wanted to be the only one.'"
Tim Hoeffgen will join a unique group sometime soon: the surviving partners of those with an elevated place in history. He will probably be known as the widower of Timothy Ray Brown for the rest of his life. "I would be honored to be known that way," Tim tells me. "I love him so much. I will gladly carry his message and his legacy."
Our time on the phone is growing short, and I know Tim has things to do for Timothy. I begin to wrap up our call when suddenly I hear Timothy's voice on the line.
"Hello there, Mark," Timothy says. "I hope you are doing okay." I tell him I am fine. I am tempted to thank him for all he has done, as a kind of goodbye, but it feels too intrusive. Instead, I tell him to fight for as long as he wants. In other words, no longer than he wants. "I'm going to keep fighting," Timothy replies, "until I just can not fight anymore."
Tim takes back the phone, and I know it is time to go. I can tell he is stepping away from Timothy as he quietly confides something else.
"One of the researchers wanted Timothy's body, you know, to be left to science," Tim tells me. "I said, 'thank you, but no. I think he's done enough.'"
(Tim Hoeffgen and Timothy Ray Brown have asked me to tell this story as their way of thanking the community and sharing the news of this final chapter of Timothy's journey. They ask that we give them the space they need during their remaining time together. Tim Hoeffgen will release further updates at the appropriate time.)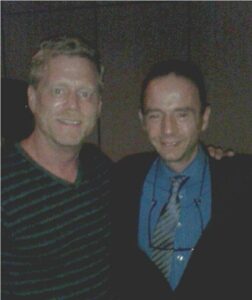 Mark S. King shown above left with Timothy R. Brown in 2012, is an award winning blogger, author, speaker, and HIV/AIDS activist who has been involved in HIV causes since testing positive in 1985. King was named the 2020 LGBTQ Journalist of the Year by the National Lesbian and Gay Journalist Association (NLGJA), which also awarded King their "Excellence in Blogging" honor in 2014, 2016 and 2020. My Fabulous Disease won the 2020 GLAAD Award for Outstanding Blog after five consecutive nominations.
HBCUs receive millions to address HIV inequalities in South
"We believe that education and advocacy will enable us to identify new strategies that will make an impact on infection rates"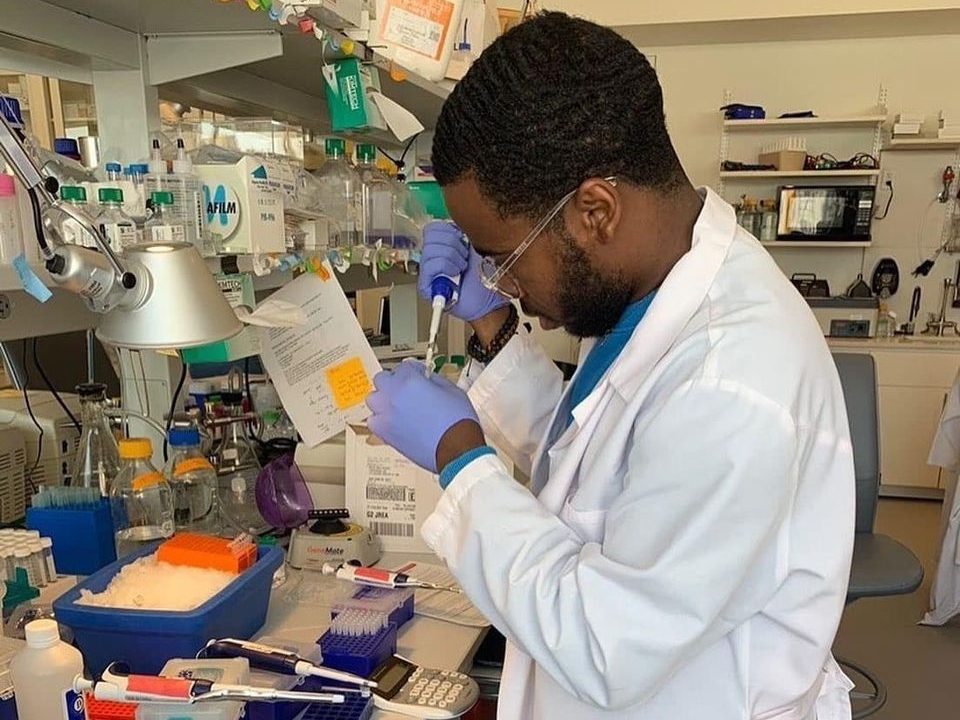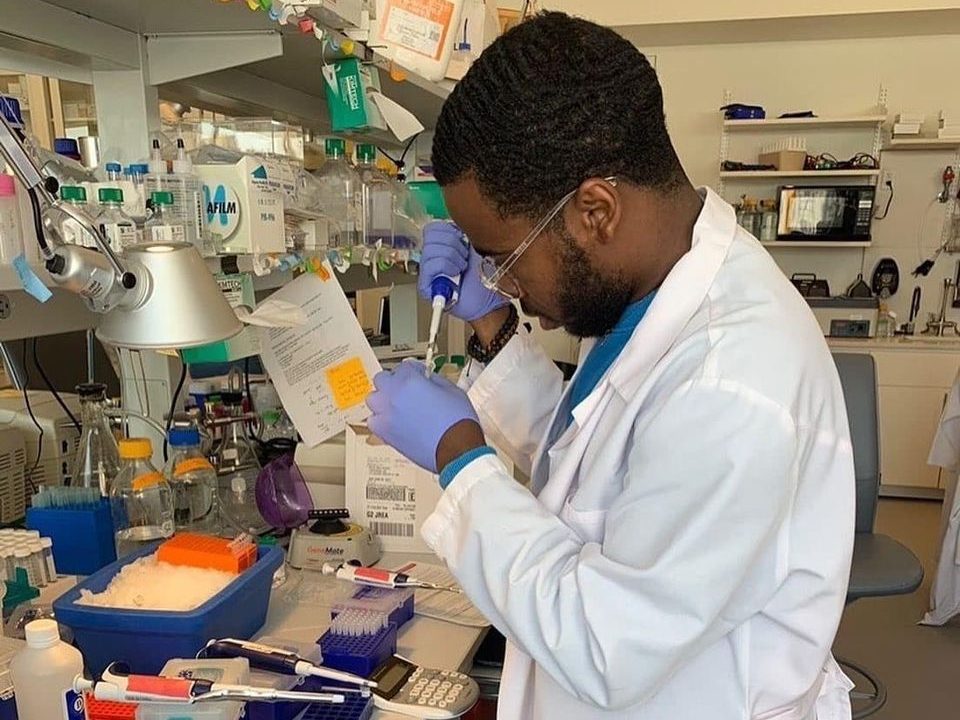 FOSTER CITY, Calif. – Two Southern historically Black colleges (HBCUs) will receive millions of dollars from biopharma giant Gilead Sciences Inc. to address the HIV epidemic in the region, which has become the epicenter of the virus in the U.S.
The Foster City, Calif.-based company will announce Wednesday $4.5 million for programs at Morehouse College in Atlanta and Xavier University of Louisiana in New Orleans to address structural barriers Black people face in getting HIV testing, treatment and ongoing care, officials told the Los Angeles Blade. Gilead is a leader in HIV treatments.
The South has become the epicenter for HIV in the country, according to the U.S. Centers for Disease Control and Prevention (CDC). It also "lags behind in providing quality HIV prevention services and care," the agency said.
Though cases have dropped in recent years, the region continues to have the country's highest rate of new HIV diagnoses – sitting at 15.2 per 100,000 people in 2019, according to the CDC. Most cases occur in Black men who have sex with men.
The Gilead donations will go toward addressing HIV inequities and closing gaps in care in Atlanta, New Orleans and Baton Rouge, La., officials said. Specifically, according to the announcement, the $4.5 million will help the HBCUs:
Increase access and utilization of culturally competent healthcare to Black people impacted by the HIV epidemic.
Gain insight into the disruption of the healthcare delivery system due to COVID-19 in the Black community and realigning HIV services in the current climate.
Provide training focused on culturally competent HIV care.
Engage early with experienced clinicians practicing in Black communities in the three cities.
The Satcher Health Leadership Institute at Morehouse School of Medicine will receive $2.5 million and the Center for Minority Health and Health Disparities Research and Education at Xavier University of Louisiana's College of Pharmacy will get $2 million over three, a Gilead official said. The company said there is a potential to continue funding and expanding the project based on the outcomes.
Rashad Burgess, vice president of advancing health and Black equity at Gilead, said the drugmaker landed on the two schools because the two "have been leading efforts ensuring positive health outcomes and advancing health equity for Black communities in the U.S. South, across the nation and around the globe."
"Both schools also have a track record of results," he said.
Xavier, a Catholic institution, and Morehouse, a men's school, have made recent strides with the LGBTQ community. Last year, Xavier hosted its first ever Pride week, which students heralded as a "big deal." In 2019, Morehouse said it would open admissions to transgender men. (The school still bans anyone who identifies as a woman from enrolling.)
Jareese Stroud, project director of the Satcher Health Leadership Institute in the Morehouse School of Medicine, said strategic partnerships like Gilead's "are critical to improving health outcomes among Black Americans."
In a statement to the Blade, Kathleen Kennedy, dean of the Xavier University of Louisiana College of Pharmacy, added: "We believe that education and advocacy will enable us to identify new strategies that will make an impact on infection rates and the overall health care of patients living with HIV and AIDS."
HIV speeds up body's aging within three years after initial infection
Living with HIV infection is associated with early onset of aging-related chronic conditions, sometimes described as accelerated aging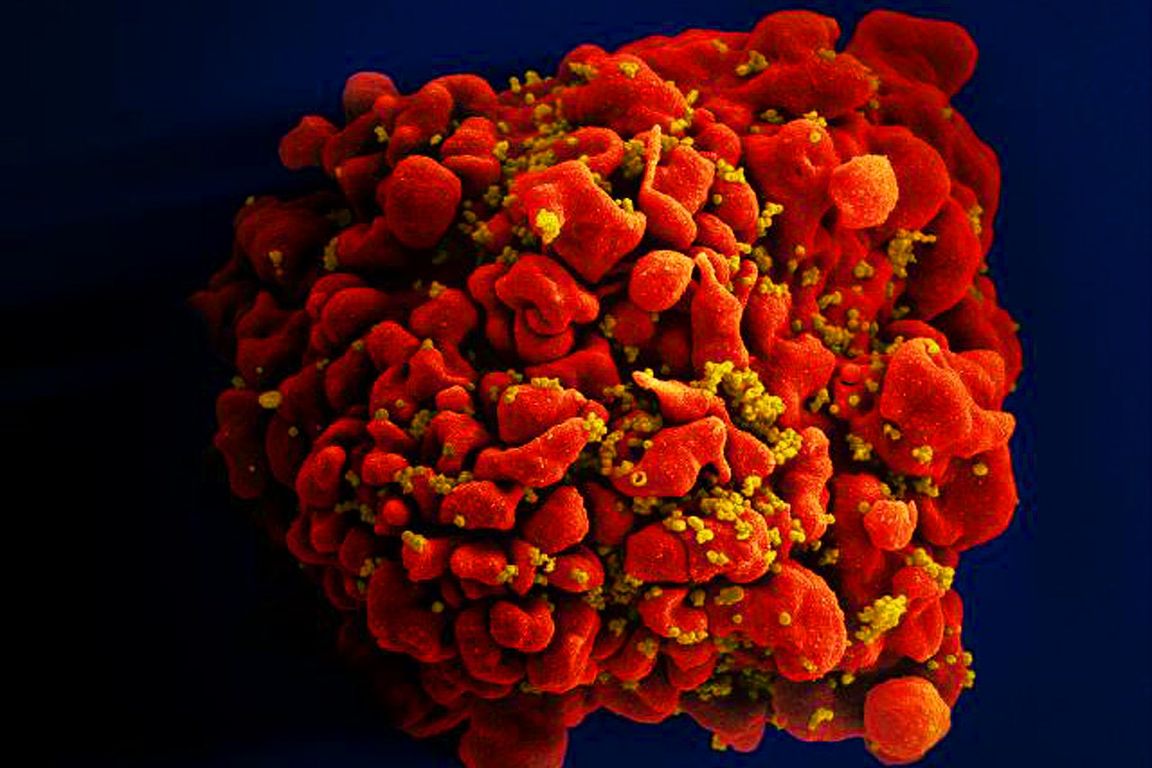 LOS ANGELES – A study published by researchers from the division of hematology and oncology at the David Geffen School of Medicine at UCLA at the end of June revealed that HIV has an "early and substantial" impact on aging in infected people, accelerating biological changes in the body associated with normal aging within just two to three years of infection.
"Our work demonstrates that even in the early months and years of living with HIV, the virus has already set into motion an accelerated aging process at the DNA level," said lead author Elizabeth Crabb Breen, a professor emerita at UCLA's Cousins Center for Psychoneuroimmunology and of psychiatry and biobehavioral sciences at the David Geffen School of Medicine at UCLA. "This emphasizes the critical importance of early HIV diagnosis and an awareness of aging-related problems, as well as the value of preventing HIV infection in the first place."
According to the results of the study published in the Cell Press open source journal iScience, the findings suggest that new HIV infection may rapidly cut nearly five years off an individual's life span relative to an uninfected person.
The study's authors noted that despite a significant increase in life expectancy because of treatment regimes now available to patients, there is mounting evidence that living long-term with Human Immunodeficiency Virus (HIV) and antiretroviral therapy, even when clinically well-controlled, is associated with an earlier than expected onset of chronic conditions such as heart and kidney disease, frailty, and neurocognitive difficulties.
The research team analyzed stored blood samples from 102 men collected six months or less before they became infected with HIV and again two to three years after infection. They compared these with matching samples from 102 non-infected men of the same age taken over the same time period.
The UCLA team said that this study is the first to match infected and non-infected people in this way. All the men were participants in the Multicenter AIDS Cohort Study, an ongoing nationwide study initiated in 1984.
"Our access to rare, well-characterized samples allowed us to design this study in a way that leaves little doubt about the role of HIV in eliciting biological signatures of early aging," said senior author Beth Jamieson, a professor in the division of hematology and oncology at the Geffen School. "Our long-term goal is to determine whether we can use any of these signatures to predict whether an individual is at increased risk for specific aging-related disease outcomes, thus exposing new targets for intervention therapeutics."
The researchers noted some limitations to the study. It included only men, so results may not be applicable to women. In addition, the number of non-white participants was small, and the sample size was insufficient to take into consideration later effects of highly active antiretroviral treatment or to predict clinical outcomes.
There is still no consensus on what constitutes normal aging or how to define it, the researchers wrote.
The full study is available here: (Link)
U.S. announces more funding for HIV/AIDS fight in Latin America
Jill Biden made announcement on Saturday in Panama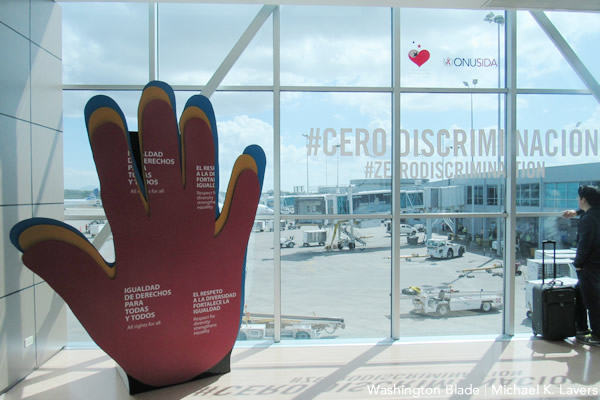 PANAMA CITY — First lady Jill Biden on Saturday announced the U.S. will provide an additional $80.9 million to the fight against HIV/AIDS in Latin America.
Biden during a visit to Casa Hogar el Buen Samaritano, a shelter for people with HIV/AIDS in Panama City, said the State Department will earmark an additional $80.9 million for President's Emergency Plan for AIDS Relief-funded work in Latin America. A Panamanian activist with whom the Washington Blade spoke said LGBTQ+ people were among those who met with the first lady during her visit.
Pope Francis visited the shelter in 2019.
"I'm glad we have the opportunity to talk about how the United States and Panama can work together to combat HIV," said the first lady.
Michael LaRosa, the first lady's spokesperson, noted Panama will receive $12.2 million of the $80.9 million in PEPFAR funding.
"This funding, pending Congressional notification, will support expanded HIV/AIDS services and treatment," said LaRosa.
UNAIDS statistics indicate an estimated 31,000 Panamanians were living with HIV/AIDS in 2020. The first lady's office notes the country in 2020 had the highest number of "newly notificated cases of HIV/AIDS" in Central America.
The first lady visited Panama as part of a trip that included stops in Ecuador and Costa Rica.
The Summit of the Americas will take place next month in Los Angeles. The U.S. Agency for International Development and PEPFAR in April announced they delivered more than 18 million doses of antiretroviral drugs for Ukrainians with HIV/AIDS.