October 12, 2020 at 9:36 pm PDT | by Noah Christiansen
USC & Project Angel Food partner on groundbreaking Native American diabetes study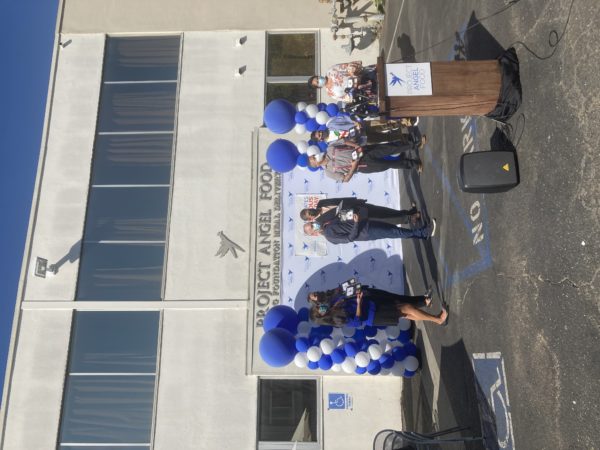 HOLLYWOOD – In honor of Indigenous Peoples' Day 2020, Project Angel Food and the University of Southern California (USC) Keck School of Medicine announced Monday the organizations had launched a two year collaborative study into the affects of diabetes among native Americans living in Southern California.
The purpose of the announcement today was to bring awareness to the fact that diabetes disproportionately affects Native communities, Project Angel Food Executive Director Richard Ayoub told those gathered at the invitation only event.
The study will take place over a two-year period where Project Angel Food tailors specific meals to Native American diabetic clients to work on improving their lives. The study will be used to examine the potential implications of medically tailored meals on Native American diabetics in terms of their physical and mental health.
In California, diabetes is a chronic condition afflicting the Native population, so there is a need for a study like this according to one of the USC researchers Dr. Claradina Soto. The goal of this study is to mitigate the harms that diabetes has in the Native American community.
Dr. Soto described the vision and goals of the study by saying, "The goal is to lower [Natives] A1C levels which is a number that indicates where their sugar is at."
Los Angeles City Councilmember Mitch O'Farrell, who attended Monday's announcement noted in his remarks, "The introduction of refined sugar was something that was brand new to first peoples' when colonization began centuries ago." This in reference to the affects processed and modern foods have played a role in affecting Native Americans diets and health.
"On Indigenous Peoples' Day, the recognition of the ways in which colonization has affected people and will continue to affect people is important because it is a day where we should focus on communities that are normally not part of the national conversation," O'Farrell added.
Runningbear Ramirez, a member of the San Manuel Band of Mission Indians, a well-respected activist, philanthropist, and fashion advisor for couture brands like Gucci and Louis Vuitton also attended.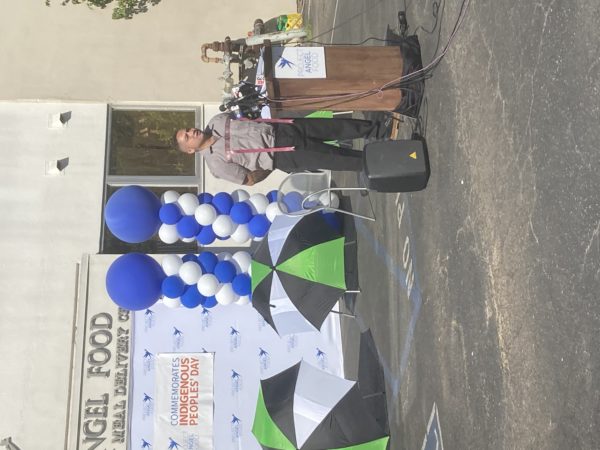 Ramirez had helped launch Project Angel Food's pilot "food is medicine" program, which offered medically tailored meals and nutrition counseling to all Native Americans living with diabetes in Los Angeles County. The program made possible by a multi-year partnership grant from Ramirez.
"For a long time, you know, growing up there was only so many viable options to be seen in the Native community… I believe that the pilot program that Project Angel Food and I have gotten off the ground is in our way being able to help the Native community here in Los Angeles," Ramirez said.
Although today's announcement was specifically regarding the study that will be done over the next two years, Councilmember O'Farrell took the opportunity and discussed the meaning of Two-Spirit in the Native community.
"This is the era of the Two-Spirit, and that means that we have an orientation that is not binary to [the] heterosexual way of life. There is beauty in that…" O'Farrell said. "People tend to forget that on days that commemorate and recognize groups of people, some people tend to leave out marginalized groups in the western world."
O'Farrell added the Two-Spirit is embraced in the Native community and that the western world seeks to eradicate people that aren't like them. "Knowing that folks that have a differing perspective and a different orientation in life have so much to offer – and that's the energy and the power when we celebrate our own diversity amongst one another," he said.
"For all of us, Indigenous Peoples' Day has a different meaning," Ramirez said. He told the attendees that Indigenous Peoples' Day means representation and part of that representation means trying to partner with organizations to solve for problems in the Native community.
Project Angel Food's Ayoub summed up Project Angel Food's mission; "We've always been an organization that says, food is love. We're now really emphasizing, food is medicine."