October 11, 2020 at 9:03 pm PDT | by Brody Levesque
Unofficial ballot box at anti-LGBTQ/anti-choice church is illegal elections officials say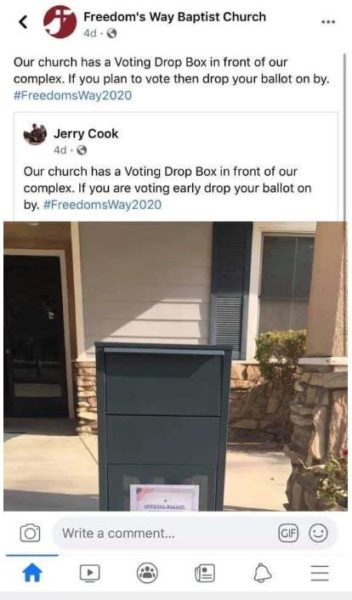 SANTA CLARITA – A church in North Los Angeles county, Freedom's Way Baptist Church, known for its anti-LGBTQ and anti-women's reproductive rights viewpoints, posted a picture on Facebook a few days ago of a grey metal container with a taped sign that read "Official Ballot Drop Box."
The problem with the box according to a spokesperson for the L.A. County Recorder/Registrar's office is that its illegal.
According to KCAL-TV 9, the pastor of Freedom's Way Baptist Church Jerry Cook, had posted the picture with the caption; "Our church has a voting drop box in front of our complex — if you are voting early, drop your ballot on by."
The church's Facebook post was first encountered by Valencia resident Shannon Kaehny, the Chief Financial Officer for a local digital marketing company who contacted the L.A. County Recorder/Registrar's office via social media as the office is closed due to the coronavirus pandemic health department restrictions.
In response to Kaehny and numerous other county residents who questioned the legality of Freedom's Way's unofficial ballot box, the Recorder/Registrar's office stated; "This is not an official vote by mail drop box and does not comply with [state] regulations for drop boxes."
"Oh, it was insane!" Kaehny said to KCAL9. "I can't imagine in what world that you would think that that's acceptable."
The registrar's office told KCAL9 they are trying to reach Pastor Cook and are working with counsel to issue a cease and desist letter. However, the drop box is already gone the station reported.
The Los Angeles Blade reviewed Freedom's Way's website and Facebook page finding that the church is aligned with the America Family Association, a notoriously anti-LGBTQ organisation headquartered in Tupelo, Mississippi that has been listed by the Southern Poverty Law Center as a 'hate group' for its lies and deceptive statements about LGBTQ people.
The Church also lists in its 'about us page' entry under human sexuality: "We believe that God has commanded that no intimate activity be engaged in outside of marriage between a man and a woman. We believe that any form of homosexuality, lesbianism, bisexuality, beastiality, incest, fornication, adultery, and pornography are sinful perversions of God's gift of sex."
Freedom's Way states its position about women's reproductive rights as; "We believe that human life begins at conception and that the unborn child is a living human being. Abortion constitutes the unjustified, unexcused taking of unborn human life. Abortion is murder. We reject any teaching that abortions of pregnancies due to rape, birth defects, gender selection, birth of population control, or the mental well being of the mother are acceptable."
On both the website and its Facebook page the church also attacks the Black Lives Matter movement. It also hosted events for Republican candidates for local offices. It was under these circumstances that Kaehny and other local residents questioned the church's intentions and need for the box.
"It was up for like four days before I even saw it, before it kinda started getting traction, so I'm really worried that somebody put their ballot in there and that he saw it was for a certain candidate or saw whatever and just tore it up and threw it away," another local resident Matthew Judge told KCAL.
The L.A. County Recorder/Registrar's office didn't respond to an inquiry from the Blade if there were further actions to be taken in regards to the illegal ballot box.
On the website for the L.A. County Recorder/Registrar's office are listed the location of the 400 county-owned secure ballot drop-off boxes. For further information or to track a ballot until its counted voters can sign up for "Where's My Ballot" on the website for the California Secretary of State. (Here)
Freedom's Way's box was not the only unauthorized ballot collection box according to media reports and elections officials across the state Monday.
The Huffington Post reported Monday that after the Calif. state Republican Party defended the use of unauthorized ballot collection boxes falsely labeled "official," authorities said they are illegal.
California elections officials said on Sunday that the state Republican Party has been breaking the law by placing makeshift, unauthorized ballot dropoff boxes around the state and falsely labeling them "official."
Following reports of the mysterious ballot collection boxes on Sunday, the chief of California's elections division released a statement saying "the use of unauthorized, non-official vote-by-mail ballot drop boxes does not comply with state law governing ballot collection activities."
Secretary of State Alex Padilla issued a memo to county registrars of voters Sunday stating that "providing unauthorized, non-official vote-by-mail ballot drop boxes is prohibited by state law."
The Fresno Bee also reported Monday that the Fresno County Republican Party said Monday it is removing unauthorized ballot drop boxes it promoted in violation of state law after the Secretary of State's office cracked down on a GOP vote harvesting effort.
The locations — which included at least half a dozen gun shops, a gas station and the Fresno GOP headquarters — were previously listed on the local Republican party's website, but have been removed since the Orange County Register reported on other unauthorized ballot drop locations in Southern California.
California Democratic Party Chair Rusty Hicks issued the following statement Monday afternoon on the California Republican Party setting up illegal drop boxes throughout California:
"Sadly, this is par for the course from the Republican Party – well-versed in making it harder, not easier for Californians to vote.
California Democrats are committed to the right of all registered voters to fully, fairly and equally access the ballot box. And we intend to defend that right in 2020."
A spokesperson for the State's Republican Party Hector Barajas, said that a state law that allows a third party to collect voters' ballots.
"In California, where you can have convicted felons and individuals with a criminal history go door to door and collect ballots from voters, Democrats are now upset because organizations, individuals and groups are offering an opportunity for their friends, family, and patrons to drop off their ballot with someone they know and trust," Barajas said in a media statement.
"The Democrat anger is overblown when state law allows organizations, volunteers or campaign workers to collect completed ballots and drop them off at polling places or election offices," he added.
"We are going to continue on with our ballot harvesting programs," Barajas said, blaming Democratic legislators for passing laws with few restrictions on who can return ballots or how. "They set up the rules. They set up the chessboard. So we are operating within the rules and the chessboard that they set up for us."
Assembly-member Ana Gonzalez, (D-47 San Bernardino County) in an emailed statement noted was a lot of confusion about mail ballots and that her party had volunteers who were canvassing to ensure voters are educated about the process.
"People are desperate right now with the pandemic and the GOP is taking advantage of this and distracting and misleading folks," she said. "In marginalized communities, we've got to make sure that voters have the right information and are safely turning in their ballots. We've got to stay vigilant."
The San Francisco Chronicle noted that California law allows voters to designate someone else to return their mail ballot. That person must provide on the ballot their name, signature and relationship to the voter, and then drop off the ballot or put it in the mail within three days.
Late Monday afternoon California's Attorney General Xavier Becerra also sent a cease-and-desist letter to Republican Party officials demanding that they stop using private ballot collection containers marked as "official" drop boxes. Both Becerra and Secretary of State Padilla have demanded that California State Republican Party officials provide by Thursday, October 15 a list of all voters whose ballots have been collected using the boxes to ensure the documents were collected with permission.