November 11, 2020 at 12:52 pm PST | by Brody Levesque
Gay Asian-American defeats Alt-Right extremist in Hawai'i State House race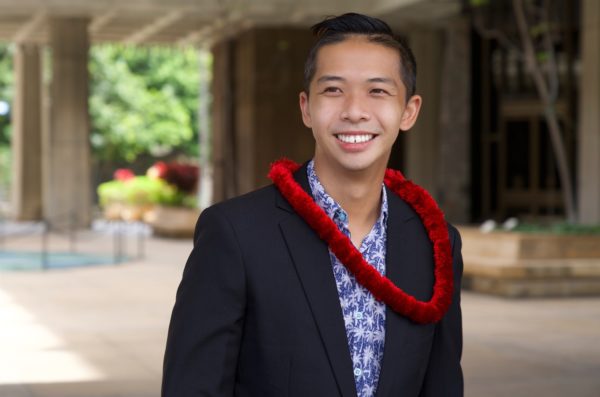 HONOLULU- In a race for a seat in the Hawai'i House of Representatives 22nd district— which includes Waikiki, Ala Moana and Kakaako on the island of Oahu, a 28 year old gay Asian-American and first-time candidate defeated a leader of the Hawai'i chapter of the Proud Boys, a far-right extremist group.
Adrian Tam, a son of Chinese immigrants, took 63% of the vote against his opponent Republican Nicholas Ochs, whose campaign Facebook page was deleted by the social media giant for violating terms of its service and community standards, KITV-ABC4 Oahu reported in September.
Reacting to his victory, Tam told NBC News reporter Sakshi Venkatraman, "It feels really good to know that someone who is openly LGBT can win. There was a time when people like me could not win. I'm glad that I can bring that representation to the capital."
The newly elected House member told NBC News that it was a tough election campaign, first trying to establish communications with his constituency during the coronavirus pandemic as he ran to defeat longtime incumbent Tom Brower in the August Democratic primary.
Then this was coupled with a never-ending diatribe of hatred, both over his sexual orientation and even in multi-ethnic/cultural Hawai'i, his background as the son of immigrant parents from Hong Kong and Taiwan. "It's almost to a harassment level," Tam told NBC News, noting that Ochs' supporters bombarded his campaign's social media to the point where the messages from his own voters were drowned out.
Ochs has a checkered history on Oahu with minority groups. He has been criticized in the past for offensive posts toward Black, Jewish and LGBTQ communities.
KITV-ABC4 Oahu reported that the Democratic Party of Hawaii also called out Ochs for a history of offensive posts on social media about the Black, Jewish, and LGBT communities, as well as a video showing Ochs urinating into active lava fissure at the Kilauea volcano.
"This isn't a political issue, this is a moral issue, this is about what we as a community stand for and we as welcoming people of Hawaii believe in," says Tyler Dos Santos-Tam, the chair of the Hawaii Democratic Party.
Ochs told NBC's Venkatraman that "he also faced harassing messages from Tam's supporters and that he was disappointed the two didn't get a chance to debate. He said that he is not racist."
"I hope the voters know that this does not represent Hawaii values and more importantly that they exercise their right to vote and reject this racism, bigotry, and hateful ideology," Tam said to KITV then and in his interview with NBC said part of his job now is to serve even those who directed hate toward him and his allies.
"I wanted our community to come together," he said. "I wanted to let everyone know that I'm a public servant that will work with everyone. My office door will always be open to them and their families."
Tam was one of the 155 state legislative and local governmental candidates endorsed by the LGBT Victory Fund, the Washington D.C. based political action organization that assists in electing LGBTQ politicos across the United States. Former Houston, Texas Mayor Annise Parker, who is president of the Victory Fund told NBC News in a statement that when there are no LGBTQ elected officials in a state, "it has consequences, both in policy and how young LGBTQ people view themselves."
"Adrian will ensure LGBTQ people are considered and prioritized in the state capitol and will inspire more LGBTQ people to run and serve," Parker said.
Hawai'i's 22nd district has tremendous issues with homeless residents, the state itself has the third highest rate of homelessness in the nation. Tam said that in addition to battling the coronavirus pandemic- he will focus on this issue. This marks a difference from his primary opponent, former five-term State Rep. Tom Brower, who literally waged war on the homeless in the district, most notably smashing and throwing out their belongings.