November 10, 2020 at 2:06 pm PST | by Karen Ocamb
After Prop 21, LGBTQ-led Housing Justice Movement presses on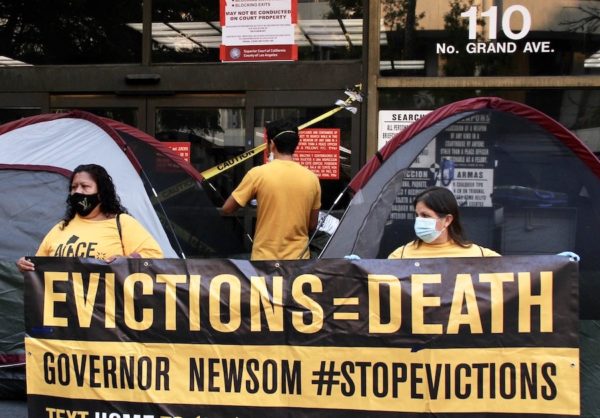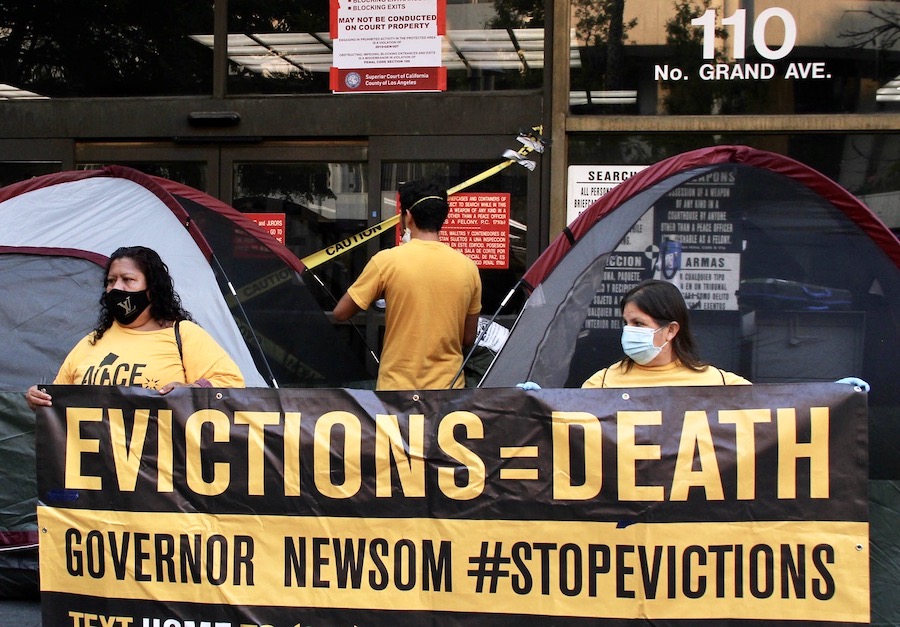 LOS ANGELES – There was excitement in the air. Pollsters and pundits predicted a "blue wave" that would sweep the country Election Night and definitively toss Donald Trump, his spawn and cronies from their gilded seats of power. That didn't happen. In fact, Republicans flipped one Orange County congressional seat while two others remain too close to call and stunned progressives try to grasp why propositions considered "no brainers" were defeated. One of those measures, Proposition 21, the Rental Affordability Act, would have helped staunch an expected eviction tsunami at the end of January.
Surely, any post-election "autopsy report" by the California Democratic Party will transparently dissect not only the Republican performance but the political power plays that resulted in silence or self-imposed sideling or outright conflicts — such as Gov. Gavin Newsom sticking it to the Democratic Party and becoming a poster boy for the misleading No on Prop 21 campaign. His very visible endorsement in ubiquitous campaign ads and massive campaign contributions from corporate landlords in the real estate industry — corporate landlords such as Blackstone Group, Essex Property Trust, and Equity Residential contributed a whopping $86 million to No on Prop 21 — should also raise the question about whether California's initiative process is really an effective device for voters to independently create law or yet another tool for the rich and powerful to achieve their usually profit-oriented goal. Exhibit A: the real estate industry is gloating about "cleaning up on Election Day."
The old amusing Will Rogers adage — "I am not a member of any organized political party. I am a Democrat." — is no longer funny as those vulnerable to eviction face flu season and a COVID-19 winter with the prospect of fast federal, state and local relief still in chaos.
Prop 21 was the statewide ballot measure that put limits on unfair, sky-high rent increases, reined in corporate landlord greed, and would have prevented homelessness. Top experts at USC, UCLA, and UC Berkeley agree that sensible rent limits are key for stabilizing California's housing affordability crisis. The initiative was supported 342 organizations and individuals including Reps. Maxine Waters, Karen Bass and Barbara Lee, civil rights icon Dolores Huerta, the City of West Hollywood, the California Democratic Party, the ACLU, the California Nurses Association, Black Lives Matter, the LA Times and the LA Blade, and a slew of LGBTQ organizations and individuals such as LA City Councilmember Mike Bonin and LA County Supervisor Sheila Kuehl.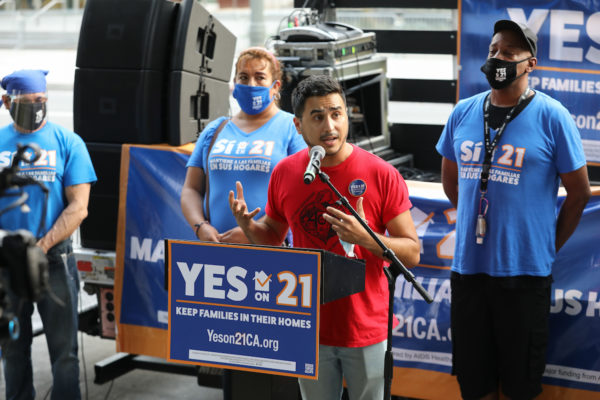 Interestingly, the movement for housing justice is in large part being organized, led and fueled by LGBTQ political activists. René Christian Moya, for instance, was the Campaign Director for the Prop 21 campaign, and is the Director of AIDS Healthcare Foundation's Housing Is a Human Right. HHR was founded by Michael Weinstein, who co-founded the AIDS Hospice Foundation in June 1987 that transitioned into the AHF in July 1990 to meet the critical treatment needs of people with HIV/AIDS. AHF was the primary funder of Prop 21.
"AIDS Healthcare Foundation was born of moral outrage over the mistreatment of people with AIDS. We began as a hospice provider when people were dying in the hallways of the county hospital," Weinstein told the LA Blade last year. "Today's housing crisis is a similar crisis of indifference to suffering. Our patients and employees are feeling the devastating impact of skyrocketing rents. AHF has jumped into the breach with advocacy and by directly creating affordable housing units."
Weinstein, for whom renters rights is a personal issue, vows to fight on.
"The Prop 21 campaign was outspent more than two to one by our opponents, opposed by Democratic outlier Governor Gavin Newsom—going against his own California Democratic Party, which unanimously endorsed 21—and received full-throated endorsements from a who's who of respected local, state and federal California Democratic office holders. We built a broad, diverse coalition of over 300 organizations, elected officials and individuals and ran an honorable, hard-hitting campaign. Nevertheless, we fell short," Weinstein told the LA Blade. "However, this is not the end: our fight for housing justice will continue. Martin Luther King, Jr. famously said 'The arc of the moral universe is long, but it bends toward justice.' Together with our growing coalition, we will carry on in the fight for housing justice!"
Elena Popp, the out lesbian Executive Director of the Eviction Defense Network, has been fighting for housing justice for decades. "I am frightened. They're 191,000 of our families at risk of eviction for nonpayment of rent — and that doesn't include all of the other people who are going to get evicted because their owners want to raise the rent and so they're looking for an opportunity to get them out," Popp told a Yes on Prop 21 rally.
LA City Hall just got two new vehement housing justice advocates. Prop 21 endorsers Kevin de León, former President Pro Tem of the California State Senate, and urban planner and homeless advocate Nithia Raman are joining out Councilmembers Bonin and Mitch O'Farrell on the LA City Council.
Bonin called Prop 21 "profoundly significant" during a Get-Out-The-Vote webinar.
"We live in an era of bizarro politics where governments at all levels are doing the opposite of whatever the crisis demands," Bonin said. "Costa Hawkins being in effect right now and prohibiting us from doing rent control is the same logic that has a federal government not extending relief programs for people in the middle of a brutal recession. It's the same logic that has a federal government trying to take away healthcare coverage in the middle of a fatal pandemic."
Homelessness and affordable housing are serious issues for O'Farrell, as well. Last September, he posted a simple Q & A fact sheet about tenant protections during the COVID pandemic introduced a tenants defense program, and announced an initiative with Council President Nury Martinez to assess all services provided by the three County Departments of Public Health on behalf of the over 41,000 homeless Angelenos in the city.
"The status quo is not working. The City of Los Angeles has witnessed annual double digit increases in people experiencing homelessness, bringing the population to well over 41,000 individuals," O'Farrell, who represents the 13th District, said in a press release. "My initiative takes a close, purposeful look at all of the programs and services that were designed over the years to address this humanitarian crisis."
De León, a lifelong renter and longtime LGBTQ ally, says his passion for rent control and "transformational change" is personal. "Like many of you, we were just one stroke of bad luck away from living on the street. We took nothing for granted because we didn't know where the next paycheck would come from," he said after his swearing in on Oct. 15.
"What we're seeing today in Los Angeles is a modern-day human catastrophe, a dystopian nightmare, unlike anything we've ever seen before. It's shocking. It's shameful. We have a moral and human obligation to do better, to improve our quality of life, ensuring that everyone can afford to keep a roof over their head."
Raman, who defeated LGBTQ ally and Prop 21-supportive incumbent David Ryu for the 4th Council District, spoke at a renters rights rally downtown about hearing painful stories from people "who had just fallen behind, who couldn't catch up. People who could see the apartment they used to live in from their tent, especially in my neighborhood in Silver Lake. That's the consequence of our housing and tenants' rights policies here in California…We're using a bucket to bail out the Titanic here in California."
Newsom signed AB 3088 on Aug. 31 as a "bridge" bill to delay a then-expected tsunami of evictions for unpaid rent as a result of job losses due to the COVID-19 pandemic. The bill expires at the end of January 2021.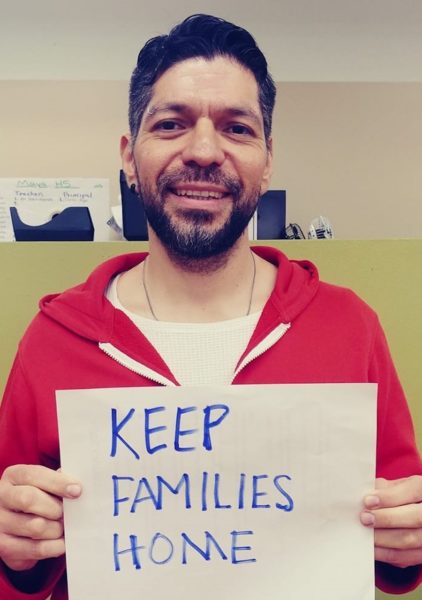 But Francisco Duenas, director of Housing Now! California, a statewide housing justice advocacy coalition, noted that Newsom then actively collaborated with Trump corporate donors backing the No on Prop 21 campaign.
"Gov. Newsom has shamefully chosen to align himself with corporate real estate interests to the detriment of everyday Californians, especially communities of color most impacted by the twin crises of coronavirus and exorbitant housing costs," Duenas said. "Unfortunately, year in and year out, these corporate interests and their billionaire CEOs give lots of money not only to ballot initiatives but to political campaigns so that elected officials know who is calling the shots."
Duenas, formerly an attorney with Lambda Legal, thinks LGBTQ advocacy in the housing justice movement is "about community building. It's about belonging and that is so central to LGBT identity, like finding a community, being able to belong and — this housing issue is a threat."
And it's critical. "(LGBTQ) individuals represent between five and ten percent of the general youth population, yet they make up 15 to 25 percent of the homeless youth population," reported the California Homeless Youth Project.
"Percentages are even higher in certain communities known to offer support and services to the LGBTQ community, such as Los Angeles and San Francisco, where LGBTQ youth represent up to 40 percent of the homeless youth population."
The Los Angeles Homeless Services Authority estimated approximately 50,000 to 60,000 people were homeless in LA on any given night in 2019, more than 44,000 on the streets. Though the LAHSA did not post LGBTQ-specific statistics, out LA City Controller Ron Galperin produced an online map to help link homeless and the 40% at-risk LGBTQ youth to services. "The homelessness crisis gripping our region spans the spectrum of age, gender, ethnicity and sexual orientation and expression, but is particularly difficult for LGBTQ youth," Galperin said.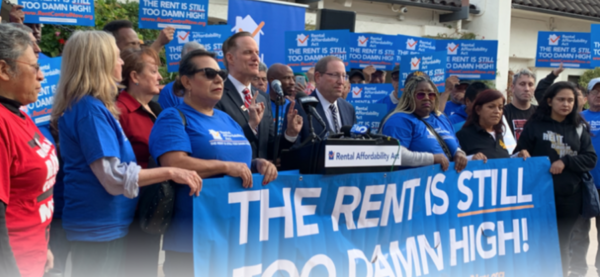 Though Prop 21 was defeated, the movement goes on.
"Unfortunately, for several years now the California legislature and Governor Newsom have not come up solutions commensurate with the monumental problems we face here in California with housing and homelessness," said Weinstein. "That is why we took this measure, and Prop 10 before it, directly to voters. In the immediate future, AHF will now concentrate more energy directly on housing the homeless and extremely low-income people through AHF's Healthy Housing Foundation and our innovative, far less costly housing model adapting and refurbishing old SRO hotels repurposed as longer-term housing solution.
We pioneered this model in late 2017 and now have nearly 700 people—including many parents and their children—in eight former hotels and motels throughout Greater Los Angeles. We are pleased to see that some other organizations and cities–notably, San Diego—are exploring and deploying this adaptive reuse model to address their housing crises."