Special Report: The arc of Michael Weinstein's moral outrage from AIDS to homelessness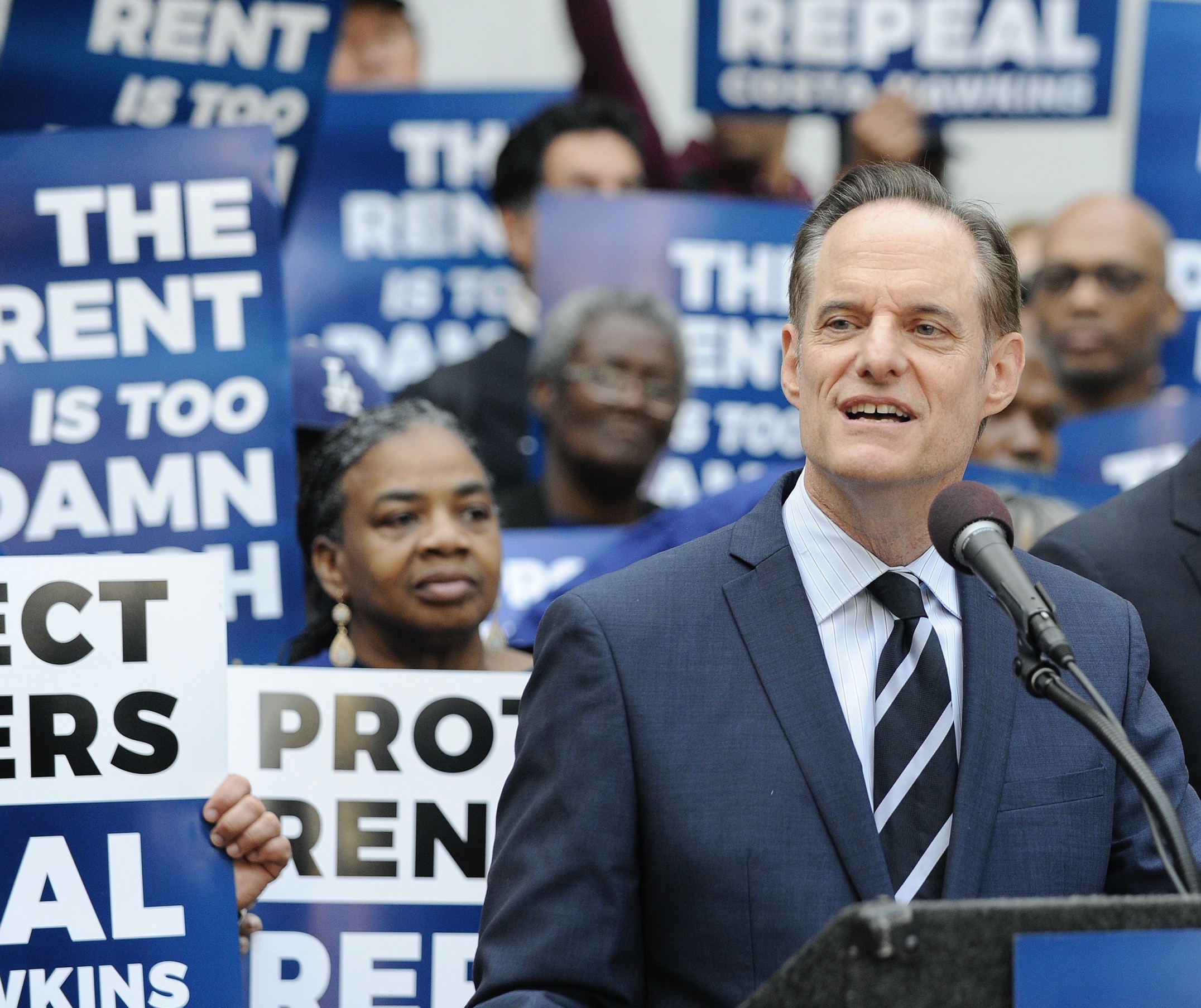 California is caught in a conundrum. While House Speaker Nancy Pelosi and Rep. Adam Schiff are steadily guiding America through the divisive impeachment process, President Donald J. Trump seems more and more determined to punish the big blue state for its resistance to his draconian pronouncements.
On Nov. 3, for instance, Trump threatened to withhold federal funds for the devastating wildfires, tweeting that Gov. Gavin Newsom "has done a terrible job of forest management. I told him from the first day we met that he must 'clean' his forest floors regardless of what his bosses, the environmentalists, DEMAND of him."
"No more," if Newsom asks for funding, Trump tweeted, apparently unaware that the federal government controls forest land and the funding would help the displaced.
But there is an odd, unrecognized disconnect between concern for the burned-out fire victims and the larger issue of homelessness in cities such as San Francisco and San Diego and Los Angeles – 981 human beings died on the streets of LA County in 2018.
And the expectation of more turmoil looms large with Trump's anticipated intervention into California affairs after the Nov. 15 firing of Matthew Doherty, the gay executive director of the U.S. Interagency Council on Homelessness.
According to the Los Angeles Times, Doherty is likely to be replaced by Robert Marbut, a Texas-based consultant who "has long encouraged elected officials to stop coddling people on the streets." For instance, The Times reports, in 2012, Marbut "pushed the Florida city of Clearwater to stop 'renegade food' donations from churches and other charitable organizations. At the time, he characterized Clearwater as the second-most enabling city in America."
Marbut's philosophy, which broadly includes expanding police authority to crack down on the homeless for minor offenses, "is in line" with the Trump administration, The Times reports.
And what is that philosophy? "We have people living in our … best highways, our best streets, our best entrances to buildings … where people in those buildings pay tremendous taxes, where they went to those locations because of the prestige," Trump said during a September LA site visit by administration officials. "And all of a sudden they have tents."
Trump's options are legally limited. But when has that stopped him?
If officials order sweeps of streets and homeless encampments, where would they go? Or might they be rounded up and placed into unspecified federal facilities?
But Newsom may now have a much-needed resource. On Dec. 4, he hired fired federal homeless expert Matthew Doherty to be his senior adviser, perhaps even figuring out how to pry loose millions of dollars in stalled funding for the state with half the nation's unsheltered homeless population.
Doherty has a daunting job. The Los Angeles Homeless Services Authority estimates approximately 50,000 to 60,000 people were homeless in LA on any given night in 2019, more than 44,000 on the streets. About 34% are Black, hugely disproportionate to their 8% of the population; 31% are females; and minors through age 24 make up 8,915 of the county's homeless population, up from 8,072 in 2018.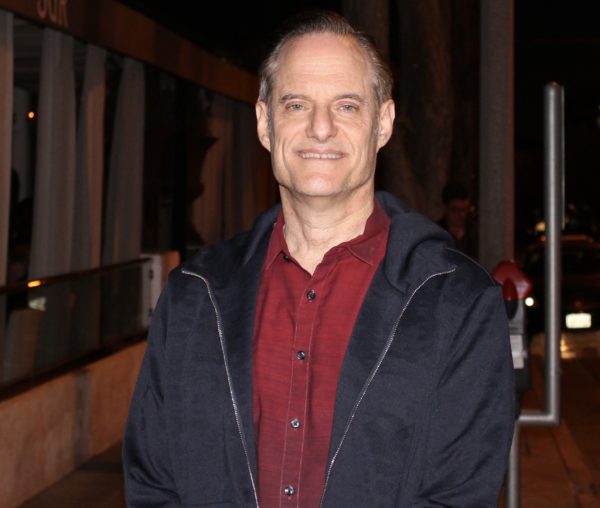 The jump comes "despite over $619 million in spending on the [homeless] problem in the region over the past year," AIDS Healthcare Foundation co-founder and President Michael Weinstein said in a June 2 statement.
The LAHSA did not post LGBTQ-specific statistics but last June, when out City Controller Ron Galperin introduced an online map to help link homeless and at-risk LGBTQ youth to services, he noted that up to 40 percent of homeless youth identify as LGBTQ.
"The homelessness crisis gripping our region spans the spectrum of age, gender, ethnicity and sexual orientation and expression, but is particularly difficult for LGBTQ youth," Galperin said.
Within this context, a majority of voters recognize homelessness as a crisis — exacerbated by a paucity of affordable housing, escalating rents, retaliatory evictions and gentrification. But, The Times notes, "there is some appetite among L.A. County residents to have law enforcement be more involved."
To Weinstein, the humanitarian calamity on the streets and the criminalization of homelessness is a moral outrage.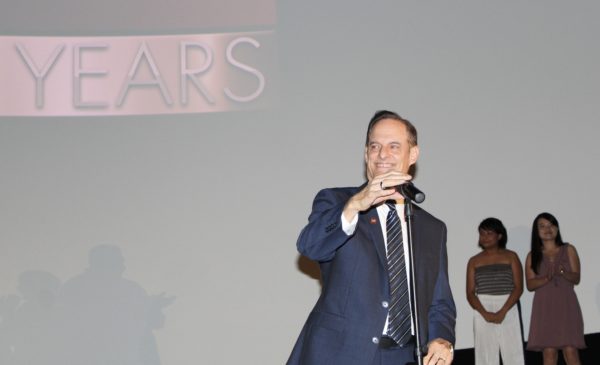 "AIDS Healthcare Foundation was born of moral outrage over the mistreatment of people with AIDS. We began as a hospice provider when people were dying in the hallways of the county hospital," Weinstein says. "Today's housing crisis is a similar crisis of indifference to suffering. Our patients and employees are feeling the devastating impact of skyrocketing rents. AHF has jumped into the breach with advocacy and by directly creating affordable housing units."
In 2017, AHF created the Healthy Housing Foundation by AHF,  which bought and renovated SROs in Hollywood and Downtown LA. AHF has also sued to prevent destruction of available housing units by developers proposing luxury housing with some affordable units set aside.
Weinstein, whose first apartment at 19 was in West Lake for $100 a month, believes the supposed "trickle down" of luxury complexes actually makes surrounding housing units too expensive for someone living on minimum wage.
Watching this, Weinstein turned to his board of directors and his management team and asked: "What can we do to not just say how bad it is, but create a solution?"
"And so we went out in the marketplace and we bought our first single room occupancy hotel that was two thirds vacant and we rehabilitated it to put people in there," Weinstein told the Los Angeles Blade. "And now we have seven of them and we have almost 800 rooms. The average cost is $100,000, including the renovation — whereas the city is spending $500,000. And the first units from Proposition HHH, which was the city initiative around building affordable housing, have yet to come online, not one single unit.
"It's an urgency to meet human need," he continues. "So not only are we criticizing and advocating, we're also providing a solution. And I've committed to 10,000 rooms over the next five years," including building from scratch. "We've amassed three lots and we will eventually build a project that hopefully will be 800 units there. So we're very, very serious about creating solutions."
Weinstein remembers the 1986 fight with his best friend Chris Brownlie against Lyndon LaRouche's Prop 64 initiative to quarantine people with HIV/AIDS. After the measure failed, they asked what they should do next.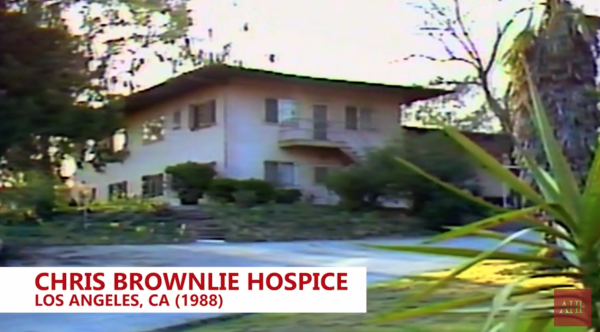 Seeing poor gay men evicted from their apartments, dying homeless and loveless on the streets or in the halls of County General Hospital or the overcrowded 5P21, they founded the AIDS Hospice Foundation and opened the Chris Brownlie Hospice to give them death with a modicum of dignity.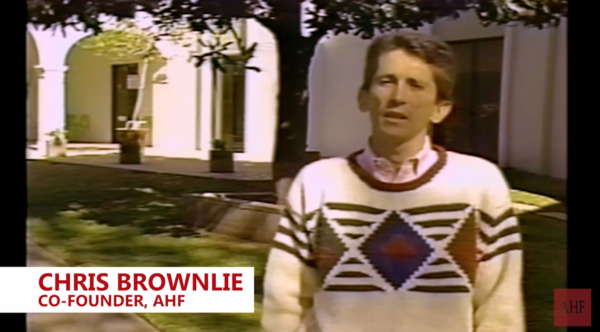 "As human beings, I think one of the things that differentiates us from other animals is that we take care of our own. And in this environment, in the AIDS environment, taking care of our own sometimes means providing people with AIDS with a clean, warm place to live out the last days of their life and a way to die without the distractions of homelessness or freaked out relatives or any of those things," Brownlie says in the June 2017 documentary "Keeping The Promise," narrated by Meryl Streep.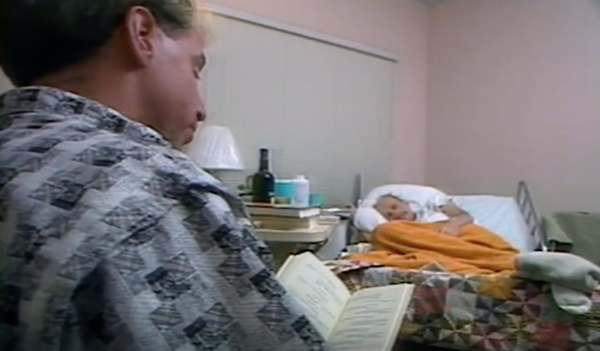 In the miracle three-drug cocktail came out in 1996, Weinstein decided to give the medication to AHF clients in their clinics and in their Chris Brownlie and Carl Bean hospices. But the government was not paying reimbursements for the medications in those days, so the cost came out of AIDS organization's own pocket — bringing AHF to the brink of bankruptcy and provoking a near coup to oust the co-founder.
"I wouldn't have done anything different because it was really a moral imperative. I mean, you couldn't let people die who you knew could be saved," Weinstein said in the documentary. "What happened was virtually all of the patients got better within a month or two. Before that, hardly anybody left the houses. Most people – they came there and that's where they died. But all of sudden people were leaving and going back to their lives. And that was just miraculous."
Thousands did not live to see the miracle, including Chris Brownlie. Nov. 29 was the 30th anniversary of his death at the AIDS hospice that bore his name.
"Not only is homelessness and housing affordability akin to the moral outrage of AIDS in the '80s, but AIDS seemed like an insoluble problem, right? It just seemed like an overwhelming thing that you couldn't get your arms around. And AHF and others who worked on this issue made it a solvable problem. Same thing can and should happen with housing affordability."
On Nov. 30, AHF announced it would appeal a dismissed lawsuit filed last August in Superior Court against the City of Los Angeles, the City Council and four Hollywood developers. The lawsuit sought to enforce the federal Fair Housing Act and California's Fair Employment and Housing Act regarding developments that AHF asserts were "approved without providing adequate measures to ensure that the projects would not displace protected minorities."
In addition to the gentrification of minority neighborhoods, AHF is tackling the issue of escalating rents. On Dec. 5, AHF announced it has secured nearly one million signatures — far more than the required 623,212 voter signatures needed — to qualify the Rental Affordability Act for placement on statewide ballots for November 2020.
The RAA is sponsored by Housing Is A Human Right, AHF's housing advocacy division. It is endorsed by Sen. Bernie Sanders, former Housing and Urban Development Secretary Julian Castro, Rep. Maxine Waters, and civil rights icon Dolores Huerta, among others.
If passed, the initiative would remove restrictions in state law to give cities and counties the ability to devise rent control policies that limit how much rents can increase each year.
"Seventy-five percent of Californians hold a positive to very positive view of rent control," Weinstein said at a Dec. 5 news conference, according to a press release. "The housing affordability and homelessness crises are the most pressing social justice and public health emergencies in our time, especially in Southern California. We must take action to stop it now. To that end, we intend to bring the issue directly to California voters next November."
Last year, a similar measure, Prop 10, was defeated. The effort cost $96.66 million – with Coalition for Affordable Housing raising $25.30 million (AHF contributed $22.52 million) and the No on Prop 10 real estate PACs raising $71.37 million.
Big PhRMA (Pharmaceutical Research and Manufacturers Association) also chipped in $500,000 to the No on 10 campaign. When the medical news organization STAT asked why, a PhRMA spokesperson claimed they had over 900,000 people living and working in California (thus 2.3% of the state population) and they were concerned that the measure "…could make housing harder to find," according to a Sept. 20, 2018 report on Business Wire.
Weinstein has a long history of tangling with Big PhRMA, from the late 1980s when AIDS Hospice Foundation and ACT UP protested drug companies profiteering from outrageous drug pricing, to his lawsuits challenging Gilead Sciences drug patents making "untold billions off of tenofovir in its various treatment combinations since its introduction in 2001." AHF's lawsuits have paved the way for hundreds of other lawsuits, including a recent patent infringement case by the federal government involving Truvada.
"A rift between the Centers for Disease Control and Prevention and pharmaceutical giant Gilead Sciences ruptured further Wednesday when the Trump administration sued Gilead in U.S. District Court, asserting that Gilead made billions of dollars on HIV prevention therapy while repeatedly ignoring government patents," the Washington Post reported Nov. 7.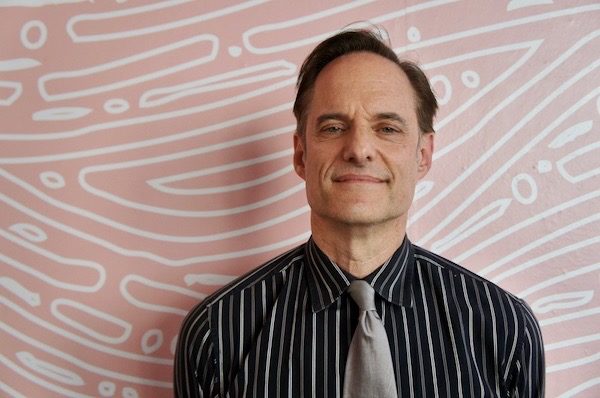 Weinstein is also a favorite target of critics who tend to repeat the same debunked claims, even into the pages of the New York Times.
"To his many critics in AIDS activism, Weinstein is the Koch brothers of public health," Christopher Glazek wrote in a New York Times Magazine feature story, citing a slew of old allegations, including "giving kickbacks to patients, overbilling government insurers."
"AHF has always been and remains clean as a whistle and at the same time, because our advocacy and our outspoken voice, we are a huge target," Weinstein said. "Plus, oppression sickness that's still very alive and kicking in the LGBT community does not allow anyone to rise to a level of leadership without being subjected to this kind of malicious attack."
Weinstein encourages simple fact checking. For instance, in the so-called "Whistleblower Kickback case" in Florida, the original judge validated the AHF clinic's business model of giving bonuses to employees to get people tested and using incentives and gift cards for clients who returned for a second appointment, now a more common practice in public health. After the initial lawsuit by former employees failed, they went to both the U.S. Department of Justice and the state government alleging Medicare fraud – but both declined to pursue the case.
In August 2018, the 11th Circuit Court of Appeals also ruled in AHF's favor.
"They lost, they appealed, they lost again. And not only did the court rule in our favor, but the [Florida] government intervened  to say that what we were doing is not only OK, but what they wanted us to do, which is to put everything under the same roof," Weinstein said. Not only did AHF win the case, "but they're having to pay us back the legal costs."
In another Florida lawsuit, in November 2018, a judge ruled in AHF's favor in a Medicaid contract case that threatened to disrupt care for nearly 2,000 HIV patients.
Regarding the criticism around LA funding, Weinstein said, "there's been a lot of prejudice against us because of the advocacy, which we have fought and won in 90+ percent of the cases."
In one instance, LA County strenuously asserted that AHF over billed for the services for which they were contracted.
"They spent $3 million fighting us on that and then they wound up settling without any claim that we had done anything wrong," Weinstein said.
Weinstein has been excoriated for calling PrEP a "party drug," which was translated into his opposition to the drug. In fact, AHF dispenses PrEP after a medical checkup to ensure the client should take it and is advised about side-effects and accompanying condom use.
"It's a mischaracterization to say that we were opposed to PrEP," Weinstein told the Los Angeles Blade. "We said that we did not believe it would be a successful public health strategy. And the jury is in on that, right? The people who are taking it are not the people who need it most. They're older, white, middle-class men. The infection rate has not gone down. The STD rates have gone up, the condom culture has been damaged. We went from a variety of different prevention approaches to basically all PrEP and that has not been successful."
Weinstein said the reason PrEP has not caught on, "despite the tens of billions of dollars that's been invested in it, is because it's very difficult to get people to take a drug for a disease they don't have. It's hard enough to get people to take a drug for disease they do have.
"One size does not fit all," he continued. "That's what we said from the very beginning — that PrEP would help individuals who were certain not to use condoms but that it would not be effective as an overall public health strategy. It's been seven and a half years since the approval and we have not seen any significant change in the situation," especially in reaching people of color.
To make condom use more sexy, for International Condom Day, AHF premiered a funny, lively parody of Cardi B with "Wrap It Like That" that has been viewed almost 859,000 times.
"Part of what has made us unpopular in certain quarters is that from day one we have had an ironclad commitment to serving people of color communities," Weinstein said. "You still have a tremendous amount of segregation and discrimination in the LGBT community to this day. Whether you talk about Minority AIDS Project or In The Meantime, or  Bienestar and if you look at the composition of our board of directors, our senior management, our global leadership — I'll say this flat out — there is no other organization working in this space that is as diverse as AHF. And we've put our money where our mouth is, in terms of where we located our facilities, organizations that we financially support, and alliances that we've built."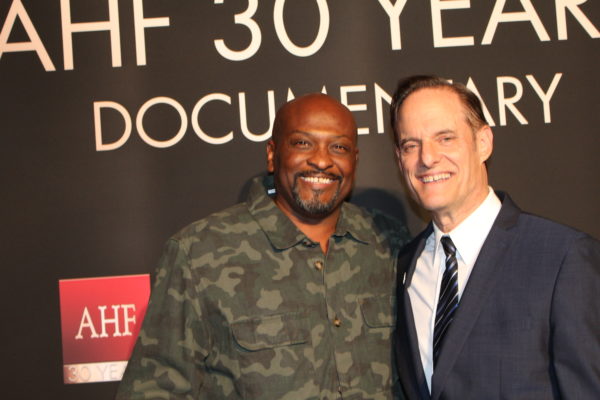 AHF's Michael Weinstein with In The Meantime's Jeffrey King (Photo by Karen Ocamb)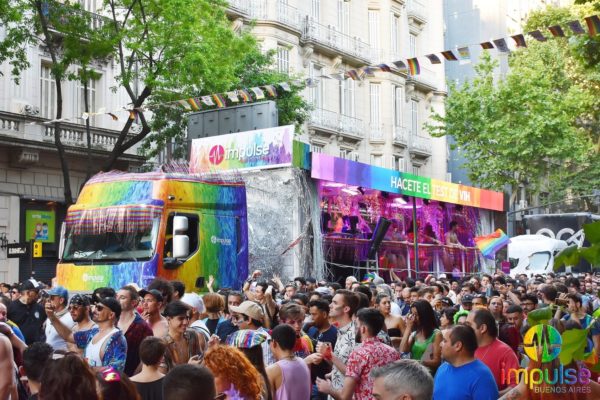 Impulse Group/ Buenos Aires (Photo courtesy AHF)
"You pay a heavy price for being ahead of your time, being in the vanguard. And I'm not saying that to brag. I mean that's simply true. Over and over and over again," Weinstein said.
The most recent flareup with AHF comes from popular, legislatively-prolific out State Sen. Scott Wiener (D – San Francisco) who apparently blames AHF's strong opposition to SB 50, the transit housing bill he co-authored with State Sen. Ben Hueso (D – San Diego), for killing the bill this year.
"Senator Scott Wiener, SB 50's author, recently wrote in an email that "AHF and Weinstein are now effectively California's NIMBY-In-Chief," the Bay City Beacon wrote in a highly critical story.
However, there was much opposition to SB 50 in its current form. In a statement posted on his website May 16, Senate Appropriations Committee Chair Anthony Portantino (D – La Canada Flintridge) explained why he turned SB 50 into a two-year bill.
"SB 50 is a well-intentioned effort to help solve our state's housing crisis and it highlights two valid ways to affect land use decisions across the state:  providing incentives or legislating mandates. My preference has always fallen on the side of incentives for local governments to accomplish goals.  There were legitimate concerns expressed from both large and small cities about the scope of SB 50 as it pertained to bus corridors, historic preservation, the definition of 'jobs rich' neighborhoods and whether it would increase gentrification and discourage light rail expansion as unintended consequences; all of which justified the pause established today by the committee.  My colleague from San Francisco is one of the smartest and most earnest legislators in the capitol. He cares deeply about the housing crisis and I expect him to continue to pursue his goals.  Hopefully we provided the opportunity to broaden the conversation, which can result in a more targeted legislative effort."
In fact, according to a May 8 Business Wire press release, the League of California Cities cited 35 municipalities that opposed SB 50: Burlingame, Beverly Hills, Brentwood, Chino Hills, Cupertino, Diamond Bar, Downey, Fremont, Glendale, Glendora, Hermosa Beach, La Mirada, Lafayette, Laguna Niguel, Lakewood, Long Beach, Los Angeles, Manhattan Beach, Mountain View, Novato, Paramount, Pasadena, Pinole, Palo Alto, Rancho Cucamonga, Rancho Palos Verdes, Redondo Beach, Santa Clarita, San Francisco, San Mateo, Solana Beach, Sunnyvale, Vista, West Covina, and West Hollywood.
Nonetheless, efforts were made to disparage AHF, including a news conference taking AHF to task for using a quote by and image of gay icon James Baldwin in an ad.
"As someone whose community has been so deeply impacted by HIV, I'm deeply offended by how they misuse HIV healthcare dollars," Wiener, who is gay, recently said of AHF's anti-SB 50 campaign.
Hueso sent a letter to Attorney General Xavier Becerra requesting an investigation of AHF over alleged misuse of federal 340B funds, Politico reported last August.
"This action is payback from Scott Wiener for our successful opposition to SB 50," Weinstein tells the Los Angeles Blade. "These charges were made before and nothing came of it. AHF is extensively audited. Politico didn't bother to say that 96% of our funding goes to patient care. And Senator Hueso's own letter says that there are no restrictions on 340B funds, which come 100% from drug companies. Lastly, Politico didn't even bother to speak to me for its article."
Becerra's office does not comment on the status of investigations or litigation, but as of Dec. 4 AHF has heard nothing from either from Becerra or the federal Department of Justice. Meanwhile, AHF says Wiener and Hueso are beholding to real estate developers by taking their campaign contributions.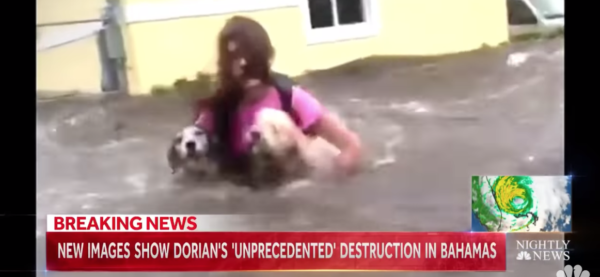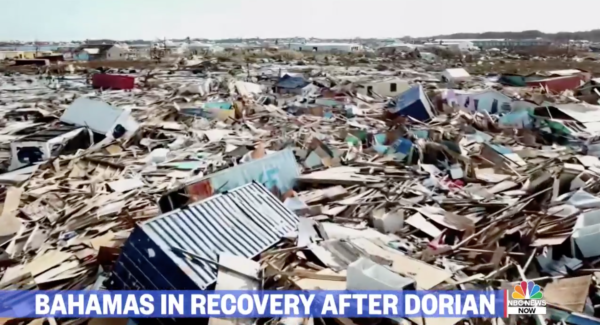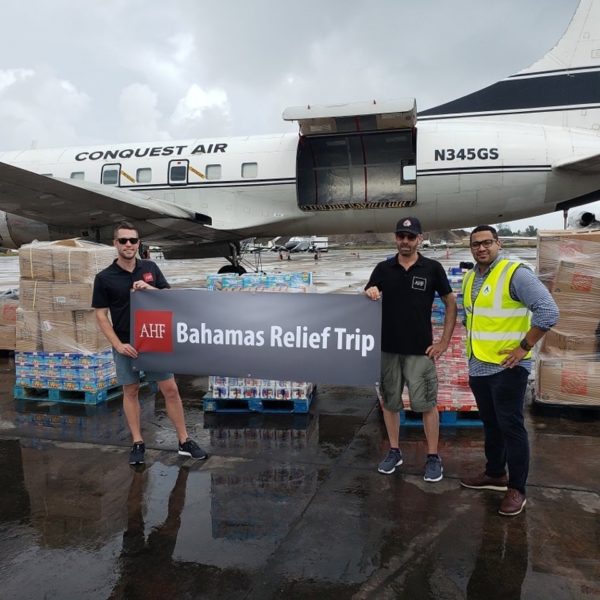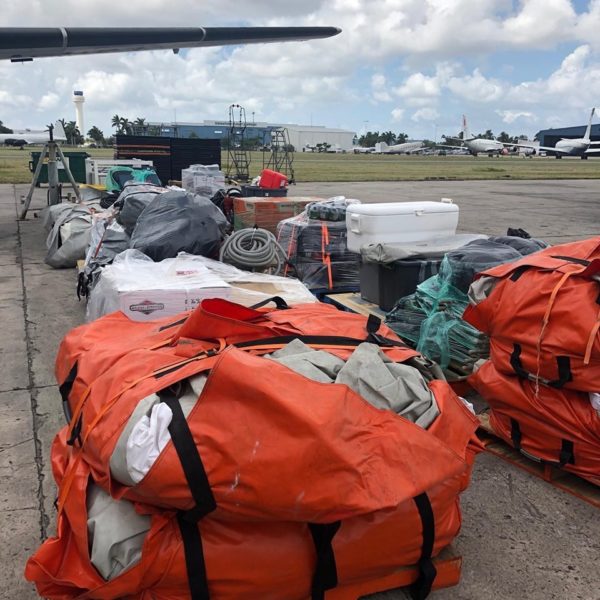 Weinstein pointed out that most of the stories critical of him and AHF "give such short shrift to our humanitarian efforts," often in "very extremely dangerous and difficult circumstances across the world — not to mention our work on Ebola and our disaster relief where we air-lifted into the Bahamas and into Puerto Rico and Haiti before the U.S. government could get there."
Since 1987, AHF has developed funding streams through a network of pharmacies, thrift stores, healthcare contracts and strategic partnerships. Today, AHF's budget is $1.6 billion – with 96% of the funding going to patient care; with 6,500 employees caring for 1,332,868 patients in 43 countries, including 664 free global treatment clinics. AHF also operates in 38 of the 48 US counties the Trump administration wants targeted for HIV prevention, care and treatment.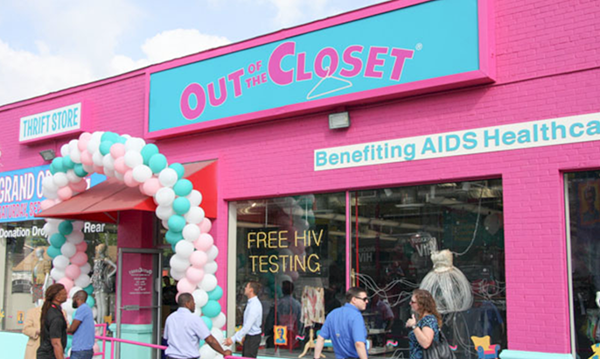 "You can talk all day long about whatever your political issues are with AHF. But the bottom line is that 1.3 million people are entrusting us with their care," Weinstein said.
"We started out as a tiny grassroots organization. Our budget in the first year was $50,000, approximately. We were a fraction of the size of APLA. And now we're a hundred times their size," Weinstein said. "It's a tremendous amount of hard work, dedication, and most of all really having our finger on the pulse of what the needs were. And now we're taking on homelessness and affordability and housing and we're taking on trying to build a sustainable public health structure in the world. None of the snark, none of the attacks, and none of these so-called legal arguments have slowed us down one iota."
In fact, AHF's Healthy Housing Foundation in LA is buoyed by the help they've been able to give people such as Herbert Butler, an 88-year-old homeless veteran of the Korean War who has been on the Hollywood streets for 20 years.
"Butler, an avid amateur pianist, long resisted going to shelters (for myriad reasons known best to him), preferring his life on the street," AHF's Ged Kenslea told the Los Angeles Blade. "However, one ritual remains sacred to him: several times a week he travels from Hollywood to Union Station to wait his turn for the chance to play — and entertain harried commuters — for 20 minutes or so on the community piano in the station's waiting room."
Nicole Farley, from JWCH Wesley Health Care Center, worked to earn Butler's trust and bonded with him over his deep admiration for her grandfather, the famous alto sax jazz musician Captain John Handy. In October, Farley connected Butler to AHF's Healthy Housing Foundation and they secured him a spot in the Baltimore Hotel, a 1910 SRO hotel on Skid Row in downtown LA that AHF has repurposed for homeless and extremely low-income housing.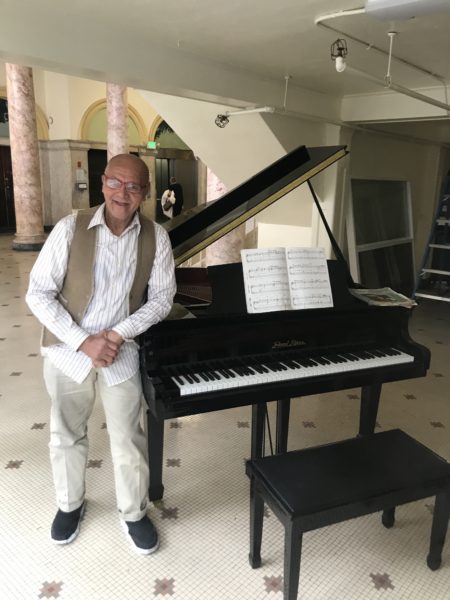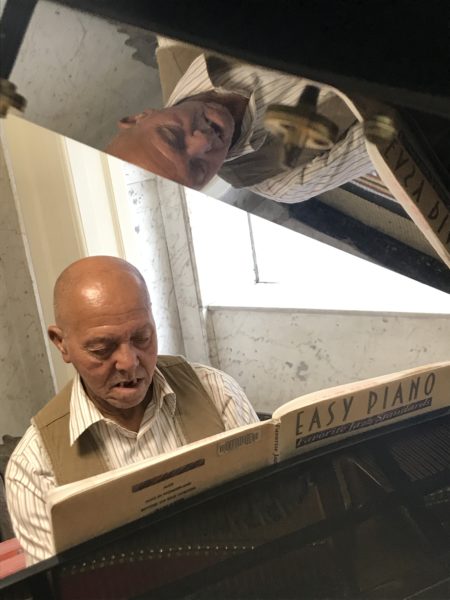 Herbert Butler (Photos courtesy AHF)
"Inspired by Mr. Butler's story, his service to our country and his passion for music," Kenslea said,  "AHF recently obtained a secondhand mini baby grand piano and placed it in the lobby of AHF's King Edward Hotel, directly across the street from the Baltimore. Now, Mr. Butler, and other musically inclined residents of AHF's residences, can play to their hearts' content."
"The biggest issue of all the issues that we're facing is income and inequality," says Weinstein. "Whether it's drug companies that price their drugs out of the reach of people, not only here, but around the world. Or whether it's the fact that, that the system as it exists now, cannot put a roof over everybody's head. I do a lot of international travel and I go to very poor places. And there's no place that I have been where there are as many people sleeping on the street as there are in Los Angeles. There are people in huts, there are people in shacks with corrugated roofs, there are some terrible living conditions that I see. But a person who, lying on the sidewalk, the sidewalk is home for tens of thousands of people. I've not seen that anywhere that I've traveled. If that is not a moral outrage, then I don't know what it is."
"Homelessness is the worst wildfire California has ever seen," says a recent AHF video on the issue of rent control.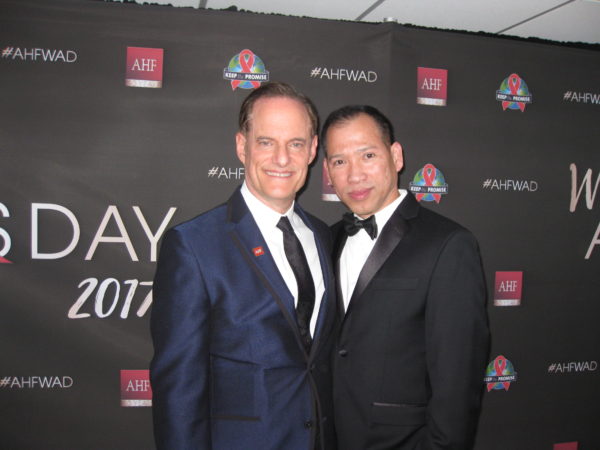 AHF President Michael Weinstein and husband Kevin Tran Nguyen (Photo by Karen Ocamb)
"The bottom line is love," Weinstein tells the Los Angeles Blade. "The bottom line is love of humanity. The bottom line is love of sisters and brothers. And you know, sometimes you really need to fight like hell for the people and the things you love."
U.S. announces more funding for HIV/AIDS fight in Latin America
Jill Biden made announcement on Saturday in Panama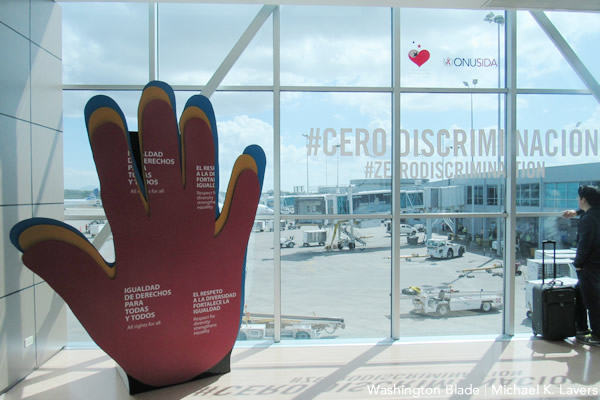 PANAMA CITY — First lady Jill Biden on Saturday announced the U.S. will provide an additional $80.9 million to the fight against HIV/AIDS in Latin America.
Biden during a visit to Casa Hogar el Buen Samaritano, a shelter for people with HIV/AIDS in Panama City, said the State Department will earmark an additional $80.9 million for President's Emergency Plan for AIDS Relief-funded work in Latin America. A Panamanian activist with whom the Washington Blade spoke said LGBTQ+ people were among those who met with the first lady during her visit.
Pope Francis visited the shelter in 2019.
"I'm glad we have the opportunity to talk about how the United States and Panama can work together to combat HIV," said the first lady.
Michael LaRosa, the first lady's spokesperson, noted Panama will receive $12.2 million of the $80.9 million in PEPFAR funding.
"This funding, pending Congressional notification, will support expanded HIV/AIDS services and treatment," said LaRosa.
UNAIDS statistics indicate an estimated 31,000 Panamanians were living with HIV/AIDS in 2020. The first lady's office notes the country in 2020 had the highest number of "newly notificated cases of HIV/AIDS" in Central America.
The first lady visited Panama as part of a trip that included stops in Ecuador and Costa Rica.
The Summit of the Americas will take place next month in Los Angeles. The U.S. Agency for International Development and PEPFAR in April announced they delivered more than 18 million doses of antiretroviral drugs for Ukrainians with HIV/AIDS.
New highly-infectious variant of HIV discovered by Dutch scientists
This new variant of HIV-1 damaged the immune system twice as fast, "placing individuals at risk of developing AIDS much more rapidly"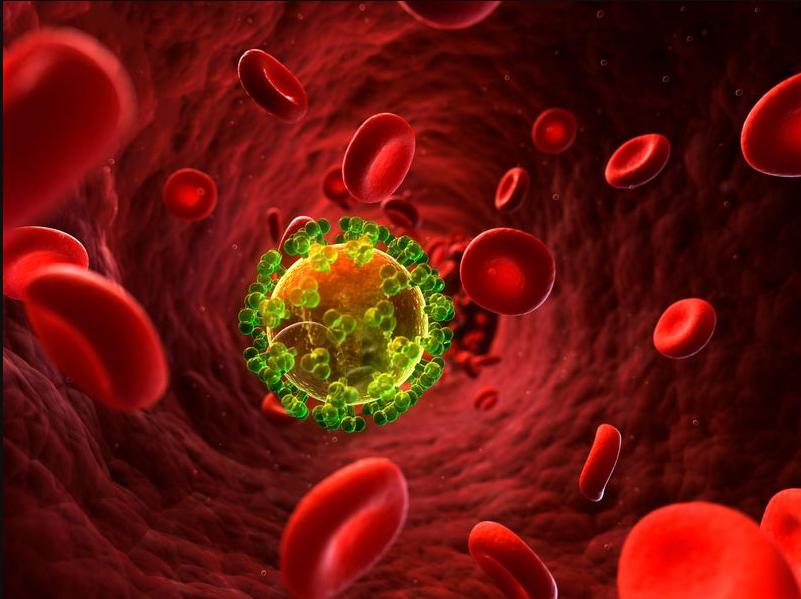 CAMBRIDGE, UK – A study published this week by Science (journal) detailed an alarming discovery by researchers, clinicians and epidemiologists in the Netherlands of a new, highly-infectious mutated variant strain of the human immunodeficiency virus, (HIV), circulating in the country.
The BEEHIVE project – which stands for "bridging the epidemiology and evolution of HIV in Europe and Uganda," detailed the findings which showed that a distinct subtype-B viral variant of HIV-1 damaged the immune system twice as fast, "placing individuals at risk of developing AIDS much more rapidly", and those with this variant were at a higher risk of transmitting the virus to others.
The variant, known as the "VB variant", causes CD4 cell decline to occur twice as fast in infected individuals compared with other viral variants. This is a clinical hallmark, or "signature" of the extent of damage caused by the HIV virus. In addition, those infected with the VB variant also demonstrated an increased risk of transmitting the virus to others, the data suggests.
Individuals infected with the new "VB variant" (for virulent subtype B) showed significant differences before antiretroviral treatment compared with individuals infected with other HIV variants:
Individuals with the VB variant had a viral load (the level of the virus in the blood) between 3.5 and 5.5 times higher.
In addition, the rate of CD4 cell decline (the hallmark of immune system damage by HIV) occurred twice as fast in individuals with the VB variant, placing them at risk of developing AIDS much more rapidly.
Individuals with the VB variant also showed an increased risk of transmitting the virus to others.
The project's researchers, clinicians and epidemiologists did determine however, that those infected with the VB variant had "similar immune system recovery and survival to individuals with other HIV variants."
However, the researchers stress that because the VB variant causes a more rapid decline in immune system strength, this makes it critical that individuals are diagnosed early and start treatment as soon as possible.
BEEHIVE project's lead author Dr Chris Wymant, from the University of Oxford's Big Data Institute and Nuffield Department of Medicine, said: "Before this study, the genetics of the HIV virus were known to be relevant for virulence, implying that the evolution of a new variant could change its impact on health. Discovery of the VB variant demonstrated this, providing a rare example of the risk posed by viral virulence evolution."
"Our findings emphasize the importance of World Health Organization guidance that individuals at risk of acquiring HIV have access to regular testing to allow early diagnosis, followed by immediate treatment. This limits the amount of time HIV can damage an individual's immune system and jeopardise their health. It also ensures that HIV is suppressed as quickly as possible, which prevents transmission to other individuals," Senior author Professor Christophe Fraser from the University of Oxford's Big Data Institute and Nuffield Department of Medicine, added.

In its Global HIV & AIDS statistics — Fact sheet, the UNAIDS Secretariat detailed the statistical data: 
GLOBAL HIV STATISTICS
28.2 million people were accessing antiretroviral therapy as of 30 June 2021.
37.7 million [30.2 million–45.1 million] people globally were living with HIV in 2020.
1.5 million [1.0 million–2.0 million] people became newly infected with HIV in 2020.
680 000 [480 000–1.0 million] people died from AIDS-related illnesses in 2020.
79.3 million [55.9 million–110 million] people have become infected with HIV since the start of the epidemic.
36.3 million [27.2 million–47.8 million] people have died from AIDS-related illnesses since the start of the epidemic.
People living with HIV
In 2020, there were 37.7 million [30.2 million–45.1 million] people living with HIV.

36.0 million [28.9 million–43.2 million] adults.
1.7 million [1.2 million–2.2 million] children (0–14 years).
53% of all people living with HIV were women and girls.

84% [67– >98%] of all people living with HIV knew their HIV status in 2020.
About 6.1 million [4.9 million–7.3 million] people did not know that they were living with HIV in 2020.
People living with HIV accessing antiretroviral therapy
As of 30 June 2021, 28.2 million people were accessing antiretroviral therapy, up from 7.8 million [6.9 million–7.9 million] in 2010.
In 2020, 73% [56–88%] of all people living with HIV were accessing treatment.

74% [57–90%] of adults aged 15 years and older living with HIV had access to treatment, as did 54% [37–69%] of children aged 0–14 years.
79% [61–95%] of female adults aged 15 years and older had access to treatment; however, just 68% [52–83%] of male adults aged 15 years and older had access.

85% [63– >98%] of pregnant women living with HIV had access to antiretroviral medicines to prevent transmission of HIV to their child in 2020.
New HIV infections
New HIV infections have been reduced by 52% since the peak in 1997.

In 2020, around 1.5 million [1.0 million–2.0 million] people were newly infected with HIV, compared to 3.0 million [2.1 million–4.2 million] people in 1997.
Women and girls accounted for 50% of all new infections in 2020.

Since 2010, new HIV infections have declined by 31%, from 2.1 million [1.5 million–2.9 million] to 1.5 million [1.0 million–2.0 million] in 2020.

Since 2010, new HIV infections among children have declined by 53%, from 320 000 [210 000–510 000] in 2010 to 150 000 [100 000–240 000] in 2020.
AIDS-related deaths
AIDS-related deaths have been reduced by 64% since the peak in 2004 and by 47% since 2010.

In 2020, around 680 000 [480 000–1 million] people died from AIDS-related illnesses worldwide, compared to 1.9 million [1.3 million–2.7 million] people in 2004 and 1.3 million [910 000–1.9 million] people in 2010.

AIDS-related mortality has declined by 53% among women and girls and by 41% among men and boys since 2010.
'Promising' HIV vaccine study conducted at George Washington University
"We are tremendously excited to be advancing this new direction in HIV vaccine design with Moderna's mRNA platform"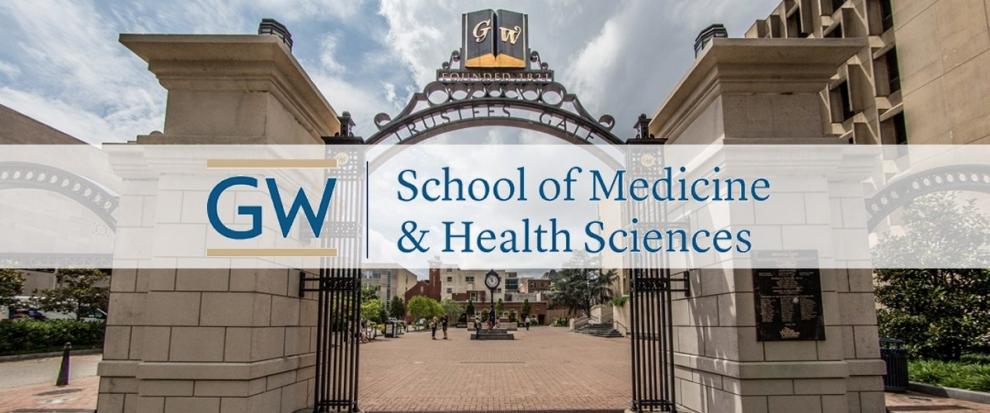 WASHINGTON – D.C.'s George Washington University School of Medicine and Health Sciences is one of four sites across the country in which a preliminary component of an experimental HIV vaccine is being given to volunteer participants in a study aimed at reversing years of failed attempts to develop an effective HIV vaccine by pursuing what study sponsors say is a new, promising approach.
The study, which involves 56 healthy, HIV-negative volunteer participants, is being conducted by the nonprofit scientific research organization known as IAVI and the biotechnology company Moderna, which developed one of the coronavirus vaccines now being used throughout the world.
In a Jan. 27 joint statement, IAVI and Moderna said their study is part of a Phase 1 trial designed to test newly developed experimental HIV vaccine antigens to determine if they will lead to the development of an effective HIV vaccine.
According to scientific literature, antigens are substances such as bacteria, viruses, and chemicals that induce the body to release antibodies that fight off infections. The statement by IAVI and Moderna says a vaccine technology developed by Moderna to use another component of the human body called messenger RNA or mRNA to strengthen a potential vaccine's ability to fight off infection by HIV is also a part of this vaccine study.
"We are tremendously excited to be advancing this new direction in HIV vaccine design with Moderna's mRNA platform," Mark Feinberg, president and CEO of IAVI, says in the statement. "The search for an HIV vaccine has been long and challenging and having new tools in terms of immunogens and platforms could be the key to making rapid progress toward an urgently needed, effective HIV vaccine," he says in the statement.
The statement says that scientific teams at IAVI and the biotechnology firm Scripps Research helped to develop the HIV vaccine antigens being tested in the trials taking place at the GW School of Medicine and Health Sciences and at locations in Atlanta, Ga., Seattle, Wash., and San Antonio, Tex.
It says the trial involving the 56 volunteer participants — who are divided among the four sites — began on Jan. 27 and is being funded by the Bill & Melinda Gates Foundation.
Among those calling the IAVI-Moderna trial an important step in HIV vaccine development is Carl Dieffenbach, director of the Division of AIDS at the National Institute of Allergies and Infectious Diseases (NIAID), which is part of the U.S. National Institutes of Health.
"This is a variation of a theme," Dieffenbach told the Washington Blade. "IAVI in collaboration with NIH did a version of this study already with a protein form of this immunogen," Dieffenbach said. He said that study worked out well and was published in a scientific journal.
"What's unique about this latest study is they're using RNA to deliver the vaccine rather than a protein," said Dieffenbach. "So, this is an important step for us in the vaccine field, that they can now compare the protein to the RNA."
Dieffenbach said the IAVI-Moderna trial is taking place after two other recently completed HIV vaccine studies involving human trials that NIAID was involved in resulted in findings that the two experimental HIV vaccines were ineffective. He said a third HIV vaccine study NIAID is involved in that is taking place in the U.S. and South America is expected to be completed in about a year.
The ongoing study in the Americas involves men who have sex with men and transgender individuals as those participating in that vaccine trial, he said.
Dieffenbach said in addition to the vaccine studies, NIAID is monitoring at least two studies of medication aimed at curing HIV. One of the studies was conducted by HIV researcher Dr. Timothy Schacker, who serves as Vice Dean for research at the University of Minnesota Medical School.
Schacker arranged for human trials of people who are HIV positive and taking standard anti-retroviral HIV medication to be given an experimental HIV cure medication developed by the biotechnology company ImmunityBio called Anktiva, according to a Jan. 31 statement released by ImmunityBio.
The statement says the trials showed promising results in the ability of Anktiva to induce the immune system of HIV-positive patients under standard HIV treatment who participated in the study to "kill" the latent or "hidden" HIV in their body that would otherwise reactivate and cause illness if they stopped taking HIV medication.
The goal of the development of Anktiva is to "rid the body of the virus for good and eliminate the need for antiretroviral therapy," the company's statement says.
Dieffenbach said his office was also monitoring an HIV cure study being conducted by the Rockville, Md., based genetic engineering company called American Gene Technologies. The company is conducting a human trial for a therapeutic treatment it has developed that's intended to enable the immune system of HIV-positive people to permanently eliminate HIV from their bodies. The company has said it was hopeful that early results of the effectiveness of the treatment would become available this year.