December 8, 2019 at 8:15 am PST | by Karen Ocamb
Eddie Martinez runs for Huntington Park City Council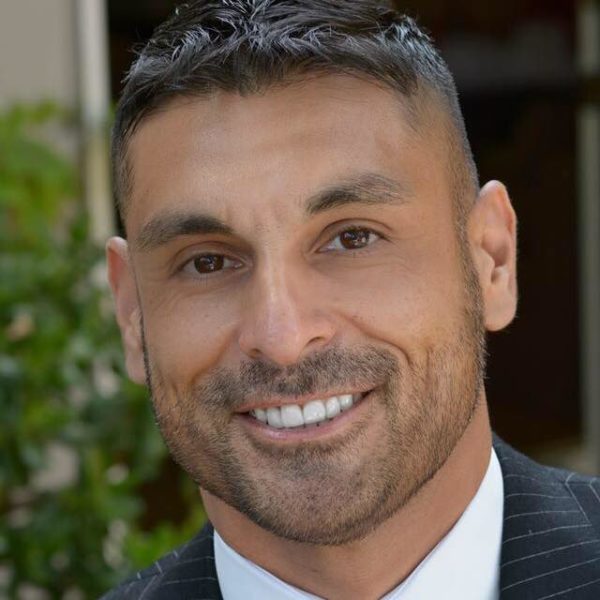 Eddie Martinez said yes when asked to step up and contribute to the community by running for Huntington Park City Council. Affirmation is key to his character and now the executive director and co-founder of the Latino Equality Alliance (LEA) is on a slate with Councilmembers Marilyn Sanabria and Graciela Ortiz for the March 3, 2020. And it's all because of love for family.
"About six years ago, I moved back to Huntington Park to care for my elderly mom and I decided to get involved in Huntington Park," Martinez tells the Los Angeles Blade. "It's my hometown. It's where I grew up. My family migrated from Mexico to Huntington Park and the city is very close to my heart so I just got involved in activating residents to be vocal and to advocate for more green space."
City councilmembers saw Martinez's passion and asked him to run for city council, something he'd thought of doing in the future.
"I thought if the local elected officials see something in me and they see maybe I could provide a certain experience to the city council and if I had the support now – this would be a great opportunity," he says. "I have about 25 years of nonprofit experience with grassroots, community organizing and creating systemic changes to improve the quality of life for the community. And I think I could bring that experience and skills to the city council of Huntington Park."
Martinez's sensibilities about quality of life are also at work when no one's looking. His 80-year-old mother is good but is also faced with challenges as she gets older, especially the isolation and loneliness of outliving family and friends. Ironically, it's the gay son and his lesbian sister who have the time to care for her while his other siblings care for their own families.
"I'm okay with that because I had my fun time when I was young and single," he says. So, I welcome that role in my family. And my mom is happy that I'm there and I do what I can to make sure that the grass stays green and the flowers are blossoming, which she loves. I'm providing that good mental health that she needs sometimes."
Martinez accepts his responsibility not as a burden but as the ability to give a gift. "It's my role," he says. "It's my time now to step up and care for family and I'm happy that I could bring a smile to her life today."
It is with that kind of compassion and sense of community responsibility that he considers both his job at LEA and the prospect of serving on the city council.
"Huntington Park is located in Southeast Los Angeles. It's a city of working-class families, immigrant families. We have a lot of DREAMers.The challenge we had over the years is just that we don't have a lot of people that are actively involved in their neighborhood," Martinez says. "There are also issues with quality of life. We have higher health issues in our community; diabetes, alcoholism, drug abuse. So we're just trying to address that whole quality of life issue."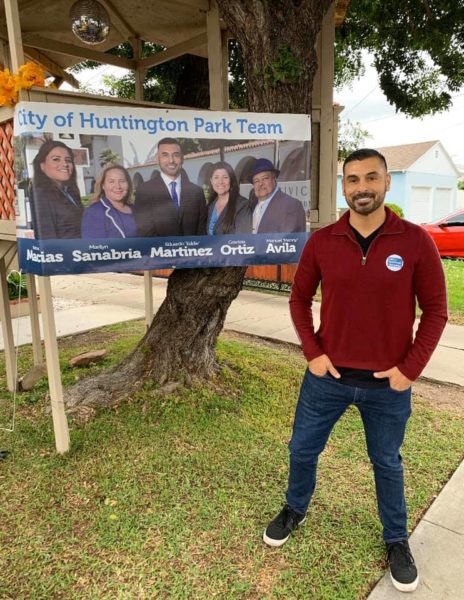 Additionally, the lack of revenue is an obstacle to providing adequate services.
Martinez says he wants to activate neighborhoods and leaders to help them learn about and advocate for public policies, "to get involved, bring more resources into our community, more nonprofits that could provide that wrap-around care. That's going to result in improving the quality of life and our community."
He also wants to work with residents, business leaders, and elected officials to revitalize the Pacific Boulevard business district, "to make it a destination of culture, art and a place for entertainment and a shopping experience for families, including the queer community," particularly the trans community.
"I want to provide a lot of training for the local business owners — to talk about how their store could be very welcoming to employees who are identified as trans but also for the trans community to come and shop in the district," Martinez says. "So, creating that safe space will be one of my focus points."
Another will be finding time to take care of himself as well as LEA, and, if elected, the small city of Huntington Park, which has part-time city council positions.
Martinez considers running for office "just another layer on everything else I do," he says. "So it's going to put a lot of energy into my life. People have always called me the 'Energizer Bunny,' so I think I could get it done.'
And to add to an already crowded life, Martinez is a delegate to the California Democratic Party endorsing convention representing the very diverse Assembly District 53.
The country is in "bad shape" with Donald Trump; he wants young people to step up.
"It's very important not only to create a safe environment but to develop your leadership skills and to become an advocate for change in your neighborhoods," Martinez says. "Don't be afraid to think that you can't step up to be a commissioner or elected official. Run for office and have fun with it — but do it with honesty and integrity and be that person that's willing to work with other leaders to make a positive difference. That's one of the reasons why I'm running: I want to be a good example for them all."
There is an LGBTQ fundraiser for Martinez on Thursday, Dec. 12 6:00-8:00pm at Redline Gay Bar – DTLA,   131 E. 6th St. LA 90014.
Check out Martinez's Facebook page:  www.facebook.com/EddieForHuntingtonPark2020
Eddie Martinez photo courtesy Eddie Martinez/Latino Equality Alliance