Fauci to Congress: Help us implement plan to end HIV
NIH official gives congressional briefing on new federal AIDS plan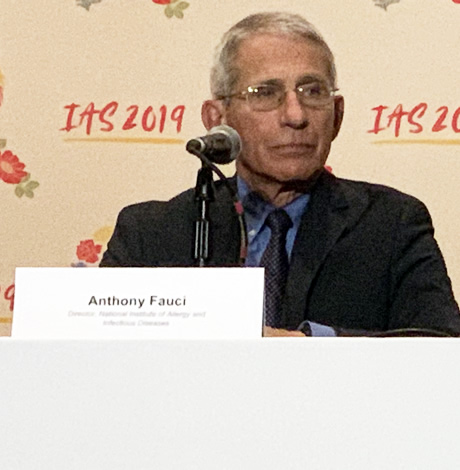 Dr. Anthony Fauci, director of the National Institute for Allergy and Infectious Diseases, told an audience of mostly legislative aides to members of Congress at a Dec. 5 congressional briefing on Capitol Hill that scientific advances have made it possible to end the HIV epidemic in the United States within the next decade if not much sooner.
In an impassioned description of what he calls "implementation science," Fauci said he and his colleagues at the National Institute of Health, the U.S. Centers for Disease Control and Prevention, and other federal, state, and local health agencies are hopeful that a newly launched federal plan to end HIV will be able to overcome socio-economic barriers that have prevented the scientific advances from reaching those who could most benefit from them.
The briefing, held at the Rayburn House Office Building across the street from the U.S. Capitol, was organized by the National Minority AIDS Council, or NMAC, a D.C.-based AIDS advocacy group that puts on the annual U.S. Conference on AIDS. Fauci said his presentation was based on findings and information presented at the 2019 U.S. Conference on AIDS in August.
Among those who attended the briefing were U.S. Reps. Barbara Lee (D-Calif.) and Alcee Hastings (D-Fla.).
Fauci has been involved in AIDS research and public policy since the epidemic first surfaced in the U.S. in 1981. He told the briefing the federal plan is based on two major scientific advances that are available today.
The first, he pointed out, is the effective anti-retroviral drug treatment regimens that have successfully suppressed HIV in the human body for the past 10 years or longer. More recently, he said, studies have shown that suppression of the virus to the point that it becomes undetectable means an infected person can no longer transmit HIV to someone else through sexual relations.
The second major advancement, he noted, is the development of the HIV prevention drug known as PrEP, or pre-exposure prophylaxis, which Fauci said is 99 percent effective in preventing someone at risk for HIV from becoming infected.
"So you now have two, as I call it, game changing issues, treatment as prevention and pre-exposure prophylaxis," he told the more than 75 people attending the briefing.
"Theoretically, if you got everyone or almost everyone who is infected and put them on therapy and bring down the virus to below detectible and you got most of the people who are at risk of infection and put them on PrEP, theoretically you can end the epidemic tomorrow because the people who are infected are not infecting anyone and the people who are at risk have a 99 percent effective therapy to prevent them from being infected," he said.
"And all you need to do is implement that," said Fauci. "The problem is we don't live in a theoretical world, we live in a real world. And the goal of any plan is to bridge that gap between what we know is possible and what we can make happen," he said. "And that's really what the plan is."
Among the "real world" facts that the plan is intended to address, Fauci said, is the disparities among the diverse groups at risk for HIV who are not taking advantage of the treatment and prevention options.
"Thirteen percent of the population in the United States is African American," he said. "Yet almost 45 percent of all new infections are among African Americans. Of those, 60 percent are among African-American men who have sex with men and 75 percent of those are young individuals," Fauci said. "So right now you have a concentration, a real disparity of infection."
He noted that nationwide, only about 260,000, about 20 percent of the 1.2 million people in the U.S. who are believed to be at "substantial risk" for HIV, are taking PrEP. Aside from that, only 53 percent of people in the U.S. who have HIV have a viral load that is undetectable due to effective drug treatment, Fauci said.
"We have to do better than that," he told the briefing. "That's a big target of the plan."
According to Fauci, he and his government colleagues who helped develop the plan to end HIV in the U.S. determined one important way to address disparities faced by different risk groups was to respond to the geographic breakdown of the HIV epidemic in the U.S.
Much to their surprise, Fauci said, data show that more than 50 percent of all new HIV infections in recent years come from just 48 out of the 3,007 U.S. counties plus the District of Columbia and San Juan, Puerto Rico. Also shown to have high concentrations of new infections are seven southern states.
"This almost shocked me to the point where I had to go and look at the individual data myself because I almost didn't believe it," Fauci said. "That's really amazing."
Among other things, the new federal plan will target those 50 geographic "areas" along with the seven states for greater resources and outreach to address the disparities that may be causing the higher infection rates there, he said.
"So what do we do to do better than that?" Fauci said. "You maximize the tools you have and you develop better tools," he continued, adding that a "prototype" for the new federal plan is a highly effective program developed in San Francisco called Rapidly We Treat All.
"They proactively and aggressively go into the community with community workers," said Fauci in describing the San Francisco program. "They go into areas where there is high risk – gay bars, bathhouses, homeless shelters, commercial sex workers. They approach people and they test them and they get the result right there in a test that takes only 20 minutes," Fauci said.
"If you're positive you immediately are put on therapy because they give you a bag of a month's supply of a drug and say take it. And then they give you a prescription for when they run out," he said. "And then they say now if you have any trouble call us. This is our phone number. And if don't have a phone they give them a phone," said Fauci.
"It's really amazing how they go into the community," he said, noting that the incidence of new HIV infections in San Francisco declined dramatically.
He said an aggressive outreach program in D.C. has also resulted in a sharp drop in new HIV infections over the past decade, although the new infection rate in D.C. has remained stable in recent years.
Still more advances in drug treatment, including PrEP, may further boost the number of people taking PrEP, Fauci said. He pointed to a new form of "long lasting" PrEP that's in the final stages of drug trials that can be given as an injection that will last a month or more, eliminating the need for taking a daily pill. He said a PrEP implant is also in development that can be placed under the skin similar to birth control implants used by women that can last as long as a year.
NMAC, meanwhile, is urging the Senate to follow the U.S. House in approving the full $291 million in funding proposed by the Trump administration for the AIDS plan Fauci outlined at the Capitol Hill briefing. The Senate has approved $266 million in the federal budget for the AIDS plan, $25 million less than the amount approved by the House and called for by the administration.
NMAC spokesperson Chip Lewis said NMAC and other AIDS advocacy organizations are calling on the Senate to agree to the House version of the appropriation when the two bodies negotiate differences in their respective budget figures in the coming weeks.
"We're very grateful to Dr. Fauci," said NMAC Executive Director Paul Kawata. "And our efforts here are to educate members of Congress and their staff so that we can make sure we get the HIV budget that we need to end this epidemic," he said.
White House says U.S. made clear WNBA's Griner 'unjustly detained'
The U.S. government "is actively engaged in trying to resolve this case and get Brittney home," the White House said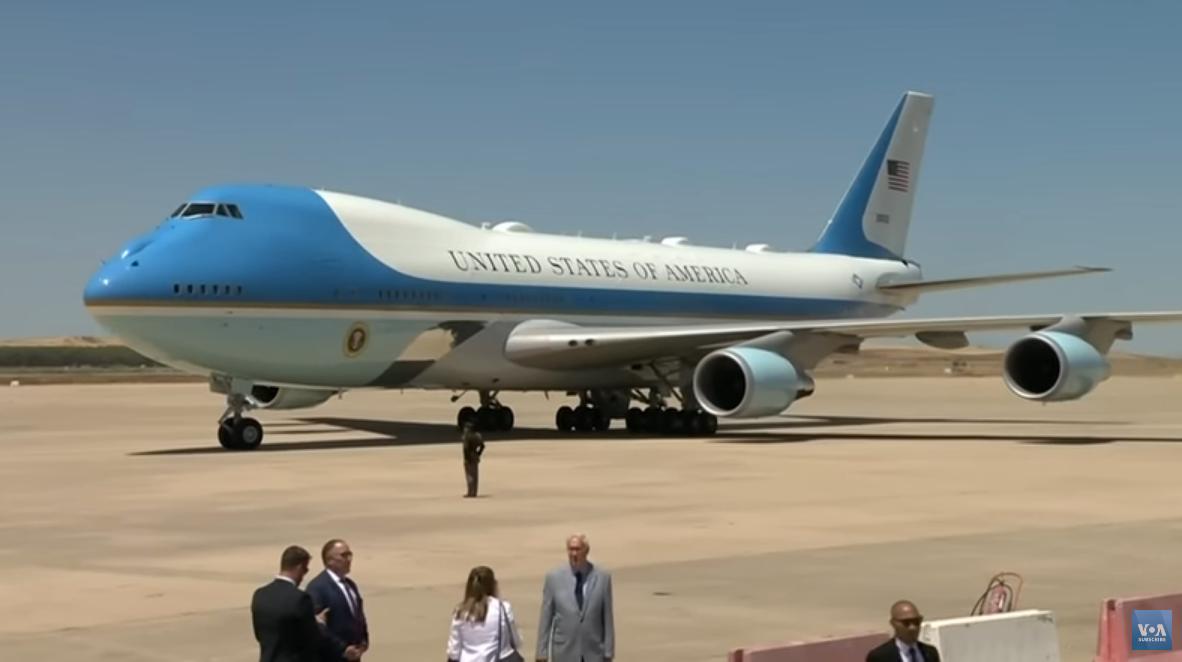 MADRID, Torrejón Air Base, Spain – White House National Security Adviser Jake Sullivan said Tuesday he has spoken in the last few days with the wife of Brittney Griner as part of a larger effort within the Biden administration to secure the release of the Out lesbian basketball player in Russia whom supporters say is being unlawfully detained.
Sullivan made the comments speaking with reporters aboard Air Force One during President Biden's trip to Europe in response to a question about efforts within the Biden administration to bring Griner home ahead of her expected trial in Russia.
"So first, Brittney Griner is wrongfully detained, unjustly detained, and we have made that clear as an official determination of the U.S. government," Sullivan said. "Second, the Russian government should release her and allow her to be returned and reunited with her family and come home safe and sound."
Sullivan added he — as well as Secretary of State Antony Blinken — have spoken with Griner's wife Cherelle, to "convey our very deep sympathy, to convey that, you know, we just can't even begin to imagine what the family must be going through, what Brittney — what Brittney must be going through."
Griner, a professional basketball player for the Phoenix Mercury within the Women's National Basketball Association, was detained in February by Russian Customs on allegations that cartridges of hashish oil were found in her luggage. Griner had gone to Russia to play with the Russian Premier League during the WNBA off-season.
Sullivan said the U.S. government "is actively engaged in trying to resolve this case and get Brittney home," but added he's constrained in what he could say because of confidentiality about the sensitive issue.
"But I will tell you it has the fullest attention of the president and every senior member of his national security and diplomatic team," Sullivan said. "And we are actively working to find a resolution to this case, and will continue to do so without rest until we get Brittney safely home."
The Biden administration, Sullivan added, is additionally working to return all unjustly detained Americans and hostages being held overseas," including detainees in Iran, Afghanistan, Russia, Venezuela, and China.
The Washington Blade has placed a request with the State Department for a readout on Blinken's role in the Biden administration's talks with Griner.
Chicago mayor exercises her 1A at Pride, vid-clip viral in right-wing spaces
Gregory Pratt, the Chicago Tribune reporter whose beat includes covering Mayor Lori Lightfoot and City Hall tweeted a video of the mayor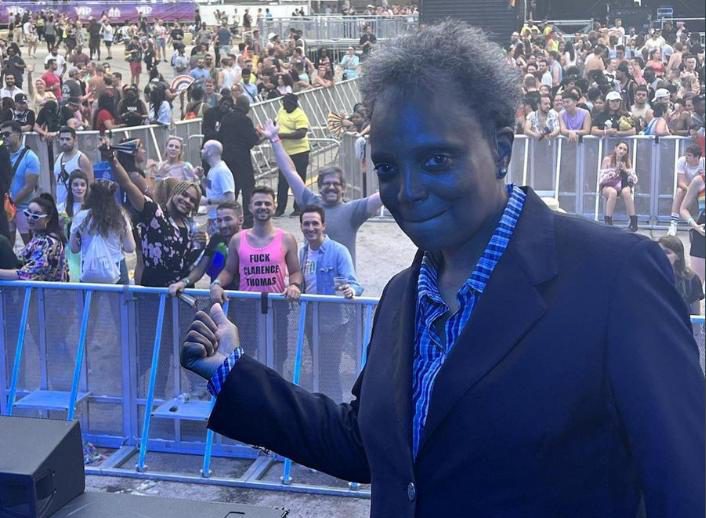 CHICAGO – Speaking to attendees at the Windy City's Pride festivities this past weekend, Out Chicago Mayor Lori Lightfoot spotted a man wearing a pink tank-top that read, "Fuck Clarence Thomas" and incorporated the phrase into her remarks on stage.
Gregory Pratt, the Chicago Tribune reporter whose beat includes covering Mayor Lori Lightfoot and City Hall tweeted a video of the mayor which according to Pratt has now gone viral in right-wing spaces.
Chicago Mayor Lori Lightfoot responds to Supreme Court justice Clarence Thomas writing about overturning gay marriage ruling, other important cases: "Fuck Clarence Thomas!" Clip is going viral in right wing circles. pic.twitter.com/12qq4Qq8PR

— Gregory Pratt (@royalpratt) June 27, 2022
In another tweet Pratt clarified the incident: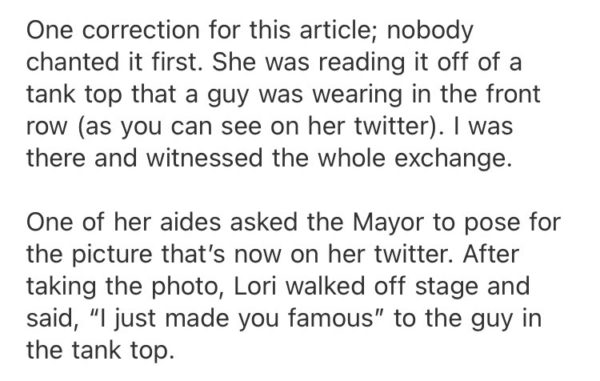 Mayor Lightfoot on Monday afternoon after the Tribune article and Pratt's tweet were active posted her take on Twitter:
I said what I said. pic.twitter.com/z4BXZ4Jj9Y

— Lori Lightfoot (@LoriLightfoot) June 28, 2022
House passes resolution demanding Brittney Griner's immediate release
Detained WNBA star's trial to begin on July 1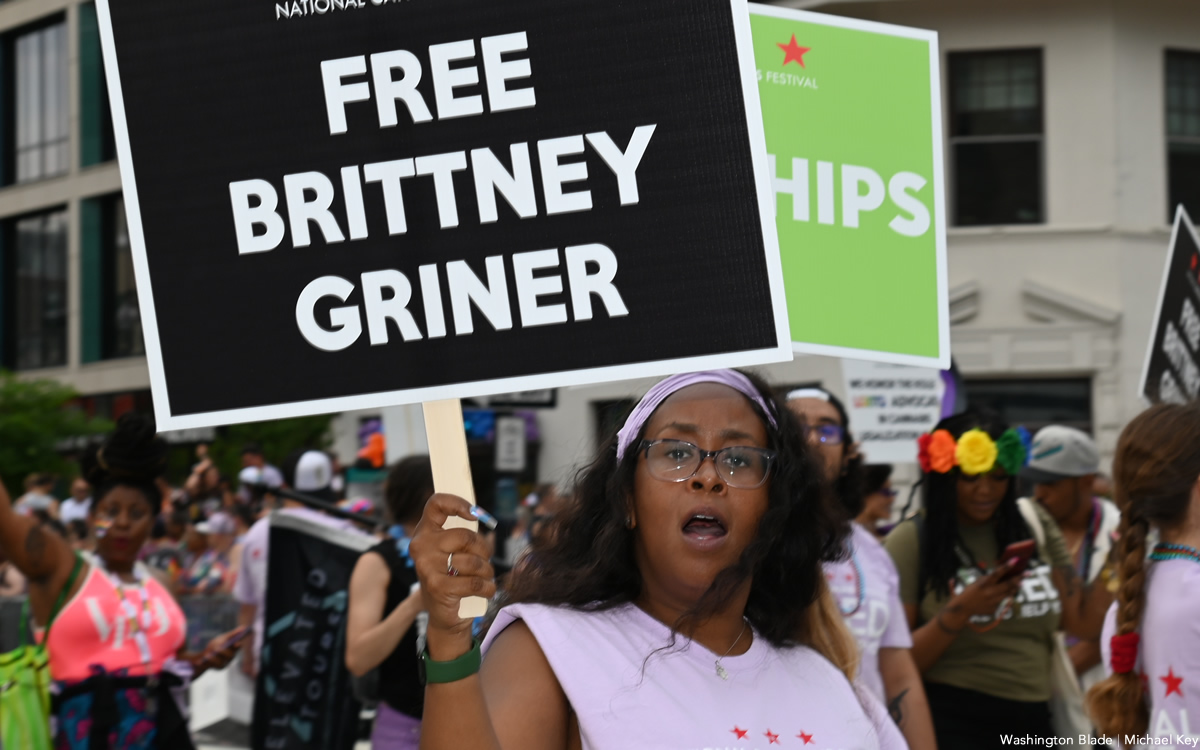 WASHINGTON — In a resolution passed on June 24 by the U.S. House of Representatives, lawmakers called on Russia to immediately release detained WNBA star Brittney Griner. 
Griner was first arrested in Russia in the days leading up to its invasion in Ukraine. Authorities have charged her with drug trafficking after claiming that she attempted to pass through Moscow's Sheremetyevo Airport while in possession of cannabis oil.
The House's resolution, introduced in May by U.S. Reps. Greg Stanton (D-Ariz.), Sheila Jackson Lee (D-Tex.) and Colin Allred (D-Texas), made multiple demands of Russia, including that the country "immediately release Brittney Griner," provide her with consular access and humane treatment and that the U.S. "raise the case of Brittney Griner and to press for her release" in all its dealings with the Russian government.
"This legislation insists on our embassy personnel having access to Ms. Griner and restates our commitment to freeing her now," Lee said in a statement after introducing the resolution. "We continue to pray for her family and we will continue to work together as three members of Congress, along with others, to spread the message that she is held wrongfully and must be freed now."
The resolution also expressed support for both Griner's family and for "all prisoners unjustly imprisoned in the Russian Federation."
Allred, a member of the House Foreign Affairs Committee, took to Twitter following the passage of the resolution.
"I'm proud the House has spoken in passing our resolution and calling for Brittney Griner's swift release," Allred wrote. "Every day an American is held abroad is a lifetime, and I will keep working with @POTUS to do all we can to bring home every American detained abroad."
Griner's WNBA team, the Phoenix Mercury, welcomed the House's passage of the resolution this past weekend.
"[Rep.] Stanton and many others are continuing to work with the White House, State Department and Brittney's family to secure her safe return home," the team wrote on Twitter.
The resolution comes after reporting revealed missteps on the part of the U.S. government in handling communication related to Griner's detention.
According to past reporting, the U.S. Embassy in Moscow failed to connect Griner with outside phone calls permitted by the Russian government when Griner's wife, Cherelle Griner, attempted to call her. Cherelle Griner reportedly called 11 times on June 18 on the couple's fourth anniversary but was unable to reach her wife due to what the State Department claimed to be a "logistical error."
While the resolution is being heralded by its supporters, it contains no provisions intended to enforce the House's demands for the release and humane treatment of Griner and others held by Russia. With less than one percent of criminal defendants in Russia being acquitted, it is unclear whether the resolution will do anything to persuade the country's courts to permit Griner's release.
Griner appeared in Russian court on Monday for a preliminary hearing prior to her trial that has now been scheduled to begin on July 1. It was also confirmed by Griner's attorney on Monday that her detention had been extended for six months pending her trial.
If convicted, she could face up to 10 years in prison.
"We must keep Brittney's case on the forefront and make clear to the White House that her release should be one of the highest priorities for our government," Cherelle Griner said in May.