December 9, 2019 at 4:43 pm PST | by Karen Ocamb
Cyndi Lauper's 'Home for the Holidays' concert will benefit LGBTQ homeless youth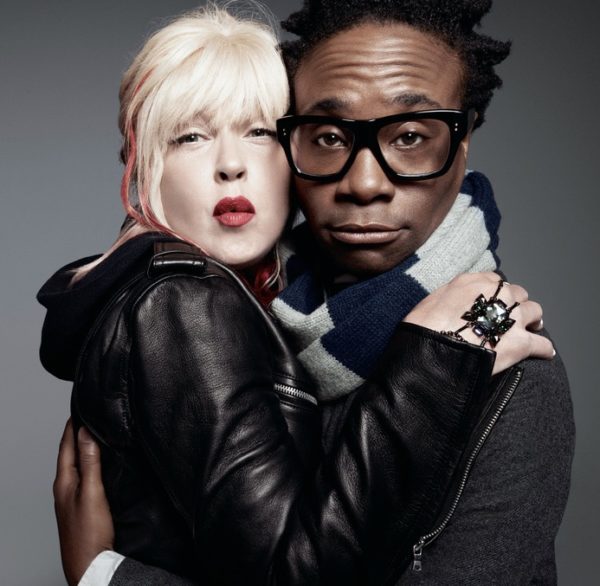 The dreary, cold, overcast, rain-pregnant sky seemed a harbinger of ineffable doom last Saturday, threatening to seep into the marrow bone and chill even the impulse to human warmth. But hope has a funny way of catching fire and for one too- brief moment, singer and LGBTQ civil rights icon Cyndi Lauper ignited a shining patch of blue sharing her hope to help "fix" the biased-based problem of LGBTQ youth homelessness through her annual True Colors United "Home for the Holidays" concert on Tuesday at The Novo theatre.
"This is a fixable situation because they're only homeless because they're LGBTQ," Lauper tells the Los Angeles Blade. "And that means that with programs and advocacy and helping people get back on their feet and back into back into society, it will help society itself because throwing away youth because of who they are is not a solution of any kind, it's just a very close minded ignoramus kind of thing."
Lauper has asked a number of friends, including her "Kinky Boots" star (Lauper wrote the award-winning music), "Pose" master actor and 2019 Golden Globe nominee Billy Porter, to participate in the Dec. 10 event, presented by Marriott International and AEG.
True Colors United was born, not just from the profound empathy and understanding of an artist steeped in the 1960s civil rights movement but from personal experience.
"I was homeless as a youth for a while, for a minute, until I found help," she says. "But it's not always so easy. There were programs in the 70s to help people — if they reached out, they could find a way back in. And I went to school and I took a GED and I went to college for a little bit. Wasn't my thing, I didn't want to be a teacher, I just wanted to create art, become a musician."
Because she saw her way back into society, Lauper believes that with help, others can too, especially the youth.
Lauper cites a 2017 University of Chicago report noting that there are about 4.2 million unaccompanied youth who experience homelessness in the course of a year, "up to 40% are LGBTQ and that is the largest percentage out there as a group," her voice ticking up with anger. "But maybe 10% identify in this country as LGBTQ, which means the disparity is great — which made us all sit there and go, 'Whoa. But like there is something we can do about that because they're only homeless because they're LGBTQ, which means through different programs and advocacy and a helping hand you can help the youth up, back on their feet. And these youth are 120% more likely than the others to become homeless. Okay? And now, after we help these youth, because they're the largest percentage, we can move on to the others, you understand? And then we can eradicate this situation."
True Colors United has a number of education and training programs and works with the National Institute on Homelessness & Poverty to collect data on LGBTQ homeless youth, which it shares with its advocacy partners.
Lauper's close friend Gregory, who died of AIDS early in the epidemic, was also homeless, kicked out of his home at age 12.  Research, says Lauper, indicates that "the ages of these youth experiencing homelessness — because they are LGBTQ — range from the age of 12 to 24, okay? And as tough as you think you are the streets are tougher. You can't have them on the street."
"As a parent, do you throw your kid out? No. But you could say to them — and I found this out through research, too — you could tell your kid, 'You know? You're my kid and I love you, but you've just got to give me a minute to wrap my head around this whole gay thing," Lauper says. "We could really fix this situation through family therapy. Listen, it's hard for the kid. It's also hard for the parents – they've got no place to go, either. So they need some place to go, they need to be able to talk, everybody needs to be able to talk it through."
The kid being LGBTQ is not the problem. "But throwing them out on the street, that's a problem," Lauper says. "Listen, dogma cannot be more important than your child, okay? Nothing. A building is burning — you'd go into the building to get your kid, wouldn't you? Whatever, that's how I feel. So I think this is a fixable problem and I think that people need a little help. And we have worked with many organizations bringing people together. We believe in collaboration all the way down the line because together we fix it. You know you can't be isolated. You've got to do it together. Community is everything."
It feels like the clouds are parting to let the sun's true colors shine in.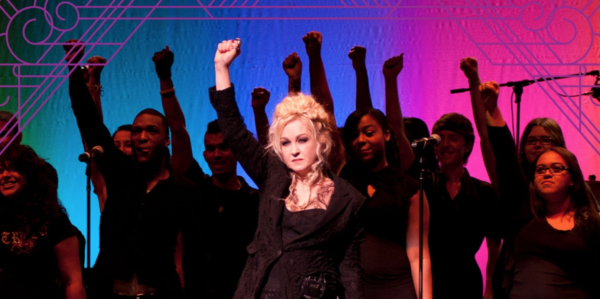 Tickets are still available for the True Colors United "Home for the Holidays" event in Los Angeles. Click here for more info. 
The Los Angeles Blade's cover story this week will feature more with Cyndi Lauper and why she is such an important LGBTQ ally/advocate.
Song from Kinky Boots with a cameo from Cyndi Lauper:
The photo of Cyndi Lauper and Billy Porter above is from their GAP #MakeLove holiday campaign.