Ari Getty and a Camelot of her own creation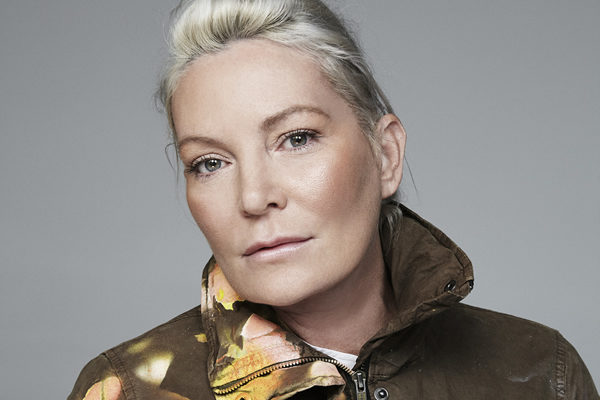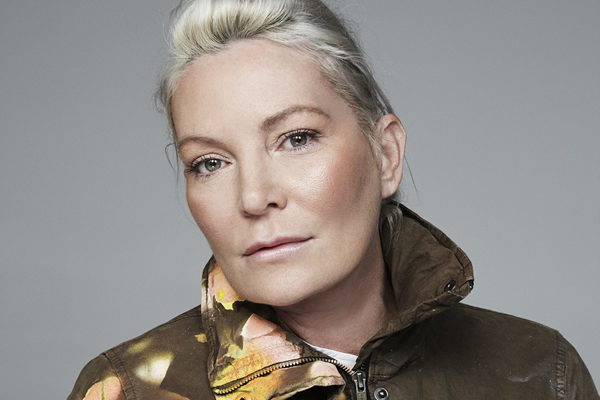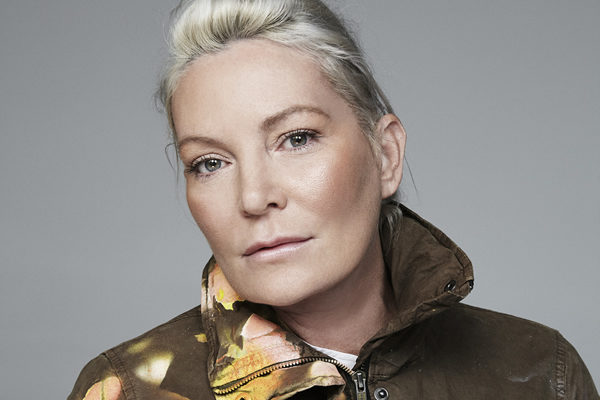 Heads turned. Conversations stopped, then started up again as whispered buzzing: who are those people, resplendent, wildly colorful, statuesque, square jawed, proudly wearing the weight of some mythical legacy while gliding into new spaces and creating their own? If pop culture America had royalty, it would be these Gettys – haute couture fashion designer August, street designer Nats and bubbly-beautiful social media star Gigi Gorgeous, escorting into the LGBTQ charity event Ari Getty and Louie Rubio, her partner of 12 years.. Nonprofit CEOs and glamorous drag queens delight in recognition as Ari and her entourage are seated at the majestic center roundtable as if, for this night, in this place, a new Camelot community has come together to celebrate protecting the disadvantaged and pledging to work hard on problems yet to come.
Ari Getty's broad smile reveals her secret: the wealthy heiress is a momma bear in real life. It's as if her shyness provides protective boundaries containing an abundance of love and joy that she heaps on her LGBTQ children and their friends and that she shares through her Ariadne Getty Foundation (ariadnegettyfdn.org). She's donated millions to the Los Angeles LGBT Center and GLAAD to protect and create a better community for LGBTQ people. It is that contribution that prompted the Los Angeles Blade to give Getty this year's Hero Award.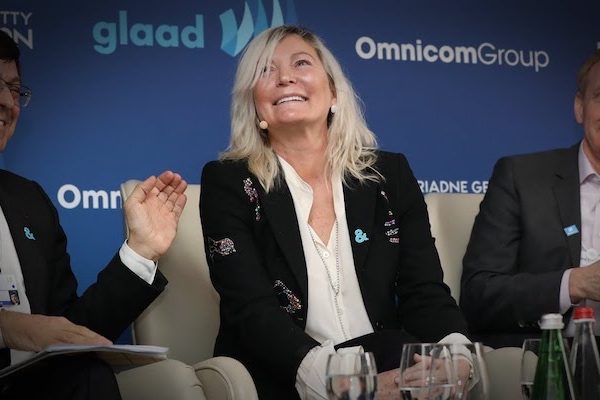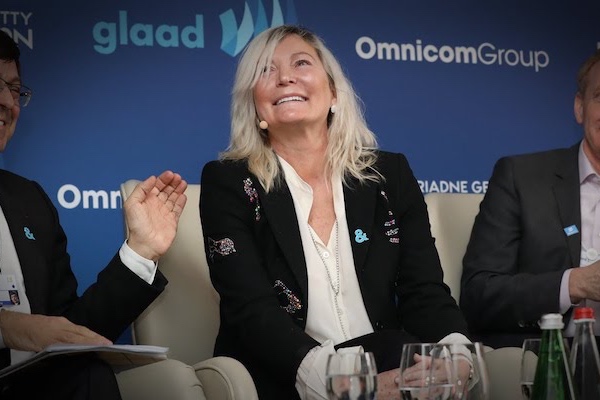 "Ari is an incredibly authentic person through and through. In November, I had a family crisis that included both my mom and I having COVID. She heard about it and decided she wanted to make sure the papers were OK and that I could focus on my health. I didn't ask her to do that," says LA Blade publisher Troy Masters. "That's pretty Heroic."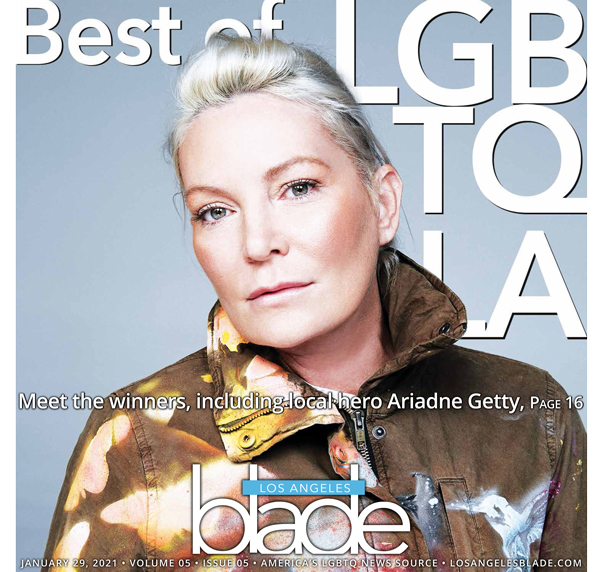 She also facilitated the creation of the Ariadne Getty Foundation Youth Academy and the Ariadne Getty Foundation Senior Housing complex at the Los Angeles LGBT Center's Anita May Rosenstein Campus in Hollywood.
"I don't say this very often, especially in this town, but Ari Getty is the real deal," Los Angeles LGBT Center CEO Lorri Jean told Variety about her friend in 2019 when Getty received Variety's Philanthropist of the Year Award. "She gives because she sees that there are important needs that must be met and she wants to help. She gives because her heart is filled with compassion and empathy. She gives because she feels she has a responsibility to make a difference."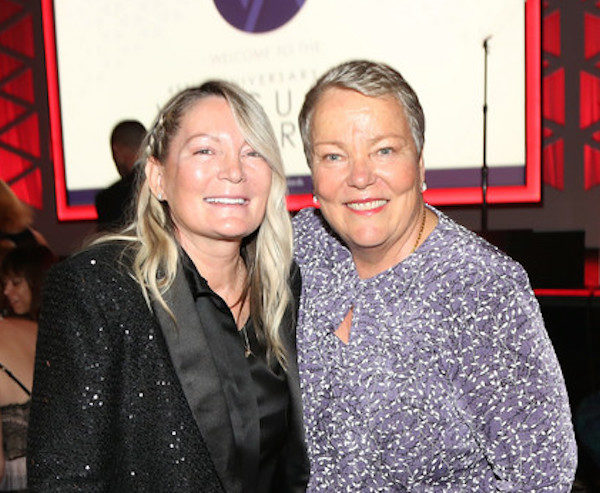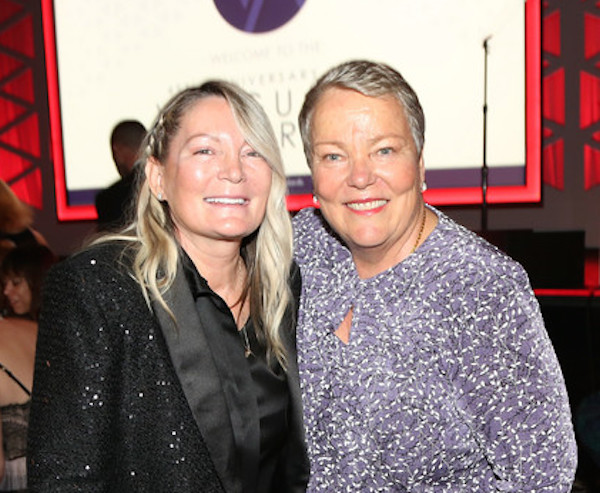 "I've been very close with the Center and very, very close with Lorri. She's been gracious enough to have us to her house with her wife, Gina, and cook steaks for us. I love our friendship and the work that she does at the Center is unparalleled. I always thought that the Center of Los Angeles should be the model for most large cities to basically be the same format and provide the same services — everything from meals to the health services," Getty tells the LA Blade. "They have a huge industrial kitchen there for the youth to make food so they're a learning skill, so they can go out and apply for jobs."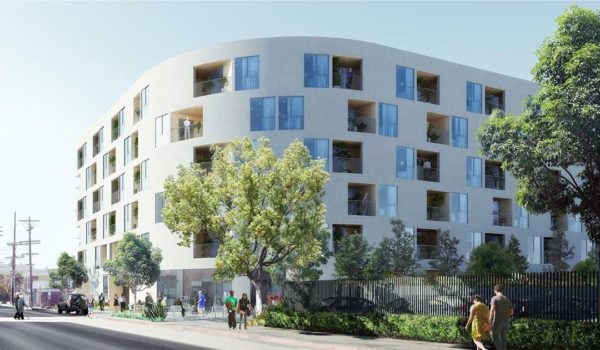 The Senior Center will open when COVID is controlled. "I'm particularly excited about the seniors," Getty says. "My heart goes out to them so much because they've lost lots of their friends and they're lonely and the Center provides such a hub of activity. And I love the fact that we're going to be joining the youth with the seniors, because the seniors will be able to educate the youth about really the history and the hardships of getting to where we are today, where we still have so far to go. But this is a far cry from being gay in the '40s or the '50s — let alone during the '80s with AIDS. I think people, as they get older, get afraid of new things like technology and I think that the youth can help the seniors with just staying up to date and feeling a part of that side. That's definitely the thing that makes me the happiest: they're in a Center where they're surrounded by people. There's no room for loneliness."
So much is expected of Ari Getty, it's hard to imagine how she became the person she is today. It's surprising to hear that, while Hillary Clinton may have written the rhetorical ideal that "it takes a village" to raise a child — Ari actually experienced it.
"I grew up in a really unusual household, you could say," Getty says, "very close to my siblings. It was just an unusual upbringing. We had a house in the countryside in Italy, and it didn't have electricity. So my chore was to go and start the generator every night with my stepfather and go to the vegetable patch and pick out the vegetables. It was kind of the most ideal. It's like a fantasy. It's like a storybook.
"Basically everybody in the village was elderly," she continues. "So I would go after I finished my chores at home, I would walk down to the village, which was two miles, and I had all of my senior friends that I would help. One summer it would be making Bic pens. I would put the ink stick into the plastic receptacle. And then another summer, I would be attaching the leather strap to the wood scholls. Scholls aren't around anymore, but they were sandals. I had a very close relationship with them. I really was raised by a village, in the true sense of the word. I literally was raised by a village."
The villagers would make the young girl lunch. "I would grate the cheese while they were making the pasta and I would go from house to house. Sometimes they would give me a little glass of wine at the tender age of seven. "And we would play with the hay on the haystacks at the dairy farm. There was everything you could do without having toys. Even the youngest people, they took to me. I think I've always had that connection. And my mother still lives in that town. It's about 60 people, if that, maybe 40. But I just always knew that I wanted to help. It's just been in my nature, I think, having the goal to help."
Ari Getty had a dream. "My goal has always been that I'll be somebody that would give to community, to be a part of philanthropy on a larger scale," she says. "It's been many years that I've known that — I can't shy away from the question completely — that I would inherit money. And the first thing that I did was set up the foundation and that's become my passion."
Getty has always been highly aware of the need for community, including how LGBTQ people rejected by their own families created their own sense of community during the AIDS crisis.
"COVID is not nearly as scary to me as AIDS," Getty says. "When my sister [Aileen Getty] was diagnosed HIV positive and I had just lost my best friend, Darryl — Nats was two weeks old when my sister was in the hospital. She had something like 7 T-cells. I remember calling my pediatrician saying, 'Is it safe for me to go and see her with Nats being a baby?' And he was like, 'Go. She'll be fine.' Those were really scary days — really, really scary days. The landscape is somewhat different today, luckily."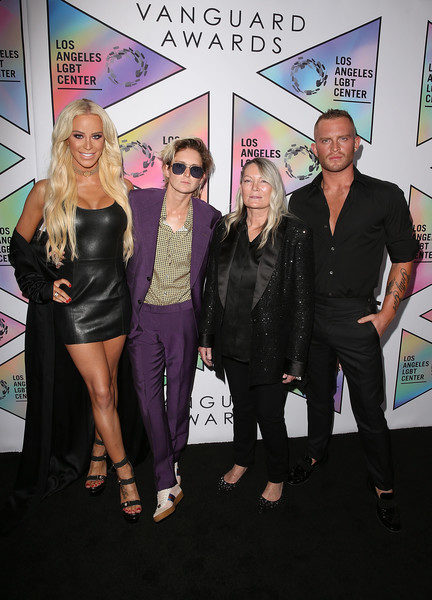 Ari Getty has not only loved and empowered her gay children August and Nats but rejoiced and welcomed transgender activist and social media star Gigi Gorgeous into the family when Nats and Gigi married. There was no hand wringing. No fuss. No hysterics about what the neighbors and the world would think. Just love.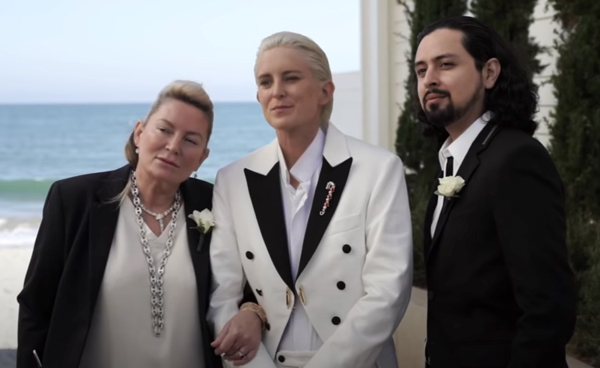 "It's so easy," Getty says. "I gave birth to two children, two individuals, two babies, and I made sure that they learned their ABCs. I made sure that they were fed, cleaned, and loved more than anything. We didn't have a television. We spent our time playing together. And I've always trusted them to make the right choices because they never gave me any indication that they weren't able to do something unsafely. When August told me that he was going out with someone from the room service staff at this hotel we were living at — I just went to West Hollywood, found one of those vans that are on the street at night and have all of the information and I got all of the packets of information and the condoms — I just wanted to be extra careful — and gave it all to August.
"As long as they're informed and what they need to do to feel like they're their true essential selves, I encourage 100%," Getty says. "Nats went public with a statement letting everybody know that they had top surgery done and I couldn't be more proud of the decision that they made to actually go ahead and do it, rather than wait 10 more years feeling uncomfortable in the body that was. So, I trust them to govern themselves."
Getty is also aware that coming out is difficult and parents might feel shame themselves or be afraid for their children's safety.
"I understand because that's a real fear and it was one of mine when they were younger and going out. Nats got yelled at because there was a public display of affection somebody yelled in a restaurant — which isn't acceptable at all," she says. "But what I would say to any parent is, 'You gave birth to a child. It's not for you to decide the nature of the child. You actually gave birth to a human being who has their own identity.' I would honestly just say, 'Please love your children, because you have them and you're not going have any more probably, and love them as much as you can, because it's a relationship. You can't deny all the years of taking care of them as babies — and there's love there. And don't think about the neighbors or what the neighbors have to say — they mean nothing. They're inconsequential to the whole topic. It's just, 'Love your children over opinion.'"
Interestingly, as creative and thoughtful as she is, Ari Getty would not do a do-over of her life if given the chance.
"I'm in exactly the life that I want to be living in — all through the struggles and trauma and the joy and the happiness — I wouldn't change a thing because I wouldn't be at where I am right now," Getty says. "I'm in a really amazing place. I have a partner who I've been with for 12 years, and my children are living their truth, and I can look them in the eye and be really proud of them as human beings and the work that they do. They do philanthropic work, and I'm so proud of that…We've talked about when I'm too old to make decisions, we've talked about how the foundation is going to be run, and they'll take over. But they have their own foundations — and I have a life of purpose and a life filled with wonderful friends and wonderful people that I meet, and I couldn't be luckier."
Ari Getty is also grateful to be receiving the Hero Award from her friend Troy Masters.
"I love Troy. He's an angel," she says. "I actually don't really have words. I'm just sort of blown away. I don't think that I could imagine that I would get a Hero Award. But it's on my counter and it's not going anywhere. But obviously with the work that I do, it's not necessarily me that wants to get recognized — it's the work. And if I'm able to influence anybody else that has income, extra income, disposable income, if I can be an example to anybody, that's the bonus, and I'm incredibly honored to receive the award. It means the world."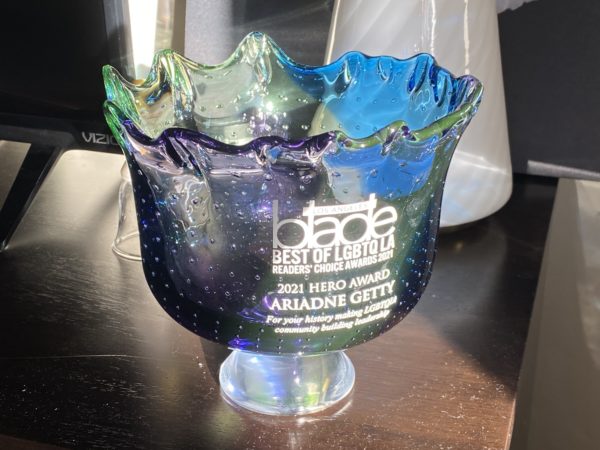 The Camelot legend refers to the myth about the idyllic world of King Arthur and the Knights of the Roundtable who pledged to do good work to benefit the people and their happiness. Jacqueline Kennedy revived the myth when talking about the legacy of her assassinated husband, John F. Kennedy, and the world he inspired during his too-short presidency. West Hollywood was joyfully dubbed the "gay Camelot" after its founding in 1984. Today, the roving band of philanthropists under the loving tutelage and gaze of Ari Getty brings that shiny spot of possibility, creativity, freedom of expression, and abundant love to whatever space they enter. They were brought up that way.
Black Deafhood: A journey at the intersection of sexuality, disability, race
Gallaudet's Bobbi-Angelica Morris on their activism and art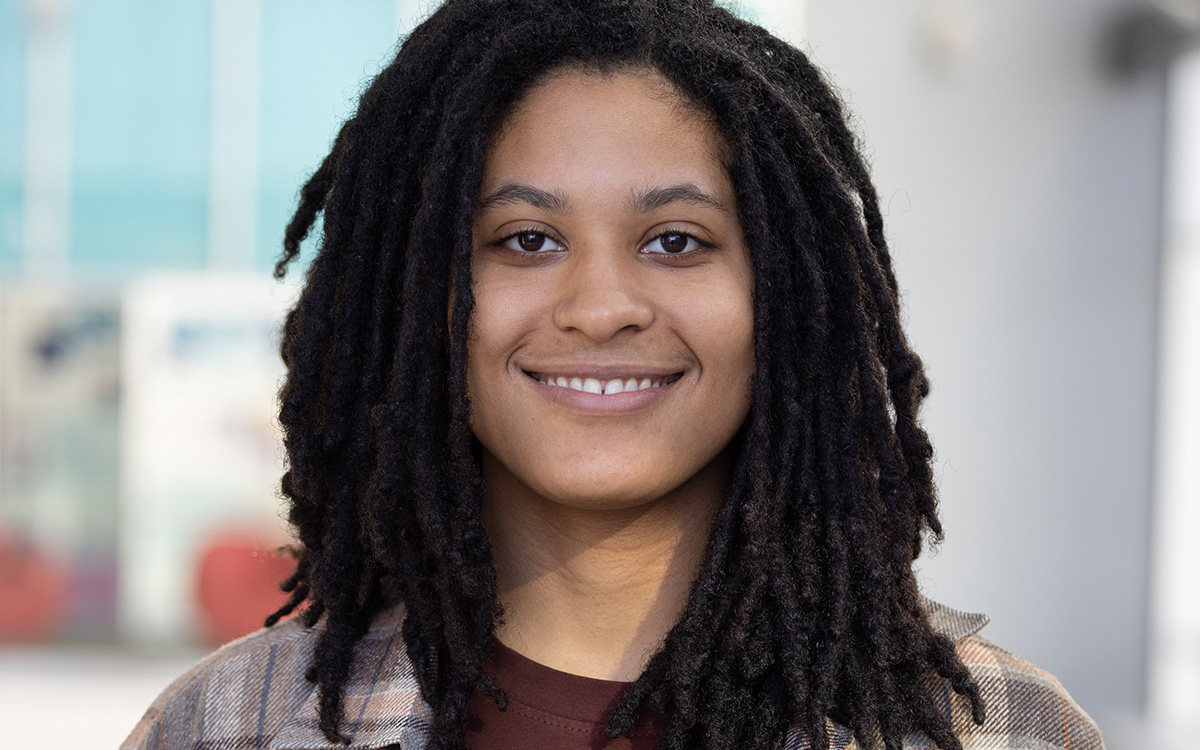 Editor's note: One in four people in America has a disability, according to the CDC. Queer and Deaf/disabled people have long been a vibrant part of the LGBTQ community. Take two of the many queer history icons who were disabled: Michelangelo is believed to have been autistic. Marsha P. Johnson, a hero of the Stonewall Uprising, had physical and psychiatric disabilities. Today, Deaf-Blind fantasy writer Elsa Sjunneson, actor and bilateral amputee Eric Graise and Obama administration Assistant Secretary of Labor for Disability Employment Policy Kathy Martinez are just a few of the people who identify as queer/Deaf/disabled. The stories of this vital segment of this queer community have rarely been told. In its series "Queer, Crip and Here," the Blade is telling some of these long unheard stories.
"My 'coming out' story looks more like me telling someone my favorite cookie flavor is chocolate chip," Bobbi-Angelica Morris, a Gallaudet University graduate student, activist, poet, photographer, videographer and visual artist, told the Blade, "than an emotional roller coaster."
"I've always embodied this carefree energy pertaining to who I am, what my purpose is, and how I show up for others," added Morris, who is Deaf/Hard of Hearing and identifies as a Black, nonbinary, queer and abolitionist artist.
Earlier this year, Morris, 23, received the Mary Bowman Arts in Activism Award from the National AIDS Memorial, the San Francisco organization that displays the internationally acclaimed AIDS Memorial Quilt.
Over the phone and in email, Morris spoke with the Blade about a range of topics – from her "Deafhood" to how she felt safe at a queer Halloween party.
Morris, who uses she/they pronouns, grew up in different parts of the East Coast. They spent most of that time in Richmond, Va.
"Growing up, most of the people around me would ask if I was gay," Morris said, "because I fit into the stereotypical realms of present day msc [masculine] presenting dykes."
"No one questioned me when I actually came to terms with my queer identity," they added.
Before enrolling in Gallaudet, Morris spent most of their time as a student with hearing people in schools, where most teachers and students didn't communicate in American Sign Language (ASL). Morris was the only Deaf student in their classes until they graduated from the University of Virginia in 2022 in Charlottesville. There, they majored in global development studies and minored in ASL with a concentration in disability studies and community development.
Growing up, Morris didn't know about ASL or the creativity and history of Deaf culture.
"It wasn't until I was in elementary school," Morris said, "that an audiologist said I qualified for hearing aids."
In their poetry, Morris, who speaks and signs their work, reflects on their family and their experience of being Deaf.
"I reflect on my own Deafhood:/ my playground fights/ with uneducated parents," Morris writes in a poem, "When little Black Deaf girl doesn't hear someone speak to her,/that someone thinks little Black Deaf girl is disrespectful."
Like many Deaf/Hard of Hearing people, who go to school when they don't know American Sign Language, and there are no ASL interpreters, Morris felt isolated.
"I had no knowledge of the Deaf community or of Black Deaf history," they said.
Some in Morris's family and community couldn't accept that Morris is Deaf. "Some, not out of maliciousness, prayed for my healing," they said.
What Morris calls her "Black Deafhood," has been a long journey at the intersection of sexuality, Deafness, disability, Blackness, gender, activism, and art.
Deafhood is a "journey that a Deaf person undertakes to discover his, her or their identity and purpose in life," according to a Deafhood Foundation statement on deafhood.org.
Hearing people often perceive of Deafness as a disease that should be cured, and of Deaf people as incompetent, second-class, less-valued, citizens.
Just as coming out helps queer people to affirm their sexuality and connect with the LGBTQ community and history, Deafhood empowers Deaf people to have pride in themselves – to connect with the Deaf community, history and culture.
As it often goes with finding and loving your queer self, Deafhood is a process.
In middle school, Morris watched "Switched at Birth," the popular TV series. The teen and family drama features Deaf and hearing actors and scenes in ASL.
The show jump-started Morris's interest in Deafness and the Deaf community. "But, I still didn't understand my connection [with the Deaf community]," Morris said.
Curious to discover something about Deaf culture, Morris started an informal class – a club. There, they and their friends learned signs from YouTube videos.
At the University of Virginia, Morris took a sign language class. They studies abroad for a time in India.
At Gallaudet, Morris began to feel connected to the Deaf community. They are a student in the Master of Social Work program at Gallaudet's School of Civic Leadership, Business, and Social Change. Morris will graduate with an M.S.W. degree in 2024.
They are equally committed to making art and activism – to working for social justice for Black, Deaf/disabled, queer, and other marginalized groups. A love of art and social change is etched in their bones.
"I am an abolitionist and an artist," Morris said, "I cannot be one without the other."
Their abolitionist identity is connected to how they experience intersectionality. Morris sees their life as connected "to the movement for total liberation of all our people, beings, and non-beings in this present day and beyond," they said.
Because they are an artist, they have a responsibility to use their skills to educate, inspire and protect "everyone and everything that abolitionists fight for daily," Morris said.
From early on, Morris loved being creative. During an unstable childhood, art helped Morris to express their feelings.
Fortunately, art ran in Morris's family. "My bio-mom is an amazing artist," Morris said, "so we would draw things together."
Later, Morris's god-mom gave Morris materials that sparked their interest in painting and photography.
In middle school, Morris got into spoken word poetry when one of their Boys and Girls Club mentors showed them a spoken word video. At the University of Virginia, Morris participated in poetry slams. In their Gallaudet social work program, they impressively deploy their artistic and activism chops.
Their advocacy projects are numerous. Morris is developing ASL G, a non-profit organization. The group's mission "is to develop community garden coalitions and programming for art and health wellness through disability justice," Morris said.
Morris was the former creative outreach coordinator of VOCA, a non-profit that supports BIPOC, Deaf artists.
"I have family members that have been incarcerated," Morris said. "Because of that, I want to fight the injustice of the prison industry and mass incarceration."
Morris is the president of Students Against Mass Incarceration (SAMI), a student club at Gallaudet.
Ableism, audism (discrimination against Deaf people), homophobia and racism are issues for Morris. "The white presence is prominent in many institutions," they said, "often they're predominantly white."
Morris likes being a Gallaudet student. But, "there's a lack of racial competency at Gallaudet as there is in the whole of America," they said.
The queer community has provided safe spaces for Morris.
Once, Morris and their partner attended a queer Halloween party in Charlottesville. "Half the people in attendance knew or were learning sign language," Morris said. "I think it was then that I realized how connected the queer community was in ensuring no one was left out."
Morris went to the party as Beast Boy, and their partner went as Raven from Teen Titans.
Follow Morris on Instagram @Blckrainbow5