Hallmark exec resigns after same-sex PR fiasco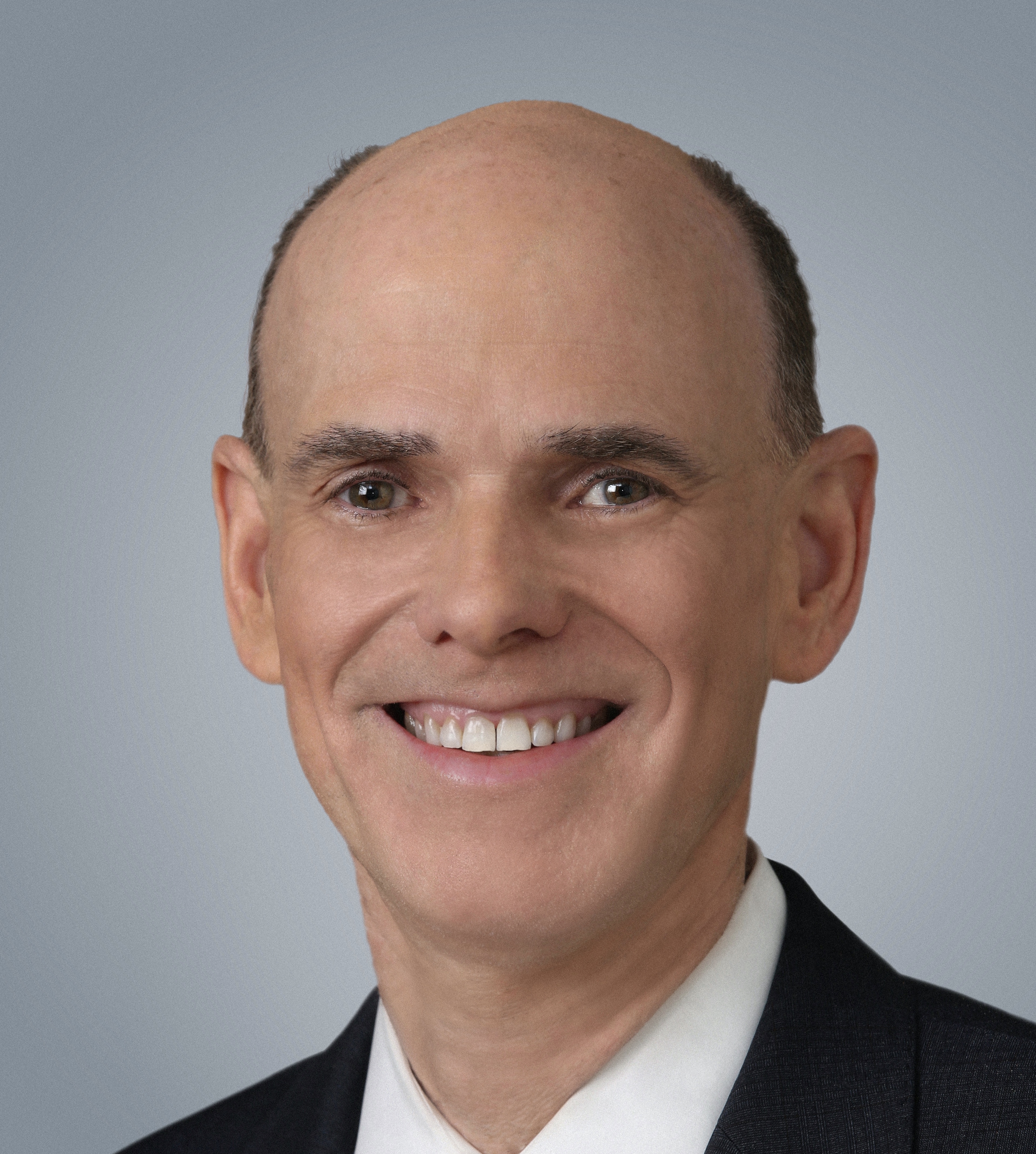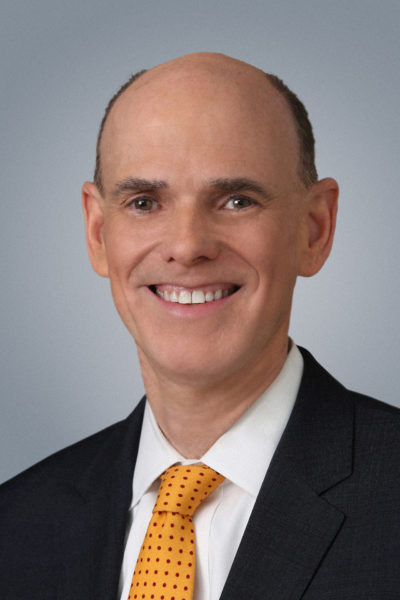 Barely one month after scandal rocked Crown Media's Hallmark Channel after the network pulled the plug on a series of advertisements that included a lesbian couple, which sparked an outcry from anti-LGBTQ Evangelical activists, Crown Media Family Networks announced Wednesday that Chief Executive Officer Bill Abbott was leaving the company.
The lesbian couple was reinstated in the advertisements with an apology by Mike Perry, president and CEO of Hallmark Cards Inc., which owns Crown Media. He also announced Abbott's departure in a press release on the company's website.
"After 11 years, Bill Abbott, president, and CEO of Crown Media is leaving the company," Perry said. "I want to thank Bill for his many years of success and contributions to Crown Media and wish him continued success."
Although no successor or interim CEO was named, Perry expressed confidence in finding a suitable replacement for Abbott. "I have tremendous confidence in the Crown Media management team and, with this team in place, I will begin a search for Bill's replacement," Perry said.
Abbott, who joined the company in 2000, oversaw the company's Hallmark Channel, Hallmark Movies & Mysteries, and Hallmark Drama, in addition to subscription video on-demand service Hallmark Movies Now and e-book publishing division Hallmark Publishing. Abbott is an industry veteran with more than 20 years of leadership experience in cable, most of which he has spent at Crown Media.
The controversial commercials were among a series of six ads for Zola, a wedding planning website, which had been airing on the Hallmark Channel since Dec. 2. In all of the ads, couples standing at the altar for their wedding wonder if guests might have arrived on time and bought them better gifts if they had used Zola to create a custom wedding website. Most of the ads include a same-sex couple but only one focused specifically on the lesbian brides and the two women were shown kissing.
According to the New York Times, the ads which featured same-sex kissing were pulled after the channel deemed their content "controversial." The decision was made by executives at the network after the anti-LGBTQ hate group, "One Million Moms," published a petition urging Hallmark to "please reconsider airing commercials with same-sex couples."
Response was swift from the LGBTQ community and its advocates.
In a statement from GLAAD, president and CEO Sarah Kate Ellis said:
"The Hallmark Channel's decision to remove LGBTQ families in such a blatant way is discriminatory and especially hypocritical coming from a network that claims to present family programming and also recently stated they are 'open' to LGBTQ holiday movies.

As so many other TV and cable networks showcase, LGBTQ families are part of family programming. Advertisers on The Hallmark Channel should see this news and question whether they want to be associated with a network that chooses to bow to fringe anti-LGBTQ activist groups, which solely exist to harm LGBTQ families."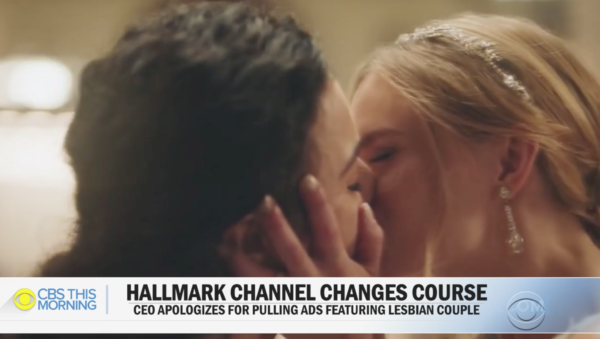 A day after the ads were taken off Hallmark air, the channel reversed its decision. In an apology, Perry called the choice "wrong" and said that "we are truly sorry for the hurt and disappointment this has caused." He added that Hallmark would work with GLAAD "to better represent the LGBTQ population across our portfolio of brands."
Photo Credit: Bill Abbott, courtesy of Crown Media
RaiseAChild- Fierce, fabulous, & oh yeah, "honey don't forget the kids"
"What happens to being like a fierce, fabulous, gay? All of a sudden, I'm living the life my parents lived."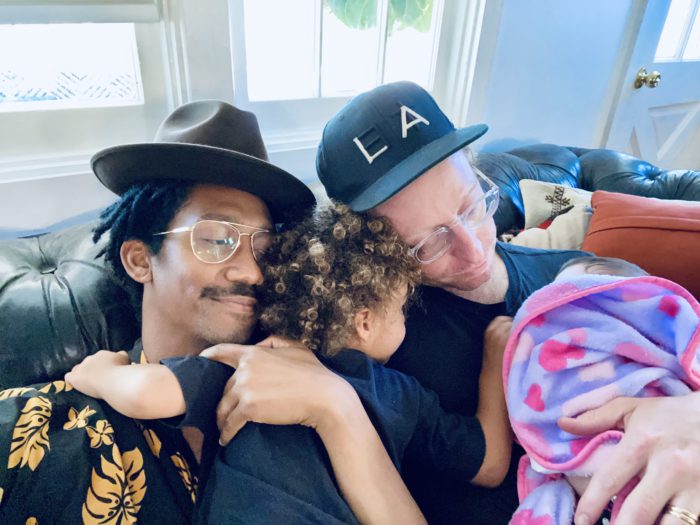 LOS ANGELES – RaiseAChild over the past decade has become the national leader in the recruitment and support of LGBTQ+ and all prospective parents interested in building families through fostering and fostering-to-adopt, to meet the needs of the approximately 440,000 children caught up in the U.S. foster care system.
This year in celebration of its tenth anniversary, the LA-based organization is holding its RaiseAChild HONORS.
One of the organization's success stories is a theatre arts couple, Matt Gould and Griffin Matthews, a husband-and-husband team of writers and composer-lyricists whose contributions to musicals and the world of Broadway have been acclaimed.
In 2019, the venerable theatre industry trade publication Playbill, profiled this dynamic couple noting, "The two come from opposite backgrounds: Matthews is an African-American Christian man from Pittsburgh, Gould is a white Jewish-American man from New York City. As they grappled with the gulf between their respective roots, they found common ground during a trip to Germany when they took Matthews' grandfather, who had liberated Dachau, to visit the hallowed ground for his 80th birthday. Gould had lost ancestors to the Holocaust. Suddenly it hit them: blacks, Jews, gays, all would have been killed on that land 70 years ago. The branches of their family histories are intertwined. And so they began what would become The Family Project, a musical told in vignettes as a song cycle."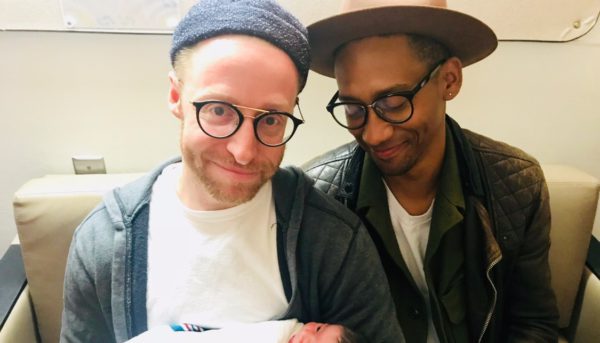 But when the theatres are dark this theatrical power-couple are engaged in what Gould told the Blade in a recent interview, "What happens to being like a fierce, fabulous, gay? Who just travels, and has dogs and a fierce life? All of a sudden, I'm living the life my parents lived. I thought we were supposed to be special."
The life as a family and as parents has somewhat altered things around the their home. Asked about the impact being foster parents has had on their home life? Matthews fired back; "Loud."
Gould chimed in saying, "The Black Christian and the white Jew have been joined by a quarter-Armenian, quarter-Ukrainian, half-Russian foster son, Galileo, and a half-Cambodian, half-remains to be seen, little boy, Apollo. Those are our two foster sons."
"I mean, obviously, we are married, we have two kids now. But I also think that we realized we didn't have to make all the same choices that our parents made. That we could still live a fierce, fabulous life while having all of the fierce fabulousness of being a parent, and being married. That has been a really important discovery – that that life is not about either-or," he added.
His husband offered the background adding how how their family was melded together through RaiseAChild;
"There was a big campaign all over LA for LGBTQ+ family members to become foster parents – again, 45,000 kids need people to be parents. The party – it was a party, go figure – was at Fred Segal on Melrose. [ A famed LA retailer ] Could it be any gayer? Hosted by Alec Mapa and his husband. And we went to Fred Segal, we're all dressed up and they're passing champagne, Alec Mapa is doing a set; that was how they got us to be foster parents," Matthews said.
"Alec Mapa was so funny that night – he and his husband already had a foster son who they had adopted. He was making light of something that feels so heavy. I think it was really good for us to see Alec do that thing. That was the start of us getting involved with Raise a Child," he added.
Talking about their musical, 'The Family Project', Gould noted;
That is a documentary musical we wrote about our families. It's set up to answer the question of "how does a Black Christian gay man and a white Jewish gay man – that come from these legacies of Holocaust and slavery – how do we learn how to, at the most basic level, get along?" Because we really are two different cultures that don't necessarily speak the same language. How do we now form a new language that we can speak to one another in?"
Reflecting for a moment Matthews offered, "It's also about our generation. We're the first generation of 'free' gay men, right? Like the generation ahead of us, they couldn't get married, so they weren't getting married, or they were getting married in secret. We were the first generation that was like, yep, you can get married, and you can have kids!
"The musical is about trying to tackle the heteronormative expectations that we place on ourselves. It goes into all different places of not just culture – racial culture, religious culture – but also American culture."
His husband said that their theatrical careers and also parenting is something that they have found is a very workable part of their daily lives. A commitment that Gould noted on becoming parents, "… took us another five years to actually go through with the full training, and actually become a parent."
Of immediate concern though to this fierce and fabulous parental unit is the approaching all-time important holiday of Halloween. "You cannot imagine how much Halloween we've been talking about in this house. Galileo insisted on being a spider. Nana and Tata sent him a spider costume, he's freaking out – he's so excited. He asks everyday, "is it Halloween?" Matthews said.
Asked what their plans were- beyond trick-or-treating? Gould wryly remarked; "We're going to survive."
Editor's note: If you are interested in becoming a foster parent or wish to adopt, RaiseAChild has developed a system to find – and then support – people who are interested in becoming foster and foster-to-adopt parents. As a result, RaiseAChild out-performs the national standard by advancing 23% of prospective foster and adoptive parents from inquiry to certification.
RaiseAChild produces foster and adoption informational programs to support, educate, and motivate prospective parents. These events feature a diverse panel of parents who share their foster and adoption experiences and advice with new prospective parents.
The RaiseAChild Parent Advocate Program is a unique and complimentary service designed to advance prospective foster and adoptive parents with their family-building goals. Our program includes personal mentor services, a nationwide referral network, and proprietary software case management program that enables RaiseAChild to follow and support parents throughout the process. From orientation to training and throughout the child matching process, our Parent Advocates are there to assist with your concerns and questions.
To learn more visit RaiseAChild at https://raiseachild.org/we-build-families/ or email
[email protected]. If you are in the greater Los Angeles area the number to call is (323) 417-1440.
********************
Writing and editing by Brody Levesque with research by Alejandro Cervantes
The stork delivered- Chasten & Pete are parents welcoming two kids
The happy couple delivered the news Saturday via their social media accounts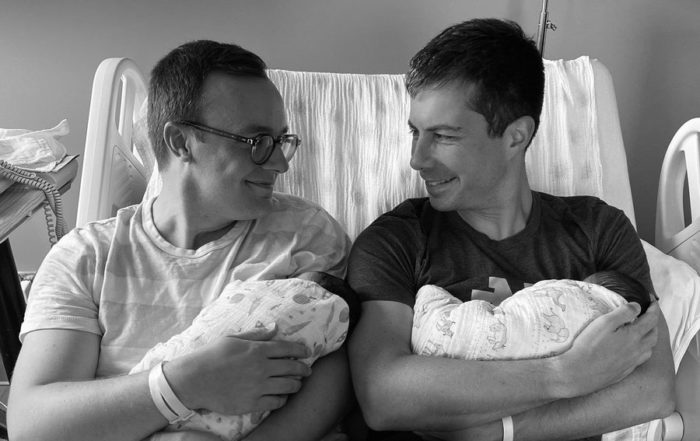 WASHINGTON – In a happy tweet and on Instagram Saturday morning, U.S. Secretary of Transportation Pete Buttigieg and his husband Chasten announced the arrival of their children Penelope Rose and Joseph August Buttigieg into their home and lives.
Chasten and I are beyond thankful for all the kind wishes since first sharing the news that we're becoming parents. We are delighted to welcome Penelope Rose and Joseph August Buttigieg to our family. pic.twitter.com/kS89gb11Ax

— Pete Buttigieg (@PeteButtigieg) September 4, 2021
The couple first announced in an August tweet that they had become parents and were awaiting the necessary completion of the process.
For some time, Chasten and I have wanted to grow our family. We're overjoyed to share that we've become parents! The process isn't done yet and we're thankful for the love, support, and respect for our privacy that has been offered to us. We can't wait to share more soon.

— Pete Buttigieg (@PeteButtigieg) August 17, 2021
PFLAG congrats Transportation Secretary on 'cigar moment'
Buttigieg announced that he and his husband Chasten commenced growing their family. "We're overjoyed to share that we've become parents!"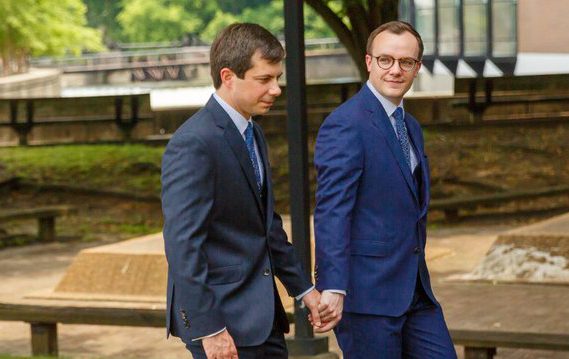 WASHINGTON – In a statement Tuesday on his personal Twitter account, U.S. Secretary of Transportation Pete Buttigieg announced that he and his husband Chasten have commenced growing their family. "We're overjoyed to share that we've become parents!" Buttigieg wrote.
For some time, Chasten and I have wanted to grow our family. We're overjoyed to share that we've become parents! The process isn't done yet and we're thankful for the love, support, and respect for our privacy that has been offered to us. We can't wait to share more soon.

— Pete Buttigieg (@PeteButtigieg) August 17, 2021
This happy announcement was immediately greeted with congratulations from PFLAG, the first and largest organization for lesbian, gay, bisexual, transgender, and queer (LGBTQ+) people, their parents and families, and allies, in an Instagram post: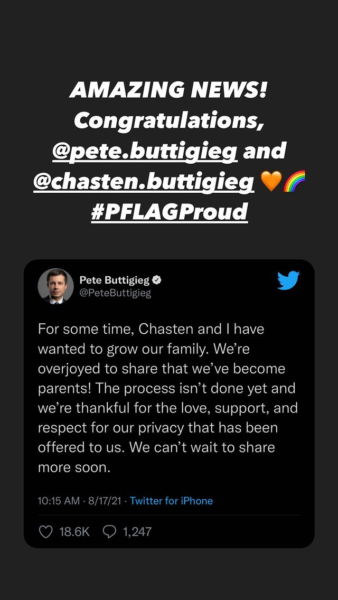 Mayor Annise Parker, President & CEO of LGBTQ Victory Institute also weighed in congratulating the couple;
"On the campaign trail, Pete and Chasten upended stereotypes and transformed perceptions for millions of Americans less familiar with LGBTQ people and their lives. As parents, they will now shine a national spotlight on LGBTQ families, who often face daunting challenges because of outdated policies that narrowly define what families are. Their adoption is an opportunity to have a national dialogue about creating a legal and legislative framework that supports all parents and children. Yet this is primarily about love and family, and we are absolutely thrilled for Pete and Chasten and know they will be fantastic fathers."