Hallmark exec resigns after same-sex PR fiasco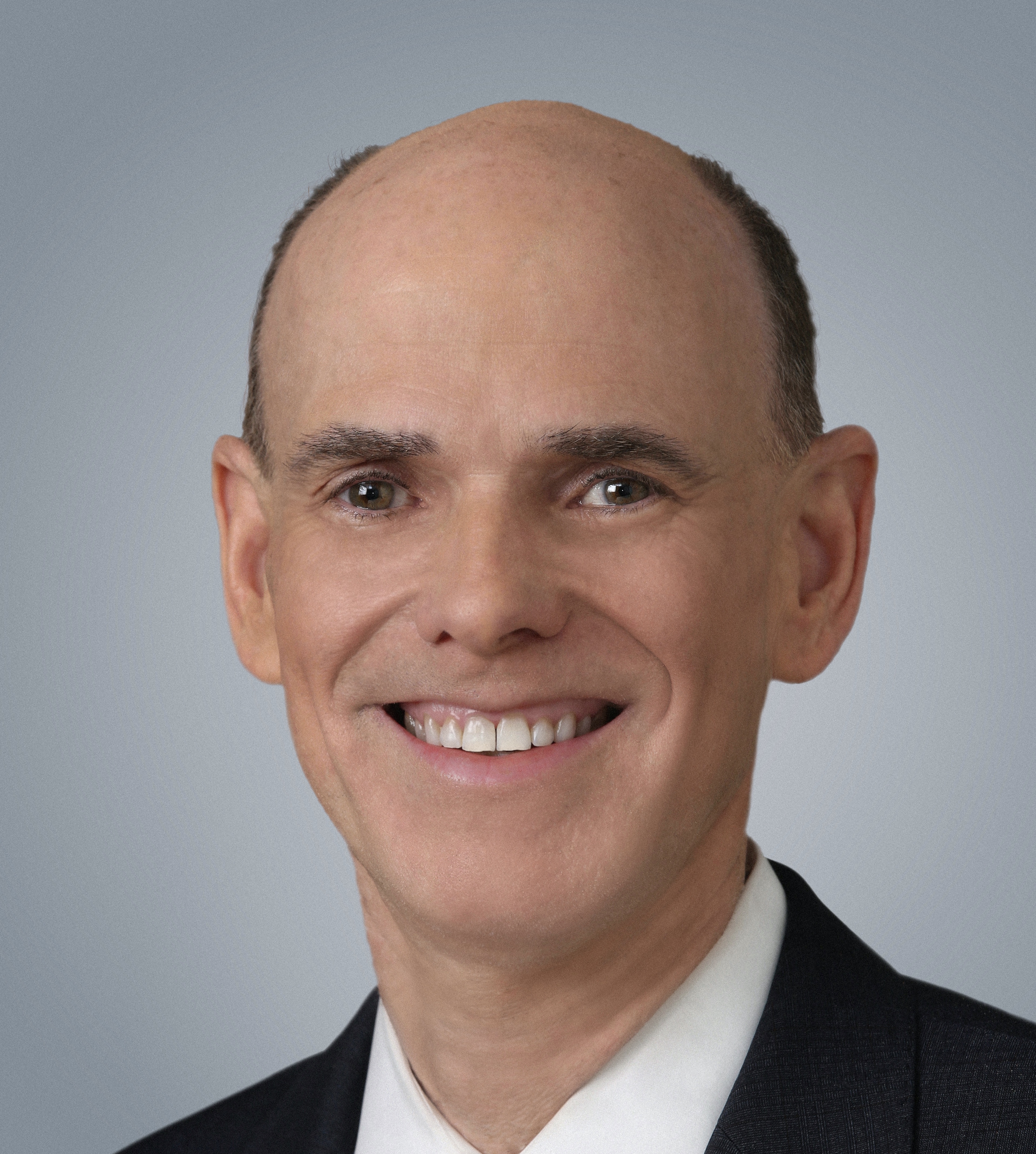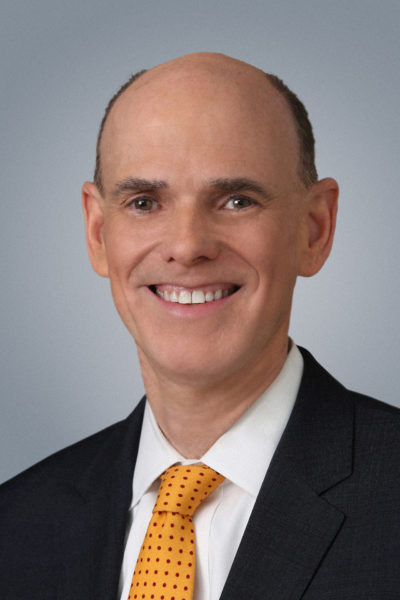 Barely one month after scandal rocked Crown Media's Hallmark Channel after the network pulled the plug on a series of advertisements that included a lesbian couple, which sparked an outcry from anti-LGBTQ Evangelical activists, Crown Media Family Networks announced Wednesday that Chief Executive Officer Bill Abbott was leaving the company.
The lesbian couple was reinstated in the advertisements with an apology by Mike Perry, president and CEO of Hallmark Cards Inc., which owns Crown Media. He also announced Abbott's departure in a press release on the company's website.
"After 11 years, Bill Abbott, president, and CEO of Crown Media is leaving the company," Perry said. "I want to thank Bill for his many years of success and contributions to Crown Media and wish him continued success."
Although no successor or interim CEO was named, Perry expressed confidence in finding a suitable replacement for Abbott. "I have tremendous confidence in the Crown Media management team and, with this team in place, I will begin a search for Bill's replacement," Perry said.
Abbott, who joined the company in 2000, oversaw the company's Hallmark Channel, Hallmark Movies & Mysteries, and Hallmark Drama, in addition to subscription video on-demand service Hallmark Movies Now and e-book publishing division Hallmark Publishing. Abbott is an industry veteran with more than 20 years of leadership experience in cable, most of which he has spent at Crown Media.
The controversial commercials were among a series of six ads for Zola, a wedding planning website, which had been airing on the Hallmark Channel since Dec. 2. In all of the ads, couples standing at the altar for their wedding wonder if guests might have arrived on time and bought them better gifts if they had used Zola to create a custom wedding website. Most of the ads include a same-sex couple but only one focused specifically on the lesbian brides and the two women were shown kissing.
According to the New York Times, the ads which featured same-sex kissing were pulled after the channel deemed their content "controversial." The decision was made by executives at the network after the anti-LGBTQ hate group, "One Million Moms," published a petition urging Hallmark to "please reconsider airing commercials with same-sex couples."
Response was swift from the LGBTQ community and its advocates.
In a statement from GLAAD, president and CEO Sarah Kate Ellis said:
"The Hallmark Channel's decision to remove LGBTQ families in such a blatant way is discriminatory and especially hypocritical coming from a network that claims to present family programming and also recently stated they are 'open' to LGBTQ holiday movies.

As so many other TV and cable networks showcase, LGBTQ families are part of family programming. Advertisers on The Hallmark Channel should see this news and question whether they want to be associated with a network that chooses to bow to fringe anti-LGBTQ activist groups, which solely exist to harm LGBTQ families."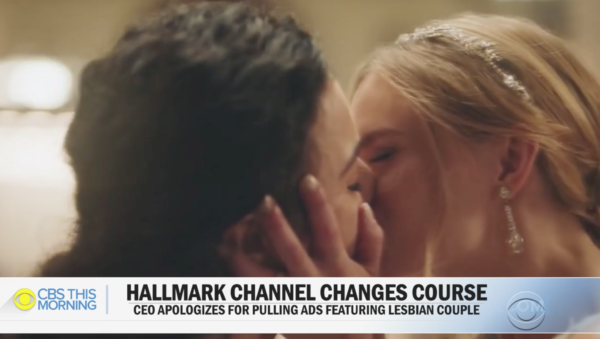 A day after the ads were taken off Hallmark air, the channel reversed its decision. In an apology, Perry called the choice "wrong" and said that "we are truly sorry for the hurt and disappointment this has caused." He added that Hallmark would work with GLAAD "to better represent the LGBTQ population across our portfolio of brands."
Photo Credit: Bill Abbott, courtesy of Crown Media
Considering surrogacy? Virtual conference May 15-16 offers guidance for prospective gay dads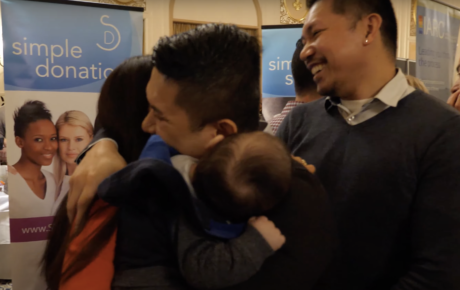 If you are among the many gay men who dream of parenting a child, and are considering surrogacy as an option, this weekend brings an opportunity you should not pass up.
For many such men, the financial burden involved in such a process is often an obstacle – but what many of them don't know is that financial help is available for gay men when they choose to have children via surrogacy, if they know where to look. Fortunately, there's an organization called Men Having Babies (MHB), which is holding its annual West Coast conference May 15-16, 2021, and it wants to teach you everything you need to know, with panels offering guidance on how to receive discounts, budgeting, how to attain surrogacy benefits from employers, and how to work with your insurance.
MHB has been holding their annual West Coast conference in San Francisco for the past 7 years, but this year – in collaboration with the Our Family Coalition – it is offering the program this year in a virtual format. It presents a rare opportunity for would-be gay fathers to get comprehensive guidance on surrogacy in an online-version of MHB's signature "bootcamp" weekend-long conference, and attendees are expected not only from across the United States, but even from around the world. Registrants already include gay men from over a dozen states, and international locations including Canada, Germany and Hong Kong.
The event will utilize the specialized REMO platform, successfully used by MHB previously in multiple conferences around the world. The platform allows for general presentations, breakout sessions, expo "tables" and effective interaction. Using feedback from past attendees and the MHB team's 7 years of prior experience, the organization has been able to plan its most comprehensive virtual conference to date, with more panels and interactive opportunities than ever before. Even so, MHB West is scheduled to be MHB's final virtual conference, as the organization has announced the resumption of in-person conferences starting this fall.
The May program is slated to include interactive sessions with medical, legal and financial experts, as well as practical advice on everything gay men need to know when considering surrogacy:
How to get your surrogacy journey started with online resources, member discounts, and financial assistance from MHB
Specific surrogacy budgeting considerations
How to evaluate various surrogacy destinations
Legal considerations
Insurance issues
The impact of Covid-19
Surrogacy benefits at your workplace
Medical aspects of surrogacy
Opportunities to meet and learn about surrogacy providers that support gay men
In addition, MHB's popular Personal Stories panel will include such familiar faces as YouTubers Bart Rose ("Two Men and A Baby") and Daniel Marzoa ("The Marzoa Family"), who will share their personal surrogacy stories and answer questions from prospective dads.
And just for the record, though the event is organized by gay parenting organizations, non-gay prospective parents are also welcome, and will no doubt highly benefit from it as well.
"Albert Einstein said, 'The measure of intelligence is the ability to change,' and MHB changed in response to Covid by utilizing REMO for virtual conferences," says Dr. Susanna Park of San Diego Fertility Center, one of the conference's Platinum sponsors. "REMO is surprisingly fun to use! Covid social restrictions do not mean you have to pause your dream of having a family. We just need to change accordingly."
Brad Spencer, from Same Love Surrogacy (another Platinum conference sponsor, which has also joined MHB in several virtual conference settings this past year), adds, "MHB virtual conferences through the REMO platform provide intended parents throughout the world the opportunity to meet best in class Surrogacy & IVF professionals. In just a short 2-day conference, intended parents can begin their journey to parenthood even during the Covid-19 pandemic."
Proceeds from the conference's sponsorship fees benefit MHB's Gay Parenting Assistance Program (GPAP), which provides dozens of prospective parents with over a million dollars' worth of cash grants, discounts and free services on an annual basis, from over 100 leading service providers. The majority of the 26 exhibitors at the MHB West virtual conference are supporters of GPAP, as well as the organization's Membership Benefits Program, including Gold conference sponsors: Circle Surrogacy, IARC Surrogacy, California Fertility Partners, ORM Fertility, Fertility Specialists of Texas, Creative Family Connections, Simple Surrogacy, Northwest Surrogacy Center, Western Fertility Institute, SurrogateFirst, HRC Fertility, Fertility & Surgical Associates of California, Los Angeles Reproductive Center, Center for Surrogate Parenting, Creative Conception, and Southern California Center for Reproductive Medicine.
You can register for the Men Having Babies virtual West Coast conference via the organization's website, here. Jump on it, though, because the REMO platform has a limited capacity and the event is expected to sell out.
Nearly one-quarter of lesbian, bisexual, and queer women are parents
Parents are more likely to be bisexual, in a relationship with a man, and living in non-urban areas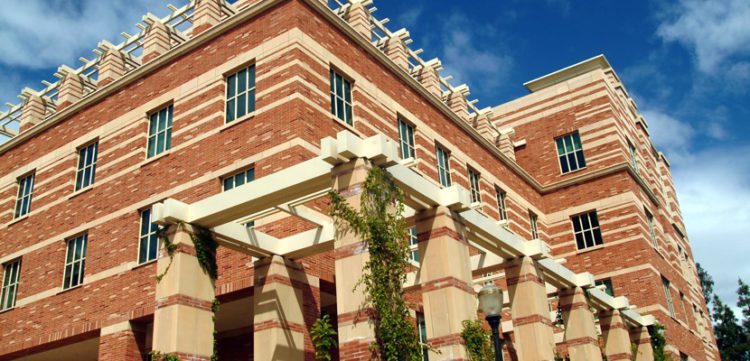 LOS ANGELES – New research released Monday from the Williams Institute at University of California Los Angeles School of Law examines the demographic and mental health differences among cisgender lesbian, bisexual, and queer (LBQ) women with and without children.
 
Findings show that nearly one-quarter of LBQ women ages 18 to 59 and an estimated 24% of female same-sex couples have had children. Parents were more likely to be bisexual, in a relationship with a man, and non-urban. In addition, bisexual parents reported greater psychological distress, less life satisfaction and happiness, and less connection to the LGBT community than lesbian parents. Parents with other identities perceived more social support from friends and reported lower levels of internalized homophobia than bisexual parents.
 
"There is a unique form of bias against people who have both same-sex and different-sex attractions and sexual relationships, and this may be why we see poorer mental health outcomes for bisexual parents," said co-author Esther D. Rothblum, Visiting Distinguished Scholar at the Williams Institute.
 
This is the first study to use a U.S. population-based sample to compare the mental health of sexual minority women with children to those without children. In the study, researchers also examined LBQ women in three age groups: young (18-25), middle (34-41), and older (52-59).
 
Researchers found that among lesbian women, the oldest non-parents reported more happiness and less psychological distress than the youngest non-parents. The youngest group of bisexual women reported more community connectedness than bisexual women of other age groups. There was no difference in happiness and psychological distress among parents of different age groups.
 
"It was important to take different age cohorts into account, because attitudes, policies, and laws concerning sexual minority people and parenting have evolved over time," said lead author Mark Assink, Ph.D., Researcher at the Research Institute of Child Development and Education at the University of Amsterdam. "More research that examines the impact of parenting on emerging identities is needed, as more LBQ women opt for parenthood."
Editor's note: This was a companion study to two previous studies released by the Williams Instate last Fall the Generations and TransPop studies.
Ari Getty and a Camelot of her own creation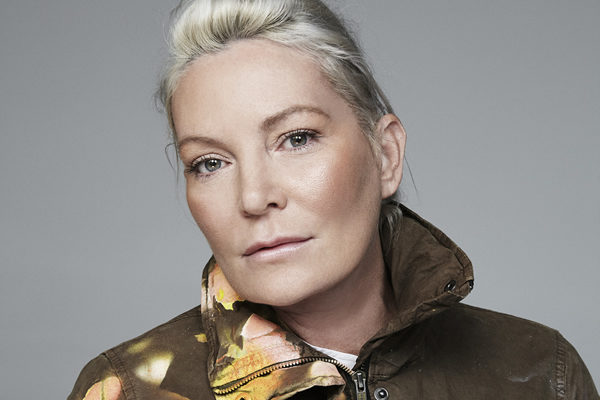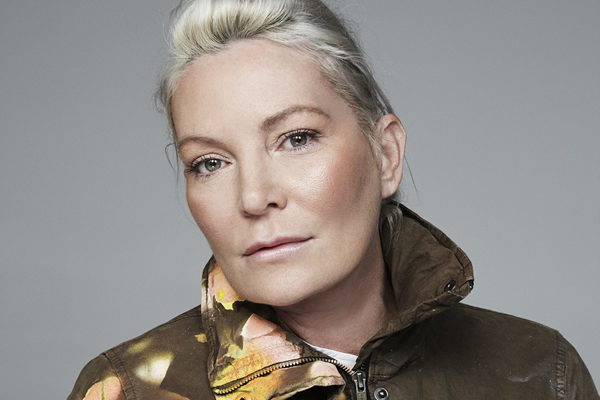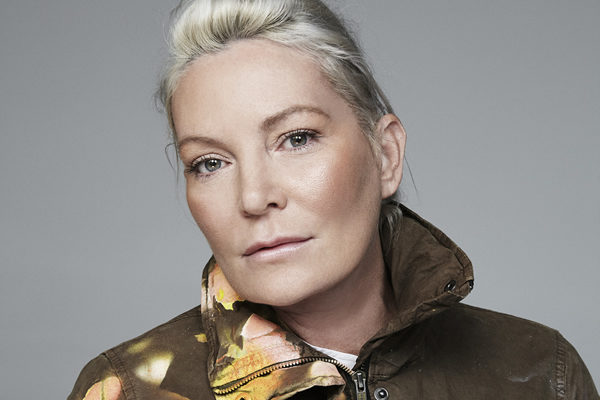 Heads turned. Conversations stopped, then started up again as whispered buzzing: who are those people, resplendent, wildly colorful, statuesque, square jawed, proudly wearing the weight of some mythical legacy while gliding into new spaces and creating their own? If pop culture America had royalty, it would be these Gettys – haute couture fashion designer August, street designer Nats and bubbly-beautiful social media star Gigi Gorgeous, escorting into the LGBTQ charity event Ari Getty and Louie Rubio, her partner of 12 years.. Nonprofit CEOs and glamorous drag queens delight in recognition as Ari and her entourage are seated at the majestic center roundtable as if, for this night, in this place, a new Camelot community has come together to celebrate protecting the disadvantaged and pledging to work hard on problems yet to come.
Ari Getty's broad smile reveals her secret: the wealthy heiress is a momma bear in real life. It's as if her shyness provides protective boundaries containing an abundance of love and joy that she heaps on her LGBTQ children and their friends and that she shares through her Ariadne Getty Foundation (ariadnegettyfdn.org). She's donated millions to the Los Angeles LGBT Center and GLAAD to protect and create a better community for LGBTQ people. It is that contribution that prompted the Los Angeles Blade to give Getty this year's Hero Award.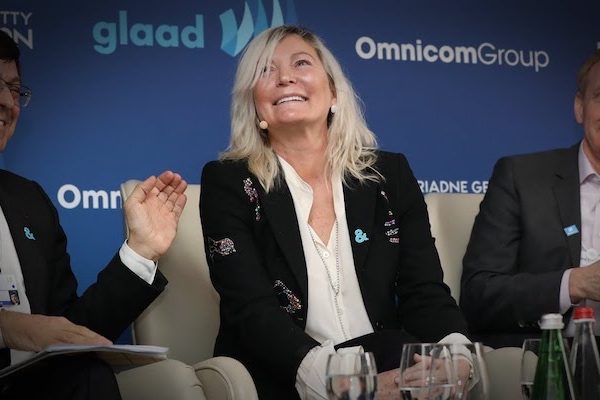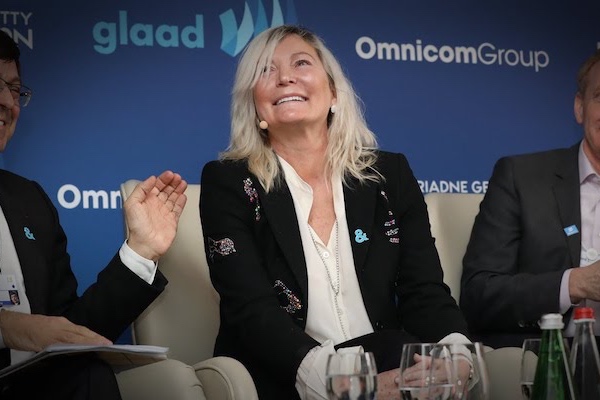 "Ari is an incredibly authentic person through and through. In November, I had a family crisis that included both my mom and I having COVID. She heard about it and decided she wanted to make sure the papers were OK and that I could focus on my health. I didn't ask her to do that," says LA Blade publisher Troy Masters. "That's pretty Heroic."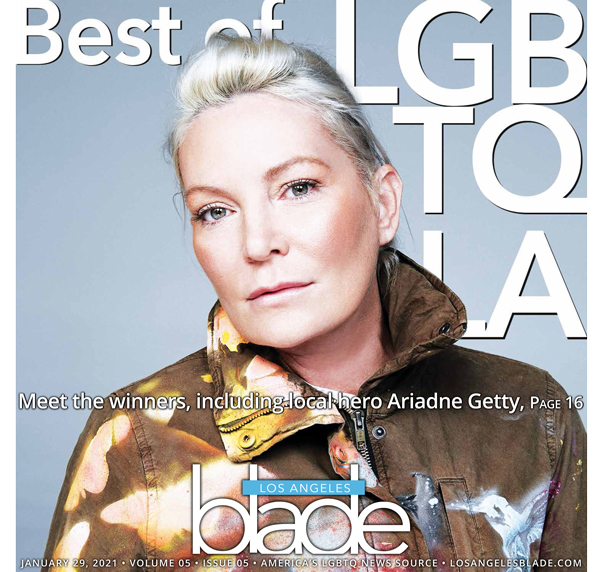 She also facilitated the creation of the Ariadne Getty Foundation Youth Academy and the Ariadne Getty Foundation Senior Housing complex at the Los Angeles LGBT Center's Anita May Rosenstein Campus in Hollywood.
"I don't say this very often, especially in this town, but Ari Getty is the real deal," Los Angeles LGBT Center CEO Lorri Jean told Variety about her friend in 2019 when Getty received Variety's Philanthropist of the Year Award. "She gives because she sees that there are important needs that must be met and she wants to help. She gives because her heart is filled with compassion and empathy. She gives because she feels she has a responsibility to make a difference."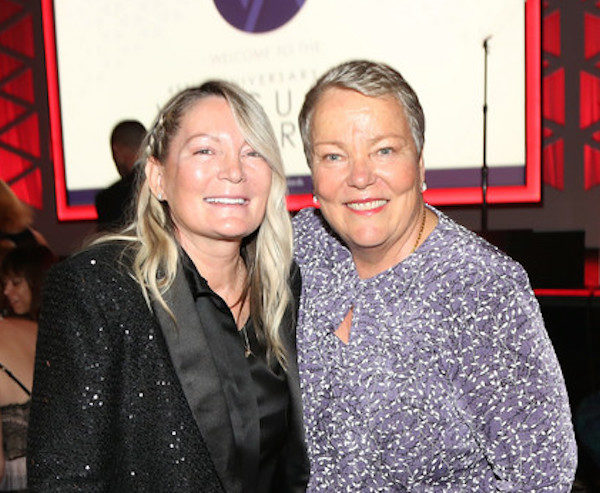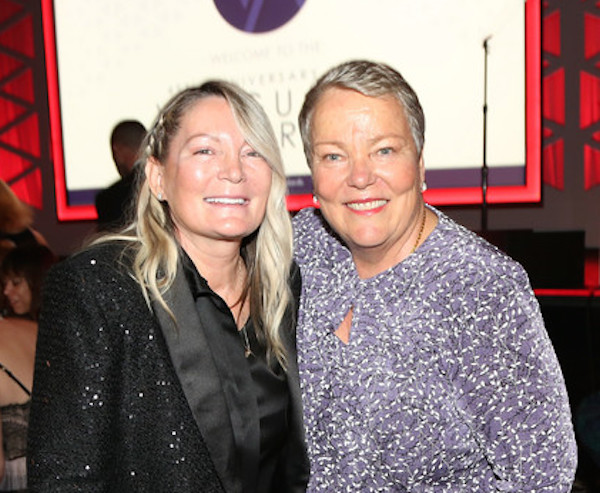 "I've been very close with the Center and very, very close with Lorri. She's been gracious enough to have us to her house with her wife, Gina, and cook steaks for us. I love our friendship and the work that she does at the Center is unparalleled. I always thought that the Center of Los Angeles should be the model for most large cities to basically be the same format and provide the same services — everything from meals to the health services," Getty tells the LA Blade. "They have a huge industrial kitchen there for the youth to make food so they're a learning skill, so they can go out and apply for jobs."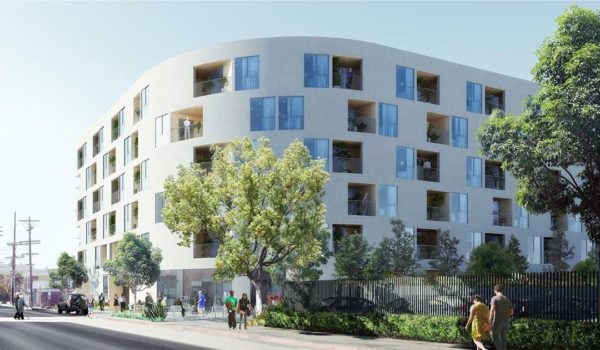 The Senior Center will open when COVID is controlled. "I'm particularly excited about the seniors," Getty says. "My heart goes out to them so much because they've lost lots of their friends and they're lonely and the Center provides such a hub of activity. And I love the fact that we're going to be joining the youth with the seniors, because the seniors will be able to educate the youth about really the history and the hardships of getting to where we are today, where we still have so far to go. But this is a far cry from being gay in the '40s or the '50s — let alone during the '80s with AIDS. I think people, as they get older, get afraid of new things like technology and I think that the youth can help the seniors with just staying up to date and feeling a part of that side. That's definitely the thing that makes me the happiest: they're in a Center where they're surrounded by people. There's no room for loneliness."
So much is expected of Ari Getty, it's hard to imagine how she became the person she is today. It's surprising to hear that, while Hillary Clinton may have written the rhetorical ideal that "it takes a village" to raise a child — Ari actually experienced it.
"I grew up in a really unusual household, you could say," Getty says, "very close to my siblings. It was just an unusual upbringing. We had a house in the countryside in Italy, and it didn't have electricity. So my chore was to go and start the generator every night with my stepfather and go to the vegetable patch and pick out the vegetables. It was kind of the most ideal. It's like a fantasy. It's like a storybook.
"Basically everybody in the village was elderly," she continues. "So I would go after I finished my chores at home, I would walk down to the village, which was two miles, and I had all of my senior friends that I would help. One summer it would be making Bic pens. I would put the ink stick into the plastic receptacle. And then another summer, I would be attaching the leather strap to the wood scholls. Scholls aren't around anymore, but they were sandals. I had a very close relationship with them. I really was raised by a village, in the true sense of the word. I literally was raised by a village."
The villagers would make the young girl lunch. "I would grate the cheese while they were making the pasta and I would go from house to house. Sometimes they would give me a little glass of wine at the tender age of seven. "And we would play with the hay on the haystacks at the dairy farm. There was everything you could do without having toys. Even the youngest people, they took to me. I think I've always had that connection. And my mother still lives in that town. It's about 60 people, if that, maybe 40. But I just always knew that I wanted to help. It's just been in my nature, I think, having the goal to help."
Ari Getty had a dream. "My goal has always been that I'll be somebody that would give to community, to be a part of philanthropy on a larger scale," she says. "It's been many years that I've known that — I can't shy away from the question completely — that I would inherit money. And the first thing that I did was set up the foundation and that's become my passion."
Getty has always been highly aware of the need for community, including how LGBTQ people rejected by their own families created their own sense of community during the AIDS crisis.
"COVID is not nearly as scary to me as AIDS," Getty says. "When my sister [Aileen Getty] was diagnosed HIV positive and I had just lost my best friend, Darryl — Nats was two weeks old when my sister was in the hospital. She had something like 7 T-cells. I remember calling my pediatrician saying, 'Is it safe for me to go and see her with Nats being a baby?' And he was like, 'Go. She'll be fine.' Those were really scary days — really, really scary days. The landscape is somewhat different today, luckily."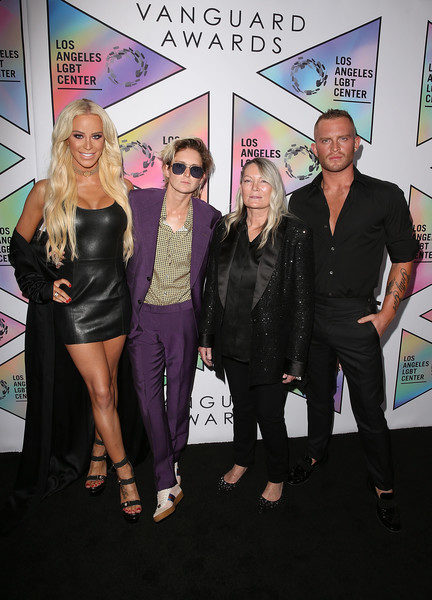 Ari Getty has not only loved and empowered her gay children August and Nats but rejoiced and welcomed transgender activist and social media star Gigi Gorgeous into the family when Nats and Gigi married. There was no hand wringing. No fuss. No hysterics about what the neighbors and the world would think. Just love.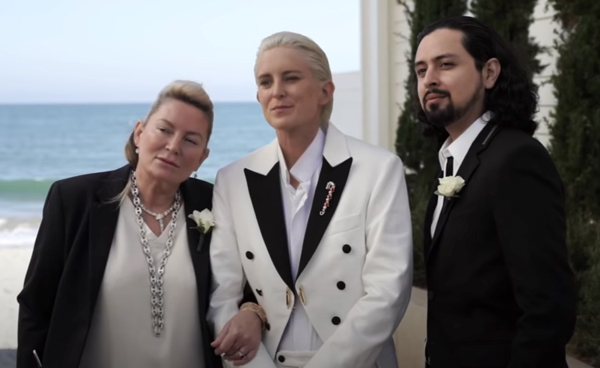 "It's so easy," Getty says. "I gave birth to two children, two individuals, two babies, and I made sure that they learned their ABCs. I made sure that they were fed, cleaned, and loved more than anything. We didn't have a television. We spent our time playing together. And I've always trusted them to make the right choices because they never gave me any indication that they weren't able to do something unsafely. When August told me that he was going out with someone from the room service staff at this hotel we were living at — I just went to West Hollywood, found one of those vans that are on the street at night and have all of the information and I got all of the packets of information and the condoms — I just wanted to be extra careful — and gave it all to August.
"As long as they're informed and what they need to do to feel like they're their true essential selves, I encourage 100%," Getty says. "Nats went public with a statement letting everybody know that they had top surgery done and I couldn't be more proud of the decision that they made to actually go ahead and do it, rather than wait 10 more years feeling uncomfortable in the body that was. So, I trust them to govern themselves."
Getty is also aware that coming out is difficult and parents might feel shame themselves or be afraid for their children's safety.
"I understand because that's a real fear and it was one of mine when they were younger and going out. Nats got yelled at because there was a public display of affection somebody yelled in a restaurant — which isn't acceptable at all," she says. "But what I would say to any parent is, 'You gave birth to a child. It's not for you to decide the nature of the child. You actually gave birth to a human being who has their own identity.' I would honestly just say, 'Please love your children, because you have them and you're not going have any more probably, and love them as much as you can, because it's a relationship. You can't deny all the years of taking care of them as babies — and there's love there. And don't think about the neighbors or what the neighbors have to say — they mean nothing. They're inconsequential to the whole topic. It's just, 'Love your children over opinion.'"
Interestingly, as creative and thoughtful as she is, Ari Getty would not do a do-over of her life if given the chance.
"I'm in exactly the life that I want to be living in — all through the struggles and trauma and the joy and the happiness — I wouldn't change a thing because I wouldn't be at where I am right now," Getty says. "I'm in a really amazing place. I have a partner who I've been with for 12 years, and my children are living their truth, and I can look them in the eye and be really proud of them as human beings and the work that they do. They do philanthropic work, and I'm so proud of that…We've talked about when I'm too old to make decisions, we've talked about how the foundation is going to be run, and they'll take over. But they have their own foundations — and I have a life of purpose and a life filled with wonderful friends and wonderful people that I meet, and I couldn't be luckier."
Ari Getty is also grateful to be receiving the Hero Award from her friend Troy Masters.
"I love Troy. He's an angel," she says. "I actually don't really have words. I'm just sort of blown away. I don't think that I could imagine that I would get a Hero Award. But it's on my counter and it's not going anywhere. But obviously with the work that I do, it's not necessarily me that wants to get recognized — it's the work. And if I'm able to influence anybody else that has income, extra income, disposable income, if I can be an example to anybody, that's the bonus, and I'm incredibly honored to receive the award. It means the world."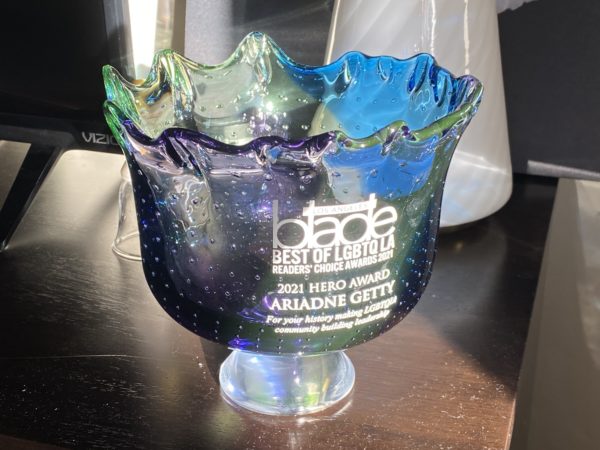 The Camelot legend refers to the myth about the idyllic world of King Arthur and the Knights of the Roundtable who pledged to do good work to benefit the people and their happiness. Jacqueline Kennedy revived the myth when talking about the legacy of her assassinated husband, John F. Kennedy, and the world he inspired during his too-short presidency. West Hollywood was joyfully dubbed the "gay Camelot" after its founding in 1984. Today, the roving band of philanthropists under the loving tutelage and gaze of Ari Getty brings that shiny spot of possibility, creativity, freedom of expression, and abundant love to whatever space they enter. They were brought up that way.