January 21, 2020 at 1:59 pm PST | by Karen Ocamb
Untapped Latino vote could be key to 2020 elections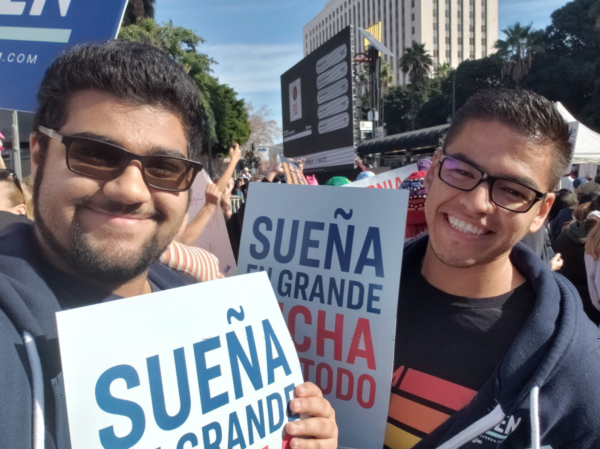 Univision anchor and longtime LGBTQ ally Jorge Ramos is still angry with former President Barack Obama for failing to keep his 2008 promise to pass an immigration reform bill when Democrats controlled Congress is 2009.
"The Latino people hold a grudge against Democrats in general — and former President Barack Obama in particular — for two reasons: More than three million undocumented immigrants were deported during the Obama administration, and Mr. Obama didn't get through Congress an immigration reform bill that would have allowed millions of undocumented immigrants to remain legally in the United States," Ramos wrote in a New York Times op-ed on Jan. 10 in which he argues that "Latino voters will decide the 2020 election. It's as simple as that."
Ramos notes that in 2016, over half of the 27 million eligible Hispanic voters stayed home. "As was the case in 2016, if Democrats want to have any chance of defeating Mr. Trump, they will need the strong support of Latino voters. This time, however, they will have to work extra hard to get it," Ramos wrote. "According to the Pew Research Center, 32 million Latinos will be eligible to vote in 2020, compared with 30 million African-Americans."
But, like other minorities, including LGBTQ voters, "the Latino community itself is very diverse," Ari Gutierrez Arámbula, co-founder of the LGBTQ Latino political groups Latino Equality Alliance and HONOR PAC, tells the Los Angeles Blade. "That is, we have recent immigrants, 2nd and 3rd generation Americans and families whose roots go back to before the current Southern border was established.  Each group may have varied and intersectional interests in presidential candidates."
However, she notes, "we are looking for acknowledgment, fairness and the opportunity to see our investment through education and work help us provide a better quality of life for our children and theirs. For us, that's the American Dream. Getting out the Latino vote requires trust that a candidate will stand up, speak up and work to make America a place that is welcoming, safe and fair."
Gutierrez Arámbula supported former candidate HUD Sec. Julian Castro.  Recently, she joined a list of more than 100 Latino/a and Latinx leaders in endorsing Massachusetts Sen. Elizabeth Warren, who Castro also endorsed after he dropped out of the race for the Democratic presidential nomination.
Warren "was always my 2nd choice behind Castro. It's a good match," Gutierrez Arámbula says. "Besides money and name recognition, the candidates need an effective grassroots network of campaigners. I don't think Mayor Pete [Buttigieg] has that and the [Sen. Bernie Sander's] Bernie Bro's have a track record of being too aggressive. I don't see excitement behind [former Vice President Joe] Biden. He's more of a safe bet but I think he's problematic on a number of fronts."
Gutierrez Arámbula is excited about the engagement of LGBTQ Latino youth, such as Diego Sepulveda, who serves as Deputy Organizing Director for the Warren for President campaign.
Born in Durango, Mexico, Sepulveda tells the Los Angeles Blade. "I came to the United States when I was four years old, on my birthday – August 12, 1991. I grew up in Huntington Park, southeast Los Angeles," raised by "fierce, powerful, immigrant women that have fought for opportunity and justice in this country and have provided me with that framework for my entire life."
In 10th grade, Sepulveda told his teacher he was undocumented. He kept the secret "not because I was ashamed of it, but because it was a sense that if I ever went back home, my mom or my parents might not be there." His teacher told him: "You are not your circumstances. Because you are undocumented, it doesn't mean that that's what you're going to be for the rest of your life."
That profoundly changed Sepulveda's life. He went to East Los Angeles college, transferred to UCLA and in 2012, was the first person in his family to graduate from college.  "And it was all because my parents supported me, my community was behind me."
Sepulveda, who came out as gay in 2007, made a vow: "I am the first, but I will not be the last." He saw "the opportunity to be a voice for other LGBT young people, to Latinos, to say that, 'No matter what your circumstance is — you deserve opportunity, justice and everything that this world has to offer you and you have an advocate in me."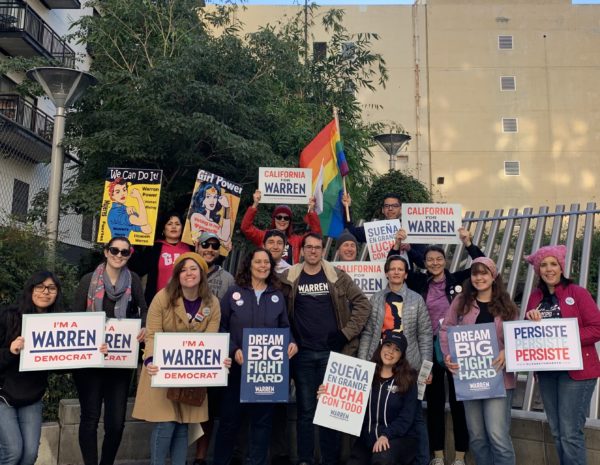 Diego Sepulveda holding the Rainbow Flag as part of the Warren contingent at the Women's March (Photo courtesy Sepulveda) 
Sepulveda supports Warren because she's running on a platform of big ideas. "To make real change, we need to dream big and fight hard," he says. "I really value her background. She grew up on the ragged edge of the middle class in Oklahoma, became a teacher, a law professor, and a U.S. Senator because America invested in kids like her." That resonated. "In my life, I have been dreaming big and I've been fighting hard. And for me, she is the candidate that can make that a reality."
Sepulveda says the Warren campaign "is about building people power and doing it through an intersection, multiracial and intergenerational lens and bringing people into our organizing. It's about engaging in meaningful conversations with our communities and really actively listening and saying that we are in this fight together for big structural change and making strides forward to ensure opportunity for everyone in this country."
That grassroots organizing is how Warren is going to win, he says, giving people the tools to be "part of this movement and to really fight for big structural change."
Sepulveda has organized a community forum tonight, Tuesday, Jan. 21st from 6:00 PM to 8:00 PM here at Warren's campaign office in Korea Town on how every issue is a Latino issue — from education to LGBTQ rights to environmental justice. See Warren's new plan: Restoring America's Promise to Latinos.
Photo: Warren campaign organizer Diego Sepulveda (right) with Krishan Patel at the Women's March in downtown Los Angeles Jan. 18 (Photo via Patel's Twitter)