Pardon Bayard Rustin, lawmakers ask Governor Newsom
Black civil rights leader, gay man and senior aide to Dr. Martin Luther King Jr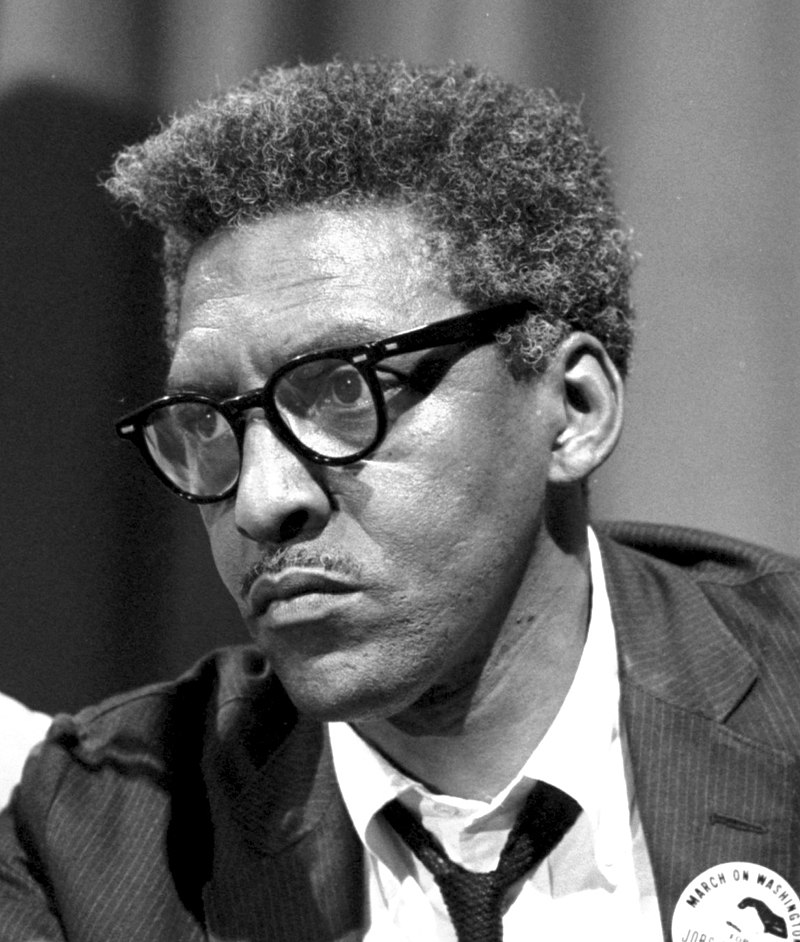 SACRAMENTO, Calif. – Two California lawmakers are petitioning Governor Gavin Newsom to pardon pioneering Black civil rights leader and senior aide to Dr. Martin Luther King Jr, Bayard Rustin, for a conviction of a sex crime committed in Pasadena, California sixty-seven years ago on Jan. 21, 1953.
Although Rustin had been jailed numerous times as a result of his proactive involvement in civil rights protests including refusing to appear before a Selective Service physical exam and later resisting the military draft in 1944 during the Second World War, the arrest in Pasadena was to have a long-lasting negative effect on his career.
Journalist Matt Hormann detailed in a 2011 article, "Rustin had recently returned from Africa and was visiting Pasadena on a lecture tour sponsored by a Quaker organization, the Friends Service Committee. As secretary for student and general affairs with the Fellowship of Reconciliation, an interfaith peace organization, Rustin was thought of by many as the "American Gandhi," for his philosophy of nonviolent resistance."
According to Hormann's piece in the online publication Hometown Pasadena dot com; "After completing a well-received lecture at the Pasadena Athletic Club, he was caught having sex with two men in a parked car at the corner of Raymond Avenue and Green Street.
The following day, he found himself before a Pasadena judge, who charged him with performing a "lewd and lascivious act." Rustin pleaded guilty to the misdemeanor charge and was sentenced to 60 days in the county jail.
Though many in the Fellowship of Reconciliation knew Rustin was gay, the embarrassing circumstances of arrest promptly led to his firing by the organization."
"The arrest record trailed Rustin for many years afterward" and "severely restricted the public roles he was allowed to assume." Historian John D'Emilio wrote in his 2003 biography Lost Prophet: The Life and Times of Bayard Rustin.
Rustin recognized the negative impact of that arrest, writing a friend not long after he was released from the Los Angeles County Jail after serving his sentence and registering as a sex offender; "I know now that for me, sex must be sublimated, if I am to live with myself and in this world longer."
In redemption of sorts, Rustin was to earn accolades for being the architect of Dr. Martin Luther King Jr.'s epic 1963 civil rights gathering, 'The March On Washington,' ten years after the arrest. In his book, D'Emilio writes how Rustin's sexuality was used against him again and again, including by people in the movement, but there was a moment of solidarity when noted white supremacist South Carolina Senator Strom Thurmond read an account of the Pasadena arrest into the Congressional Record and civil rights leaders responded by affirming their "great confidence in Bayard's moral integrity."
In January 2019, the LGBTQ podcast Making Gay History aired an extended interview with Rustin's life partner Walter Naegle and as well as unaired audio from an interview with the Washington Blade in the mid-1980s. "At a given point, there was so much pressure on Dr. King about my being gay and particularly because I would not deny it, that he set up a committee to explore whether it would be dangerous for me to continue working with him," Rustin told the Blade during that interview.
For Rustin, asserting his identity as an African-American went hand-in-hand with identifying as a gay man in terms of civil rights and equality. "It occurred to me shortly after that that it was an absolute necessity for me to declare homosexuality because if I didn't I was a part of the prejudice," he said. "I was aiding and abetting the prejudice that was a part of the effort to destroy me," he told the Blade as documented by Making Gay History.
Hormann reflected, "The 1963 March on Washington for Jobs and Freedom, which Rustin organized remains a landmark in civil rights history.
King's legacy, however, overshadows Rustin's. As a PBS biography of Rustin notes, "Because of the stigma attached to homosexuality, most Americans do not know who he was or what he accomplished."
Although he was in fact overshadowed almost completely due to his sexual orientation, California Senator Scott Wiener (D-San Francisco) and Assemblymember Shirley N. Weber (D-San Diego), on behalf of the legislative LGBTQ Caucus and the Legislative Black Caucus, sent a letter January 21, to asking Governor Gavin Newsom to issue a posthumous pardon to Rustin.
Wiener and Weber wrote to Newsom saying "Despite Mr. Rustin's heroic contributions to the civil rights movement, he fell victim to California's homophobic criminal justice system."
The Governor's office responded in a statement to San Francisco based LGBTQ publication, the Bay Area Reporter, "History is clear. In California and across the country, sodomy laws were used as legal tools of oppression," Newsom said in an emailed comment from his office. "They were used to stigmatize and punish LGBTQ individuals and communities and warn others what harm could await them for living authentically. I thank those who are advocating for Mr. Bayard Rustin's pardon. I will be closely considering their request and the corresponding case."
A spokesperson for Los Angeles County District Attorney Jackie Lacey confirmed Tuesday that Lacey had communicated her support of the request by Wiener and Weber.
"67 years ago today Bayard Rustin was arrested in large part because he was a black gay man," said Assemblymember Todd Gloria, vice-chair California Legislative LGBTQ Caucus told the Los Angeles Blade in an emailed statement. "Times have changed and today we urge Governor Newsom to pardon Mr. Rustin, clear his good name, and allow for him to be seen for who he really was: a trailblazing civil rights activist who dedicated his life to fighting for equal rights."
Rustin died on August 24, 1987, of a perforated appendix. In his obituary published by The New York Times; "Looking back at his career, Rustin wrote: 'The principal factors which influenced my life are 1) nonviolent tactics; 2) constitutional means; 3) democratic procedures; 4) respect for human personality; 5) a belief that all people are one.'"
Photo of Bayard Rustin, 1963 press conference for The March On Washington courtesy of The Library of Congress.
Right-wing media exploit monkeypox- retread anti-vax misinformation
These anti-vax talking points are intended to stigmatize LGBTQ people by framing promiscuity as the primary driver of the disease


By Mia Gingerich | WASHINGTON – As monkeypox presents an ever-increasing threat to Americans, predominantly gay and bisexual men, conservative media figures are exploiting the global health emergency to stoke fears of the COVID-19 vaccine and related health measures and to attack queer men.
These anti-vax talking points are often invoked alongside AIDS-era rhetoric intended to stigmatize LGBTQ people by framing promiscuity as the primary driver of the disease and gay and bisexual men as culprits in — rather than victims of — the growing outbreak. This stigmatization has already reportedly resulted in violence against gay men.
During the last week of July, the U.S. reported both the fastest rise in and highest number of monkeypox cases worldwide, leading the Biden administration to declare a public health emergency on August 4. The virus, which is endemic in certain African countries, is usually rare in Europe and the U.S. However, the virus recently found its way to men who have sex with men (MSM), where it has proliferated primarily through sexual contact. The gay community has emphasized the need to warn about the risk the virus poses to MSM while not feeding into anti-gay rhetoric that depicts gay sexuality as immoral.
Despite this plea from those most affected by the ongoing health crisis, right-wing media quickly responded to the spread of monkeypox with homophobia – recalling the vilification that gay men experienced during the AIDS epidemic. In addition to being impacted by the latest right-wing media smear campaign risking targeted violence against LGBTQ people, queer men are also less likely to seek medical care for monkeypox in countries where their sexuality is stigmatized.
Conservative media figures invoke COVID-19 conspiracy theories and criticism of health measures in coverage of monkeypox
From early on in their coverage of the monkeypox outbreak, right-wing media figures used the story to renew efforts to sow vaccine hesitancy and undermine COVID-19 health measures. Some far-right figures have even spread conspiracy theories that falsely assert the COVID-19 vaccine is directly responsible for the monkeypox outbreak.
On May 24, The Daily Wire's Candace Owens said on her show that "the first person who lines up to get a monkeypox vaccine, I'm going to laugh in your face." Owens then suggested the World Health Organization, Bill Gates, and Dr. Anthony Fauci were involved in the spread of both diseases as part of "attempts at authoritarianism" and "globalism." This claim coincides with the recent conservative conspiracy theory claiming the U.S. was ceding power to the WHO.
From the May 24, 2022, edition of Daily Wire's Candace
Fox News' Sean Hannity brought anti-vax conspiracy theorist Dr. George Fareed onto the August 8 edition of his radio show, where Fareed falsely claimed "the mass vaccination with these gene therapies, COVID vaccines, have the ability to weaken the immune system and make people more vulnerable to viral infection," suggesting the vaccine could precipitate the spread of monkeypox.
Far-right blog American Greatness posted an article on August 3 promoting the work of Shmuel Shapira, an Israeli scientist pushing similar claims as Fareed. The article claimed "Twitter censored Shapira" after the platform flagged a tweet of his as misinformation. Shapira's tweet read, "It is well established the mRNA vaccines affect the natural immune system. A monkey pox outbreak following massive covid vaccination: Is not a coincidence."
Right-wing media figures have also taken advantage of the recent health crisis to reignite their crusade against public health measures implemented during the COVID-19 pandemic. Conservative commentators claim that a double standard exists between government reactions to monkeypox and COVID-19, ignoring differences in how the two diseases spread.
Podcaster Steven Crowder, amid a longer homophobic rant suggesting gay men were engaging in bestiality, claimed on August 2 that COVID-19 health measures were "politically motivated" and that masking and social distancing "didn't make any difference whatsoever." Crowder then contrasted those measures with the fact that Pride events still took place this year despite the spread of monkeypox, saying, "They won't even cancel their gay San Francisco fuckfest."
From the August 2, 2022, edition of Louder with Crowder, streamed on YouTube
An article for The Federalist titled "Americans Lost Fundamental Freedoms During Covid — But Halting Gay Orgies To Stop Monkeypox Is Too Far?" bemoaned COVID lockdowns and claimed, "We shut down the world for a virus that had no traceable transmission, it was entirely random. It really isn't too much to ask for gay men to stop engaging in orgies and public sex events for their 'mental health,' their 'self-esteem,' and to continue 'having fun.'"
On Twitter, right-wing personalities expressed a similar sentiment.
Alt-right troll Mike Cernovich tweeted his criticism of public health advocate Dr. Gregg Gonsalves: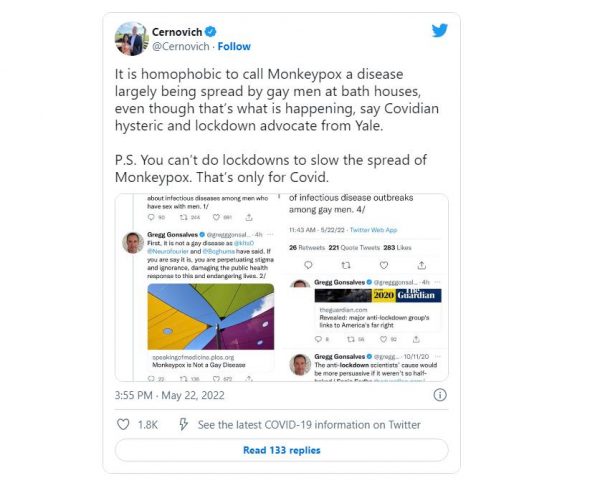 Far-right YouTuber Ian Miles Cheong continued his online anti-gay tirade on monkeypox:
They forced everyone to be apart from their dying parents and grandparents in hospitals, banned travel, and forced kids out of school and into Zoom calls, but "men who have sex with men" can't cool it for two weeks?

— Ian Miles Cheong (@stillgray) August 4, 2022
Right-wing radio host Dan O'Donnell similarly tweeted:
They shut down the entire country for COVID-19 but won't shut down the gay orgies for Monkeypox because science. https://t.co/4E2cO7chok

— Dan O'Donnell (@DanODonnellShow) August 5, 2022
Gay men are targeted with violence while right-wing media continues to depict them as threats
After the first cases of monkeypox were found among children in the U.S., LGBTQ advocates reported right-wing figures were using the news to falsely claim that gay men were guilty of abuse. This was a part of a larger attempt by right-wing media to use the monkeypox outbreak to depict LGBTQ people as a threat to society. By attempting to evoke the sort of stigmatizing rhetoric pushed during the AIDS epidemic that frames the MSM community as vectors of disease, right-wing media is feeding a culture of prejudice that has already resulted in violence against gay men.
The above-mentioned article from The Federalist fearmongered that "as gay men spread the virus within their population at startling rates, the chances of it escaping into the mundane world through close contact in stores, crowded streets, or buses increases," claiming that gay and bisexual men were spreading the disease through "truly selfish behavior [that] is endangering the rest of us."
Right-wing talk show host Erick Erickson tweeted, "'My orgy doesn't affect you,' said the man who spread monkeypox to the lady who worked at the gas station. Two weeks of no orgies to stop the spread is just too much to ask."
"My orgy doesn't affect you," said the man who spread monkeypox to the lady who worked at the gas station. Two weeks of no orgies to stop the spread is just too much to ask. But don't y'all go to church or see your grandparents. COVID is on the rise again.

— Erick Erickson (@EWErickson) August 4, 2022
On Hannity's August 8 radio show, guest Dr. Brian Tyson said the virus would "spread to the heterosexual community if we don't get a handle on the gay community to stop the transmission," and claimed "the CDC and the NIH, they're afraid to come out and tell the gay community to stop having intercourse until this pandemic goes away."
On the August 5 edition of his show, Turning Point USA's Charlie Kirk characterized the government response to monkeypox as an attempt to avoid offending "the alphabet mafia" of the LGBTQ community, saying, "You can't go after the gay community for maybe doing something they shouldn't be doing," before declaring he would "not live through another lockdown or an erosion of our civil liberties by a corrupt or usurpatious government because we're afraid to offend people. Don't care, and you shouldn't either."
From the August 5, 2022, edition of The Charlie Kirk Show, streamed on YouTube
The effects of right-wing media's misinformation about the COVID-19 vaccine put their audience at serious risk. However, these conservative figures are now jeopardizing the health of millions of LGBTQ Americans as well by seeking to stigmatize their sexuality during a public health crisis.
**********************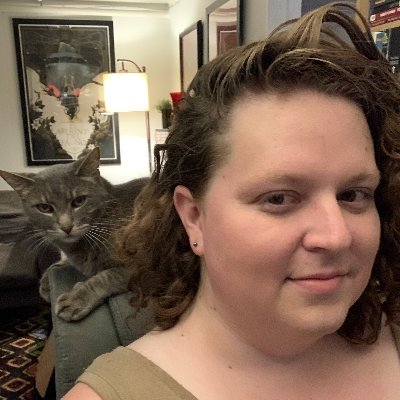 Mia Gingerich is a researcher at Media Matters. She has a bachelor's degree in politics and government from Northern Arizona University and has previously worked in rural organizing and local media.
********************
The preceding article was previously published by Media Matters for America and is republished by permission.
Florida school removes posters of Black heroes, teacher resigns in protest
"DeSantis's culture wars are infiltrating every corner of our state, and it's Florida's students who are paying the price"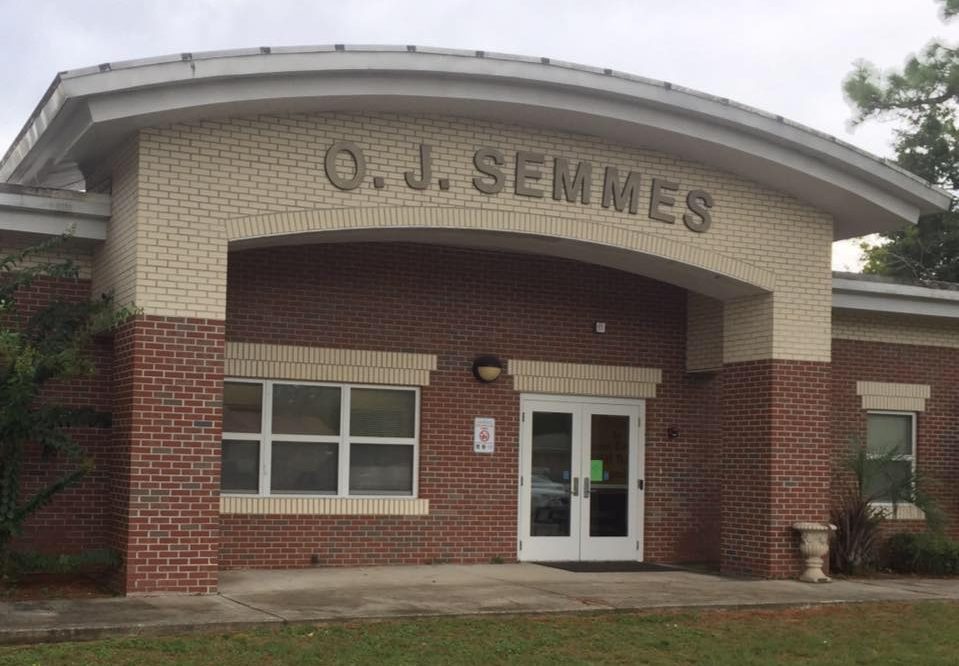 PENSACOLA – A career special education teacher in Escambia County, Florida resigned this past week just as classes were scheduled to start after a Escambia County Public School District staffer removed posters and pictures of historically significant Black Americans from his classroom.
Michael James, 61, who has taught special ed classes for the past fifteen years told Pensacola News Journal reporter Colin Warren-Hicks in an interview this week that he had emailed a letter to Florida Republican Gov. Ron DeSantis and Escambia County Superintendent Tim Smith in which he wrote that a district employee removed the pictures citing the images as being "age inappropriate."
Images that were removed from the bulletin board at O.J. Semmes Elementary School included depictions of Martin Luther King Jr., Harriett Tubman, Colin Powell and George Washington Carver, James said.
"It really floored me," James told the News Journal. "I've been teaching special education for 15 years, and it just really floored me when she did that."
James chose the board's theme because the majority of the students and the residents in the neighborhoods that surround O.J. Semmes are Black, and he wanted to motivate his students with inspirational leaders they could easily look up to and see themselves.
The Pensacola News Journal reported that Escambia County Public Schools Superintendent Tim Smith  said that "teachers are permitted to decorate their classrooms with educational materials and he was unaware of any policies that would prohibit a teacher from displaying pictures of inspirational American heroes on their walls."
Smith said a full investigation of the incident, which he called an "anomaly," has been launched.
U.S. Rep. Charlie Crist, (D-FL 13th District) who is running to secure the Democratic Party nomination to oust DeSantis in the November elections took aim at the sitting governor in a Facebook post:
On Wednesday afternoon the Congressman expanded his remarks saying:
"This is the sad reality of Ron DeSantis' Florida — a teacher, in a predominantly Black community, comes into their classroom to see posters of historically Black American heroes, including President (Barack) Obama, taken down for being 'inappropriate,' Crist said in a statement. "DeSantis' culture wars are infiltrating every corner of our state, and it's Florida's students who are paying the price."
Florida Politics reported that the controversy comes as the first Florida schools, including Escambia County schools, begin their first academic year under legislation signed by DeSantis that targets "critical race theory."
Among other rules, the law prohibit lessons teaching students that they are inherently racist, sexist or oppressive because of their race, color, sex or national origin. It would also ban instruction that they are personally responsible and should feel guilty for the past actions of members of their race, color, sex or national origin.
Log Cabin GOP compares FBI raid on Trump's Mar-A-Lago to Stonewall
In February, the National Archives asked the Justice Department to investigate Trump's handling of White House records
WASHINGTON – As the outraged fallout continued in Republican Party circles Tuesday, after special agents of the Federal Bureau of Investigation executed a search warrant Monday at the South Florida estate of former President Donald Trump, the LGBTQ political group Log Cabin Republicans, (LCR) joined the growing chorus on the right angered by the search.
"Just as the patrons of Stonewall were not intimidated by police, we will not be intimidated by the weaponization of the FBI and DoJ against President Trump or his home, Mar-A-Lago… …where (as we announced hours ago) we will be holding our annual gala later this year!" the group tweeted Monday after news of the search broke.
Reaction to the LCR tweet was swift ranging to from disgust as expressed by LGBTQ writer and radio host Rob Watson to outright anger as noted by former Advocate editor and LGBTQ journalist Matthew Breen.
Good God. You could not be less relevant if you tried. If we were back at #Stonewall , you wouldn't be with the patrons, you'd be buying the cops coffee.

— Rob Watson (@JandJDad) August 9, 2022
Quislings.

— Matthew Breen (@matbreen) August 10, 2022
The FBI's action was described as unprecedented by legal experts and analysts, however the execution of the search warrant underscores the fact that U.S. Attorney General Merrick Garland will order investigations into criminal wrong doing to include the former president.
Trump and his Republican allies in Congress have dismissed the FBI search as politically motivated.
While a copy of the search warrant was delivered to Trump's attorneys, little is known about the predicate probable cause found significant enough that a federal judge authorised the search. The affidavit which is the foundational document showing that a crime had been committed and that evidence would likely be found during the search provided to the judge to make that determination has not been made public.
A Justice Department source told the Blade that last January Trump had been found in possession of 15 boxes of materials at his Florida home, which he relinquished to staff from the National Archives amid concerns he may have violated the Presidential Records Act, (44 U.S.C. Chapter 22).
A certain portion of the paperwork that Trump had in his possession was classified which the Justice Department official noted is by itself criminal in nature.
In February, the National Archives asked the Justice Department to investigate Trump's handling of White House records. The National Archives said some of the documents Trump turned over to them had been ripped up and taped back together CBS News noted.
It remains to be seen whether the search will lead to criminal charges against the former president or anyone in his immediate orbit, but former prosecutors noted there are serious penalties for violating public records laws the Hill reported Tuesday.
"Highly classified information is treated that way because of its extreme sensitivity. There is a whole range of material that is really a crown jewel, national security, high-consequence sequence. And if that's what a person carried away rather than leaving it in the hands of the government and complying with the Presidential Records Act, that's a gravely serious matter," said John Barrett, a former federal prosecutor who worked for the independent counsel investigating the Iran-contra scandal and served in the DOJ inspector general's office.
The former president had issued a lengthy statement Monday evening in which he called the raid an "attack by Radical Left Democrats who desperately don't want me to run for President in 2024."
The House GOP minority leader Kevin McCarthy promised retribution in a tweet should his party retake control of Congress in the Fall midterm elections:
Attorney General Garland: preserve your documents and clear your calendar. pic.twitter.com/dStAjnwbAT

— Kevin McCarthy (@GOPLeader) August 9, 2022
The Justice Department and the FBI both declined to comment.
Former President Trump's Mar-a-Lago Home Being Searched Causes Immediate Political Fallout: