January 20, 2020 at 10:13 pm PST | by Karen Ocamb
Nunes predicted to win re-election, despite Ukraine-Trump impeachment link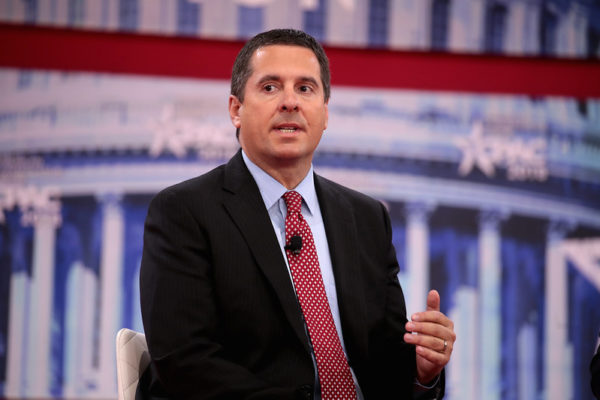 Kellyanne Conway explained the rules of engagement two days after Donald Trump's inauguration. Defending White House Press Sec. Sean's Spicer's absurd, emphatic insistence that Trump's presidential inauguration crowd "was the largest audience ever to witness an inauguration, period, both in person and around the globe," despite photographic evidence to the contrary, Conway told Chuck Todd on Meet the Press Jan. 22, 2017 that Spicer was stating "alternative facts." Todd quipped: "Look, alternative facts are not facts. They're falsehoods."
But "alternative facts" seem to have become acceptable. As of Jan. 19, 2020, Trump "has made 16,241 false or misleading claims" over 1,095 days in office, according to the Washington Post Fact Checker.
Trump's Orwellian doublethink, "alternative facts" and conspiracy theories are embraced as truth by his cult followers, many of whom – like California Republican Rep. Devin Nunes – actually seem to buy into their own made up machinations.
When Nunes chaired the House Intelligence Committee, he apparently coordinated with the White House on matters pertaining to Russian interference in the 2016 election that favored Trump. He came to national attention after a bizarre news conference in March 2017 declaring that Trump had been essentially spied upon by US intelligence agencies.
As reporters probed Nunes' surveillance claims, it turned out that he took an unscheduled "midnight run" to the White House, later confirmed in a CNN report, where an elaborate ruse was concocted that Nunes perpetrated in two news conferences, making claims about which he never informed his committee and that Ranking member Rep. Adam Schiff later disputed.
Out Democratic Rep. Mark Takano was among those who called for Nunes to recuse himself as committee chair because, he told the Los Angeles Blade, "I don't think he can be a fair and independent oversight leader."
Nunes was exposed again when he hyped and released an alternative fact filled classified memo on Feb. 2, 2018 that was supposed to "derail the entire Russia investigation," as MSNBC anchor Rachel Maddow reported. "This was a put up or shut up moment when putting up was not the better of the two options."
Though Republicans lost the House in the Nov. 2018 elections, Nunes was nonetheless reelected.
As Ranking member, Nunes blasted Democrats for fabricating the Trump-Ukraine bribery scandal that led to Trump's impeachment. Only recently has it been revealed that Nunes is still an alternative fact-finding midnight-runner for Trump. Lev Parnas, a henchman for Trump's personal lawyer Rudy Giuliani, told House investigators and the media that Nunes knew of Trump's desire to shakedown the new Ukrainian president to get dirt on Trump's presumed 2020 reelection rival, former Vice President Joe Biden and his son Hunter Biden.
Nunes called Parnas "a fraudster and a hustler." But the House released a document showing phone calls between Nunes and Parnas. On Dec. 3, Nunes told Fox's Sean Hannity that it was "possible" that he spoken to Parnas but he didn't recall the name. He went back on Fox on Jan. 15 and acknowledged having a "random" conversation with Parnas after reviewing his records.
But that same night, Parnas told MSNBC's Rachel Maddow that he met Nunes "several times" and was stunned to see Nunes and Nunes aide Derek Harvey, with whom Parnas had worked on the secret Ukraine bribery campaign, at the  impeachment hearings.
"I texted my attorney. I said, 'I can't believe this is happening,'" Parnas said. "Because they were involved in getting all this stuff on Biden."
"It's hard to see them lie like that when you know it's, like, that scary because you know, he was sitting there and making all statements and all that when he knew very well that he knew what was going on," Parnas said. "He knew what's happening. He knows who I am."
Nunes' office did not return an email from the Los Angeles Times seeking comment on their text message-impeachment link story.
After Nunes admitted to Fox his "very odd, random" call with Parnas, Rep. Ted Lieu (D-Torrance) posted on Twitter that Nunes threatened to sue him last December unless Lieu apologized for saying Nunes and Parnas conspired in the Ukraine shakedown. "I welcome any lawsuit from your client and look forward to taking discovery of Congressman Nunes," Lieu tweeted to Nunes' lawyer. "Or, you can take your letter and shove it."
As the Senate takes up the impeachment of President Donald John Trump, there has been much criticism of Senate Majority Leader Mitch McConnell's timetable and trial rules, whether the facts of the impeachment case presented by the House will be accepted, whether witnesses such as Parnas and former Sec. of State John Bolton will be allowed and whether new evidence will be permitted.
The White House is seeking a swift trial and acquittal. "Mr. Trump's lawyers dismissed the validity of both articles of impeachment lodged against him — abuse of power and obstruction of Congress — because they do not state any specific violation of the law, advancing a constrained and widely rejected interpretation of the power to impeach a president. While the lawyers did not contest the basic facts of the case, they maintained that Democrats' accusations in effect seek to punish Mr. Trump for foreign policy decisions and efforts to preserve executive prerogatives," the New York Times reported on Jan. 20, the eve of the impeachment trial.
Seeking help from a foreign government for personal political domestic purposes is not US foreign policy; a recent GAO report concluded the Trump administration broke the law by withholding congressionally mandated aid from Ukraine; and Trump has been trying to unilaterally scrap the Foreign Corrupt Practices Act to enable bribery, which he says is "good for business."
Meanwhile, despite all his links to Trump's impeachment scandal, Nunes is expected to win re-election in 2020 in his red 22nd Congressional District, according to the Cook Political Report and Larry Sabato's Crystal Ball, which both rate the race "Likely Republican." Nunes' re-election would be an absurd, scary victory for "alternative facts," no matter the outcome of Trump's impeachment trial.
Photo of Devin Nunes courtesy Gage Skidmore via Flickr