Wiener's Intersex human rights bill killed in 1st Senate committee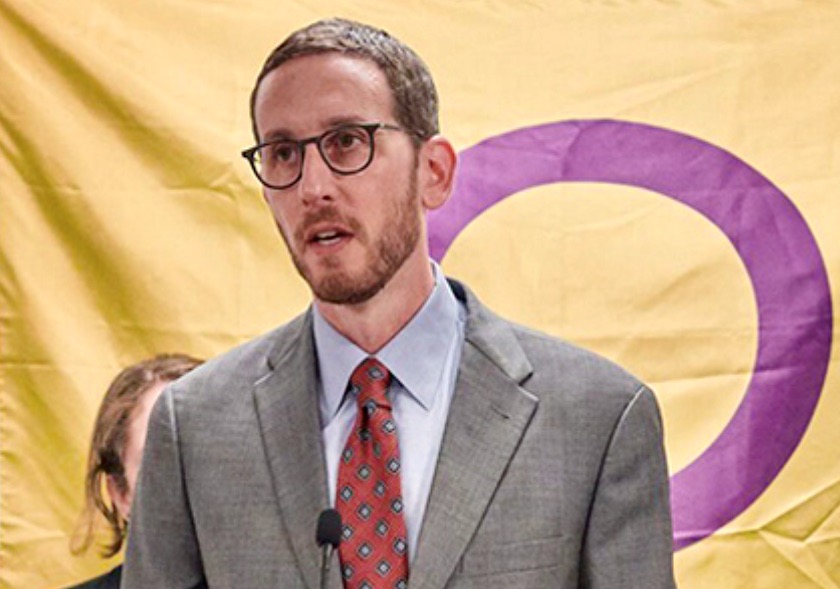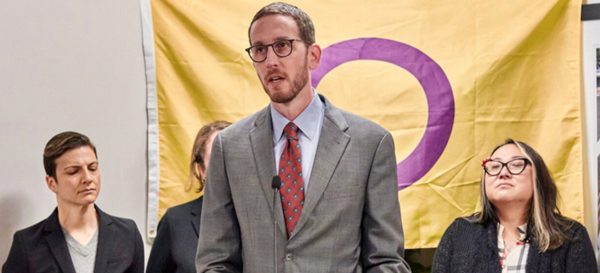 Having a Democratically controlled California state legislature does not guarantee passage of progressive legislation. But the shoulder-shrugging killing of a human rights bill that LGBTQ lobbying group Equality California marked as a top priority should jolt LGBTQ and allied voters into an awareness that even endorsed Democrats require ongoing scrutiny.
When out State Sen. Scott Wiener introduced his Intersex Autonomy bill, SB 201, last year, cosponsored by Equality California, interACT: Advocates for Intersex Youth and the ACLU of California, it seemed like the logical extension of Wiener's SCR 110, passed in Aug. 2018. The resolution denounced medically unnecessary surgeries for intersex children that Human Rights Watch recognized as a human rights issue. The international human-rights organization applauded passage of Wiener's resolution, saying it "signals the state's respect for people born with variations in their sex characteristics.
"California's leadership on the protection of intersex children's rights is not only an expression of solidarity and dignity, but a reminder that doctors take an oath do no harm," Kyle Knight, a Human Rights Watch researcher and author of two reports on intersex issues, said in a statement to NBC News. "Medical professional associations should draw a hard line saying that unless surgery is medically necessary, intersex children have the right to grow up and participate in the decision to undergo surgical procedures."
The United Nations agrees. "Intersex people are born with sex characteristics that don't fit typical definitions of male and female. In many countries, intersex children are subjected to repeated surgery and treatment to try to change their sex characteristics and appearance, causing terrible physical, psychological and emotional pain – and violating their rights," says the UN's Free & Equal campaign, which recognizes Oct. 24 as Intersex Awareness Day.
"Intersex children don't need to be 'fixed;' they are perfect just as they are! The United Nations is calling on governments and parents to protect intersex children from harm."
In fact, the UN convened its first meeting in Sept. 2015 to discuss medical intervention on the genitalia of intersex babies as a human rights violations similar to the outrage of female genital mutilation.
Buzzfeed News reported on Sept 19, 2015:
"The U.N. Office of the High Commissioner for Human Rights meeting, held in Geneva, builds off a 2013 report by the U.N.'s Special Rapporteur on Torture calling on the world's nations to outlaw 'genital normalizing' surgeries on intersex individuals.

This week's meeting also discussed human rights violations such as infanticide and widespread discrimination that occurs against intersex people around the world. But the issue of how to end the practice of intersex surgeries was front and center.

"Too many people assume, without really thinking about it, that everyone can be fitted into two distinct and mutually exclusive categories: male or female," said Zeid Ra'ad Al Hussein, the U.N.'s high commissioner for human rights, in his opening remarks.

"Such violations are rarely discussed and even more rarely investigated or prosecuted," Hussein said. "The result is impunity for the perpetrators, lack of remedy for victims, and a perpetuating cycle of ignorance and abuse."

…..

An estimated 1 in every 2,000 babies are born with traits that doctors would classify as intersex, though some experts say the real number is even higher.

When these babies are born, in the U.S. and elsewhere, it's common medical practice to operate on them to make their genitalia appear more typically male or female.

The surgeries have been the subject of fierce debate for several decades. Many activists argue that they are medically unnecessary, based on social fears about ambiguous genitalia, and can cause physical or psychological harm — all without the patient's consent. For this reason, many activists refer to the surgeries as "intersex genital mutilation," drawing a comparison to the cultural practice of female genital mutilation that has been outlawed in many countries."
Not everyone agreed. "These are social interventions on your genitals — if we're going to use that language about Africa, we're going to have to use it here," Alice Dreger, a historian of medicine and intersex patient advocate, told BuzzFeed News. "The parallel that they're done for social reasons is very clear. But it's going to be very difficult to convince most doctors that the surgeries constitute a human rights violation."
Wiener, Equality California and the ACLU of California side with interACT: Advocates for Intersex Youth. "The bill does not prohibit treatment or surgery when it is medically necessary; it will simply delay elective surgeries often performed on babies in an attempt to 'normalize' their bodies until they have the ability to make their own informed decision," at least until age six when children start more intense self-awareness, Equality California said in a press release.
Advocates also drew the distinction between the needs of the transgender and intersex communities.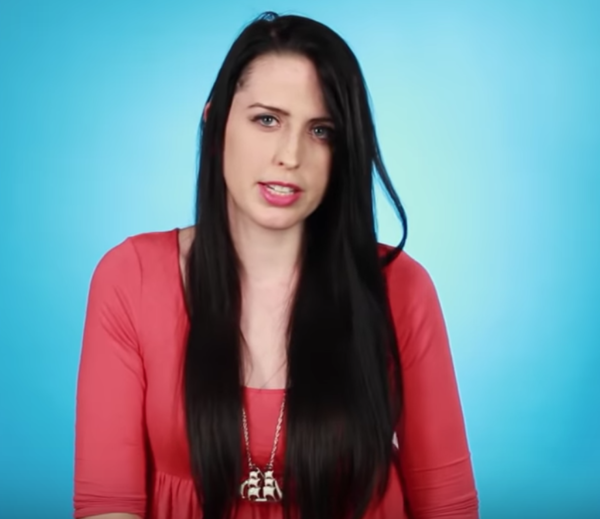 "Transgender has to do with your gender identity. Whereas intersex has to do with your biological characteristics," says Emily in a Buzzfeed-produced video.
"Often intersex people get surgeries that they don't want and transgender people have to fight for surgeries they do want," Cypher says in the video.

"These surgeries should be performed only with informed consent by the person whose life will be permanently impacted," Wiener told NBC News in a statement. "A baby cannot provide that consent."
He added: "These surgeries can have significant negative impacts on people's lives, particularly if the gender chosen by the physician and parents is different from the child's ultimate gender identity."
Wiener turned SB 201 into two-year bill last year in response to concerns expressed by the Senate Business, Professions and Economic Development Committee, where it was first heard as part of oversight and regulation of the medical profession. He also modified the bill   this month but the amendments failed to appease the California Medical Association and other doctors' groups "that vehemently opposed the legislation as a threat to their expertise and the safety of some of the patients they serve," the Sacramento Bee reported.
"SB 201 treats every child the same, ignoring the potential impact of treatment," Hillary Copp, a pediatric urologist at UCSF, told the Bee. "We're not for or against surgery and we're not performing the surgeries that are being insinuated. We're offering all medical treatment options and when we're unsure of diagnoses, the majority of times, we are not offering surgery.'
Committee chair Sen. Steve Glazer –backed by Sens. Richard Pan, Jerry Hill and Bill Dodd — said that while the issue of sex-assignment surgery must be addressed, "SB 201 would have consequences that…could violate the medical community's pledge to 'first, do no harm,'" the Bee reported.
On Jan. 13, without negotiation or compromise on further amendments, the committee killed the human rights bill by a vote of 4 to 2.  Democratic Sens. Cathleen Galgiani of Stockton, a member of the LGBT Legislative Caucus, and Connie Leyva of Chino voted in favor of SB 201 while Sens. Glazer, Ling Ling Chang (Republican Vice Chair) and Bob Archuleta abstained, presumably to avoid having an anti-LGBTQ/ anti-human rights vote on their records. Sens. Dodd, Hill, Pan and Republican Scott Wilk had no such qualms and voted NO.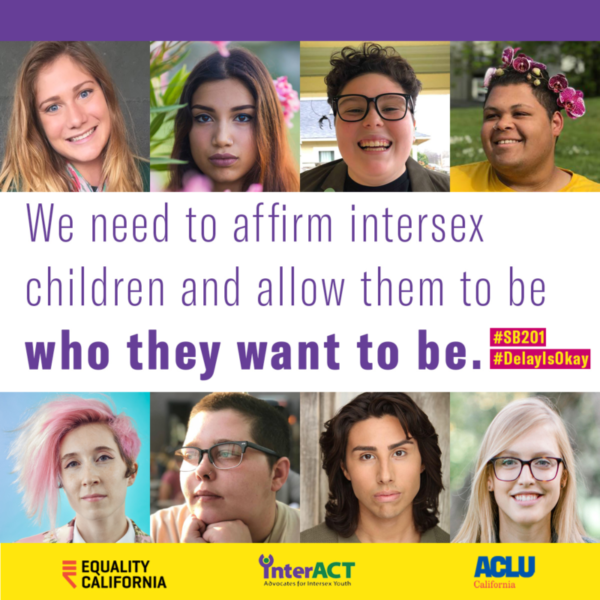 "I'm very disappointed that the Committee voted down this civil rights bill," Wiener said. "Intersex people deserve legal protection, and we are committed to ensuring that protection under California law. Today's vote was a setback, but this is only the beginning. We aren't giving up on protecting intersex people from non-consensual, invasive, dangerous surgery. As with many civil rights struggles, it sometimes takes multiple tries to prevail. We will be back."
"Four members of the California Senate Business and Professions Committee voted today to continue allowing pediatric surgeons to cause documented, irreversible harms against children born with diverse sex traits," said Kimberly Zieselman, Executive Director of interACT: Advocates for Intersex Youth, after the Jan. 13 vote. "Our fight for bodily autonomy is far from over. I'm heartened by the conversations SB 201 started, and by the increased awareness and concern for harmful medical interventions on intersex children."
"We are deeply disappointed in the committee's decision not to affirm the legislature's respect for the bodily autonomy and human rights of this marginalized population of children," said Elizabeth Gill, Senior Staff Attorney for the ACLU of California. "California already prohibits certain other practices with high risks of irreversible harm from taking place during childhood. SB 201 would have been in line with this approach and helped center care on the needs of patients themselves, not the 'normalization' of their bodies."
But Equality California Executive Director Rick Zbur nailed what really happened.  "Today, California stumbled as a leader on human rights and LGBTQ equality," he said. "Today's vote by the California Senate Business, Professions and Economic Development Committee means that the Golden State will continue to subject infants every year to medically unnecessary, harmful and often irreversible procedures aimed at 'normalizing' their bodies. We're grateful to Senator Wiener for leading California — and the country — on this important issue, and we urge senators who voted against protecting human rights today to learn from his example. This fight is not over, and we remain committed to this legislation and ensuring that California affirms and respects the bodily autonomy of all people."
Will there be any consequences? Equality California has already endorsed incumbent Glazer in his reelection bid for Senate District 7.
But might Equality California's PAC revisit that endorsement after Glazer's abstention – which is tantamount to a NO vote? The organization has withdrawn endorsements in the past over a key vote.
Also to consider is the interesting note that three days before the committee killed the intersex human rights bill, the California Medical Association contributed $50,000 to an independent expenditure supporting Committee Chair Glazer's reelection?

And Glazer has a progressive challenger in Marisol Rubio,  is a scientific researcher, health care provider and disability advocate who is worth a serious look.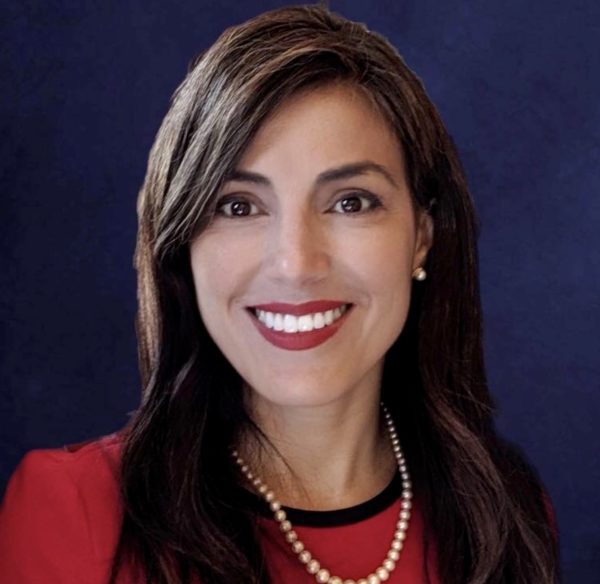 After all, though the California Democratic Party could achieve no consensus on a candidate for Senate District 7 at their Nov. convention, she beat Glazer handily at a pre-convention conference a month earlier.

"Glazer finished second in his district in Saturday's endorsement voting, well behind Marisol Rubio, founder of San Ramon Progressives and a disabled rights activist. The vote was 52% to 34%, with the rest voting for no endorsement," the San Francisco Chronicle reported.
On Jan. 16, Rubio received the endorsement of the East Bay Stonewall Democrats.
The fact that – without allowing for the opportunity to negotiate amendments – a Democratically-controlled committee in the California Legislature killed a human rights bill protecting intersex children in 2020 should be a wake up call to all equality-minded voters.
This article has been corrected to indicate that Ling Ling Chang and Scott Wilk are Republicans. 
LGBTQ+ ally City Councilman Kevin de León announces run for mayor
De León currently represents Council District 14 that takes in the predominantly Latino neighborhoods of Boyle Heights and El Sereno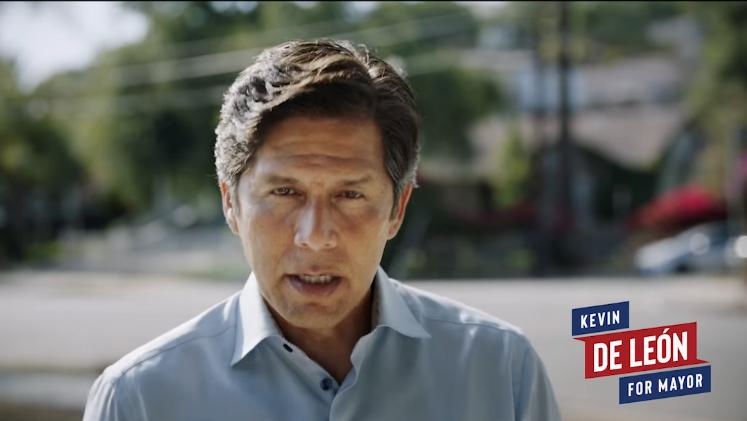 LOS ANGELES – Standing in front of a group of enthusiastic supporters Tuesday at the El Pueblo de Los Angeles Historical Monument, Los Angeles City Councilman Kevin de León announced that he was joining the mayor's race for next year's city elections.
Councilman de León, a Democrat, is the third city elected official to announce his intention to seek the mayor's chair after current Mayor Eric Garcetti, who was elected for a four-year term in 2013 and again in 2017- who's limited to serving no more than two terms, was picked by President Joe Biden to serve as the U.S. ambassador to India on July 9, 2021.
Born in Los Angeles of Guatemalan and Mexican descent, raised by a loving, hard-working single mother, de León, 51, got an education and spent 12 years in Sacramento, rising to become the President Pro Tem of the California Senate, authoring and passing legislation and making history. It was his bill that then Governor jerry Brown signed into law making California a "sanctuary state"—a law that was upheld by a federal appeals court.
In an August 2018 interview with former Los Angeles Blade Editor Karen Ocamb, he reflected on his relationship with the LGBTQ+ community.
"I've always been very close to the LGBTQIA (lesbian, gay, bisexual, transgender, queer, intersex, asexual) community even before I even knew all the initials that keep growing," de León says with a laugh during an extensive phone interview with the Los Angeles Blade. "It's always been my core set of values that every human being deserves a real opportunity to succeed, regardless of who they love and regardless of the hue of their skin and regardless of their legal status. That is embedded in my DNA."
De León learned to care about LGBT people as a child from his mother and aunt around the kitchen table.
"My mother got a third grade education and my aunt even less," he says. "I was very young and they were talking about a gay friend, a colleague of theirs. I didn't understand. Obviously, they didn't understand themselves. But they spoke with such affection, such tenderness. And here were two immigrant women with limited formal education and the way they spoke so lovingly, tenderly, beautifully about their gay friend. I could deduce the person they were talking about was gay—they kind of spoke in code around me when I was just sitting there listening to them at the kitchen table. And it transcended ethnicity and legal status and poverty—that we're all human beings and we deserve dignity and respect. That had an 'Ah Ha' impact."
De León's LGBT education continued as he picked his mother up from her work as a housekeeper at convalescent homes. "She had quite a few gay colleagues with her and I just remember they were just so beautifully nice with my mother and my mother with them and that had a huge impression on me of the universal values of treating everybody with dignity and with respect. So when there is a discriminatory blow against anyone in the LGBTQIA community, I feel that blow equally."
De León, 54, is by far the most prominent Latino running. Fluent in Spanish, he represents a district that takes in the predominantly Latino neighborhoods of Boyle Heights and El Sereno, as well as much of downtown, where a development boom has fueled huge growth over the past decade, KTLA reported.
Two other candidates — Councilman Joe Buscaino and City Atty. Mike Feuer — have been campaigning for several months. The race also features two business leaders: Jessica Lall, who heads the downtown-based Central City Assn., and real estate broker Mel Wilson, who has been involved with several San Fernando Valley business groups.
Hermosa Beach Pride Lifeguard Tower is here to stay
"The rainbow tower is beautiful and has become a symbol of this community's love and support for LGBTQ rights," said Supervisor Hahn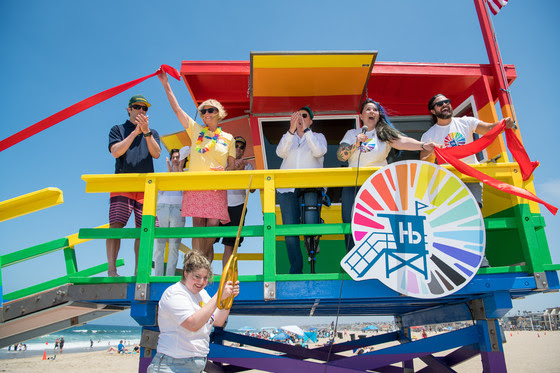 Hermosa Beach — Los Angeles County Supervisor Janice Hahn is announcing that the Pride Tower in Hermosa Beach is here to stay.  The 13th street Los Angeles County Lifeguard Tower, which was painted rainbow in June, was originally meant to be repainted its original blue color at the end of summer.  The rainbow paintjob will now be permanent. 
"The rainbow tower is beautiful and has become a symbol of this community's love and support for LGBTQ rights," said Supervisor Hahn, whose support paved the way for the project. "None of us wanted to see it painted over and I am proud to announce that the Pride Tower is here to stay."
The idea to paint the tower originally came from lzzy Bacallao, a local non-binary teen. Izzy, who uses the pronouns they and them, was responding to the burning of rainbow-painted Pride lifeguard tower in Long Beach in March. The rainbow-painted tower was unveiled at the Hermosa Beach Pride event June 26, 2021.
The new Pride Tower's rainbow paintjob will be maintained by the Los Angeles County Department of Beaches and Harbors which maintains all LA County Lifeguard Towers.   The Department of Beaches and Harbors also maintains another permanent Pride tower in Venice.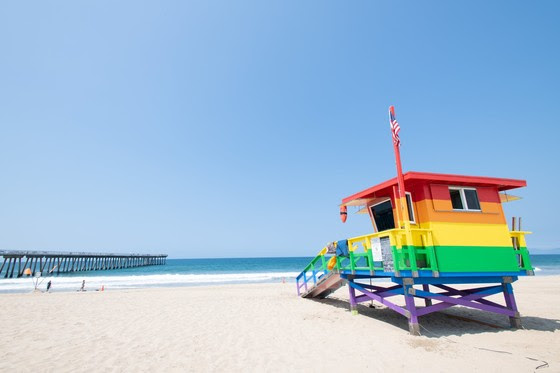 The Giant Sleeps- Iconic Black pastor & HIV/AIDS activist Carl Bean dies
Rev. Bean was a guiding light in the fight to end the AIDS pandemic, the effort to provide support to those with HIV.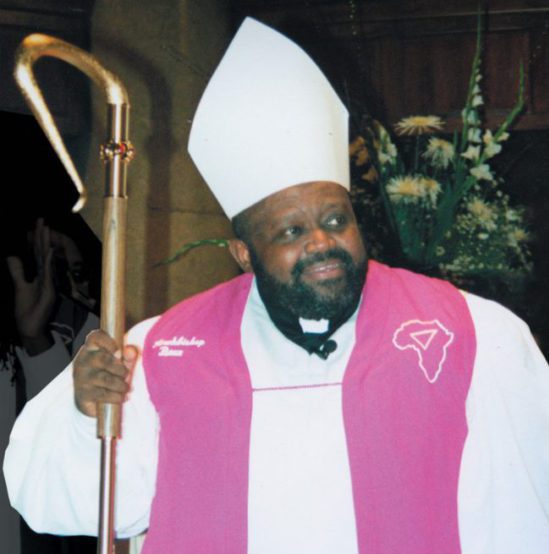 LOS ANGELES – In announcement tinged with sadness, the leadership of Unity Fellowship Church Movement broke the news Tuesday of the death of its founder, Archbishop Carl Bean.
Since its founding in South Los Angeles in 1982, the denomination has had open arms and embraced Black LGBTQ Angelenos and many in the LGBTQ movement and beyond consider it the first Christian church in the United States to welcome Black LGBTQ people.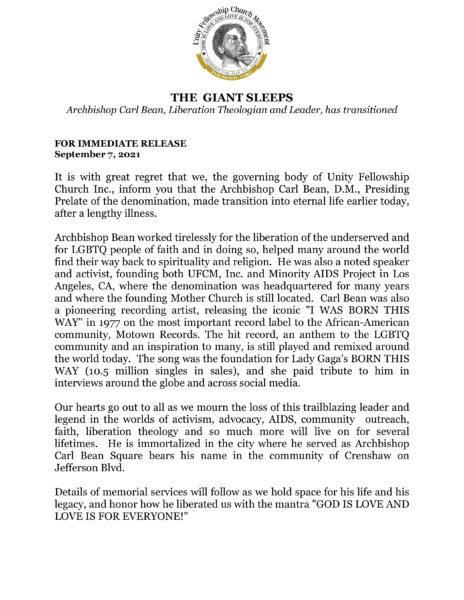 Tributes to Bishop Bean have begun to pour in from around the country as people remembered the dynamic and engaging man of faith.

"Archbishop Carl Bean was an inspiration. Bean cared about LGBTQ+ / same gender loving people when few others did – and consistently dedicated his life to improving the lives of people in our community. From reminding us all that we were 'born this way' in his music and Unity Fellowship Church movement and ministry to creating the first organization in Los Angeles focused on helping Black and Latino HIV/AIDS patients when no one else would – Bean's legacy will live on forever," said  David J. Johns, executive director of the National Black Justice Coalition 
We are deeply saddened by the loss of Archbishop #CarlBean.

Barbara Satin, Faith Work Director at @TheTaskForce says, "We honor and are grateful for his historic work as an openly gay Black pastor, who for decades lived a life of faith and service."

Read on. [1/4] #LGBTQFaith pic.twitter.com/7GOKrioGp8

— TheTaskForce (@TheTaskForce) September 8, 2021
Bean's work in the areas addressing the AIDS/HIV pandemic was noteworthy on its own. According to the Los Angeles Sentinel, "Archbishop Carl Bean started the Minority AIDS Project (MAP) in Los Angeles. MAP was the first community HIV/AIDS organization that focused on the prevalence of HIV/AIDS transmission in the black community during a time when the disease was considered to be relatively new."
In an emailed statement to the Blade, the AIDS Healthcare Foundation(AHF), the largest global AIDS organization today and which began its journey providing care and services to HIV/AIDS patients 35 years ago in Los Angeles providing hospice care to people dying of AIDS, mourned the passing of Bishop Bean.
"Archbishop Carl Bean was my brother in the struggle for the last 35 years. We marched through the fire together during the height of the pain and the dying. Regardless of the pressures that could have divided us, we were always there for each other," said Michael Weinstein, president of AHF. "An irreplaceable part of our history is retired with his death. However, a small piece of his legacy of service lives on at the Carl Bean House, which started as a hospice and still serves today as sacred ground and a place of healing. Rest in the peace you richly earned dear friend and comrade."
"I am deeply saddened by the passing of Archbishop Carl Bean and thank him for his profound and visionary compassion and dedication to marginalized populations be they people with AIDS, people of color, LGBTQ people of color and more," said Cynthia Davis, MPH, an AHF Board Member.
The Los Angeles LGBT Center CEO, Lorri L. Jean wrote;
"Today, the Center joins people throughout Los Angeles mourning the loss of Archbishop Carl Bean. Through the Unity Fellowship and the Minority AIDS Project, Rev. Bean was a guiding light in the fight to end the AIDS pandemic, the effort to provide support to those with HIV, and his lifelong advocacy on behalf of LGBTQ people.
His mission was driven by a sense of justice and deep faith. His work—especially on behalf of Black people with HIV—was inspirational not only to those who provide services to people with HIV/AIDS but to all of us in the LGBTQ movement for equality.
We have lost a leader, but his presence will live on and serve as a beacon for all who believe we can make the world a better place through love and a shared commitment to social justice."
Robert Boller the Los Angeles based Project Angel Food's Director of Programs sent a tribute in memory of the late prelate;
Archbishop Carl Bean passed away in Los Angeles on Tuesday, September 7, 2021. This was the passing of a legendary LGBTQ+ AIDS activist, founder of the Unity Fellowship Church in South Los Angeles, and visionary pioneer behind the Minority AIDS Project. His 1977 Motown hit "I Was Born This Way" became an anthem of LGBTQ+ empowerment in the late seventies and inspired Lady Gaga's "Born This Way."
That's how the world remembers Carl Bean. 
Project Angel Food has a more personal connection. We remember him as a friend, and as a partner in bringing life-saving meals to those with HIV/AIDS― no matter where they lived, and no matter the color of their skin. His fierce commitment to the ideal that love is for everyone, and caring for people with AIDS aligned with OUR vision, our values, and our call.
So much of our history is oral history; hearing how our relationship with Archbishop Bean and Minority AIDS Project came about. Today, 76% of our clients are people of color, but that wasn't always the case. It's my understanding that when we were founded in 1989, many of our first clients were gay white males in Hollywood and West Hollywood. In 1994, with the Ryan White CARE Act, we had to take a hard look at who we were serving, and recognized a need to reach out to other communities, especially communities of color.
This is when Project Angel Food first partnered with Archbishop Carl Bean and Minority AIDS Project. The Minority AIDS Project was led by Carl and operated out of his Unity Fellowship Church on Jefferson Boulevard between La Brea and Hauser. They helped us expand throughout South Los Angeles and all the way to Long Beach.
When I joined Project Angel Food in 1997, another church was acting as our distribution point for South Los Angeles, but with the death of that congregation's AIDS minister in the early 2000's, we needed to find a new home. That's when we reunited with Archbishop Bean, who was happy to take us in at Minority AIDS Project. Their community center became our South Los Angeles distribution center.
Here's how it worked: our Project Angel Food staff driver would drop off meals at Minority AIDS Project, then a volunteer from that area, who we called "Mr. Chris," would make deliveries to our clients from there. He rarely ever missed a delivery day for nearly 15 years; he said it was his personal mission. 
One day the regular driver was out, so as the Dispatch Manager I jumped into the field and took the meals to Unity Hall to meet Mr.Chris. As I entered the hall a big handsome charismatic gentlemen greeted me with a smile and a deep, "Hello and Welcome." I still hear that booming voice in my head that resonated with the power of love.
I returned his greeting and went about my business. When I saw Mr. Chris, he laughed and said, "I see you met the big boss." That was how I came to meet Archbishop Carl Bean.
Project Angel Food, Los Angeles and the world lost an icon of the AIDS movement. Archbishop Dean was instrumental in our growth and into the inclusive agency we are today. His legacy reminds us that we are all worthy of love and hope "Love IS for Everyone."