January 7, 2021 at 1:06 am PST | by Brody Levesque
Electoral College Vote is certified by Congress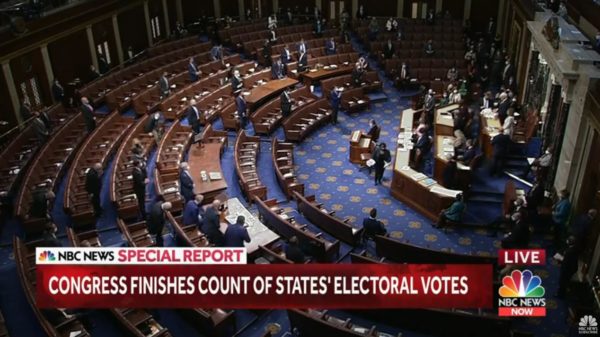 WASHINGTON – Congress certified the Electoral College Vote at 3:41 AM Eastern Time, January 7, 2021. Joe Biden was officially named as the 46th duly-elected President of the United States and Kamala D. Harris has been named as the 49th Vice-President of the United States.
It was a day of extreme drama that resulted in rioters temporarily taking over the United States Capitol building after being incited by a speech given by President Donald Trump earlier on Wednesday in which he falsely claimed that there was massive election fraud.
During the Capitol siege four civilians died including a 35 year-old female military veteran, Ashli Babbitt. She had served 14 years in the Air Force, her husband told KUSI-TV in San Diego. The couple had resided in Ocean Beach, California.
Babbitt was shot by Capitol Police officers in a hallway just off the House Chambers at the entrance to the Speaker's Lobby and died after being transported to a Washington hospital.
According to Stars & Stripes Babbitt was apparently a staunch Trump supporter, and her social media accounts were filled with posts supporting the president. She tweeted on Tuesday, "Nothing will stop us…. they can try and try and try but the storm is here and it is descending upon DC in less than 24 hours….dark to light."
Washington's Metropolitan Police Chief Robert Contee had told reporters in a press briefing Wednesday evening that three other persons had died during the rioting in the Capitol building but offered no further details citing ongoing investigations.
Objections by Republicans to accepting the results from Arizona, Pennsylvania, Wisconsin and Georgia were defeated after debate at times that was contentious and in the case of the House debate over the objection to accepting the Pennsylvania results resulted in a fist fight between a couple of House members which was rapidly broken up by other representatives.
At the end of the process, outgoing Vice President Mike Pence announced that Joe Biden defeated President Trump, officially ending the 2020 presidential race that Trump has refused to concede and after the violent day at the Capitol.