Gay Trump supporters late night one block WeHo march
"We're here to support Trump and mostly the LGBTQ community to let them know they have more options than just voting."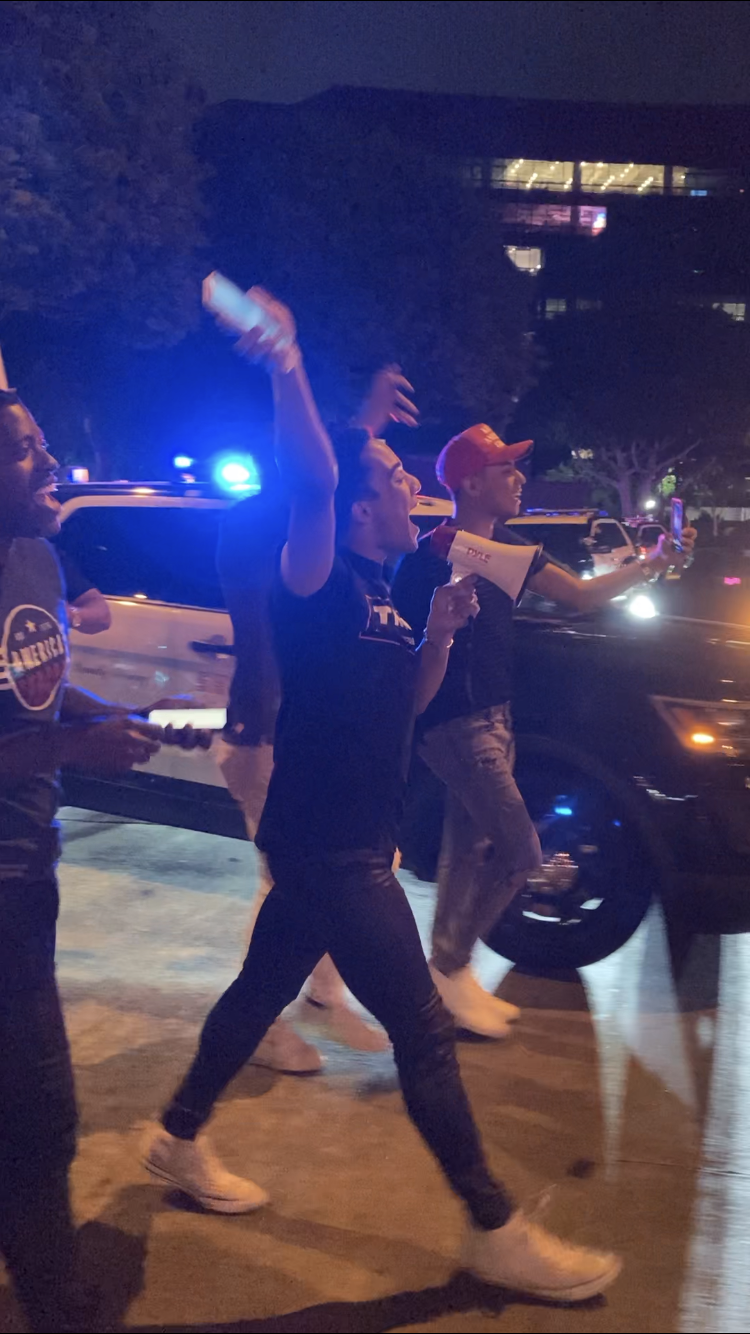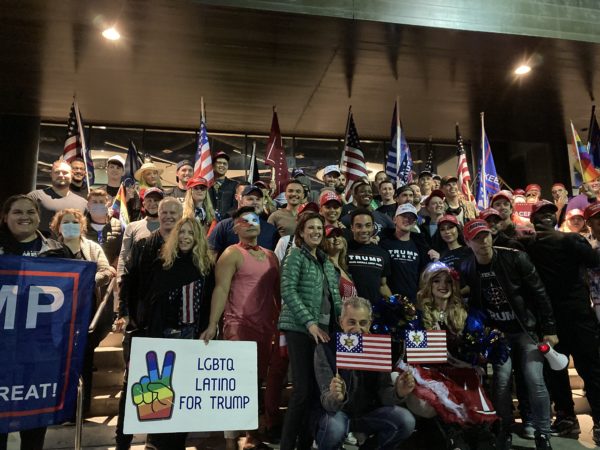 WEST HOLLYWOOD – West Hollywood has earned a reputation as one of the most prominent progressive LGBTQ friendly cities in America. Because of this, it was quite surprising to some passerby's that a Trump march was being held in WeHo, as it is affectionately referred to, on a Friday late night and a gays for Trump march at that.
The event was spearheaded by the Log Cabin Republicans who had asked people to show up in support for the "Gays and Housewives Take Over WeHo March," in Facebook and Instagram posts. It took place as millions of Californians have already submitted their mail-in ballots with only 11 more days before the election on November 3.
The march was fairly short, only spanning about one block. It started at the Pacific Design Center at around 10 PM, went up to Rocco's (a gay bar and restaurant), and then turned around and headed back to the Pacific Design Center.
People first started arriving at about 9:15 PM. in their matching Trump gear. (hats, T-shirts, etc.) Some brought Trump flags, LGBTQ Pride Flags, and a variety of patriotic gear to signify that they supported the president and that they were endorsing the idea that LGBTQ+ people also have the ability to support the president.
Max Edwards, a supporter of the president and advocate for the march, told the Blade, "We're here to support Trump and mostly the LGBTQ community to let them know they have more options than just voting." When asked about his opinion about people who claim that Trump is anti-LGBTQ+, Edwards said, "I think they've got to do their homework. There's a lot of proof, a lot of stuff out there, that proves that's not correct."
Before the march commenced there were approximately fifteen minutes worth of short speeches the event started by internet personalities signifying their support for Trump and to say that the president is the best candidate for the LGBTQ+ community.
Those included remarks from Instagram influencers David Leatherwood (@realbrokebackpatriot) and Christian Walker (@christianwalk1r), and Lady MAGA, a drag queen personality who told the Blade that "she personifies what it truly means to be 'MAGA'." Shouts of "USA…USA…" to "Four more years" from the assembled crowd of approximately seventy marchers were heard during the speeches.
In her remarks, Lady MAGA compared the marcher's patriotism to that of the soldiers who fought in wars such as D-Day. She went on to say, "Joe Biden and Kamala Harris and Ilhan Omar and these radical socialist communists are a drag…Represent the optimism and joy that president Donald Trump has given us. This movement is bigger than Donald Trump."
Christian Walker, the openly gay son of former Dallas Cowboys NFL running back Herschel Walker, was asked by the LA Blade about Trump's track record regarding LGBTQ+ rights and what he has to say to those who call Trump anti-LGBTQ+.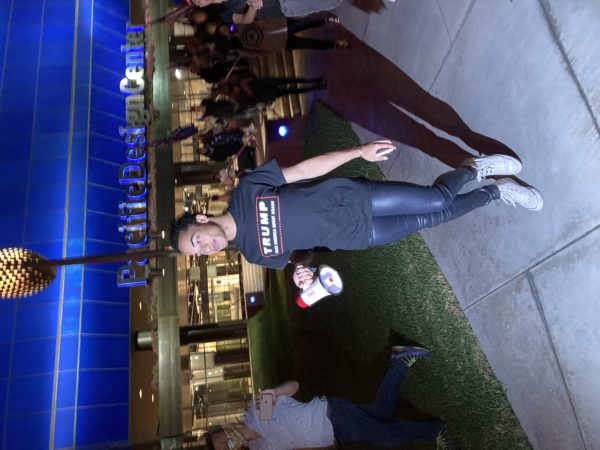 "Trump's the only president that went into office as pro-gay. He's the only president who supported gay marriage from the beginning of his presidency. He even supported it in the 80's, so anybody who's says that is clearly uneducated and needs to do a little more research," Walker said.
Walker led the march with a bullhorn and started a litany of chants as well as executing multiple backflips/somersaults to energize the crowd.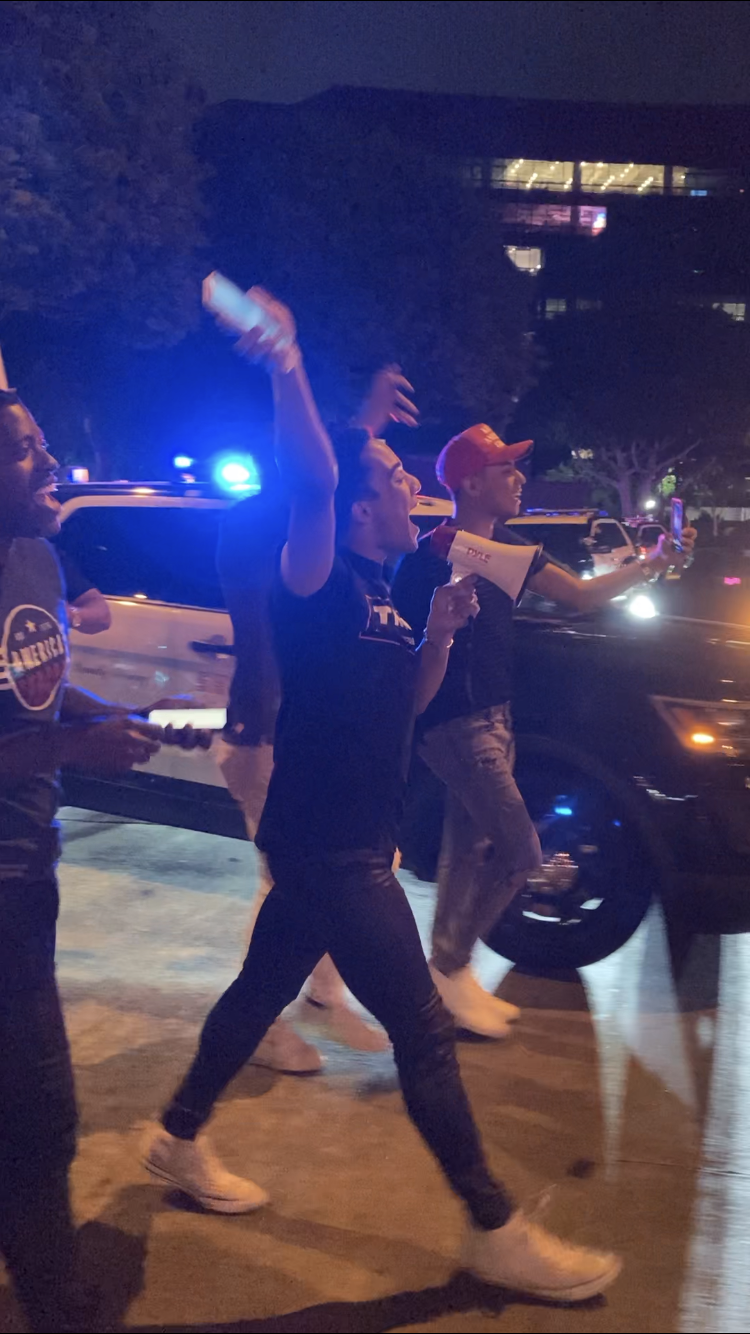 Yet, despite the energy and enthusiasm from the gathered Trump supporters, the event was met with considerable disdain from onlookers. Some shouting the word "shame" and epithets directed at the participants while others appeared to be in shock for what they were witnessing.
The Blade asked Leatherwood what his thoughts were on the number of Trump supporters who had gathered. "Oh this is beyond expectations. Two years ago, I did a meetup here and there was five people that showed up, and this crowd is 100 times that. It's amazing," Leatherwood said.
Once the march commenced, there several LA County Sheriff Department cruisers following the marchers who looped back after reaching Roccos's returning to the Pacific Design Center where it ended with marchers dispersing or breaking off into small clusters of people who continued to interact with each other.
On social media posts late Friday night after the march into Saturday, after a photo of Los Angeles County Sheriff's deputies surfaced standing with a group of the marchers holding a Trump campaign sign, many commented that they were disconcerted to see LASD personnel in uniform supporting the president. This in light of what had been a contentious summer between law enforcement agencies in the LA area and the Black Lives Matter movement's protests.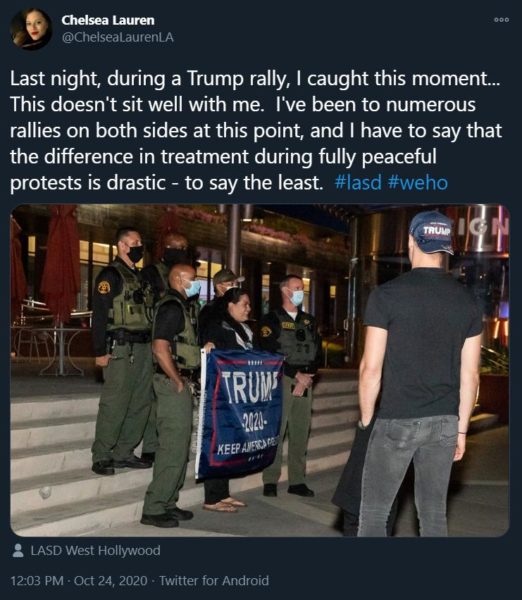 Newsom gets second booster dose, urges eligible Californians to get theirs
California's vaccination strategy has saved tens of thousands of lives and prevented even more cases and hospitalizations
BAKERSFIELD – Amid rising COVID-19 cases across the country, and following the U.S. Food and Drug Administration's emergency authorization of a booster dose for healthy 5- to 11-year-olds, Governor Gavin Newsom today received his second Moderna booster at a clinic in Bakersfield, and encouraged all eligible Californians to get boosted to keep their immunity strong against COVID-19.
The second booster dose of the Pfizer-BioNTech or the Moderna vaccine is available to all Californians 50 and older, as well as those who are immunocompromised or received the Johnson & Johnson vaccine.
"Vaccines have saved tens of thousands of lives in California, and with COVID-19 still prevalent, we can't afford to let our guard down," said Newsom. "The best protection against serious illness and hospitalization is getting vaccinated and boosted. I encourage all eligible Californians to get your second booster – for you, for your family, for your friends, for your community."
Under the Newsom Administration's SMARTER Plan, the state maintains operational readiness to continue the fight against COVID-19 and respond quickly, including the ability to administer 200,000 vaccinations and 500,000 tests per day. The California Blueprint includes another $2.4 billion for COVID response, which ensures California will be on the best possible footing against future waves.
According to a study analyzing California's pandemic response, COVID-19 vaccines prevented an estimated 1.5 million coronavirus infections, nearly 73,000 hospitalizations, and almost 20,000 deaths in California.
The Governor received his booster shot at Clinica Sierra Vista, one of hundreds of health clinic locations around the state where people can receive their free vaccine and booster. The Governor was joined today by California Health and Human Services Secretary Dr. Mark Ghaly and community and local leaders who have supported vaccine equity efforts in the region. To date, Clinica Sierra Vista has administered nearly 100,000 COVID-19 vaccination doses.
"Vaccines remain the best protection against hospitalization and death from COVID-19. Our state, like much of the nation, is beginning to see an increase in COVID-19 transmission. Fortunately, thanks to California's robust vaccination efforts, we are seeing relatively low hospitalization rates," said Dr. Mark Ghaly, California Health and Human Services Secretary. "This underscores the efficacy and importance of staying up to date on your COVID-19 vaccines. Californians age 50 and over are encouraged to get their additional booster dose to keep their immunity strong and strengthen their protection against COVID-19."
According to the California Department of Public Health, the statewide test positivity rate is 5 percent as of Tuesday, about double the positivity rate a month prior, with some regions seeing positivity rates as high as 9 percent. Unvaccinated people are 4.8 times more likely to get COVID-19 than fully vaccinated individuals who are boosted. Unvaccinated people are also 6.5 times more likely to be hospitalized than boosted individuals, and 7.8 times more likely to die than boosted individuals.
California's response to COVID-19 has led the nation with the lowest COVID death rate among the country's most populous states. More than 8 in 10 Californians have received at least one dose of the vaccine and more than 15.5 million Californians have received their first booster dose, representing 59.1 percent of those eligible for a booster. Additionally, 22 percent of eligible Californians have received their second booster dose.
The state's Vaccinate ALL 58 campaign continues to focus on driving vaccine efforts in lower-income and non-English speaking communities with cultural competency and in-language outreach and education. Its community-based organization network, in partnership with philanthropy, is now standing at over 700 organizations and supports outreach and appointment assistance efforts.
Clinica Sierra Vista is a comprehensive health care organization serving the primary medical, dental, and behavioral health needs of about 200,000 people in Kern and Fresno counties. With the continued support of federal, state, and local governments, they have been able to reach out to thousands of new patients, offering comprehensive programs tailored to the needs of those they serve over a vast geographical region in the heartland of California.
City of West Hollywood's LGBTQ+ Arts Festival 2022 kicks-off
Festival Kicks Off on Sunday, May 22 with a Harvey Milk Day Virtual Staged Reading of 'Dear Harvey' Featuring an All Trans & Non-Binary Cast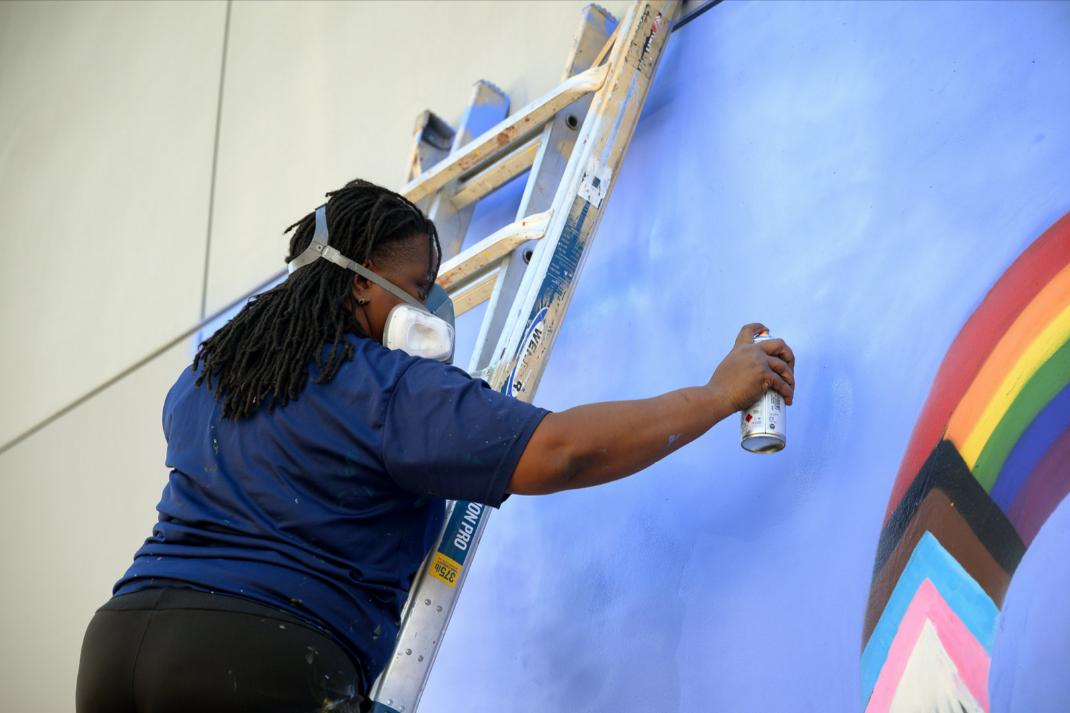 WEST HOLLYWOOD, – Each year, the City of West Hollywood celebrates the artistic contributions of the LGBTQ community with its WeHo Pride LGBTQ Arts Festival (formerly known as the One City One Pride LGBTQ Arts Festival).
The festival runs for 40 days, from Harvey Milk Day on Sunday, May 22, 2022 through Thursday, June 30, 2022, which marks the end of Pride month. This year, some events will be presented in-person and others will be available online.
Note that for all all programming details please visit this link: pride.weho.org
The LGBTQ Arts Festival is presented in addition to WeHo Pride Weekend from Friday, June 3, 2022 through Sunday, June 5, 2022 and will include a Street Fair, the Dyke March, the Women's Freedom Festival, the ticketed OUTLOUD Raising Voices Music Festival, and the WeHo Pride Parade.
For decades, the City of West Hollywood has been home to the largest Pride celebration in Southern California. Hundreds of thousands of LGBTQ people and allies from around the world make West Hollywood their destination for the Pride season. Home to the "Rainbow District" along Santa Monica Boulevard, which features a concentration of historic LGBTQ clubs, restaurants, and retail shops, the City consistently tops lists of "most LGBTQ friendly cities" in the nation. All #WeHoPride weekend programming details: www.weho.org/pride.
"The City of West Hollywood is thrilled to be producing the LGBTQ Arts Festival and #WeHoPride for our community again this year," said City of West Hollywood Mayor Lauren Meister.
"The City has a long-standing and proud commitment to both the arts and the LGBTQ community, and what better way to meld those commitments than with the #WeHoPride LGBTQ Arts Festival? Join the City online and in-person for art exhibits, thought-provoking panel discussions, entertaining performances, invigorating creative writing, educational self-guided walking tours, and even our very own queer ComicCon, where cosplay is encouraged and celebrated. Pride starts right here in West Hollywood and I'm looking forward to seeing you all in-person and virtually!"
The WeHo Pride LGBTQ Arts Festival theme for 2022 is "With Liberty, Diversity, Inclusion and Progress for All" and this year's festival poster was designed by Kaija Sydlowski through an open call poster competition which received submissions from around the world.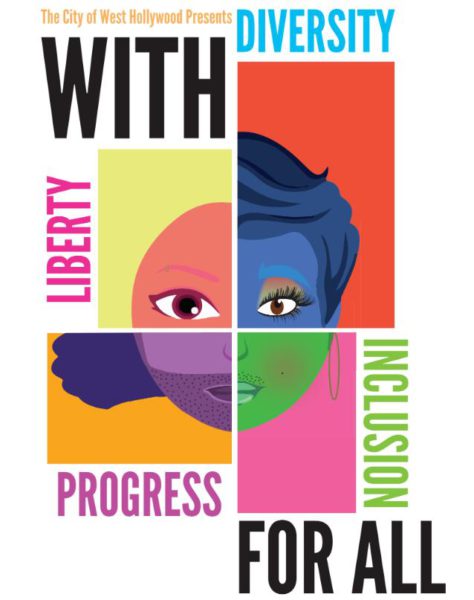 The City of West Hollywood will celebrate Harvey Milk Day, kick-off #WeHoPride, and commence the LGBTQ Arts Festival with a virtual staged reading of the play Dear Harvey: Stories of Harvey Milk, by Patricia Loughrey.
Extensively researched and beautifully constructed, this documentary-style ensemble play recounts the life and lasting impact of groundbreaking LGBTQ activist and politician Harvey Milk, as told by the people who knew him best … the real-world figures whose lives were forever altered by Milk's too-short career. This spirited play reaffirms his impact and the continued relevance of his campaign towards equality, three decades after his assassination. 
This year's production features an entirely transgender and non-binary cast including: Luckie Alexander, Blossom C. Brown, Abdullah "Abby" Rahsheen Hall, Marval A. Rex, Mallery Jenna Robinson, Sydney Rogers aka Miss Barbie-Q, and Emily Westheimer. This performance is directed by Brittney S. Wheeler and produced by Parnell Damone Marcano and Celebration Theatre, LA's oldest theatre dedicated to producing LGBTQIA+ work.
The reading will be available for the public to view for free on the City's WeHo Arts YouTube page (www.youtube.com/wehoarts) for one week, from May 22 through May 29, 2022.
The City has also installed Our Pride, a mural by artist LaToya D. Peoples on the N. Sweetzer Avenue east-facing wall of West Hollywood City Hall, located at 8300 Santa Monica Boulevard. The mural features four hands, symbolic of LGBTQ equality, activism, and pride: the first is a fist, symbolizing the LGBTQ and BIPOC community's fight against oppression throughout history; the next is a painter's hand symbolizing the community's creativity and openness; the next hand holds a sunflower, a symbol for self-love and the seeking of light; and finally, a hand in a classic peace sign.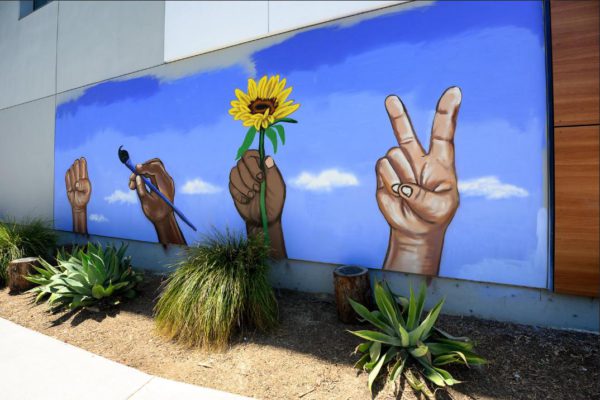 The background is a gradient bright sky, symbolic of the progress the community has made and has yet to make. Each hand is painted realistically, in color, representing diverse people. Installation is complete and the mural will remain on City Hall through May 2023.
The Meringue public art exhibition by LGBTQ artist Kim Kiduck will be lit up in pink, light blue, and rainbow colors for the duration of Pride Month. The translucency of Meringue lets sunlight in to glow naturally during the daytime, and at night transforms Meringue into a mixing chamber of various light combinations. Meringue is located in the median on Santa Monica Boulevard near N. Doheny Drive.
Some highlights of the 40-day festival include:
QUEER DIASPORAS: Lavender City of Dreams presented by Rubén Esparza and Queer Biennial – May 27, 2022 through August 19, 2022. Free. Online exhibition with some in-person events at ONE Gallery. Touching on issues of identity, activism, futurity, and beauty where queerness is the thread that weaves through all these personal – yet universal -perspectives. Realized in imagined (no limits) digital galleries, spaces, and textures as the backdrop, along with up-to-the-minute live performances on May 28, June 3, and June 4, 2022. View the exhibition beginning May 27, 2022 and find in-person event info at www.lavendercity.art
Queer Crossroads – June 1, 2022, 10 a.m. Free. Online at https://www.youtube.com/channel/UCcTAimXuIpWYkLkUeRZdxiw – An exploration of queer intersectionality through video performance and conversation! What else do we bring to our beautiful queer spaces? Are you queer and Black, differently-abled, neurodivergent, HIV positive, Trans, Muslim, etc.? Let's meet and share our stories in this workshop where intersectionality is explored and championed.
Write Out Proud LGBTQ writing workshops – Wednesdays and Saturdays in June. Free. When we Write Out Proud, we share the love of who we are for the world to see, so the world can become better at loving us back. We write fun and flirty stories of our magical LGBTQ selves influenced by our personal ideas of gender, sexuality, and sexual orientation. All are welcome, both new and seasoned writers. This no-cost four session writing workshop will take place virtually on Zoom. There are two workshop groups, each with the same writing prompts and plans. One group meets on Wednesday evenings in June from 6 p.m. to 9 p.m., the other group meets on Saturday afternoons from 1 p.m. to 4 p.m. culminating on Wednesday evening June 29, 2022 with an online reading of writings for those who care to participate. For more info go to writeoutproud.com. To sign up for this free workshop email

[email protected]

.
Sisters of Perpetual Indulgence Pledge Allegiance to Your Flag: A Festival of LGBTQ Flags – June 4, 2022 from 2 p.m. to 4 p.m. at various locations. Free. The Sisters will delight you as they work their butts off to erase shame and stigma and lovingly help you to claim your LGBTQ identity by choosing from a myriad of their spectacular LGBTQ color guard flags (or bring your own!) and create your personalized made-up mad cap mad lib Pledge of Allegiance. The Sisters will record content for you for your Pride media posts with Sisters, your flags, and your pledge. For details: http://www.writeoutproud.com/pledge.html
Church of Trans Love – June 5, 2022 at 2 p.m. Free. The fictitious 'The Church of Trans Love' presents a queerdo take on ecclesiastical liturgical practices in the tradition of 'The Book of Mormon'. The audience plays a 'full, active, and conscious' role in the show. The Church of Trans Love performance includes music from David Bowie and features Key Exchange, the show's gospel choir of professional trans and non-binary singers. More information: https://bit.ly/churchtranslove.
WeHo Reads: Pride & Joy in the Matrix – June 7, 2022 at 6 p.m. Free. Online, RSVP: www.weho.org/wehoreads. LGBTQ+ authors are taking a hard look at society IRL and virtually, pinpointing the ways we come up short in connecting with and loving each other.
Pride Poets – "Pledge" Poetry Hotline – June 11, 2022 from 11 a.m. to 2 p.m. and again from June 11, 2022 at 11 p.m. to June 12, 2022 at 2 a.m. Free. Call (202) 998-3510. LGBTQ poets are standing by ready to tackle all your poetic needs! Call in and have an original poem created for you or a loved one. This year's theme is "Pledge: come share your allegiances with us!"
Q Con: A One Day Comic Convention Celebrating LGBTQ Comics – June 18, 2022 from 10 a.m. to 5 p.m. at Plummer Park's Fiesta Hall, located at 7377 Santa Monica Boulevard. Free. Find an exciting, diverse selection of LGBTQ comics and graphic novels all in one place! Talk to creators, get autographs! Q Con is family friendly, and admission is free. Cosplay is encouraged. Join in the costume contest for fun and prizes! For the latest updates on Q Con, visit https://www.prismcomics.org/q-con.
Trans Pride LA 2022: The VarieTy Show – June 18, 2022 at 7 p.m. RSVP required. Free. For more information and to RSVP: https://transpride.lalgbtcenter.org/. The VarieTy Show serves as the grand finale of the annual Trans Pride LA Festival.
More detailed information and a full list of the City of West Hollywood's LGBTQ Arts Festival 2022 programming is available at pride.weho.org.
In addition, archived online programs from 2020 and 2021 are available to view. Among these is a collection of short films which tell the fabulous, fun, and deep LGBTQ history of the City of West Hollywood called the Stuart Timmons West Hollywood LGBTQ History Tour. Acclaimed author/historian Stuart Timmons (author The Trouble With Harry Hay, co-author of GAY L.A., former executive director of the ONE National Gay & Lesbian Archives) was in the process of writing his West Hollywood LGBTQ History Tour as the final in a trio of walking tours (Downtown Los Angeles and Silverlake are the other two) when he suffered a debilitating stroke in 2008. The tour remained incomplete until the City of West Hollywood's Arts Division funded its completion as part of the City's 2015 LGBTQ Arts Festival, allowing Timmons and a small team to help finish his research, bringing it to completion as both a self-guided walking tour and a special in-person event featuring performance artists as tour guides. This fun and informative tour returned for two more years, and in 2021, was recorded as a collection of short films that can be viewed on the City's WeHo Arts YouTube channel.
The City of West Hollywood's #WeHoPride LGBTQ Arts Festival is organized by the City's Arts Division. The City of West Hollywood is committed to providing accessible arts programming for residents and visitors. The City of West Hollywood's Arts Division delivers a broad array of arts programs including: Art on the Outside (temporary public art), Urban Art Program (permanent public art), Summer Sounds, Winter Sounds, the WeHo Reads literary series, Free Theatre in the Parks, Arts Grants for Nonprofit Arts Organizations, Library Exhibits and Programming, the City Poet Laureate Program, Human Rights Speakers Series and the #WeHoPride LGBTQ Arts Festival.
For additional information, please visit www.weho.org/arts. For more information about the City of West Hollywood's WeHo Pride LGBTQ Arts Festival, please contact the City of West Hollywood's Arts Coordinator, Mike Che, at (323) 848-6377 or at [email protected] or visit www.weho.org/pride.
For people who are Deaf or hard of hearing, please call TTY (323) 848-6496.
Newsom highlights state & local action to combat drought
At a Los Angeles County Water Recycling Facility, Newsom called on Californians to take immediate action to avoid a crisis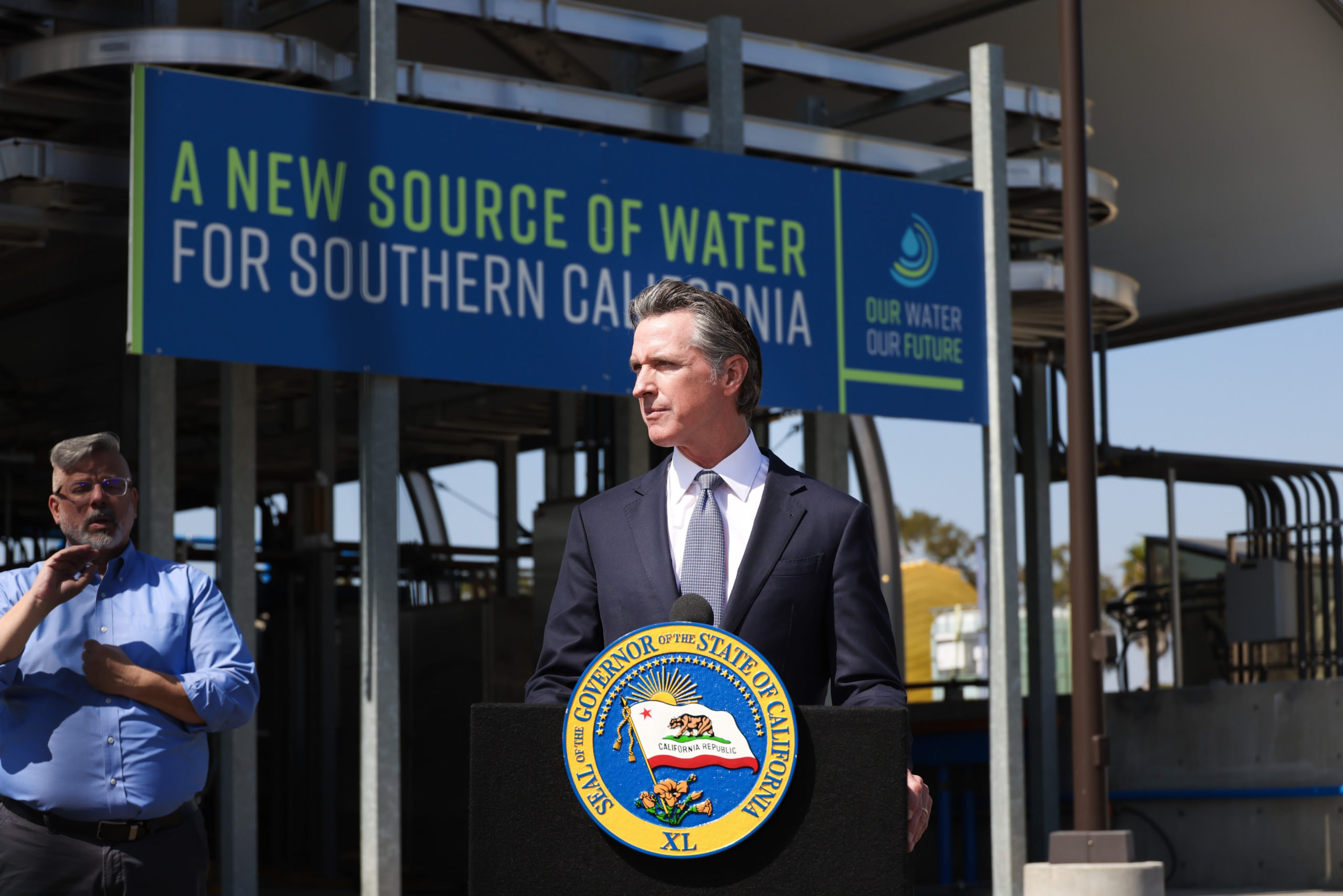 CARSON – Governor Gavin Newsom visited a Metropolitan Water District of Southern California water recycling facility Tuesday to discuss the administration's response to the ongoing megadrought affecting the western United States.
January through March were the driest first three months in the state's recorded history, the state's largest reservoirs are currently at half of their historical averages, and the state's snowpack is just 17 percent of average. Governor Newsom called on local water agencies and Californians to step up and take action to conserve water.
"California will need to use every tool in its toolbox to safeguard our communities, businesses and ecosystems from the severe, climate-driven drought being felt throughout the West," said Newsom. "The state is taking urgent action to tackle drought impacts, drive water savings, and empower local water agencies to step up conservation measures across the state. All of us must take aggressive action to meet these challenges head-on while we work to build a climate-resilient water system."
Governor Newsom has taken swift action to combat the drought conditions, including extending the drought emergency statewide last October and in March, issuing an executive order calling on water agencies to implement, at a minimum, Level 2 of their drought contingency plans to achieve water use reductions in response to a supply shortage of up to 20 percent.
In addition, under proposed emergency regulations by the State Water Resources Control Board (SWRCB), the local agencies that have not yet adopted conservation plans, covering just 8 percent of the state's population, will be compelled to take steps to achieve water use reduction with steps like limiting outdoor water use.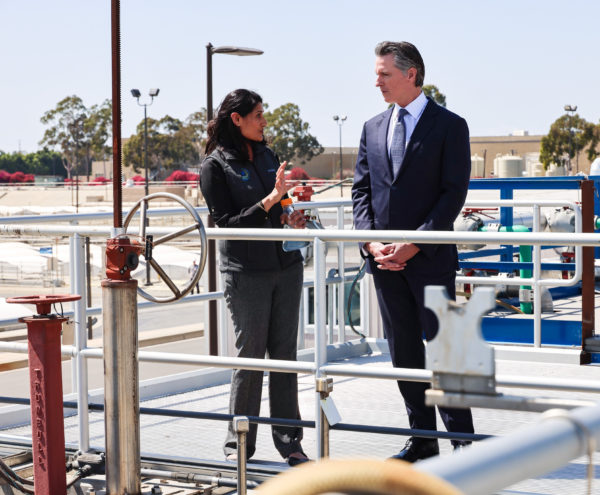 The Governor's March order was based on lessons learned from the last drought including that conservation actions are most impactful when imposed at the local level, based on regional needs and behaviors, and can be an effective means to achieve statewide conservation goals.
 
In response to the Governor's direction, many local water agencies, including the Metropolitan Water District of Southern California (MWD), have taken aggressive action to combat the drought. While an overwhelming majority of the state's water agencies have drought plans at the ready, plans covering about 50 percent of California residents have not yet been activated at the level urged by the Governor.
 
On May 13, the SWRCB released draft regulations that will require all local water suppliers to implement Level 2 of their Water Shortage Contingency Plans, and compel those that have not developed their own plan to take the following steps:   
Limit outdoor water use to two days per week.
Ban watering during the hottest parts of the day.
Ban irrigating ornamental grass at business and commercial sites.
Enforce fines of up to $500 a day for districts and corporations not in compliance.
The draft regulations will be considered by SWRCB at their May 24 meeting and, if adopted and then approved by the Office of Administrative Law, will ensure all local plans are in effect by June 10. The SWRCB also will consider regulations banning the watering of decorative grass at business and institutions, which the Governor's March order directed the Board to consider.
The state is calling on Californians to take immediate action to avoid a crisis, including:
Limiting outdoor watering – on average, each time you water your yard equals about 240 flushes or 13 full laundry loads (for a washer that uses 30 gallons per load).
Taking shorter showers. Going to a 5 minute shower to save up to 12.5 gallons per shower when using a water-efficient shower head.
Taking showers instead of baths – a bath uses up to 2.5 times the amount of water as a shower.
Using a broom instead of a hose to clean outdoor areas to save 6 gallons of water every minute.
Washing full loads of clothes to save 15-45 gallons of water per load.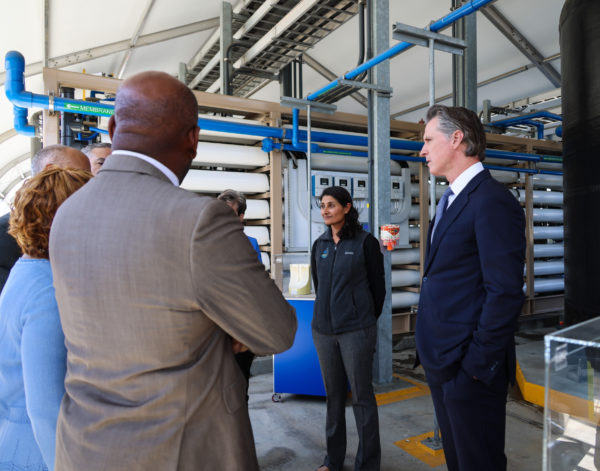 The Governor's California Blueprint proposed this year would invest an additional $2 billion for drought response, which includes $100 million in addition to a previous investment of $16 million this fiscal year for a statewide education and communications effort on drought. These investments build on the previous $5.2 billion three-year investment in the state's drought response and water resilience through the California Comeback Plan (2021).