October 24, 2020 at 1:04 pm PDT | by Noah Christiansen
Gay Trump supporters late night one block WeHo march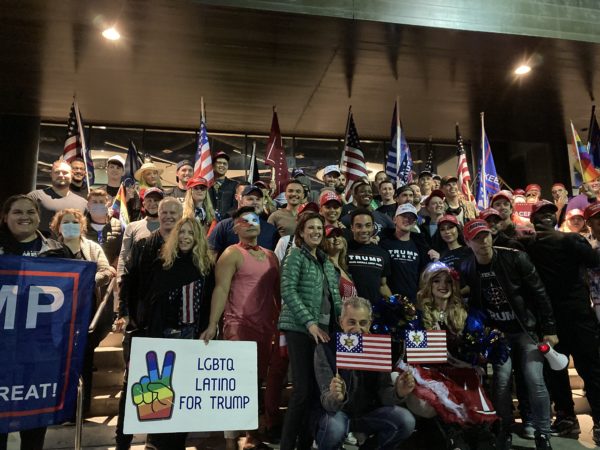 WEST HOLLYWOOD – West Hollywood has earned a reputation as one of the most prominent progressive LGBTQ friendly cities in America. Because of this, it was quite surprising to some passerby's that a Trump march was being held in WeHo, as it is affectionately referred to, on a Friday late night and a gays for Trump march at that.
The event was spearheaded by the Log Cabin Republicans who had asked people to show up in support for the "Gays and Housewives Take Over WeHo March," in Facebook and Instagram posts. It took place as millions of Californians have already submitted their mail-in ballots with only 11 more days before the election on November 3.
The march was fairly short, only spanning about one block. It started at the Pacific Design Center at around 10 PM, went up to Rocco's (a gay bar and restaurant), and then turned around and headed back to the Pacific Design Center.
People first started arriving at about 9:15 PM. in their matching Trump gear. (hats, T-shirts, etc.) Some brought Trump flags, LGBTQ Pride Flags, and a variety of patriotic gear to signify that they supported the president and that they were endorsing the idea that LGBTQ+ people also have the ability to support the president.
Max Edwards, a supporter of the president and advocate for the march, told the Blade, "We're here to support Trump and mostly the LGBTQ community to let them know they have more options than just voting." When asked about his opinion about people who claim that Trump is anti-LGBTQ+, Edwards said, "I think they've got to do their homework. There's a lot of proof, a lot of stuff out there, that proves that's not correct."
Before the march commenced there were approximately fifteen minutes worth of short speeches the event started by internet personalities signifying their support for Trump and to say that the president is the best candidate for the LGBTQ+ community.
Those included remarks from Instagram influencers David Leatherwood (@realbrokebackpatriot) and Christian Walker (@christianwalk1r), and Lady MAGA, a drag queen personality who told the Blade that "she personifies what it truly means to be 'MAGA'." Shouts of "USA…USA…" to "Four more years" from the assembled crowd of approximately seventy marchers were heard during the speeches.
In her remarks, Lady MAGA compared the marcher's patriotism to that of the soldiers who fought in wars such as D-Day. She went on to say, "Joe Biden and Kamala Harris and Ilhan Omar and these radical socialist communists are a drag…Represent the optimism and joy that president Donald Trump has given us. This movement is bigger than Donald Trump."
Christian Walker, the openly gay son of former Dallas Cowboys NFL running back Herschel Walker, was asked by the LA Blade about Trump's track record regarding LGBTQ+ rights and what he has to say to those who call Trump anti-LGBTQ+.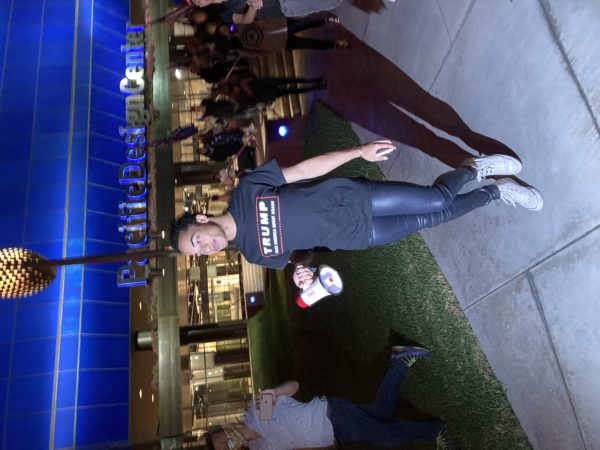 "Trump's the only president that went into office as pro-gay. He's the only president who supported gay marriage from the beginning of his presidency. He even supported it in the 80's, so anybody who's says that is clearly uneducated and needs to do a little more research," Walker said.
Walker led the march with a bullhorn and started a litany of chants as well as executing multiple backflips/somersaults to energize the crowd.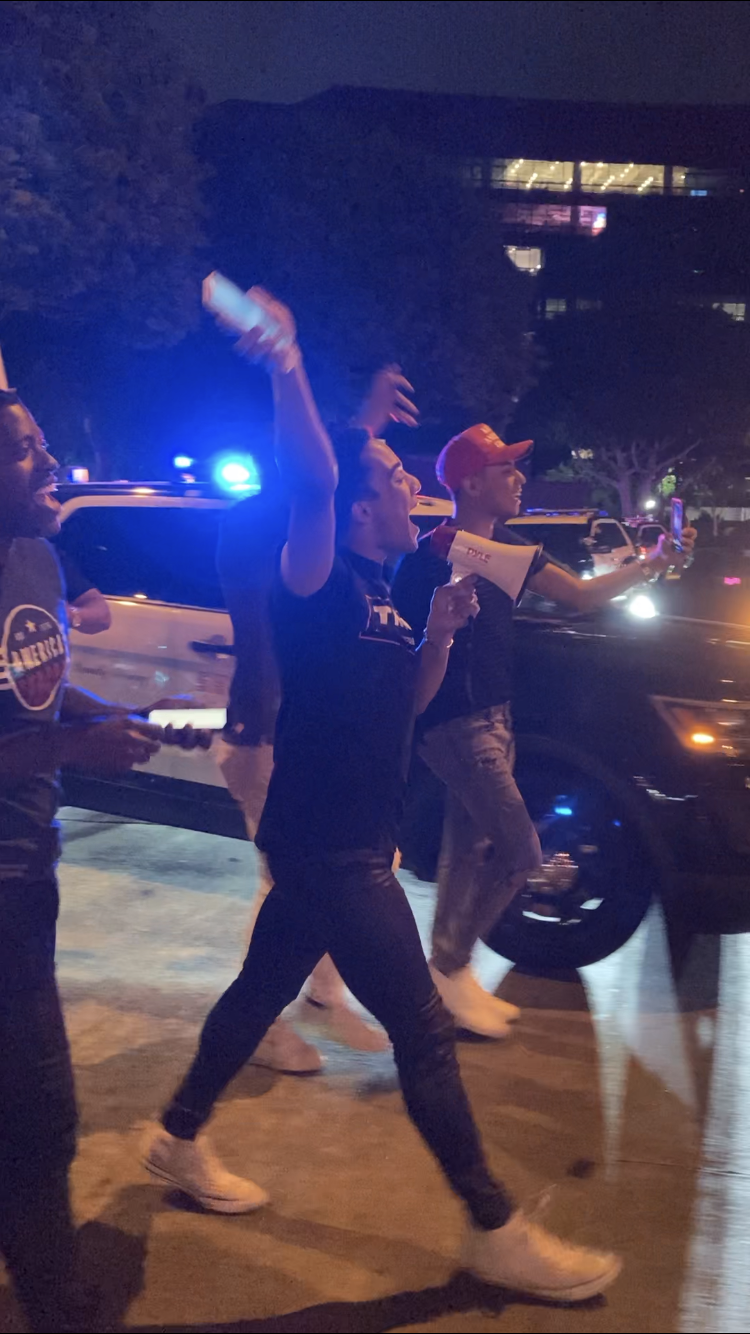 Yet, despite the energy and enthusiasm from the gathered Trump supporters, the event was met with considerable disdain from onlookers. Some shouting the word "shame" and epithets directed at the participants while others appeared to be in shock for what they were witnessing.
The Blade asked Leatherwood what his thoughts were on the number of Trump supporters who had gathered. "Oh this is beyond expectations. Two years ago, I did a meetup here and there was five people that showed up, and this crowd is 100 times that. It's amazing," Leatherwood said.
Once the march commenced, there several LA County Sheriff Department cruisers following the marchers who looped back after reaching Roccos's returning to the Pacific Design Center where it ended with marchers dispersing or breaking off into small clusters of people who continued to interact with each other.
On social media posts late Friday night after the march into Saturday, after a photo of Los Angeles County Sheriff's deputies surfaced standing with a group of the marchers holding a Trump campaign sign, many commented that they were disconcerted to see LASD personnel in uniform supporting the president. This in light of what had been a contentious summer between law enforcement agencies in the LA area and the Black Lives Matter movement's protests.