October 25, 2020 at 5:01 pm PDT | by Noah Christiansen
Log Cabin Republicans host unofficial Rodeo Drive Trump rally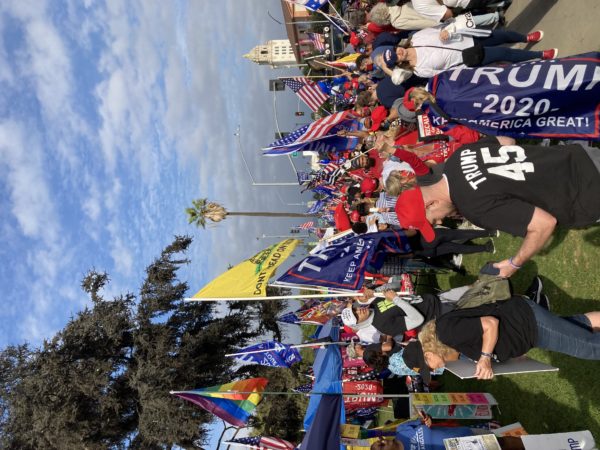 BEVERLY HILLS – The Log Cabin Republicans Chapter in Los Angeles is making every day matter in terms of turnout for Trump rallies and marches as election day draws near in 10 days. This past Friday Oct 23 the group sponsored a 'Gays and Housewives Take Over WeHo' march in West Hollywood, and in an effort to keep the momentum going they held another pro-Trump event on October 24th in Beverly Hills.
The Trump rally held at 3 PM Saturday on a grassy area off Rodeo Drive was attended by several hundred people who all rallied around the president's reelection bid.
One of the Trump supporters who gathered, Jen (who refused to give a last name), was very explicit on why she supported Trump. She said, "I want to be around people that also love America… I think [Trump] loves America… I do not think Biden loves America."
The event in Beverly Hills wasn't a march, but was as organizers categorized it as 'a time for Trump supporters to come together and center the discussion around a common goal: Helping Trump get re-elected.'
Participants ranged in regards to age, race, gender, sexuality, etc. In terms of race, the crowd was predominately comprised of white people, but there were people of all races at the rally. Lynn McCluster, a black woman, told the Blade why she supported Donald Trump and why she feels like Biden is racist.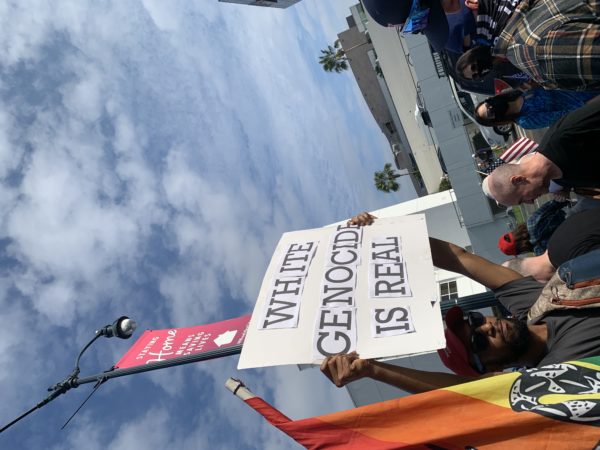 "It's such a beautiful turnout," McCluster said, "It feels like freedom…We're just about love and unity, and that's why I'm here… I feel like [Biden] is being racist because why does [Biden] have to always indicate my skin color? Why do I always have to be a democrat because of my skin color?" McCluster wasn't the only black person at the rally that felt this way.
She was not alone in her thinking. There were many people who expressed disgust for Biden over the course of the day. One of the most prominent things to notice was a sign that many supporters were taking pictures of that said a key difference between Biden and Trump was the fact that Biden kills babies.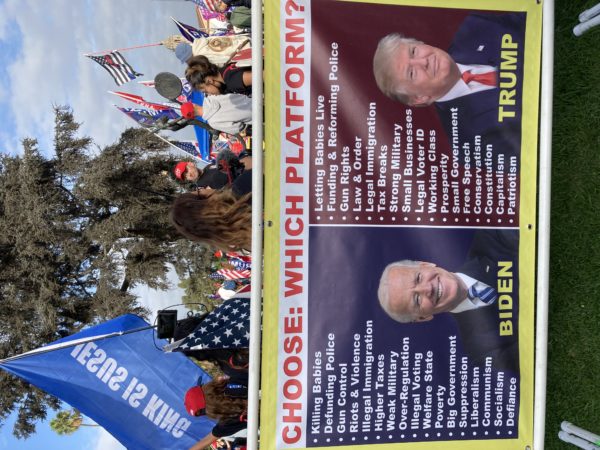 It wasn't just disgust about Biden being pro-choice, but about almost every one of Biden's platforms from gun control to environmental policy that the rally attendees found objectionable.
The Blade interviewed Christian Walker, the openly gay son of former Dallas Cowboys NFL running back Herschel Walker, and an Instagram influencer. Walker had also participated at Friday night's Gays and Housewives Take Over WeHO march in West Hollywood.
"Well, number one, Donald Trump is the first and only president to support gays coming into office. Number two, he's the most pro-black president we've had in years. His platinum plan is giving 500 billion dollars to black communities over the next four years," Walker said. "He cares about black Americans and he treats us all the same. Love him," he added.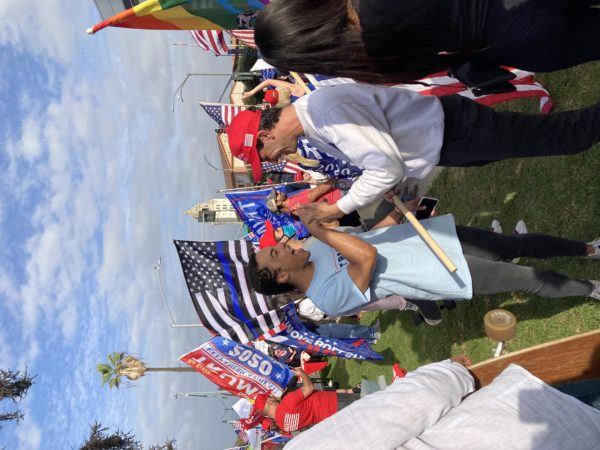 It wasn't just black people attending the rally who expressed support for Trump. Trump's rhetoric towards China is labeled as being racist, so the LA Blade asked Ruth McComey, a Hong Kong born Chinese-American, her thoughts on this. She didn't see the president as racist and said that she agrees with his policies on China.
"China said nothing about the coronavirus. We want China to be accountable," she said. "I like Trump because he does what he has promised."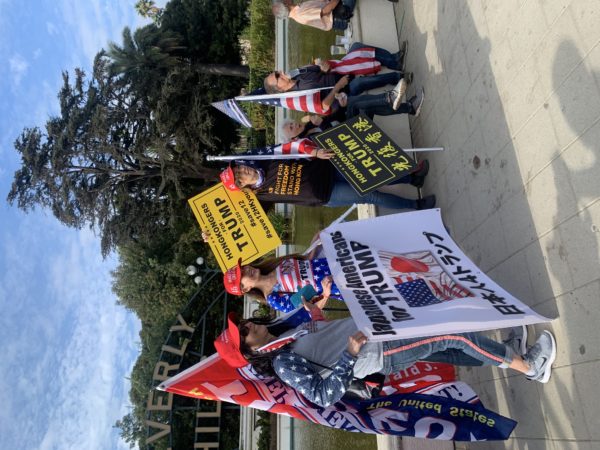 Although there is a mandatory statewide facial mask requirement ordered by Governor Gavin Newsom this past June, many of those present weren't and others had signs that criticized people wearing masks and calling it a tool of the media, but there were a few people that did wear masks.
Thomas Smith, a senior citizen and Republican voter, told the Blade, "I feel the mask is kind of optional… If you're a senior I'd say take a little precaution." Smith understands that this might not guarantee 100% safety, but feels that supporting Trump is his civic duty. Smith, like many others at the rally, feel that supporting Trump is something necessary "or else we'd be living in a Biden-led America."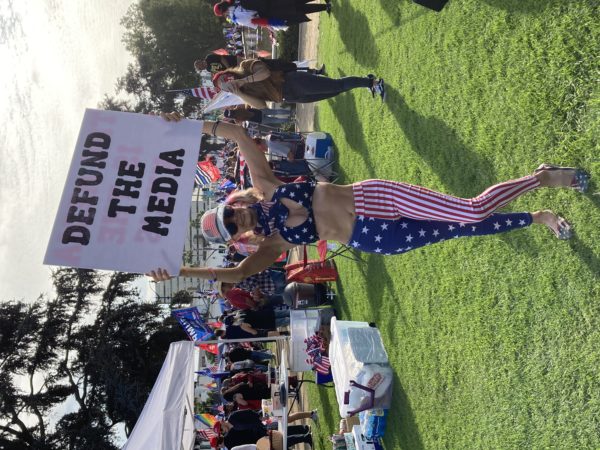 Because there were so many people and limited space in the median strip grassy area, some folks just stayed in their cars with Trump flags waving blaring their horns in support of Trump. Others were taking pictures with Trump cutouts, and waving Trump flags. Some people used the opportunity to sell Trump campaign related merchandise- everything from Trump t-shirts to shirts of California with a communist symbol in the middle of it were being sold.