October 25, 2020 at 7:50 pm PDT | by Thuan Nguyen
Small California City at Risk of Electing an Anti-LGBTQ Candidate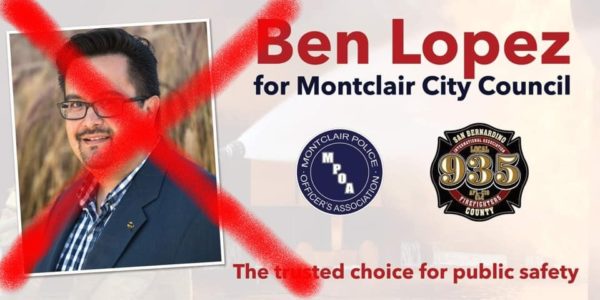 Ben Lopez is a candidate running for city council in Montclair, California, a small suburb located about 34 miles east of Downtown Los Angeles. Lopez has a history of making anti-LGBTQ remarks, supporting anti-LGBTQ policies, and associating with an anti-LGBTQ organization. His anti-LGBTQ stance is dangerous to Montclair and surrounding communities.
I have lived in Montclair since the early-1990s. Despite having come out as gay in the early-2000s while I was a sophomore in high school, there is still a general lack of recognition and awareness of Montclair LGBTQ residents' issues.
So, on October 5th, I attended a virtual Montclair city council meeting. I asked that the city formally recognized the month of October 2020 as LGBTQ History Month and October 11th, 2020, as National Coming Out Day.
Such city-level recognition is important because LGBTQ youth often feel unsafe at school and are at higher risk of encountering interpersonal violence and experiencing suicidal tendencies than their heterosexual peers. Nationwide, there has also been an increase in hate crimes against LGBTQ people, particularly gay men and transgender people.
LGBTQ History Month provides an opportunity for the City of Montclair to recognize LGBTQ residents who are our families and friends, neighbors, educators, business owners, and everyone in between. It also provides an opportunity for the city to signal to the surrounding areas that Montclair is a welcoming place for LGBTQ folks.
However, Ben Lopez's anti-LGBTQ views stand directly in contrast to the welcoming and accepting place that Montclair could and should be.
In a 2010 article by the Pasadena Star-News about same-sex marriage, Lopez expressed his anti-LGBTQ views when he stated, "'Gays want to boast and brag that they are making inroads—no, they are not. . . . Go to my community. They will be rejected here soundly.'" Lopez also has a history of associating with an anti-LGBTQ organization. According to a 2007 article by the Orange County Register, Lopez once served as a spokesperson for an Anaheim-chapter of Traditional Values Coalition, a designated anti-LGBTQ hate group by the Southern Poverty Law Center.
Lopez's statement is problematic and harmful because of the implication that LGBTQ Montclair residents are outsiders coming into the city. His words reflect an exclusionary outlook and a rejection of Montclair LGBTQ residents.
However, Montclair LGBTQ residents are not outsiders making "inroads" into Montclair because we grew up here. We attended grade schools and high school in Montclair, held after-school jobs at the local John's Incredible Pizza restaurant, hung out with our families and friends at the local mall, and watched movies at the local drive-in theater.
Like many LGBTQ people across Southern California, we are community members who have always existed and lived among you.
Lopez may reject LGBTQ folks, but I reject his statement and the implication that LGBTQ Montclair residents exist outside of the Montclair community. We are as much part of this community as anyone else. We matter, and the issues that affect us also matter.
During the 2020 Montclair Council Candidates' Forum, Lopez also stated, "There are issues that I have been very good at representing that are pertinent to the day-to-day lives of Montclair residents without making them partisan." Lopez argued that his political leaning is irrelevant to how he would serve as a city councilperson.
That is, of course, unless residents identify as LGBTQ, then his view is anything but non-partisan. A rejectionist view toward LGBTQ residents demonstrates a highly partisan position in which he does not have residents' interests at heart. Should he be elected to the city council, his anti-LGBTQ stance can have tremendous symbolic, material, and political consequences, such as the city's ability to recognize LGBTQ History Month and National Coming Out Day and to allocate potential resources to support Montclair LGBTQ residents.
Suppose Lopez's position regarding LGBTQ issues and people has changed since 2010. In that case, he needs to make an unequivocal public statement about how he has changed and the views he now holds. But until then, Ben Lopez and his dangerous anti-LGBTQ stance do not deserve a Montclair City Council seat.
Montclair residents, if you care about our LGBTQ neighbors, friends, and families, if you care about our LGBTQ youth, if you consider yourself an LGBTQ ally, then I urge you to consider electing an official who has a track record that is not rooted in the rejection of our Montclair LGBTQ residents.
Author Bio:
Thuận Nguyễn is a long-time resident of the City of Montclair, and currently a sociology Ph.D. student at the University of Southern California. Broadly, Thuận's research work explores topics such as race, racism, and race relations in U.S. society, and the development of small American cities. He previously wrote for the Los Angeles Blade regarding fighting for LGBTQ History Month recognition in a small city.