Take a breath, votes still out for Biden/Harris
Campaign conducted amid pandemic comes to surprising end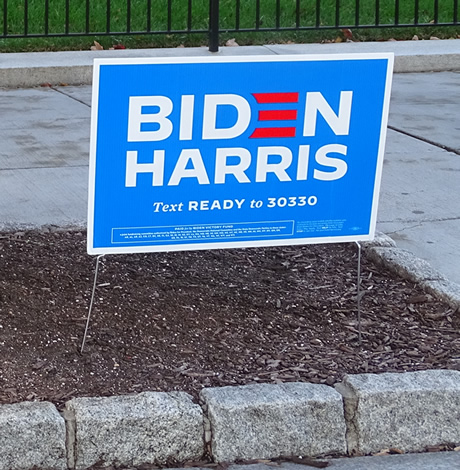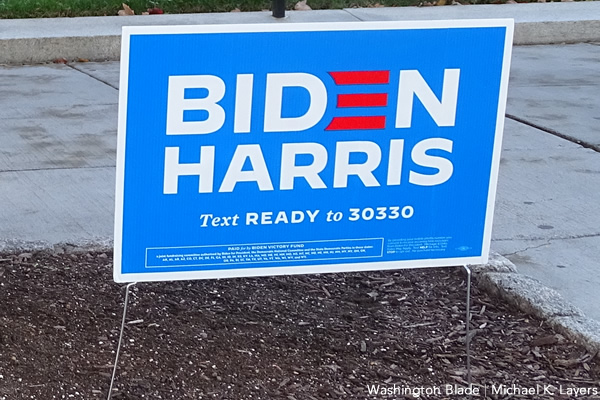 Take a deep breath and then slowly let it out. Try to release the stress of the last year. Yes I know if you are a Democrat that isn't working. You hear Donald Trump declaring victory and calling for voting to stop. Yes he is outrageous and even Vice President Pence and others like Chris Christie said he must wait to count the remaining ballots.
The race is still up in the air and the mail-in ballots are still being counted and it seems like it will take forever. But reality is we will know by Friday who won and that isn't bad when you consider the millions of ballots that must still be checked and counted. We are waiting for results from Michigan, Georgia, Wisconsin, Nevada, and Pennsylvania. Whatever the result the people will have spoken. What must happen now is we need to ensure every vote is counted.
It appears Biden will win the popular vote and we are looking at the Electoral College for the answers. That is a sad state of affairs.
I admit I gave up watching the results last night getting scared there would be another 2016 on election night. Back then, I was in the Javits Center in New York when around 10:30 p.m., Debbie Wasserman Shultz told us there weren't enough votes in Broward County to make up the difference for Hillary in Florida.
This year is different; while we lost Florida again as I write this on Wednesday morning the votes still remaining to be counted in many states will decide the election but it looks like most will go to Biden. What we as Democrats and actually every Republican should be fighting for is to ensure every vote is counted. Let's show respect for the people who have taken the time to exercise their right to vote.
If Biden wins it is my hope Sen. Mitch McConnell will repeat what he tweeted back in September when he promised a smooth transition. The time has come for us to move on from the Trump presidency and reclaim our democracy. We must say it loud and clear using the hashtags #everyvotecounts and #democracyrising when we speak of this election. We must show respect to all Americans and tell them #countonus.
While we wait for the final result of the presidential election it's time to celebrate all the amazing local election results. Among others they include the first two gay African-American men going to Congress from New York. It includes Sarah McBride becoming the highest-ranking transgender official in the country, having won a Senate seat in Delaware.
We should congratulate all the voters who turned out in record numbers despite a pandemic, an economic collapse, and so many attempts to stop them.
When Trump declared victory before all the votes were counted it was like calling 2020 an amazing year in February. It could be compared to George W. Bush declaring "Mission Accomplished." In our democracy, the voters pick our leaders, our leaders don't get to choose which votes they want to count.
As we move toward the final certified result for the presidential election there is the crucial vote for who controls the Senate and it looks like Democrats will fall short. If that happens it will make it very difficult for a President Biden to move his agenda forward.
If this campaign has seemed endless it is because it was. It has caused many to feel the type of stress they never felt before. It has been a totally different campaign as it had to be mostly virtual. Whatever the results kudos to the Biden team, which did a yeoman's job. Most of them working from their homes and never meeting the people working with them around the country in person. Those like finance director Katie Petrelius and her staff who managed to raise more money than any previous campaign had ever done all without the lure of donors getting to meet the candidate.
So once again, take a deep breath while you wait for the final results. When they are in I think Democrats will be able to celebrate.
Peter Rosenstein is a longtime LGBTQ rights and Democratic Party activist. He writes regularly for the Blade.
Why LGBTQs Must Fight to Save Democracy 
This is essential for LGBTQ folks: We are still considered an "issue," not an intersectional minority that deserves equality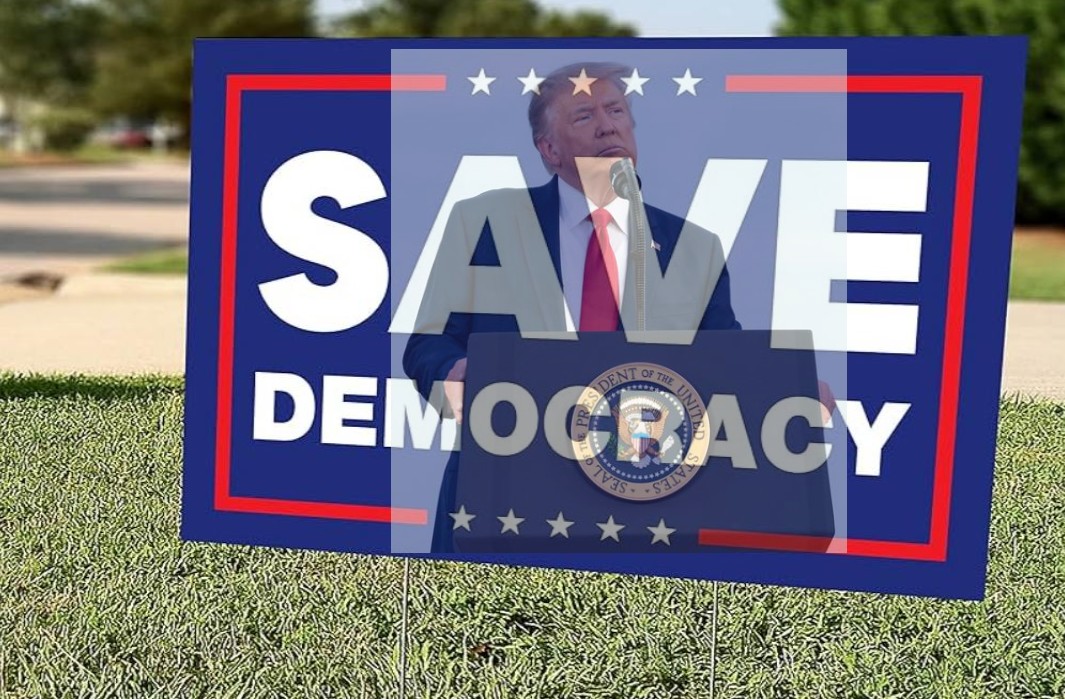 By Karen Ocamb | WEST HOLLYWOOD – The great Maya Angelou once said: "When someone shows you who they are, believe them the first time."
So why do so many people shrug off Donald Trump's dangerous proclamations of near divinity and absolute immunity from the rule of law?
Recently, in response to an avalanche of reports about his "authoritarian bent" and dire warnings of an "increasingly inevitable" Trump dictatorship in a second term, Trump – who's already been convicted of fraud in a New York civil lawsuit and faces up to 91 charges in four significant criminal cases – told Fox's Sean Hannity that he won't be a dictator, except on Day One.
"I love this guy," Trump said. "He says, 'You're not going to be a dictator, are you?' I said: 'No, no, no, other than Day One. We're closing the border and we're drilling, drilling, drilling. After that, I'm not a dictator.'"
After that? Does anyone believe Trump hasn't already developed a taste for dictatorship, having long boasted: "I could stand in the middle of 5th Avenue and shoot somebody and I wouldn't lose voters."
The twice impeached Trump is doubling down on Watergate-disgraced former President Richard Nixon's assertion: "Well, when the president does it, that means that it is not illegal."
And Trump has friends in high places. Democracy Docket's Marc Elias notes that newly elected House Speaker Mike Johnson "was a ringleader" in the coup attempt to overturn the results of the 2020 election. "He used his position as a lawyer and member of Congress to legitimize the fringe legal theory underpinning the 'Big Lie.' Other than former President Donald Trump, he is arguably the most culpable federal elected official in what transpired on Jan. 6, 2021."
The Brennan Center for Justice notes: "Johnson has ties to a movement that incorporates election denial into evangelical Christianity. Members of the movement held prayer sessions in which they asked for divine intervention to reverse the 2020 result….In 2024, Mike Johnson will hold the gavel. That should scare us all."
Johnson is now doctoring footage of the January 6th riot against the Capitol to prevent the Department of Justice from identifying and investigating the insurrectionists. Trump has already promised to pardon "a large portion" of Jan. 6 rioters convicted and jailed on federal offenses. Those rioters include Proud Boy whose members have shown up at drag readings and school board meetings, sometimes prompting anti-LGBTQ violence.
LGBTQ people should be seriously concerned. For nearly a decade, Johnson worked at Alliance Defending Freedom, "the far-right Christian group that has recently sought to ban the abortion medication mifepristone and public drag performances," according to The New Republic.
Additionally, one of Johnson's clients was anti-gay activist and former radical Christian preacher Grant Storms. Johnson "helped convince New Orleans officials to grant Storms a permit for a protest against an annual Pride celebration. Storms's protest ended up getting national attention when an anti-gay protester attempted to murder a man with a steak knife. Storms said the attacker was not part of his organization, but the assailant later told police he went to Storms's event because he wanted to 'kill a gay man.'"
LGBTQ people have long been targets for cruelty and hate. But the Trumpification of America has made it worse.
Last June, the New York Times reported: "There were more than 350 incidents of anti-L.G.B.T.Q. harassment, vandalism or assault in the United States from June 2022 through April 2023, according to a new report [by the Anti-Defamation League and GLAAD], reflecting a climate in which bias against gay and especially transgender people has become widespread."
Another report from the Center for the Study of Hate and Extremism at California State University, San Bernardino "shows a 52 percent increase in anti-L.G.B.T.Q. hate crimes around the country in 2022 and a 28 percent increase in the narrower anti-transgender category," and "a 47 percent increase in hate crimes against gender-nonconforming people, which the report defines as including drag performers."
When out progressive MSNBC host Rachel Maddow interviewed former Rep. Liz Cheney, the staunchly conservative Republican who co-chaired the House Jan. 6 Committee, they both were adamant about setting aside their serious political disagreements to join forces to stop Trump and prevent a Republican House majority in the 2024 election.
Cheney described it as "the cause of our time."
This is essential for LGBTQ folks, especially as we continue to be ignored unless we somehow make news. We are still considered an "issue," not an intersectional minority that deserves equality. Even the Supreme Court ruled against us based on a hypothetical possibility where the key document turned out to be fake.
We need to take a lesson from Stonewall and ACT UP and FIGHT BACK however we can.
And that includes me.
Last year Max Huskins – a straight Millennial friend of mine – and I decided to produce the YouTube series "Race to the Midterms," in partnership with the Los Angeles Blade. This fall, I realized we needed to do another series for the 2024 elections.
But the scope is too large to do as a cause/hobby to my full-time job. So I talked with my friend Steve Ralls (formerly with Servicemembers Legal Defense Network and Immigration Equality) – the VP of External Affairs who recruited me to Public Justice – and we worked out an arrangement where I will step away from my full-time staff position there and instead, be under contract to work exclusively on the Public Justice Emeritus Legacy Project, allowing me to devote the majority of my time to this new initiative.
This is our fight. Parental rights? These are our LGBTQ kids who've already suffered too much trauma, assaults and death by suicide. As Harvey Milk said: "We must give them hope."
We need to not only re-elect Joe Biden and Kamala Harris – but determined candidates for elective and public office who see us as a people deserving of equality, decency and the fundamental right to life, liberty and the pursuit of happiness.
See you in the trenches next year as we Race to Save Democracy!
****************************************************************************************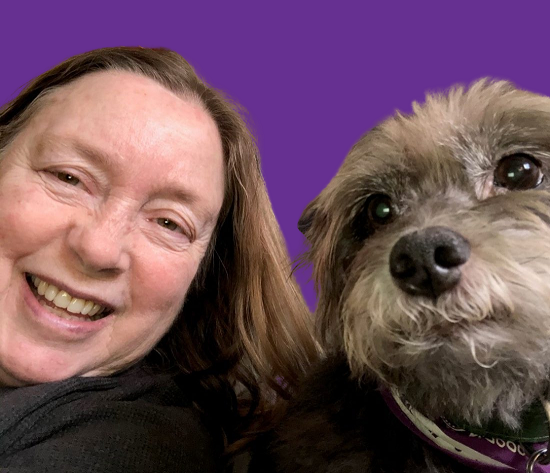 Karen Ocamb is the former news editor of the Los Angeles Blade. She is an award-winning journalist who, upon graduating from Skidmore College, started her professional career at CBS News in New York.
Ocamb started in LGBTQ media in the late 1980s after more than 100 friends died from AIDS. She covered the spectrum of the LGBTQ movement for equality until June 2020, including pressing for LGBTQ data collection during the COVID pandemic.
Since leaving the LA Blade Ocamb continues to advocate for civil rights and social, economic, and racial justice issues.
She lives in West Hollywood, California with her rescue dog Pepper.
******************************