Danica Roem seeks 3rd term in Virginia State House
Roem in 2018 became the first openly transgender person seated in any state legislature in the U.S.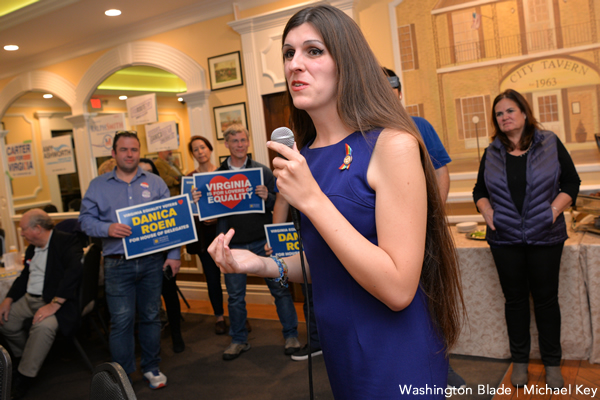 MANASSAS PARK – Virginia state Del. Danica Roem (D-Manassas) launched her 2021 re-election campaign Tuesday, promising to continue the work she's started. Roem in 2018 became the first openly transgender person seated in any state legislature in the U.S.
Roem said she has pushed for LGBTQ equality, helped pass Medicaid expansion in Virginia, and led efforts to provide school meals for thousands of kids across the state since she took office. She said she is running for her third term in order to continue pushing for progressive change in her state.
"I've been working to make Virginia a more inclusive commonwealth since my first campaign," she said in an interview. "And we've got a lot to show for it but we still have a lot of work to do. That's what my campaign is going to be about—continuing that work."
Democrats in 2019 took the majority in both houses of the General Assembly for the first time in decades. This allowed the party to pass progressive reforms like the Virginia Values Act, which added sexual orientation and gender identity to the state's non-discrimination protections.
One of Roem's focuses through her first and second term was increasing access to food for children through Virginia's schools. When the pandemic hit in March, she fought, and ultimately won, a battle to change a USDA policy that required students to come in-person to pick up free meals during school closures, arguing that the rule was endangering children with compromised immune systems. Roem has also sponsored legislation to make free and reduced-priced lunches and breakfasts more accessible for students.
"My goal going forward is really making sure we are addressing systemic inequality and systemic barriers to access when it comes to food security throughout Virginia," she said. "I'm a 36-year-old Italian stepmom—I want to feed everyone. I want to continue to prioritize giving food to those who need it."
Roem also campaigned on Medicaid expansion in 2017 and in May 2018, the legislation passed, allowing more than 400,000 Virginians to get healthcare through Medicaid. Now for her re-election campaign, she said she is going to continue to advocate for expanded healthcare options. Roem also spearheaded legislation to require insurance companies to cover essential procedures for trans patients.
She has been able to be so productive in office, she said, because of her ability to work with other delegates in a bipartisan manner. But to critics who accuse her of over-compromising, she said they just need to look at the policies she's put in place during her tenure in office.
"You don't carry a transgender health bill through if you're letting the conservatives run rampant," she said with a small laugh. "You don't have to compromise your integrity and your values to work with someone of a different party on some stuff because odds are, you can probably find some common ground."
On a national scale, Roem has led and inspired a wave of other trans candidates to run for public office. In the 2020 elections, eight openly trans and gender non-conforming candidates were either elected or re-elected to their state legislatures.
But in a country that often seems more divided than ever, Roem said she focuses on doing her job to serve her community.
"I'm a proud Democrat and I represent all of my constituents, regardless of whether or not they voted for me," she said. "Every time I do my job well, people can say, 'My delegate is transgender and they're really good at their job.' Not 'but'—'and'. I don't have to defend who I am to anyone. I acknowledge who I am and I'm good at my job."
However, Roem said that vicious transphobic attacks by her political opponents have followed her since she announced her first campaign. When she took office, Republicans ended a 400-year tradition of referring to each other as "gentlemen" and "gentlewomen" and changed it to address themselves as only "delegates" to avoid acknowledging Roem's gender.
One memorable moment, Roem said, was when members of the Westboro Baptist Church staged protests outside of the capitol building in March 2019. The church members were met by a crowd of counter-protesters, armed with kazoos to drown out the church's hate.
After the protest, Roem raised more than $34,000, using the hashtag #westborobackfire to spread her message around social media.
"You turn it into money, and you turn it into votes," she said, referring to the hate. "I've been dealing with bigoted bullshit for almost four years now. If you're a trans candidate running for office in any other state, look at what we've done. Flip the script on their bigotry, make it work for you."
Following President-elect Joe Biden's victory in last week's election, Roem said she is hopeful the nation is moving in the right direction to begin healing.
"We are at the very least going to stop the bleeding," she said of Biden taking office. "What's the first rule of getting out of a hole? Stop digging. On Jan. 20, we are no longer going to be digging."
LA County Parks Winter Wonderland returns
Snow Days, Sled Rides, Toy Giveaways, Craft Villages, Teen Zone and More!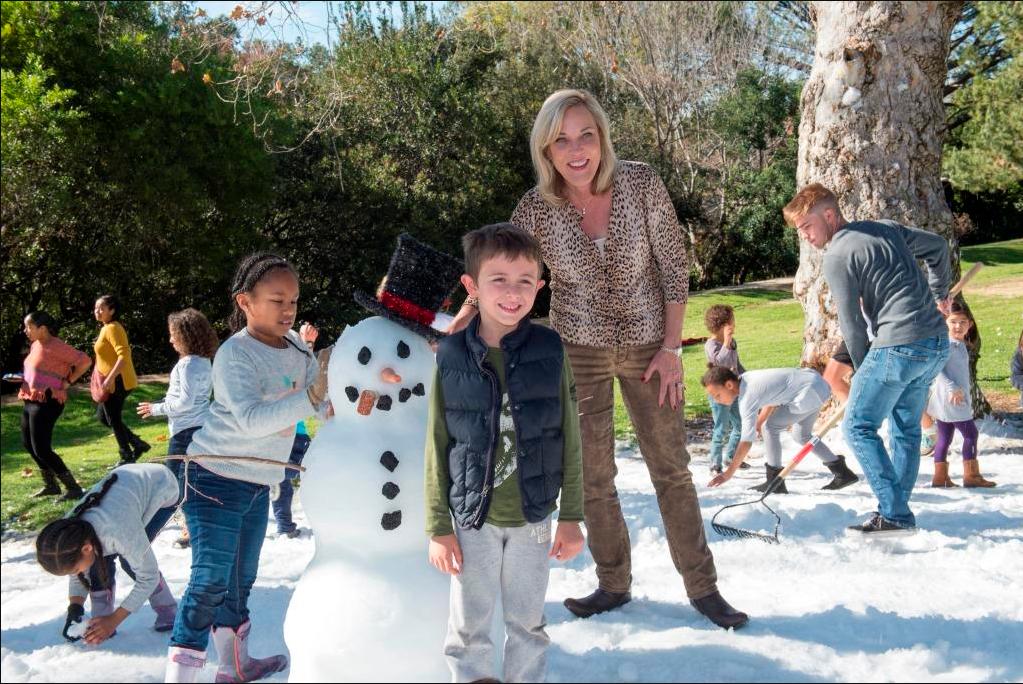 LOS ANGELES – It's Park Time L.A. County! Parks After Dark returns with an enchanting Winter Wonderland experience that will bring holiday cheer and 40 to 80 tons of snow to 34 L.A. County Parks in the month of December.
This holiday action packed celebration is for the entire family and is bigger and better than ever before, with more snow, more toys, more craft activities and more fun! All for free!
Parks After Dark Snow Patrol teams, staffed by passionate and dedicated Parks & Recreation personnel, are ready to transform local parks into wintry paradises complete with sled runs, photo opportunities, snack stations, holiday treats and a craft village where children can decorate their own holiday stocking! Families should plan to arrive early at their local park for a toy giveaway for ages 0-17, while supplies last.
New this year to the Winter Wonderland experience is a Teen Zone where young adults can enjoy their own space to hang out with their friends, create and design art, listen to music, silkscreen holiday shirts and make their own personalized Santa hat!
Also beginning this year, selected parks will double their fun with Mega Snow days, which will bring up to 80 tons of snow to Earvin "Magic" Johnson Park, Val Verde Park, Belvedere Park, El Cariso Park, Loma Alta Park, Ted Watkins Park, Roosevelt Park and Valleydale Park.
The L.A. County Parks Winter Wonderland is possible thanks to the generosity of Los Angeles Department of Social Services, Los Angeles County Department of Parks and Recreation, and the L.A. County Probation Department.
"Parks After Dark brings family, friends, neighbors and community together in their local park," County of Los Angeles Department of Parks and Recreation (DPR) Director Norma Edith García-González said. "The Winter Wonderland experience will provide youth and families a memorable snow day experience and much more to celebrate the joy of the holiday season. I am grateful to DPR Staff for all their work to bring 40 to 80 tons of snow to 34 parks this holiday season!"
Parks After Dark, launched in 2010, has proven to be a successful prevention and intervention program that provides multiple benefits to vulnerable communities, decreasing violence and crime, and increasing social cohesion and community well-being. In 2018, Parks After Dark was recognized by the National Recreation and Park Association, which presented L.A. County Parks and Recreation with is Best in Innovation award.
For more information on Parks After Dark Winter Wonderland, visit https://parks.lacounty.gov/winterpad
Locations, dates, and times for Parks After Dark Winter Wonderland are listed below:
Friday, Dec. 2
Col. Leon H. Washington Park – 8908 S. Maie Ave., Los Angeles (4-8 p.m.)
Mary M. Bethune Park – 1244 E. 61st St., Los Angeles – (4-8 p.m.)
Charter Oak Park – 20261 E. Covina Blvd., Covina – (4-8 p.m.)
Pamela County Park – 2236 Goodall Ave., Duarte – (4-8 p.m.)
Saturday, Dec. 3
Eugene A. Obregon Park – 4021 E. First St., Los Angeles – (12-4 p.m.)
City Terrace Park – 1126 N. Hazard Ave., East Los Angeles – (4-8 p.m.)
Earvin "Magic" Johnson Park – 905 E. El Segundo Blvd., Los Angeles (12-4 p.m.) (Mega Snow)
George Washington Carver Park – 1400 E. 118th St., Los Angeles – (4-8 p.m.)
Val Verde Community Regional Park – 30300 W. Arlington Rd., Val Verde
(12-4 p.m.) (Mega Snow)
Belvedere Community Regional Park – 4914 E. Cesar Chavez Ave., Los Angeles
(4-8 p.m.) (Mega Snow)
Friday, Dec. 9
Adventure Park – 10130 S. Gunn Ave., Whittier – (4-8 p.m.)
Sorenson Park – 11419 Rose Hedge Dr., Whittier – (4-8 p.m.)
Saybrook Park – 6250 E. Northside Dr., East Los Angeles – (4-8 p.m.)
Jesse Owens Community Regional Park – 9651 S. Western Ave., Los Angeles –
(4-8 p.m.)
Saturday, Dec. 10
El Cariso Community Regional Park – 13100 Hubbard St., Sylmar – (12-4 p.m.) (Mega Snow)
Loma Alta Park – 3330 N. Lincoln Ave., Altadena – (4-8 p.m.)
Helen Keller Park – 12521 S. Vermont Ave., Los Angeles – (12-4 p.m.)
Athens Park – 12603 S. Broadway, Los Angeles – (4-8 p.m.)
San Angelo Park – 245 S. San Angelo Ave., La Puente – (12-4 p.m.)
Bassett Park – 510 N. Vineland Ave., La Puente – (4-8 p.m.)
East Rancho Dominguez Park – 15116 S. Atlantic Ave., Compton – (12-4 p.m.)
Ted Watkins Memorial Park – 1335 E. 103rd St., Los Angeles – (4-8 p.m.)
(Mega Snow)
George Lane Park – 5520 W Ave L-8, Quartz Hill (4-8 p.m.)
Friday, Dec. 16
Ruben F. Salazar Park – 3864 Whittier Blvd., Los Angeles (4-8 p.m.)
William Steinmetz Park – 1545 S, Stimson Ave., Hacienda Heights – (4-8 p.m.)
Amigo Park – 5700 S. Juarez Ave., Whittier – (4-8 p.m.)
Amelia Mayberry Park – 13201 E. Meyer Rd., Whittier – (4-8 p.m.)
Saturday, Dec. 17
Stephen Sorenson Park – 16801 E. Avenue P, Lake Los Angeles (12-4 p.m.)
(Mega Snow)
Jackie Robinson Park – 8773 E. Avenue R, Littlerock – (4-8 p.m.)
Mona Park – 2291 E. 121st St., Compton (12-4 p.m.
Franklin D. Roosevelt Park – 7600 Graham Ave., Los Angeles – (4-8 p.m.)
(Mega Snow)
Rimgrove Park – 747 N. Rimgrove Dr., La Puente – (12-4 p.m.)
Allen J. Martin Park – 14830 E. Giordano St., La Puente – (4-8 p.m.)
Valleydale Park – 5525 N. Lark Ellen Ave., Azusa – (4-8 p.m.) (Mega Snow)