Inter-American court hears case of murdered trans Honduran woman
Vicky Hernández killed during 2009 coup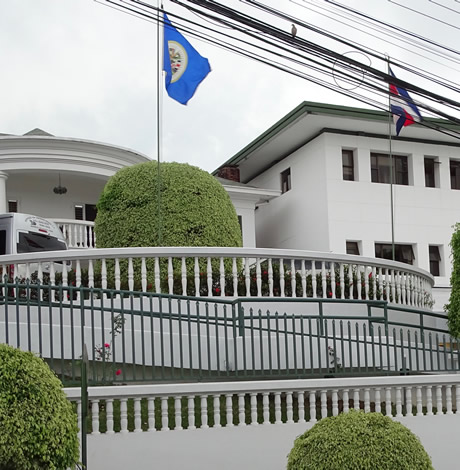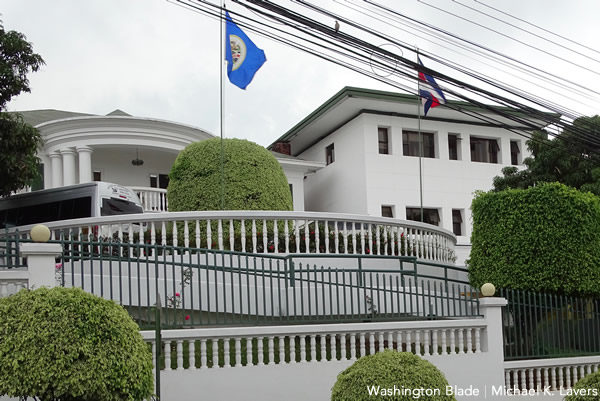 SAN JOSÉ, Costa Rica — The Inter-American Court of Human Rights this week held a hearing in the case of a transgender woman who was murdered in Honduras during a 2009 coup.
Vicky Hernández was killed in the city of San Pedro Sula on June 28, 2009.
Hernández was the former director of Colectivo Unidad Color Rosa, a San Pedro Sula-based trans advocacy group, and a sex worker. Her murder took place on the same day then-President Manuel Zelaya was ousted from power.
Cattrachas, a lesbian feminist network based in the Honduran capital of Tegucigalpa, in 2012 filed a complaint with the Inter-American Commission on Human Rights on behalf of Hernández's family. Robert F. Kennedy Human Rights joined the case in 2015.
The commission on Dec. 7, 2018, published a ruling in favor of Hernández's family that, among other things, recommended the Honduran government provide them with access to physical and mental health care and continue the criminal investigation into Hernández's murder "in a diligent and effective matter within a reasonable time in order to completely clarify the events, identify all those who bear possible responsibility and impose the appropriate penalties for the human rights violations declared in this report." The ruling also called for legal protections for trans Hondurans.
The commission in 2019 referred the case to the Inter-American Court of Human Rights after the Honduran government did not respond to the recommendations.
The Organization of American States created the Costa Rica-based court in 1979 in order to enforce provisions of the American Convention on Human Rights. Honduras is among the countries that currently recognize it.
Hernández's murder was 'extrajudicial execution'
Robert F. Kennedy Human Rights Program Officer Kacey Mordecai on Wednesday described Hernández's murder to the Los Angeles Blade as an "extrajudicial execution" and noted Honduran authorities have not thoroughly investigated it. Mordecai also said authorities in the Central American country interviewed Hernández's mother for the first time two years after her daughter's death.
"What we're arguing is she was a victim of an extrajudicial execution," Mordecai told the Blade.
"There was also a curfew in force that night, so the only people that were on the street were military and police officers," she added, referring to the coup. "So Vicky was found shot in the head the next morning, completely in public, on the street and 11 years later no one has made any headway in her case."
Mordecai confirmed reports the Blade received from activists in Honduras who said a Cattrachas staffer was threatened after the first part of the hearing ended on Wednesday.
"Cattrachas, you have already launched your pronouncement," said the person who threatened the Cattrachas staffer, according to Mordecai. "Are you now going to respect my religion? Are you going to respect my church? Or is it that Jesus was a woman?"
A press release the court issued on Thursday notes the person who threatened the Cattrachas staffer "lobbed insults" that "were related to the activity that she was doing in defense of the rights of transgender people." The court also unanimously ordered the Honduran government to "immediately adopt all necessary measures" to protect Hernández's family and Cattrachas staffers.
Honduran government representatives who participated in the hearing confirmed a member of the Honduran National Police contacted Hernández's mother on Wednesday. The court's protection order notes they indicated the Honduran National Police representative did not speak to Hernández's mother "in a threatening manner."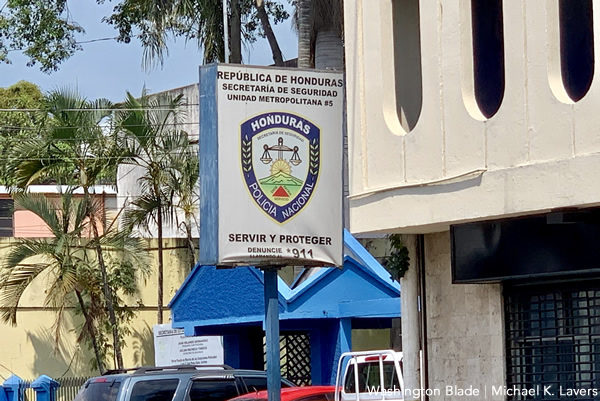 Violence and discrimination based on gender identity remains widespread in Honduras.
A press release that Robert F. Kennedy Human Rights issued on Monday notes at least 117 trans women have been killed in Honduras since the 2009 coup.
Bessy Ferrera, the sister of Rihanna Ferrera, a former Honduran congressional candidate who is the director of Asociación de Derechos Humanos Cozumel, a trans advocacy group, was murdered on July 8, 2019. Ferrera told the Blade in January during an interview in Tegucigalpa that Cattrachas offered to pay for her sister's funeral because her relatives didn't "want to bury a faggot in front of all my relatives."
Ferrera told the Blade that Roxsana Hernández, a trans Honduran woman with HIV who died in a New Mexico hospital in 2018 while in U.S. Immigration and Customs Enforcement custody, left the country, in part, because she wanted access to better antiretroviral drugs. Claudia Spellman, a trans Honduran woman and activist who testified on Wednesday during the Inter-American Court of Human Rights hearing, fled to the U.S. after she received death threats.
Mordecai noted to the Blade the case contains the same demands the Inter-American Commission on Human Rights complaint had.
Cattrachas and Robert F. Kennedy Human Rights have demanded Honduran law enforcement officials undergo training "about the threats and risks LGBTQI individuals face." The complaint also calls for the Honduran government to open a center in San Pedro Sula that will offer health care, HIV testing, legal representation, job training and other services to the city's LGBTQ community.
"We're talking about a death that happened in 2009, but in 2020 we're finding a lot of the same themes," Mordecai told the Blade.
Acá les resumimos la historia de Vicky Hernández, una mujer trans asesinada. Su caso llegó a la @CorteIDH. pic.twitter.com/vh826WRKff

— CATTRACHAS (@CATTRACHAS) November 3, 2020
Mordecai shared Cattrachas' optimism about the case.
"States have responsibilities they cannot shy away from," said Mordecai.
Blinken says Biden raised Russia's LGBTQ rights record with Putin
Geneva summit between two presidents took place on June 16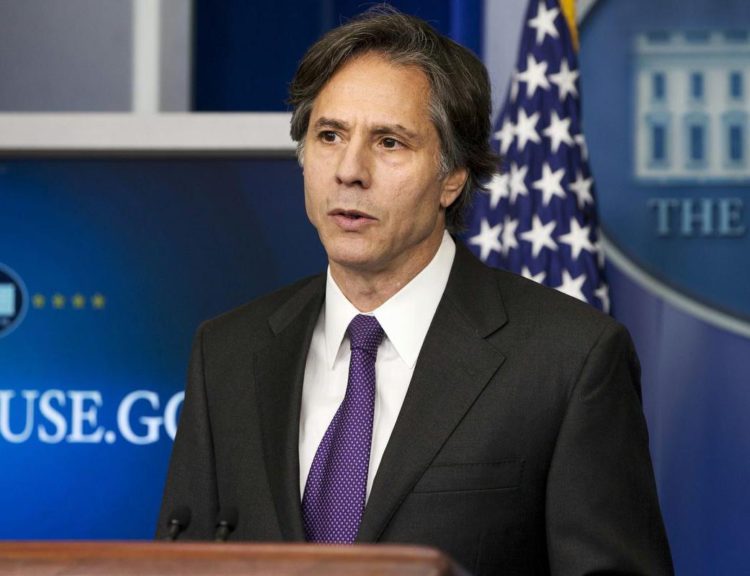 WASHINGTON — Secretary of State Antony Blinken on Monday said President Biden raised the Kremlin's LGBTQ rights record with Russian President Vladimir Putin during their recent summit.
"The president pushed human rights — including LGBTQI rights — with President Putin," Blinken told Washington Post columnist, "PBS NewsHour" contributor and host of MSNBC's "The Sunday Show" Jonathan Capehart during a virtual Pride month discussion the Atlantic Council hosted.
Biden met with Putin on June 16 in Geneva. Blinken was among those who participated in the summit.
The White House did not say whether Biden specifically raised Russia's LGBTQ rights record with Putin. Biden told reporters after the summit that he stressed to Putin "that no president of the United States could keep faith with the American people if they did not speak out to defend our democratic values, to stand up for the universal rights and fundamental freedoms that all men and women have, in our view."
"What he told President Putin is that as an American president — where for all of our challenges, many of which are manifest in recent months and recent years — this is something that is basically stamped in to our DNA and he would be abdicating his responsibility as president, as an American president, not to raise these issues," Blinken told Capehart.
Capehart specifically asked Blinken about the case of two Chechen brothers who were arrested in Russia in February and returned to their homeland, even though they had fled Chechnya's anti-LGBTQ crackdown.
"We didn't get into specific cases in that meeting, but he made very clear to President Putin that this is fundamentally who we and who he is and what we'll do and will continue to do going forward," said Blinken.
Blinken also did not say how Putin specifically responded to Biden's decision to raise his country's LGBTQ rights record with him. Blinken, however, did say "there was at least an acknowledgment" the U.S. will raise human rights in such meetings.
"This is what an American president should do," said Blinken. "This is who we are and this is what we represent to the world."
TUNE IN for a LIVE #ACFrontPage event: @SecBlinken discusses the role of the US State Department in advancing LGBTQI equality at home and around the world with @CapehartJ https://t.co/zoIQmk49mG

— Atlantic Council (@AtlanticCouncil) June 21, 2021
The Stonewall Inn bans Anheuser-Busch during NYC Pride weekend
"We urge Anheuser-Busch and other companies doing this to publicly commit to stop donating to anti-LGBTQ politicians"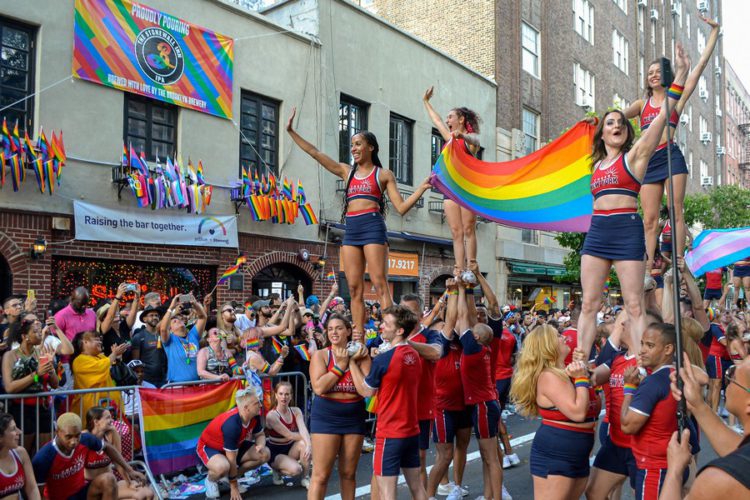 NEW YORK – In response to news that the Anheuser-Busch InBev company had made political contributions to lawmakers behind bills targeting transgender youth, the owners of the Stonewall Inn announced its ban of AB InBev products during New York City's Pride weekend.
The historic West Village pub, widely regarded as the location of one of the seminal defining events in the history of the LGBTQ rights movement, is sponsoring a public 'pour-out' of Bud Light, Michelob ULTRA, and Stella Artois in front of the bar on Wednesday, June 23, to demand that the Leuven, Belgium based AB InBev stop donating to anti-LGBTQ legislators and commit to using its lobbying efforts to advance the Equality Act.
Should the Equality Act be passed, it would afford LGBTQ people with equal nondiscrimination protections under federal law.
"You can't turn your logo rainbow on social media, call yourself an ally, and then turn around and make donations that fuel hate. There are really no excuses, and companies like Anheuser-Busch need to own up to what they've done," said Stonewall Inn co-owner Stacy Lentz. "As a business owner, it's never easy to stop selling a product that affects your bottom line — especially during the busiest weekend of the year. But I'm an activist above all else and we at The Stonewall Inn know we bear a unique responsibility to call out hypocrisy when we see it. Anheuser-Busch and other companies must do better."
According to data from the Keep Your Pride campaign, since 2015, Anheuser-Busch has made 48 donations totaling $35,350 to 29 anti-LGBTQ legislators behind recent bills attacking trans youth.
Through its nonprofit arm, The Stonewall Inn Gives Back Initiative, Stonewall recently launched the Safe Spaces program, which identifies and certifies entertainment venues, food and beverage locations, stores, businesses, and other public venues as Safe Spaces for LGBTQ people. Under its criteria for certification, businesses that donate to anti-LGBTQ lawmakers would not qualify for designation as a Safe Space.
"As one of our best-selling products, Bud Light has been a longtime staple here at The Stonewall Inn. It's deeply disappointing to learn that Anheuser-Busch has given money to lawmakers who are attacking trans kids, some of the most vulnerable people in the LGBTQ community," said Stonewall Inn co-owner Kurt Kelly.
"We're horrified to see so-called allies supporting lawmakers who would make life harder for anyone in our community. We urge Anheuser-Busch and other companies doing this to publicly commit to stop donating to anti-LGBTQ politicians and use their lobbying power to support the Equality Act," Kelly added.
Vigil held after Wilton Manors Pride parade accident
Fort Lauderdale mayor expressed 'regret' over initial terrorism claim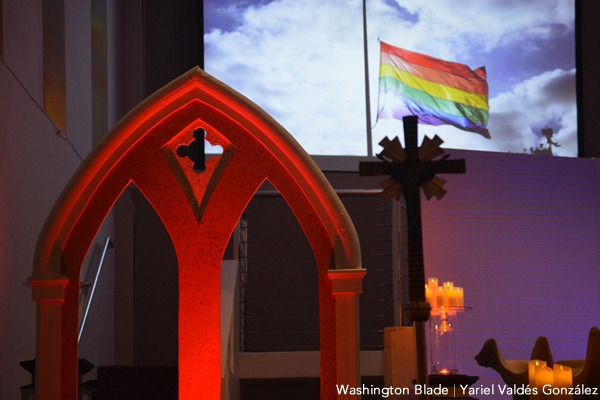 FORT LAUDERDALE, Fla. — More than 100 people on Sunday attended a prayer vigil in the wake of an accident at a Wilton Manors Pride parade that left one person dead and another injured.
The vigil took place at the Sunshine Cathedral in Fort Lauderdale.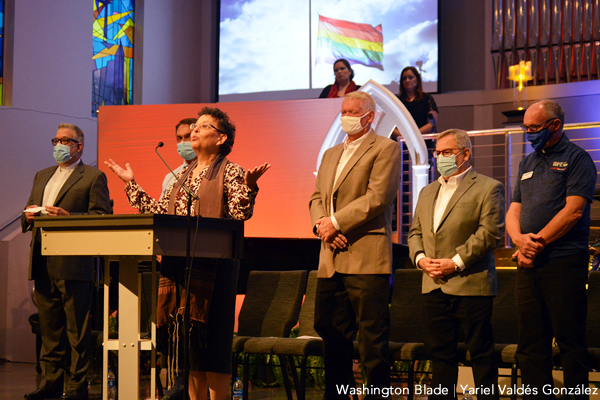 A 77-year-old man who was driving a pickup truck struck two men near the Stonewall Pride Parade's staging area shortly before 7 p.m. on Saturday. One of the victims died a short time later at a Fort Lauderdale hospital.
The pickup truck narrowly missed U.S. Rep. Debbie Wasserman Schultz (D-Fla.), who was in a convertible participating in the parade, and Florida Congressman Ted Deutch.
The driver of the pickup truck and the two men he hit are members of the Fort Lauderdale Gay Men's Chorus. The Fort Lauderdale Police Department on Sunday described the incident as a "fatal traffic crash" and not a terrorism incident as Fort Lauderdale Mayor Dean Trantalis initially claimed.
"As we were about to begin the parade, this pickup truck, this jacked up white pickup truck, dashed across, breaking through the line, hitting people, all of us that were there could not believe our eyes," said Trantalis as he spoke at the vigil.
Trantalis noted the pickup truck nearly hit Wasserman Schultz. He also referenced the arrest of a 20-year-old supporter of former President Trump earlier in the week after he allegedly vandalized a Pride flag mural that had been painted in an intersection in Delray Beach, which is roughly 30 miles north of Fort Lauderdale.
"I immediately knew that something terrible was happening," said Trantalis, referring to the Stonewall Pride Parade accident. "My visceral reaction was that we were being attacked. Why not? Why not feel that way?"
"I guess I should watch to make sure there are no reporters standing by when I have those feelings, but that was my first reaction and I regret the fact that I said it was a terrorist attack because we found out that it was not, but I don't regret my feelings," he added. "But I don't regret that I felt terrorized by someone who plowed through the crowd inches away from the congresswoman and the congressman, myself and others."
Trantalis also told vigil attendees that "I guess we forgive" the pickup truck driver.
"But I regret that his consequences resulted in the death of an individual who was innocent and who was there to have a good time, like the rest of us, and I regret there is a man who is in serious condition … fighting for his life and there," added Trantalis.