November 16, 2020 at 5:42 pm PST | by Staff reports
FBI 2019 Hate-Crimes Report released- Third of total directed at LGBTQ people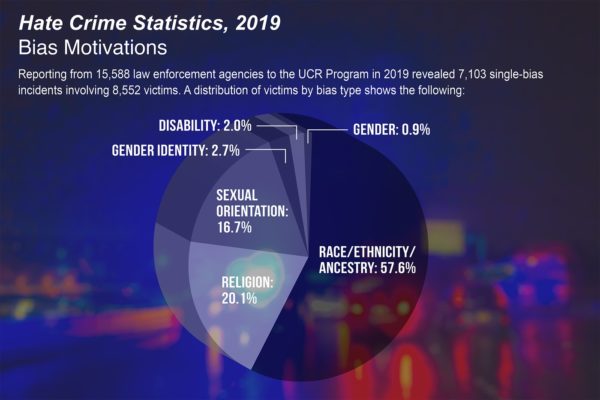 WASHINGTON – In the annual report issued this week by the Federal Bureau of Investigation, (FBI) that tabulates bias-motivated incidents throughout the United States, nearly one-third of hate crimes were directed at LGBTQ people.
The 2019 information was submitted by 15,588 law enforcement agencies, outlines data about the offenses, victims, offenders, and locations of hate crimes. Because reporting hate crimes to the FBI is not mandatory, those statistics likely represent only a fraction of such violence against the LGBTQ community.
The number of law enforcement agencies reporting hate crimes data decreased by 451 from 2018 to 2019 the FBI noted. "Law enforcement agencies submitted incident reports involving 7,314 criminal incidents and 8,559 related offenses as being motivated by bias toward race, ethnicity, ancestry, religion, sexual orientation, disability, gender, and gender identity," the report's executive summary read.
Assistant Chief Beatrice Girmala, of the Los Angeles Police Department told the Blade that the LAPD was completely committed to not only investigating Hate Crimes but working with local community leaders and activists to help stem the frequency of these types of incidents. "As a community, our collective commitment must be unwavering –to protect, support, and defend the rights and safety of all transgender Angelenos, Girmala said. She then added, repeating her statement released for the City of Los Angeles Transgender Awareness Month campaign, "Nothing and no one thrives in the shadows. Let light, unity, and the goal of equality define our message during Transgender Awareness Month."
The report shows that hate crimes based on sexual orientation represent 16.8% of hate crimes, the third largest category after race and religion. The report also shows an uptick in gender identity based hate crimes rising from 4.2% in 2018 to 4.8% in 2019.
"Yet another year with alarming levels of bias-motivated crimes underscores just how urgent it is to address this hate crimes epidemic. This year, we saw a tragic new record of fatal violence against transgender and gender non-conforming people in this country, particularly against Black and Brown transgender women.," Human Rights Campaign President Alphonso David noted in a media statement.
"These alarming statistics represent real trauma for individuals and families across this country who have to bear the brunt of these hate crimes. As the Biden-Harris administration assumes office, we must recommit ourselves to advocating for mandatory hate crimes reporting across the country, better training for law enforcement officers to recognize bias-motivated crimes, and greater inclusion and equity in our communities," he added.