Federal Appeals Court voids ban on Conversion Therapy
Plaintiffs were represented by vehemently anti-LGBTQ Mat Staver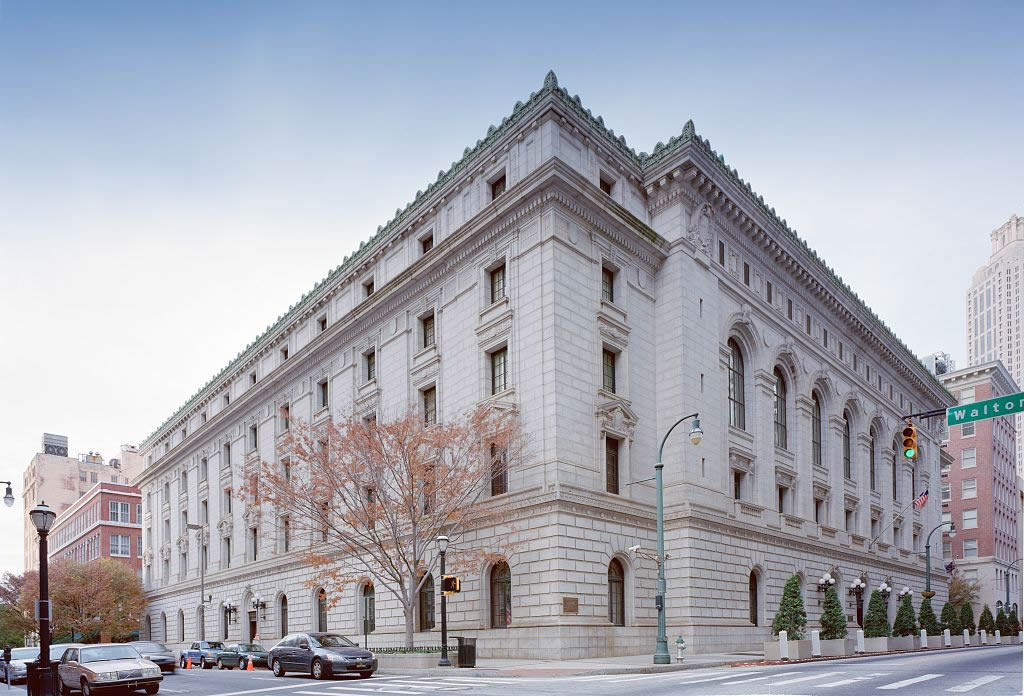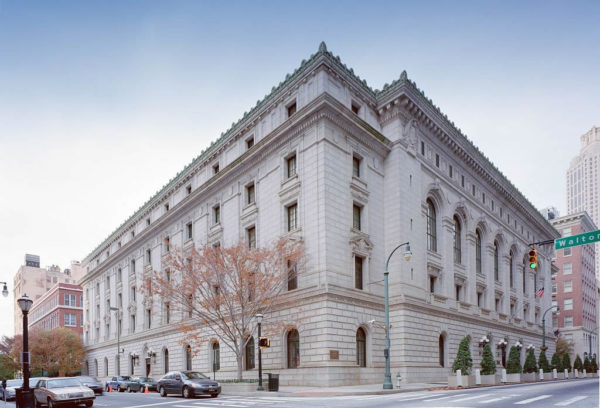 ATLANTA – The U.S. 11th Circuit Court of Appeals, in a 2-1 decision Friday, voided a pair of local ordinances that were passed by the city of Boca Raton, Florida and surrounding Palm Beach County that prohibited therapists from offering so-called conversion therapy to minors struggling with their sexual orientation or gender identity.
In its ruling the court held that the bans were unconstitutional violating First Amendment rights on content-cased speech and religious freedoms.
The suit had been brought by two therapists that the ordinances targeted prohibiting them as well as other licensed counselors from performing gay conversion therapy on minors. They were represented by vehemently anti-LGBTQ Mat Staver, founder of Orlando-based Liberty Counsel, a law firm that seeks out legislation or regulatory mandates which uphold LGBTQ rights and challenges them in courts across the United States to overturn them.
Robert Otto and Julie Hamilton, who have engaged in conversion therapy with minors in Florida despite warnings against the practice, had challenged the municipal ordinances in the litigation.
Reporting on the lawsuit, Courthouse News this past February noted that the Palm Beach county regulation provides for a fine of $250 for performing conversion therapy on a minor, with a $500 fine for each additional violation. The laws define conversion therapy as the practice of attempting to change a patient's sexual orientation or gender identity.
In court filings Staver argued that the clients of the two therapists claimed that those persons they counseled had expressed "sincerely held religious beliefs conflicting with homosexuality," and sought counseling to conform their identities and behaviors with those beliefs.
A federal judge in Miami had ruled that the "plaintiffs have not met their burden of showing that the ordinances violate the Free Speech Clause of the First Amendment."
In the special hearing before the three judge panel of the 11th Circuit last February, the therapists fought to dispel the notion that they were engaged in aggressive attempts to change patients' sexual identity. Staver argued that the counselors used neither shaming nor punishment, instead relying solely on conversation as therapy.
Leading mental health professional organizations, the American Pediatrics and American Psychiatric Associations are opposed to what both have termed "the damaging effects of conversion therapy."
"There is no evidence that it is helpful and plenty of evidence that it is psychologically harmful to participants. The practice must be banned in order to protect the mental and emotional well being of both children and adults," a spokesperson for the American Pediatrics Association told the Blade. "It can be reasonably argued that members of the LGBTQ community experience suicide and assault at greater rates than the general population, in part, due to the continued authorization of conversion therapy."
"The archaic idea that mental health providers can or should change someone's gender expression or gender identity or their sexual orientation is based on a history of stigmatization and subjective, restrictive sexual identities. It increases the risk of suicide of our LGBTQ children from trauma via conversion therapy," Dr. Katya Dobrynin told the Blade.
Staver hailed the decision against bans on conversion therapy in a statement as a win for free speech and predicting similar rulings would follow the Blade's Chris Johnson reported.
"This is a huge victory for counselors and their clients to choose the counsel of their choice free of political censorship from government ideologues," Staver said. "This case is the beginning of the end of similar unconstitutional counseling bans around the country."
Representative Ted W. Lieu (D-Los Angeles County) who authored the first ban on youth conversion therapy in the nation as a California State Senator and who introduced proposed legislation for federal bans in Congress told the Blade in an emailed statement;
"I am disappointed and dismayed at this court decision. It's wrong on the facts. Banning conversion therapy doesn't concern free speech – it's about fraud. Conversion therapy peddles treatments for an ailment that doesn't exist. There is nothing wrong with being gay, lesbian, bisexual, trans or queer. Suggesting someone can sell a "cure" to being LGBTQ+ is harmful and dishonest."
In an email Friday, Palm Beach County Attorney Helene Hvizd told the Blade; "Palm Beach County continues to review the majority and dissenting opinions as we weigh our options."
Jamie Cole, a partner with Weiss Serota Helfman Cole & Bierman P.L. and co-counsel for the City of Boca Raton, said via email to the Blade the legal team is weighing its next steps.
"This is a difficult legal issue, as evidenced by the split decision," Cole said. "The city is disappointed with the majority decision, but agrees with the well-written and well-reasoned dissent. The city is analyzing the decision to determine how to proceed."
Shannon Minter, legal director for the National Center for Lesbian Rights, discouraged via email to the Blade any attempt to call for resolution of the issue before Supreme Court, which now has a 6-3 conservative majority as a result of Trump-appointed picks.
"I do not think this issue is ripe for Supreme Court review," Minter said. "Today's ruling is an outlier by two Trump-appointed judges. As the dissent points out, the decision is not well grounded in precedent and ignores what the dissent rightly describes as a "mountain of rigorous evidence" that conversion therapy puts minors at risk of serious harms."
Minter urged the municipalities to take another course of action, saying "because the majority opinion here is so off track, seeking en banc review would be more appropriate than seeking Supreme Court review."
The Eleventh Circuit decision creates a split among circuit courts on the constitutionality of bans on conversion therapy. The U.S. Third Circuit Court of Appeals and the U.S. Ninth Circuit Court of Appeals have previously upheld these bans as constitutional.
The spilt among the circuit courts on the issue may prompt the Supreme Court to take it up to resolve the constitutional issue on a nationwide basis — provided the municipalities submit a petition for review.
Both appellate judges in the majority of Friday's ruling were appointed to the bench by President Trump, while the dissenting judge was appointed by President Obama.
Link to the ruling is here.
Additional reporting by Chris Johnson
Black & LGBTQ+ inclusive wall mural cited for multiple code violations
The idea was to make a mural that addressed pending legislation in Tallahassee that would affect the rights of minorities & the LGBTQ+ people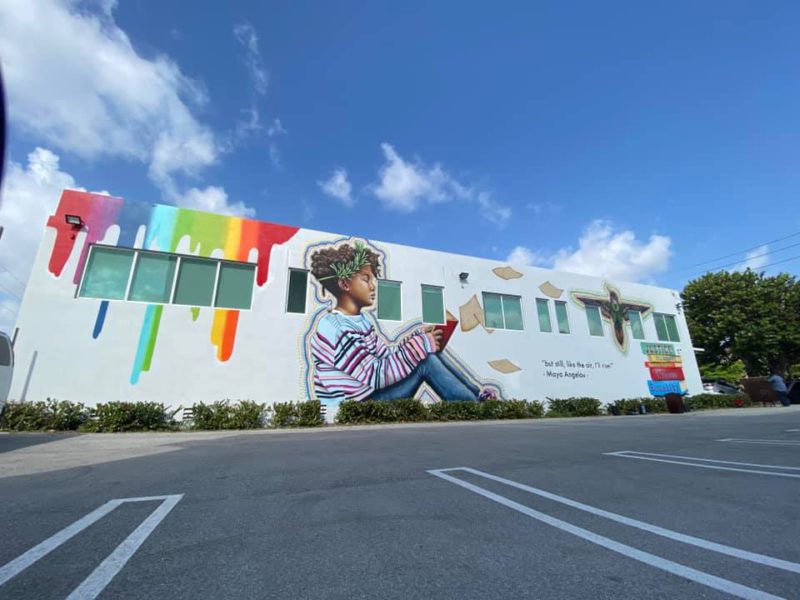 MIAMI SPRINGS, Fl. – A colourful wall mural in Dade County has attracted the ire of municipal authorities who say the mural, which includes a child of color reading a book, a verse from a Maya Angelo poem, and an LGBTQ Pride rainbow symbol, violates building codes.
The United Teachers of Dade union has been cited by Miami Springs for code violations after it unveiled the mural on its office building the Miami Herald reported this past week.
"If you do not see the word mural on an ordinance this does not mean it's allowed, means you should make an inquiry with the Building & Zoning department first and present your mural," Miami Springs Councilwoman Jacky Bravo said in an email to the Herald. "We are not talking about a small stamp on the wall. Seems like they took a blind eye on this one, and unfortunately has caused an issue to be dealt with."
The Herald reported that was it unveiled last March, and was titled 'Rise' to send a message to lawmakers in Florida's capitol in Tallahassee as a series of laws were being introduced that negatively impacted the minority and LGBTQ+ communities in the state.
Today, we unveiled "RISE", an art mural that depicts the importance of #publiceducation and its crucial role to ensure a functioning #Democracy; it symbolizes the resilience of our community and their continuous fight for #justice and #equality. Stop by UTD and check it out ! pic.twitter.com/hfS94WoYhl

— United Teachers of Dade (@UTD_AFT1974) March 19, 2021
Luis Valle, a Miami-based artist who was commissioned by the United Teachers of Dade union to paint the mural told the paper, "The idea was to make a mural that addressed pending legislation in Tallahassee, at the time, that would affect public schools, as well as the rights of minorities and those in the LGBTQ+ community. It is about inclusivity for all people and all cultures."
Although the UTD Union had submitted and paid for a permit, the Miami Springs City Code Compliance Department, which requires permits be obtained before work commences, had already issued a "notice of violation" on March 25 to the union site's property owner, UTD Building Corp., for violations that included:
–improper size of wall sign
–improper placement and/or width of wall sign
–improper construction of sign
–failure to comply with applicable color palette
"Failure to correct the violations by the time due shall cause this case to be set for hearing before the code compliance board and may result in fines, costs and/or a lien levied against you and the property," the notice said. "Fines imposed shall not exceed $250 per day for a first-time violation."
The city gave UTD until April 24 to correct the violations, according to the notice. Potential fines, as of Oct. 13, could run as high as $43,000 the Herald noted.
Currently discussions are ongoing. "UTD reviewed all the codes before contracting our mural artist in order to perform our due diligence," United Teachers of Dade President Karla Hernandez-Mats said in an emailed statement to the Herald on Oct. 11. "Additionally, we spoke to a former council member to double check our findings and that individual also concluded that the Miami Springs City Codes did not address this topic."
"The art piece is not a sign for the building or our organization; it has no logo or company name on it because it is an artistic expression in the form of a mural with no other intent," Hernandez-Mats' added.
Attempts by the Miami Herald to reach Miami Springs Mayor Maria Mitchell, and City Council members had been unsuccessful by this past Thursday afternoon, however the next Miami Springs City Council meeting is at 7 p.m. on Monday, Oct. 25.
Vermont high school homecoming halftime show turns into a 'drag show'
"The crowd was decked out in LGBTQ+ affirming clothing- the stands were completely packed. It was just so heartwarming to see"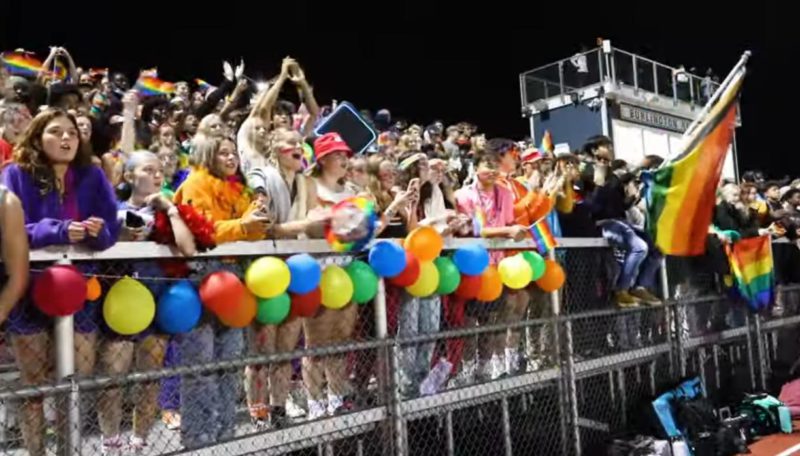 BURLINGTON, Vt. – A quintessential annual Fall time-honored tradition held across America's on high school football fields are homecoming games. This year a mix of students and faculty members Burlington High School, along with some participants from South Burlington High School, added a touch of 'drag' to the halftime show.
"Things went amazing," Ezra Totten, student leader of the Gender Sexuality Alliance at Burlington High School, told the Associated Press, speaking about Friday night's event. "The stands were completely packed. It was just so heartwarming to see."
The school's principal, its Athletic Director, and other staff were fully supportive with Andrew LeValley, an English teacher and GSA adviser, the faculty member who created the idea along with a boost from Burlington High Athletic Director Quaron Pinckney suggested that the show be held at the homecoming game's halftime.
Pinckney, who is Black, told the AP that the school gave him the space to "uplift my voice" and that he was able to reciprocate and "uplift the voices of another marginalized group and share a space in the athletics realm that doesn't normally get shared."
The crowd was decked out in LGBTQ+ affirming clothing, costumes and waving Pride flags raucously cheering as the 'drag ball's' performers paraded and danced to show support for LGBTQ+ students and the larger LGBTQ+ community. They commenced the halftime show with a runway-style event while they lip-synced to singer Todrick Hall's "Rainbow Reign."
Burlington High School's halftime drag show
LGBTQ+ Non-profit will build 8 homes for LGBTQ youth in Western states
Encircle is a non-profit organization with the mission to bring the family and community together to enable LGBTQ+ youth to thrive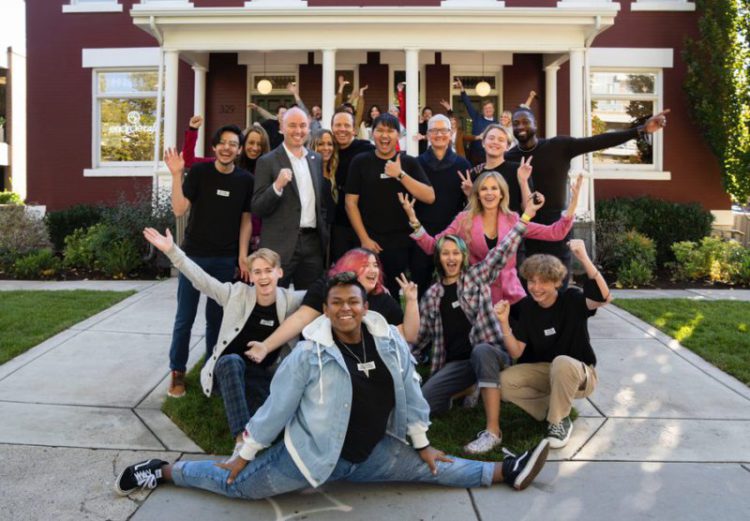 SALT LAKE CITY – A Utah-based non-profit announced Wednesday that the organization has raised more than $8 million dollars to build eight new homes in four Western states to provide services for LGBTQ youth.
Encircle, which provides mental health services for LGBTQ youth, will build the new homes with locations in Arizona, Idaho, Nevada and Utah. The new homes are dedicated for providing safe spaces, resources and preventing teen suicide. The organization currently has locations in Salt Lake City, Provo and St. George, Utah, and recently construction has begun on locations in Heber, Logan and Ogden, as well as in Las Vegas, Nevada.
The fundraising efforts had kicked off this past February with donations from NBA Basketball's Utah Jazz team owners Ryan and Ashley Smith and Apple CEO Tim Cook, the first openly gay CEO of a Fortune 500 firm. The lead singer of Imagine Dragons Dan Reynolds and his wife, recording artist Aja Volkman, and retired NBA superstar and Jazz part-owner Dwayne Wade, whose 14-year-old daughter Zaya is Trans, all partnered together to give a total of $4 million.
In a press conference Wednesday, "Encircle's mission is very personal to me because I see myself in so many of these young people," Apple CEO Cook told reporters. "It's not easy when you're made to feel different or less than because of who you are or who you love. It's a feeling that so many LGBTQ people know far too well."
Proud to support @encircle2gether's life-saving work providing resources to LGBTQ+ youth in Utah & surrounding states. Great to be with @GovCox, @AbbyPalmerCox, @RyanQualtrics, Ashley Smith, @DwyaneWade, and @stephylarsen as we celebrate the opening of Encircle's first cafe. pic.twitter.com/E6nN23Uc4m

— Tim Cook (@tim_cook) October 13, 2021
Encircle executives and the group of celebrities were joined by Utah Republican Governor Spencer Cox who praised Encircle's efforts.
"What Encircle has done is provided that piece of acceptance, even if — especially if — there is no acceptance anywhere else," the governor said. "There is a place where they can go where they can feel loved."
Wade, reflecting on being the parent of a Trans child, "I stand here as a proud parent of a beautiful daughter that's a part of the LGBT-plus community," he said. "I don't have all the answers. I don't know everything, but I'm willing to listen."
Today is what it's all about. Thank you @encircle2gether for your commitment to the LGBTQ+ community! https://t.co/jisSsqbYfc

— DWade (@DwyaneWade) October 13, 2021
Encircle is a non-profit organization with the mission to bring the family and community together to enable LGBTQ+ youth to thrive.
On its website the non-profit lists its current support services including its new café which is open "Monday through Friday between 3-8 PM folks ages 12-25 are welcome to just drop-in, hang out and enjoy our safe space. Friendship Circles, its weekly groups [which] allow you to tell your story and connect with peers in a safer space facilitated by our community, and LGBTQ affirming therapy."