December 21, 2020 at 10:38 pm PST | by Rance Collins
WeHo, LA gay bars struggle amidst restriction mandates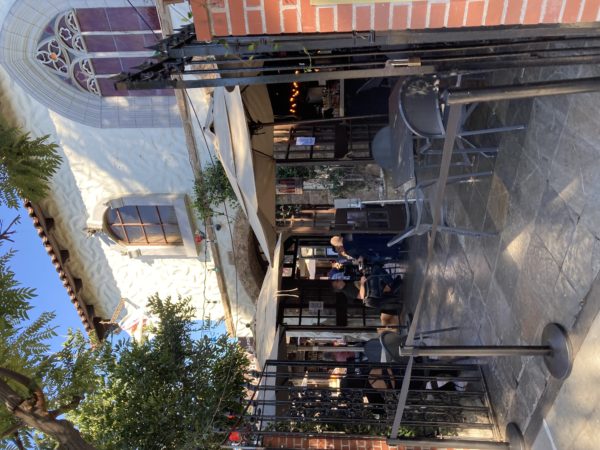 WEST HOLLYWOOD – A year ago, turning right onto Santa Monica Blvd. from Robertson on Saturday night might've taken you a couple light cycles, as dozens of club-goers crossed the street hopping from Mickey's to the Abbey. 12 months later, those are two of the only bars left on the quarter-mile stretch of acceptance the LGBTQIA+ community has come to call their LA home.
For decades, the shops and watering holes in West Hollywood have powered the city into becoming the nation's most prominent gay enclave. Now, many of those businesses are shuttering, and there is doubt as to what might be left when the pandemic is over.
Some locations have hung on, able to create open-air spaces that follow the guidelines for LA County and California's strict COVID-19 regulations. But with the recent surge in cases and mandatory business closures, there are doubts as to what might be left when the vaccinations finally hit a critical mass.
Recently, Rage, Gym Bar, Gold Coast and Flaming Saddles all closed their doors permanently, unable to function in a world of restrictions. Some places weren't equipped to move toward social distancing and outdoor dining, as the Abbey was, and others simply couldn't make ends meet.
Jacqui Squatrigila, who owned Flaming Saddles, had initially thought she had a deal struck with her landlord, Monte Overstreet, where her bar would be allowed to reopen when it was deemed safe.
In August, when others were opening up for outdoor operations, Squatrigilia believed the virus was still too prevalent and dangerous. Overstreet then revoked the verbal agreement. "It's devastating to go through a pandemic and think that you're going to open and you have a deal in place, and then that deal is gone," Squatrigila said in an interview with The Hollywood Reporter.
Overtstreet also owned the properties housing Gold Coast and Rage. Squatrigilia went on to say, "They could rent to anybody, it doesn't have to be a gay bar — it could be whatever they want, which would change the fabric of the community. It was a very safe social community and I think that's what we gave, too. Flaming Saddles was a safe space and I think that more than anything is important to the community there."

David Cooley, who owns the Abbey, argues that finding a way to keep the spaces open is vital as the tumultuous year comes to a close.
"Keeping restaurants and LGBTQ+ safe spaces open is a mental health issue," Cooley told The Hollywood Reporter. Cooley believes that the holiday season, a period where lonely people feel especially isolated, is the time the queer community most needs a safe place to escape. The latter half of December statistically has the highest suicide rate annually.
Across the county Silverlake's Akbar, one of the most well-known gay establishments outside of West Hollywood, has been unable to open its doors at all since the first lockdown
Owners Scott Craig and Peter Alexander noted on their webpage, "And now this new plague is threatening Akbar's survival. Hundreds of Queer businesses are closing. How many of those Queer business will be reborn as Queer when the pandemic is over? Community matters, safe space matters."
LA's LGBTQ bar owners and patrons are terrified of what the future might hold for their favorite hangouts and how they will find human connection in the interim. What is certain is that after enough shots get into arms and restrictions are a thing of a past, there will need to be places for the community to congregate again.
Asked to comment on the current business crisis in the city, in an emailed statement Monday evening, West Hollywood's Lindsey P. Horvath told the Blade;
"Our LGBTQ community and our Rainbow District are at the heart of what makes West Hollywood unique and special. As communities throughout the world continue to respond to this unprecedented pandemic, the City of West Hollywood has been working around-the-clock to support the health and safety of people who live, work, and play in West Hollywood. Like many communities, the pandemic has had an enormous toll on our community and its businesses, including our bars, restaurants, and nightlife venues. In our case, this affects our LGBTQ community's noteworthy destinations.

I remain reassured by the resilience of our community. Our City government and our community members have emerged strong through previous health emergencies, such as the HIV and AIDS pandemic, and economic downturns, such as the 2008 recession.

Each time we're faced with a challenge, West Hollywood rises to the occasion and our community finds resourceful, creative, and determined approaches to overcome adversity. The City is working to support community members, including residents and businesses, by creating resources where it can, and by connecting to resources where there are opportunities. We will continue to advocate at the County, State, and Federal levels for assistance and relief for individuals and businesses.

The City of West Hollywood has always been an affirming place for the LGBTQ community and will continue to be a destination for LGBTQ people and allies. There is much hope on the horizon with a new Federal Administration and with a vaccine. We will get through this pandemic with determination and we will aim to come back with a renewed sense of purpose and revitalization."
"The world is a straight world — queer people need their own space to carve out of this vast straight world," said Craig and Alexander. "A lot of them need that to feel safe, and to become themselves."