December 22, 2020 at 10:18 am PST | by Susan Hornik
It's not too late to give
Holiday shopping for your friend or family member can be a tough task, which is why people often put off buying until the last minute! Lucky for you, Los Angeles Blade has crafted the perfect gift guide for all your loved ones! Given that everyone is struggling right now, please consider these purchases from these wonderful businesses all year round!
For That Fun Friend
DICK ON A DESK
If there is one thing we learned in 2020, it's how much we miss having fun. As many of us work from home, work responsibilities seem to be creeping outside of the typical 9 to 5 office hours and into our daily life. It's time to change all of that. As adults, we don't get Santa, or the Easter Bunny, or the Tooth Fairy. We get Dick. Thankfully, Dick is pretty cool. And he comes with a classic storybook tale about the joys of dicking around that will undoubtedly influence generations of sad adults. Life is for living, not just for working. Reclaim your humanity with Dick on a Desk. www.dickonadesk.com
Barefoot's Pride Packaging Collection features four unique and colorful designs that celebrate the strength and resilience of the LGBTQ+ community, and each design pays tribute to those who have made a significant impact on the community during Barefoot's 30+ year history of allyship. Barefoot's Pride Packaging Collection designs are featured on Barefoot Brut Rosé Bubbly bottles and Barefoot Rosé Spritzer cans. These bottles are great for host/hostess gifts for very small holiday gatherings or as a gift for your bubbly loving friend. Additionally, a portion of proceeds from Barefoot's Pride Packaging Collection, up to $60,000, will benefit Free Mom Hugs – a non-profit supporting the LGBTQ+ community.
For Him/Her/Gender Fluid
There are some great gifts available at Out & About Supply, which has a collection of luxurious and stylish masks, blankets, totes, hip bags, and duffel bags, encouraging people to safely enjoy the outdoors for a walk, hike, picnic, small gathering or a weekend away. Based in Silverlake and founded by Kathryn Hampton, owner of local interior design firm K2S Studio, and Dickey DeBiase, this is a great example of how local companies are applying their experience and resources in new ways to help during these unprecedented times. A portion of each sale will go toward building recreational space in underserved communities through The Los Angeles Neighborhood Land Trust. https://shop.outandaboutsupply.com/
Santa isn't going to need any help with this two-piece Santa bra set from 3Wishes.com – the online purveyor of all things sexy. This lovely set includes a stretch satin and net half cup bra with marabou trim, adjustable straps, a matching garter belt and a g-string. Whether you're the one wearing or admiring, this is a unique ensemble for all who have been naughty or nice. Or choose from one of their many sexy lingerie ensembles.
Robbins Bros has some wonderful sales if you are ready to pop the question! According to their research, nearly 90% millennial gay female couples have purchased traditional diamond engagement/wedding rings. About 65% of millennial gay male couples buy a diamond wedding ring for at least one partner in the relationship. Lab-grown diamonds offer an option that allows couples to get a bigger and more brilliant diamond than they may have expected.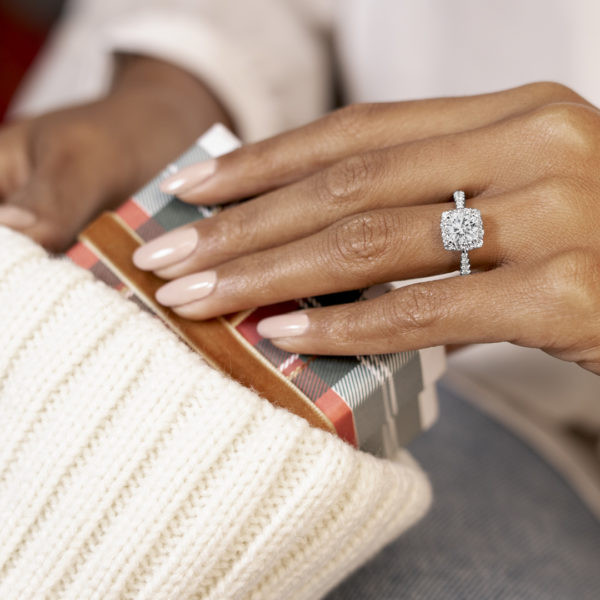 SOUNDOFF is a black and LGBTQ-owned, gender-neutral streetwear brand. Their new collegiate-inspired Varsity collection includes a new collection of hoodies and crewnecks that offer premium comfort without sacrifice.
The "S" hoodie pullover and SOUNDOFF crewneck are both made of an ultra-comfortable fleece sponge that you'll never want to take off.
For the Home
Copper Cups
If you are looking for a beautiful gift for the home chef, check out accomplished coppersmith Sara Dahmen, who makes incredible artisanal items for the kitchen. Her 1.7 lb. solid copper cups retail for $90 and makes a great present! She also creates copper pots and straws, and re-tins, buffs and polishes old copper pots for clients. Her latest book is called Copper, Iron and Clay, a beautifully photographed book that shows you how copper cookware is made, cooking with copper and fantastic recipes.
Shop Now: Look for her work at housecopper.com!
Flights in Stilettos
FlightsinStilettos makes a terrific soft, makeup towel that is a perfect stocking stuffer! The company is owned by Kinyatta E. Gray, and is based on her real-life glamorous travel style. These face cloths are ideal for traveling and can be washed and reused hundreds of times! The company also makes a fantastic "Love Wins" Towel, which is perfect for lgbtq couples on their exotic beach getaway. https://www.flightsinstilettos.com/glam-girl-beach-
For The Foodie

Los Angeles' only shop featuring solely female-made wines is Vinovore–their wine bundles are perfect for any price point on your gift list – they are filled with a fantastic rotating selection of available wines and accoutrement. The "you can't go wrong" gift, these bundles can include cheese, chocolate, or a variety of wines based on buyer preference. All the customer needs to do is pick the price point, and Vinovore will handle the rest. I am sure owner Coly Den Haan, a member of the LGBTQ+ community, would appreciate your support!
Tiato Kitchen & Garden, sister restaurant to Crustacean Beverly Hills, has some amazing gourmet holiday takeout and delivery offerings for Christmas that are available to order. With exclusive menu options,  get your traditional favorites with An Family's Cal-Asian flair. Tiato's holiday meal packages and a la carte menu options offer the best fare from one of California's most revered restaurant families in the comfort of your own home. And yes, the An family's world-famous garlic noodles are being offered!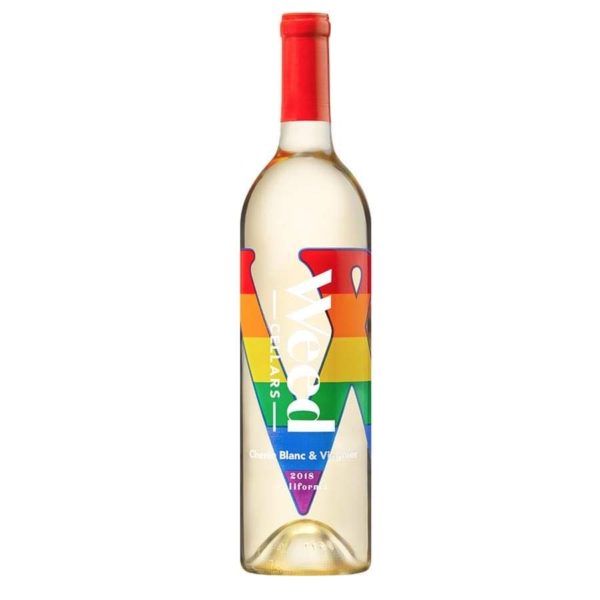 Weed Cellars brings you the Pride edition of a special white wine blend comprising 80% Chenin Blanc and 20% Viognier wine. Honor love with each sip as you enjoy rich notes of pear, ginger, jasmine, and honey. Dry and fruity, this wine has been meticulously crafted for perfect finish. Celebrate life. Celebrate you!
Barebells Functional Foods™ was launched in Sweden in 2016 to offer products high-in-protein that never compromise on flavor. Since the launch, the functional food brand has revolutionized the industry with its bestselling protein bars delivering 20g protein and no added sugar* – a real treat for everyone who wants to feed their cravings.
KÖE is the only kombucha that's fruit-forward, USDA Organic and packed with probiotics. KÖE was created for non-kombucha drinkers – people seeking a delicious, functional, sparkling beverage without the vinegary taste. KÖE is available in five flavors that are vegan, gluten-free, and certified Kosher. Made with black tea, natural fruit flavors, no artificial ingredients, and 100% organic cane sugar, each contains billions of live probiotic cultures and 15mg of caffeine. Formulated with just 9g sugar and 35 calories in a shelf-stable can, KÖE is the perfect on-the-go companion.
For Those Missing NYC:
Magnolia Bakery is your one stop shop for sweet treats and gifts for everyone on your holiday list this year. From holiday cookie + brownie sampler boxes for your family to festive cakes + cupcakes for your Secret Santa; DIY Banana Pudding Kits for a virtual holiday party giveaway + Magnolia Bakery's newest cookbook, The Magnolia Handbook for the aspiring home baker. The Magnolia Bakery Holiday Gift Guide has the perfect token for everyone and at every price point. No matter what the holidays look like this year, Magnolia Bakery will make sure that there is something delicious to celebrate! Each holiday treat is available for nationwide shipping via Goldbelly and directly from Magnolia Bakery's Holiday Gift Guide.
Katz's Deli offers various packages via its nationwide shipping platform along with the option to ship individual items. The iconic deli has been serving traditional Jewish deli fare in the LES for over 132 years, and this year has been no different, offering a constant place of comfort, quality and family at a time where New York needs it the most. Their pastrami and corned beef sandwiches are the gold standard for an 'authentic' NYC deli experience, thanks to Katz's emphasis on traditional slow-curing processes and hand-cut slicing techniques. Today, Katz's ships their deli classics nationwide, with free shipping for orders over $100.
Some great holiday gifts include:
Katz's Classic Subscription Package which provides the true taste of New York every month. It includes hand-carved pastrami and corned beef, plus all the fixings to make the classic Reuben and legendary pastrami on rye sandwiches. Each monthly package contains the most popular hand-carved meats & deli specialties. Subscriptions are available in 3-month increments. Subscribers will receive their package on the third Thursday of each month.
For those unable to get to NYC right now, the Taste of NY Package provides the perfect alternative. The package includes 1 lb. pastrami, 1 lb. corned beef, 1 small hard salami, ½ loaf seedless rye bread, 1 qt full sour pickles, 6 classic Katz's frankfurters, 6 frankfurter buns, 1 lb mustard, 1 lb sauerkraut, and 6 classic NY bagels. I
Katz's Complete 3-Course Dinner for 4 is the perfect special meal for the holiday season. The package includes 1lb each of hand-sliced pastrami and corned beef (2 lb total), New York deli rye and mustard, housemade matzoh ball soup, tangy full sour pickles, and rich old-world cinnamon babka. The dinner can also be ordered via Amazon.
Seeing as it is the season of giving, Katz's will continue its neighborhood and feed the frontlines charitable initiatives throughout the holiday season and New Year, always being a reliable and comforting mainstay.
Soothing Lips

If you want your person to have soft lips, consider gifting Miage Skincare's new lip treatment product, Bloom La Milpa. This item does so much more than hydrate your lips – it's a healing treatment, too. Miage is the first skincare line to entirely forgo water and bring into play, the effectiveness of isotonic La Milpa cactus juice and micro-molecule nutrient formulas. This works in osmosis with your skin to heal, nourish, and pamper your skin.