A Fair Shot: COVID-19 vaccines can end the pandemic –– and fight inequity
Our clear and urgent task in this time is to deliver this shot into as many arms as possible, as quickly as we can.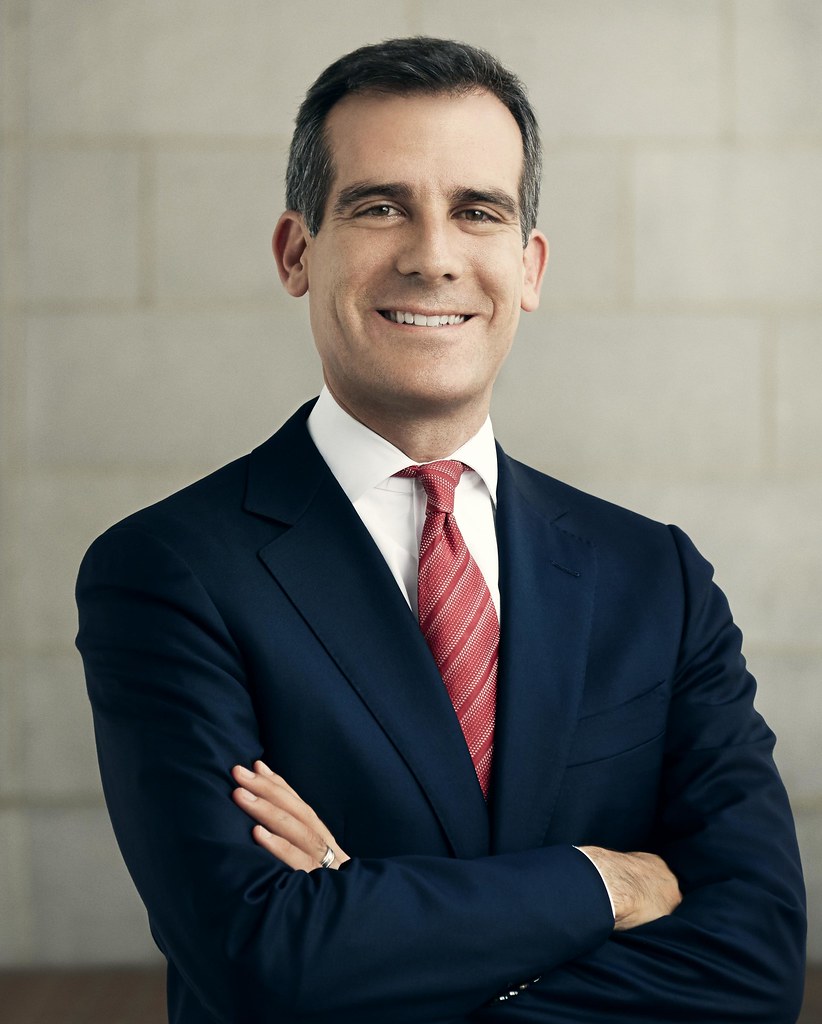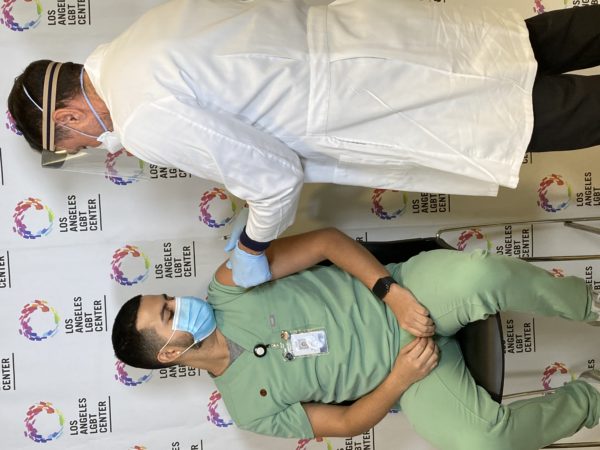 The COVID-19 pandemic has torn through Los Angeles with devastating force. Even as we have responded rapidly and decisively –– setting up universal testing, enacting historic renter protections, and championing economic relief programs –– the virus has upended life in every neighborhood and community.
But it has not hit us all equally. Since the start of this emergency, COVID-19 has laid bare old disparities and forged new and devastating injustices.
The virus has claimed the lives of 1 in every 783 Black Angelenos and 1 in every 859 Latinos in our area. LGBTQ+ people, who disproportionately work in jobs without health insurance or paid leave, have borne an unequal economic and mental health burden. And the pandemic's disruptions have arrived against the backdrop of rising violence against transgender and gender non-conforming Angelenos.
This is a moment of great peril for our entire city, county, and region –– and it's hitting our most vulnerable communities hardest.
We have a clear path out of harm's way: scientists have developed a safe and effective vaccine for COVID-19, offering us a tool to get this disease under control, get our lives back on-track, and get relief to struggling workers, businesses, and families across Los Angeles.
Our clear and urgent task in this time is to deliver this shot into as many arms as possible, as quickly as we can.
Equity will drive the distribution of the vaccine. For that reason, our first public vaccine sites — where healthcare workers are getting their shots right now — are located in neighborhoods on the front lines of the impact of COVID-19: the Crenshaw Christian Center in South L.A. and select Recreation and Parks facilities in East L.A. and the Northeast Valley, with more to come in the weeks ahead.
As our region gets more doses of vaccine, they will become available to more groups in phases. Frontline essential workers will be next in line. That includes teachers, daycare staff, people experiencing homelessness, grocery, manufacturing, food, and postal workers — jobs that are filled disproportionately by Black, Latino, and Indigenous employees and put folks at a higher risk of contracting the virus.
Soon, vaccines will be available to some of our most vulnerable, like seniors and those with underlying health conditions, before reaching the general population.
Make no mistake: this vaccine can end the pandemic –– but its success will depend on all of us rolling up our sleeves when our turn arrives.
I know there is some hesitation around this vaccine, particularly among Black and LGBTQ+ Angelenos. Generations of unequal access to quality care, rooted in systemic inequity, only deepened by COVID-19. The legacy of the racist Tuskegee Syphilis Study and the deceitful use of Henrietta Lacks' cells. An American government that turned its back and averted its eyes as HIV/AIDS wiped out gay men en masse.
These memories are painful and searing –– each one grounds for mistrust and suspicion.
But I want to assure anyone reading: every vaccine reaching our communities is safe. Every dose has been tested and authorized by the very best public health professionals in the world, with a technology that has been in development for two decades. Our doctors, nurses, and paramedics are already receiving it, and our medical experts would not allow it into our hospitals if they didn't believe in it.
The City is partnering with queer and people of color-led organizations to hear community-specific concerns, work to demystify the vaccine, and ensure all public health outreach is culturally competent. This is our way forward.
A few weeks ago, Representative Karen Bass –– who represents South Los Angeles in the U.S. Congress –– received her first dose of the COVID-19 vaccination. As she finished getting her shot, Rep. Bass, once a longtime nurse and now the leader of the Congressional Black Caucus, had a clear message for her constituents:
"This is something that everyone needs to do as soon as it is available in your community."
She added: "I trust it and you should too. This is how we win."
The Congresswoman is right. We have lived in fear for too many months, suffered too much loss, and experienced too much grief. After the most challenging year in our city's history, each of us must do our part to put this chapter behind us –– and that's by getting vaccinated.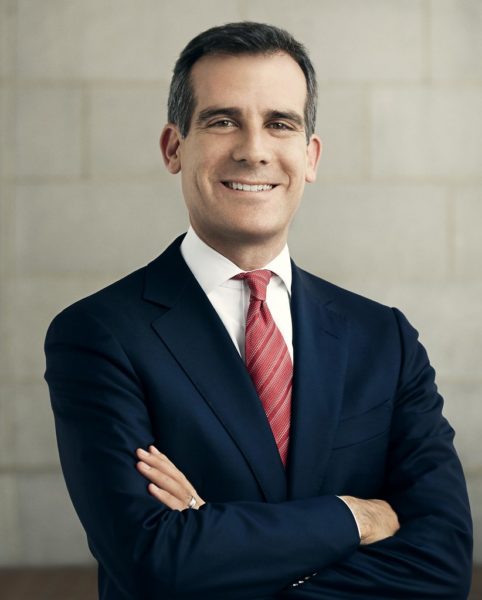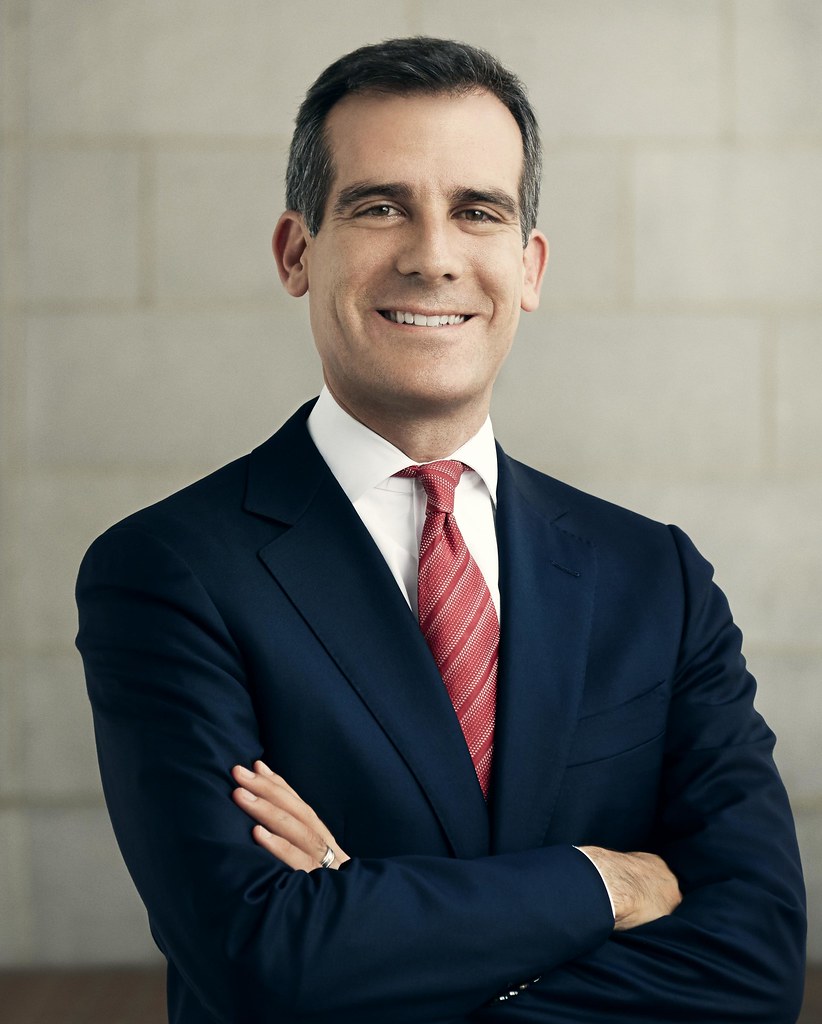 Eric Garcetti is a fourth-generation Angeleno and the 42nd Mayor of Los Angeles. Born and raised in the San Fernando Valley — the son of public servants and the grandson and great-grandson of immigrants from Mexico and Eastern Europe — Mayor Garcetti's life has been shaped by a deep commitment to the core values of justice, dignity, and equality for all people
HIV Genetic Data is tracked and shared. It's creepy and dangerous.
This is either going to make you very angry or it will totally creep you out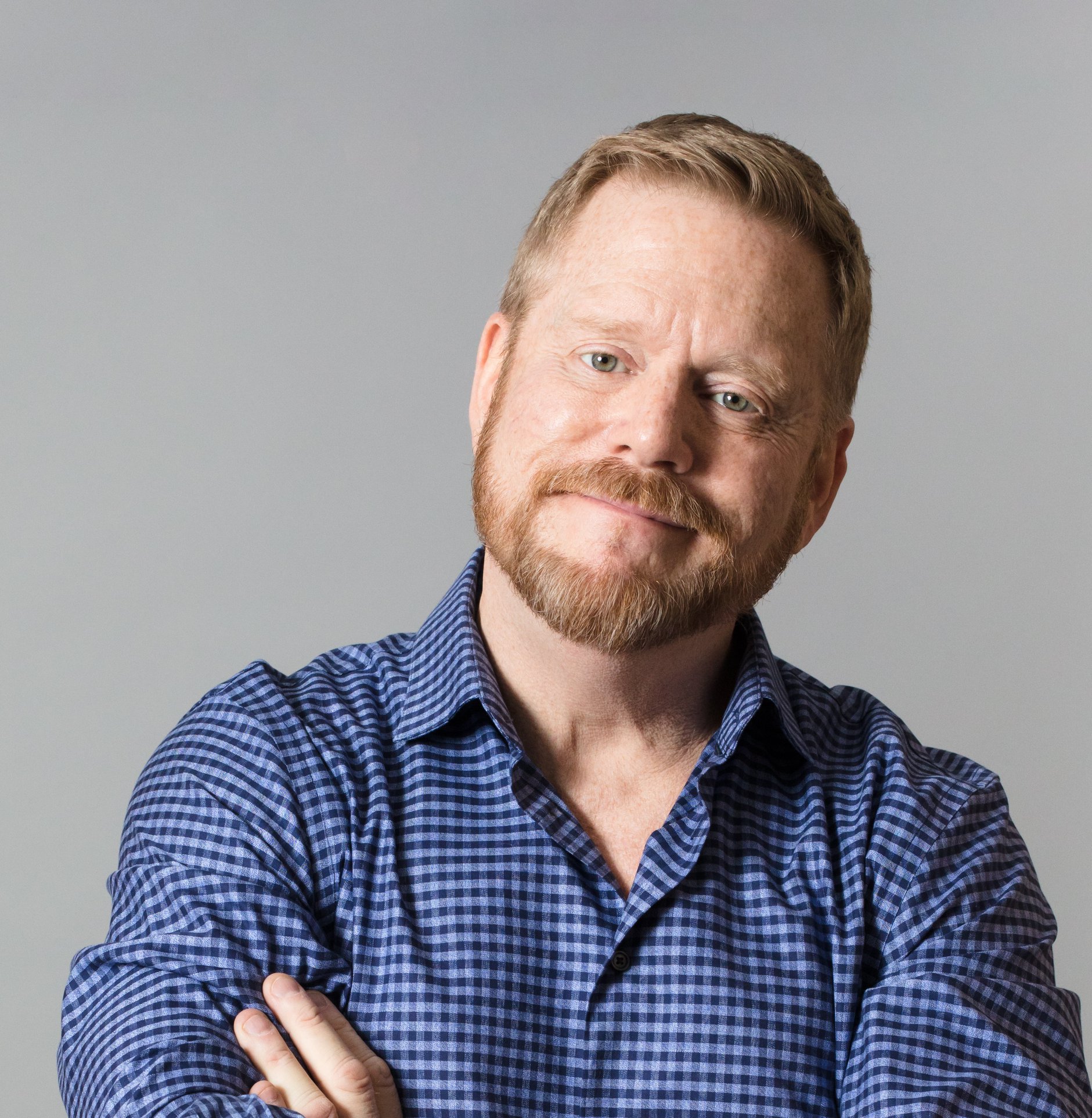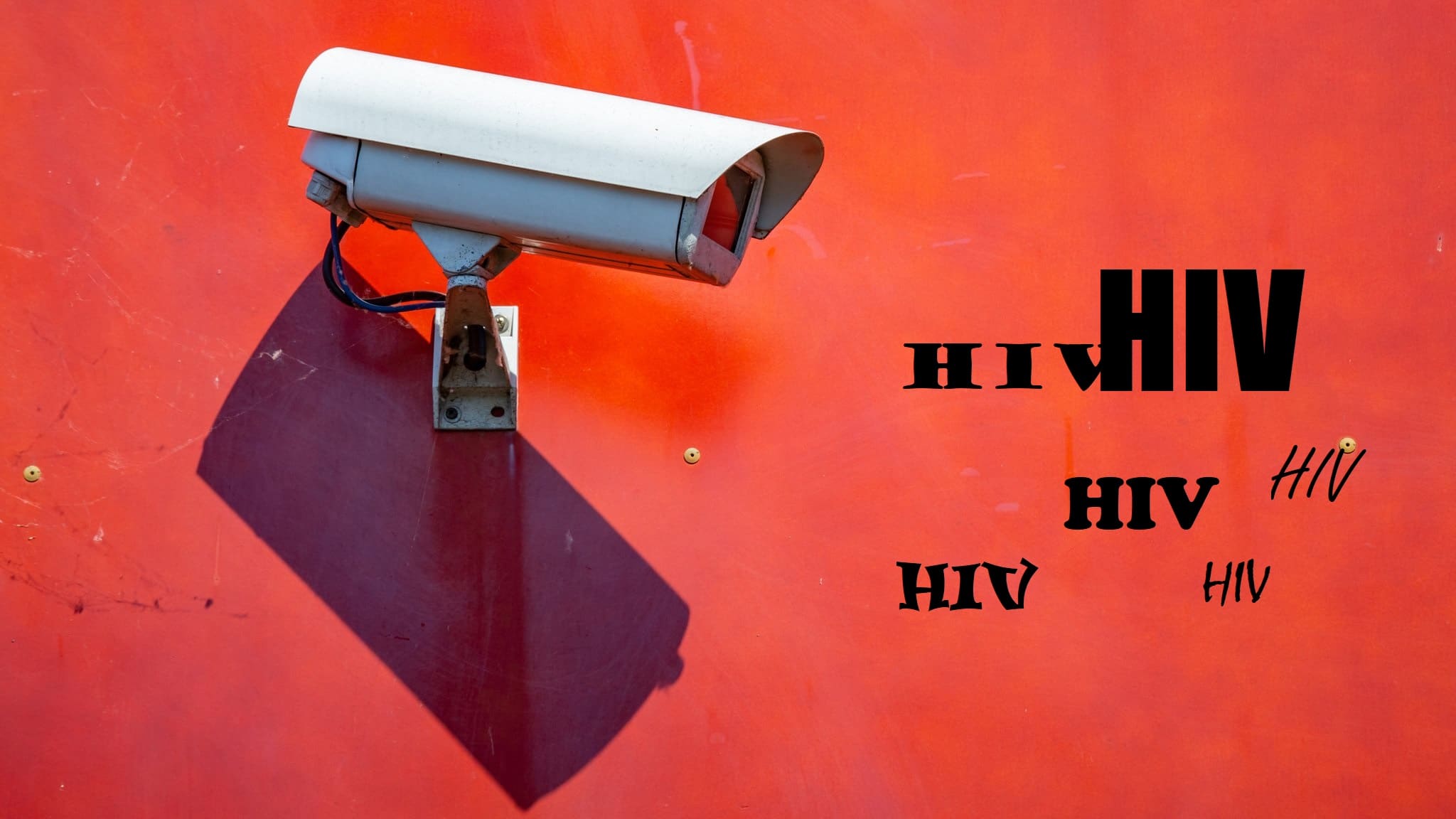 By Mark S. King | If you are a person living with HIV, the Centers for Disease Control and Prevention (CDC) and your local health department probably already have your HIV genetic profile. They have been examining it and comparing it to a genetic analysis of other people. People in your community. People you might know.
You probably never knew this was happening, because no one ever bothered to ask for your express consent.
It is called Molecular HIV Surveillance (MHS), and learning about this is either going to make you very angry or it will totally creep you out. Maybe both.
This is how it works. When someone receives an HIV-positive test result and begins care, one of the first lab tests typically done is a genetic analysis of the HIV in that person's body. This determines if the HIV is resistant to any of the HIV medications and helps the provider design the most effective treatment plan.
While this step applies most often to the newly diagnosed, genetic analysis is also done when someone already on treatment becomes resistant to a class of medication and a new regimen is being considered.
Helpful and totally cool, right? Sure, so far. What happens next is what has HIV activists crying foul.
Since 2018, the CDC has required health departments in every state to submit the genetic data (with identifying information like names stripped out) to the CDC. The CDC then compares and contrasts results to determine if there is a new and emerging group of people with HIV who share a close genetic match. If so, they tell health department people to march in there and get a handle on it.
Of course, to do that, identifying information that had been stripped out must be restored. Armed with the person's ID, Infectious Disease Specialists knock on doors or visit shelters or streets to track down these people and ask for their sexual or drug-using contacts and persuade them to behave in ways that will avoid more transmissions.
What I have just described constitutes the continued policing of marginalized communities by the authorities. The implications are chilling, far-reaching and not in the best interest of public health or of people living with HIV. (People who are HIV-negative are also ensnared in this practice, because they are often identified as sexual or drug-sharing partners and then tracked and contacted just the same.)
Recently, the U.S. People Living with HIV Caucus sponsored a webinar on Molecular HIV Surveillance as part of AIDS Watch, the annual legislative advocacy event produced by AIDS United. The webinar laid out this process and its potential for harm in very simple terms.
The issue goes far beyond the legitimate concern of informed consent. Marginalized people — Black and brown and trans folks, primarily — already are policed and surveilled more aggressively than other communities. Infectious disease specialists often lack the cultural sensitivity to understand why medication adherence, for instance, may not be among the Top Five concerns of someone in these communities.
Furthermore, the fear of some kind of punitive action creates apprehension in these communities, often enough to turn them away from seeking care entirely. And yes, public health authorities knocking on doors carries an implicit threat in communities traumatized by fraught histories of bad policing.
"HIV surveillance scares the shit out of me, as a Black woman who is living with HIV who primarily functions in Black low-income communities," panelist Evany Turk acknowledged during the webinar. "I live in a state where they consider my Black body living with HIV a deadly weapon. We know we can't trust these big, huge systems. We know we can't trust them with our information, because we know they are inherently racist."
It gets worse.
Criminalization laws in many jurisdictions penalize people living with HIV for allegedly not disclosing their status to sex partners, regardless of whether they took precautions, or were undetectable (and therefore unable to transmit the virus), or even if a transmission did not occur. Right now, people living with HIV are sitting in jail for no other crime than having had the audacity to have sex.
The worst case nightmare activists fear is genetic HIV data being used when someone tests HIV positive and prosecutors are looking for someone to blame. What if it were as easy for the criminal justice system as searching through genetic records and – viola! – someone is incriminated because their HIV virus is a close genetic match.
To date, there are no known cases of molecular surveillance being used in the United States to prosecute someone with HIV. However, it has already been used for a prosecution in Canada. Activists don't feel like waiting for the United States to follow Canada's lead.
Our federal government, meanwhile, has made Molecular HIV Surveillance one of the pillars of its "Ending the Epidemic" plan. Rather than working with community members to structure how this data will be used and how best to protect people living with HIV, the government keeps pushing forward without engaging us.
Other ways in which genetic data is being examined are just plain weird.
During the webinar, panelist Brian Minalga pointed out that Seattle public health researchers are examining what they call the "demographic dynamics" of the "transmitting partner" and the "receiving partner." They are looking at categories like age, race, and ethnicity, and calculating who is more likely to transmit HIV to whom.
Is the older gay guy more likely to infect the younger guy? Is the Black man more likely to infect the white woman? How the hell is this biological parlor game relevant, other than to reinforce established biases and stereotypes?
Webinar moderator Naina Khanna reported that activists shared their concerns with CDC leadership during the Trump administration. They sought CDC assurances that Molecular HIV Surveillance data would not be shared with other governmental agencies like ICE or Homeland Security, agencies that could cite the costs of HIV healthcare as grounds to refuse an asylum request or to deport someone.
"The CDC leadership declined to comment on this issue," Khanna said.
In a recent presentation at the Conference on Retroviruses and Opportunistic Infections (CROI), CDC official Alexandra Oster, M.D., was just thrilled about the potential of molecular surveillance to identify "clusters" of new infections and geographic areas where prevention efforts should be ramped up.
Your argument might have more credibility, Dr. Oster, if public health departments had track records of actually engaging with, and investing in, affected communities rather than showing up to police the area after your lab identifies a "cluster" — a dehumanizing term that amounts to a "cluster fuck you."
In her presentation, Dr. Oster waved away privacy concerns, stating that the data would never be used in a way that endangered people living with HIV.
Uh huh. We'll set aside for a moment the fact that having public health people show up at your home or workplace can risk your job or your domestic safety. Let's focus on the CDC's credibility with public facts and assurances.
Remember when the CDC was caught last year trying to please the former President by falsifying weekly COVID-19 figures so the pandemic wouldn't look so bad? That reputation-shattering scandal is still stinking up the CDC hallways. CDC officials are hardly in a position to assure anyone what will, or will not, be done with public health data.
The Public Policy Council of AIDS United issued a list of recommendations to address Molecular HIV Surveillance. Recommendations include banning MHS from legal proceedings or prosecutions, and ensuring the informed consent of people living with HIV is obtained before their genetic data is used in this way. The U.S. People Living with HIV Caucus position is that molecular surveillance should be halted immediately.
Finally, this issue underscores how America's health and criminal systems stack the deck against people living with HIV.
Webinar panelist Larry L. Walker learned this firsthand when he enrolled in case management services at his local health department in Georgia. Walker was made to sign a document acknowledging that he was living with HIV, and the document included language about disclosing to his sex partners. This is cruelly paternalistic treatment toward someone dealing with a life-changing diagnosis.
By sharp contrast, when a genetic analysis from a person living with HIV is acquired by public health departments — where it is examined and used to identify and contact others with whom the person may have been in contact — the person living with HIV is not asked to sign anything because public health people don't value their privacy enough to get their consent.
The rights of everyone else are being prioritized over the rights of the person with HIV, and these measures are often taken as soon as the person tests positive. The process of blame, distrust, and dehumanization begins moments after their diagnosis.
Molecular HIV Surveillance is simply the latest example of health systems disregarding our very humanity. It is also a license to hunt down people living with HIV in marginalized communities while ignoring their right to privacy or consent. We must resist it.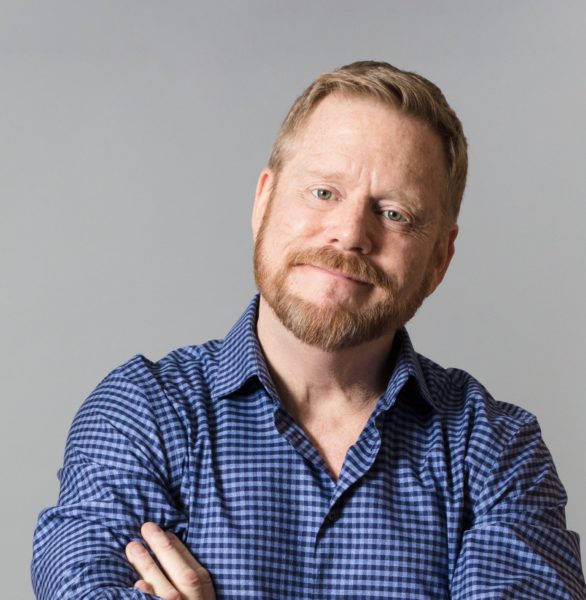 The preceding article was previously published at My Fabulous Disease and is republished by permission.
Men of color in LA County have higher mortality stats and lower vaccination rates
Fewer males are being vaccinated than females, with only 30% of males in Los Angeles County having received at least one dose of vaccine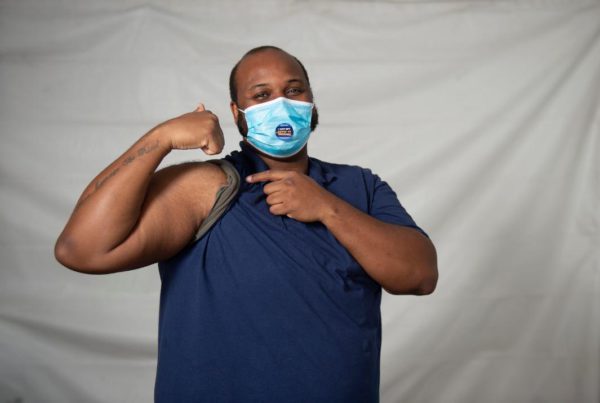 LOS ANGELES – There are significant differences in mortality rates between males and females in Los Angeles County that are troubling since case rates among women and men are relatively similar, with 11,866 cases per 100,000 women and 11,330 cases per 100,000 men.
As of April 10, the cumulative mortality rate for females is 153 deaths per 100,000 women. Shockingly, the mortality rate among males in Los Angeles County is nearly double, at 289 deaths per 100,000 men.
Black/African American and Latino/Latinx males also experience higher rates of mortality than Asian and White males. The mortality rate for Black Los Angeles County male residents is 267 deaths per 100,000 people and for Latino males, the mortality rate is 490 deaths per 100,000 people; this is nearly two and a half times the mortality rate for Asian males and more than three times the mortality rate for White males.
Unfortunately, although men, and men of color in particular, have significantly higher risk of dying from COVID-19, males in Los Angeles County, specifically Black and Latino males, have much lower vaccination rates.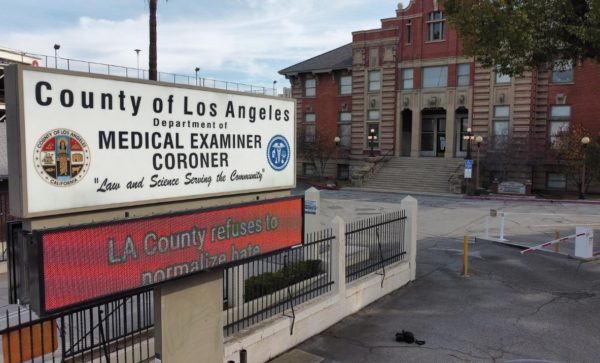 Fewer males are being vaccinated than females, with only 30% of males in Los Angeles County having received at least one dose of vaccine as of April 4, while 44% of females have received at least one dose of vaccine.
Black and Latino males are also being vaccinated at lower rates than vaccination rates for all other groups. Only 19% of Black males in Los Angeles County and 17% of Latino males received at least one dose of vaccine, compared to 35% of Asian males and 32% of White males in Los Angeles.
"We all need to work much harder to make sure that men, who have the greatest chances of dying from COVID-19, are aware of their risk and that we are making it very easy for them to get vaccinated. Accurate information about the safety and effectiveness of the three available vaccines that protect from the COVID-19 virus needs to be widely available," a spokesperson for the Los Angeles County Department of Public Health said in a statement.
Public Health is making several changes to the Health Officer Order that will take effect on April 15. These changes align with the state changes to the Blueprint for a Safer Economy regarding indoor live events and performances, private events such as conferences, receptions and meetings, and private informal gatherings. The updated Health Officer Order reflecting these modifications will be posted online on Wednesday along with changes to the protocols for each of these sectors.
Starting this Thursday, indoor live events and performances will be permitted in Los Angeles County with the following safety measures:
Indoor live events and performances are able to open for in-state visitors only, who must pre-purchase tickets.
Eating or drinking is not permitted anywhere except pre-designated eating areas.
Masks must be worn at all times except when in designated eating areas.
There must be 6-feet of distance between different households unless people are fully vaccinated.
As with outdoor live events, employers must offer a weekly worker testing program.
For venues that hold up to 1,500 people, there is a maximum capacity limit of 15% or 200 people, whichever is fewer. However, the capacity limit can increase to 35% if all guests are tested or vaccinated. For venues holding more than 1,500 people, there is a capacity limit of 10% or 2,000 people, whichever is fewer, although the capacity limit can increase to 25% if all guests are tested or vaccinated.
Private meetings such as conferences, receptions and meetings will be permitted starting on Thursday, April 15 with the following safety measures:
There must be a defined guest list or tickets must be purchased.
Masks must be worn at all times unless attendees are eating or drinking.
There must be 6-feet of distance between tables and chairs for guests not vaccinated.
There must be assigned seating or a seating chart with a max of 6 people per table for guests not vaccinated.
And there can be no intermingling of multiple private events.
For outdoor private events, a maximum of 100 people is allowed, but that limit can increase to 300 people if all guests are tested or vaccinated. Tables are also limited to 6 people from a maximum of 3 households unless everyone at the table is vaccinated. Indoor private events are only allowed if all guests are tested or vaccinated with a limit of 150 guests.
Public Health is also modifying the protocols for private social or informal gatherings. Outdoor gatherings can have up to a maximum of 50 people. Masks will be required at all times unless people are eating or drinking. There must be 6-feet of distance between tables and chairs. Seating at tables is restricted to 6 people from up to three households. If everyone is vaccinated, the capacity limit at tables are not necessary.
Indoor private gatherings are permitted, but strongly discouraged. If you choose to hold an indoor private gathering, the following are required safety modifications:
A max of 25 people or a 25% capacity limit where capacity limits exist.
Masks must be worn at all times, unless everyone is full vaccinated.
And there can be no eating or drinking unless everyone attending is fully vaccinated or everyone attending is fully vaccinated except for members of 1 household that does not have any high-risk individuals.
Public Health confirmed 3 new deaths and 411 new cases of COVID-19 Monday. The lower number of cases and deaths may reflect reporting delays over the weekend.
To date, Public Health identified 1,226,191 positive cases of COVID-19 across all areas of L.A. County and a total of 23,479 deaths.
The seven-day average number of daily cases by episode date remains at 400 new cases per day. The County's daily case numbers for the week ending April 4 are now lower than reported cases one year ago at the beginning of the pandemic, when Public Health reported 606 daily cases by episode date on April 4, 2020.
For information about how to make an appointment, what verifications you will need to show at your vaccination appointment, to sign up for a vaccination newsletter, and much more, visit: www.VaccinateLACounty.com (English) and www.VacunateLosAngeles.com (Spanish). Vaccinations are always free and open to eligible residents and workers regardless of immigration status.
Liberty Counsel's Matt Staver peddles anti-vaccine conspiracy theories on new TV show
COVID-19 was just the stepping-stone to this more global issue of controlling and vaccinating everyone and tracing and tracking every single movement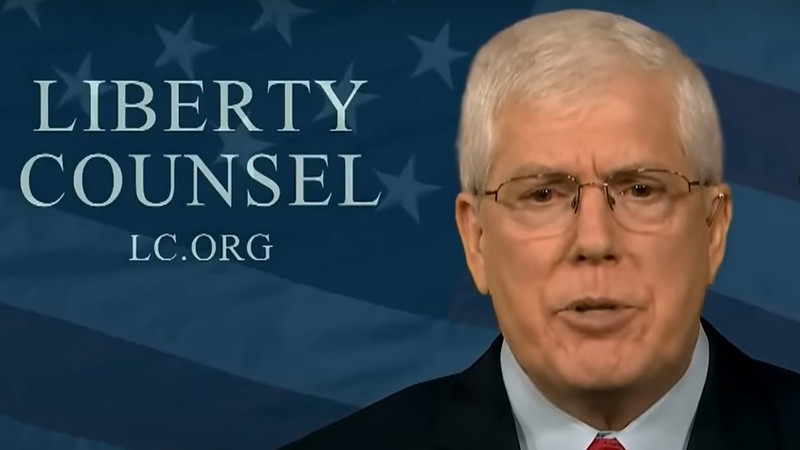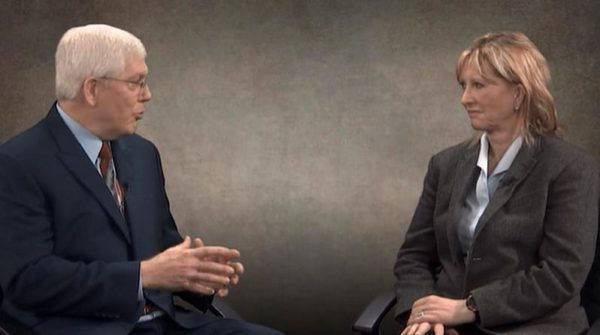 By Peter Montgomery | Liberty Counsel, a legal group known for resisting LGBTQ equality, has helped lead the religious right's resistance to COVID-19 public health restrictions on churches. It has also framed opposition to vaccination requirements and vaccine passports as religious liberty issues for people with objections to the use of aborted fetal cell lines in vaccine development. In the past two weeks, Liberty Counsel's Matt Staver devoted two episodes of his new TV show to promoting outright conspiracy theories about the COVID-19 virus and the vaccine.
Staver's "Freedom Alive!" show ran a two-part interview with Lee Merritt, an orthopedic surgeon and spokesperson for America's Frontline Doctors, a group that made a splash last July with a press conference that portrayed hydroxychloroquine as a cure for COVID-19 (it is not). Video of that press conference was viewed millions of times before major social media platforms removed it for violating policies against misinformation.
During their interviews, Merritt described a conspiracy to keep hydroxychloroquine and what she claimed were other effective COVID-19 treatments hidden from the medical community and public, saying, "it takes a lot of juice at a high level" to pull off such a scheme. "We are being sold a whole matrix narrative of information that's convinced us of things that aren't true," she said.
Merritt said this conspiracy is about more than Big Pharma protecting the multibillion-dollar market for vaccines. "You cannot terrorize a world with designer viruses if you have a treatment in your back pocket," she said. "I think this is a big psychologic operation that's designed not to make us healthier but for control."
Staver agreed, claiming, "COVID-19 was just the stepping-stone to this more global issue of controlling and vaccinating everyone and tracing and tracking every single movement."
Staver repeatedly referred to the Moderna and Pfizer vaccines, which work differently than traditional vaccines by using messenger RNA to teach the body how to respond to the virus, as "so-called vaccines." He claimed they work with a person's DNA—they do not—calling it "shocking and frightening."
"Think of it like a computer chip," Merritt told Staver, adding that people should think of the COVID-19 vaccines as an "experimental biologic agent" or "experimental gene therapy."
"Everybody who's getting the quote-unquote vaccine—you're the guinea pig," Staver said.
Merritt made similar claims in an episode of the "Naturally Inspired" podcast that was published Feb. 26. She claimed that we are living in a "pseudo-reality" created by people that are carrying out a "flu d'etat." She told listeners that Americans "are being played" by people with "evil intent." She described masks as a "symbol of submission."
In February, McGill University's Office for Science and Society, published a column by its director, Dr. Joe Schwarcz, urging people to "back away" from America's Frontline Doctors. Merritt "may be a fine orthopedic surgeon, but when it comes to the science of COVID-19, she is a bumbling neophyte," Schwarcz said. The article also debunked Meritt's insinuations, which she raised in the Staver interview, that dark forces were at work behind fires in factories that make ingredients for hydroxychloroquine.
In January, medical publication MedPage Today ran a story about America's Frontline Doctors, saying that the group "that rampantly spread COVID-19 misinformation is back in the spotlight—but this time, sowing doubt about the vaccine."
The article quoted Peter Hotez, a vaccine researcher with Baylor College of Medicine in Houston, saying, "No real frontline doctor objects to this vaccine. Only the antivax, 'health freedom' movement linked to right wing extremism."
Indeed, in the first few months of the pandemic, right-wing groups sought to downplay the danger of the virus and keep the economy rolling in order to help then-President Donald Trump's reelection effort. Last May, the Council for National Policy's action affiliate hosted a conference call with Trump reelection campaign staff to discuss recruiting pro-Trump doctors to push for a rapid reopening of the economy.
According to the Associated Press, Trump adviser Mercedes Schlapp took part in the call along with other members of the Save Our Country coalition, including the American Legislative Exchange Council, FreedomWorks Foundation, and Tea Party Patriots.
Tea Party Patriots' Jenny Beth Martin helped organize the America's Frontline Doctors press conference two months later. NBC reported at the time that the press conference, which was streamed live by Breitbart, was part of an effort "quietly backed by dark money political organizations, evangelizing treatments for or opinions about the coronavirus that most doctors, public health officials and epidemiologists have roundly decried as dangerous misinformation."
America's Frontline Doctors leader Simone Gold spoke last November at a meeting of the Council for National Policy, the secretive network of right-wing leaders, according to a report in The Guardian.
During the Jan. 6 Capitol insurrection, Gold was caught on video speaking into a bullhorn inside the U.S. Capitol. Gold has been charged with violent entry, disorderly conduct, and entering a restricted building. America's Frontline Doctors' communications director has also been charged.
Liberty Counsel is far from the only right-wing group pushing anti-vaccine conspiracy theories. On March 26, the New York Times reported that so-called Stop the Steal activists, who sought to overturn the presidential election, have now turned to a "stop the vaccine" message. "Bashing of the safety and efficacy of vaccines is occurring in chatrooms frequented by all manner of right-wing groups including the Proud Boys; the Boogaloo movement, a loose affiliation known for wanting to spark a second Civil War; and various paramilitary organizations," the Times reported.
Eric Metaxas, a religious-right pundit who emceed a high-profile Stop the Steal rally on the National Mall in December, tweeted this week, "Don't get the vaccine. Pass it on."
On a related note, The Atlantic's Derek Thompson just published a thorough debunking of bogus claims made by Fox News contributor and "pandemic gadfly" Alex Berenson about COVID-19 vaccines.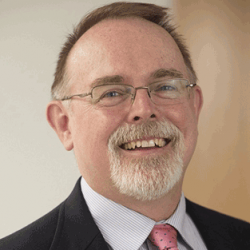 Peter Montgomery has studied the Religious Right movement and its right-wing political allies for more than two decades. He has written extensively about marriage equality, religious liberty, and other conflicts at the intersection of religion, politics and LGBT issues.
The preceding article was originally published by Right Wing Watch, a project of People For the American Way and is republished by permission.