January 14, 2021 at 5:35 pm PST | by Brody Levesque
Biden unveils his 'American Rescue Plan'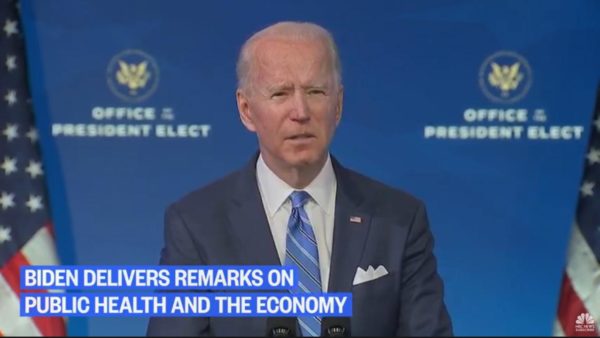 WILMINGTON, Delaware – President-elect Joe Biden in a nationally televised address Thursday evening, unveiled his plan to inject $1.9 trillion into the American economy with legislative proposals to push Congress into raising the minimum wage to $15 an hour, aiding struggling state and local governments, safely reopening schools, and rolling out a massive Federal Covid-19 vaccination program.
Biden additionally proposed increasing the size of the $600 stimulus checks Congress approved last month with another round of checks for an additional $1,400.
Speaking with Vice President-elect Kamala Harris at his side, Biden outlined the key elements of what he termed the American Rescue Plan to combat the nation's economic and public health emergencies, including emphasis on taking steps to speed up the production and distribution of vaccines. Biden also laid out the need to expand unemployment benefits, aid to state and local governments and an expansion of aid to families with children.
Because of the long-term lingering effects of the coronavirus pandemic, a spokesperson for the President-elect, in a statement released prior to Biden's speech, warned that focus must be on a immediate solutions, "We are in a race against time, and absent additional government assistance, the economic and public health crises could worsen in the months ahead; schools will not be able to safely reopen; and vaccinations will remain far too slow."
In his address, the president-elect outlined specific steps and goals for the implementation of his agenda;
Tonight, I'll lay out the first step — the American Rescue Plan — that will tackle the pandemic and get direct financial assistance and relief to Americans who need it the most," the president-elect said.

"Next month, in my first appearance before a Joint Session of Congress, I will lay out the second step, my Build Back Better Recovery Plan. It will make historic investments in infrastructure and manufacturing, innovation, research and development, and clean energy. Investments in the caregiving economy and in skills and training needed by our workers to compete and win the global economy of the future,"
The incoming Biden administration earlier Thursday released the key elements of the plan in a fact sheet:
President-elect Biden's American Rescue Plan will:
Mount a national vaccination program, contain COVID-19, and safely reopen schools, including by setting up community vaccination sites nationwide, scaling up testing and tracing, eliminating supply shortage problems, investing in high-quality treatments, providing paid sick leave to contain spread of the virus, addressing health disparities, and making the necessary investments to meet the president-elect's goal of safely reopening a majority of K-8 schools in the first 100 days.
Deliver immediate relief to working families bearing the brunt of this crisis by sending $1,400 per-person checks to households across America, providing direct housing and nutrition assistance, expanding access to safe and reliable childcare and affordable healthcare, increasing the minimum wage, extending unemployment insurance, and giving families with kids and childless workers an emergency boost this year.
Support communities that are struggling in the wake of COVID-19 by providing support for the hardest-hit small businesses, especially small businesses owned by entrepreneurs of color, and protecting the jobs of the first responders, transit workers, and other essential workers we depend on.
In his speech Biden noted;
As I said when it passed in December, the bipartisan COVID-19 relief package was an important first step. I am grateful for the Democratic, Republican, and Independent members of Congress who came together to get it done.

But as I said at the time, it's just a down-payment. We need more action, more bipartisanship, and we need to move fast. Our rescue plan starts aggressively in order to speed up our national COVID-19 response.

The vaccines offer so much hope. We are grateful to the scientists and researchers, and everyone who participated in the clinical trials. We are also grateful for the rigorous review and testing that's led to millions of people around the world already being vaccinated safely. But, the vaccine rollout in the United States has been a dismal failure thus far.

Tomorrow, I will lay out our vaccination plan to correct course and meet our goal of 100 million shots by the end of our first 100 days. This will be one of the most challenging operational efforts we have ever undertaken as a nation.
The president-elect also went on to place emphasis on the practical needs of Americans facing eviction or mortgage foreclosure due to the pandemic.
Approximately 14 million Americans have fallen behind on rent, many at risk of eviction.

If we don't act now there will be a wave of evictions and foreclosures in the coming months as the pandemic rages on. This would overwhelm emergency shelters and increase COVID-19 infections as people have nowhere to go and can't socially distance.

Next week we will take action to extend nationwide restrictions on evictions and foreclosures. This would provide more than 25 million Americans greater stability instead of living on the edge every single month.

And, I am asking Congress to do its part by funding rental assistance for 14 million hard-hit families and tenants. It will also be a bridge to economic recovery for countless mom and pop landlords.
Biden stressed the need to assist Americans unemployed and unable to work while urging Congress to raise the minimum wage and also by expanding new growth and job opportunities particularly in areas of infrastructure.
"Direct cash payments. Extended unemployment insurance. Rent relief. Food assistance. Keeping essential frontline workers on the job. Aid to small businesses," he said. "These are key elements of the American Rescue Plan that would lift 12 million Americans out of poverty and cut child poverty in half. That's 5 million children lifted out of poverty," he added.
While Biden's plan has been met with cautious optimism, it will still be a difficult path forward in Congress with what is a slim majority, especially in the Senate and Republican opposition to providing funding to state and local governments, which Republican lawmakers blocked all last year. The fairly conservative U.S. Chamber of Commerce released a statement endorsing the president-elect's efforts.
"The U.S. Chamber of Commerce welcomes the introduction of President-elect Biden's American Rescue Plan. Specifically, we applaud the President-elect's focus on vaccinations and on economic sectors and families that continue to suffer as the pandemic rages on.

We must defeat COVID before we can restore our economy and that requires turbocharging our vaccination efforts. We look forward to working with the new administration and Congress on the details and in ensuring that any additional economic assistance is timely, targeted, and temporary."