January 23, 2021 at 2:06 pm PST | by Brody Levesque
Controversial Anti-LGBTQ El Monte church bombed; FBI investigating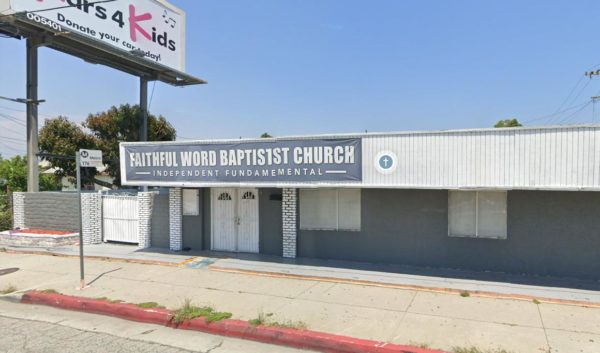 EL MONTE – The First Works Baptist Church, a controversial and vehemently anti-LGBTQ congregation, was bombed and vandalised early Saturday morning.
FBI spokeswoman Laura Eimiller told the San Gabriel Valley Tribune. that there were no injuries and that FBI agents are investigating what is labeled as "an IED attack," for "improvised explosive device."
"As to the question of whether this was a hate crime, that's always going to be considered among the theories when a house of worship is attacked, but it would be premature to confirm any motive at this time, and we are not ruling any other motive out," Eimiller said.
El Monte police responded to the church at 2600 Tyler Ave. along with the L.A. County Fire Department at around 1:15 a.m., police spokesperson Lt. Christopher Cano said adding patrol officers who heard an explosion in the area initially thought it was a transformer.
The department received multiple calls about the noise, and officers later found the source to be a church with broken windows from which smoke was coming out, according to KTLA.
The windows had "blown out from some type of explosion," Cano said. The walls outside had been vandalized with profanity.
Labeled a hate group for being "anti-LGBTQ" by the Southern Poverty Law Center, the First Works Baptist Church is the subject of a Change.org campaign that's seeking to oust the place of worship from El Monte. The petition was started three weeks ago and has so far garnered more than 14,790 signatures.
According to the San Gabriel Valley Tribune, Pastor Bruce Mejia recently reported an arson threat on social media, and that police Chief David Reynoso said his department was monitoring the situation. During public comments at an El Monte City Council meeting earlier in January, some residents called the pastor's sermons hate speech, the paper reported.
In a tweet this morning, Los Angeles County Board of Supervisor's Chair Hilda Solis noted: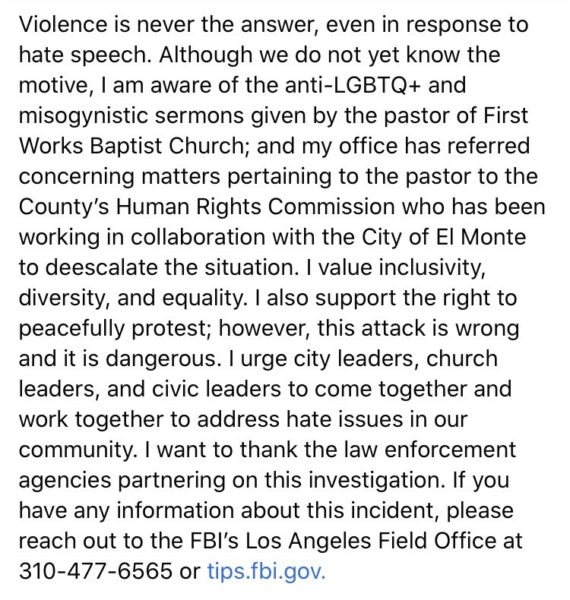 El Monte City Manager Alma Martinez has been coordinating efforts with the L.A. County Commission on Human Relations, the U.S. Department of Justice Public Relations, Bienestar and the Asian Pacific Mediation Center to address the tension between the First Works Baptist Church and members of the LBGTQ community the San Gabriel Valley Tribune also reported.
First Works Pastor Bruce Mejia, who had filed a report earlier this month with the El Monte Police Department after receiving a threat of arson on his church social media pages, stated to the SGV Tribune that part of his beliefs and his doctrine is to preach against the LBGTQ community since the church was launched three years ago.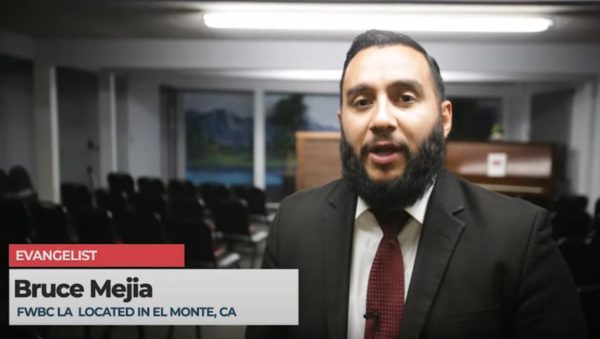 "Some of those within that LGBTQ group caught one of my sermons that are online and they've just been harassing ever since, trying to get me out of El Monte, trying to get me and myself and my church out of El Monte by signing a petition," Mejia told the paper.
Mejia did not immediately return messages Saturday seeking comment from various media organizations including the Los Angeles Blade.