January 23, 2021 at 12:44 pm PST | by Brody Levesque
Larry King, legendary talk show host, LGBTQ ally, dies at 87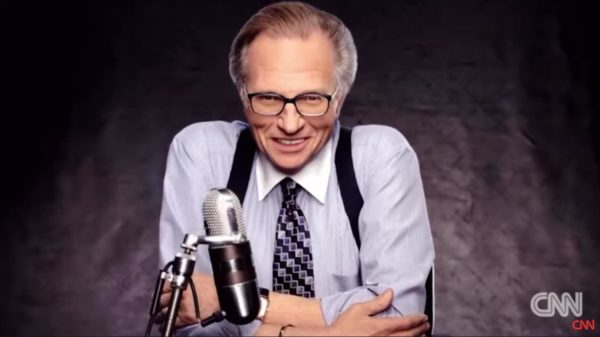 LOS ANGELES – Larry King, the man with his colorful trademark suspenders and the signature gravely voice, who interviewed kings, presidents, newsmakers, celebrities, and everyday folk died Saturday age 87 at Cedars-Sinai hospital his production company tweeted this morning. King's 21-year-old son Chance Armstrong King also confirmed the legendary broadcaster's death CNN reported.
In a career spanning nearly 60 years King was noted for his easy style of interviewing and his uncanny ability to get the who's who of nearly ever field of human endeavor on his chat show, in a couple of cases making history as was the case in 1995 when King presided over what was later termed a critical Middle East peace summit between PLO Chairman Yasser Arafat, King Hussein of Jordan and Israeli Prime Minister Yitzhak Rabin.
According to the Associated Press, King conducted an estimated 50,000 on-air interviews in his signature nonconfrontational style. He welcomed everyone from the Dalai Lama to Elizabeth Taylor, from Mikhail Gorbachev to Barack Obama, Bill Gates to Lady Gaga.
After he relocated to Los Angeles from Washington D.C. where he had broadcast from since the middle 1980's, his shows were frequently in the thick of breaking celebrity news, including Paris Hilton talking about her stint in jail in 2007 and Michael Jackson's friends and family members talking about his death in 2009.
King was also a staunch LGBTQ ally. Larry King spoke at length about the lesbian, gay, bisexual and transgender (LGBT) rights movement in a candid discussion with Dave Rubin of The Rubin Report in 2016 the Huffington Post had reported.
Charles Chan-Massey, the co-founder and executive director of the Los Angeles based The Personal Stories Project, an LGBTQ social media based organization that promotes activism, advocacy and support for the LGBTQ+ community and allies through the sharing of their personal stories reflected on King's passing.
In a Facebook post Saturday, Chan-Massey wrote; "We lost one of our staunchest allies this morning. Larry King has died of complications from COVID-19. He was 87. Here's a clip from Larry's interview with Tyler Oakley several years ago, just one of many times he showed his support for our community's civil rights. RIP, Larry, and thanks for all you did to help our movement over the years"