January 26, 2021 at 10:38 am PST | by Alex Paterson
Several major media outlets failed to quote trans people in reports on repeal of trans military ban
At least eight major media outlets did not quote a single transgender person in any of their online reports following President Joe Biden's order to repeal the Trump-era ban on trans people serving openly in the military. This follows a broader trend of media outlets failing to produce adequate and intentional reporting on issues facing the trans community.
On January 25, Biden signed an executive order overturning the Trump-Pence administration's discriminatory ban, which was crafted with members of the extreme anti-LGBTQ group Family Research Council and right-wing think tank the Heritage Foundation. Biden's new executive order "immediately prohibits any service member from being forced out of the military on the basis of gender identity" and requires the military to "reexamine the records of service members who were discharged or denied reenlistment due to gender identity issues under the previous policy."
Top outlets that did not include a trans person in their reports on the story include:
A report from The Associated Press news wire included a quote from Nicolas Talbott, a trans man who sued the administration in order to serve. He remarked, "I'm thrilled and relieved that I and other transgender Americans can now be evaluated solely on our ability to meet military standards." The Boston Globe, Chicago Tribune, and The Dallas Morning News published similar reprints of the AP report that did not include Talbott's quote.
News outlets including CBS News, NBC News, and Wall Street Journal failed to include the voice of a single trans person in their online reporting
Moreover, The Boston Globe published an additional story on Monday about Biden's LGBTQ policies that quoted Andrew Beckwith, the president of the extreme anti-LGBTQ group Massachusetts Family Institute, yet the piece still did not quote one trans person (it did, however, quote other LGBTQ advocates). The article quoted Beckwith dehumanizing Biden's pick for assistant health secretary, Dr. Rachel Levine, saying she is "in a constant denial of objective biological reality." Levine would be the first openly transgender federal official confirmed by the U.S. Senate and has been the target of an anti-trans smear campaign
Several top outlets — including ABC News, Los Angeles Times, Reuters, USA Today, CNN, Newsday, and The Washington Post — produced reports on the story that quoted at least one trans person. For instance, The New York Times included the voices of at least five trans people in its report:
"For a lot of us, life has been on hold while all this is going on," said Nicholas Ballou, a transgender man who scored 97 out of 100 on the military's aptitude test and was about to enlist in the Army when the ban was imposed. He has spent the years since working at hardware stores and movie theaters. "It's one thing to not be sure of your future when you're 17," he said. "When you're 28, it doesn't look so good any more."
This is not the first time that major media outlets failed to include trans people in reporting on a major news event related to the community. Following the Supreme Court's June 15, 2020, ruling protecting LGBTQ workers from employment discrimination, National Women's Law Center's Gillian Branstetter noted numerous media reports that did not cite or quote a trans person in their coverage.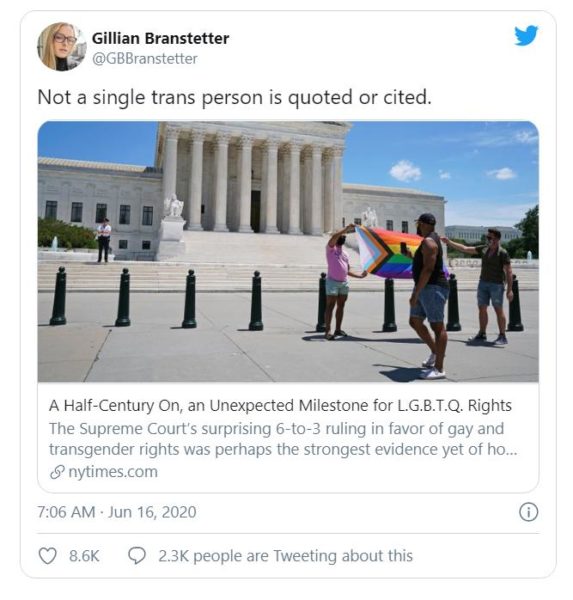 As the Trans Journalists Association style guide notes, journalists can use the "trans news 'Bechdel test' as a guide" when reporting on trans issues. This guidance asks journalists to consider the following questions:
Have I quoted more than one transgender person?
Is at least one of those transgender people an expert in their field?
Is at least one of those transgender people not a white transgender woman?
This lacking coverage follows a pattern of major media outlets ignoring, undercovering, or even disrespectfully writing about issues that affect trans people, such as anti-trans violence and federal agency rules targeted at the community.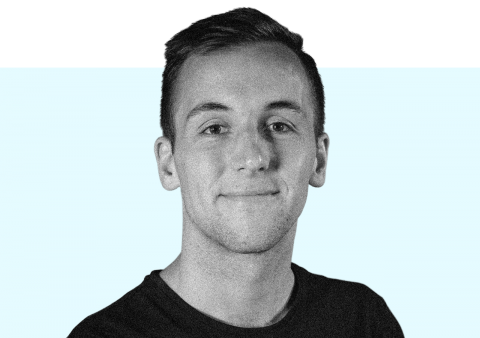 Alex Paterson is a researcher for the LGBTQ program at Media Matters, where he has worked since 2019. Alex holds a bachelor's degree in economics from Montana State University and has a background in LGBTQ advocacy, including previous work at the National LGBTQ Task Force and the U.S. Department of Health and Human Services.
The preceding commentary and analysis was published by Media Matters and is republished by permission.