Celebrating Leachman's wonderful work, fearless life
Iconic actress defied ageism, sexism to conquer Hollywood, Broadway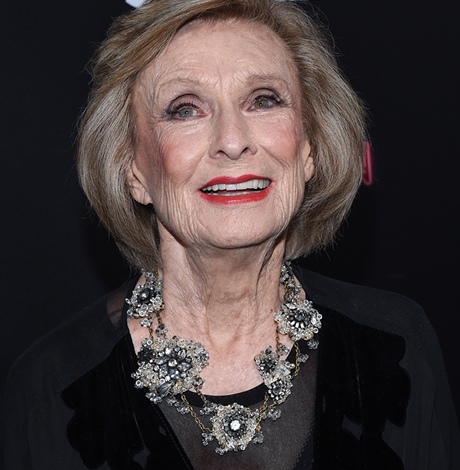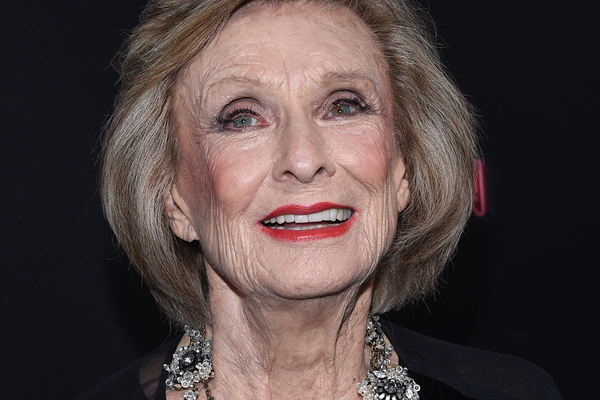 Some icons seem stiff, formal – ethereal. That was never the case with Cloris Leachman, the queer icon and legendary actress who died at 94 on Jan. 27 at her home in Encinitas, Calif. Leachman was as earthy as your granny, as eccentric as your wacky, but beloved aunt and sassier than any diva you ever met.
To me and her many other aficionados, aged eight to 80, it feels as if we've lost the actress who could tear your heart out (in movies like "The Last Picture Show") one minute, and leave you rolling on the floor laughing (as in "Young Frankenstein," the hilarious Mel Brooks horror spoof) the next.
It's a hoary cliche to say that someone's a life force. But, how else to describe Leachman? Born in Des Moines, she acted in children's theater when she was 7. After becoming a Miss America finalist, Leachman studied at the renowned Actor's Studio. In 1950, Leachman appeared on Broadway in "As You Like It" with Katharine Hepburn.
Decades later, she went back to the stage. In 1989 and 1990, she appeared in theaters across the country in "Grandma Moses: An American Primitive."
Some Boomers remember Leachman as Ruth, the mother in the 1957-58 season of the TV show "Lassie." Leachman told interviewers that the show's powers-that-be had to remind her that the star of the show was Lassie, not her.
You wonder how Leachman could have the energy, stamina, and talent to do all that she did in her lifetime. She won a Best Supporting Actress Oscar for her heart-rending portrayal of the lonely coach's wife in "The Last Picture Show" and eight Primetime Emmys (for her work on "The Mary Tyler Moore Show," "Malcolm in the Middle," "Cher" and other shows).
Leachman flipped the bird to ageism. Until, the end of her life, she defied stereotypes about getting old. At 82, she appeared on "Dancing with the Stars."
In 2009, "Cloris," her autobiography (written with her ex-husband, the late George Englund), came out. From it, we learn that Leachman, among her many accomplishments, cooked chili "that was given four stars by both Elizabeth Taylor and the volunteer firemen of East Rochester." (Englund sponsored a theater in East Rochester, N.Y.)
In her 80s and into her 90s, Leachman played zany, bawdy, demented grannies on "Malcolm in the Middle" and other shows.
At age 94, the last year of her life, she appeared as a frail, but energetic, grandma in the queer family drama "Jump, Darling."
"At that age, most people are either long since passed or snoozing all day in front of their televisions," Glenn Gaylord wrote in "The Queer Review" of her performance in the movie. "Cloris, however, is still at the top of the Call Sheet, showing up for work, and delivering powerful performances."
Like many of my generation, I came to love Leachman as Phyllis, the bonkers, exasperating, but lovable, and in her way, loving friend on "The Mary Tyler Moore Show." In college, we watched Mary (Mary Tyler Moore), single and the only woman, navigate the newsroom in fictional TV station WJM in Minneapolis. Rhoda (Valerie Harper) was her BFF. Yet, in many episodes, Phyllis (played fabulously by Leachman) was the highlight of the show.
As I've written in the Blade before, one episode of the program in 1973, "My Brother's Keeper," was groundbreaking in its queer representation. The show treated being gay as a normal part of life. Phyllis is dismayed that her brother Ben, who's visiting, is hanging out with Rhoda. "I'm not going to marry, Ben," Rhoda says, "he's not my type."
"Why not?" asks Phyllis, "he's educated, he's successful…"
"He's gay," Rhoda says.
At a time when being gay was thought to be a mental illness, the show helped us to come out to ourselves.
Thank you, Cloris, for your wonderful work and fearless life. R.I.P.
Netflix celebrates LGBTQ+ storytelling with releases for Pride Month
The collection features impactful documentaries, dramas, comedies including smash hit Heartstopper (renewed for 2 more seasons) & many more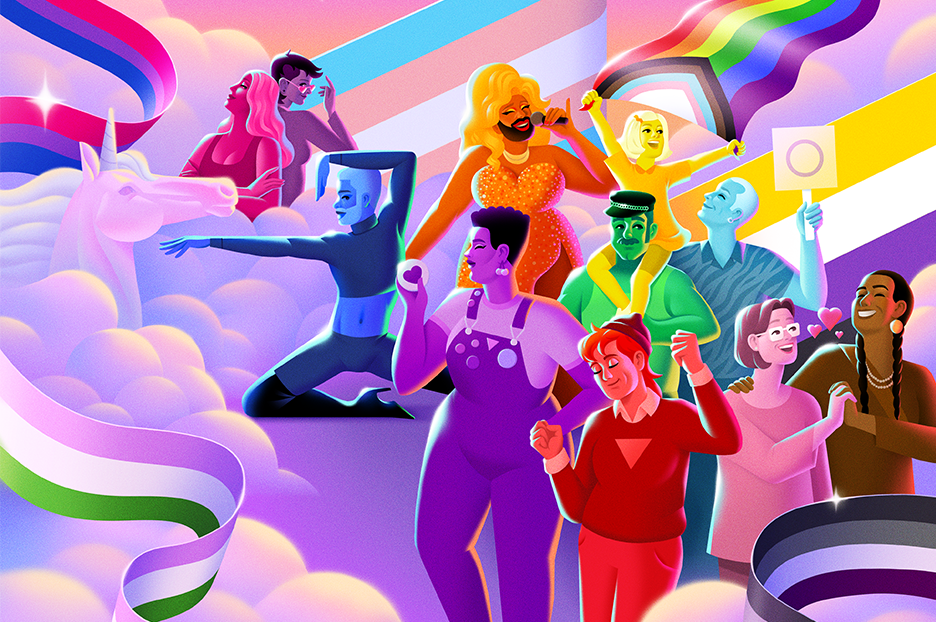 HOLLYWOOD – Netflix is slaying Pride Month with a slew of offerings shining a spotlight on the diverse spectrum of LGBTQ+ stories, identities and self-expression with its new collection, Shine With Pride.
With over 460 titles, the collection features impactful documentaries, dramas, comedies including Getting Curious With Jonathan Van Ness, Heartstopper (just renewed for two more seasons), She-Ra and The Princess of Power, Elite and many more.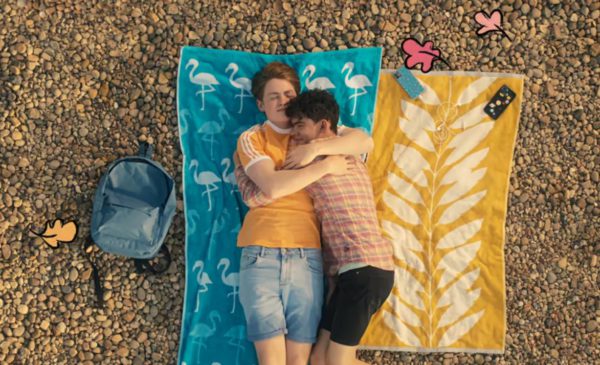 Inspired by the range of color and symbolism present in the Pride flag, illustrator Ben Nichols created the collection artwork to celebrate the uniqueness that makes the LGBTQ+ community extraordinary.
Throughout the year we'll be unveiling new collections in collaboration with new artists, so stay tuned. Previous collections included Black History Month, Lunar New Year, Earth Month, Asian American American Pacific Islander Month, Global Accessibility Awareness Day and more.
Additionally, Netflix will have new specials, series and films launching all month. Check them out below:
Stand Out: An LGBTQ+ Celebration
Release Date: June 9, 2022
The largest-ever gathering of LGBTQ+ comics. The historic celebration featured some of the best in LGBTQ+ comedy legends and emerging talent hosted by Billy Eichner. Highlights included icon Ani DiFranco introducing Margaret Cho, Sarah Paulson introducing Tig Notaro, Lily Tomlin introducing Sandra Bernhard, Lena Waithe introducing Wanda Sykes, and Rosie O'Donnell closing the night and inviting the rest of the performers joining her on stage for a NEW rendition of Cyndi Lauper's hit Girls Just Want to Have Fun, GAYS Just Want to Have Fun. Other incredible talent who performed throughout the night included Bob the Drag Queen, Eddie Izzard, Solomon Georgio, Sam Jay, River Butcher, Patti Harrison, Matteo Lane, Marsha Warfield, Mae Martin, Judy Gold, Joel Kim Booster, James Adomian, Guy Branum, Gina Yashere, Trixie Mattel, Scott Thompson, and Todd Glass. Stand Out is produced by Page Hurwitz, Wanda Sykes (Push It Productions), Brian Graden and Dave Mace (Brian Graden Media).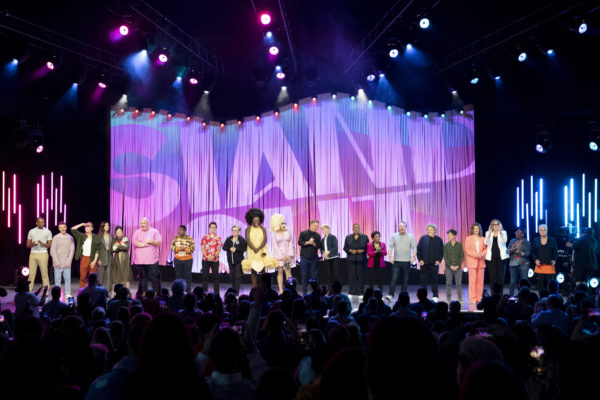 Release Date: June 10
When it's time for teenage vampire Juliette to make her first kill so she can take her place among a powerful vampire family, she sets her sights on a new girl in town named Calliope. But much to Juliette's surprise, Calliope is a vampire hunter, from a family of celebrated slayers. Both find that the other won't be so easy to kill and, unfortunately, way too easy to fall for.
Created by: From Felicia D. Henderson (EP, Co-Creator, Showrunner); V. E. Schwab (EP & Co-Creator); Emma Roberts & Kara Preiss (Belletrist Productions, EPs) Cast: Sarah Catherine Cook, Imani Lewis, Elizabeth Mitchell (Lost, Outerbanks), Aubin Wise (Atlanta), Jason Robert Moore (The Punisher), Gracie Dzienny (Jupiter's Legacy), Will Swenson (The Chilling Adventures of Sabrina), Jonas Dylan Allen.
Release Date: June 14
Directed by Amanda Micheli, HALFTIME offers an intimate peek behind the curtain revealing the grit and determination that makes Jennifer Lopez the icon she is. The documentary focuses on Lopez as she embraces the second half of her career and continues to inspire with her perseverance, creative brilliance and cultural contributions, set against the backdrop of her groundbreaking Super Bowl performance.
Iron Chef: Quest For An Iron Legend
Release Date: June 15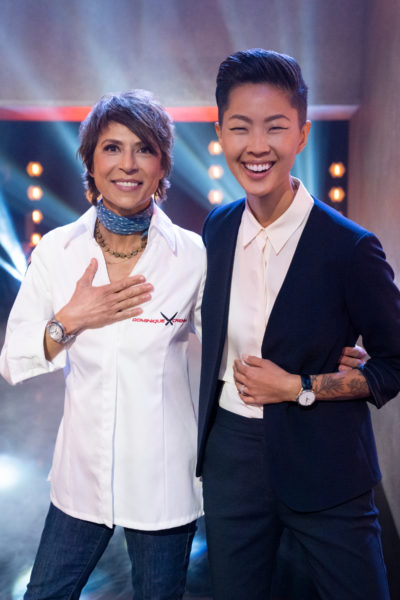 The legendary Iron Chef series is reborn with a supersized approach to the ground-breaking culinary competition that started it all. It's been called the toughest culinary challenge a chef will ever experience. This is where world-class cuisine meets high-octane sports. Five new trailblazing Iron Chefs will welcome brave Challenger Chefs to the reimagined Kitchen Stadium, where they'll face off and be pushed to the limits of endurance and creativity, as they cook up extraordinary culinary creations. The competition's most successful Challenger will return to battle in a grand finale for the chance to be named the first ever "Iron Legend."
Cast: Hosts – Alton Brown and Kristen Kish; Iron Chefs – Curtis Stone, Dominique Crenn, Marcus Samuelson, Ming Tsai, Gabriela Camara
Dead End: Paranormal Park Season 1
Release Date: June 16
Based on creator and executive producer Hamish Steele's horror-comedy graphic novels DeadEndia and web short Dead End, Dead End: Paranormal Park follows the adventures of Barney, Norma and magical-talking-dog Pugsley, as they balance their summer jobs at the local theme park haunted house while battling the totally real supernatural forces that dwell within it. Together with their guide to the underworld multiplane, a sardonic thousand-year-old demon named Courtney, they'll face zombie mascots, demonic game show hosts, sleep-sucking witches and the scariest thing of all: their first crushes! The series will also feature a special musical episode with songs written by Patrick Stump.
Cast: Zach Barack, Kody Kavitha, Emily Osment, Alex Brightman, Clinton Leupp a.k.a. Miss Coco Peru, Kenny Tran and Kathreen Khavari; Guest Stars: Alan Cumming, Angelica Ross, C Nelson, Kemah Bob, MJ Roridguez, Patrick Stump, Sam Jay, Taylor "Effy" Gibson, Tom Lenk, Z Infante and more!
Release Date: June 22
After putting a stop to 1963's doomsday, the Umbrella Academy returns home to the present, convinced they prevented the initial apocalypse and fixed this godforsaken timeline once and for all. But after a brief moment of celebration, they realize things aren't exactly (okay, not at all) how they left them. Enter the Sparrow Academy. Smart, stylish, and about as warm as a sea of icebergs, the Sparrows immediately clash with the Umbrellas in a violent face-off that turns out to be the least of everyone's concerns. Navigating challenges, losses, and surprises of their own – and dealing with an unidentified destructive entity wreaking havoc in the Universe (something they may have caused) — now all they need to do is convince Dad's new and possibly better family to help them put right what their arrival made wrong. Will they find a way back to their pre-apocalyptic lives? Or is this new world about to reveal more than just a hiccup in the timeline?
Created for Television by: Steve Blackman Cast: Elliot Page, Tom Hopper, David Castañeda, Emmy Raver-Lampman, Robert Sheehan, Aidan Gallagher, Justin H. Min, Colm Feore, Ritu Arya, Justin Cornwell, Britne Oldford, Jake Epstein, Genesis Rodriguez, Cazzie David, Javon 'Wanna' Walton, Jordan Claire Robbins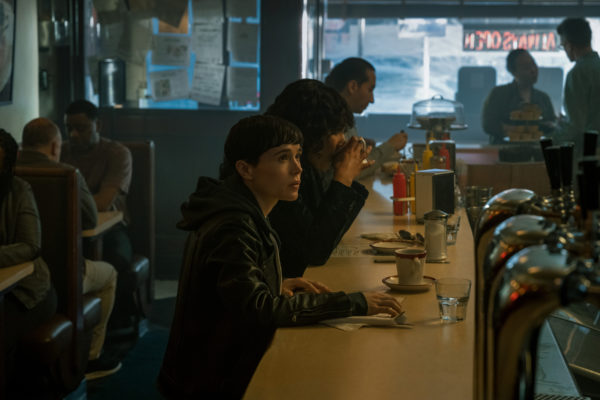 Note: Elliot Page's character transitions in the season and begins using the name Viktor Hargreeves and he/him pronouns. The storyline was crafted by creator Steve Blackman who both consulted GLAAD and enlisted writer Thomas Page McBee's guidance and expertise to, alongside Elliot Page, help ensure the storyline was told authentically and sensitively.
Joel Kim Booster: Psychosexual
Release Date: June 21
Filmed at Catch One in Los Angeles by Doron Max Hagay, Joel Kim Booster makes his Netflix comedy special debut with Psychosexual. In a uniquely crafted three set act; Booster discusses learning the cultural nuances of being Asian as he gets older, shares his preference for threesomes with tips for successful masturbation and his fascination for human sexuality and much more.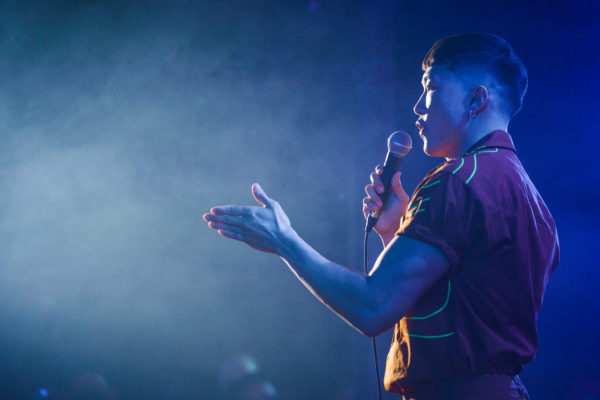 Release Date: June 23
Sylwester, a retired tailor who now moonlights as a drag queen, left Poland fifty years ago and has been living in Paris ever since. One day he gets a letter, asking him to donate a kidney to his ill daughter, who he left behind all these years ago and has never seen. Reluctant, he embarks on a journey back to his motherland, to the coal mining town he swore never to return to. The journey takes an unexpected turn, forcing Sylwester to confront the past and use his artistic skills to mount a stage production to save this small coal mine town. It is a story of redemption, second chances and love overcoming all differences.
Original idea by: Arni Olafur Asgeirsson. Created by: Arni Olafur Asgeirsson, Kacper Wysocki, Ottó Geirborg. Directed by: Łukasz Kośmicki. Cast: Andrzej Seweryn, Maria Peszek, Julia Chętnicka, Antoni Porowski & Kova Rea.
The Upshaws (Season 2, Part 1)
Release Date: June 29
A multi-camera comedy that centers on a working-class African American family in Indiana struggling to make it work and make it right without the blueprints to do it. Bennie Upshaw (Mike Epps), the head of a Black working class family in Indianapolis, is a charming, well-intentioned mechanic and lifelong mess just trying his best to step up and care for his family — wife Regina (Kim Fields), their two young daughters (Khali Spraggins, Journey Christine) and firstborn son (Jermelle Simon), the teenage son (Diamond Lyons) he fathered with another woman (Gabrielle Dennis) — and tolerate his sardonic sister-in-law (Wanda Sykes), all without a blueprint for success. But the Upshaws are determined to make it work, and make it to the next level, together. In Season 2, Part 1, the Upshaws continue to ride life's ups and downs, including new loves, old flames, big dreams, life changes and the love and drama that comes with family.
Created by: Regina Y. Hicks and Wanda Sykes; Cast: Mike Epps, Kim Fields, Wanda Sykes, Page Kennedy, Diamond Lyons, Khali Daniya-Renee Spraggins, Jermelle Simon, Gabrielle Dennis, Journey Christine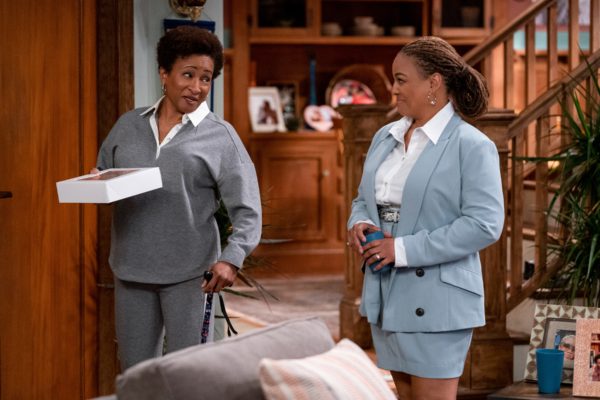 COMING SOON!
Release Date: July 29
Michael (Neil Patrick Harris) thought his life was perfect until his husband blindsides him by walking out the door after 17 years. Overnight, Michael has to confront two nightmares — losing what he thought was his soulmate and suddenly finding himself a single gay man in his mid-forties in New York City.
Series Creators / Executive Producers/ Writers: Darren Star and Jeffrey Richman; Cast: Neil Patrick Harris, Tisha Campbell, Brooks Ashmanskas, Emerson Brooks, Marcia Gay Harden, Tuc Watkins
Ellen signs off after 19 seasons
In her final monologue DeGeneres reflected on the journey across the years then took a moment to dance through the audience with Twitch
BURBANK – The lights went dark forever at the Warner Brothers Stage 1 complex on the lot at Warner Brothers Studio, home to the Ellen show, as comedian Ellen DeGeneres ended her daytime talk show after a 19 season run Thursday.
In a highly charged emotional hour, DeGeneres paid tribute to her staff, executive producers and a global audience of loyal viewers. Highlighting the end run of the show DeGeneres brought on guest Jennifer Aniston, the actress having been the comedian's very first guest on the first show.
My first guest and my last❤️ #JenniferAniston pic.twitter.com/ux046U3ZOH

— Ellen DeGeneres (@TheEllenShow) May 26, 2022
In her final monologue DeGeneres reflected on the journey across the years and she then took a moment to dance through the audience with her 'DJ' Twitch. During the course of the hour she discussed the progress that had been made since the series premiered in 2003, noting that she "couldn't say 'gay' on the show" when it started or make a reference to her wife, Portia de Rossi, because same-sex marriage wasn't legal.
"Now I say 'wife' all the time," she said. Noting that there was resistance to the show and that few gave it a chance of surviving, DeGeneres promised that she wouldn't be gone for long. "Today is not the end of a relationship, it's more of a little break," she said. "You can see other talk shows now."
My final monologue.❤️ #EllensFinalSeason pic.twitter.com/CrnW72klYV

— Ellen DeGeneres (@TheEllenShow) May 26, 2022
Check out final season of 'Grace and Frankie' — it ends well
Groundbreaking show highlights queer, straight elders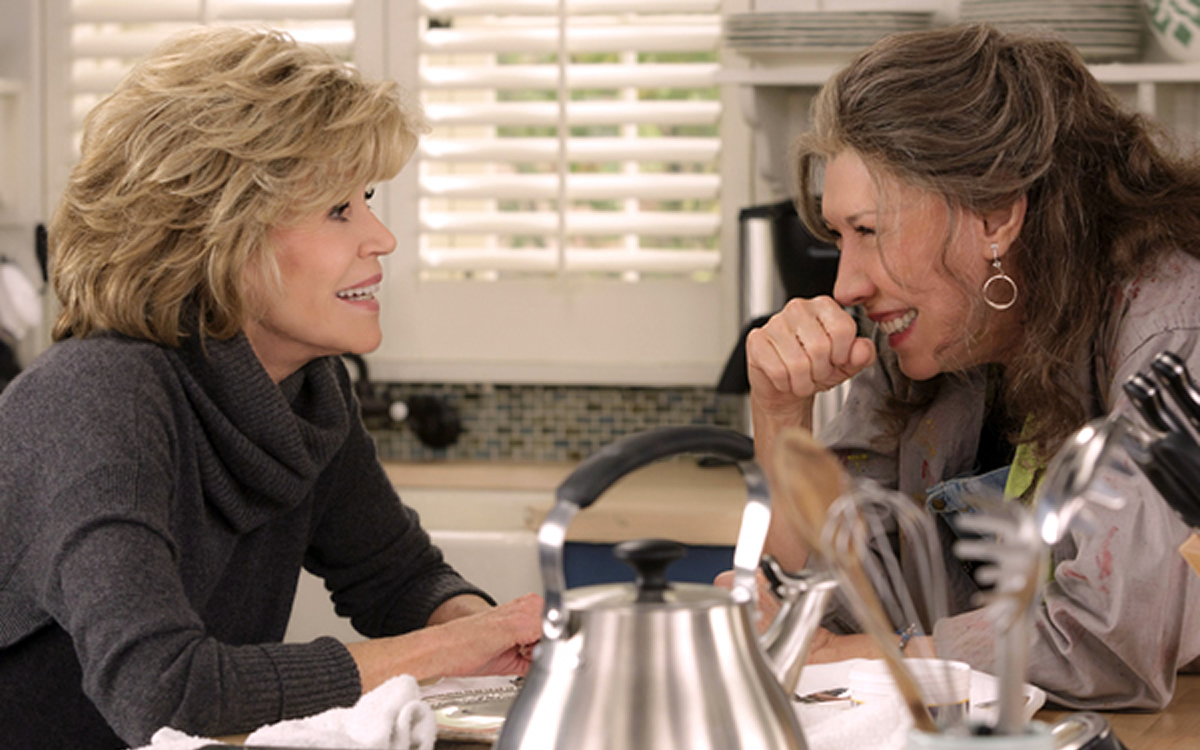 They make up a fake Jewish holiday (M'Challah) to avoid seeing their friends, lie to their kids about killing their bunny, obsess over playing John Adams in a (very gay) community theater production of the musical "1776" and create vibrators that glow in the dark. Their children sell their house out from under them and make them wear panic alerts.
These people might well creep you out in real life.
But, thankfully, they're the funny and engaging characters on "Grace and Frankie," the series, whose seventh and final season has recently dropped on Netflix.
The show, starring Lily Tomlin, 82, (Frankie) and Jane Fonda, 84, (Grace) as two hetero elders whose husbands (Martin Sheen, 81 as Robert and Sam Waterston, 81, as Sol) leave them to marry each other, is, deservedly, Netflix's longest-running series.
In 2019, there were 54.1 million people in the United States over 65, according to a Administration for Community Living of the U.S. Department of Human Services report. Elders, the study says, are expected to make up 2l.6 percent of this country's population by 2040.
There are nearly three million (2.7 million) LGBTQ people over aged 50 in the U.S. and 1.1 million queer elders 65 and older in this country, according to a 2017 Movement Advancement Project and SAGE report.
Yet aside from "Transparent," few TV series (broadcast, cable or streaming) have featured, let alone, been centered around, older queers.
"Grace and Frankie" is the rare series that's focused on the lives of elders (hetero and queer). Unlike some shows that showcase older people, it's been mostly entertaining, even thought provoking, rather than dull or didactic throughout its run.
Set in San Diego, "Grace and Frankie" throughout its seasons has told the story of how Frankie and Grace have created a life of their own as Robert and Sol have entered a new chapter of their lives as a same-sex couple.
Frankie, Grace, Robert and Sol, who are in their 70s, are affluent. Robert and Sol are successful divorce lawyers. Grace has run a flourishing cosmetics company. Frankie is a new-agey artist who teaches art to ex-convicts.
When Robert and Sol say that they're leaving them to wed each other because same-sex marriage has become legal in California, Frankie says she's done a fundraiser for that.
The beach house where Grace and Frankie live is breathtakingly gorgeous. Yet these characters encounter the indignities and dilemmas of aging from learning about social media to coming out in late life to memory loss to end-of-life decisions.
Grace and Frankie run up against the condescension that older women often face. Yet though these are serious concerns, "Grace and Frankie" hasn't been a downer.
In one episode, as I've written before in the Blade, Grace and Frankie, though they're practically jumping in front of his face, can't get a store's sales clerk to notice them. Because he's paying so much attention to a young woman. Frankie gives up and steals a pack of cigarettes. If "you can't see me," Frankie says, "you can't stop me."
In season two, their friend Babe (Estelle Parsons), who is terminally ill, tells Frankie and Grace that she wants them to help her end her life. Though it's difficult emotionally for them, the women give their friend Babe a good-bye party that's joyous without being maudlin.
Robert and Sol deal with Robert being in the early stages of dementia. This narrative is touching, but not sappy. Though you should have a tissue in hand for Robert and Sol's elevator moment in the show's finale.
Like many old people, the characters have their ups and downs in relating to their adult children. These off-spring from Brianna (June Diane Raphael), a 21st century Cruella de Vil, to Bud (Baron Vaughn), the often wrong-headed "good son," would try any elder's soul.
The main pleasure of "Grace and Frankie" is watching Tomlin and Fonda. The two forces of nature, friends since their "9 to 5″ days, make you laugh and cry with the BFFs Grace and Frankie.
TV series, like everything, have to end. Check out "Grace and Frankie." It ends well.