Fox leads midseason charge with LGBTQ inclusion
New and returning shows include queer characters, storylines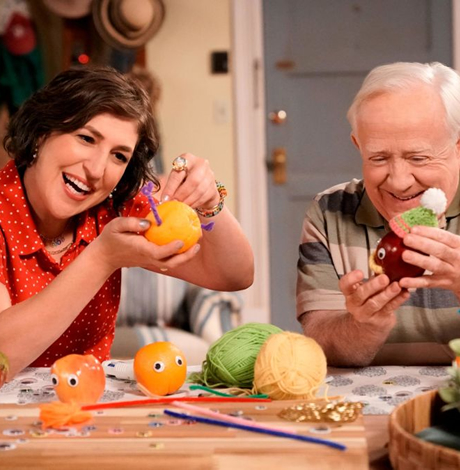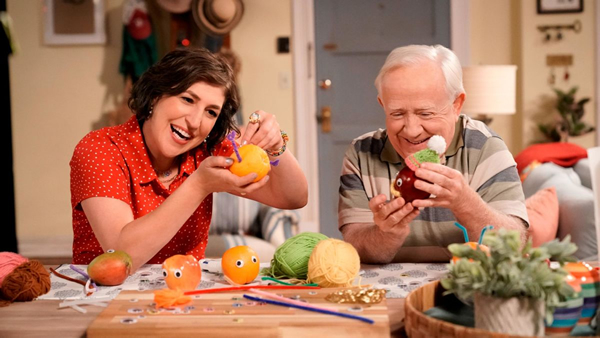 It's a new year, and considering what the last one was like it's not surprising that so many of us are breathing a sigh of relief. But that doesn't mean we're not still in for a long haul before it's going to be possible to spend less time on our socially distanced couches, and since most of us have already binge-watched our way through much of the content available on our TV screens over the past 10 months, the pickings are starting to look a little slim.
Fortunately, January also means it's time for the providers of that content to roll out a new slate. Midseason arrivals are on deck from the networks, and while many of them won't arrive for a few weeks, there are still a few new options coming our way – including several proudly LGBTQ-inclusive shows that might catch your eye.
Leading the charge this month is Fox, with three debuts poised to hit our screens.
First up, and already here, is "Call Me Kat," based on the BBC UK original series "Miranda," which was created by Miranda Hart, the UK writer and actress known and beloved for her work in the long-running fan-favorite series, "Call the Midwife." The American version, which aired its premiere on Jan. 3, stars Emmy-nominee Mayim Bialik ("Blossom," "The Big Bang Theory") as a woman who has spent her entire life savings to open a cat café in Louisville, Ken. Kat is a non-conformist, who struggles every day against society and her mother (Emmy-winner Swoosie Kurtz, "Mike & Molly," "Sisters") to prove that she can be happy and fulfilled despite still being single at 39. Helping out Kat at the café are Randi (Kyla Pratt, "One On One"), a confident millennial and self-proclaimed "non" cat person, and Phil (Emmy-winner and LGBTQ fan favorite Leslie Jordan, "The Cool Kids," "Will & Grace"), who is recently single after a break-up with his longtime partner. Throwing a wrench in the works of Kat's plans to proudly maintain her single status for life, however, is Max (out actor Cheyenne Jackson, "American Horror Story," "30 Rock"), a friend and former crush who returns to Louisville to take a job as a bartender at the piano bar across the street, where he works with his friend Carter (Julian Gant, "Good Girls").
It would be nice to offer a glowing recommendation on this one, especially since it involves the return so many of our favorite small screen stalwarts, but reactions to the pilot episode have been mixed, at best. While critics and viewers have praised Bialik's ability to shine even when she's forced to handle sub-par material, they've also been less-than-encouraged by much else about the series, with Hollywood Reporter critic Robyn Bahr writing, "Kat's sparkle […] isn't enough to illuminate her bland surroundings, which include the topical-in-2014 cat café setting, her gnattish mother and her nondescript barista buddies." That's not likely to discourage sitcom fans hungry for something new, however, and any true TV junkie knows that even the greatest shows sometimes get off to a rocky start. Instinct says to give "Call Me Kat" a chance to find its stride; once it does, it might just end up being one of our new favorites.
Fox is also hoping for a double hitter as it steps up to the plate with the return of its #1 drama, "9-1-1," and last season's new spin-off series, "9-1-1: Lone Star," which will have their back-to-back season premieres on Jan. 18. The LGBTQ appeal of these popular shows is a given for their pedigree alone – they come from the entertainment powerhouse that is Ryan Murphy, alongside Brad Falchuk and Tim Minear – but both also wear their queerness on their sleeve with inclusive casting and storylines.
The fourth season premiere of "9-1-1" follows its characters through the aftermath of a devastating Los Angeles earthquake, with Athena (Angela Bassett) trying to shrug off her physical and emotional injuries and jump back into the job, while Maddie (Jennifer Love Hewitt) and Chimney (Kenneth Choi) prepare for the birth of their baby, and Buck (Oliver Stark) searches for answers in his past to help him face his present. For those keeping track, Stark is one of several actors portraying queer characters on the show, with others played by Aisha Hinds, Ryan Guzman, and Rockmond Dunbar.
As for "9-1-1: Lone Star," the new season brings Gina Torres ("Suits," "Firefly") on board as a new captain, replacing Liv Tyler, who declined to appear in the second season due to concerns about traveling from the UK for the shoot in the middle of a pandemic. She joins returning star Rob Lowe, as well as trans actor Brian Michael Smith, in an ensemble cast that also includes Ronen Rubinstein, Jim Parrack, Sierra McClain, Natacha Karam, Rafael Silva, and Julian Works – with both Rubinstein and Silva playing gay characters. As for the plot, all that can be known for the moment is that it will involve the characters dealing with their personal and domestic dramas as they rescue the citizens of Texas from one emergency after another – in other words, all the things we love about these kinds of procedural dramas.
NBC is also serving up some LGBTQ-friendly fun with the return of "Zoey's Extraordinary Playlist," the hit fantasy/comedy about a smart young tech kid who experiences a strange event that leaves her with the ability to hear the innermost thoughts, wants and desires of everybody around her. The twist (and it's a twist that makes all the difference), is that she hears them not as thoughts, but as songs. Making things just a little more glorious is the presence of Zoe's friend and neighbor Mo (Alex Newell), who is gender-fluid. If you missed the boat for season one, you'll definitely want to take the opportunity to jump on board. You might need to catch up first – but it's 2021, so there are ways to easily accomplish that.
"Superstore," another popular and inclusive NBC comedy, returns this month (Jan. 14), too – but since it's technically a midseason return (the current season began in the fall, albeit for only a handful of episodes), it's not exactly new. Nevertheless, that's good news for fans who may have felt cheated by the brief taste they were given a few months ago.
Lastly, if you're a fan of the CW's Greg Berlanti-created "Riverdale" (and who isn't, whether they'll admit it or not?), the newest season of that candy-colored, deliciously queered reimagining of the "Archie" comic books will drop on January 20 – presumably bringing K.J. Apa's frequently-flashed abs with it.
Of course, if you're one of the many people who have come to prefer their entertainment on demand, rather than waiting a week in between episodes to find out what happens next, you already know that the big streamers have their own new offerings waiting in the wings, ready for you to binge your way through January in the style to which you've become accustomed. A lot of those shows are geared for the queer eye, too – but that's a whole different article in itself.
Ellen signs off after 19 seasons
In her final monologue DeGeneres reflected on the journey across the years then took a moment to dance through the audience with Twitch
BURBANK – The lights went dark forever at the Warner Brothers Stage 1 complex on the lot at Warner Brothers Studio, home to the Ellen show, as comedian Ellen DeGeneres ended her daytime talk show after a 19 season run Thursday.
In a highly charged emotional hour, DeGeneres paid tribute to her staff, executive producers and a global audience of loyal viewers. Highlighting the end run of the show DeGeneres brought on guest Jennifer Aniston, the actress having been the comedian's very first guest on the first show.
My first guest and my last❤️ #JenniferAniston pic.twitter.com/ux046U3ZOH

— Ellen DeGeneres (@TheEllenShow) May 26, 2022
In her final monologue DeGeneres reflected on the journey across the years and she then took a moment to dance through the audience with her 'DJ' Twitch. During the course of the hour she discussed the progress that had been made since the series premiered in 2003, noting that she "couldn't say 'gay' on the show" when it started or make a reference to her wife, Portia de Rossi, because same-sex marriage wasn't legal.
"Now I say 'wife' all the time," she said. Noting that there was resistance to the show and that few gave it a chance of surviving, DeGeneres promised that she wouldn't be gone for long. "Today is not the end of a relationship, it's more of a little break," she said. "You can see other talk shows now."
My final monologue.❤️ #EllensFinalSeason pic.twitter.com/CrnW72klYV

— Ellen DeGeneres (@TheEllenShow) May 26, 2022
Check out final season of 'Grace and Frankie' — it ends well
Groundbreaking show highlights queer, straight elders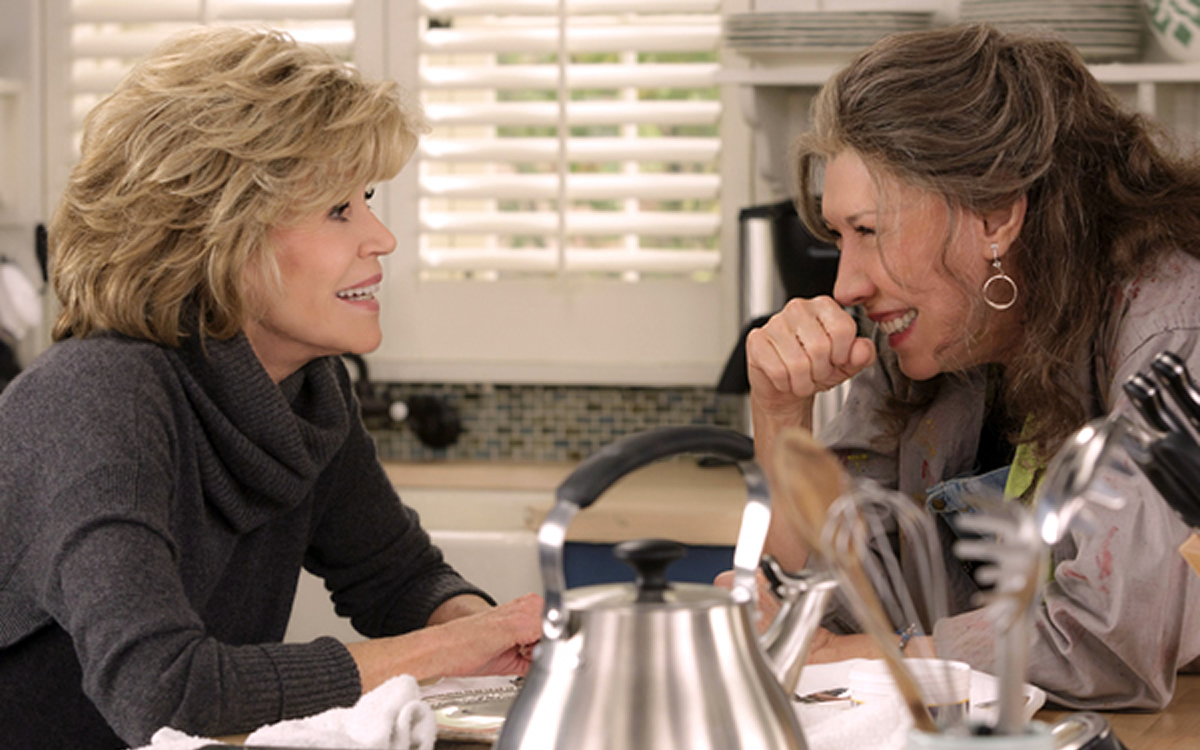 They make up a fake Jewish holiday (M'Challah) to avoid seeing their friends, lie to their kids about killing their bunny, obsess over playing John Adams in a (very gay) community theater production of the musical "1776" and create vibrators that glow in the dark. Their children sell their house out from under them and make them wear panic alerts.
These people might well creep you out in real life.
But, thankfully, they're the funny and engaging characters on "Grace and Frankie," the series, whose seventh and final season has recently dropped on Netflix.
The show, starring Lily Tomlin, 82, (Frankie) and Jane Fonda, 84, (Grace) as two hetero elders whose husbands (Martin Sheen, 81 as Robert and Sam Waterston, 81, as Sol) leave them to marry each other, is, deservedly, Netflix's longest-running series.
In 2019, there were 54.1 million people in the United States over 65, according to a Administration for Community Living of the U.S. Department of Human Services report. Elders, the study says, are expected to make up 2l.6 percent of this country's population by 2040.
There are nearly three million (2.7 million) LGBTQ people over aged 50 in the U.S. and 1.1 million queer elders 65 and older in this country, according to a 2017 Movement Advancement Project and SAGE report.
Yet aside from "Transparent," few TV series (broadcast, cable or streaming) have featured, let alone, been centered around, older queers.
"Grace and Frankie" is the rare series that's focused on the lives of elders (hetero and queer). Unlike some shows that showcase older people, it's been mostly entertaining, even thought provoking, rather than dull or didactic throughout its run.
Set in San Diego, "Grace and Frankie" throughout its seasons has told the story of how Frankie and Grace have created a life of their own as Robert and Sol have entered a new chapter of their lives as a same-sex couple.
Frankie, Grace, Robert and Sol, who are in their 70s, are affluent. Robert and Sol are successful divorce lawyers. Grace has run a flourishing cosmetics company. Frankie is a new-agey artist who teaches art to ex-convicts.
When Robert and Sol say that they're leaving them to wed each other because same-sex marriage has become legal in California, Frankie says she's done a fundraiser for that.
The beach house where Grace and Frankie live is breathtakingly gorgeous. Yet these characters encounter the indignities and dilemmas of aging from learning about social media to coming out in late life to memory loss to end-of-life decisions.
Grace and Frankie run up against the condescension that older women often face. Yet though these are serious concerns, "Grace and Frankie" hasn't been a downer.
In one episode, as I've written before in the Blade, Grace and Frankie, though they're practically jumping in front of his face, can't get a store's sales clerk to notice them. Because he's paying so much attention to a young woman. Frankie gives up and steals a pack of cigarettes. If "you can't see me," Frankie says, "you can't stop me."
In season two, their friend Babe (Estelle Parsons), who is terminally ill, tells Frankie and Grace that she wants them to help her end her life. Though it's difficult emotionally for them, the women give their friend Babe a good-bye party that's joyous without being maudlin.
Robert and Sol deal with Robert being in the early stages of dementia. This narrative is touching, but not sappy. Though you should have a tissue in hand for Robert and Sol's elevator moment in the show's finale.
Like many old people, the characters have their ups and downs in relating to their adult children. These off-spring from Brianna (June Diane Raphael), a 21st century Cruella de Vil, to Bud (Baron Vaughn), the often wrong-headed "good son," would try any elder's soul.
The main pleasure of "Grace and Frankie" is watching Tomlin and Fonda. The two forces of nature, friends since their "9 to 5″ days, make you laugh and cry with the BFFs Grace and Frankie.
TV series, like everything, have to end. Check out "Grace and Frankie." It ends well.
New trailer gives first glimpse into new 'Queer as Folk'
The highly-anticipated return looks poised to make some welcome improvements as it reinvents the beloved series for a new era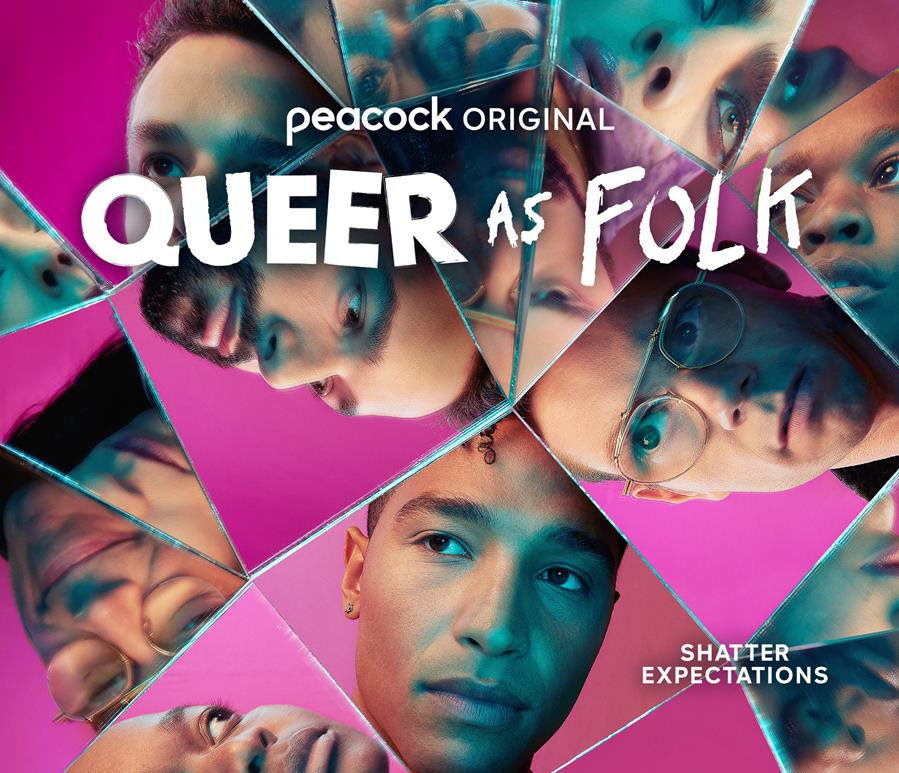 HOLLYWOOD – Depending on who you ask, the soon-to-be-dropped reimagining of "Queer as Folk" could well be the biggest LGBTQ television event – or the biggest mistake – of the year.
The groundbreaking original British version of the series, created and written by Russell T. Davies in 1999 (decades before his recent triumph with "It's A Sin" introduced him to a new generation of queer viewers), has already had an American adaptation in 2000, and each of these installments has its own legion of fans – many of whom have expressed their qualms (to put it mildly) over the entire idea of a new reboot.
That, however, hasn't stopped Davies from joining forces with writer/director/creator Stephen Dunn ("Closet Monster") to executive produce one for Peacock. 
Shade from old-school fans aside, the highly-anticipated return of the franchise looks poised to make some welcome improvements as it reinvents the beloved series for a new era. This time, the story promises to deliver a much more diverse assortment of characters than the group of predominantly white gay men featured by its predecessors, with a story centered on a group of LGBTQ friends in New Orleans as their lives are transformed in the aftermath of a recent tragedy.
The new iteration also scores points by employing queer actors to portray all its queer roles – resulting in an impressive lineup of names on its cast list including Ryan O'Connell ("Special"), Johnny Sibilly ("Pose"), Devin Way ("Grey's Anatomy'), Jesse James Keitel ("Alex Strangelove"), Fin Argus, Candace Grave, Benito Skinner, and Juliette Lewis, and even Kim Cattrall as a "martini-soaked, high society Southern debutante with trailer park roots." 
Of his reason for getting on board a new adaptation of his show, Davies says, "I'm very proud of what we achieved in 1999, but in queer years, that was a millennium ago! As a community, we've radicalized, explored, opened up, and found new worlds – with new enemies and new allies – and there was so much to be said.
Stephen pitched a brand new version of 'Queer as Folk' with so much imagination, insight, and crucially, joy, that I simply couldn't resist. I thought it was about time the title belonged to a whole new generation. The 2022 show is more diverse, more wild, more free, more angry – everything a queer show should be."
As for Dunn, he explains, "I wanted to create a new groundbreaking version of this show for this moment. Our new 'Queer as Folk' is set in New Orleans — one of the most unique queer communities in North America – and I am immensely proud that the new series is comprised of an electric ensemble of fresh characters that mirror the modern global audience.
If there's one person who is able to see 'Queer as Folk' and feel less alone, or who now feels more supported and seen, our job is done. In the true spirit of the original, our show doesn't shy away from the harsh realities of our community, but above all else, the series is about people who live vibrant, vital, unapologetically queer lives." 
Jacklyn Moore, who co-wrote the new series with Dunn and Executive Produced alongside him and Davies, adds, "I believe deeply in the power of storytelling to make people feel seen, but all too often I feel as though queer and trans representation in art is limited to extremes. We are either shown as saintly heroes bravely surviving a bigoted society or two-dimensional queer-coded villains that feel airdropped in from some previous era. With 'Queer as Folk,' we aimed to depict queer characters who live in the messy middle. People who are complicated. Who are funny and caring and flawed and sometimes selfish, but still worthy of love. Still worthy of narrative. As a trans woman, I'm excited to take steps to move past telling stories that seem to just be arguing for our basic humanity. My hope is that Queer as Folk is one such step."
We're sure we speak for the rest of the eagerly-waiting fans when we say that we all hope that, too. We can all find out together when Peacock begins streaming the new "Queer as Folk" on June 9.
Queer as Folk | Official Trailer | Peacock Original