Fox News manufactured outrage about trans athletes. Right-wing media repeated it and earned high engagement on Facebook.
Fox News and right-wing media have focused on trans athletes in the past to distract from the critical protections that LGBTQ Americans are lacking.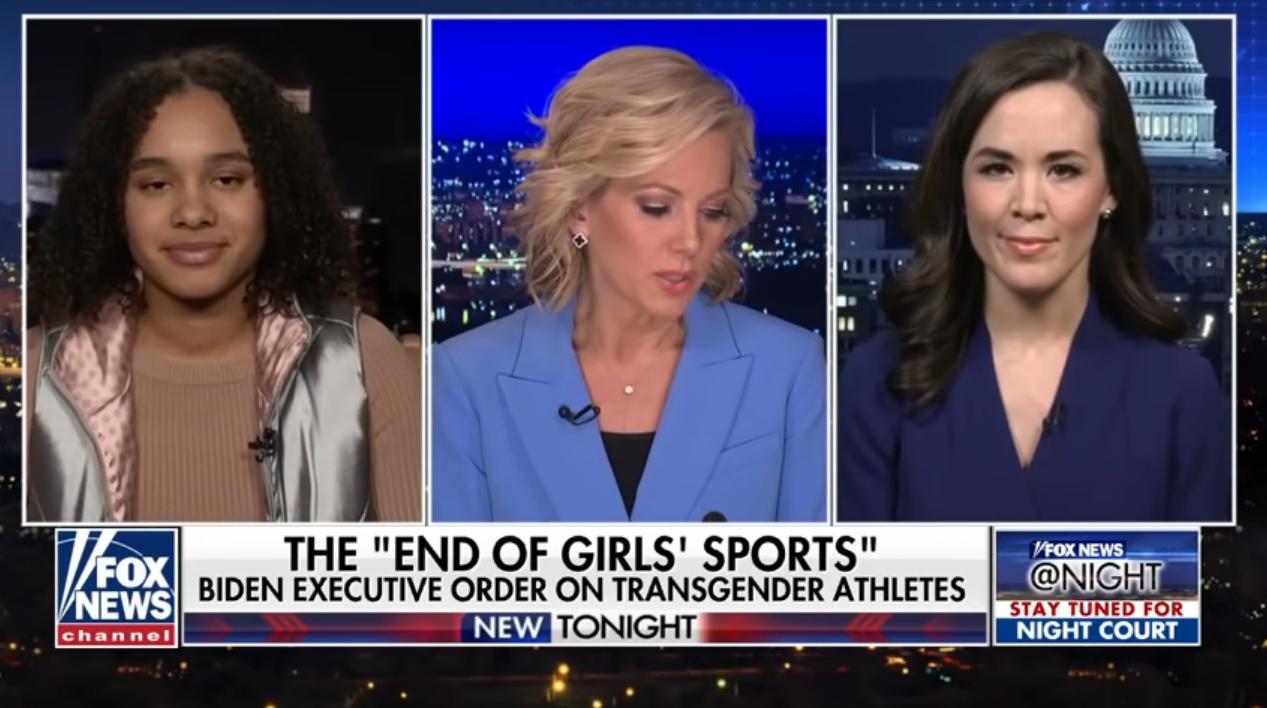 Right-wing sources earned nearly half-a-million Facebook interactions in under two days on posts berating the White House for affirming that "trans rights are human rights"
WASHINGTON – After Fox News manufactured a week's worth of coverage fearmongering about trans athletes, a Fox radio reporter baited the White House press secretary with a misleading question about trans athletes; right-wing media ran with the exchange and earned high engagement on Facebook.
On February 9, Fox News Radio's Rachel Sutherland attempted to bait White House Press Secretary Jen Psaki with a misleadingly framed question about President Joe Biden's January 20 executive order on LGBTQ rights, insinuating that the order and trans athletes are a threat to women's sports. In reality, the executive order tells federal agencies to protect LGBTQ Americans from discrimination in numerous areas of public life, such as housing, health care, employment, public accommodations, and education.
Sutherland's questioning came after Fox News Channel spent a week and over 19 segments — totaling 51 minutes — mischaracterizing the order as a move that would destroy women's sports. Psaki, not falling for Fox's bait, responded, "The president's belief is that trans rights are human rights."
Right-wing sources were quick to echo Fox's manufactured outrage, and they earned high Facebook engagement doing so
According to data analytic tool Crowdtangle, right-wing sources reporting on the February 9 White House press briefing exchange earned nearly half-a-million combined Facebook interactions (reactions, comments, and shares) in the days following the exchange:
Fox News earned over 219,000 Facebook interactions on an article published to its website that failed to disclose that Sutherland is a Fox News Radio reporter, and that pushed the false narrative that trans athletes are harmful to women's sports. The article earned nearly half of the total interactions Media Matters analyzed.
The Daily Wire earned over 100,000 interactions on an article that mirrored Fox News' framing of the February 9 exchange. Notably, Facebook posts associated with the site, including from founder Ben Shapiro and staffers Matt Walsh and Michael Knowles, drove the article's Facebook engagement. The Daily Wire uses these profiles to regularly buck Facebook's Coordinated Inauthentic Behavior policy and spread anti-LGBTQ disinformation on the platform. Shapiro later made a separate post to Facebook about the press briefing exchange (but not the Daily Wire article) that earned over 110,000 interactions.
The Western Journal earned over 89,000 interactions on an article that misleadingly claimed that when it comes to athletics, Psaki "affirmed Tuesday that one group in the debate has rights." Anti-LGBTQ commentator and former Arkansas Gov. Mike Huckabee posted the article to his Facebook page, earning over 34,000 interactions.
Breitbart earned over 28,500 interactions on an article about Psaki's response to Sutherland that cited anti-trans author Abigail Shrier, who claimed, "A new glass ceiling was just placed over girls."
Right-wing outlets The Federalist, Townhall, The Post Millennial, and CNS News also published content echoing Fox's framing of the February 9 press briefing, earning less than a combined 7,000 interactions on Facebook. 
Fox News and other right-wing media obsessively attack trans athletes to oppose LGBTQ equality
Right-wing media, especially Fox News have spent years targeting trans athletes in an attempt to skew public opinion against LGBTQ people and push back against nondiscrimination protections for them, including the Equality Act, a comprehensive bill likely to be considered by Congress in the coming weeks.
This obsessive coverage has made the topic of trans athletes one of the most dominant narratives about trans issues online. In fact, Media Matters studied Facebook content about trans topics that earned over 100,000 interactions over a one-year period and found 24% of that content was about trans athletes that came from right-wing sources. That right-wing content earned about 21 million interactions or nearly one-third of all Facebook engagement on top trans-related content studied.
Despite the right's best efforts to demonize them, trans athletes "have been competing in women's sport at every level of competition all over the world for decades," yet still have not dominated high-profile athletics, as noted by trans advocate and ACLU attorney Chase Strangio.
Fox News and right-wing media have focused on trans athletes in the past to distract from the critical protections that LGBTQ Americans are lacking. As efforts like Biden's January 20 executive order and the Equality Act become major media stories, the public must not fall for the right's manufactured outrage about trans people.
The preceding article was previously published by Media Matters and is republished by permission.
Thank you Madam Speaker: Karen Ocamb reflects on Nancy Pelosi
Whether comforting a friend with AIDS or pointing a powerful finger at Trump, Pelosi exemplifies the humble nobility of servant leadership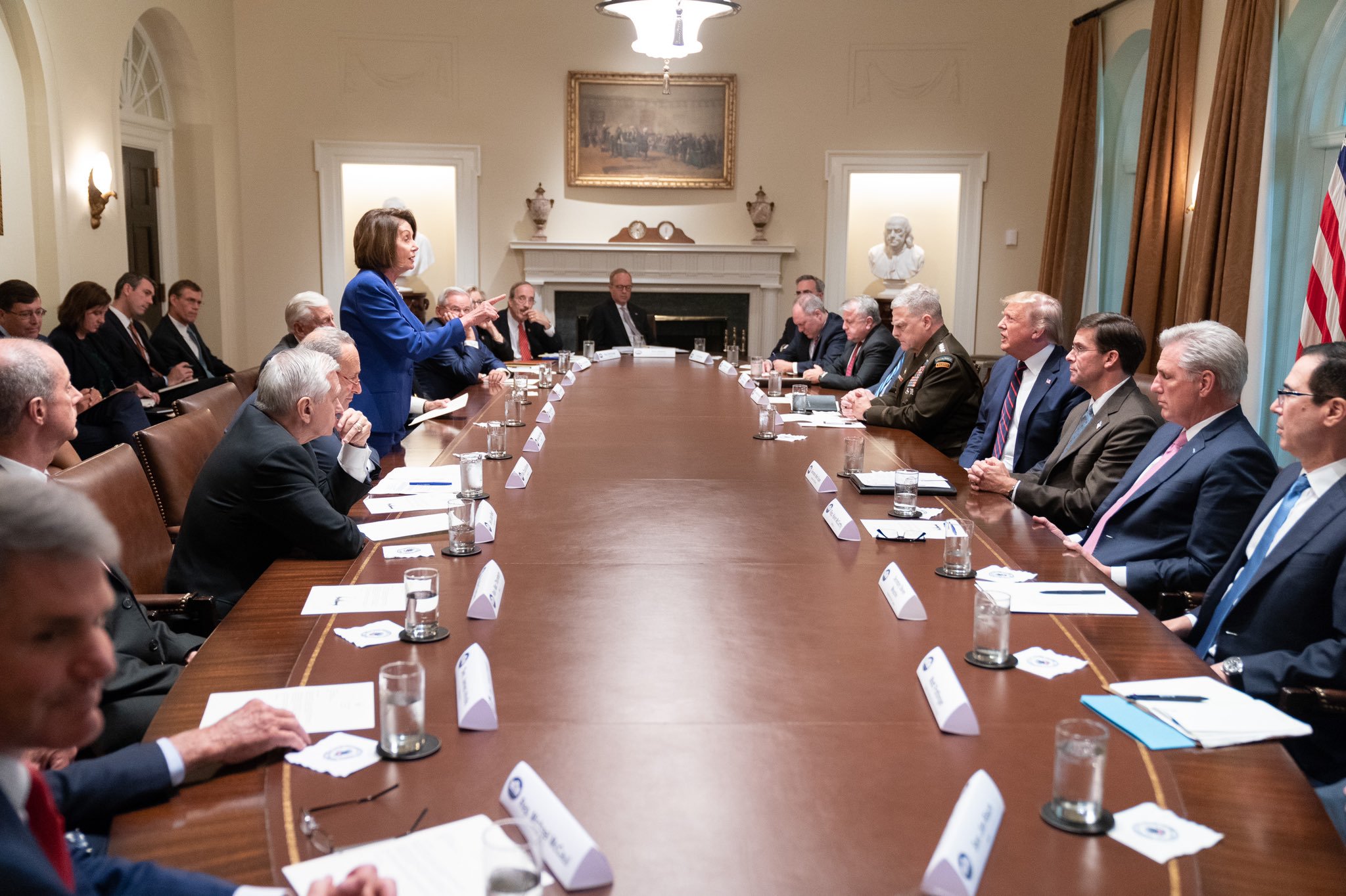 WEST HOLLYWOOD – Thank you, Speaker Nancy Pelosi! Let me add my gratitude to the praise that's poured in since Pelosi announced she would stay in Congress but was not seeking re-election as Speaker to make way for a younger generation.
In typical Trumpian fashion, CA GOP colleague Kevin McCarthy rudely absented himself as commentator after commentator – including some Republicans – called Nancy Pelosi the best Speaker in American history as she gave her "future plans" speech from the Floor of the House of Representatives.
Some commentators applauded how many extraordinary pieces of legislation she got passed – key among them ObamaCare, about which Pelosi repeatedly said: "Because of the Affordable Care Act – and I hope that every woman in America understands this – being a woman is no longer a preexisting medical condition. As a mother of five children, four daughters and one son, I'm very excited about this."
Thanks to one of those daughters, Alexandra Pelosi, who caught her mother's brave, caring and powerful reactions during the Jan. 6th insurrection when domestic terrorists where hunting her down, the world got to watch America's top Congressional leadership demur to the woman who is third in line of succession as she essentially served as Acting President of the United States and helped effectuate the Constitutional transition of power from Trump to Joe Biden.
I'd met and photographed Nancy Pelosi very briefly over the years when she came to Los Angeles for an event I was covering. But after the #ResistMarch in 2018, it occurred to me that so many of the young people raising their fists in exuberant agreement with her remarks probably had no idea who she really was. I got in touch with her terrific out deputy chief of staff Drew Hammill and asked for an interview. We were slated for 15-20 minutes but she wanted to go longer.
It was May 2018. We talked about Donald Trump and his threat to democracy; the looming midterm elections; how Republicans brand her as being from San Francisco – a "coded" gay slur; the Equality Act; and her Catholicism in the context of a Church that worked hard to oppose Prop 8, calls homosexuality "intrinsically evil," and excluded her from taking Communion in SF because of her views on abortion.
"As a Catholic, I was raised to respect every person. We're all God's children. In my family, there was never any question about that," Pelosi told me. "In Baltimore, we did have a growing LGBT community—we didn't call it that then but it was part of our lives and it was not any question that we would be any more respectful of one person than another. It wasn't even an issue with me and I didn't ever even describe it or associate it with Catholicism because Catholicism taught me something different. It didn't teach me discrimination. It taught me respect. And so it prepared me very well, my Catholicism, for being a representative in San Francisco."
"There's no question the Catholic Church in California was a participant in Prop 8 in a negative way," Pelosi said. "We were on the other side of that. But to me—it was their problem. It wasn't anything that was any moral imperative to me for me to follow the Church in enshrining discrimination in the law in California."
Ironically, in San Francisco, the Church "was more sympathetic to people when they had HIV/AIDS because they needed help then they were to people who weren't infected. It was the strangest, strangest thing," Pelosi said.
AIDS was – and is – deeply personal to the Speaker of the House.
"Some people criticized me for talking about AIDS on my first day in Congress (in 1987) and I realized that it was not just about getting funding for AIDS research and prevention and care but it was about ending discrimination against people with HIV and AIDS," Pelosi told me.
More from the my cover story:
Pelosi responds viscerally when asked about losing friends. "Oh, my gosh. Oh, my gosh. A little flower girl in my wedding. My dear, dear friends in the community in San Francisco. We were going to two funerals a day. I was visiting people in the hospital all the time and quite frankly, when I say losing people," Pelosi says, "I lost friends because I just walked away from them because they were not treating people with HIV and AIDS with respect. They would say to me, 'I don't know why you hire that caterer – don't you know that everybody there has HIV?' And I'd say, 'Don't bother to come to my house anymore if that's your attitude.' It just changed my whole view of them."…
"I'll never stop missing some of my dearest dear friends from then," she says. "Of course, we went from funerals to people saying help me make out my will because this is going to end soon, to those very same people looking for a job and then wanting to get married. So, everything has improved but I would never have thought 30 years ago when I started all this in Congress that we still wouldn't have a cure for AIDS. We've improved the quality of life, we've sustained life. Everything is better but it's not over, not finished."
Whether comforting a friend with AIDS or pointing a powerful accusing finger at Trump, Nancy Pelosi exemplifies the humble nobility of servant leadership with a touch of classy swagger.
Thank you, Nancy Pelosi, for representing so many of us who still haven't found our power
Read the entire story here:
******************************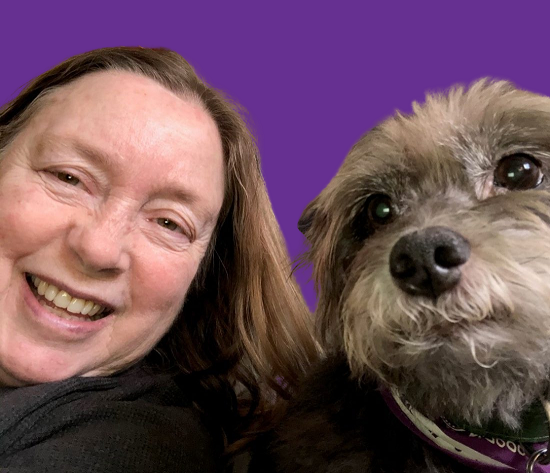 Karen Ocamb is the former news editor of the Los Angeles Blade. She is an award-winning journalist who, upon graduating from Skidmore College, started her professional career at CBS News in New York.
Ocamb started in LGBTQ media in the late 1980s after more than 100 friends died from AIDS. She covered the spectrum of the LGBTQ movement for equality until June 2020, including pressing for LGBTQ data collection during the COVID pandemic.
Since leaving the LA Blade Ocamb joined Public Justice in March of 2021 to advocate for civil rights and social, economic, and racial justice issues.
She lives in West Hollywood, California with her two rescue dogs.
******************************