February 17, 2021 at 1:09 pm PST | by Special to the LA Blade
Far Right Hate Purveyor Rush Limbaugh Dead at 70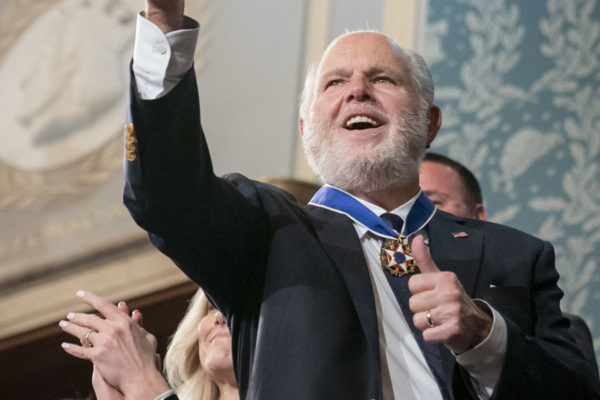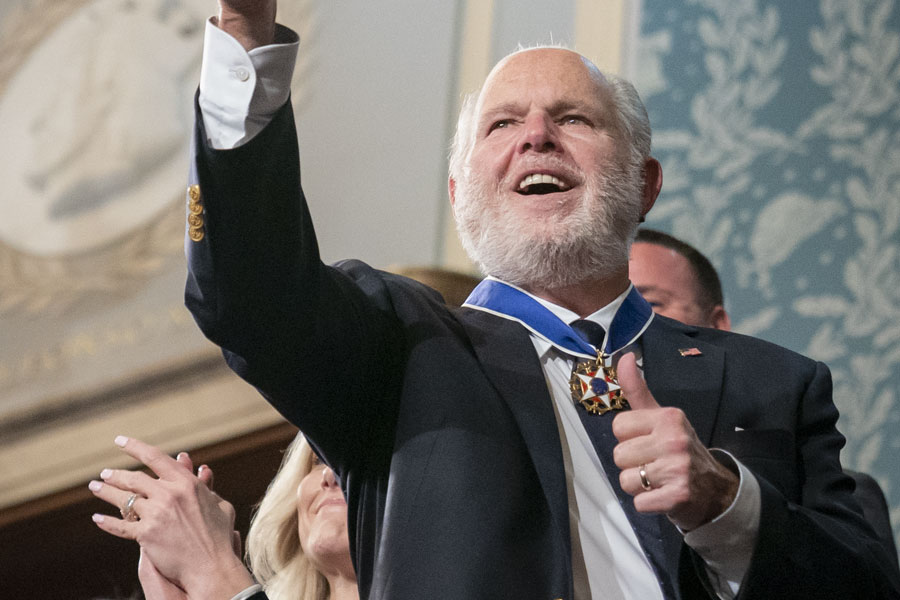 Editor's Note: The news of Limbaugh's death Wednesday for the LGBTQ+ community and other marginalized people negatively impacted by his harmful rhetoric, bigotry and unceasing hate-filled broadcasts targeting those very groups of Americans over several decades is cause for a collective sigh of relief. It is also a moment to reflect on his horrific legacy and the impact of his bigotry.
Karen Ocamb, the former news editor of the Los Angeles Blade and David Badash, editor of the New Civil Rights Movement magazine write about Limbaugh and his legacy.
Badash noted: "Rush Limbaugh, the far right wing radio host, hate and grievance purveyor whose lies and attacks on LGBTQ people, Black, Hispanic, and other people of color, equality, feminism, science, democracy, Barack Obama, Joe Biden, many Democrats, people suffering illness, and the humane treatment of people in general harmed America, has died at the age of 70. His wife announced his death Wednesday morning, following years of battling lung cancer.
His lies spanned decades, including recently, on January 20, 2021, saying President Joe Biden and Democrats "have not legitimately won" the presidency."
Ocamb goes on to chronicle Limbaugh's anti-LGBTQ animus:
"Another one bites the dust." That's how Republican right-wing radio talk show host Rush Limbaugh opened his show Nov. 24, 1991 noting the AIDS death of bisexual Queen lead singer Freddie Mercury. Now it's Freddie's turn: Limbaugh just died of lung cancer after years of touting the joys of smoking big old fat cigars.
While it is bad form to delight in the death of any living creature, minorities, women and the LGBTQ community can be forgiven if a slight smile appeared at the news of this cruel man's death. From his little conservative niche in a Sacramento radio station,
Limbaugh took the reigns of shock jock radio and applied it to politics, earning him a syndicated show that laid the groundwork for Newt Gingrich to explode civility and political norms – and led directly to the proud ignorance that resulted in the Jan. 6 insurrection of the Capitol.
There, I said it, as Limbaugh would snidely say after some spiteful racist, sexist, xenophobic or homophobic remark. What many may not realize is that it was LGBTQ people – specifically GLAAD Board member Dr. Sylvia Rhue with backup from ACT UP/LA – that prevented Limbaugh from getting his own TV talk show.
It was March 30, 1990 and Limbaugh, an up & coming radio star, filled in as a host on the faltering "The Pat Sajak Show" on CBS. It started out with a slightly nervous Limbaugh sitting at this desk with (if memory serves) a small, raucous, all white, mostly male audience thrilled by his every ugly utterance. When he brought up abortion, he got up and went to an "over-flow" audience seated in bleachers around a TV show wall. Since this was a "live" show, he probably expected the audience to have been vetted and further express their worship for him, just like on his national radio show.
Instead, he got Dr. Sylvia Rhue who stood up and angrily confronted Limbaugh. She was quickly joined by others who disrupted the show.
Limbaugh was clearly flabbergasted, unprepared and try as he might, he lost control of the show. The director went to a commercial break and when they finally returned, the audience was gone. Limbaugh tried to explain what happened. He used what has since become a tried and true trope for macho conservatives: he whined about how he was the victim of these unruly and dangerous homosexual liberals.
To be sure: Dr. Sylvia Rhue is not one to mess with – ask Rev. Lou Sheldon. But this proud Black lesbian from Los Angeles humiliated Limbaugh on "live" TV by harnessing all the pain and anger of the Black and LGBTQ communities, facing him with a coolness he could not imagine and just plain old out-smarting him.
That was the end of Rush Limbaugh's TV talk show career. Today's the end of Rush Limbaugh. But his spawn lives on. We must all learn how to out-smart them.
PinkNews UK's Patrick Kelleher noted that Limbaugh pushed anti-LGBT+ views from early on in his career, and the AIDS crisis proved fertile ground for the controversial radio host to find an audience.
He famously referred to AIDS as "the Rock Hudson disease" following the actor's high-profile death. In the 1980s, he briefly ran a segment called the "AIDS Update", which was often introduced with the song "I'll Never Love This Way Again" by Dionne Warwick.
In 2013, Limbaugh found himself on the wrong side of the LGBT+ community once again when he compared efforts to legalise same-sex marriage to paedophilia.
He said: "They want us to all think that paedophilia is just another sexual orientation. You know who's gonna fall right in line is college kids, just like they have on gay marriage, just like they do on all other revolutionary social issues."
Here's a selection of tweets with reactions to Limbaugh's death: