February 19, 2021 at 3:48 pm PST | by Special to the LA Blade
The Fight To Stop 48 Anti-Transgender Bills (and Counting) Across The Country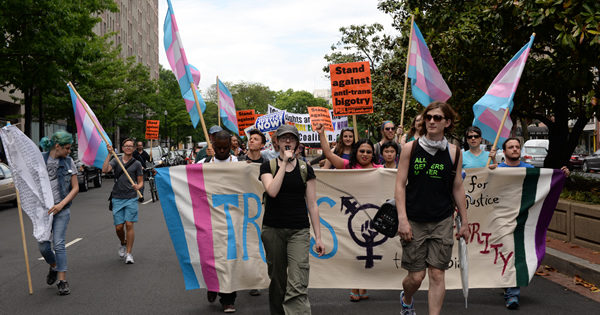 Editor's Note: The following article was authored by The Human Rights Campaign, which serves as America's largest civil rights organization working to achieve lesbian, gay, bisexual, transgender and queer equality.
The legislative fight to pass discriminatory anti-transgender legislation has been fast and furious, with a significant number of bills seeing hearings and votes in recent weeks. Opponents of equality failed to claw back marriage equality and failed in their push for bathroom bills.
This legislation is simply the latest iteration of attacks in their failing fight to discriminate against LGBTQ people. Last week, eight bills in seven states saw hearings. There are so far 93 anti-LGBTQ bills under consideration in state legislatures across the country. Of those, 48 directly target transgender people.
These bills are not addressing any real problem, and they're not being requested by constituents. Rather, this effort is being driven by national far-right organizations attempting to score political points by sowing fear and hate. What they don't understand is opposing equality is highly unpopular — even among Trump voters — and states that pass legislation that attacks our community will face severe economic, legal, and reputational harm. In many cases, these legislative pushes are being prioritized above COVID-19 response and relief.
Here are some of the bills we are tracking so far.
In Alabama, HB1/SB10 is an anti-transgender medical bill that would make it illegal for doctors to provide gender-affirming care to transgender kids, with potential prison sentences of up to 10 years.
In Arkansas, SB289 is an anti-transgender healthcare bill that has passed the Senate and is going to be heard in the House this week. It would allow doctors to refuse any kind of gender-affirming care to transgender people.
In Kentucky, SB 83 would allow health care workers to deny health care services to LGBTQ people.
In Mississippi, SB2536 would ban transgender women and girls from participating in sports. It passed the Senate last week. Another bill in Mississippi, HB 1030, would allow college athletes to get paid for appearances in ads — but was amended to explicitly exclude transgender athletes. It is a cruel and gratuitous attack on transgender people.
In Missouri, In MO we're opposing 4 bad bills, H.B 1045 would prevent transgender girls from participating in youth sports, H.B. 33 and SB 332 would prohibit medical providers from giving gender-affirming care and S.B 332 would allow discrimination on college campuses under the guise of religious liberty.
In Montana, we're opposing five bad bills: SB 215, a RFRA that undermines LGBTQ non-discrimination protections; SB 280, which would add an onerous surgical requirement in order for a transgender person to get an updated birth certificate; HB 112 , which would prohibit transgender athletes from participating in sports consistent with their gender; HB 427, which would prohibit medically-necessary, best practice care for transgender youth; and SB 99, which would allow parents to opt their children out of sex education classes.
In North Dakota, HB1298 is an anti-trans sports bill aimed squarely at kids who want to play on teams with their friends. It passed the House last week.
In South Dakota, we're tracking three bad bills. SB124 would allow discrimination against LGBTQ people under the guise of religious freedom. HB 1217 is an anti-transgender sports bill. HB 1247 would allow health care workers to deny gender-affirming care to transgender people.
In Tennessee, the state legislature's targeting of LGBTQ people continues with HB0003/SB228, an anti-transgender sports ban, and four other anti-LGBTQ bills, including one which would impose criminal penalties on doctors who help transgender kids.
In Utah, HB 302 would is an anti-transgender sports bill which would prohibit trans girls from being able to participate in athletics with their peers.. It passed through committee last week. Utah kids deserve better than they're getting from anti-equality legislators.
A fight driven by national anti-LGBTQ groups, not local legislators or public concern
These bills come from the same forces that drove previous anti-equality fights by pushing copycat bills across state houses — hateful anti-LGBTQ organizations like the Heritage Foundation, Alliance Defending Freedom (designated by Southern Poverty Law Center as a hate group), and Eagle Forum among others.
For example, Montana's HB 112, the first anti-transgender sports bill to be passed through a legislative chamber in any state, was written by the Alliance Defending Freedom.
Trans equality is popular: Anti-transgender legislation is a low priority, even among Trump voters
In a 10-swing-state poll conducted by the Human Rights Campaign & Hart Research Group last fall:
At least 60% of Trump voters across each of the 10 swing states say transgender people should be able to live freely and openly.
At least 87% of respondents across each of the 10 swing states say transgender people should have equal access to medical care, with many states breaking 90% support
When respondents were asked about how they prioritized the importance of banning transgender people from participating in sports as compared to other policy issues, the issue came in dead last, with between 1% and 3% prioritizing the issue.
States that pass anti-transgender legislation suffer economic, legal, reputational harm
Analyses conducted in the aftermath of previous divisive anti-transgender bills across the country, like the bathroom bills introduced in Texas and North Carolina and an anti-transgender sports ban in Idaho, show that there would be or has been devastating fallout.
Idaho is the only state to have passed an anti-trans sports ban to date, and that law was swiftly suspended by a federal district court. The National Collegiate Athletic Association (NCAA) came out against the Idaho bill and others like it and subsequently moved planned tournament games out of Idaho.
The Associated Press projected that the North Carolina bathroom bill could have cost the state $3.76 billion over 10 years.
During a fight over an anti-transgender bathroom bill in 2017, the Texas Association of Business estimated $8.5 billion in economic losses, risking 185,000 jobs in the process due to National Collegiate Athletic Association (NCAA) and professional sporting event cancellations, a ban on taxpayer-funded travel to those states, cancellation of movie productions, and businesses moving projects out of state.