Romney says he's opposed to Equality Act
Sen. Romney believes that strong religious liberty protections are essential to any legislation on this issue, and since those provisions are absent from this particular bill, he is not able to support it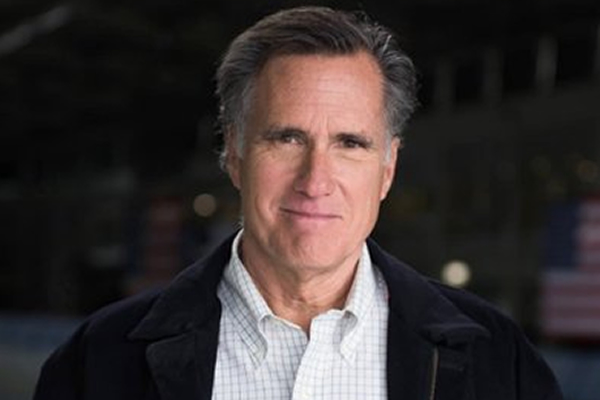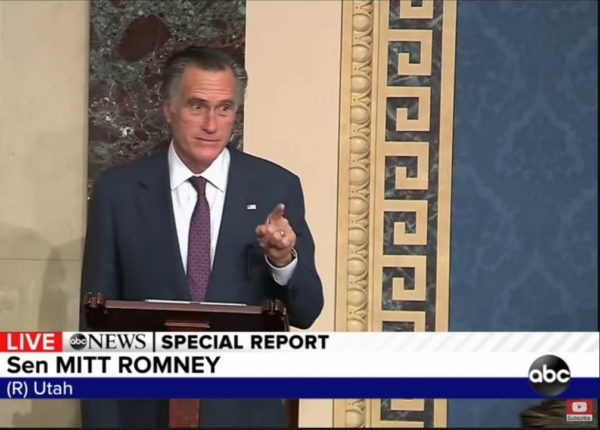 WASHINGTON – Sen. Mitt Romney (R-Utah) signaled late Tuesday he would oppose the Equality Act, legislation to expand the prohibition on anti-LGBTQ discrimination under federal law, throwing a massive wrench into plans of the bill's supporters to guide it into law.
"Sen. Romney believes that strong religious liberty protections are essential to any legislation on this issue, and since those provisions are absent from this particular bill, he is not able to support it," said Arielle Mueller, a Romney spokesperson, via email to the Blade in response to an inquiry on the Equality Act.
Romney's office didn't immediately respond to a follow-up email on whether Romney would be open to negotiations on religious liberty language that could lead him to support the legislation.
The Utah senator's declared opposition to the Equality Act, which would amend the Civil Rights Act of 1964 to expand the prohibition on discrimination against LGBTQ people, comes shortly after news emerged House Majority Leader Steny Hoyer (D-Md.) would hold a vote on the legislation in the U.S. House next week.
Although the Equality Act, sponsored by Rep. David Cicilline (D-R.I.) in the House and Sen. Jeff Merkeley (D-Ore.) in the Senate, would likely have no trouble passing in the Democratic-controlled House, the Senate is a different story. With the makeup of that chamber a 50-50 party split, support from 10 Republicans would be needed to reach the 60 votes to end a filibuster on the legislation.
LGBTQ rights supporters were counting on Romney to contribute Republican support to get the Equality Act across the finish line. With his vote off the table, it's hard to see how the legislation's proponents would be able to find the 10 votes in the Republican caucus to end a filibuster.
President Biden had campaigned on signing the legislation in his first 100 days in office. White House Press Secretary Jen Psaki said last week Biden "stands by" his promise, but noted Congress has to take some additional steps.
Romney's opposition to the Equality Act is consistent with remarks he made earlier this month in which he associated himself with Sen. Rand Paul's (R-Ky.) attack on transgender kids in sports during Education Secretary-designate's Miguel Cardona's confirmation. To the condemnation of LGBTQ rights supporters, Paul said transgender participation in sports amounts to allowing boys in girls events and was a "bizarre" idea.
Romney echoed those comments during the same confirmation hearing, saying he would "associate" himself with Paul.
"That's not something I say very frequently, but he made a very, very good point," Romney said. ""I've got pictures of my eight granddaughters, amongst some grandsons, behind me. They shouldn't be competing with people who are physiologically in an entirely different category."
The Equality Act doesn't explicitly address school sports, but it would affirm discrimination against transgender kids is prohibited in education and federal programs and suggest barring transgender kids from school sports is prohibited. Major sports associations, including the Olympics and the NCAA, have established internal rules based on sex characteristics, such as hormone levels, to govern allowing transgender athletes to compete based in those leagues on their gender identity.
If 10 Republicans aren't present in the Senate to vote to end a filibuster on the Equality Act, one alternative would be for Senate Majority Leader Chuck Schumer (D-N.Y.) to junk the legislative proceeding altogether. However, that would require a majority vote and support from the entire Democratic caucus, and Sens. Joe Manchin (D-W.Va.) and Kyrsten Sinema (D-Ariz.), the only out bisexual in Congress, have said they won't vote to scrap the filibuster.
The Blade couldn't reach Sinema or Manchin's office by press time Tuesday to comment on the Equality Act and whether the senators would reconsider their positions on the filibuster if the legislation is unable to advance in the Senate.
Romney's opposition to the Equality Act stands in contrast to his statement in 1994 to Log Cabin Republicans, when he challenged the late Sen. Edward Kennedy (D-Mass.) for his seat representing Massachusetts in the Senate. At the time, Romney said he would not only back the Employment Non-Discrimination Act, legislation to ban anti-gay discrimination in employment, but "if possible broaden [it] to include housing and credit." Romney ended up losing in his challenge to Kennedy, much like he lost the 2012 presidential election against then-President Obama.
Wiener introduces legislation to protect LGBTQ+ foster youth
SB 407 ensures LGBTQ foster youth are raised in supportive environments by creating standard documentation for their needs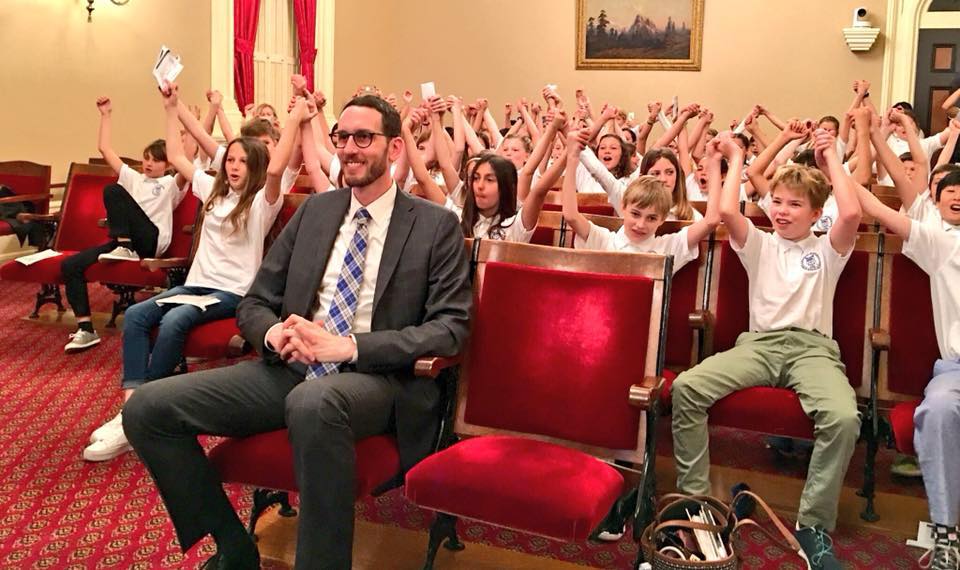 SACRAMENTO – Senator Scott Wiener (D-San Francisco) introduced SB 407, legislation to improve foster care conditions for LGBTQ youth. Nearly one third of foster youth identify as LGBTQ.
SB 407 ensures LGBTQ foster youth are raised in supportive environments by creating standard documentation for their needs, adding more follow-up from the Department of Social Services, and requiring LGBTQ youth's needs be specifically considered in at-home assessments – including clarifying that conduct that poses risk to the health and safety of LGBTQ youth is a valid reason to deny a family the right to host a foster youth. 
"Every child deserves to be one hundred percent supported at home," said Wiener. "SB 407 ensures that foster youth receive this essential support by specifically requiring LGBTQ acceptance be considered in the resource family approval (RFA) process, creating standard documentation for the assessment of LGBTQ youth needs, and ensuring more frequent follow-up. These youth are at high risk for homelessness, criminal justice involvement, and mental health issues, and we must do everything in our power to ensure they have a safe home in the state of California."
According to the California Child Welfare Indicators Project, there are 53,371 youth in foster care in California as of October 1, 2022. Youth who identify as LGBTQ+ are overrepresented in foster care, with at least three studies estimating about 30 percent of youth in foster care identify as LGBTQ.
The degree of support for their identity an LGBTQ child receives at home is a strong predictor of their mental health outcomes. According to the Trevor Project, teens who perceived parental support regarding gender identity were 93% less likely to attempt suicide than youth who did not perceive parents as supportive.
Data collected since the onset of the COVID-19 pandemic show LGBTQ youth are facing a crisis of mental health. Forty-two percent of LGBTQ+ youth—and 52 percent of trans youth—said they seriously considered suicide in 2021. This crisis may be related to the recent surge of anti-LGBTQ hatred in many states in recent years, which most LGBTQ youth are exposed to online. This year alone, more than 420 bills have been introduced in states across the country.
In 2019, California passed AB 175 (Gipson), which expanded the foster youth bill of rights to include rights to be referred to by the youth's preferred name and pronoun and maintain privacy of the child's sexual orientation and gender identity and expression. Under existing law, foster youth also have the right to have caregivers and child welfare personnel that have received instruction on cultural competency and best practices for providing care for LGBTQ+ youth in out-of-home care.
However, while the foster youth bill of rights is strong, it has not translated into the RFA process or into considerations made when approving caregivers. LGBTQ foster youth are still being placed in homes with families that discriminate against or are hostile toward them based on their sexual orientation and/or gender identity.
SB 407 will strengthen the resource family approval (RFA) process for LGBTQ foster youth by:
Requiring explicit consideration of LGBTQ youth in home and environmental assessments;
Creating standard documentation by the Department of Social Services for these assessments to include LGBTQ youth needs;
Reviewing county-approved resource families to evaluate if they are meeting the needs of LGBTQ youth and investigating related incidents as needed;
Ensuring that resource families have the necessary skills, knowledge, and abilities to support LGBTQ youth; and
Clarifying existing law that conduct that poses risk to the health and safety of LGBTQ youth is a valid reason for denial of a resource family.
SB 407 is sponsored by Equality California and the California Alliance of Child and Family Services.
"According to the Trevor Project, teens who have parental support regarding their gender identity were 93% less likely to attempt suicide than youth who did not perceive parents as supportive. Supportive and affirming homes for LGBTQ+ foster youth saves lives. The CA Alliance is excited to partner with Senator Wiener on SB 407 to ensure that all LGBTQ+ foster youth have affirming families and feel safe, supported, and cared for." –Christine Stoner-Mertz, CEO of the California Alliance of Child and Family Services
"LGBTQ+ foster youth experience violence and other stressors unique to the LGBTQ+ community, including homophobia or transphobia," said Tony Hoang, Executive Director of Equality California. "SB 407 protects LGBTQ+ foster youth from being placed in non-affirming homes by creating standard guidelines and criteria that carefully screens potential families. LGBTQ+ foster youth need a healthy environment that supports and embraces them as they explore their identity."