Witness to the horrors in Chechnya
It's a film that makes you want to look away but doesn't let you do it.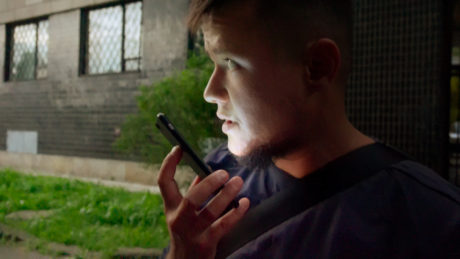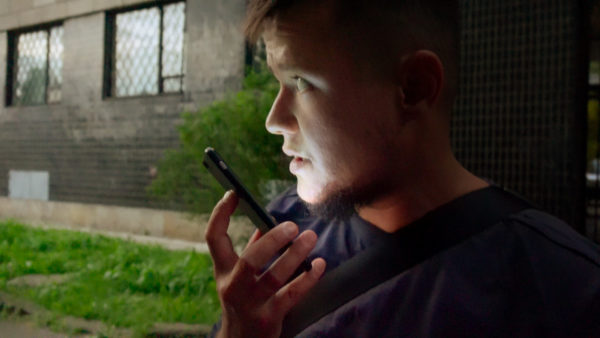 HOLLYWOOD – In an era when documentaries often seem geared more toward a slick and buzzy "docu-tainment" style than to the unfiltered presentation of real-world facts and experiences, "Welcome to Chechnya" blasts you in the face like a gust of icy wind.
A harrowing look at the "underground railroad" that sprung up within Russia to help the victims of the notorious "gay genocide" being perpetrated under Chechen leader Ramzan Kadyrov, it's a film that makes you want to look away but doesn't let you do it. It conveys the unthinkable trauma of living in a constant state of terror while making a desperate, clandestine run for your very life; more than that, it permits us to put a human face – albeit a digitally altered one – on the crisis.
Part of the film's impact undoubtedly stems from its subject matter, but it's at least equally due to the artistry of its director, David France. It's not the first time he's been behind a heavyweight LGBTQ documentary. The longtime journalist made his directing debut with "How to Survive a Plague" in 2012, documenting the early years of the AIDS epidemic with an activist's passion in a film that won him a host of awards and nominations for a several more, including an Oscar.
Now, "Chechnya," which premiered at last year's Sundance Festival and was released by HBO last summer, has made the shortlist for this year's Academy Awards, raising the possibility for a second chance at taking home the coveted statue. Yet Oscar gold was not what France had on his mind when had a conversation with the Blade about the film earlier this week. Rather, he wanted to discuss the people it's about.
France, like everyone else, had been appalled by the tales coming out of Chechnya in 2017. "We all read the stories," he tells us now, "but it wasn't until I read Masha Gessen's New Yorker piece about the work that ordinary Russians were having to take upon themselves that I became really fascinated."
He is referring to the network of LGBTQ activists that mobilized in the absence of outside help to extract refugees in daring escapes, hide them in safe houses across Russia, and work with groups around the world to get them out of the country. In "Welcome to Chechnya," he follows a handful of these accidental heroes, as well as several of the survivors they protect, as they orchestrate and enact spycraft that would be right at home in an episode of "The Americans." In the process, he shines a light on more than just the atrocities being committed against queer people in Chechnya. He also illuminates a level of courage that most of us have never had to muster up.
"That's what drew me in," France says. "The fact that ordinary citizens took it upon themselves to intervene, to try and save lives, while the rest of the world was doing so little about it."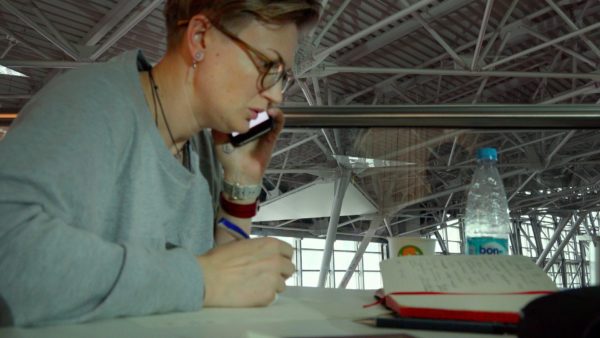 "It's not like they had been already doing this work," he explains. "Olga [Baranova, one of the activists who appears in the film] was running a community center that had an annual arts fair – that's the extent of her training for the kind of cape-wearing heroics that you see her carrying out."
With his cameraman and producer Askold Kurov, France spent months in the underground, chronicling the efforts of the activists and the stories of the survivors under their care, and getting plenty of first-hand experience with the kind of fear under which they had to willingly chosen to live, day after day.
After all, getting out of Chechnya wasn't enough to make anyone safe; Chechen authorities were willing to stop at nothing to make sure nobody had a chance to expose what was going on, up to and including tracking down, recapturing, and maybe even killing any potential witnesses – and anyone who stood in the way was putting themselves in peril, too.
"I remember going on one of the extractions," he relates. "We were getting ready to make a run with a couple whose location had been found out. We had only a few hours to get them to the airport, and then we got word of a rumor that a group of assassins had been dispatched to prevent them from leaving the country. We had one bodyguard, with one sidearm, with us.
"That kind of unbelievable peril is what hung over, and what still hangs over, every aspect of the work these ordinary Russian activists have taken on for themselves."
It's also what made it a challenge to film the refugees, for whom anonymity was a matter of life or death.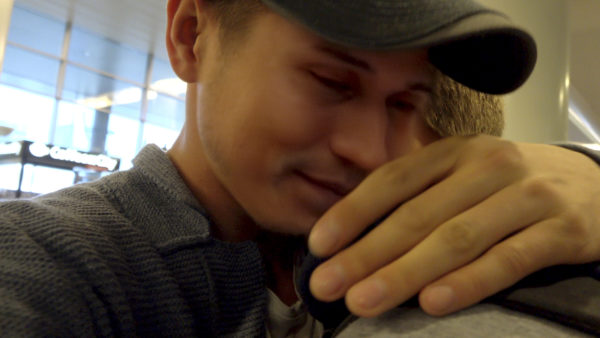 "I wanted to show what they looked like," he tells us. "The pain that they wore on their faces, the hope – and certainly the fear. And most of them wanted the world to know what had happened to them, to expose these crimes – but they also understood what it would mean for them and their families if they stood up publicly and revealed their truths. They were terrified, and here I was asking them to let me film them anyway and then figure out how to solve this problem later."

There is still a touch of awe in his voice as he says, "Remarkably, a couple of dozen people agreed to let me do that."
He continues, "There were people, of course, who couldn't take that leap with me. There was one person who was nervous even about me filming other people in the shelter. These were people who had just escaped the most horrific abuse and torture, and violation from their own families. They were hiding from their brothers and their uncles, from their own fathers. That dislocation of familial love was so traumatic to everybody there that some of them were just on a very sharp edge – unable to reckon with the past, unable to find security in the present or see hope in the future. You see that in the film with one of them, who even attempts suicide. For those people, it was a difficult arrangement to have me shooting even on the other side of the shelter house. I understood that and I tried to be very respectful."

The challenge of maintaining privacy would eventually be surmounted by new, state-of-the-art identity protection software, a high-tech touch that France – savvy storyteller that he is – was able to parlay into one of the film's most dramatic and unexpected moments. A considerable amount of screen time in "Welcome to Chechnya" is devoted to an anonymous refugee who has escaped from his tormentors into the network, where he is reunited with his family and his boyfriend of ten years; a turning point comes when, despite being poised for removal to another country, he chooses to go public with his story and make an official complaint to the Russian government.
As he makes that decision, the false features realistically rendered over his real ones melt away before our eyes, revealing his unaltered face – and with it, his true identity. It's a powerful effect, and it's our official introduction to Maxim Lapunov, whose subsequent appearance before a Russian court to tell his story is captured in the movie. Unsurprisingly, his claims are dismissed, and the need to get him and his loved ones out of the country becomes even more imperative.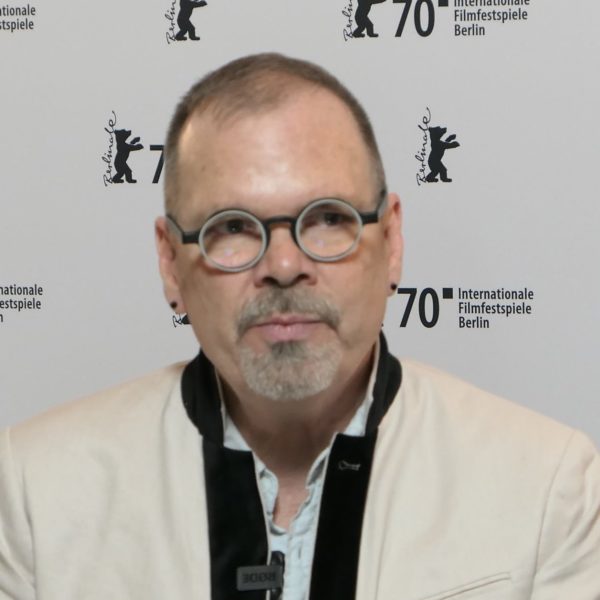 In talking about Lapunov, the awe returns to France's voice. "Maxim's moral courage is unmatched. It was really clear that his life was going to be fucked up for the foreseeable future, no matter what he did. The courage that he showed was the courage to throw his body in the way to make sure that other people don't get treated the way that he was treated – to save people's lives. He could have gone anywhere in the world, and just nursed his post-traumatic memories in safety, but instead he went back into the fire.
That was remarkable. I watched him make those decisions, I watched him take on that risk, I watched him bring his family along on that journey and win their allegiance in these choices – these are human dramas like you see in Hollywood films that actually are taking place in the queer battle against the crimes in Russia."
He segues into a similar expression of respect for David Isteev, another activist prominently featured in "Chechnya."
"When you look at his face, you just get this incredible sense of high alert and of moral purpose. It makes me think of the stories we have heard from the Holocaust, of citizens who would otherwise have been untouched who reach into some deep reserve to do something. That's him. And being in the presence of that was one of the most remarkable experiences of my life."
If it sounds like he has bonded with his subjects, it's because he has. Being embedded in the shelter network for such an extended period of time, he and Kurov became part of the underground themselves. "We were no longer visitors from outside," he says. "We were experiencing what they were. I spent nights full of terror inside those safe houses, when rumors were flying about people who might have been seen, locations that might have been revealed, dangers that might have been heightened – I felt that with them. We huddled together, and, in a way, I became part of their journey.
"I do feel personally attached to those people having been through that with them. It's something like the bond of warfare that you read about. I would do anything for David. I would do anything for Maxim and his family."
The real emotion apparent in these professions of kinship is surely one of the reasons why the documentarian is still, more than six months after his film's debut, eager to talk about it. The people with whom he developed these strong bonds are still very much at risk.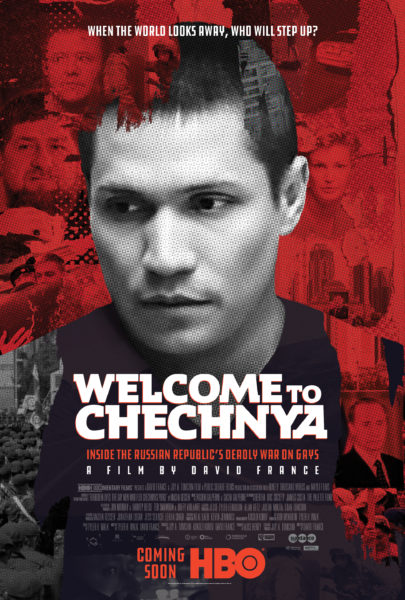 The biggest horrors in "Welcome to Chechnya" are only glimpsed briefly in dark and blurry videos intercepted from the web by the network, or described in the stories of torment, humiliation and brutality told by the survivors, but they cast a dark enough shadow over the imagination to make us want to believe they are safely in the past.
Unfortunately, as France is quick to remind us, LGBTQ persecution in Chechnya is still very much "an ongoing humanitarian crisis." Just last week, two refugees were kidnapped from the network by Russian authorities and returned to Chechnya, an incident that brought the situation there back into the headlines.
"These were two very young men, one of them twenty, and the other seventeen – not even a man," relates France. "They had been abducted last summer in Chechnya and tortured, they barely got out alive. They were rescued and extracted by the network and were being held in a safe house while the work was being done with foreign partners to try and get them out. Now they are back in detention in Chechnya. It's a very volatile situation."
Yet it's also a situation in which, perhaps ironically, he sees a hope that has been scarce for the past four years.
"The United States, in this new administration, has expressed great concern for those two kids and demanded information on their safety," he points out. "The European Court for Human Rights has demanded access to them, and safe passage for them to get back to the safe house where they were being held."
For him, it's a call to action. "The Russian LGBT network is on the ground, still fighting this fight," he says. "We can urgently throw our voices behind their efforts with regard to these two youngsters – we could save their lives. There are petitions, but that's not enough. We know from watching these activists' work that it's essential, it's extensive, and as you can imagine, it's costly. They cannot raise money within Russia, so they've asked people who see the film to help them by donating.
There's a donation page on the movie site. We've just watched almost $200,000 move through there, in the six months since the film came out, and that money goes to the Moscow Community Center, Olga's group that runs the shelter system, to the Russian LGBT Network that does the extractions and runs the global hotline for the crisis – and it also goes to Maxim and his legal case, which is still percolating through, and showing great progress in, the European courts.
"So, I think there's hope, but we have to act urgently. I think what's shocked us all, in the last few years, is how easily we can lose ground. All this progress that we've made over the last thirty or forty years can be reversed in a heartbeat, and that's what's happened in Russia, and Russia has led the way in this dramatic reversal of queer progress, all across Europe. It's going to take a lot of people coming together internationally to stop that, but it is possible."
He's a realist in his expectations, though. "We can't hope for is regime change in Chechnya or in Russia. Those are not practical, immediate goals. But we can force Ramzan Kadyrov in Chechnya to stop this. He is a puppet of Putin's. If we make it politically untenable for Putin not to intervene there, then he will lift up the telephone and say to Kadyrov, 'Stop it.' That's all that it takes. It's that simple. We haven't gotten there because we haven't had the kind of global leadership that can bring collective pressure on Putin to do that. I think we're in a place where we can now.
"Even just watching the film is an important step. The Russian government has said repeatedly that this is not happening, that there's no evidence, even – ridiculously – that there are no queer Chechens. They say that no one has come forward, but Maxim did that, officially, and they rejected his claims. The people protected by the digital technology we deployed in the film have also spelled out their stories, so they are witnesses. And we're all witnesses, now."

The passion creeps back into France's voice as he recalls, "That was my promise to the people in the network, when I said I wanted to film with them, that I was going to help make this so that everybody in the world knows what's happening.
"Anybody who sees the film becomes a witness, and it becomes an act of resistance just to talk about what you see in it."
Jinkx and DeLa deliver pitch-perfect holiday comedy
The Return of The Jinkx & DeLa Holiday Show, LIVE!" comes to LA for one show only: Saturday, December 18, at The Theatre at Ace Hotel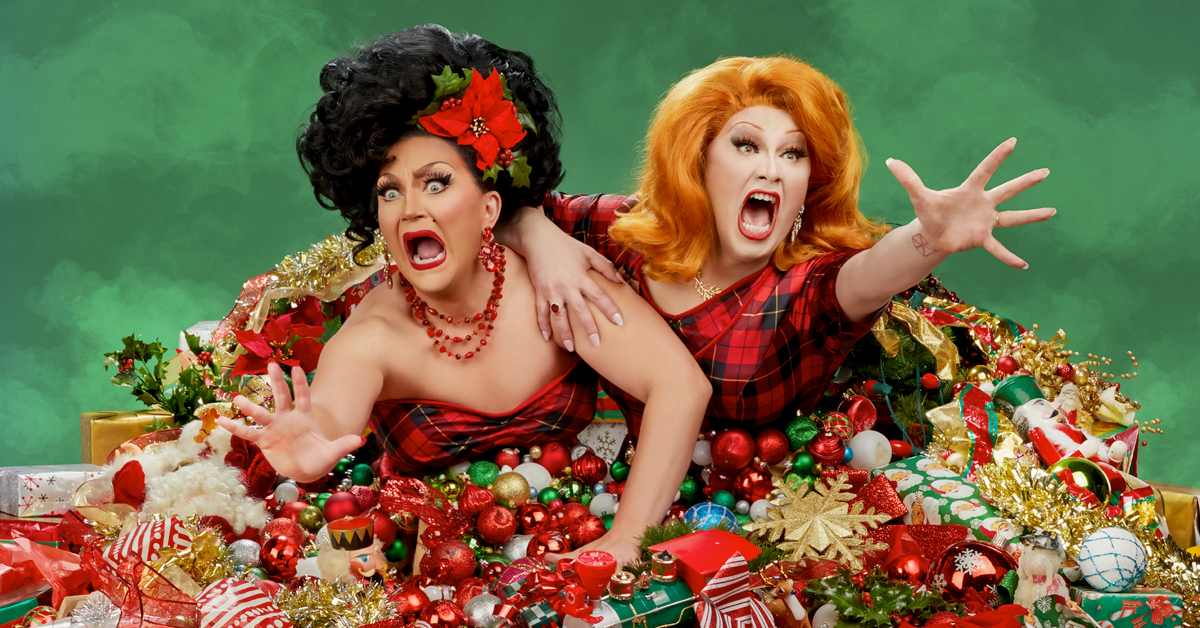 NEW YORK – Touring through December 30 with a new, essential viewing installment of their annual holiday stage show (skipped last year because of COVID-Number-You-Know), drag queens Jinkx Monsoon and BenDeLaCreme need about five minutes of stage time to prove they've earned their place in the pantheon of mismatched comedy duos.
From the time they set up the show's premise to the moment they send their swooning audience back into the larger world hoarse from excess laughter, the writer/performers work a binge-worthy buddy dynamic informed by the kinetic stage antics of Martin and Lewis, the pitch-perfect timing of Bob and Ray, the contempt-breeding familiarity of Eunice and Mama, and the fourth wall-breaking rivalry of Looney Tunes characters. ("Duck Season," insists DeLa's Bugs, answered by a "Rabbit Season!"-spouting Jinkx, in full-on Daffy mode.)
If some of the above pairings don't ping your radar, no worry. Rest assured the carefully calibrated Christmas concoction created by DeLa and Jinkx knows its herstory. You can see it clear as day, in the DNA of each character: DeLa is stick-up-posterior organized and proper—the rigid product of too many traditional Christmases in Connecticut. Jinkx is a vulgar vixen whose idea of decking the halls is hitting the bars—and the back alley after last call.
Each bristles at the other's extremes, oblivious to their own. Thus, the show is a series of escalating scenarios, where their oil and water makeup threatens to fracture the friendship beyond repair.
But how did things get to such a point? After entering the stage to raucous applause (seen by this scribe on Dec. 4, the second of two shows at NYC's Town Hall), Jinkx and DeLa acknowledge the down time ("two years gone") between these annual Yuletide stage shows, during which each gives their own take on the bill-paying indignities of Cameo bookings.
All is well—but soon enough, we're introduced to an all-new character whose chemistry with DeLa does not sit well, at all, with Jinkx (a study in delayed or devoured pleasure, depending upon whether she stops short or imbibes from her omnipresent cocktail glass). It doesn't help at all that the budding new bestie is a saccharine-sweet, larger than life, anthropomorphic peppermint retrieved from the bottom of DeLa's comedically oversized purse.
Peppi the Peppermint (puppeteered by DeLa) is a bottomless well of mint-based puns and newborn-innocent questions about the meaning of words. The script hands Jinkx a half-dozen or so chances to stew in her juices before boiling over, when Peppi's vocabulary comprehension skills are portrayed as wildly inconsistent (multisyllabic words are understood perfectly, while the meaning of simple ones prove elusive).
For fans of 2020's subversively sincere and heroically explicit "The Jinkx & DeLa Holiday Special" (currently available on HULU), Peppi the Peppermint is to this show as Nanog (DeLa's "dairy nogmother" puppet) is to that one—a seemingly harmless confidant who transfixes DeLa while alienating Jinkx. In addition to this forward-moving narrative device, "The Return of The Jinkx & DeLa Holiday Show, LIVE!" benefits from mounting several of the production numbers from "Holiday Special," complete with a six-person dance ensemble drawn from that show's cast.
Benefitting from on-point costumes that crystallize the essence of their character, the ensemble is especially effective in DeLa's dense little ditty about all the essential elements of a Connecticut Christmas. Later on, in a number that takes jabs at the story of the virgin birth and its 33-year aftermath, one dancer—as the adult Jesus—becomes the cross that the Christ child is crucified on. Played as a seconds-long tableau within the song's fast-paced choreography, it's long-lasting satire at its most devastating and damning.
That's only one of several WTF? moments in the show, the best of which they save for late in the game. Having earned sustained hoots and hollers throughout the nearly two-hour show, the broad comedy gets toned down a few dozen notches, with our freshly reconciled Jinkx and DeLa in an exchange about the gift of friendship and the power of community. There's a grounded sincerity to that moment, with no expectation, or delivery, of a punchline. That's a tough act to sell when you've been playing to the back of the house all night—but it works, and it's wonderful. 
"The Return of The Jinkx & DeLa Holiday Show, LIVE!" comes to the Los Angeles area for one show only: Saturday, December 18, at The Theatre at Ace Hotel. Produced and directed by BenDeLaCreme, co-written and co-created by BenDeLaCreme and Jinkx Monsoon, and associate produced by Kevin Heard. For more information and to purchase tickets, visit jinkxanddela.com.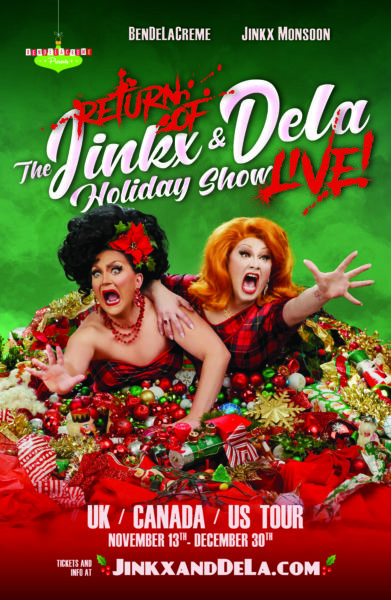 Saturday, December 18 – Los Angeles, CA (The Theatre at Ace Hotel)
Sunday, December 19 – San Francisco, CA (The Palace of Fine Arts Theatre)
Tuesday, December 21 – Seattle, WA (The Neptune)
Wednesday, December 22 – Seattle, WA (The Neptune)
Thursday, December 23 – Seattle, WA (The Neptune)
Friday, December 24 – Seattle, WA (The Neptune)
Sunday, December 26 – Seattle, WA (The Neptune)
Tuesday, December 28 – Vancouver, BC (Vogue Theatre)
Thursday, December 30 – Portland, OR (The Newmark)
Golden Globes announces diverse slate of nominees
But is it diverse enough to quell controversy?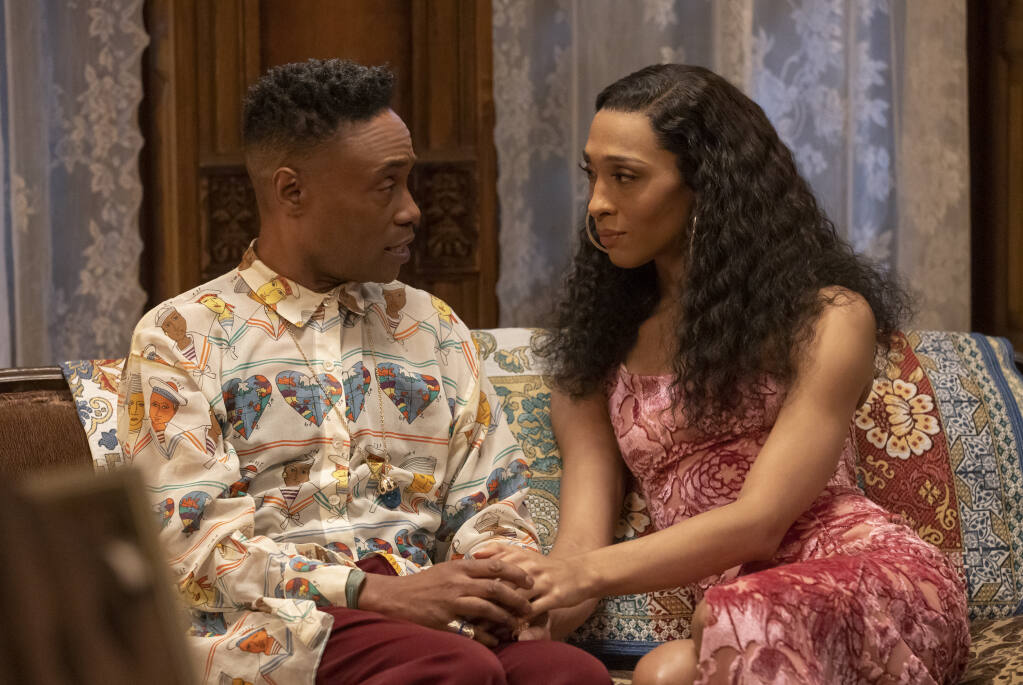 [NOTE: This article has been updated to reflect corrections from the originally published version. The previous HFPA membership included no Black members, instead of no people of color as initially reported. Additionally, it was previously stated that the awards ceremony would take place on the Golden Globes' You Tube channel; however, a format for the presentation has yet to be officially announced.]
HOLLYWOOD – If any doubt remained that the Hollywood Foreign Press Association has fallen spectacularly out of favor, it was summarily erased by the fact that the sole celebrity on hand to help announce the list of nominations for its 2021 Golden Globe Awards was Snoop Dogg.
That's not a dig against Snoop Dogg. The eminently lovable rapper is an icon who manages to float effortlessly between worlds within the entertainment industry, thanks to a reputation for enthusiastic self-parody and a proven tendency to be pretty much game for anything – and frankly, watching him read the service manual for a vintage sewing machine would likely be more entertaining than sitting through a list of award nominees being recited (with perfunctory reverence, of course) by even the most accomplished of screen thespians.
Still, the glaring absence of any representative from the industry which the HFPA exists to honor is proof that the organization is still a long way from recovering from the scandal that broke in the wake of a Los Angeles Times investigative report earlier this year, which revealed that its nearly 90-person membership included no Black members and provided damning details about its long-alleged unethical practices – including the influence over its voting process by gifts, paid travel, and other perks from studios and networks behind the potential nominees and winners.
The bombshell report, which was published mere days before the Golden Globes presentation last February, led to an embarrassing award show in which the revelation of the winners was eclipsed by the organization's scramble to do damage control.
Leaning into a too-little-too-late show of diversity among the ceremony's performers and presenters, and sending some of the HFPA's high-level representatives to the podium in a desperate effort to spin the situation with a not-quite-apology for its previous shortcomings (followed by an unconvincing promise to do better), the organization seemed only to have dug itself deeper into the hole of bad publicity that threatened to put an end to the awards body's 78-year existence, once and for all.
Proposed reforms to the structure and practices of the HFPA were announced, and were promptly dismissed by Time's Up as "window-dressing platitudes." Major players in the industry announced intentions to boycott the Golden Globes; more than a hundred PR firms threatened to cut off the HFPA from access to their clients; high-profile talent publicly denounced the organization, with three-time winner Tom Cruise even returning his trophies. Perhaps most disastrous of all, NBC – the network which had been home to the Golden Globes broadcast – announced it would not be airing another one until at least 2023, saying that "change of this magnitude takes time and work" and that "the HFPA needs time to do it right".
Despite all this, the beleaguered organization declared its intention to continue with its annual awards presentation, and following months of restructuring – in which the HFPA has attempted to diversify its ranks by adding new members, rewritten its bylaws, forbidden the acceptance of gifts, restricted compensated travel, and undertaken an effort to revamp itself from bottom to top – has tenaciously clung to relevance by announcing the nominees for this year's crop of films and television shows in an early morning press conference marked by the non-participation of any of the potential recipients of those honors.
This means, of course, that it's time to start gearing up for another awards season in which the dramatic changes wrought by the Covid pandemic upon the entertainment industry are sure to have a still-unpredictable effect on the outcomes, and to engage in a game of "armchair quarterbacking" as we attempt to predict how the honors bestowed by other awards bodies will impact the winners' circle for the most coveted industry prize of all: the Oscars.
Traditionally, the Golden Globes have been seen as a bellwether for Academy Award inclusion, with many of the nominees and winners going on to eventual Oscar glory – but given the current still-ongoing boycott of the HFPA by so many of the industry's most influential power-players, it remains to be seen if that long-standing assumption will hold true this year.
With that in mind, it's worth taking a look at the nominees – with an eye to the diversity among the choices, particularly the inclusion of LGBTQ-relevant nominees among the contenders.
For television, Black actors Billy Porter ("Pose") and Omar Sy ("Lupin"), as well as South Korean actor Lee Jung-jae ("Squid Game"), received nominations as Best Lead Actor in a Drama Series, while the equivalent Lead Actress category included Black actress Uzo Aduba ("In Treatment") and Black/Puerto Rican actress Michaela Jaé Rodriguez ("Pose") – who also makes history by becoming the first transgender performer to be nominated in this category, a feat she also accomplished at the 2021 Emmys. In the Comedy division, Black actor Anthony Anderson ("Black-ish") picked up a nod as Best Lead Actor, with Black actresses Issa Rae ("Insecure") and Tracee Ellis Ross ("Black-ish") included among the nominees for Best Lead Actress.
In the supporting categories (which are not divided into comedy and drama division), O Yeong-su ("Squid Game") got a nod for Best Supporting Actor, with no nominees of color named within the Supporting Actress slate.
For performances in a Limited Series, Anthology Series, or Motion Picture Made for Television, Latino actor Oscar Isaac ("Scenes From a Marriage") and French-Algerian actor Tahar Rahim ("The Serpent") made the cut for Best Actor, while Black actress Cynthia Erivo ("Genius: Aretha") was nominated for Best Actress.
The big screen acting categories also included several nominees of color. Though there were no performers of color in the running for Best Lead Actress in a Motion Picture Drama, the Lead Actor slate includes three Black actors – Mahershala Ali ("Swan Song"), Will Smith ("King Richard"), and Denzel Washington ("The Tragedy of Macbeth") – among its contenders. In the Musical or Comedy division, Latino actor Anthony Ramos ("In the Heights") scored a nomination for Lead Actor, with Latino/Polish newcomer Rachel Zegler ("West Side Story") earning a nod for Lead Actress.
In the Supporting categories (which again, are not separated into Drama and Comedy divisions), Black performers Aunjanue Ellis ("King Richard") and Ruth Negga ("Passing") joined Black/Puerto Rican performer Ariana DeBose ("West Side Story") on the list of Actress nominees, and while the Actor category contained no performers of color, deaf actor Troy Kotsur ("CODA") made the cut, in a rare show of representation for people with disabilities.
When it comes to LGBTQ representation, however, the nominations fall considerably shorter. Among all the acting nominees, the only out members of the community are Porter and Rodriguez (each in their respective Lead Performance categories for "Pose"), Kristen Stewart ("Spencer") and Lady Gaga ("House of Gucci") for Lead Actress in a Motion Picture Drama, and Hannah Einbender ("Hacks") for Best Performance by a Lead Actress in a Television Comedy. In addition to these, Azuba, Erivo, and Andrew Garfield (nominated for Best Lead Actor in a Motion Picture Musical or Comedy for "tick, tick… Boom!") are noted for their vocal LGBTQ advocacy as allies. 
While nominees Benedict Cumberbatch and Kodi Smit-McPhee (nominated for Lead and Supporting Actor, respectively, in a Motion Picture Drama for "The Power of the Dog") play queer characters, both identify as straight in real life. The same is true for Ewan McGregor, nominated as Best Actor in a Limited Series for his star turn as the title character in "Halston".
Finally, it's worth mentioning that the Best Director of a Motion Picture category, long dominated exclusively by men, this year includes two women: Jane Campion ("The Power of the Dog") and Maggie Gyllenhall ("The Lost Daughter")
Whether or not these nominees – or any of the others, for that matter – end up following up their recognition today with nods or wins on Oscar night remains to be seen. In the meantime, we can find out who will take the HFPA's honors on January 9, when the Golden Globes are scheduled to take place. According to a representative from Sunshine Sachs (the PR firm representing the HFPA), a format for the presentation has yet to be determined, so it's still unclear if we will get a chance to see who actually shows up to claim a prize from an organization now relegated to pariah status by most of Hollywood.
A complete list of nominations is below.
Best Television Series, Musical or Comedy
"The Great" (Hulu)

"Hacks" (HBO/HBO Max)
"Only Murders in the Building" (Hulu)
"Reservation Dogs" (FX on Hulu)
"Ted Lasso" (Apple TV Plus)
Best Performance by an Actor in a Television Series, Drama
Brian Cox ("Succession")
Lee Jung-jae ("Squid Game")
Billy Porter ("Pose")
Jeremy Strong ("Succession")
Omar Sy ("Lupin)
Best Performance by an Actress, Limited Series, Anthology Series or a Motion Picture made for Television
Jessica Chastain ("Scenes From a Marriage")
Cynthia Erivo ("Genius: Aretha")

Elizabeth Olsen ("WandaVision")

Margaret Qualley ("Maid")

Kate Winslet ("Mare of Easttown")
Best Director, Motion Picture
Kenneth Branagh ("Belfast")
Jane Campion ("The Power of the Dog")
Maggie Gyllenhaal ("The Lost Daughter")
Steven Spielberg ("West Side Story")
Denis Villeneuve ("Dune")
Best Performance by an Actress in a Motion Picture, Musical or Comedy
Marion Cotillard ("Annette")
Alana Haim ("Licorice Pizza")
Jennifer Lawrence ("Don't Look Up")
Emma Stone ("Cruella")
Rachel Zegler ("West Side Story")
Best Performance by an Actor in a Motion Picture, Drama
Mahershala Ali ("Swan Song")
Javier Bardem ("Being the Ricardos")
Benedict Cumberbatch ("The Power of the Dog")
Will Smith ("King Richard")
Denzel Washington ("The Tragedy of Macbeth")
Best Television Series, Drama
"Lupin" (Netflix)
"The Morning Show" (Apple TV Plus)
"Pose" (FX)
"Squid Game" (Netflix)
"Succession" (HBO/HBO Max)
Best Performance by an Actress in a Television Series, Drama
Uzo Aduba ("In Treatment")
Jennifer Aniston ("The Morning Show")
Christine Baranski ("The Good Fight)
Elisabeth Moss ("The Handmaid's Tale")
Michaela Jaé Rodriguez ("Pose")
Best Performance by an Actor, Limited Series, Anthology Series or Motion Picture made for Television
Paul Bettany ("WandaVision")
Oscar Isaac ("Scenes From a Marriage")
Michael Keaton ("Dopesick")
Ewan McGregor ("Halston")
Tahar Rahim ("The Serpent")
Best Performance by an Actor in a Motion Picture, Musical or Comedy
Leonardo DiCaprio ("Don't Look Up")
Peter Dinklage ("Cyrano")
Andrew Garfield ("Tick, Tick … Boom!")
Cooper Hoffman ("Licorice Pizza")
Anthony Ramos ("In the Heights")
Best Supporting Actor – Motion Picture
Ben Affleck ("The Tender Bar")
Jamie Dornan ("Belfast")
Ciarán Hinds ("Belfast")
Troy Kotsur ("CODA")
Kodi Smit-McPhee ("The Power of the Dog")
Best Original Score, Motion Picture
"The French Dispatch" (Searchlight Pictures) — Alexandre Desplat
"Encanto" (Walt Disney Pictures) — Germaine Franco
"The Power of the Dog" (Netflix) — Jonny Greenwood
"Parallel Mothers" (Sony Pictures Classic) — Alberto Iglesias
"Dune" (Warner Bros.) — Hans Zimmer
Best Actress in a TV Series, Musical or Comedy
Hannah Einbinder ("Hacks")
Elle Fanning ("The Great")
Issa Rae ("Insecure")
Tracee Ellis Ross ("Black-ish")
Jean Smart ("Hacks")
Best Limited Series, Anthology Series or a Motion Picture made for Television
"Dopesick" (Hulu)
"Impeachment: American Crime Story" (FX)
"Maid" (Netflix)
"Mare of Easttown" (HBO/HBO Max)
"The Underground Railroad" (Amazon Prime Video)
Best Supporting Actor, Television
Billy Crudup ("The Morning Show")
Kieran Culkin ("Succession")
Mark Duplass ("The Morning Show")
Brett Goldstein ("Ted Lasso")
O Yeong-su ("Squid Game")
Best Picture, Musical or Comedy
"Cyrano" (MGM)
"Don't Look Up" (Netflix)
"Licorice Pizza" (MGM)
"Tick, Tick … Boom!" (Netflix)
"West Side Story" (20th Century Studios / Walt Disney Studios Motion Pictures)
Best Supporting Actress, Motion Picture
Caitríona Balfe ("Belfast")
Ariana DeBose ("West Side Story")
Kirsten Dunst ("The Power of the Dog")
Aunjanue Ellis ("King Richard")
Ruth Negga ("Passing")
Best Picture, Foreign Language
"Compartment No. 6" (Sony Pictures Classics) — Finland, Russia, Germany
"Drive My Car" (Janus Films) — Japan
"The Hand of God" (Netflix) — Italy
"A Hero" (Amazon Studios) — France, Iran
"Parallel Mothers" (Sony Pictures Classics) — Spain
Best Screenplay, Motion Picture
Paul Thomas Anderson — "Licorice Pizza" (MGM/United Artists Releasing)
Kenneth Branagh — "Belfast" (Focus Features)
Jane Campion — "The Power of the Dog" (Netflix)
Adam McKay — "Don't Look Up" (Netflix)
Aaron Sorkin — "Being the Ricardos" (Amazon Studios)
Best Performance by an Actress in a Motion Picture, Drama
Jessica Chastain ("The Eyes of Tammy Faye")
Olivia Colman ("The Lost Daughter")
Nicole Kidman ("Being the Ricardos")
Lady Gaga ("House of Gucci")
Kristen Stewart ("Spencer")
Best Motion Picture, Drama
"Belfast" (Focus Features)
"CODA" (Apple)
"Dune" (Warner Bros.)
"King Richard" (Warner Bros.)
"The Power of the Dog" (Netflix)
Best Television Actor, Musical / Comedy Series
Anthony Anderson ("Black-ish")
Nicholas Hoult ("The Great")
Steve Martin ("Only Murders in the Building")
Martin Short ("Only Murders in the Building")
Jason Sudeikis ("Ted Lasso")
Best Supporting Actress, Television
Jennifer Coolidge ("White Lotus")
Kaitlyn Dever ("Dopesick")
Andie MacDowell ("Maid")
Sarah Snook ("Succession")
Hannah Waddingham ("Ted Lasso")
Best Original Song, Motion Picture
"Be Alive" from "King Richard" (Warner Bros.) — Beyoncé Knowles-Carter, Dixson
"Dos Orugitas" from "Encanto" (Walt Disney Pictures) — Lin-Manuel Miranda
"Down to Joy" from "Belfast" (Focus Features) — Van Morrison
"Here I Am (Singing My Way Home)" from "Respect" (MGM/United Artists Releasing) — Jamie Hartman, Jennifer Hudson, Carole King
"No Time to Die" from "No Time to Die" (MGM/United Artists Releasing) — Billie Eilish, Finneas O'Connell
Best Motion Picture, Animated
"Encanto" (Walt Disney Studios Motion Pictures)
"Flee" (Neon)
"Luca" (Walt Disney Studios Motion Pictures)
"My Sunny Maad" (Totem Films)
"Raya and the Last Dragon" (Walt Disney Studios)
Belinda Carlisle brings a heavenly Christmas Bash December 16th
Her work evolves beyond the demands of the pop market while never losing its hooks and whimsy. it reflects Belinda's evolving life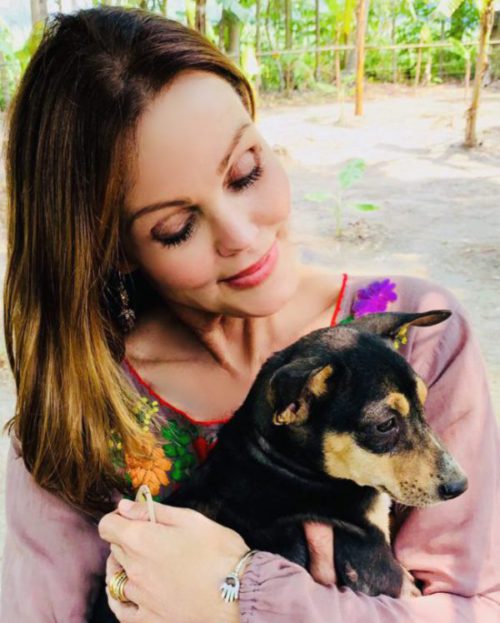 HOLLYWOOD – On December 16th, 7pm, the city of West Hollywood transforms into a piece of "Heaven on Earth." An angelic supernatural deity from the sky won't be delivering this gift, but rather an angel from iconic pop paradise.
That night, Belinda Carlisle makes a grand entrance and gives an eager audience the presence of a queen of pop, the most recent inductee to the Rock and Roll Hall of Fame along with her group, The Go-Gos.
It will be on that night that Belinda Carlisle hosts THE party event of the season with co-host, drag superstar, Trixie Mattel. One sings, one throws comedic shade, and a packed room at the Abbey will be losing their collective minds.  Not that the party itself isn't all the reason you would need to get it on your calendar, the evening benefits a fantastic charity, The Animal People Alliance (APA), that intertwines the love for animals with the salve to human suffering.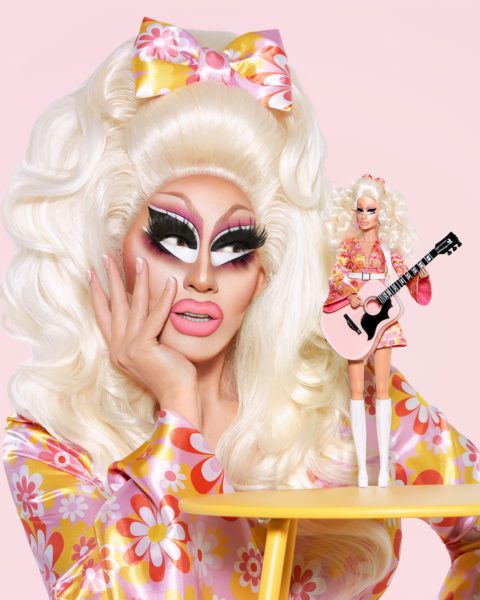 APA's charter reads: "To provide high quality and compassionate care, of the highest standards, to neglected street animals in India and Thailand. We train and employ vulnerable people from the community, and pay living wages that help them improve their standard of living." The organization, by employing people who would otherwise be stateless and/or in poverty, has treated over 16000 street animals since 2014. Their programs for animals include rabies vaccinations, sterilizations and other emergency health aid.
Belinda sat down with me this week on the podcast RATED LGBT RADIO to talk about her life, her amazing career, her party and the strength she has achieved in standing up to both inner and outer demons.
She survives. She fearlessly opens herself up, and if anyone scrutinizes her past… she will lead the way. She happily tells of being a member of the most successful all-women pop bands in history. They sang and wrote their own songs, they played their own instruments. They did it on their terms. No men were needed or required. She candidly shares about her struggles with eating disorders and drug addiction.
Belinda shows profound compassion for those struggling with addiction and darkness, "Addiction is a sickness…it is a disease of perception, you can't see your effect on other people… It is a trap you feel you can't get out of. Every addict has a heart and a humanity that is obscured by addiction. It is a horrible, horrible thing for anyone to go through. It is hard to remember that there is a heart under all that, there is something divine under all that darkness."
Her interest focuses more on what came after she embarked on recovery "My life is much more exciting since sobriety, even more exciting than the hey day with the Go-Gos. For anyone out there who is worried about aging, or life being over at a certain point—it's not. Life is just the most amazing miracle and privilege."
Her significance for the LGBTQ community, impacts many of the most vulnerable. She is the mom of a gay man, activist and writer, James Duke Mason. His birth made her examine the trajectory of fame, drugs, and rock & roll in which she was on, careening threateningly close to disaster and death.
She had settled comfortably into maternal nurturement when Duke came out to her at the age of 14. Belinda had been impressed with Duke's ability to explain the situation to her. She found out that he had been online with PFLAG for weeks learning about how to present his news to her, information to give and educated about key talking points.
Appreciating their real life help of a young person in need, Belinda vehemently supported PFLAG, the Trevor Project and others ever since. "I am so glad I have a gay son, I can't even tell you," she says.
Artistically, she also continues to thrive. The Rock and Roll Hall of Fame finally inducted the Go-Gos this year. It was an honor 15 years in the making. It should have been an obvious choice to put them there.
As the first all-female group making it big, they sang, wrote every note and played every instruments. The Go-Go's, a 2020 American/Irish/Canadian documentary film directed and produced by Alison Ellwood, cast attention on the Hall of Fame oversight, and essentially made the case for how special the group actually was.
Belinda also recently released a new single Get Together a cover of the 1967 Youngbloods hit. The Youngbloods sang it at Woodstock in 1969 to make a statement about the divisions of the Viet Nam era in America.
Belinda sings it now, her voice pure, mature and as an anthem making a plea, if not a motherly order, to reconsider the divisions we are experiencing today. She says, "We live in this age of outrage. This song is 'ok people, CHILL OUT'. All this divisiveness is not going to get us anywhere. It's timely."
Beyond Get Together, Belinda works on more new music including singles and a new album. She continues to produce with the top song creators of the industry including award winning song writer Diane Warren and Go-Gos dates at the end of the year.
Her work evolves beyond the demands of the pop market while never losing its hooks and whimsy. it reflects the channeling of Belinda's evolving life. When she lived in France, she released a French collection.
As she delved into spirituality and the culture of Thailand, she released the powerful Wilder Shores, which blended a spiritual mantra into pop hooks. "Chanting is a science, it has a super power. It is not airy fairy," she states.
The fact is, Belinda Carlisle continues arriving and thrilling. She does not need to prove herself to anyone. She has defined the next thirty years of her life as philanthropy.
"I just wing it as I go along. I learned what it is like to work from the heart. Work in a way where you don't care about any kind of outcome. That is how I am working now. I am just having fun, and doing just what I want. I am really lucky that way," she declares.
Her party on December 16th at the Abbey appears right on track to bear that out.
Love, humanity, care of animals and a major splash of fabulousness enveloping an enthused audience.
In other words, pure Belinda.
********************
Listen to the full interview:
********************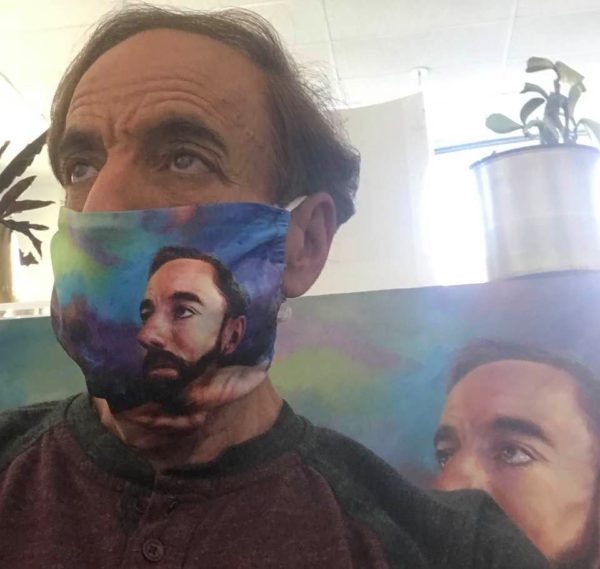 Rob Watson is the host of RATED LGBT RADIO, a national podcast and he's one of the founders of the evolequals.com.
A gay dad, business man, community activist and a blogger/writer, Watson is a contributor to the Los Angeles Blade covering entertainment, film, television, and culture with occasional politics tossed in.