HBO Max's Lupe Blazes a Trail Into the Search for Authenticity
Lupe airs on HBO Max February 26th at 8pm. Find her there.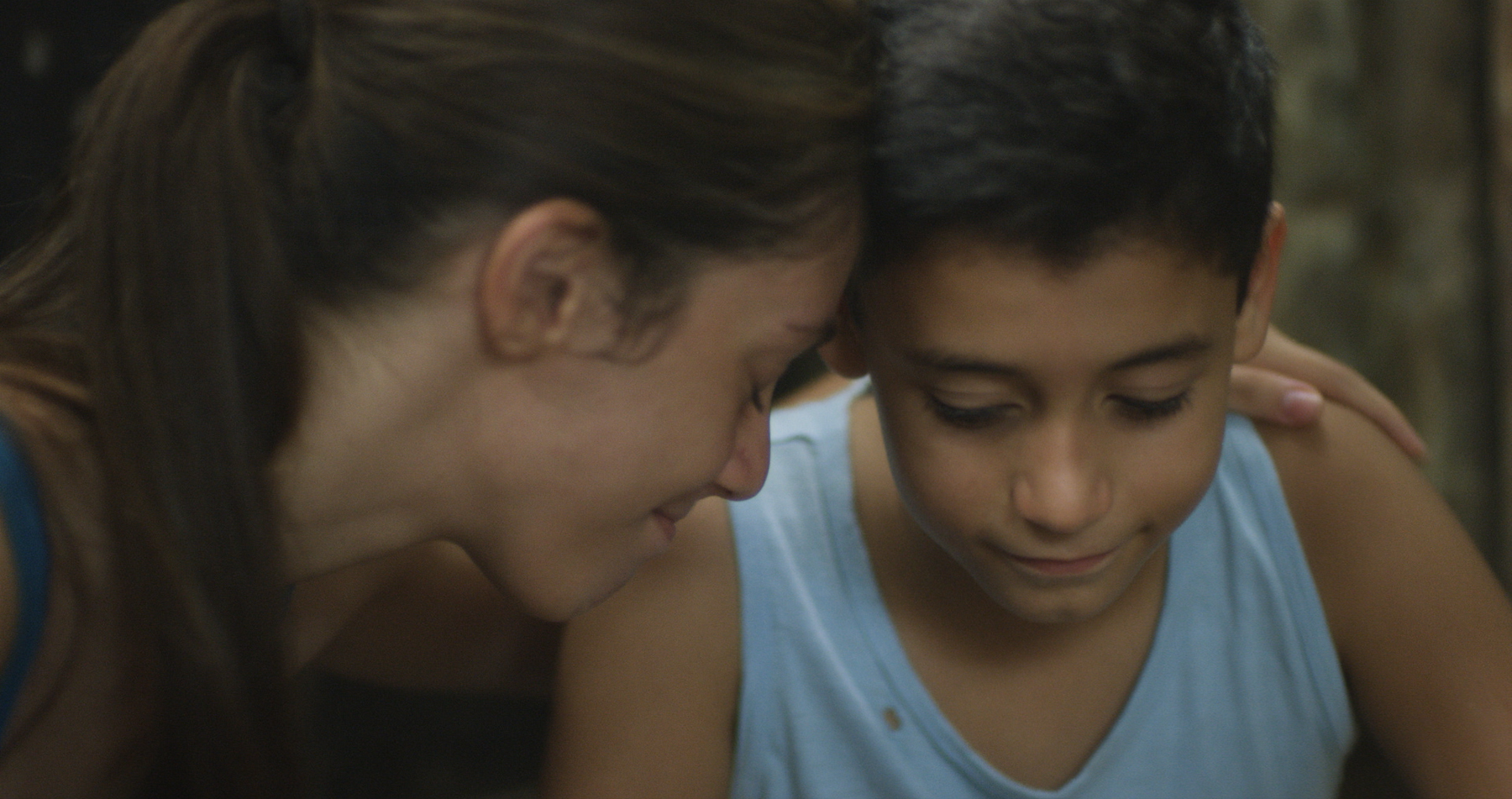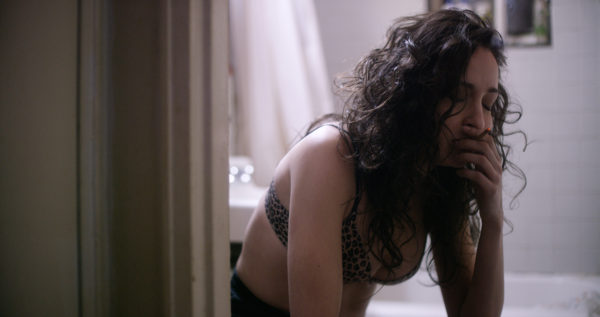 On Friday February 26th at 8pm, HBO Max and HBO Latino will premiere the darling of the film festival set, Lupe.
The film opens with a beautiful panorama of farmland in Cuba and a young boy calling out for his caretaker and older sister. He is looking for her.
"Looking for her" becomes the theme of the film, and it also became the theme in the lives of many associated with this cinematic gem.
Rafael, the lead character, absorbs the toxic masculinity of his Cuban village, comfortable under the care of his sister Isabel (portrayed by Lucerys Medina). Then one day, she is missing.
He believes that she and her friend Elsa have been taken to New York City and fallen victim to a ring of prostitution. Rafael (portrayed by Rafael Albarrán) has embraced his machismo as a trained boxer and sets out to New York — "looking for her."
His search for Isabel is merely the journey for him on a wholly other adventure in which he discovers that the "her" he is looking for, is the woman within himself. Along the way, (adjusting pronouns) they find their sister's companion Elsa (portrayed by Christine Rosario Lawrence) who helps them think back on their Cuban roots, a boxing student, Arun (portrayed by Kadeem Henry, who shows them that life in authenticity can come with bitter rejection and a transgender woman Lana (portrayed by Celia Harrison), who helps them envision and embrace the future.
The film is tender, poignant and ultimately affirming. The scenes are simple, sometimes austere and often deeply beautiful. Albarrán displays magnetism throughout, drawing us into the emergence of the inner life of Rafael to an external expression – often quietly with just the look in their eyes.
To quote the RuPaul franchise, "If you are only watching the surface production, you are only seeing half of the story" rings true to the full story behind the realization of the movie Lupe. While a transgender journey is portrayed on screen, another has played out behind the scenes.
The film was written, and directed by two while New Yorker cisgender men, André Phillips & Charles Vuolo. Telling the story of a transgender woman. What could go wrong?
As it turns out—nothing. Even though the production work started six years ago, well before transgender artist voices were raised asking that their stories actually include them in the making, Phillips and Vuolo already knew what they did not know. They did not know the transgender experience.
They were looking for "her": she who would take ownership of the transgender experience.
They found her in Celia Harrison. They wrote a framework of the story, and turned to Celia to guide them on the real life experience that she knew to be trans. Many of the scenes were left unscripted, with the intentions to have performers improvise from their own sensibilities.
They cast Rafael Albarrán, a gay Latino man, after his second audition. Rafael was sensitive, vulnerable, and yet also brought a strong "street fight" charisma to the part. They also turned to Celia to play his best friend, even though she was not a trained actor. She was the transgender life blood muse of the script, and so was a natural to be the on screen conscience of the film itself.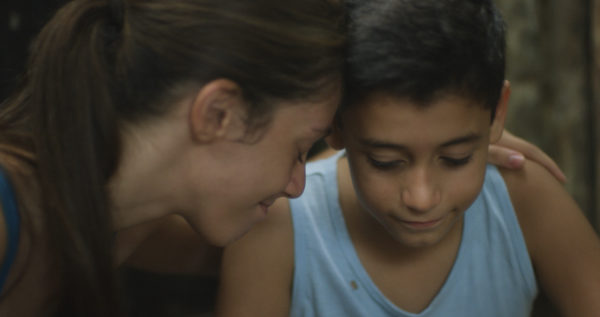 Unbeknownst to anyone, Rafael the actor and Rafael the character were beating with the same heart, and a deeply similar journey. He told me recently,
"I started my career as an actor in Puerto Rico when I was 12 years old, I started writing when I was 15. I went to school or journalism and literature, then went on to do my playwriting and acting. And I, I feel like my journey of my life kind of prepared for this project. But when I was not prepared for was to what I was about to discover of myself. And, again, when I did this six years ago I never thought that this was going to be the end goal of this journey, which just makes everything so beautiful. At the minute when we were on set, and I got the part and I got cast in it, I immediately understood the weight and responsibility that I had. Six years ago I identified myself as a gay man.
"Back then, transgender and trans theme movies were not at the level we have right now. Since then we have shows like Pose, and shows like Orange is the New Black, shows that came after we shot Lupe, after we did production shots of Lupe. So back then, I was like, 'This is huge.' You know, like I was like this is huge responsibility. And I, honestly, as soon as I start doing research for the role. I start to realize how ignorant I was in the themes of trans and, and all the topics that embark the trans umbrella. You know we all get trapped in toxic masculinity. The expectations of what being a man is. And all of a sudden here I am going on a journey in a movie with the characters covered in their femininity and her femininity, and how it looks like, and how it feels like."
"That exploration that was part of examining the script, I feel like I took a little bit of ownership on that, and I started making it a part of my own personal exploration. To the point that six years after the process started, I no longer consider myself, or refer to myself as a gay man. I am a non-binary human – I have changed my pronouns. I am using he, she and they. That process started and the discovery of myself through this character."
Looking for her
Rafael and Celia came together as a collaborative and creative team on the set. Rafael shared, "You might not be an actress. But you're a great woman, and we're about to pair and we were about to tell stories about great women together. And that bonding that happened right before going on set , really relaxed us. It really felt like if we had been friends forever. You know it drew a line of trust between us, and because of that trust — the directors trusted in us, kind of like taking the movie wherever we wanted to. They were brave as creators to give out the power in a way. The direction of the movie could have gone in many many ways. They just trusted us. I feel like there was a lot of trust around the process. It came down to all of us, all of us around this set—how important this story was. That we were telling. I cannot wait for people to watch this."
In 2017, the production team recruited and brought on an executive producer, Kerry Michelle O'Brien. Kerry was well established and famous for her production work, and had only recently identified herself as trans.
She told me, "Sharan reaches out to me, shows me this piece. And she says you know I would appreciate your input. Well, she calls me up 3 days later and calls me out on it. Kerry, Where are your notes? I said, you can have your notes when I stopped crying. And it's just, even in its rough cut state, we could see what an amazing piece of work the boys have done, Raphaels acting is just unbelievable. It just spoke volumes off the screen, and also the fact that I say I was a late transition I've been living in the closet for way too many years. And then to see someone coming out and be so bold, seeing that reflected on the screen. How could I not be involved in bringing across the finish line."
She shared her thoughts on the film's impact," amazing and beautiful to actually see a film in which we're represented not a sociopath, or serial killer, or on the game, you know, we're actually reflected as human beings, sort of just fumbling and stumbling along and trying to find our way. And try to be genuine. That's what we want to do. We just want to be loved and be genuine and to see that evolve in Raphael to Lupe's characters is just beautiful. It's just like, it's just so many things there that sort of made me have hope and tenderness and thinking well I hope this encourages dialogue between people as to the fact that, you know, we're not, you shouldn't make a snap judgment about others.
"We are human beings we just want to be loved and we just want to be genuine, but different experiences are very sort of fantastic fabulous way. But we are still individuals that needs to be loved, And that just comes across so strongly in the film."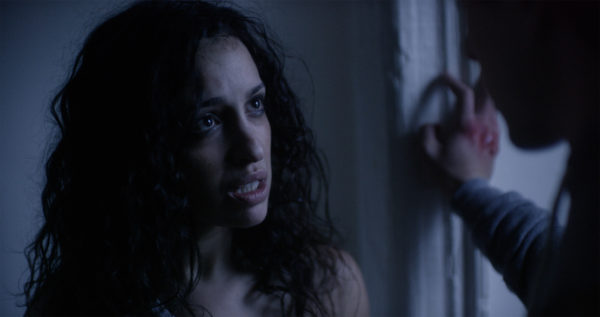 The impact did not stop with Kerry in the post production room. She carried it on into her own life, in her own quest for her own authenticity.
"You know, even though I've got a deep voice and you know look a bit peculiar I'm still a woman in myself and that is my truth. I, when I took this film on I hadn't seen my children in the UK for quite a while. And through the publicity of the last week of this movie. I actually took it upon myself to actually become genuine with my family in the UK so I reached out to my children.
"Last weekend, I came out as transgender to them. I was able to use the film as a vehicle to say 'hey you know your dad's been making another movie, because I had critical acclaim in the past, and this is one that involves the LGBT community. And then I went on, by the way, I'm transgender, and it was such a beautiful moment to share that with my three children. We did a video we did a video call for first time in four years. They hadn't actually seen me in that time. We sort of chatted, and it was quite a surprise. I wasn't dressed, but they were very very accepting and the real beautiful point of that was my eldest took it upon herself to come out to me as bisexual at the same time."
"So, you know nothing but good things are coming from discussions around this movie. That was the level of impact it was me– to finally admit to myself, 'I'm okay being the Kerry Michelle that I am, and I'm now ready to tell my family about it."
Looking for her
As Rafael Albarrán sums up, "In the end, it is not just a story about Trans, about being a woman or a man – it is a story about authenticity. And I feel like that is something each one of us struggles with on our journey. Regardless of our gender or sexual orientation, its about being authentic with you and empower yourself however that might look like."

Lupe airs on HBO Max February 26th at 8pm. Find her there.
Rob Watson covers LGBTQ lives, culture, and politics as a contributor to the Los Angeles Blade and is the host of the Hollywood-based weekly radio podcast RATED LGBT RADIO.
Turning pain into positive & using art as therapy – Carl Hopgood
He knew he wanted to embark on a path toward a "bold, exciting life" among other "creative people" while "doing amazing things and living"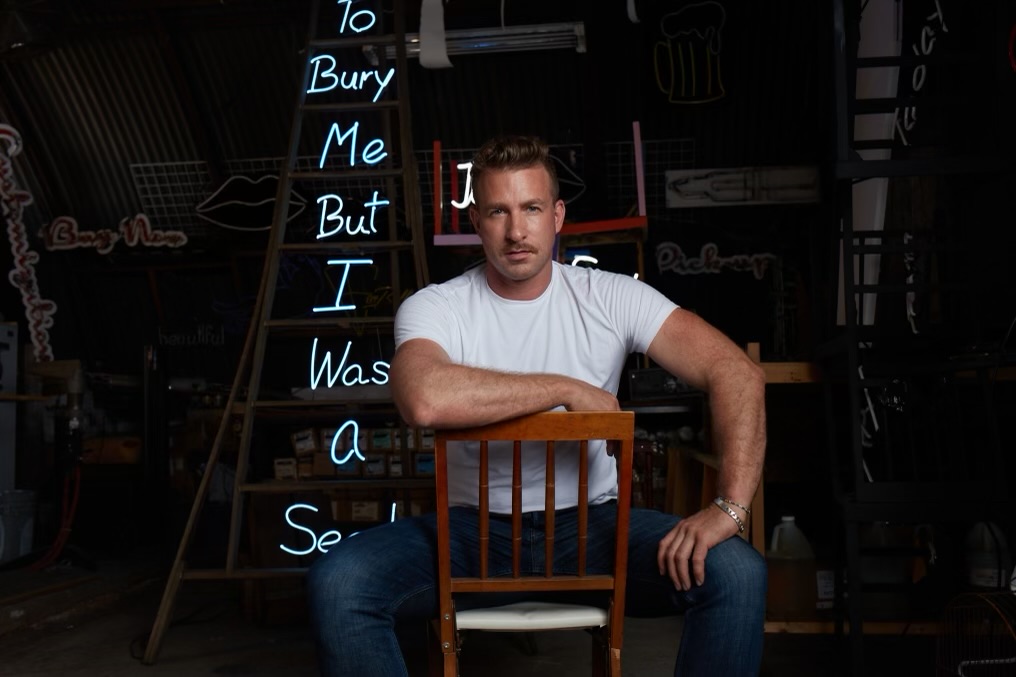 LOS ANGELES – Like many people born with an inclination toward creative expression, Carl Hopgood has known from a very young age that he wanted to be an artist.
Growing up on a small farm in rural Wales, the Cardiff-born Hopgood spent his childhood surrounded by animals and nature, letting his imagination run wild and creating worlds he envisioned with baskets, fruit boxes, flowers, stones, tabloid clippings, and other items that struck his fancy. Then, at 7, he was invited to spend an afternoon with his best friend, whose cousin was visiting; that cousin happened to be Richard Burton, and he happened to be accompanied by his even more famous wife, Elizabeth Taylor.
Hopgood was not just star-struck, he was inspired.
"My world was never the same after that day," he tells the Blade. "They told stories about Hollywood, London, glamorous parties, movies, photography… and Andy Warhol! Andy Warhol was my first artist crush. He was also born on a farm, so I felt an immediate connection."
After that experience, he knew he wanted to embark on a path toward a "bold, exciting life" among other "creative people" while "doing amazing things and living."

Four decades and one continental transplant later, it can safely be said that Hopgood has accomplished his goal.
A successfully established LA-based artist, he's created a unique body of work that includes pieces in Neon, Sculpture, Film / Video Installation, and canvas painting; his collectors include Morgan Freeman, Eugiono Lopez, The Vinik Family Foundation, The Groucho Club and Rupert Everett; and recent exhibitions of his work – like his neon art installations 'Looking For Love In All The Wrong Places', 'My Heart Is Open', and 'You Changed My Life' at the Maddox Gallery in West Hollywood, and 'Chair Therapy' at United Talent Agency's UTA Artspace LA – have garnered a flurry of enthusiasm and increasing national attention.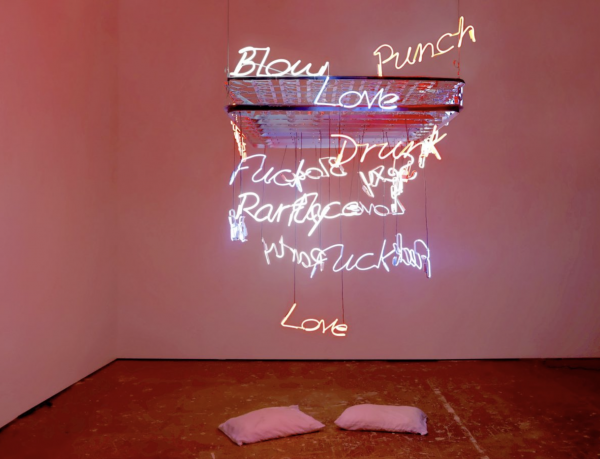 The latter installation created a particular stir with its inclusion of a controversial neon sculpture called "Just Say Gay", Hopgood's response to the draconian anti-LGBTQ legislation championed by Florida Governor Ron DeSantis; that work was acquired by prominent collector Beth Rudin DeWoody and will be on display from December 2023 at her Bunker Art Space in West Palm Beach, Florida.
When talking with the Blade, Hopgood is keen to focus the discussion on a new goal – the completion of a documentary about the creation of "Chair Therapy" – but he's certainly willing to start the conversation by talking about the sense of queer defiance behind "Just Say Gay" and many of his other works, because the two subjects go hand in hand.
"Being a gay man of Welsh and Greek heritage," he proudly proclaims, "the fight against bullying, repression, injustice and discrimination became central themes of my artistic expression."
As he explains, that fight is rooted in a traumatic childhood experience. "I was bullied by classmates," he remembers. "They would chase after me, push me to the ground and kick me in the groin. I managed to escape and found sanctuary under a stack of chairs in the school assembly hall. The school therapist helped me cope by using a technique called Empty Chair Therapy, where you would talk to an empty chair about your feelings.
"I decided turn this pain into something positive and use art as my therapy."

Much later, the young Hopgood would be inspired by the confrontational aesthetic of Damien Hirst – after reading a scathing criticism of one of his works in the paper – and follow in the controversial artist's footsteps to Goldsmiths College in London, eventually becoming part of a movement with fellow graduates like Steve McQueen, Jason Martin, Ceal Floyer, Angela De La Cruz and Alessandro Raho.
"It was an incredible moment to be a young artist in 1990s London."
Nevertheless, after 20 years in the London art scene, he decided it was time for a change.
"I had just watched a documentary featuring David Hockney," he explains. "The freedom and possibility of David's work was clearly inspired by Southern California with its beautiful palette and open, sunny skies. It was a stark contrast to the gloomy weather of the UK, and the anxiety and depression that accumulated over the years. I had heard about the growing LA art scene –LACMA, MOCA and The Broad were beginning to attract an international audience – and I decided that moving to Los Angeles would be good for both my mental health and creativity."
The choice was a fortuitous one for him – "It was the perfect time to go," he says, "and I was ready to work in new mediums and expand my repertoire." Then, like the rest of us, he had to put all his plans indefinitely up in the air.
"In early 2020, when the pandemic hit," he tells us, "I would see all the bars and restaurants shuttered in West Hollywood. It was like a ghost town. Looking through the store front windows, all I could see were chairs stacked on top of each other – and that image took me straight back to my unhappy childhood."
He decided to use it for inspiration and began work on the first sculpture in the "Chair Therapy" series ("My Heart is Open") – which as he describes, addresses "toxic masculinity, oppression and queer identity, themes I've always championed."
Those themes are doubtless also at least partly behind his desire to see the planned documentary – titled "Fragile World" – reach fruition. Filmed during the pandemic, it profiles Hopgood by charting his personal artistic journey, but centers on the development of "Chair Therapy", in which he combined found and vintage wooden chairs with neon lights shaped into positive words to provide hope, love and support for a community who were hardest hit by Covid and the shutdowns it necessitated.
"Seeing those stacked chairs and tables, in those empty establishments, I knew some would be forced to close for good. I felt so helpless, but I knew there was something I could do."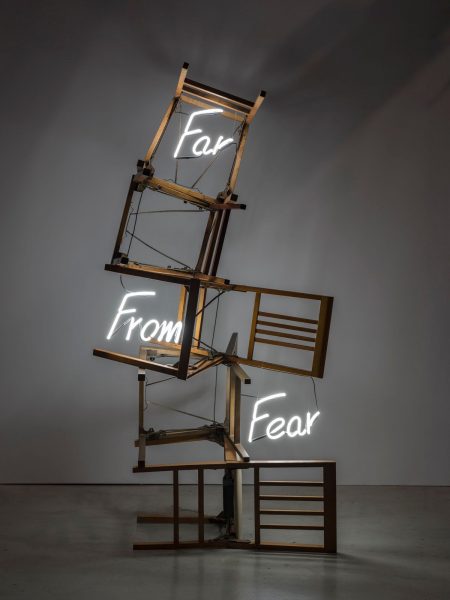 Now, with his own hard-hit community – alongside many others – facing aggressive legislative oppression from the extremist right, he's determined to see the film finished, so that the same empowering message of optimism embodied in his work can be spread to a larger audience as a reminder not to let the bullies break their spirit. To that end, the documentary's director and producer, LA-based British filmmaker Kate Rees Davies, has set up an Indiegogo campaign to raise the funding necessary to finish the project.
Another motivation, perhaps even more personal, might be found in Hopgood's revelation of a hidden influence in another work from the "Empty Chairs" series: "Twelve Steps", which explores the massive financial success of a California citrus industry made possible by the hard work of a segregated Mexican immigrant labor force. "I was also inspired in that piece by a line from Greek poet Dinos Christianopoulos," he says, "who was sidelined by the Greek literary community in the 1970s because he was gay. It's a small but powerful couplet which was included in the collection 'The Body and the Wormwood' that reads, 'What didn't you do to bury me, but you forgot that I was a seed.'"
For Hopgood, perhaps, the documentary also represents a seed, one that he himself has planted in hope of spreading its positive power into the world – and he's counting on the support of his patrons through Indiegogo for the water, light and nourishment it requires to grow.