VA Secretary orders greater LGBTQ inclusivity in agency care for veterans
"My goal as secretary is to make sure VA is welcoming to all veterans, including our transgender veterans," he said.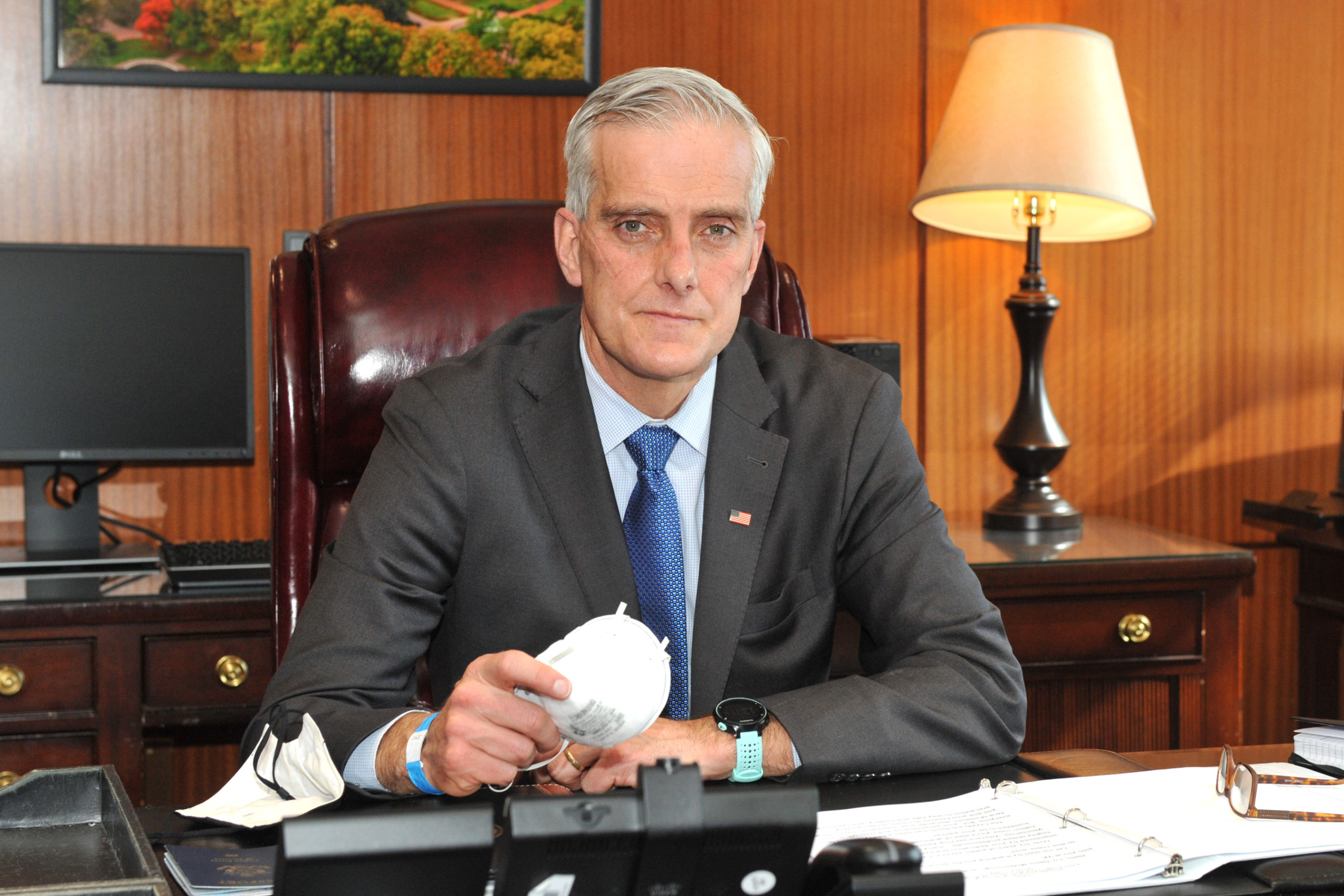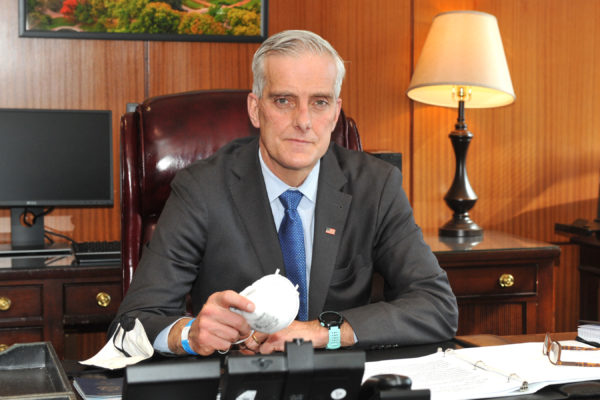 WASHINGTON – Veterans Administration Secretary McDonough issued a memorandum Tuesday directing his agency to review its policies and procedures as it relates to the care of LGBTQ veterans, their families, caregivers, survivors, and employees.
McDonough told reporters in a briefing that he expected the policy review would be finished by March 30.
"My goal as secretary is to make sure VA is welcoming to all veterans, including our transgender veterans," he said.
McDonough stressed that he and his agency would focus on inclusivity, diversity and equity under his tenure as VA secretary following President Biden's recently signed Executive Orders (Enabling All Qualified Americans to Serve Their Country in Uniform, signed on January 25, 2021, and Preventing and Combating Discrimination on the Basis of Gender Identity or Sexual Orientation, signed on January 20, 2021)
The Secretary told reporters that as he chooses his leadership team he will ensure that there would be full compliance with the president's executive orders. He didn't volunteer any further information on potential candidates for those positions.
"That will be a really important piece of demonstrating my seriousness about diversity and inclusion," he said. "Our political appointees to date reflect that, and that's intentional."
Under the terms of the memo VA Under Secretaries and Staff Offices directed to execute the following:
Conduct a policy review to determine whether any regulations, directives, policies and procedures promote equity for and inclusion of LGBT Veterans, families, caregivers, survivors or employees. Design and implement a remediation plan if the review identifies discriminatory policies towards LGBT beneficiaries and employees.
Perform an assessment of the necessary steps to eliminate the exclusion of "gender alterations" as currently stated in the medical benefits package, more commonly referred to as gender affirmation care and services, to include assessment of statutory and regulatory requirements as well as funding, staffing, technology and other resources required to provide all medically necessary services.
Develop means to measure the experience of LGBT beneficiaries and employees and to include their perspectives in the development of future guidance and any barriers that LGBT beneficiaries and employees may face in accessing the full range of VA care, benefits and services are identified and addressed.
Develop a plan to ensure that employees are trained on inclusive, respectful and welcoming interaction with LGBT beneficiaries and implement an enterprise plan to enhance data and information systems with respect to sexual orientation and gender identity, such that beneficiaries and employees may independently and securely self-identify and be addressed by their preferred name and pronouns.
Stars and Stripes reported that McDonough also promised to address racial inequity at the agency during the news briefing. Last year, a group of Black VA employees organized to voice their experience with racism, which they said was made worse by leaders who refused to address it.
"Confronting this question of racial inequity will be a fundamental part of my tenure here, not least because the president is demanding it," he said.
The VA currently provides LGBTQ specific care to veterans. California, the most populous state in the nation, has the largest veteran population (1.56 million) including LGBTQ vets.
National Trans military advocacy group elects new president
Fram is a Lieutenant Colonel in the USAF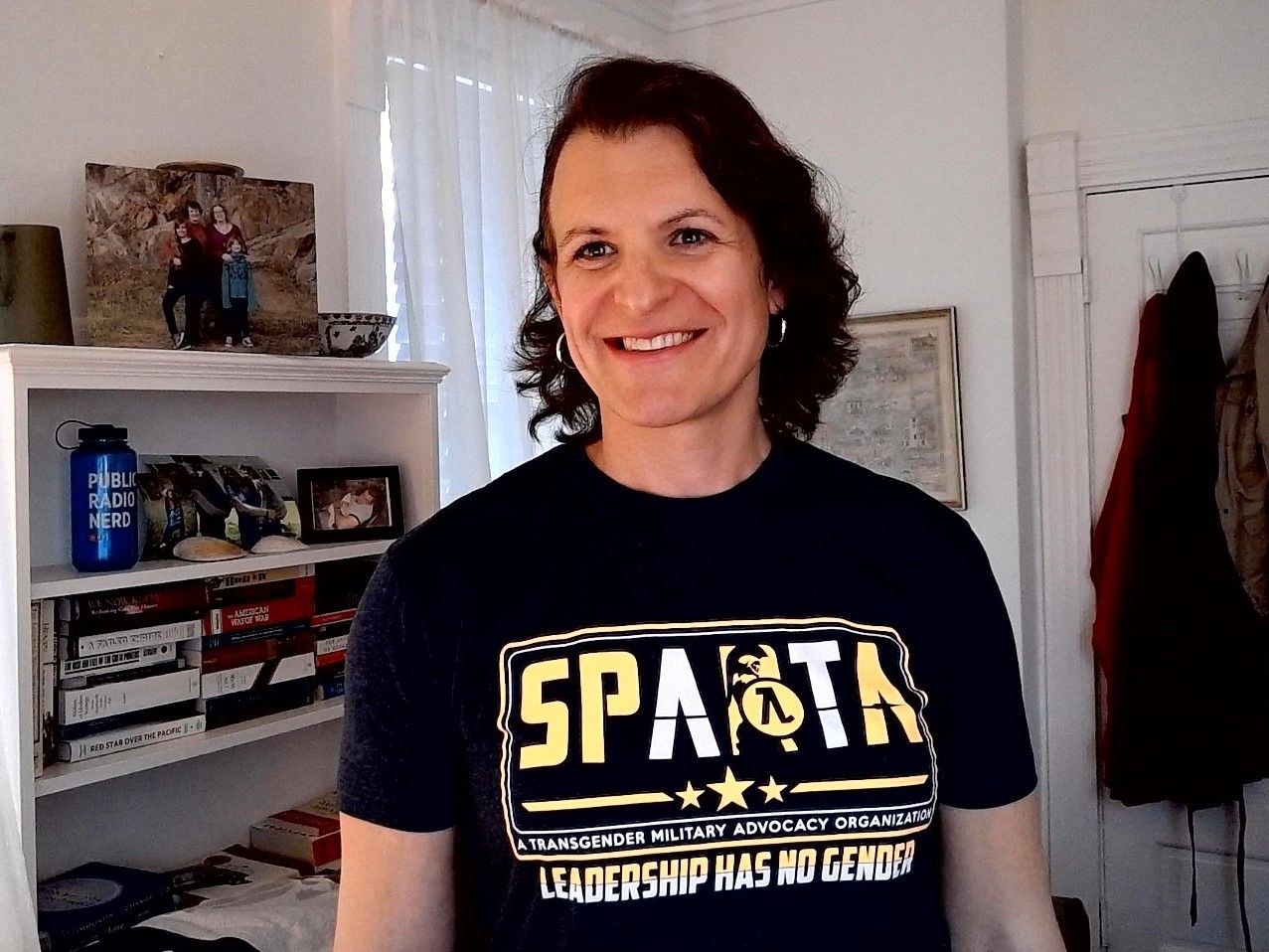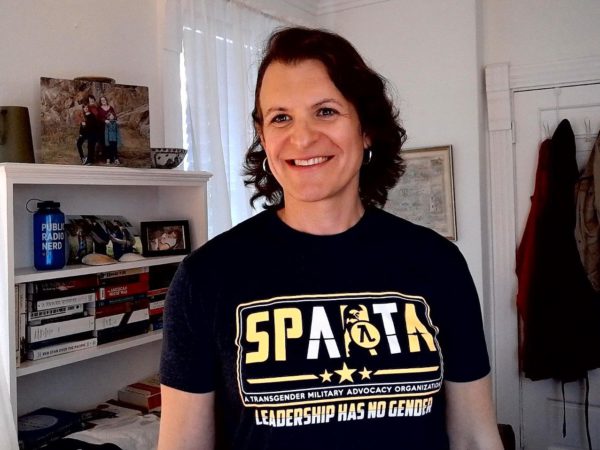 WASHINGTON – SPARTA, the nation's leading transgender military service advocacy organization, announced Saturday that it had elected Bree Fram as its new Board Chair and President of the organization.
She has been a member of SPARTA since 2014 and has served on the Board of Directors since April 2018, most recently as Vice President. Fram is also a Lieutenant Colonel and astronautical engineer in the US Air Force and will soon be recommissioning into the U. S. Space Force.
She is currently a student at the US Naval War College with a follow-on assignment to the Department of Defense at the Pentagon.
"I'm honored and humbled to serve as SPARTA president on behalf of so many amazing transgender service member," said Fram. "We will do our utmost to continue SPARTA's a rich history of incredible dedication and progress. My heartfelt thanks go to the previous leaders of the organization, including Sue Fulton, Jacob Eleazar, Blake Dremann, and Emma Shinn, and all our members for the incredible achievements of the past 8 years. Despite setbacks, their desire to make transgender military service possible is reality again as of yesterday as the new Department of Defense Policy went into effect."
The immediate past president, Emma Shinn served through a challenging time as President Trump's ban on transgender service went into effect in April 2019. Her leadership rallied the organization and ensured SPARTA remained dedicated to positive change.
With the January 2021 Executive Order from President Biden directing the Defense Department to re-implement open transgender service, she and the organization celebrated a major success that will benefit all members of SPARTA and the nation.
"Leading SPARTA for the past two years has been a tremendous honor and privilege," stated Shinn as her time at the head of SPARTA came to an end. She continued, "I am confident that SPARTA will continue to help our military and nation recognize the value trans service members bring to the mission. I am thankful for the opportunity SPARTA has given me to work with leaders in the DoD, legislators, and partner groups to make open trans service a reality again. I look forward to continuing to work with this amazing group of people under Bree's leadership. I am excited for the future of our organization and nation."
In a press release the organization noted that Fram's remarks highlighted the fact that SPARTA's mission is not over. "Although transgender service members have already proven they belong on the battlefield and here at home," she said. "We need to ensure they can't be erased in the future by an administration set on turning back the clock. Beyond ensuring our members can thrive in their careers, my top priority is to ensure the opportunity to serve is enshrined in law."

Fram spoke on additional goals for SPARTA during her tenure and listed the following:
· Minimize the administrative burden and career impact of transition in the military
· Advocate for inclusion of transgender voices in policy making
· Push for inclusive policies regarding intersex and non-binary military service
"All Americans who are otherwise qualified to serve in the military should have the opportunity to do so," Fram summarized. "This nation will be better and better defended with inclusive policies that enable the military to draw upon the best talent this nation has to offer."
Pentagon sweeps away Trump policies on Trans service
This guidance is a welcome reprieve for the thousands of individuals whose lives and careers have been disrupted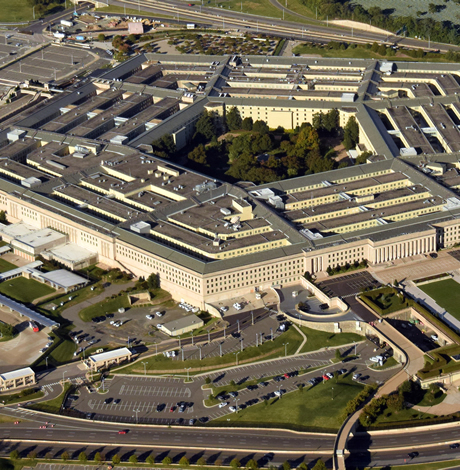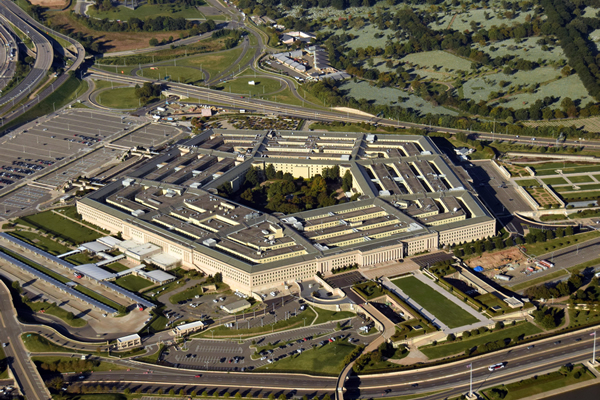 ARLINGTON, Virginia – The Pentagon said Wednesday that it was reversing policies set in place by the Trump administration that barred Transgender Americans from serving in uniform.
The Defense Department also is updating and expanding wider access to medical care and assistance with gender transition for service members. The rule changes come after a two-month review ordered by Defense Secretary Lloyd Austin, who had enacted immediate orders to finalize detailed regulations that all branches of the military services will follow.
Austin's actions immediately followed President Joe Biden's Executive Order that overturned former President Trump's ban on Trans service. The new rules also prohibit discrimination based on gender identity. Their expected release Wednesday coincides with International Transgender Day of Visibility, the Associated Press reported.
The AP also noted that Secretary Austin has also called for a reexamination of the records of service members who were discharged or denied reenlistment because of gender identity issues under the previous policy. Results of that review have not been released.
SPART*A, the nation's leading transgender military service organization reacted to the changes being implemented Wednesday.
"We applaud this step to ensure the Department of Defense provides inclusive policy to attract and retain the best and brightest our nation has to offer," said Vice President of SPART*A Bree Fram, a U.S. Air Force Lieutenant Colonel.
"Military personnel reach maximum effectiveness when they have access to all medically necessary care and we are excited that this policy extends that access to transgender service members. Additionally, opening recruitment to transgender individuals ensures an extremely talented and motivated pool of people that this country needs have the opportunity to serve in uniform," Fram added.
The revised policy is a close mirror of the previous 2016 guidance, which first enabled open service by transgender individuals in the United States Military under the Obama Administration. The new guidance includes expanded information on transition while on duty, updated roles and responsibilities for DoD personnel, and other administrative and functional updates.
The Defense Department in April 2019 approved a policy that fell short of an all-out ban but barred transgender troops and recruits from transitioning to another sex and required most individuals to serve in what the Trump administration called their "birth gender," the AP reported.
Individual branches are expected to release service-specific guidance in the near future including the United States Coast Guard which operates as a component of the Department of Homeland Security.
"This guidance is a welcome reprieve for the thousands of individuals whose lives and careers have been disrupted during the tumultuous transition from the 2016 open service policy to the 2017 implementation of the transgender ban," Fram noted in an emailed statement.
"Now, they are excited for this opportunity that allows for open service once again. Additionally a new accessions policy allows for the recruitment of new transgender service members," she added.
Supplies tight new vaccinations limited- new mass vaccination site at Cal Poly Pomona
#NoSuperSpreaderSunday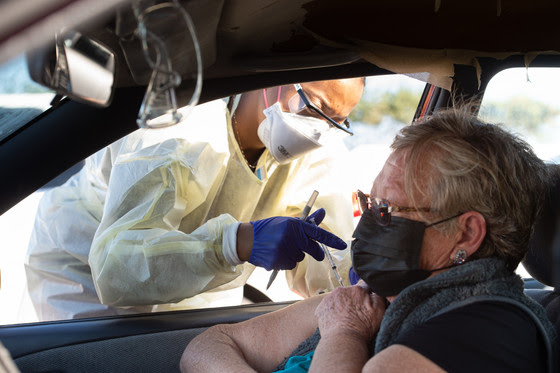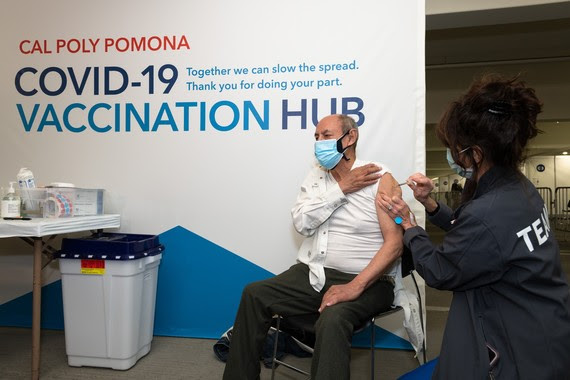 POMONA – The first large scale federal-state community vaccination center in Southern California opened Friday on the campus of Cal Poly Pomona and is slated to run seven days a week.
The new site located in the university parking area will start by offering about 500 to 1,000 appointments in its first few days, then ramp up to eventually offer between 8,000 to 10,000 vaccinations daily by February 16 officials said.
"I am grateful to President Biden and Governor Newsom for answering my call and marshaling federal and state resources to significantly increase our ability to vaccinate our residents," said Chair of the Los Angeles County Board of Supervisors Hilda L. Solis. 

"Our County and in particular our Latinx residents have been absolutely devastated by COVID-19. Establishing this large scale federal-state community vaccination center on the Cal State LA campus, in the heart of Los Angeles County and in a hard-hit community, is a welcome signal that we are ramping up at the federal, state and local level with the practical, boots-on-the-ground solutions we need to put an end to this deadly pandemic."
According to a news release from Kaiser Permanente, which is one of several health care providers offering vaccinations on the campus, The Cal Poly Pomona site is structured initially to prioritize vaccinating people 65 years and older, but eligibility will expand as more of the vaccine supplies becomes available.
Appointments for the next few days are fully booked, but more appointment slots will be released in the coming days Supervisor Solis. said in a media release. Appointments are required and can be made using the state's MyTurn scheduling system or by calling (833) 540-0473 for assistance.
Dr. Paul Simon, the county's chief science officer during a press briefing Friday cautioned that there was a very limited supply as these mass inoculation sites begin operations.
"We're just struggling with the supply, the limited supply, and feeling an obligation to make sure that people who have had a first dose are able to get their second dose," Simon said.
There will be a "very limited" amount of first doses given out Monday, and starting Tuesday the five mass vaccination sites it runs will only give second doses he told reporters.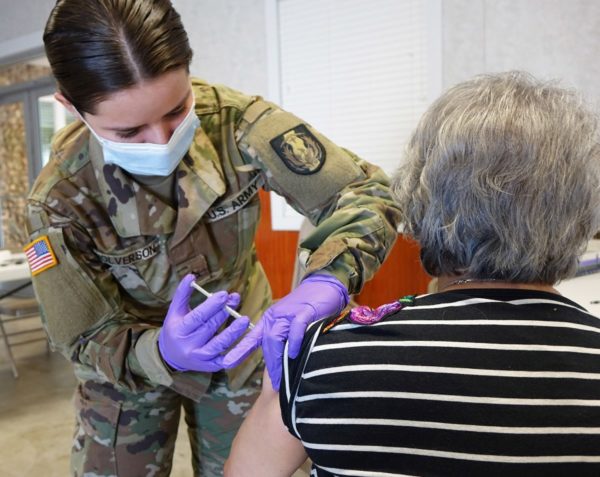 The Pentagon will deploy more than 1,000 active-duty troops to support coronavirus vaccination efforts at multiple locations throughout the United States, Chief Pentagon spokesman John Kirby announced Friday. Stars & Stripes reported that troops will start arriving in a little over a week to run a new site at Cal State L.A. opening February 15 according to Andy Slavitt, a White House coronavirus adviser.
"The military's critical role in supporting sites will help vaccinate thousands of people per day and ensure that every American who wants a vaccine will receive one," Slavitt said.
Gov. Gavin Newsom has acknowledged the initial vaccine rollout was unacceptably slow and had the state ranked near the bottom nationally. There's been improvement and the state now is averaging 1 million shots a week but limits on the supply coming from the federal government means California's capacity to provide shots far outstrips available vaccine.
The Los Angeles County Department of Public Health confirmed 226 new deaths and 4,761 new cases of COVID-19 Friday.  To date, Public Health identified 1,138,764 positive cases of COVID-19 across all areas of L.A. County and a total of 17,764 deaths.
In a statement issued Friday Public Health urged Angelenos not to gather for Super Bowl Weekend:
Gathering with people outside of your household, especially in settings where people are shouting, chanting, or singing and not distancing can easily lead to increased cases of COVID-19, serious illness, and more deaths. Public Health recommends residents to play it safe and enjoy the Super Bowl with people you currently live with, and to connect virtually with other friends and family who live outside of your household.  Please do not gather with people from outside your household to watch the Super Bowl.
Public Health officials are closely monitoring the number of deaths.  More than 1,000 new COVID-19 deaths have been reported since Monday. Even as cases and hospitalizations decline, deaths may remain high for two more weeks.
"I want to remind everyone how important it is to celebrate the Super Bowl only with members of your household.  This fall and winter, we learned painful and tragic lessons about how gatherings and celebrations lead to transmission of COVID-19 that ultimately results in a great deal of serious illness and death," said Dr. Barbara Ferrer, Director of Public Health.

"While we continue efforts to ensure that vaccine makes it into more arms, we implore everyone to stay home as much as possible, to not gather, and to do everything you can to prevent transmission of the virus. Please do the right thing: wait your turn for a vaccine and allow those eligible for the vaccine to register and be vaccinated."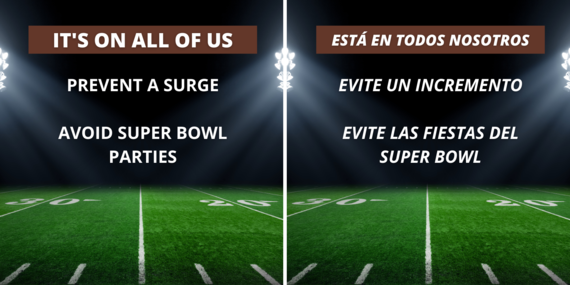 The Los Angeles County Department of Public Health urges eligible residents to check www.VaccinateLACounty.com regularly for appointments.
Residents with internet access and a computer should use the website to sign up for an appointment when eligible or to see when their turn is coming up.
The call center is available and reserved for people with disabilities or who don't have a computer or internet access. For those without access to a computer or the internet, or with disabilities, the call center is open to help schedule appointments daily from 8:00 a.m. to 8:30 p.m. at 833-540-0473. The call center uses the same system as the online system and is a low-tech way for those with accessibility needs and older people who may not have a computer or a smart phone, to make an appointment.
As more people are vaccinated, the County will be watching very closely to assess progress in ensuring equitable distribution of the vaccine. Residents should remain diligent in adhering to the physical distancing, face masking, and other precautions necessary to prevent spread of the virus, even after being vaccinated.