February 23, 2021 at 3:18 pm PST | by Noah Christiansen
Beloved hotdogs and tamales vendor gets LGBTQ community's support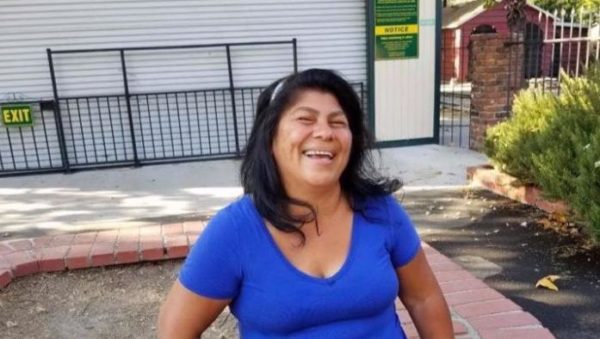 LOS ANGELES – Rosy Milagro Rosales Gil, a 52-year-old single mother of two, has been a staple for the Los Angeles LGBTQ+ community's late night plus afterhours club and bar crowd dispensing hotdogs, tamales, and a friendly smile for nearly 16 years.
Selling her Mexican and Guatemalan street food outside of a litany of LA area LGBTQ+ establishments as a street vendor, she has made a living for herself, but now due to COVID-19 with multiple businesses shutting down, Gil has been put between a rock and a hard place.
Because of these difficult times, Gil's friends set up a GoFundMe to raise money to prevent her from being evicted.
"Starting off selling hotdogs and tamales outside of Faultine over 15 years ago, she set up a second stand outside of Bullet bar, and has also been serving us late into the night at the queer warehouse parties such as Ostbahnhof and Por Detroit among countless others," Victor Rodriguez, the creator of the GoFundMe campaign wrote.
According to Rodriguez, the single mother of two is in an undocumented immigration status and therefore is not eligible for any type of coronavirus relief or unemployment benefits to include the Federal COVID19 Stimulus relief payments.
"She has lost all of her work due to nightlife shutting down, and is unable to pay rent, utilities, and groceries since march. She is currently relying on limited supplies from food banks to feed her family but supplies are limited and they hardly last the week. Rosy also has an elderly mother in Guatemala who has relied on her for small monthly payments to eat and pay for medicine, who she has also been unable to help since March," Rodriguez added.
Initially, the GoFundMe set for a targeted goal of $30,000, but because of the overwhelmingly positive response- that number was upped to $40,000. In the span of three days, The campaign was able to raise over its targeted goal and the numbers have been rising since every day.
Rosy has been an integral part of the queer community in LA and needs our help. She has nowhere else to turn to and is facing eviction, homelessness, massive debt and a lack of food. She has always accepted us with open arms and nourished us late into the night, and now it is our turn to help keep her on her feet!

Our goal of $30 000 will not cover all her expenses but is a good start to help her avoid eviction, pay utilities/phone bills, and provide some food to her family until she can get back to work.
UPDATE: Due to the overwhelming support we have increased our goal to $40 000, which will help cover almost all her current debt.
With almost a thousand donors, 274 shares, and about a thousand followers on the GoFundMe page the comments have reflected the community's genuine affection:
"For the last 15 years I have seen Rosie outside of the Faultline and other places and she's always been the nicest and most friendly lady. I hope all of this helps her and her family. "Hello AMIGOS!" Good luck Amiga!"
"We love you Rosy!"
"I donated because … everyone needs an angel sometimes. xo"
To contribute please visit: https://gf.me/v/c/smxq/97k5gy-rosy-needs-your-help