February 23, 2021 at 1:51 pm PST | by Noah Christiansen
UCLA kicks runner off team after homophobic & racist video surfaces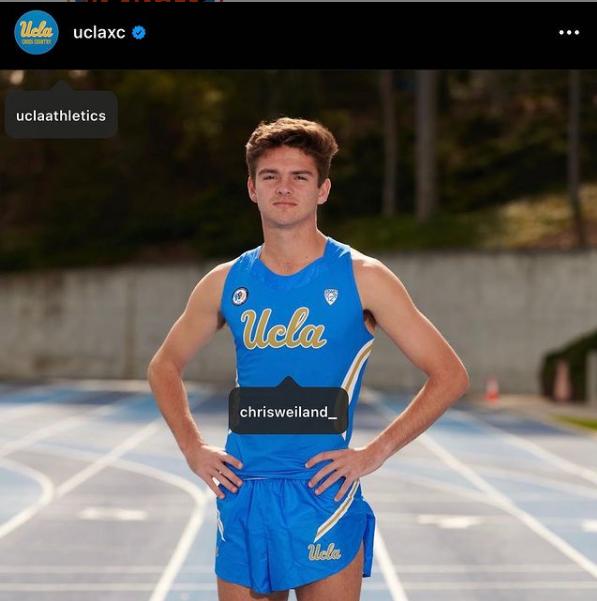 LOS ANGELES – A member of the University of California Los Angeles cross-country, track and field teams has been removed after a months-old video surfaced this past Sunday from a UCLA runner who used homophobic and racist language directed at an ex-girlfriend.
Chris Weiland, a senior, was removed permanently on Monday by UCLA Track and Field Director Avery Anderson who released a statement Monday evening.
According to a video posted by the account ucla_is_racist on Instagram, the 4½-minute long video recorded inside a darkened car, appears to show Weiland talking about his girlfriend cheating on him with a person later identified as his mother according to sources knowledgeable of the incident who also identified and verified that the person in the video was in fact Weiland.
Weiland, who is white, used both homophobic and racist language;
"When she says she doesn't, you know, want to get back together, why do you think?" Weiland asks. "It's because she wants to be with this fucking faggot who has no future. She's going to be with a stupid nigger who's going to be in community college all his life."
The woman identified as his mother responded telling him not to talk like that. He snapped back: "I don't give a fuck."
"When first learning of this a few months ago, I was disgusted and immediately suspended him indefinitely from the team," Anderson said in his statement. "Even in my disgust, as a coach, my intentions are always to lead and educate and make the change happen that I want to see in the world. I can talk about changing the world, or I can put in the work to do so. and that is what I have done over the last few months with this individual.
Anderson's decision to have Weiland reinstated in January touched off a firestorm of protest by other student athletes and members of the UCLA student body.
"In January, I decided to reinstate him to the team. However, after team members and the athletic community expressed concern, it became clear that his continued involvement with the team is incompatible with the culture of mutual support and respect we're fostering, " Anderson wrote Monday then added; "I know realize that the decision to reinstate him was not the right decision, and that the action today is best for the well-being of our team."
The UCLA Black Student-Athletes Alliance issued a statement Monday on Instagram asking for Weiland's removal for the team:
"As a university that champions itself on the accomplishments of its Black athletes that have broken the barriers of social justice, we find it deeply disturbing to learn that UCLA knew about an incident of blatant racism, homophobia and sexism and did very minimal actions about it. The racist actions that took place by a member of the cross country team, are unacceptable and disrespectful, and we at BSAA refuse to accept the actions of that athlete, as well as the lack of action to address the issue by the coaches, staff and administration. We do not feel safe with this person on campus, and we demand UCLA athletics take action immediately and remove this student from the team."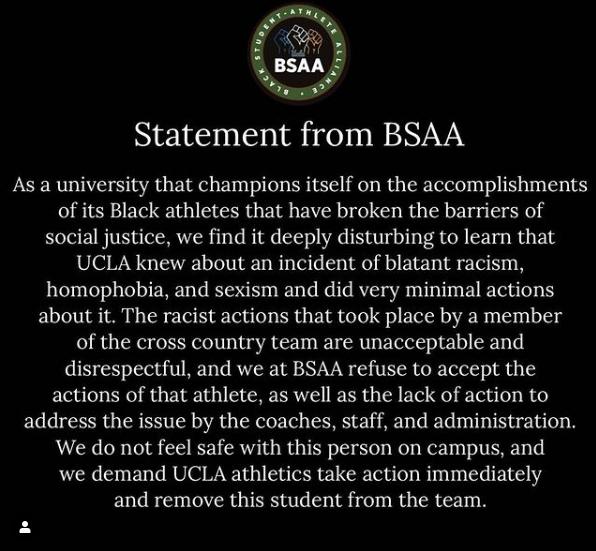 UCLA Quarterback Dorian Thompson-Robinson, gymnast Margzetta Frazier and women's basketball player Michaela Onyenwere were among the current UCLA athletes with verified Instagram accounts who commented "@uclaathletics" on BSAA's post to bring attention to the university's athletic department the San Bernardino Sun reported.
The Los Angeles Times reported that the video was recorded before Weiland enrolled at UCLA in the fall of 2019.
Weiland is from Rancho Cucamonga. He spent one season at Cal State San Marcos two more at Mt. San Antonio College before transferring to UCLA in 2019.